18 General Conference Traditions – Ideas & Activities for Families
18 General Conference Traditions – Ideas & Activities for Families
This post may contain affiliate links. Read our disclosure policy.
We love General Conference weekend! We've compiled a list of all our favorite General Conference ideas and traditions to make General Conference more meaningful and fun for the whole family. We've changed it up through the years as the kids have gotten older and our family has expanded, so feel free to do the same. Check out our list of 18 ideas and activities to help you prepare for General Conference and get more out of it. There are ideas for toddlers, young kids, teenagers, and even adults.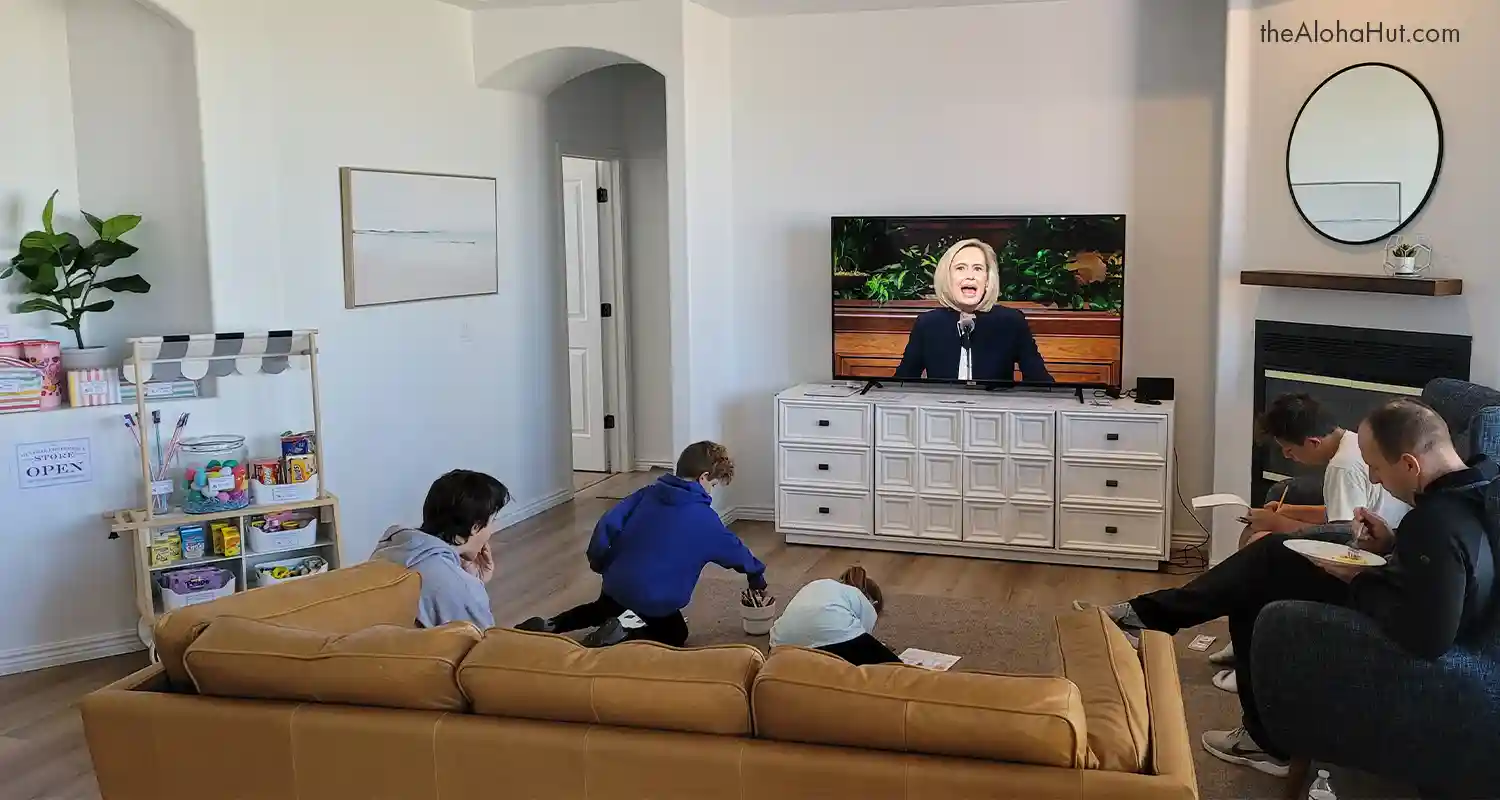 Every year in April and October, members of the Church of Jesus Christ of Latter-day Saints gather to listen to the words of the living prophets, apostles, and leaders. It's a time to learn, be inspired, and receive inspiration for how to better follow Jesus Christ and His commandments. It is streamed or live broadcast from Salt Lake City, Utah.
We meet on Saturday and Sunday in a series of two-hour sessions. There are four general sessions and an adult session. We look forward to the messages and love learning how to find more peace, hope, and joy through Jesus Christ. However, sometimes it's hard to stay focused through all the sessions, especially for the kids. So we've come up with 18 ideas and activities to help you start your own General Conference traditions. Each year we mix it up and tweak the activities as needed.
#1 Special General Conference Breakfast
Start the morning off with a yummy and delicious General Conference breakfast! We like to cook a special breakfast Saturday morning in preparation for conference. Our favorite General Conference breakfast ideas always include a yummy fruit tray the kids can continue to snack on throughout the sessions.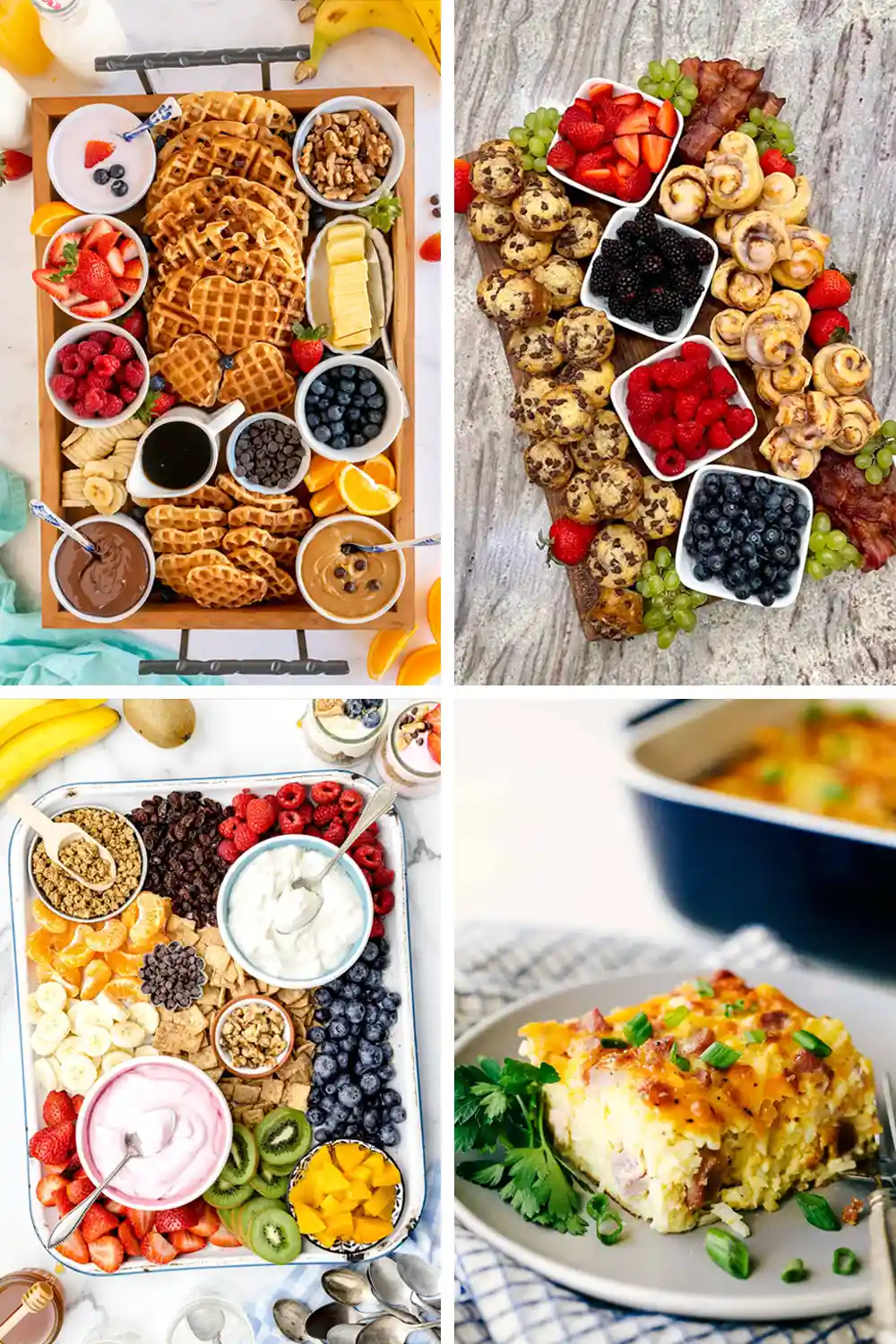 Our favorite General Conference breakfast ideas:
Waffle Bar
Cinnamon Rolls & Muffins
Overnight French Toast Casserole
Yogurt Parfaits
Breakfast Casserole
Crepes
#2 General Conference Activity Packet
Print off a General Conference Activity Packet and get all the supplies ready to help kids learn and quietly listen during the sessions. These are great to print for your family or to give to your primary class. We like to give our kids a clipboard so they have something hard to color and write on while they do all the fun pages in the General Conference booklet. Check out our General Conference Activity Packet we designed. It has all our kids' favorite activity pages in it!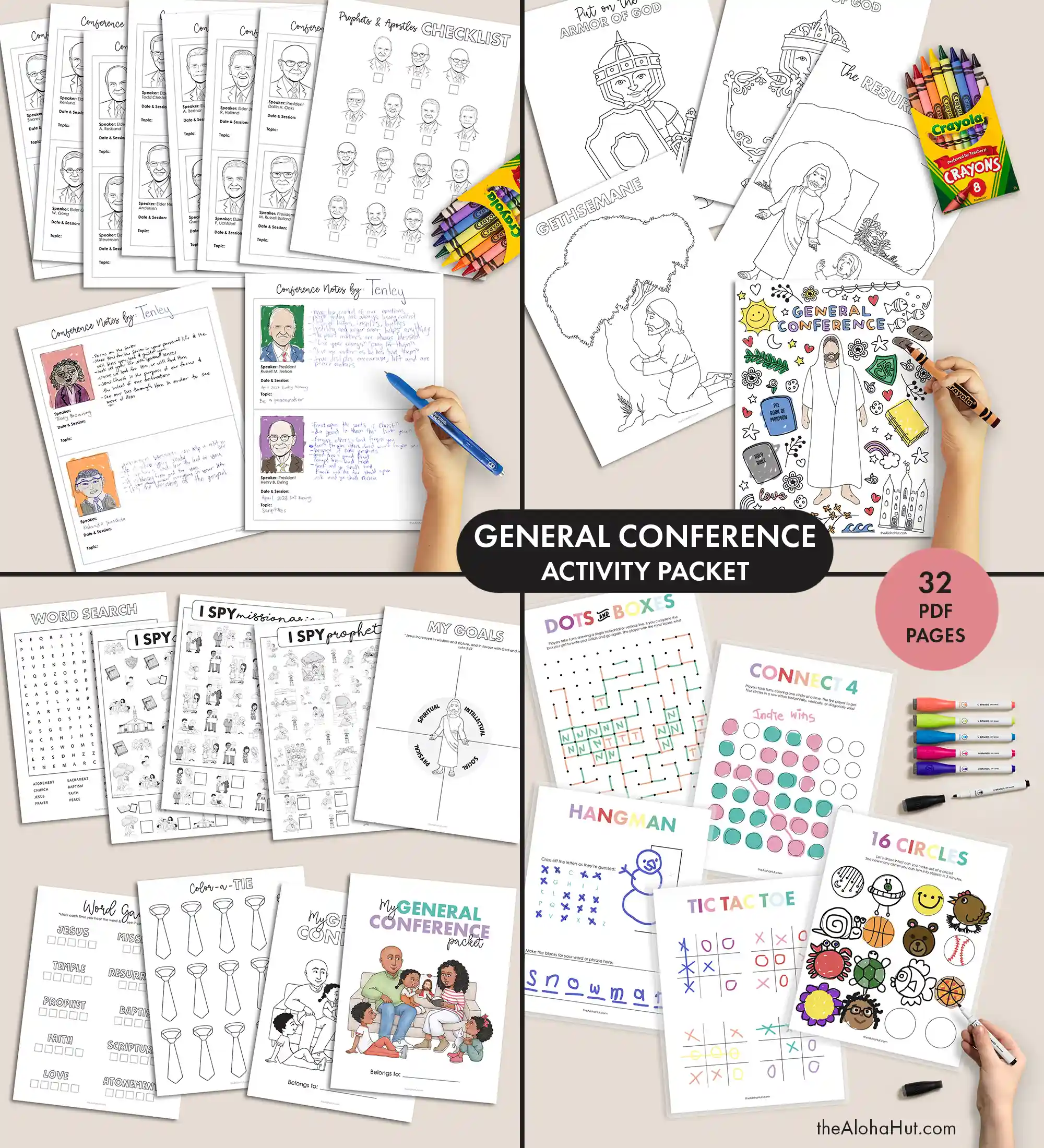 #3 General Conference BINGO
Another great idea to keep kids engaged and listening during conference is a General Conference BINGO game! We start a new round of General Conference BINGO each session and give kids prizes every time they get a BINGO. The first child to get blackout BINGO in the session gets an extra prize. You can't go wrong with General Conference BINGO! Check out the General Conference BINGO we made for our kiddos.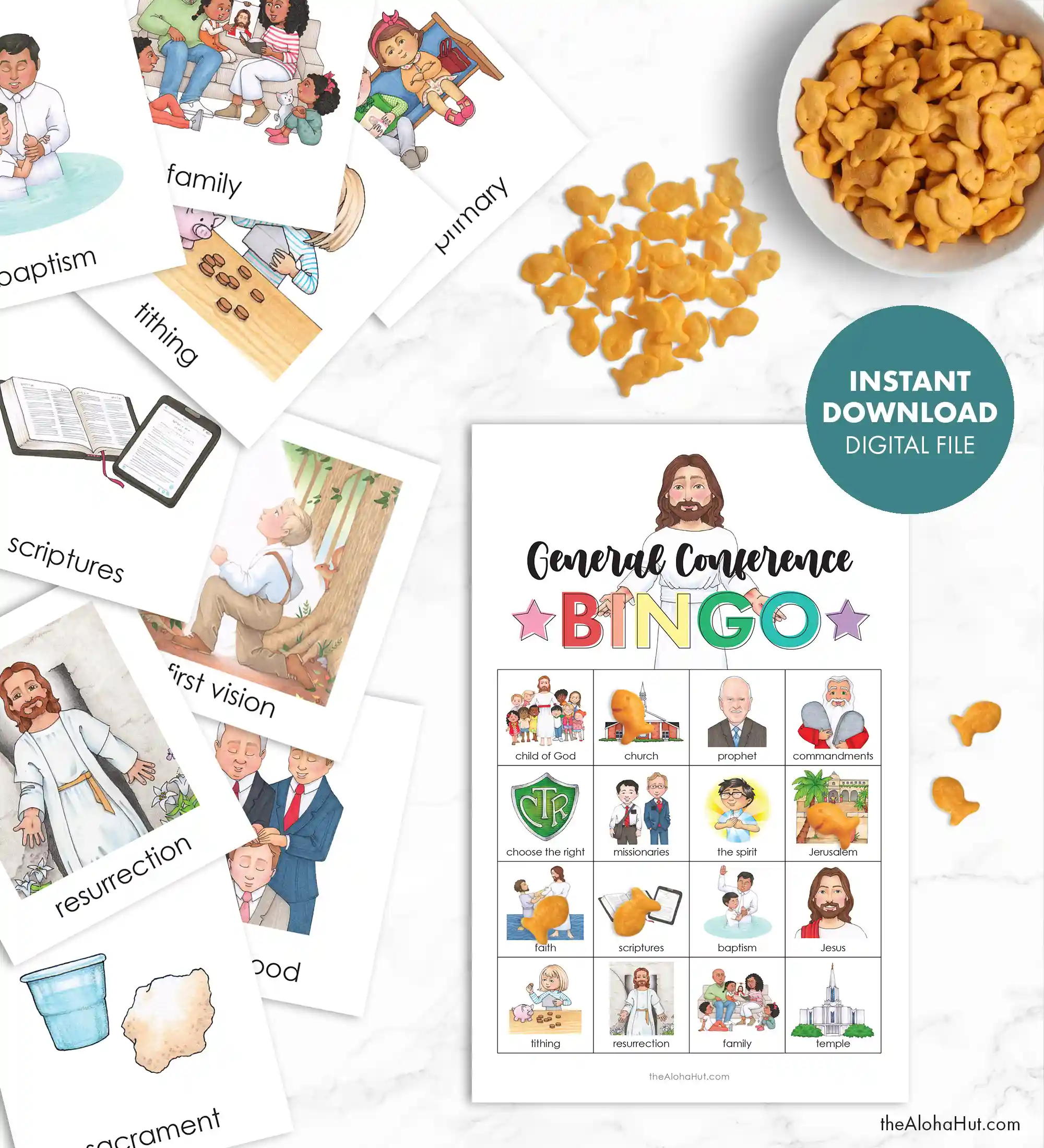 #4 Quiet Book for Kids
We love quiet books and gospel busy books for church, so why not make one for the kids to play with during conference?!? Or if you're like us and you can never find the time to make one, consider making one during General Conference. You can laminate, cut out, and assemble the busy books while you listen to conference (and let the kids do another activity on our list). Check out the gospel quiet book we've designed for our kids.
#5 Get a New Puzzle for General Conference
Pick up a new puzzle the whole family can do together during General Conference. We love the Magic Puzzle Company puzzles for older kids and adults. It has a magical twist at the end and lots of fun, unique graphics. For younger kids we love the quality of Ravensburger puzzles. We like to put a folding table on the ground (not set up), and then sit down on the floor and do puzzles throughout the sessions. We like putting it on a folding table so we can move it out of the way when needed.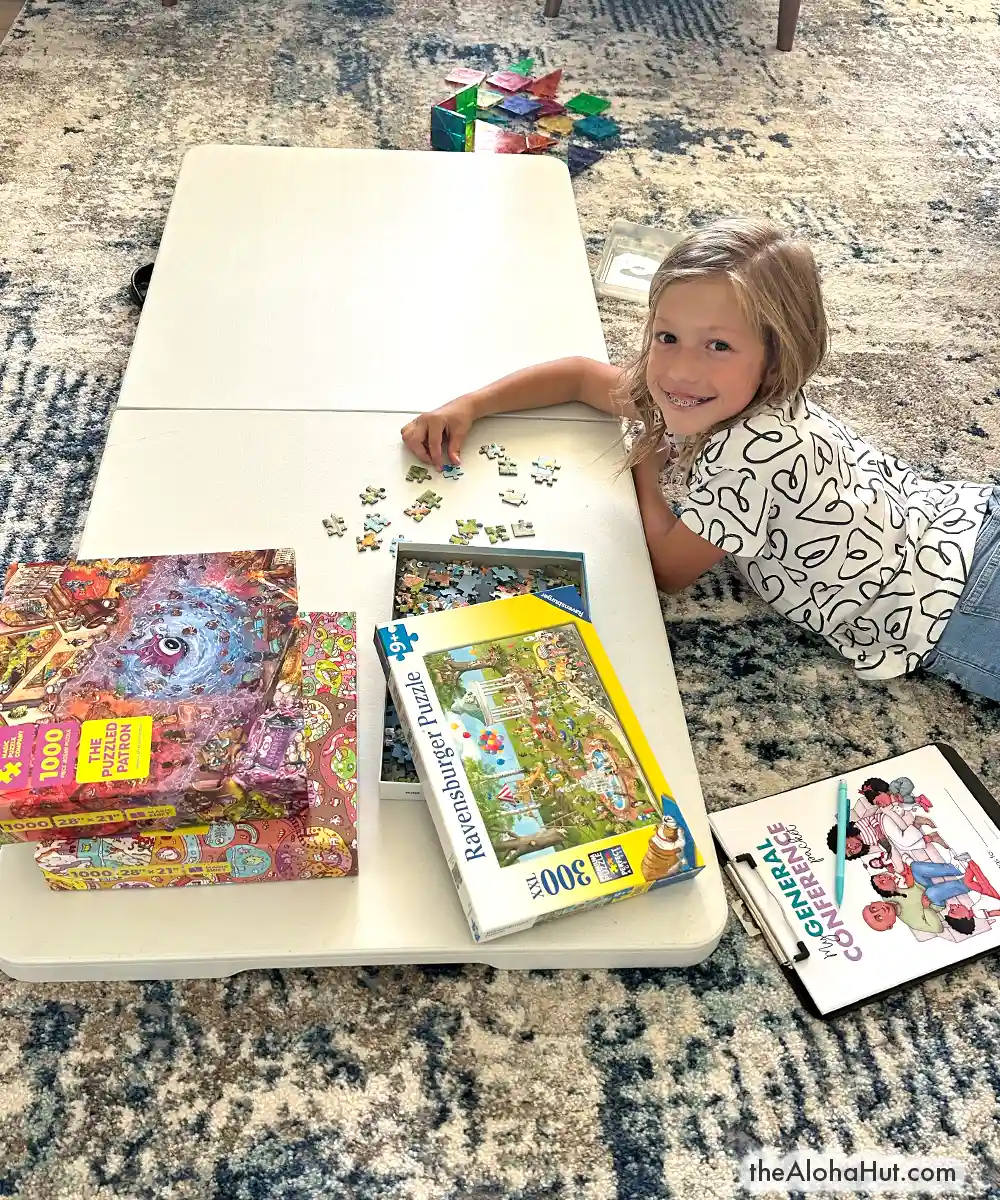 #6 Play with Building Toys
Set out some building toys to keep little hands busy during General Conference. You can also join the kids on the rug and build right alongside them! Examples of building toys: Legos, wooden blocks, trains, and Magna-Tiles (this is our favorite brand and have lasted the longest over the years, plus they have flat edges which mean you can build towers as tall as 5+ feet). Our kids can build for hours and it's good, imaginative fun!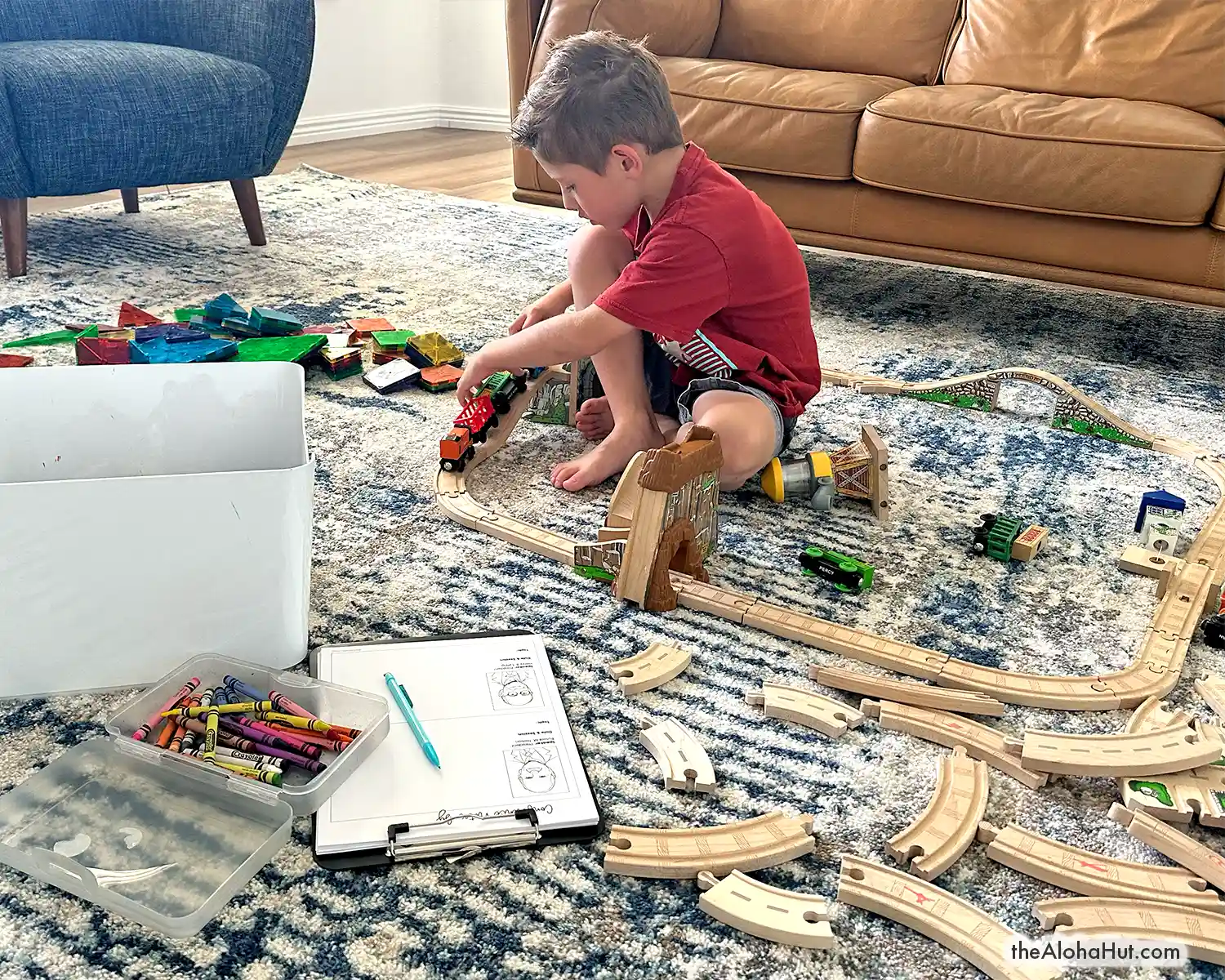 #7 General Conference Store
Next up is our kids' favorite General Conference idea. We have done a General Conference Store the last couple of years and our kids absolutely love it! Sometimes we do a super simple set up, other times we've gone all out. We try to include things the kids have been wanting and also some items they can "purchase" to help keep them engaged during General Conference.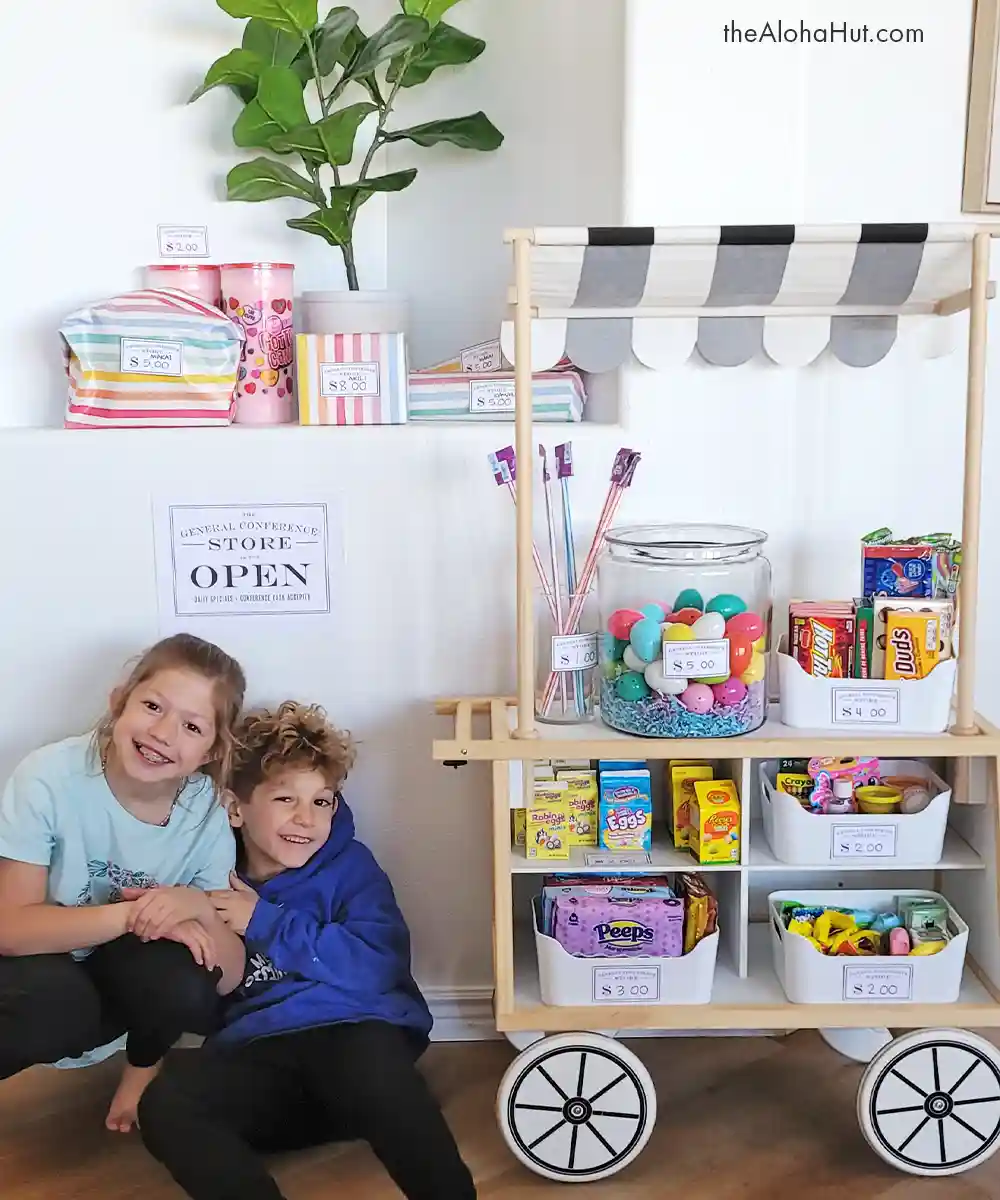 How the General Conference Store works: kids earn General Conference bucks for being reverent, writing down something they learned from each speaker, singing when it's time to sing, finishing activity pages, helping clean up, winning at BINGO, etc. You set up the rules for how they earn General Conference bucks and then let them earn conference cash throughout the session. We close the General Conference store in between sessions and restock if needed.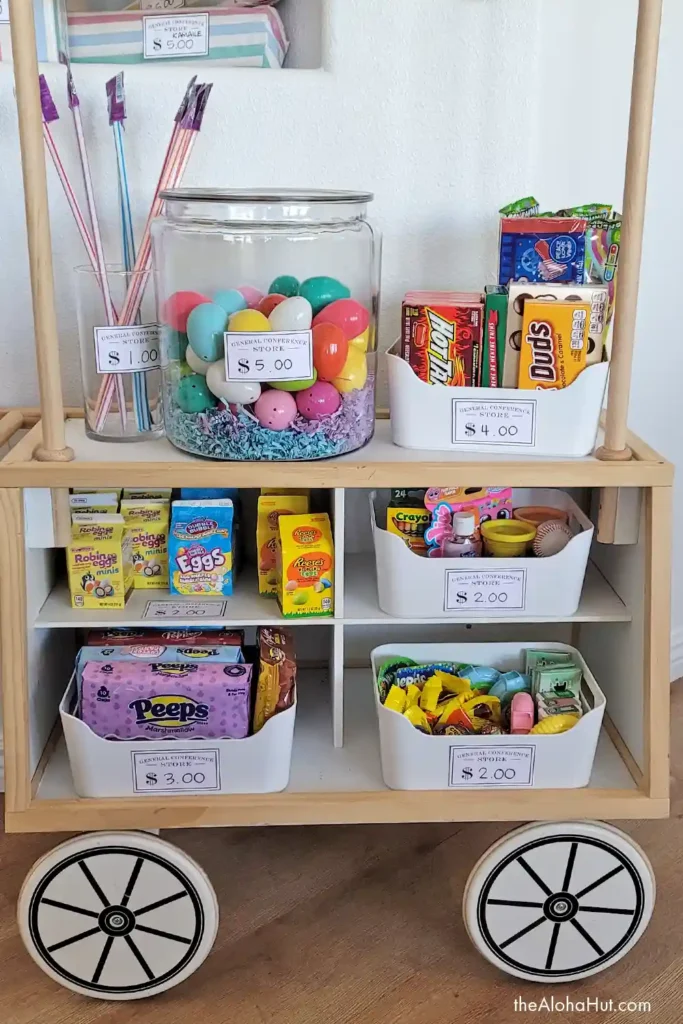 Ideas for what to put in the General Conference Store:
Candy or fun treats – we try to purchase a few fun treats from other countries/cultures, treats that the kids don't get as often and then their favorites! Here are just a couple of our favorites from other countries:

Kracie Popin Cookin – This Japanese company makes fun DIY edible treats that double as an activity and dessert. Our kids absolutely love making them!
Ramune Soda Drink – Another one from Japan. It's a lot of fun because in order to drink it, you have to push a glass marble down that makes a popping sound and then makes the soda sizzle
Kinder Eggs – These originally come from Italy but can be found at Walmart or other grocery stores. They are fun because they have a teeny tiny buildable toy inside along with some yummy hazelnut chocolate.
Hi-Chews – Also comes from Japan but can be found at most grocery stores

Playdough – so many fun options like glitter, smelly playdough, mixers, etc.
Crayons, markers, colored pencils, new art supplies. We like to throw out old markers and crayons that are all broken or dried up and have them earn new ones during General Conference.
Gum, mints, tic tacs. Great for the older kids. We always get Bubble tape since it's a fun item we don't buy often.
Blank gift cards and write on them "lunch date with mom" or "one-on-one with dad." This is  the perfect idea for older kids when you don't know what to get them. It's great for motivating teenagers to listen during conferences and then for spending quality time with them afterwards, a double win in our book!! We do blank cards since they have to turn them back in to us to redeem. Saves you from having to load a bunch of gift cards that you might lose.
Chapstick, fingernail polish, lotions, bath supplies.
Notebooks, fun pens, jelly pens.
Stickers.
Coloring books, activity books, chapter or picture books, sticker books, etc. Check out the Dollar Store for lots of different workbooks to use.
Sidewalk chalk, bubbles, balls – think of stuff they can do outside in between sessions.
Toys – I always buy stuff they've been trying to earn throughout the year. My kids are obsessed with Legos so we always get a few sets. This is the BEST item for my five year old because he will purchase it as quickly as he can and then spend the rest of Conference building it (he loves the bigger sets and can do them all by himself!).
Items from the Dollar Store or Dollar Sport at Target – crafts, games, activities, toys, coloring books, etc.
Puzzles – we're obsessed with puzzles so a new puzzle is a fun family affair and keeps hands busy while they listen. Whoever "buys" the puzzle from the Conference Store will share it so that the whole family can participate in putting it together during General Conference.
Kinetic sand, silly putty, slime – fun things for them to play with during Conference that helps them sit reverently, but still let them listen and learn.
#8 Coloring Books
Give the kids coloring books and some new crayons. Everyone loves coloring and it's a super easy activity to prep for General Conference. You can find a lot of cheap options at the Dollar Store.
#9 Color a Giant Coloring Page
Color a giant coloring page! We like to print these as a 24×36" engineer print. They only cost a few dollars to print. Put the poster on the ground and color together as a family or let little kids work on it throughout the sessions.
#10 Make Bracelets
Purchase some awesome and cheap bead kits from Amazon and make bracelets and necklaces during conference. You could also make friendship bracelets. This is a great General Conference activity for teenagers!
#11 Play with Playdough during General Conference
Set up a playdough station at the table and let the little kids create while they listen to conference. Print off some of our playdough mats for a some guided play. Set out playdough tools, glitter, googly eyes, etc so the kids can make lots of fun creations.
#12 General Conference Activity Bags
Prepare paper bags with fun activities, yummy treats and snacks, and fun games or craft.  Add a note on the front with instructions for when the kids can open the activity bag. For example, "Open at 10:15AM" or "Open when the prophet speaks", "Open when the choir sings", etc.
#13 General Conference Journals
Purchase a fun, new General Conference journal so the kids can start recording their impressions. This is a great gift for teenagers and adults, especially when you don't know what to get them.
#14 Massages
When my kids were younger they used to love rubbing lotion on mom and dad's feet, legs, and arms. We've done this a few times during Conference and it's hands down one of our favorite General Conference ideas. The kids get in a little service, and mom and dad get to be spoiled and pampered!
#15 Countdown to Conference Chain
Make a simple paper chain so kids can countdown to General Conference. This is a fun and easy kids activity for General Conference and gets them excited for conference weekend.
#16 Lunch with Friends & Family
Gather with friends and family in between Conference sessions for a General Conference luncheon. Some of our favorite lunch ideas include homemade pizzas, nacho bar, potato bar, taco bar, and good 'ol grilling. You could also it into a potluck feast and have everyone bring their favorite dish to share! Sometimes we gather at grandma and grandpa's house for lunch, and then stay to watch the next session all together. We love traditions like that!
#17 Conference Words
Prep this activity by filling a few small bowls or jars with candy. Candy ideas include: M&Ms, skittles, mini size candy bars, licorice, swedish fish, etc. Make sure to purchase the kids' favorite candies. Then attach a piece of paper to each bowl with a word you think we'll be used throughout the conference. Every time the kids (and adults) hear that word, they get a small candy from the bowl. Easy and fun!
#18 Attend a Live Session or Watch at the Stake Center
Finally, our last idea is not one we do every year since we don't live in Salt Lake City. However, if you do live near the Conference Center, it's a special treat to attend a live session! If you don't live nearby, you could see if it's being broadcast at your Stake Center. Getting dressed in Sunday clothes and attending/watching with other members instead of at home takes away all the distractions you find at home. Don't get us wrong, we love staying in comfy clothes and watching from home, but sometimes it's nice to break up the routine and try a different idea to see if that helps you get more out of General Conference.
---
If you're a primary leader or teacher, seminary teacher, ministering brother/sister, youth leader or Relief Society teacher, check out our quick and easy Editable General Conference Tags / Handouts that help as a "sweet" reminder to watch General Conference! We have an Editable M&M General Conference Handout as well as an Editable Donut General Conference Handout.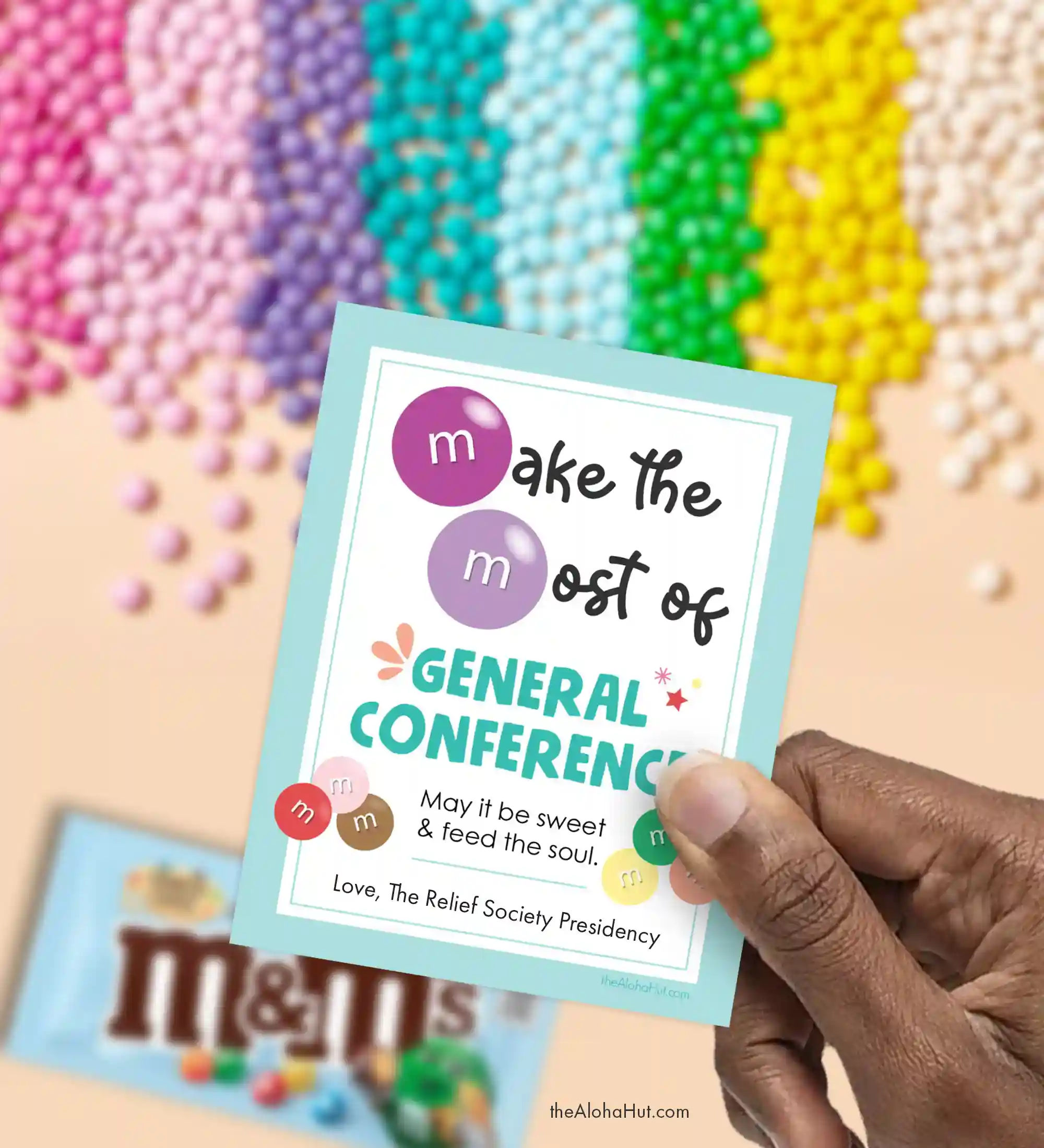 Thanks for following along. We hope you've gleaned some fun kids activities for General Conference to get the kids involved and excited to participate.
Much aloha to you,
Stacey + Niki