Free Halloween Prints and Decor
Free Halloween Prints and Decor
This post may contain affiliate links. Read our disclosure policy.
We love decorating for the holidays — especially Halloween! It's one of our favorite holidays. We love all things scary and spooky. We also love the not so scary, but oh so cute Halloween decor! Decorating for Halloween doesn't have to break the bank. We love decorating with paper and getting creative with supplies we already have on hand. We've got free printables to help you easily decorate a space in your home on a budget. Read below for our free Halloween art prints, and easy "Hey Boo" garland, and a simple DIY pumpkin tutorial.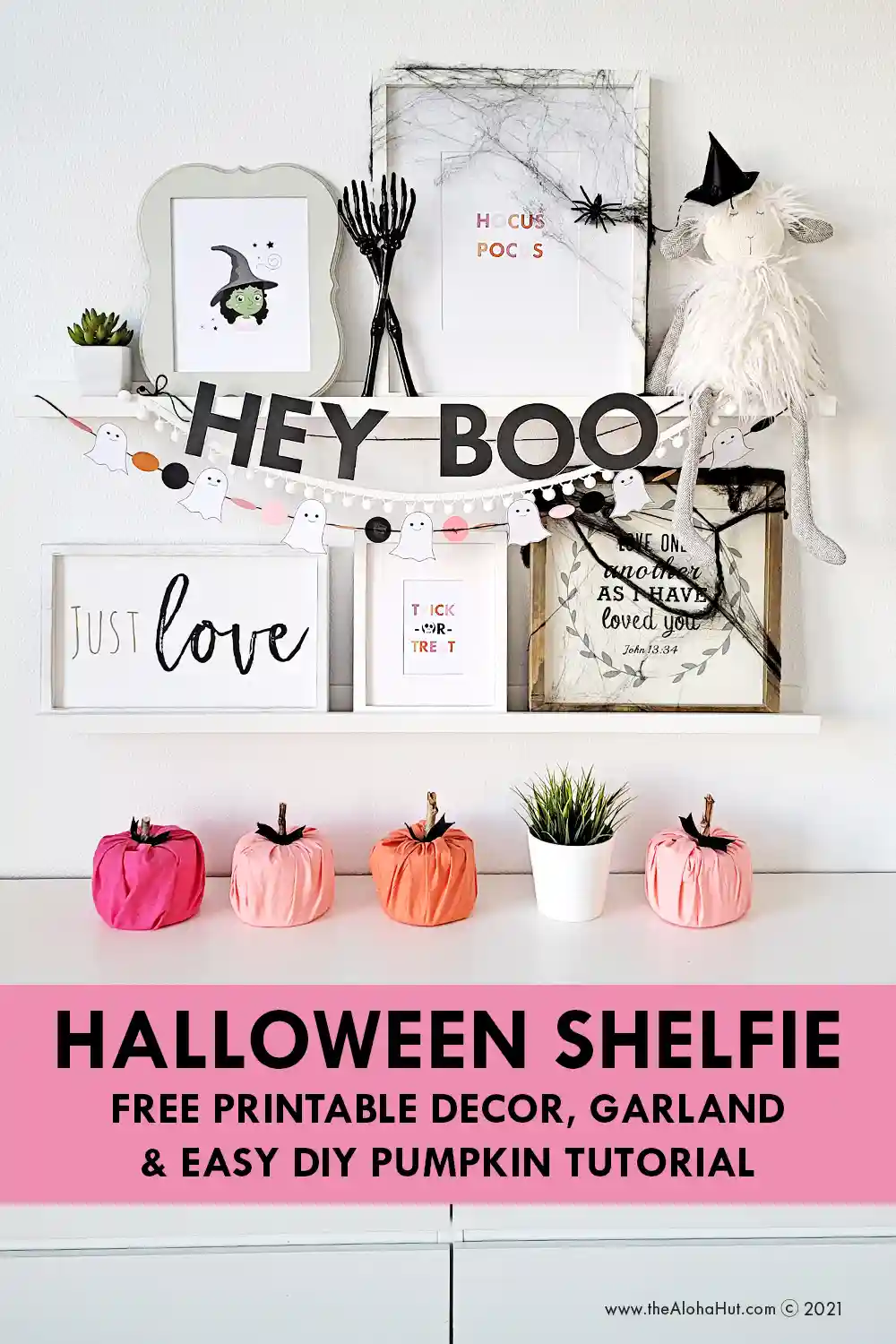 Swap out your old pictures for some fun Halloween prints. No need to get new picture frames. Just use the frames you already have on hand. We designed three Halloween prints available to download for free: Hocus Pocus, Trick or Treat, and a cute little whimsical witch. They fit perfectly in a little girl's room or anywhere in the home! The Halloween prints are sized to fit three different frame sizes: 4×6″, 5×7″, and/or 8.5×11″.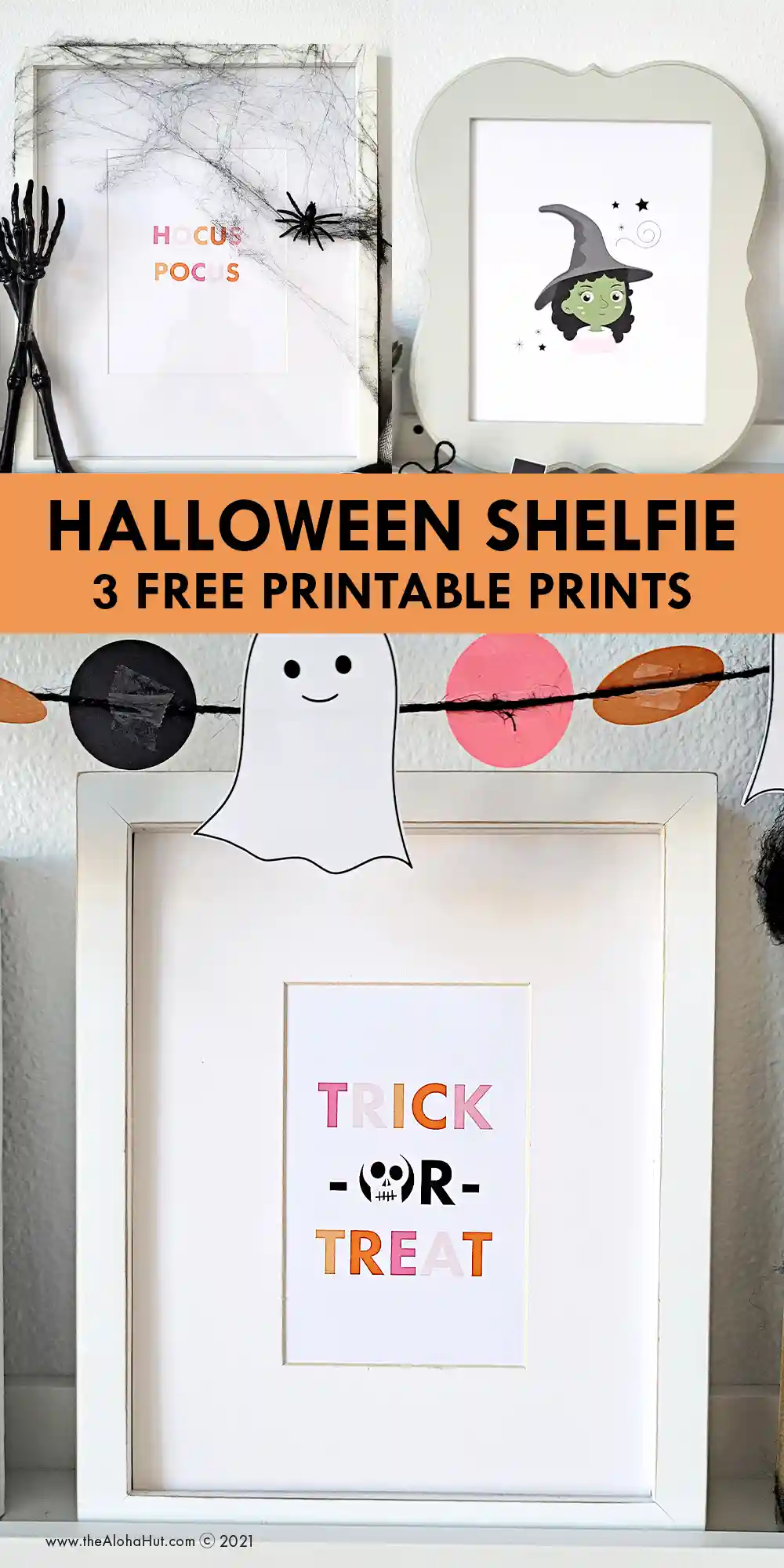 Garlands, especially felt garlands, are all the rage right now. We love them! However, they can get a little expensive. We always opt to make our own inexpensive DIY paper garlands. They are so easy to make and super duper cheap. In fact, we started making paper garlands when we were first married and had a place of our own to decorate. We couldn't afford the felt ball garlands but the paper ones looked just as great. Now we're hooked and love them just as much! We like the layered look of felt ball garlands mixed with paper garlands so if you already have felt ball garlands on hand, make some paper garlands to go along with it!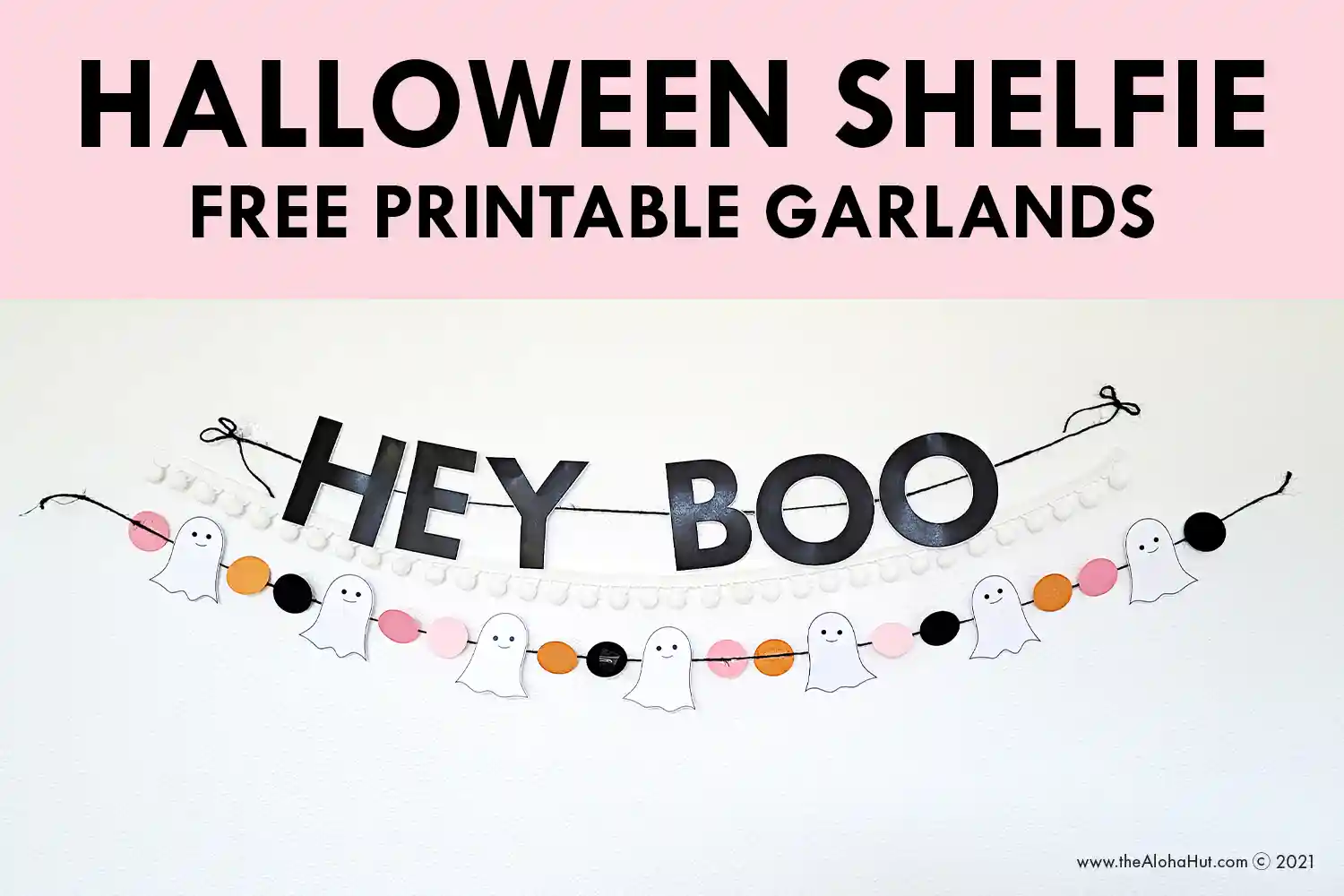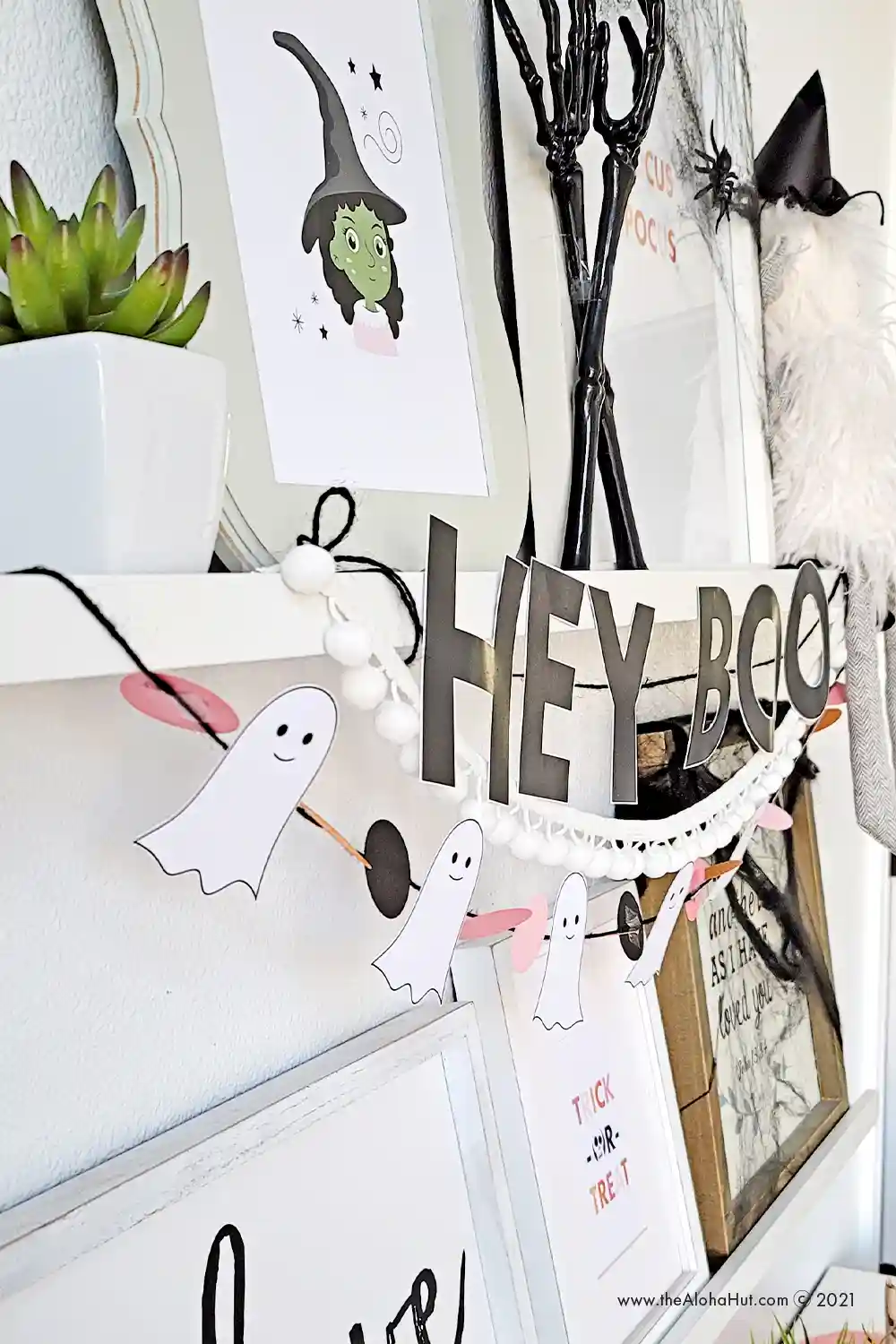 Paper garlands are so easy to make. Download our free HEY BOO garland and ghost garland prints below. Print in color on cardstock paper and cut out all the pieces. You can string them together by taping them to a piece of twine. You can also use a sewing machine to easily sew the pieces together (that's our favorite method). Sewing the paper to string the garland together is way easy and doesn't require any sewing skills. You just feed one paper at a time through the machine until it's the length you want it. If you don't own a sewing machine, tape works just as well or even a dab of hot glue.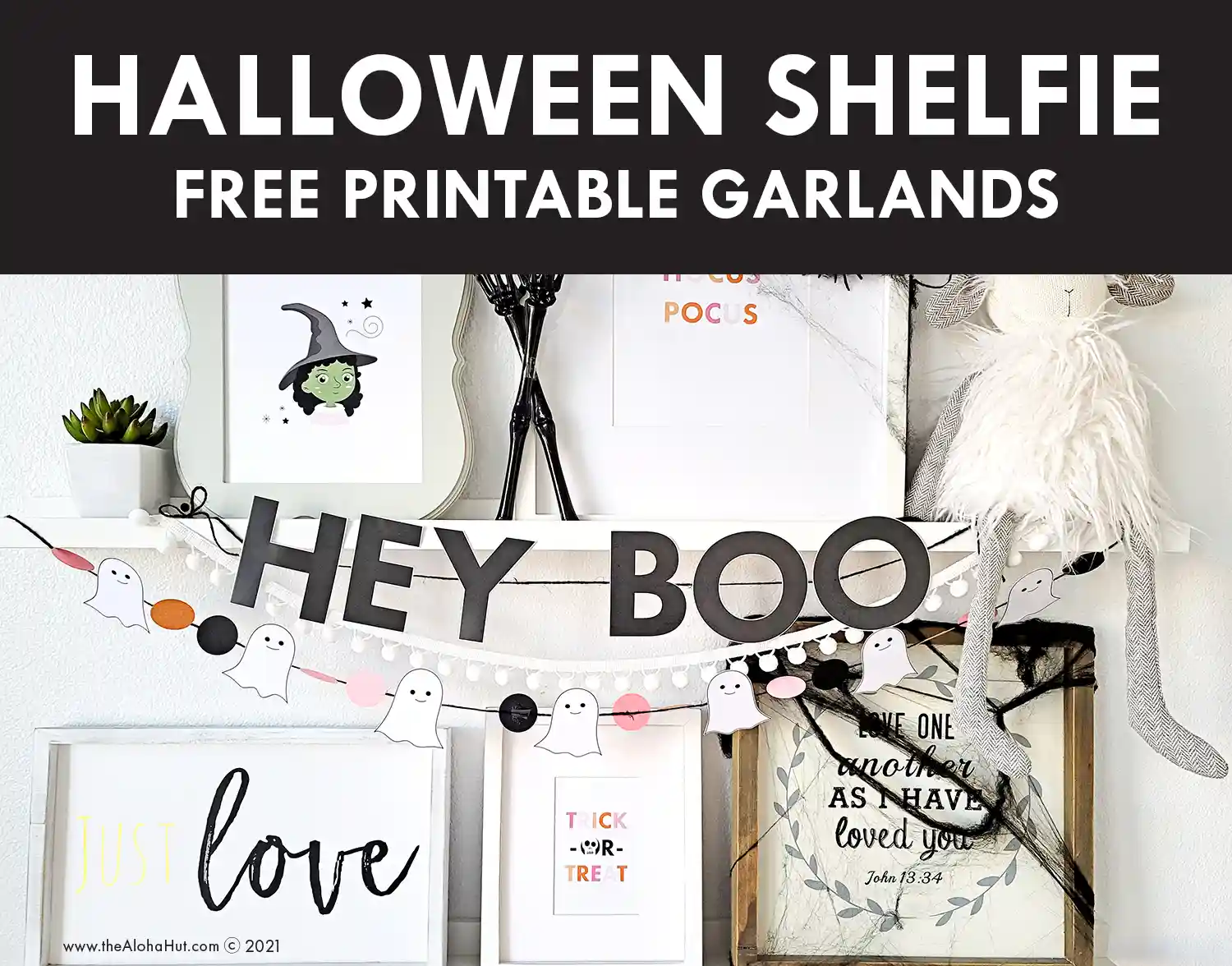 If you own a circle punch, you can punch out a bunch of cardstock paper circles in the color scheme of your choice. Or you can print our FREE circles below and cut them out. We make garlands for holidays, birthday parties, special occasions, and all our celebrations. They're addicting to make and seriously so cheap.
It's not Fall and Halloween without pumpkins! We've been decorating with easy DIY fabric pumpkins for years. It's a quick Halloween craft that takes 30 seconds to make. And the best part is, you can use supplies you already have on hand.
To make your own pumpkins you only need four supplies: fabric, toilet paper, a stick from the yard, and a piece of ribbon. Get a square piece of fabric any color, texture, or pattern you want. It can even be an old shirt or sweater! Set the toilet paper in the middle and tuck the sides of the fabric into the top hole. Tie your piece of ribbon on the stick. Add the stick to the top for stems and leaves. Voila — an easy DIY pumpkin craft. These pumpkins are great for your Fall decor or even as centerpieces.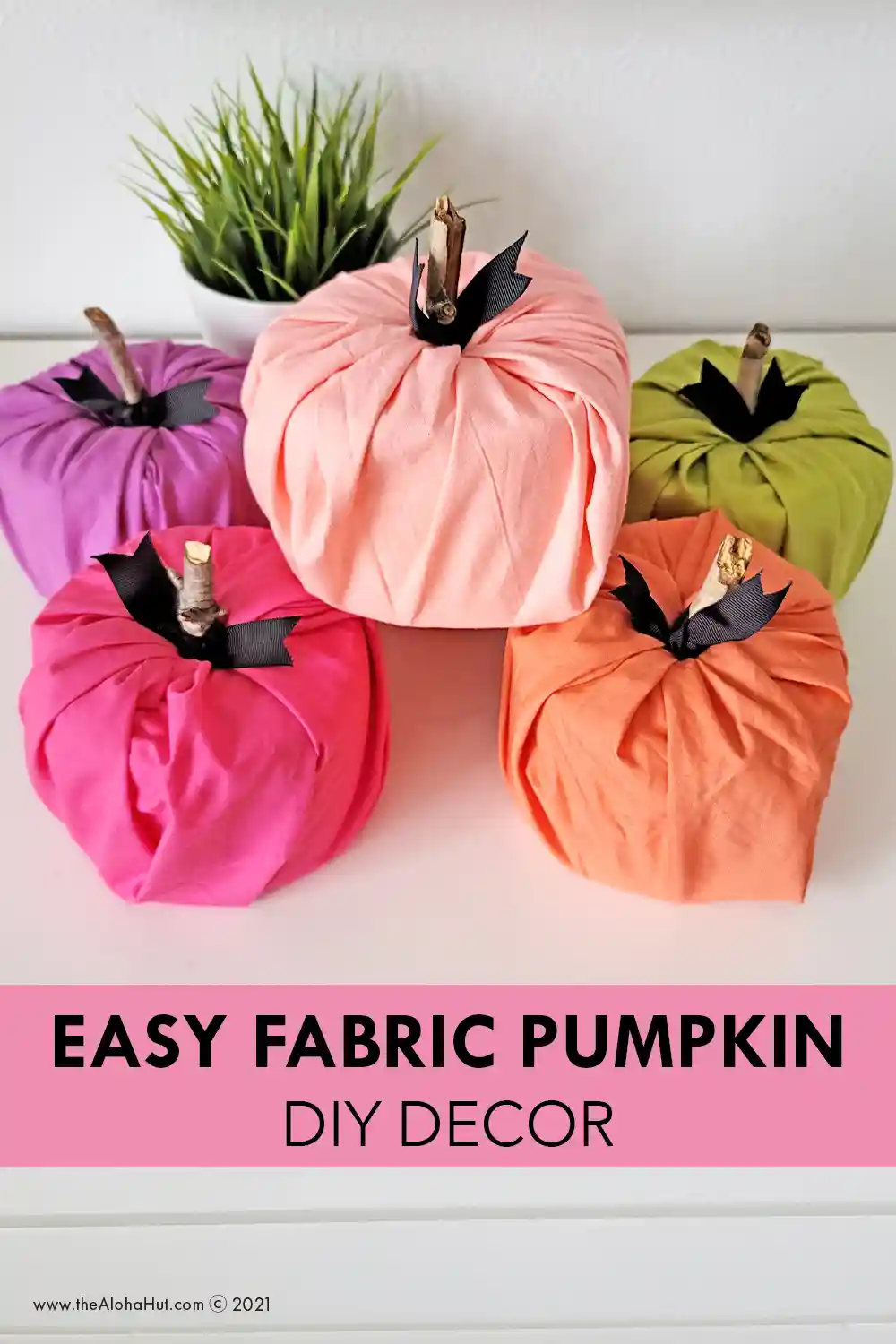 Download the FREE Halloween printables below and have fun decorating for the holiday!
With love,
Stacey + Niki
---