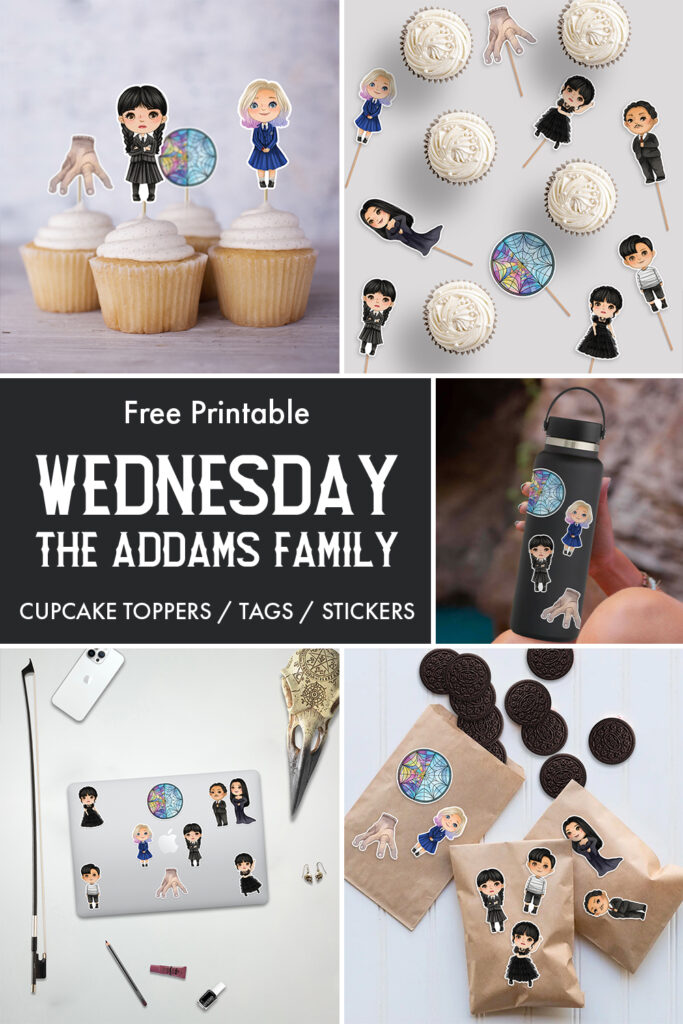 And just like that, the new Netflix show Wednesday pushed Stranger Things aside to be the next pop culture phenomenon. If you're a fan, we put together some quick free printable cupcake toppers for a viewing party. These are super cool as they can double for treat bag tags or even stickers to put on your water bottles, Hydro Flasks or even your laptop!
Teens and young adults all over are tuning in to watch the main character, Wednesday Addams try to figure out the murders that are plaguing the town where Wednesday's new school Nevermore Academy is located. I even had to tune in to see what the hype was all about. And while watching teens awkwardly fall in love isn't really my thing, the murder mystery style story telling, fun & unique characters and even the weird dancing is. Plus, Tim Burton has always been a favorite in our house with his classics like Edward Scissorhands, The Nightmare Before Christmas, James & the Giant Peach, Corpse Bride, 9 & Frankenweenie to name a few.
Wednesday Netflix show is rated TV-14 so parents be cautious. It's definitely a dark comedy and has more blood than I think is necessary. Not to mention there are floating body parts in jars that are a bit too realistic looking and a decapitated head. Ok, now as I'm typing this all out I'm realizing the Netflix Show Wednesday is one of those shows to watch with VidAngel to remove all the gore and swearing. But you be the judge of that.
Don't forget to pin this for next year's Halloween party! The Addams Family is a cult classic and one of our favorite themes for the spooky holiday!
Happy viewing,
Stacey & Niki (mostly Niki, cause Stacey isn't into the eerie & creepy stuff)