Cedar Point ULTIMATE Family Guide
Cedar Point ULTIMATE Family Guide
This post may contain affiliate links. Read our disclosure policy.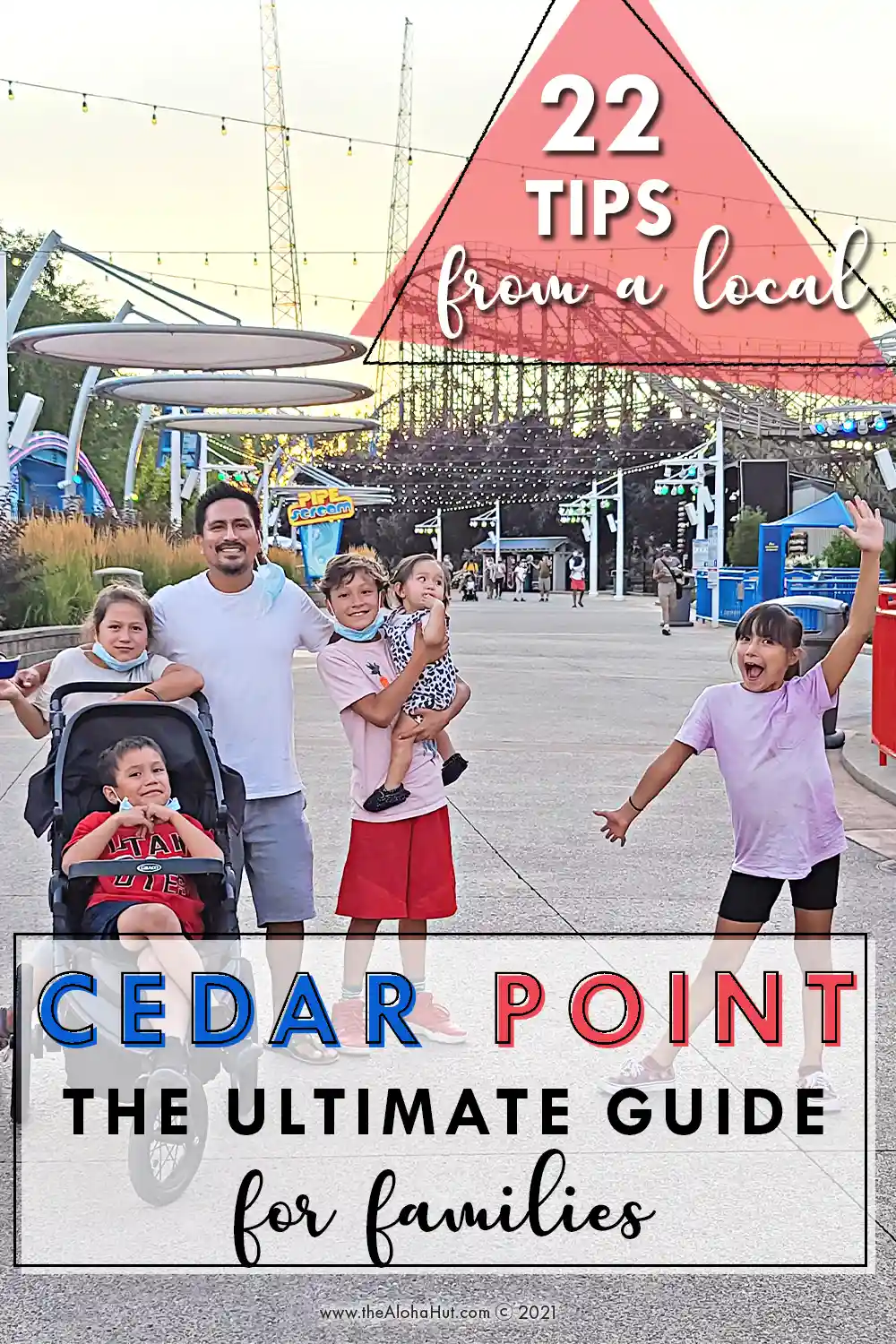 Ready for the ultimate guide to Cedar Point Amusement Park in Sandusky, Ohio? We've got 22 amazing tips you won't find anywhere else and all the insider information from a local (Niki) to make your next visit the best experience ever. Read below for what to expect when you visit Cedar Point park, food options, our suggested packing list, how to save money, best days and times to go, what to wear, extra activities you don't want to miss, and other helpful tips and tricks.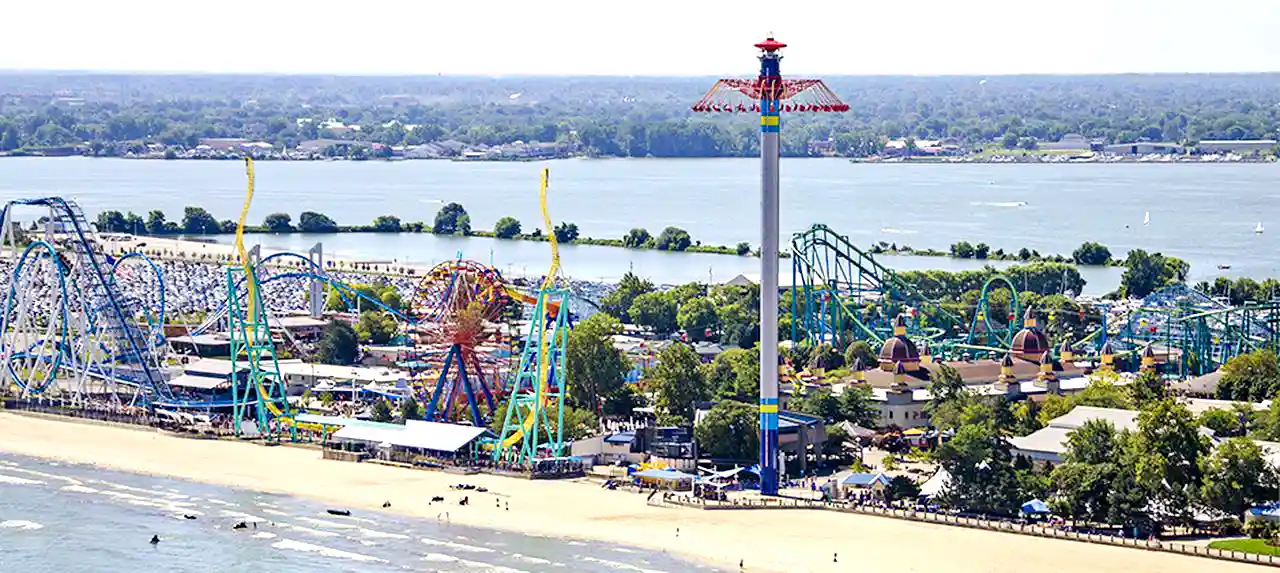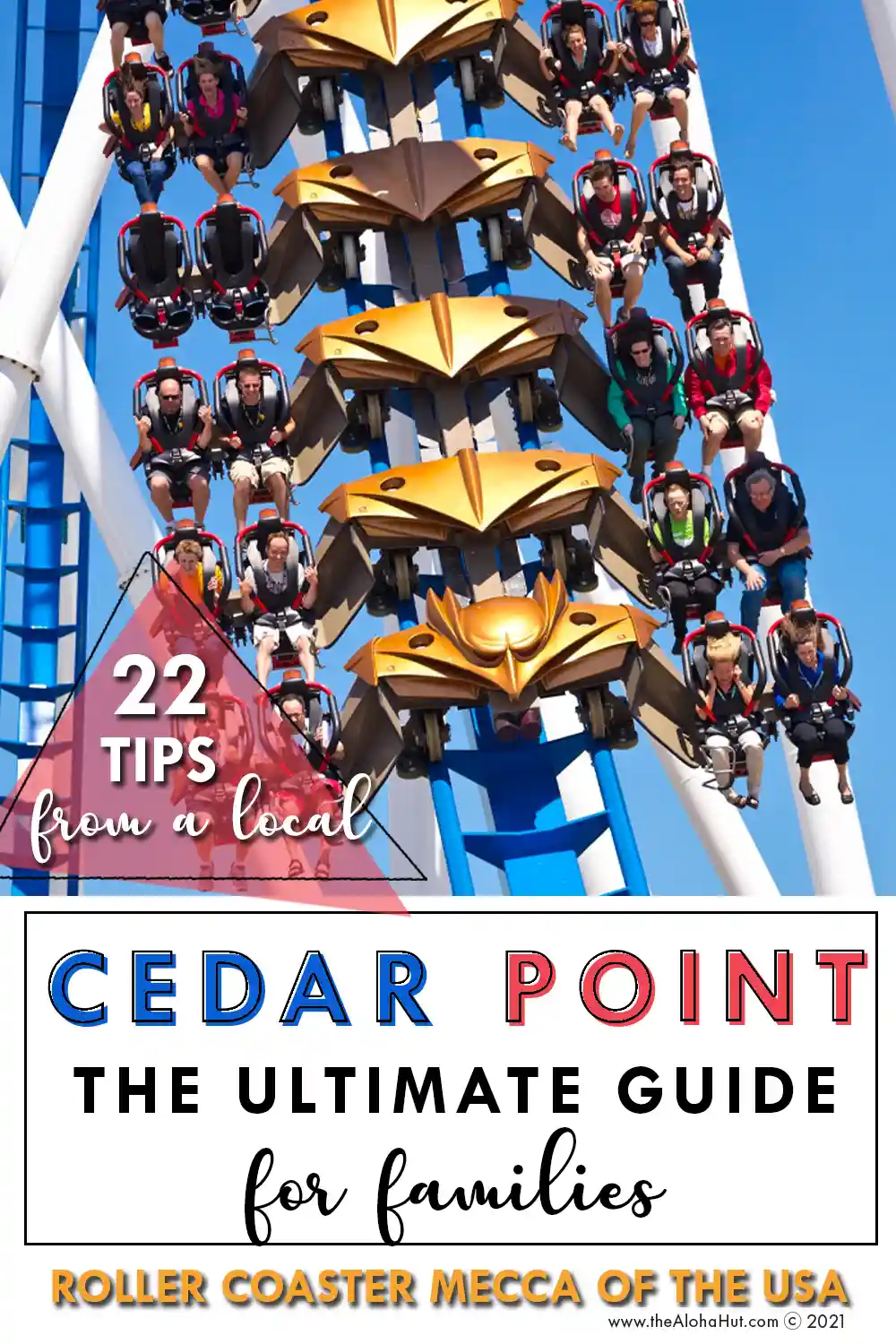 Cedar Point is the second oldest amusement park in the United States and is considered by many as the rollercoaster mecca. It's such an awesome park the whole family can enjoy. We have nine kids between the two of us, ages 2 to 15, and they all LOVE Cedar Point! The park has a variety of rides from giant roller coasters to more mild attractions for those that don't do well with huge drops. They also have smaller, kid-friendly rides mixed throughout the park so the whole family can stay together while exploring the park. The atmosphere is crazy fun! There are special events throughout the summer and fall, so check the calendar when buying your tickets so you can see what festivals and extra activities they're offering.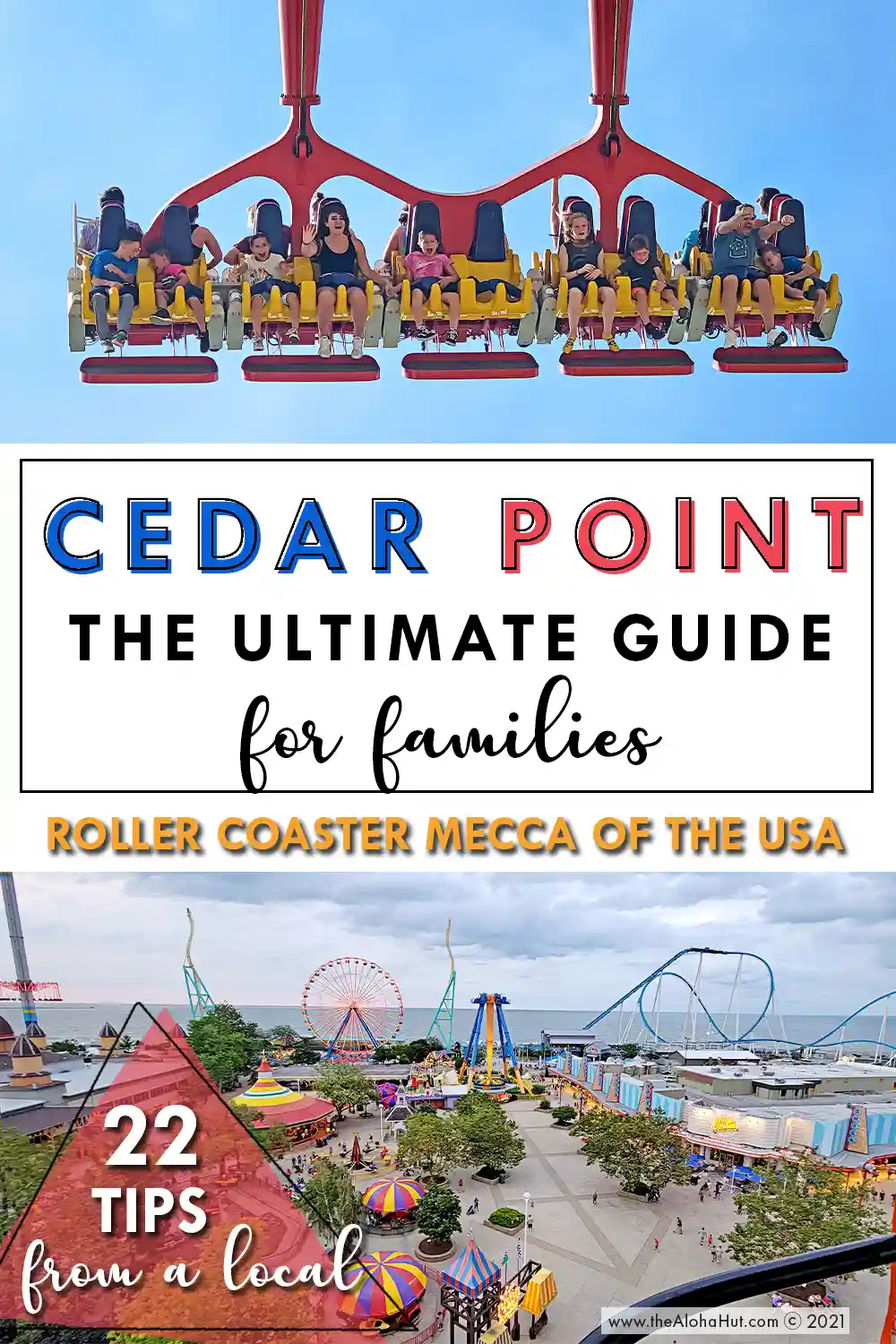 Without further ado, here are our top 22 tips to have the best experience at Cedar Point with your family.
#1 – Arrive early or you'll be waiting in a long line to get in
Arrive at least an hour early, especially on weekends, otherwise you'll be stuck in a huge long line! The park is on an island and only has two points of entry/exit. Get there early and go to the beach, feed the seagulls, or bring some things to play with in the car while you're waiting. If you don't want to go early you could arrive an hour or two later and just plan to stay later or until closer. If you arrive later, you'll avoid the huge line to get in.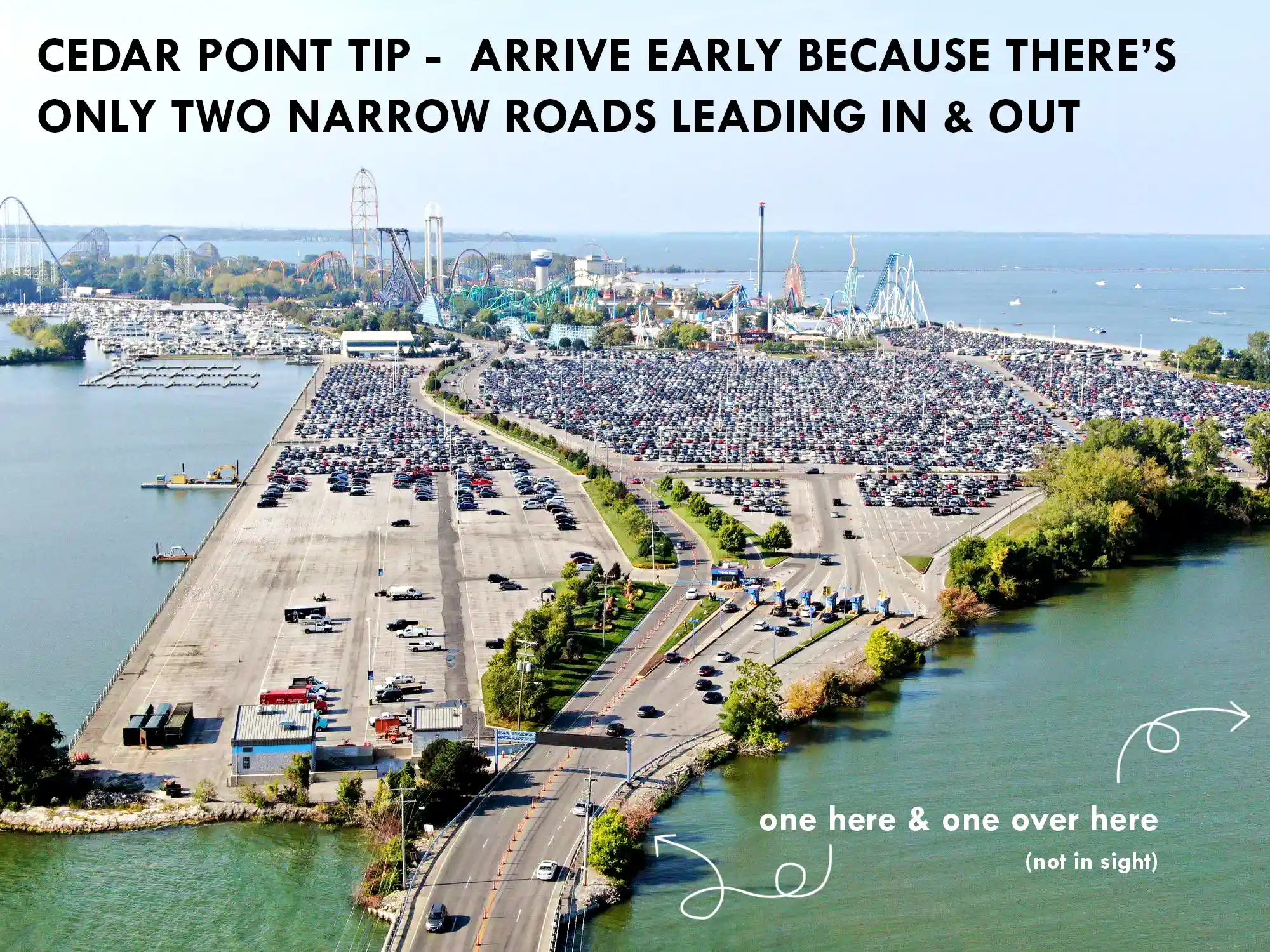 As soon as you get there, tell the older kids to run to the back and get in line for the bigger rides. During the summer, especially weekends, you can be waiting in line for up to 3 hours!
#2 – Purchase your tickets online
You will save A TON of money and time by purchasing tickets online. They offer deals online and through their app that you won't get if you wait to buy tickets at the gate, plus you'll have to wait in line. The gate price for 2021 is $110.99 for weekends and $75 for weekdays. Whereas the online price is only $49.99 for weekends and $45 for weekdays. That's an insane price difference! If you only do one thing on this list of tips, purchase tickets online! Cedar Point's website is chock full of information and is easy to navigate. So hop on there and check out current deals for tickets, food, and extra activities.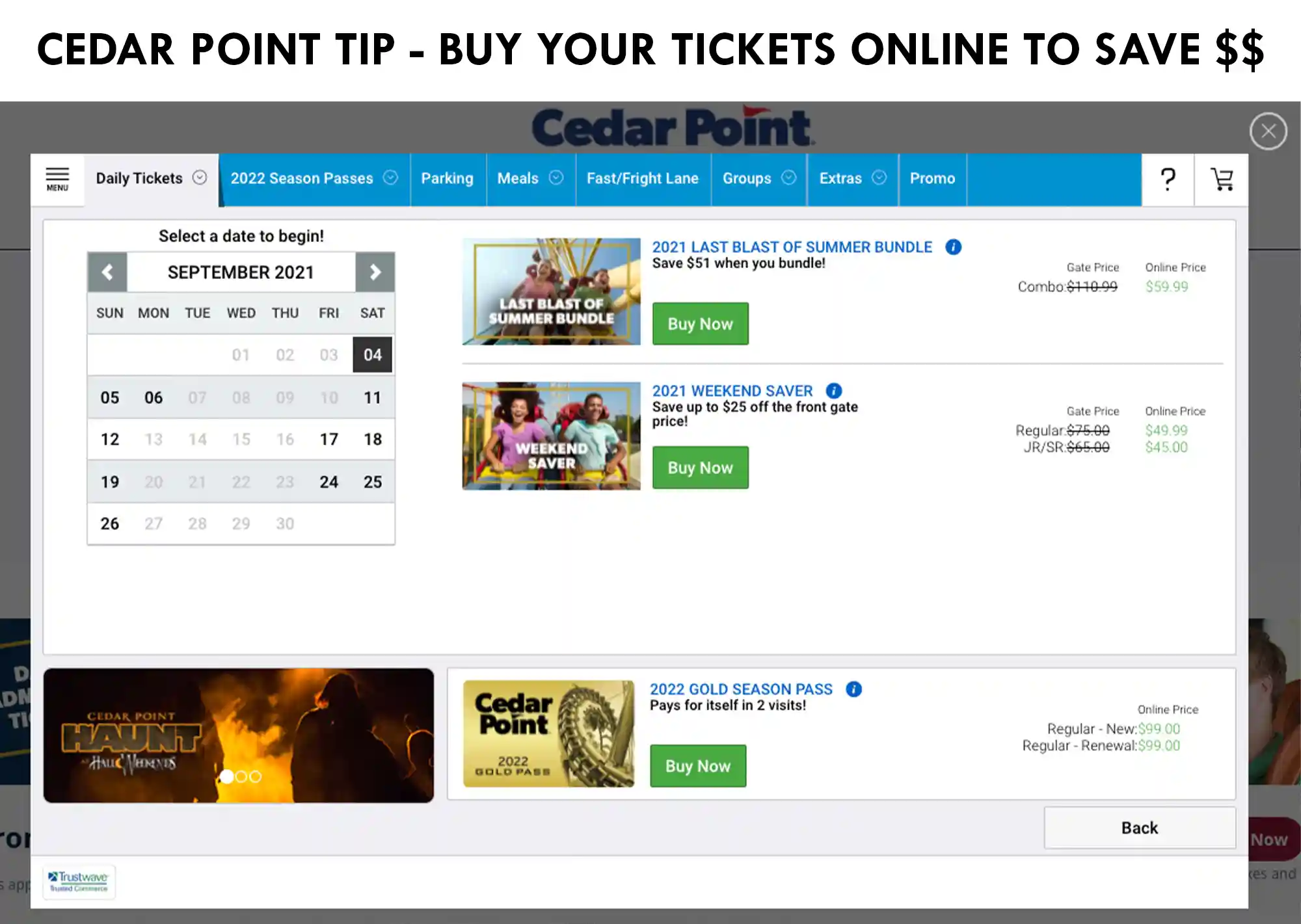 #3 – Get the Pre-K pass for FREE unlimited visits all season long
Children ages 3-5 are eligible for a free season pass. You can "purchase" the FREE Pre-K tickets online, and your child will be able to use it all season long. It's a great deal! Children two and younger are already free, so no need to get a special ticket for them.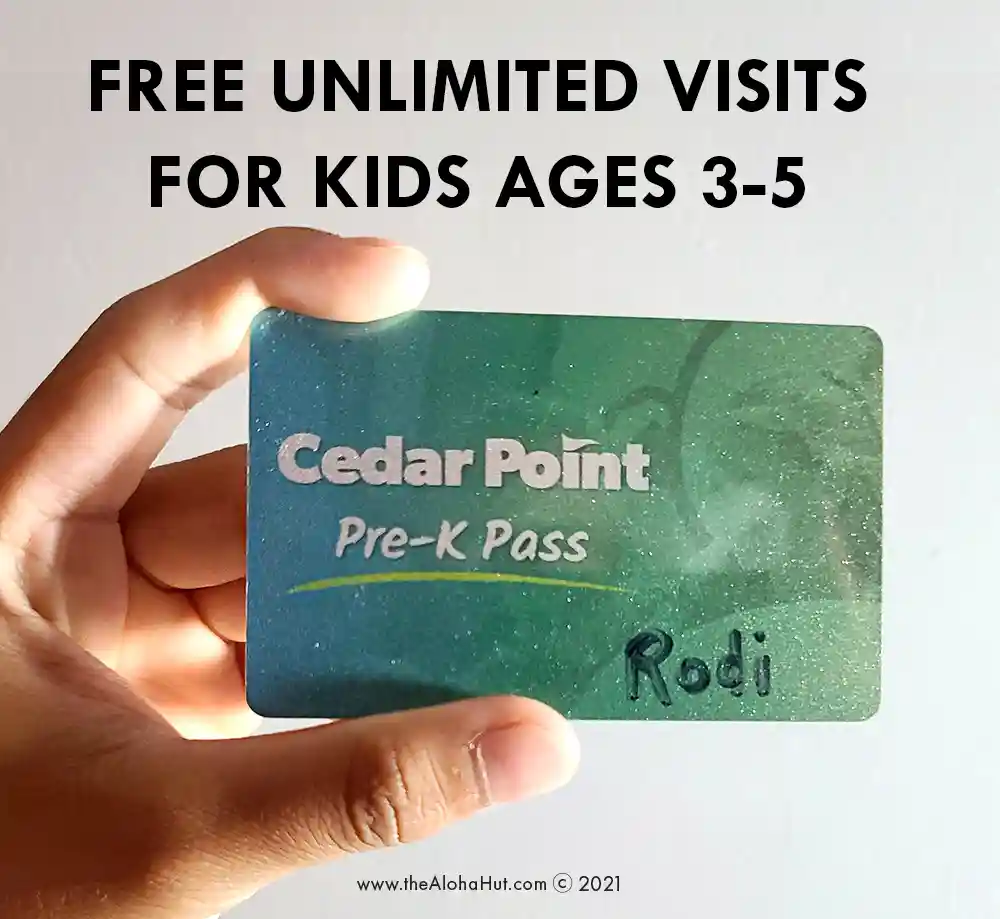 #4 – Buy the season pass – one day at the park is not enough time to experience everything
We highly recommend the season passes if you plan to go more than two days. If you don't live close enough to visit multiple times, then the "Two Day, Any Day" ticket is the next best deal. It brings the total for each day down to less than $40/day and gives you access to Cedar Point Shores waterpark. A one day ticket does not include the waterpark and if you've got kids, they'll want to swim. The Cedar Point Shores waterpark has awesome water slides and play structures the whole family will love. It's a great area to swim, play, and relax at.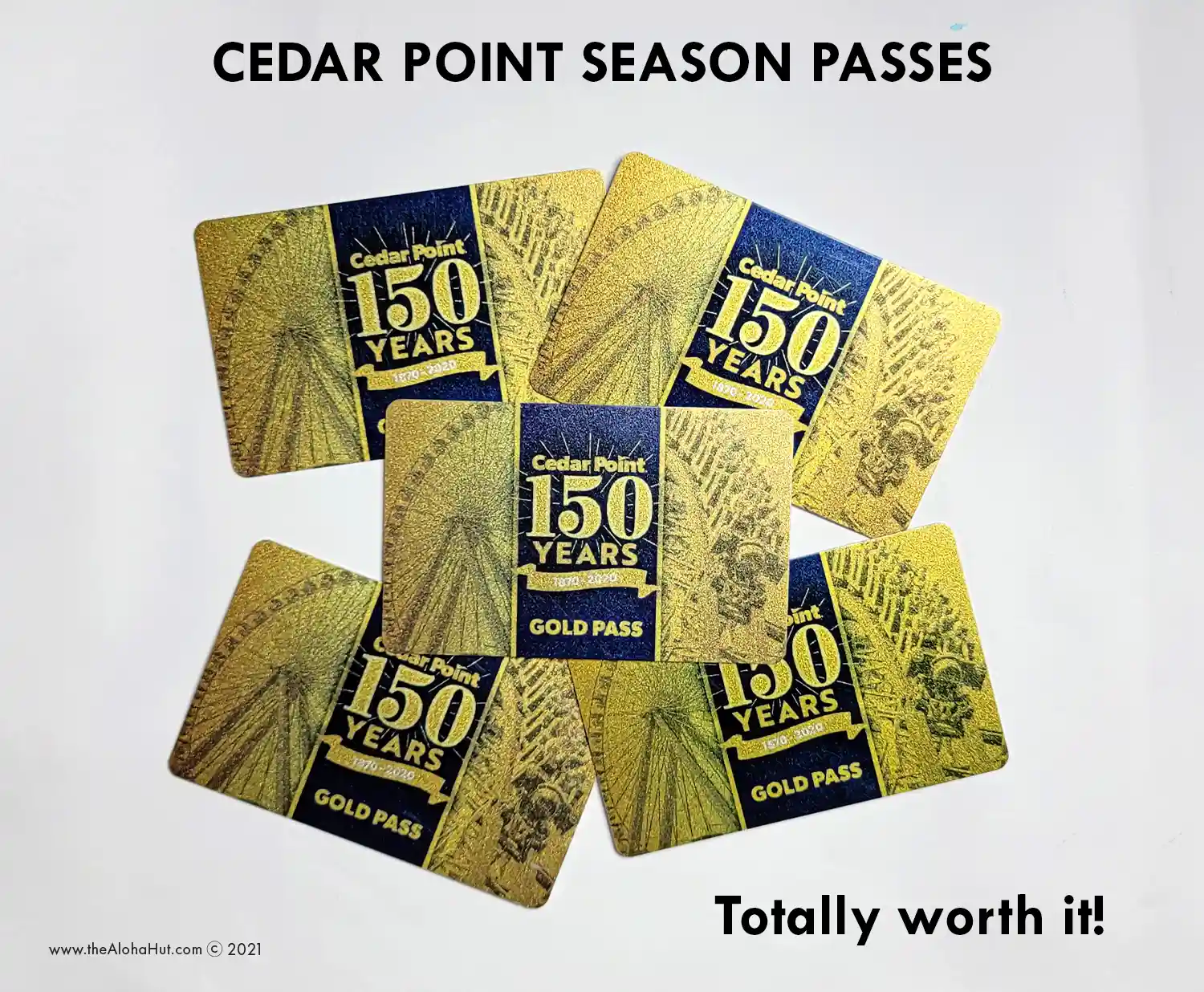 One day is not enough to see or experience Cedar Point. The park is HUGE and there is so much more than rides to experience. You won't want to miss out on the fun, extra activities and attractions they offer. Do yourself a favor and make sure you plan for at least two days.
The season passes are the best deal and pay for themselves on the third visit. Not to mention, they include free parking and early entry. And as an extra money saver, they always start selling the following season passes at the end of the current season. So if you're visiting the park at the tail-end of the current season and decide to purchase season passes for the next year, they'll let you start using it early and get unlimited visits for the remaining current season as well as the following season! What!?! So even if you live farther away, you could plan a vacation for example in October 2021 and then come back for another vacation in the summer of 2022 all on the same season pass! Oh, and one last thing, the season pass allows you to "bring a friend" for only $39.99. How cool is that?! It's definitely worth every penny.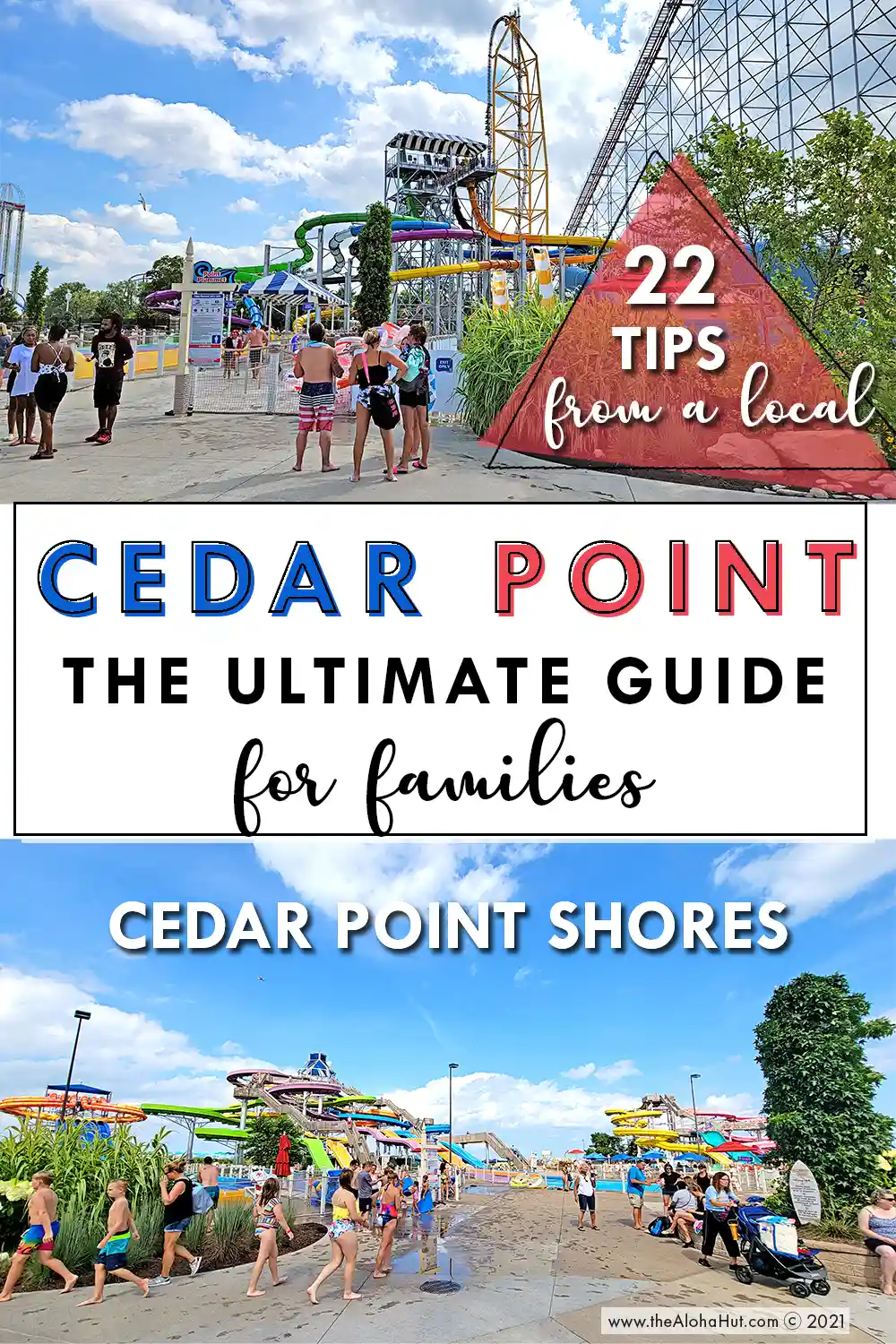 #5 – Check the weather before going
In case you're not familiar with Ohio, it rains, like a lot. So check the weather before you start to book everything. This can be a little tricky, but make sure you get refundable hotels or flights because Cedar Point will shut down rides if it is raining or there is lightning. How long the rain is predicted to last will decide whether or not they open the rides back up again. We actually like it when there's supposed to be a little bit of rain, as it deters the crowds a bit.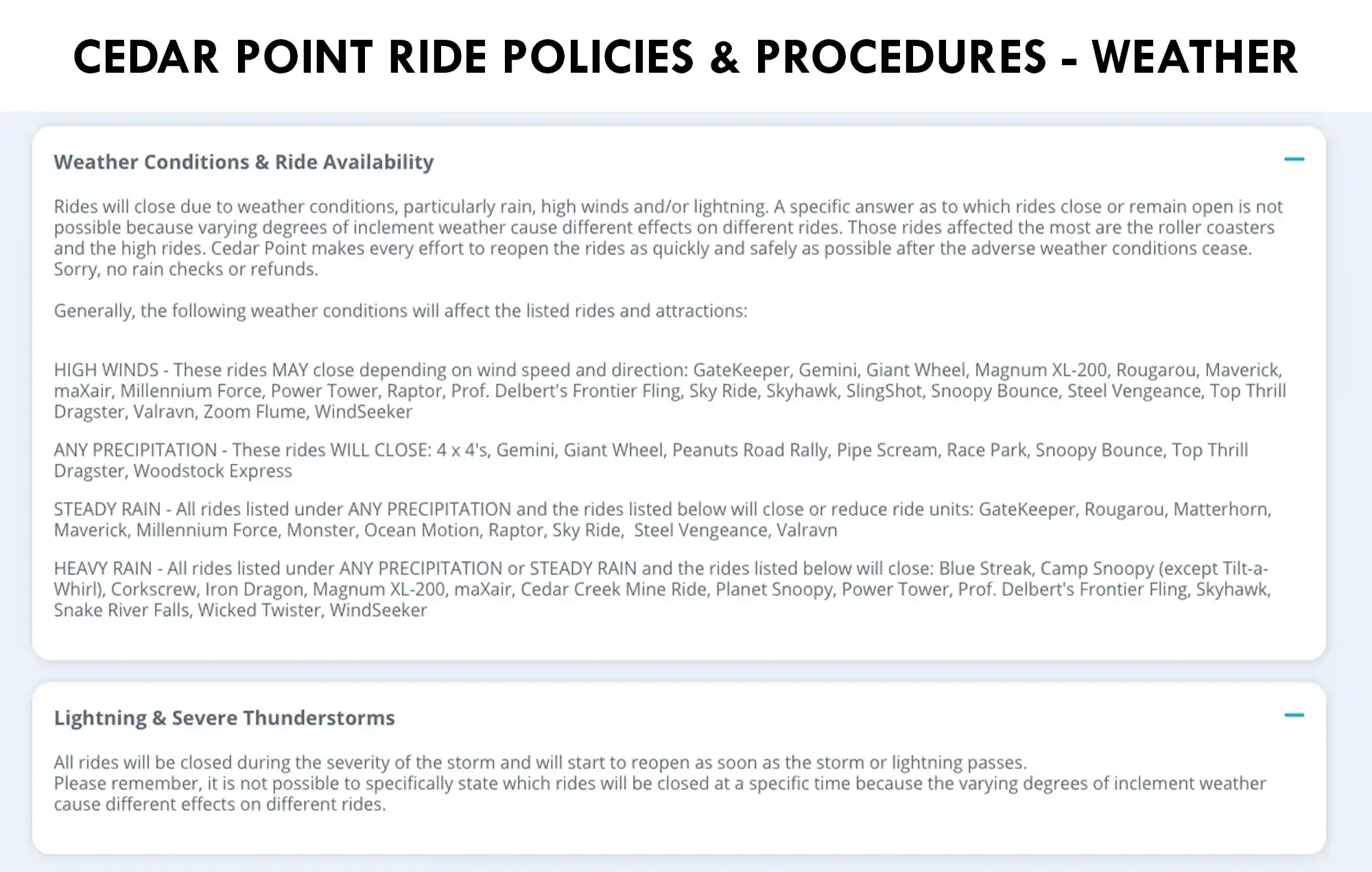 #6 – Go during the week for lighter crowds
This is a pretty obvious one, but we had to include it. We've been going to Cedar Point two to four times a month the last three years and the least busy times are Monday through Thursday. Saturdays are by far the busiest day. We've waited up to 3 hours for some of the bigger rides on Saturdays. Not fun when you have kids. During the week it goes down to about 1 ½ hour wait times for those same rides. Still not great, but definitely better. If you really want to go when there's almost no crowds, the last week of May, when local schools are still in session, or the last week in August and first week in September are AWESOME! After Labor Day, the park is only open on weekends so plan a trip during any of those three weeks for the best experience. We went on a Monday that last week of August and literally waited only 15 minutes for the biggest rides. All the others were five minutes or less!
**UPDATE – Cedar Point will be open Thursdays for their Hallo-weekends! This is a big announcement as in years past they've only been open Fridays, Saturdays and Sundays.**
#7 – Download the app
This is a must! The app has all you need to know in one place. You can add your tickets/passes to the app and use that to get in so you have one less paper to worry about. It's got all the showtimes and event info as well. One of our favorite things about the app is that it's interactive, meaning it shows your location at all times so you know exactly where you're at and what rides you're by. It also gives you fairly accurate wait times for the rides and shows you where all the restaurants, food, drink, restroom locations are. It really gives you all the info you need in one place.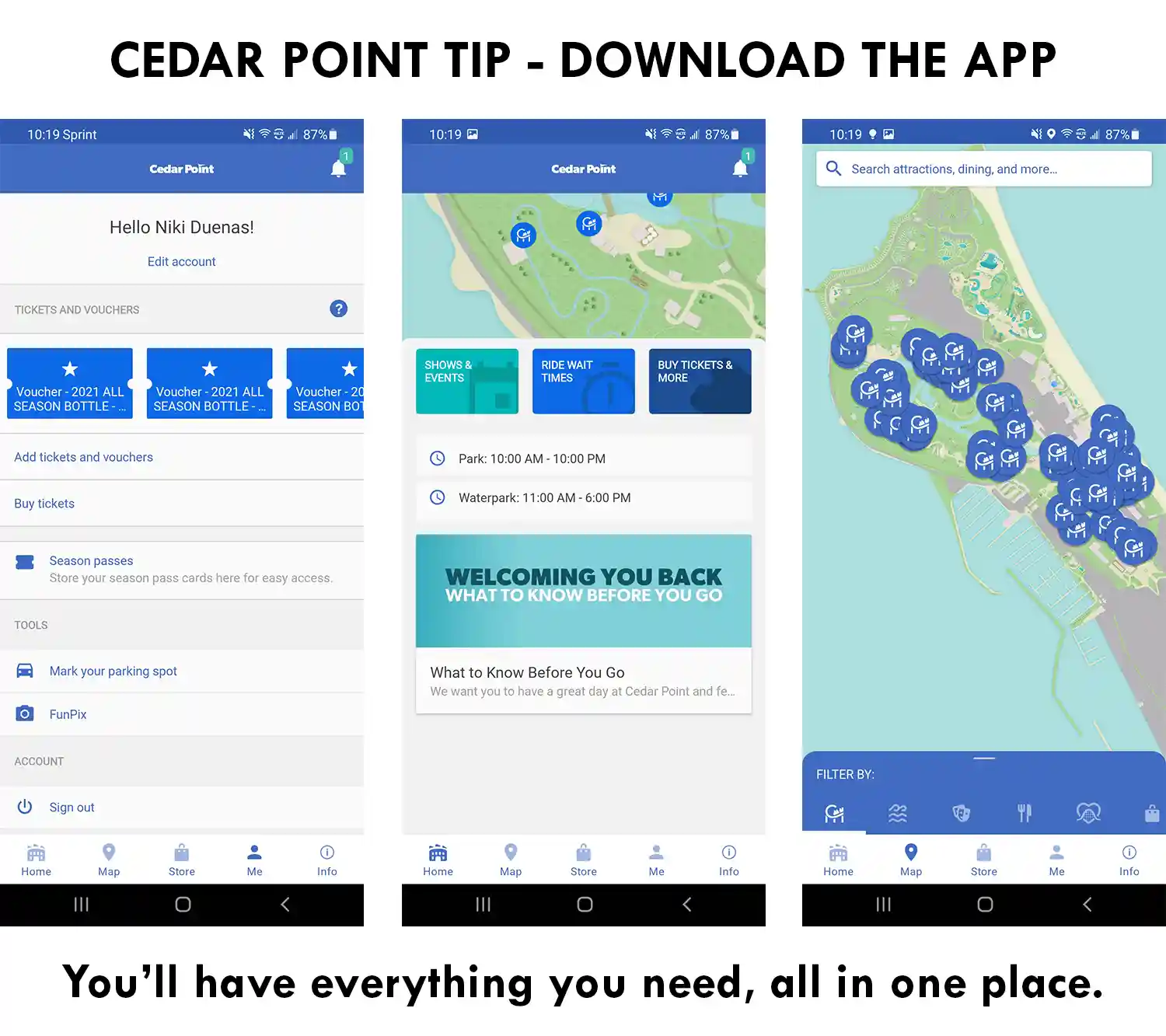 For Android users, download app here.
For Apple users, download app here.
This also brings us to an extra tip, log in to Cedar Point's wifi as soon as you're at the park. That way you won't have any internet issues when using the app. Cedar Point is on an island and depending on your cell phone provider, you might get spotty service.
#8 – Buy the all day dining
For only $31.99, you can eat all day every 90 minutes. You can literally eat every 90 minutes if you want! This pass doesn't include all the restaurants, but it includes plenty to make it a steal of a deal. There are 60 places for food, treats, and drinks. The pass is accepted at 16 of them! It includes well known places like Subway (waterpark only), Chick-Fil-A, Panda Express, Johnny Rockets, and more. The options range from pizza, chicken strips, walking tacos, hamburgers, hot dogs, fries, and more. The dining plan can be purchased at any of the restaurants that accept it. We always go to Hugo's Italian Kitchen at the front of the park so we can buy the passes and start our time right away. It has yummy homemade pizza and breadsticks we love. The dining plan always includes one entree and one side. It's a large enough portion to feed at least two kids and with all the variety of food, you'll find something to please everyone's taste buds.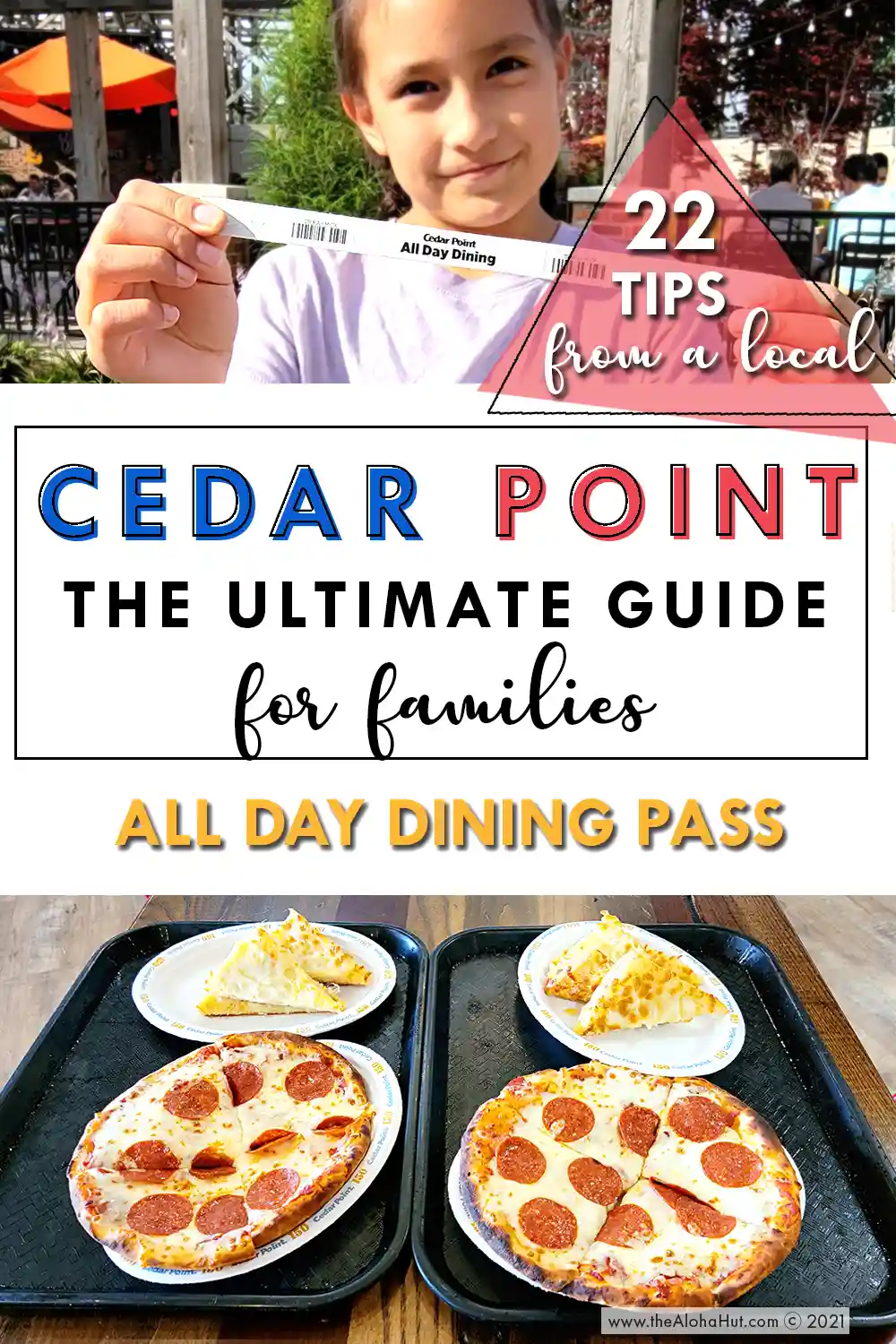 You receive a wristband for each dining plan you purchase and we just keep them inside our fanny packs so that way we can grab food for the kids if they're on a ride. Which brings us to our next tip…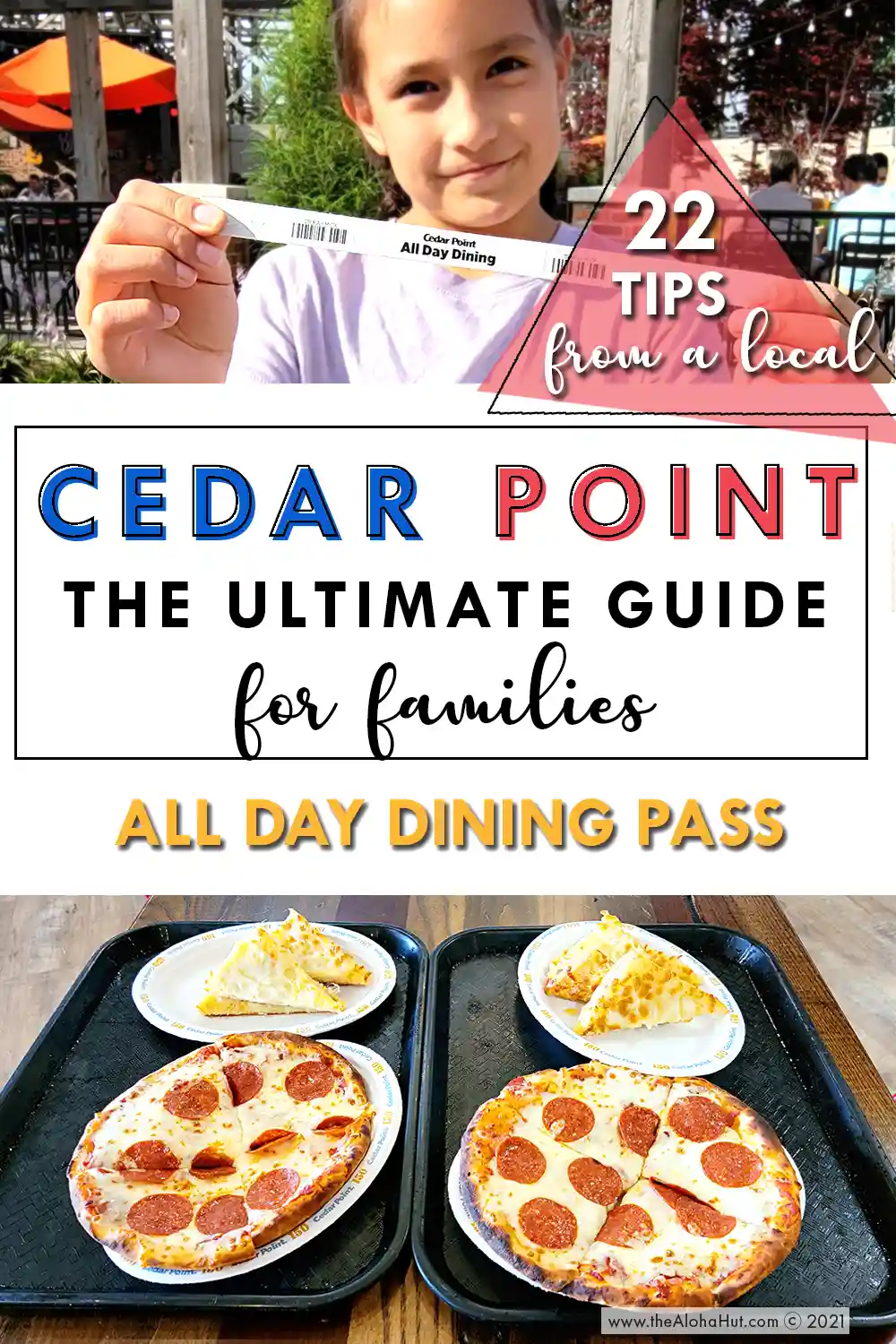 #9 – Bring a collapsible cooler
These are lightweight and small enough to hang on your stroller or put in your wagon. These are especially useful if you need to bring formula, toddler food, or fruit/veggies. We bring a few pieces of fruit for our toddlers to snack on throughout the day, but mostly we use the cooler to store the food we get from the All Day Dining passes. That way the kids always have something to munch on. We love our Coleman Soft Cooler Bag and have had it for a couple years now.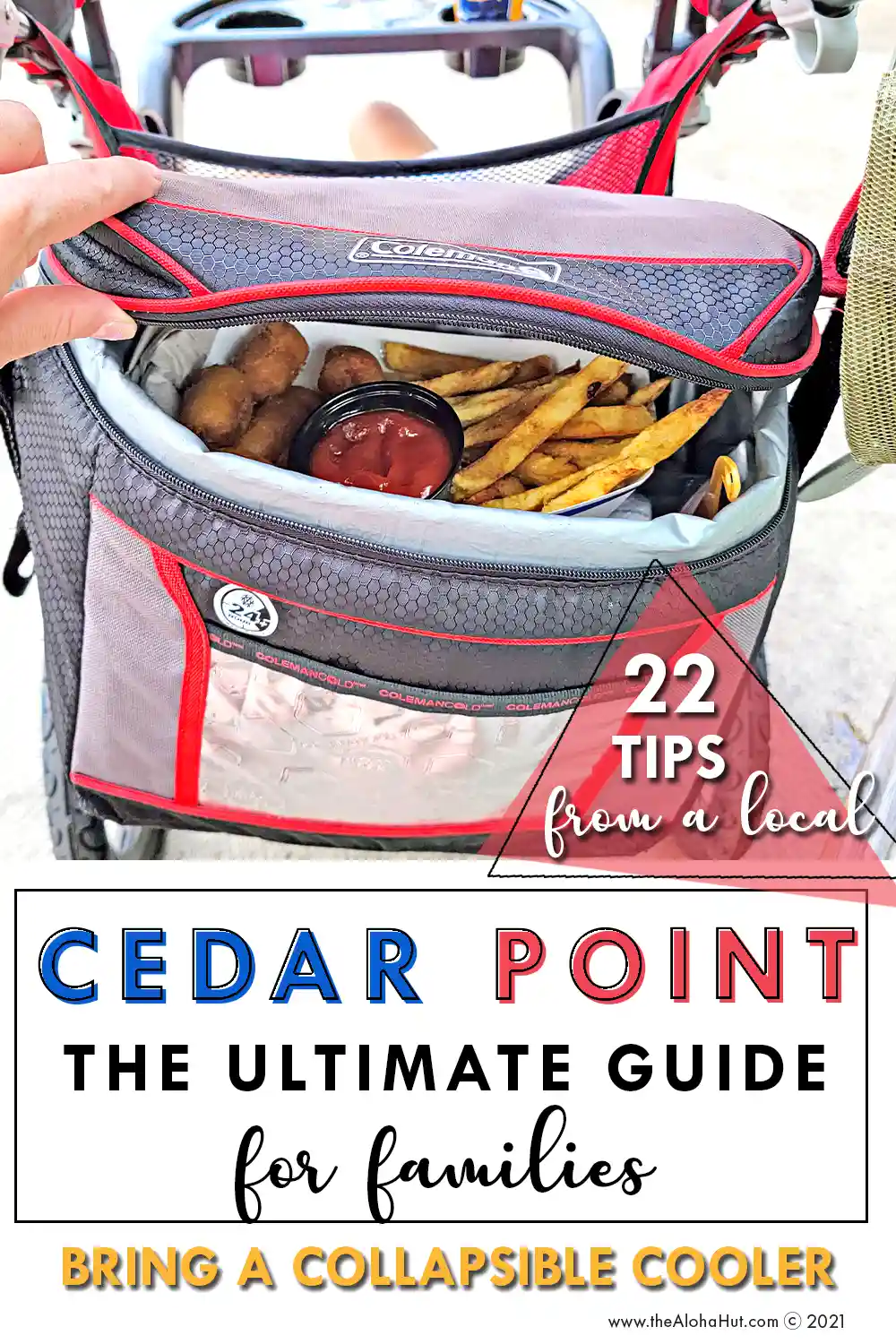 #10 – Bring a stroller or wagon
You can rent one from the park, but they're not that comfortable. We prefer to use our own. We use this to not only carry little ones, but to carry all our stuff including towels, swimsuits, sunscreen, diapers, wet wipes, and drinks. We also like to bring a simple duffle bag or reusable bag to put our wet clothes/towels in.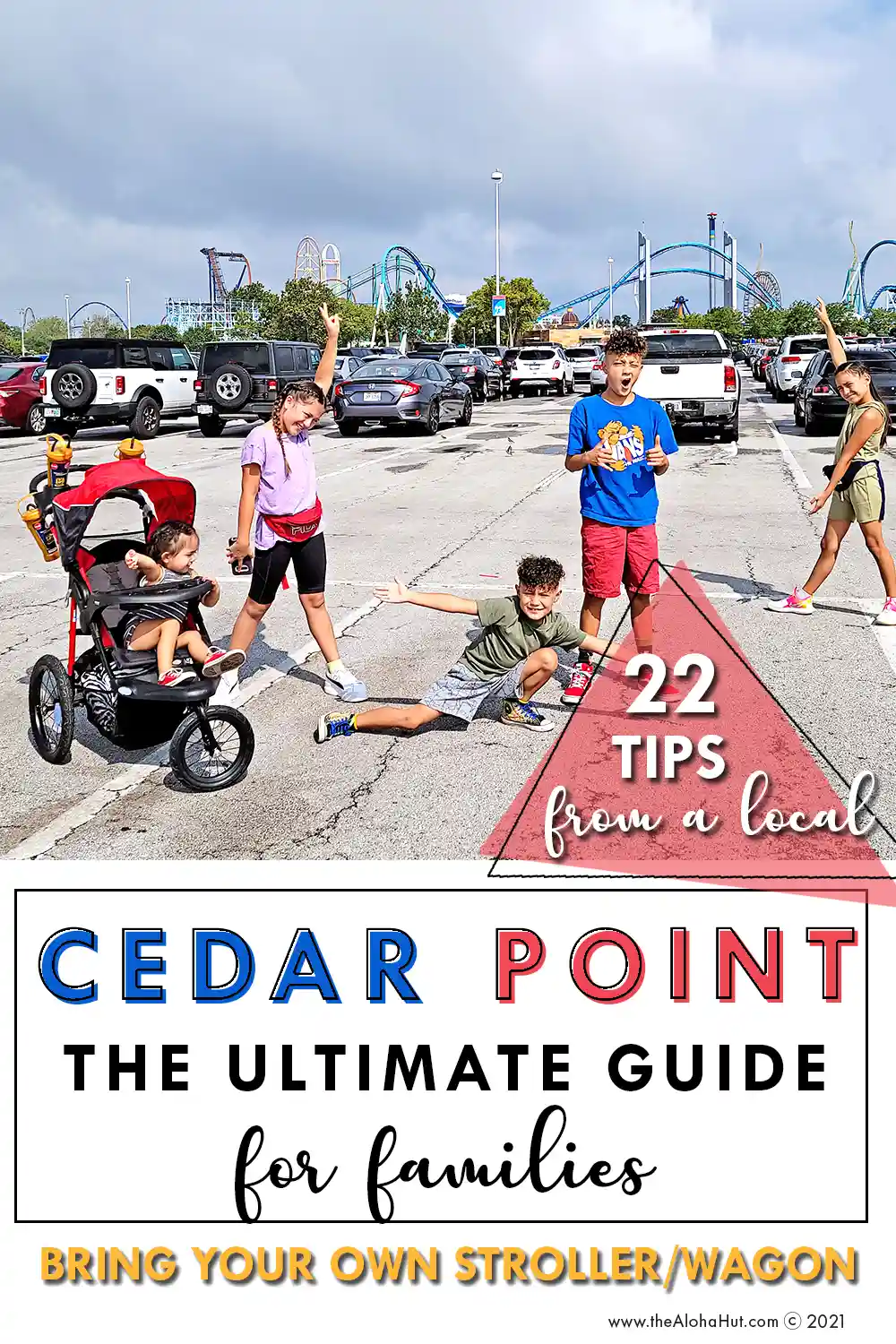 This Wonderfold Wagon would be a dream to have if you have multiple little kids.
#11 – Buy a drink pass
We have the "All Season Drink Bottle" for $32.99 and you can literally fill them up every 15 minutes. During those hot summer days, you'll be so grateful for them! There are drink stations everywhere, along with being able to fill them up at all the restaurants. If you don't have a season pass, you can buy the bottle or the "Drink All Day" pass for $13.99. The pass allows you to get a cup to fill up whenever you want. You'll receive a wristband, just like the dining plan, that they'll scan it before you get a drink. Both of those options give you drinks all day, every 15 minutes as well.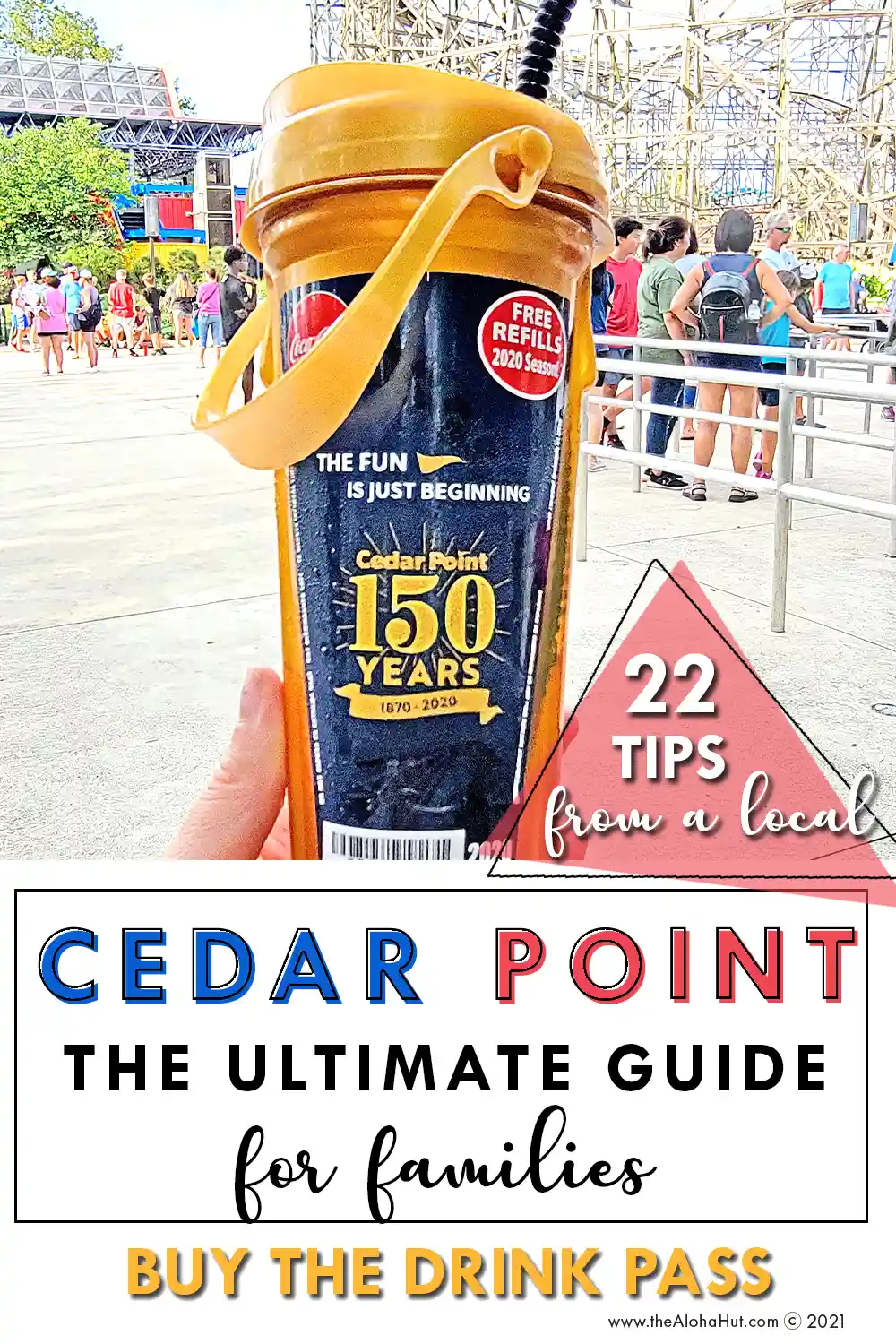 #12 – Dress for the weather
Summer is usually pretty hot and sticky. The humidity makes it feel hotter than it actually is. We like to wear shorts, t-shirts, and comfy shoes. Sandals are good too as Cedar Point allows you to remove them for rides if needed (we've been to some theme parks that don't allow open-toed shoes on certain rides). Don't forget to bring your swimsuit and a towel for the waterpark. There are also two water rides at Cedar Point that you will definitely get soaked on. Our kids don't like walking around in soggy clothes so they change into swimsuits in the restroom at the entrance of those rides, ride both rides and then we head over to the waterpark or beach.
Cedar Point Shores waterpark offers life jackets, but if you prefer your own or your child prefers a puddle jumper, then bring that as well. If you plan on going to Cedar Point beach (which we highly recommend and will be in one of our tips below) bringing your own life jacket for kids is a good idea.
Fall is tricky. It can be warm, but most evenings/nights it's chilly. Bring a jacket or sweater. We like to bring a small blanket for little ones, especially if we're staying late, so we can cover them when they fall asleep in the stroller/wagon.
#13 – Bring a fanny pack
Yes, a fanny pack. We like to carry our phone, ID, credit card, and a little cash and that's it. The fanny pack can carry all of it, stay attached to you at all times, and is hands free. You can also keep it on you while you ride ALMOST every ride. A few of the bigger rides won't allow anything, including phones in pockets, but they have lockers you can put your items in. Fanny packs are back in fashion, we promise. We make each of our older kids wear one so they can put their phones inside. That way we can track them at all times (more about that in tip #14) and so they don't destroy their phones when riding the rides. Yes, we've had to lay two phones to rest from theme park rides. Trust us, fanny packs are a must.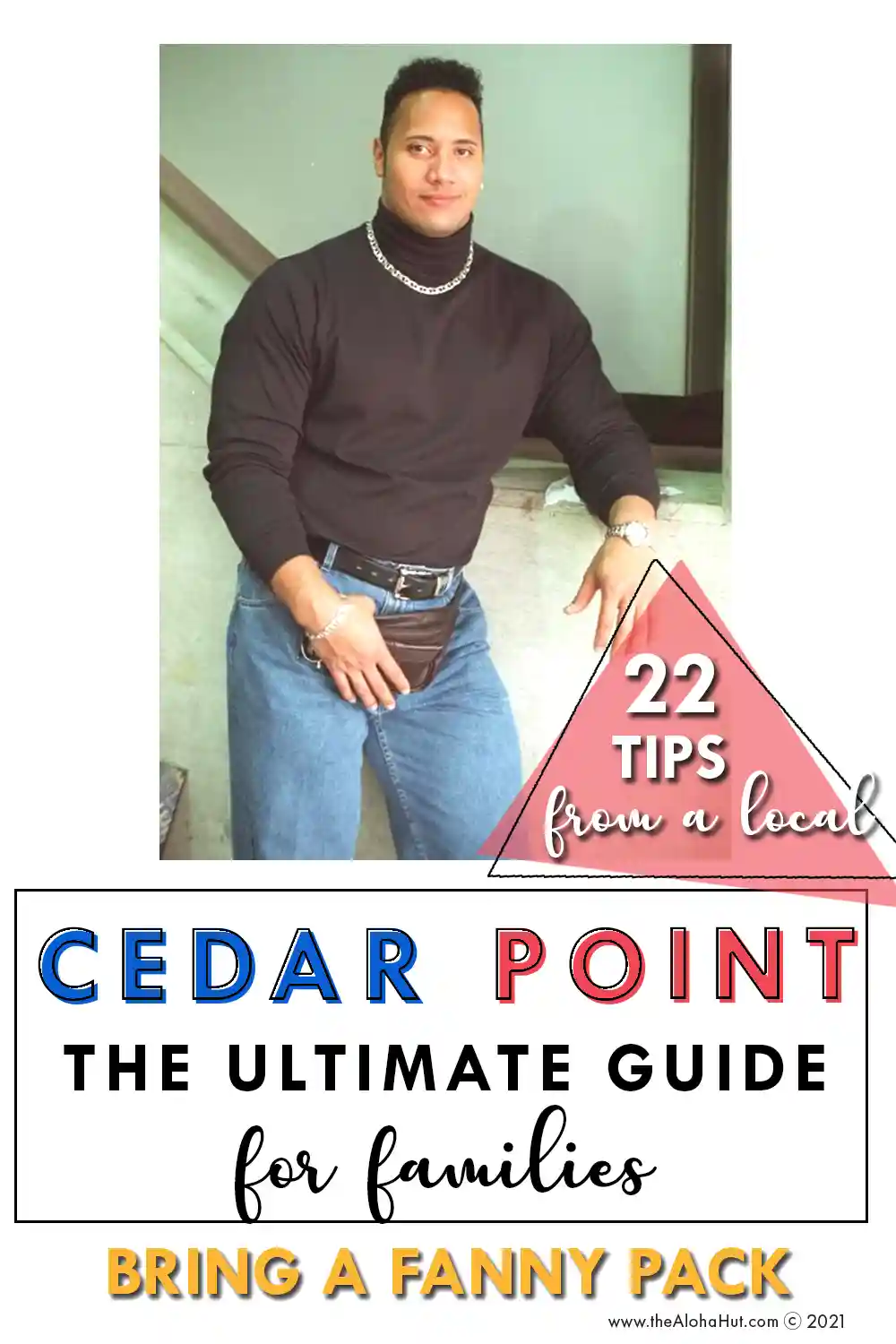 We love these ones from Fila because they fit everything…including our giant phones wrapped in clunky Otter Box cases.
#14 – Download the app LIFE360 on every phone
If you don't know what the Life 360 app is, it's a tracking device and so much more. We have these on all our phones. It gives us comfort knowing where our kids are at all times. Especially when they're at school, at friends' homes, soccer practice, etc. This app is accurate within a 10 foot radius. You create groups in the app and then everyone shows up on the map. Now that I think about it, it's Harry Potter's Marauders Map, but in real life! When the kids get hungry, they look at that map and follow it to us so they can grab a quick bite and then they're off to more rides.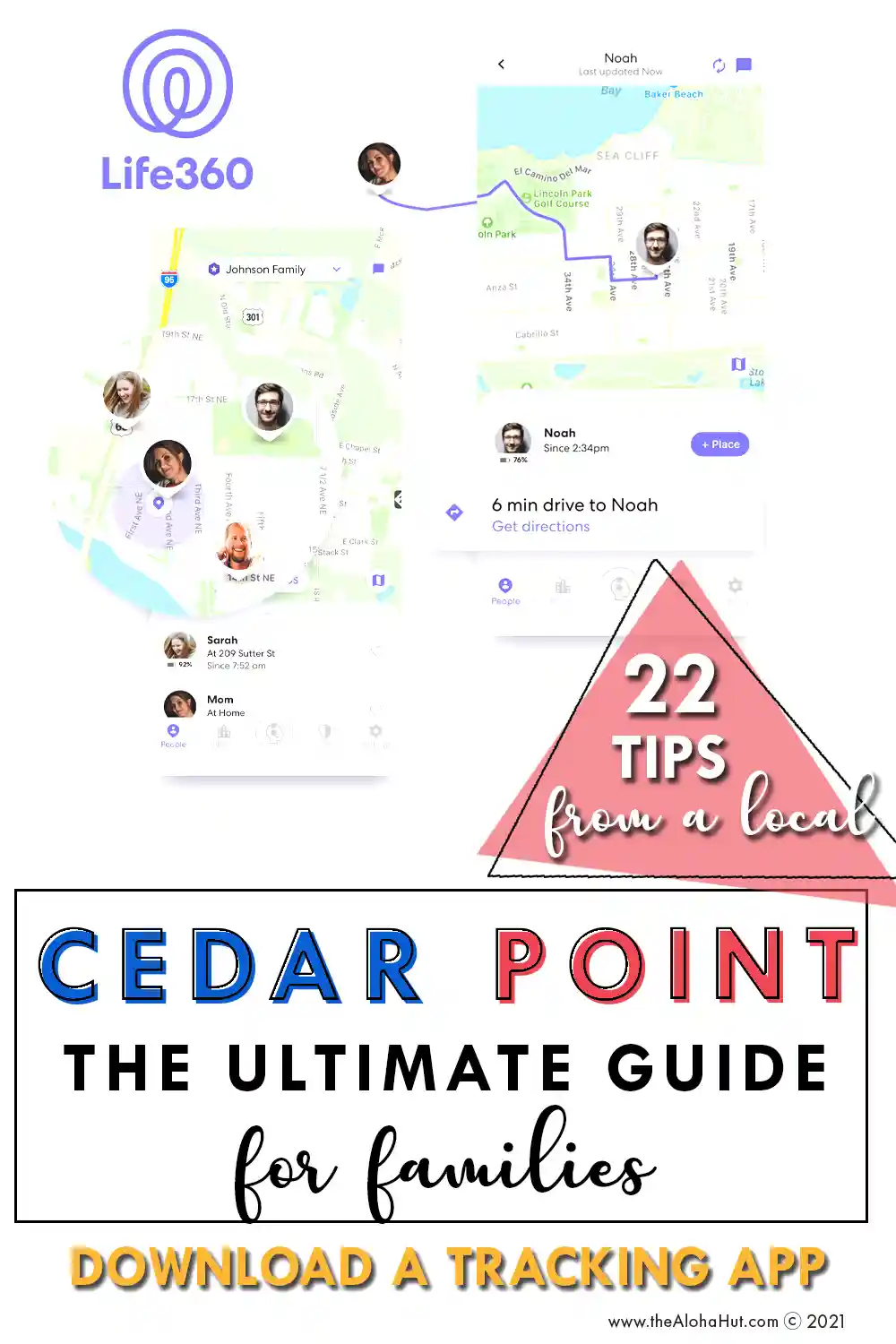 For little kids, we highly recommend putting a watch like this on them. That way you can track them right away if they happen to get lost and you can talk to them like a walkie talkie to keep them calm while you are going to them. I, Niki, lost my girls at Disney World one year and was so grateful they had their watches on. I was a complete wreck as it still took us about 10 minutes to find them because it was right when the evening parade was going on. I don't even want to imagine what could have happened if they weren't wearing their smart watches.
#15 – Fast lane passes are an option
There are two fast pass options: the Fast Lane or the Fast Lane Plus. The Fast Lane excludes four of the best roller coasters, but the Fast Lane Plus includes those four. They are Steel Vengeance, Maverick, Millennium Force, and Valravn (used to be Top Thrill Dragster but due to an awful and sad incident, this ride is closed the rest of the season). All four coasters can have a normal wait time of 2-3 hours on weekends and 1-2 hours during the summer weekdays. If budget isn't a factor, the fast lane passes are totally worth the extra money. You'll ride a ton more roller coasters with it. We have a large family, so we usually skip on fast lane passes and instead opt to go during the week (tip #6).
#16 – Check the height requirements for each ride
Cedar Point is very strict when it comes to their rules. This is good and bad. We appreciate when employees will let our child on a ride if they're a hair too short, but at Cedar Point – THEY WILL NOT LET ANYONE ON A RIDE IF THEY AREN'T THE EXACT HEIGHT OR TALLER. And we literally mean the exact height or taller. We've had kids that are ¼ centimeter too short and they were denied entrance. On some rides they'll have employees at the entrance of each ride measuring. Don't be shocked if you wait in line and get to the front only to have your child measured again and then told they're not tall enough. We learned the hard way and waited over an hour only to be denied. If you are sure your child is tall enough, get them a wristband at customer service that shows they were measured and are tall enough. Sometimes employees will still want to measure them if they look close to the height requirement, but most of the time they just look at the wristband and let them on.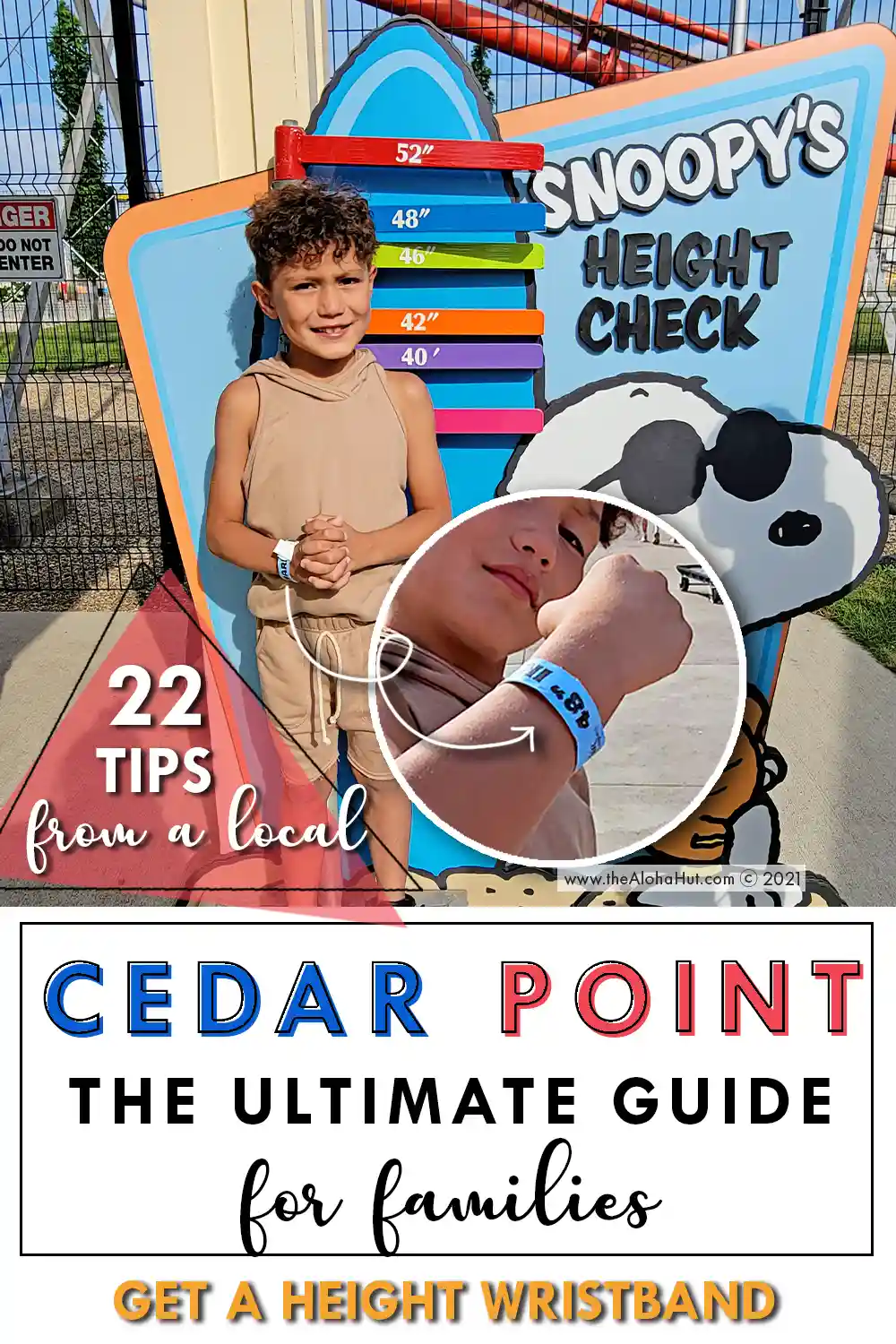 Here is a list of all the rides that have height requirements: (we made it a picture so you can save it to your phone or download the pdf file at the bottom of the post…this information is also available on the app, but not all together in a quick glance).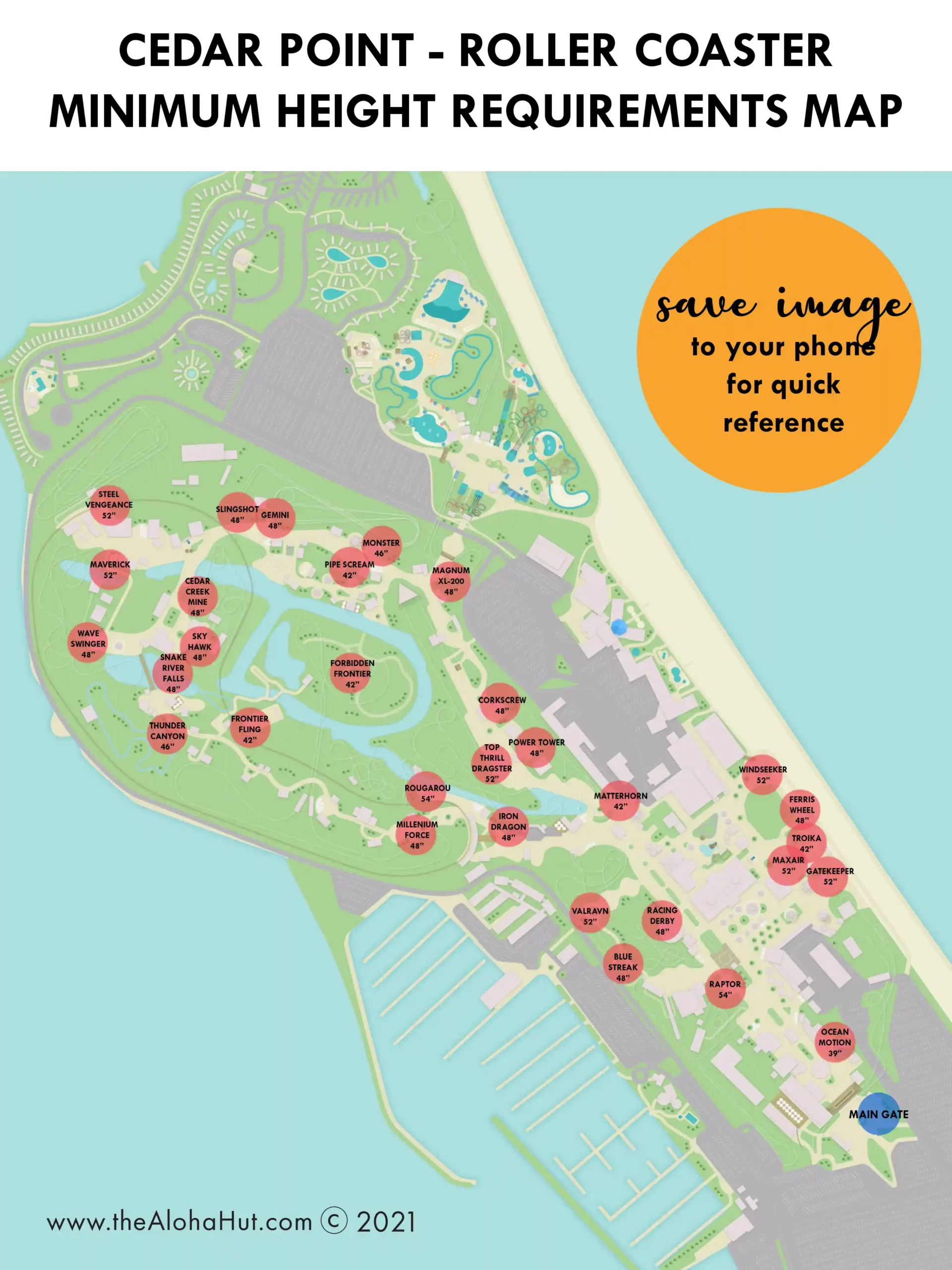 #17 – Take advantage of the parent swap
This is so important for those bigger rides that have longer wait times. In order to use the program you'll need to get a slip at the main gate Guest Services, Town Hall Museum, or Resort Entrance Gate (the side entrance for the hotel and for the waterpark).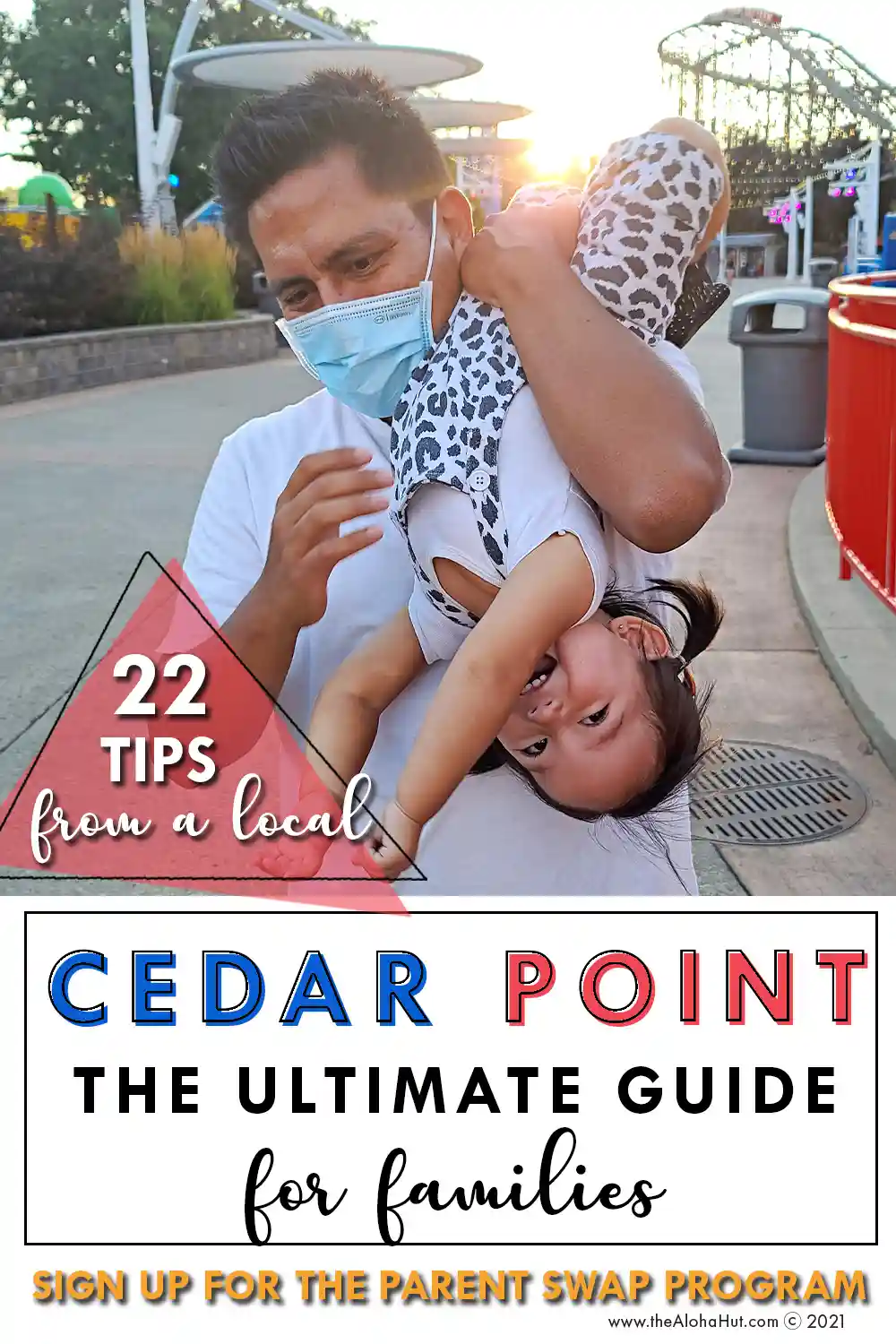 All you do is one parent waits in line with any other child tall enough to get on the ride. Make sure that parent has the Parent Swap pass so that they can give it to the ride operator after they've gone on the ride. Then the other parent can go through the exit and get right on the ride along with any other child tall enough to go on the ride. Yes, you heard that correctly. That means your child could do those big rides twice without waiting that second time. What we love about the Parent Swap pass is that the other parent doesn't have to go immediately to the ride. The operator will hold it until the other parent can make their way to that ride. So if mom is with the little kids on rides. She can wait until dad comes and takes over, then walk over to the ride at her convenience.
#18 – Don't pass up Forbidden Frontier
This attraction is not only hands on, but brains on! It's an interactive experience where you'll be communicating with live actors, challenged with secret missions and obstacles, then find yourself on a massive playground with suspended rope bridges, net tunnels and two huge slides. This attraction has a height requirement of 42" alone or 32" with a supervised companion. It's awesome, so don't miss this experience!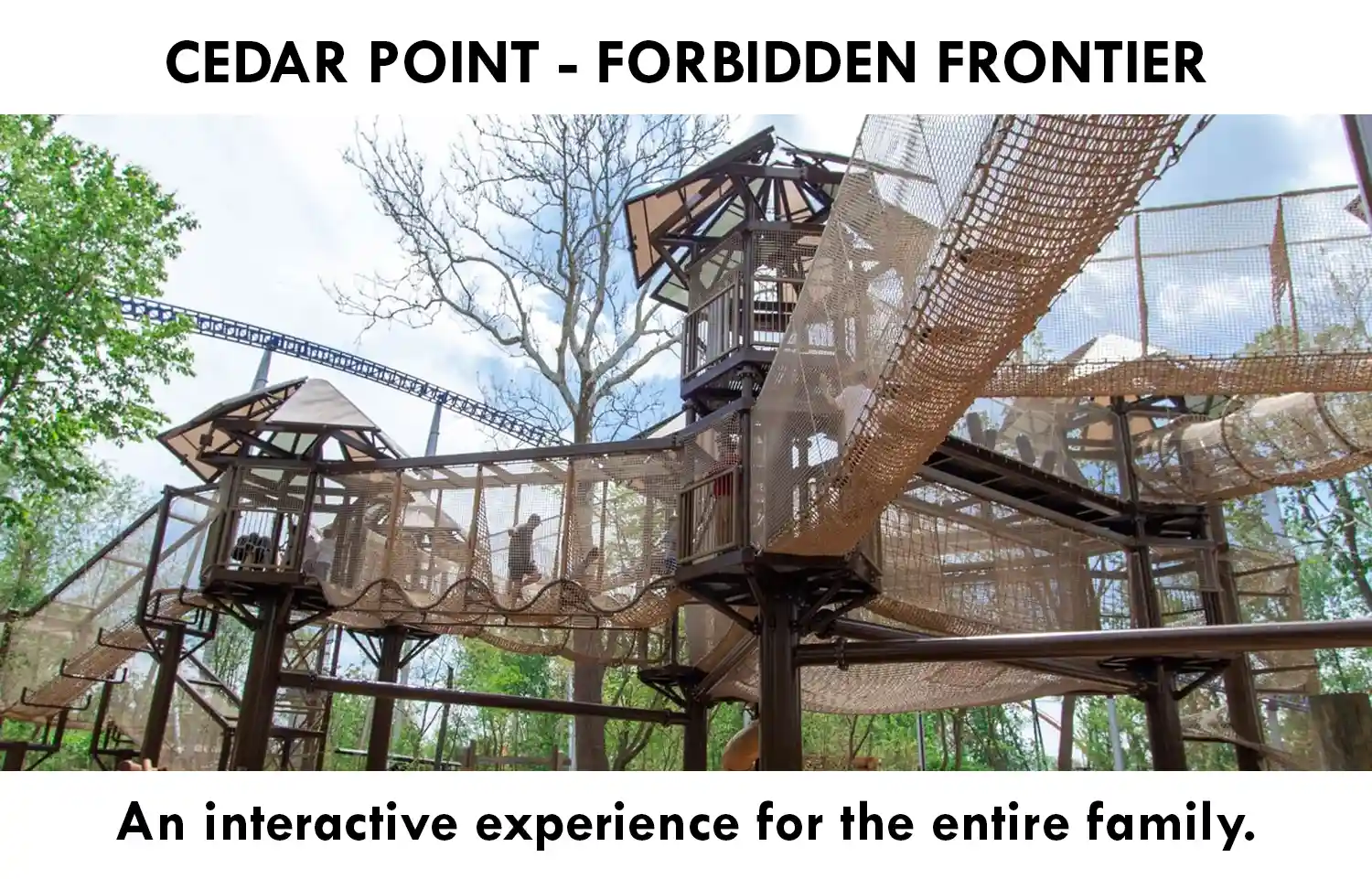 #19 – Families with little kids, hit up all the four kids areas
Most theme parks have one or two kid areas, but not Cedar Point — they've got four! They are in two different spots in the park so it makes it better for families with kids ranging in ages. You can take the little ones to the first two areas, Kiddie Kingdom and Planet Snoopy, while the older kids ride the coasters around there; then move further into the park to the other two kid areas, Camp Snoopy and Gemini Midway area (just outside of Camp Snoopy). That will allow the older kids to ride the coasters back there. The park is huge! We let our older kids go off on the rides so long as they stick together, but it's still nice to be close by and have them check in every hour or two.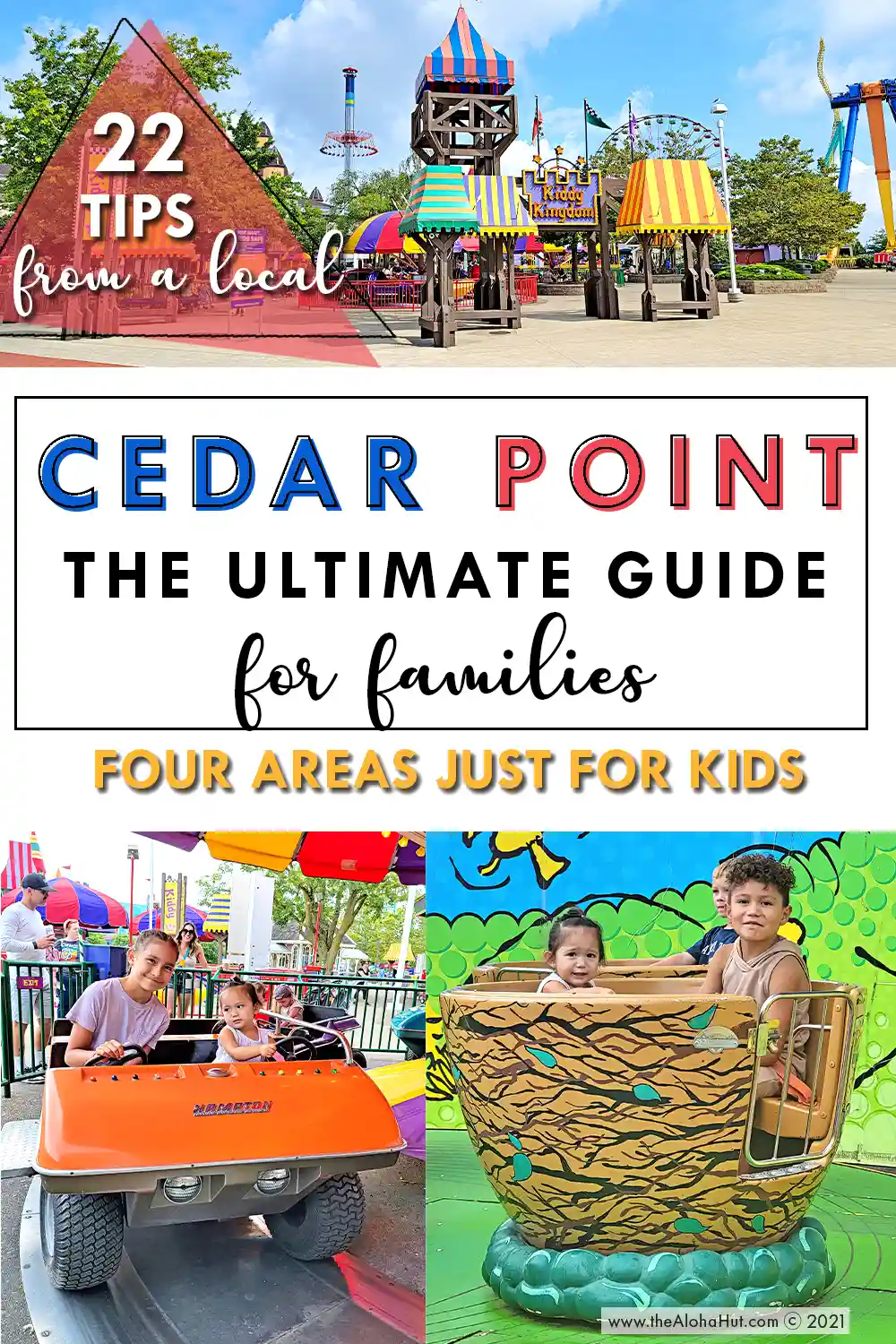 These four areas aren't the only place little kids can enjoy. There are some great rides scattered throughout the park that are slower moving and geared for the entire family to enjoy. The train, antique cars, ferris wheel, boat ride, and the sky ride are a few of our favorites to do with little ones.
#20 – Take the kids to the petting zoo
We would consider this another kid area. Our kids, especially the little ones, love the petting zoo. It's only open from 12-6pm each day, so plan accordingly. There have been a few times that we've forgotten to head over there until it's too late and our littles get so sad. My daughter Indie always asks for two things: she wants to go on the train and she wants to see the animals. So don't miss this opportunity. They sell pet food for $3 and it's a fun experience to feed all the farm animals.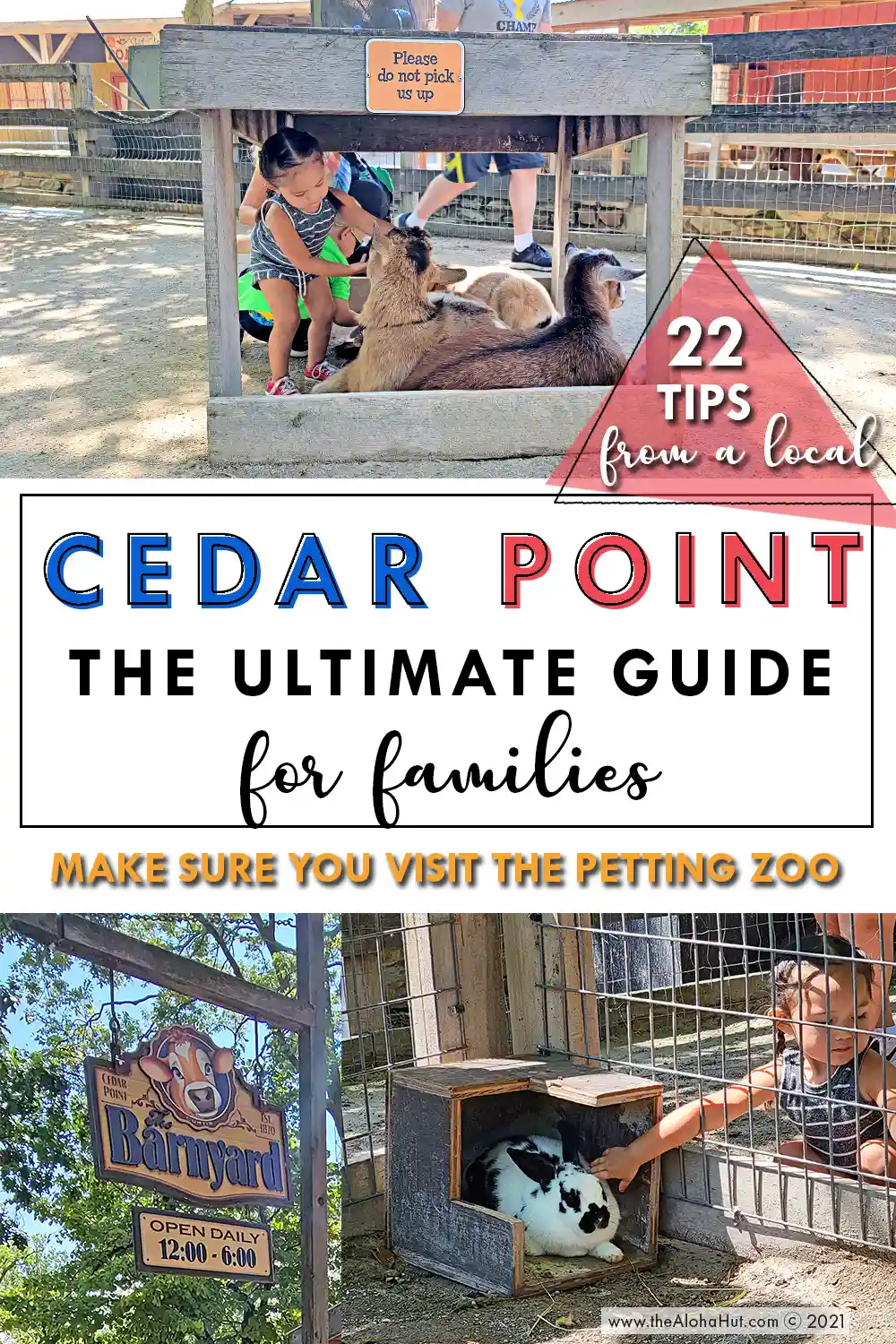 #22 – Take advantage of the entertainment and extra activities
Depending on when you visit the park, there will be different events and entertainment. This season they held the 150th Celebration and there were lots of fun games for kids and adults like a pie eating contest or bingo. In the evening, they put on a great parade with lots of floats, including a roller blading one where the cast did some tricks off the float and right into the crowd. It was really neat! Attending Hallo-weekends has become one of our favorite family traditions. Cedar Point does a great job at creating a fun Halloween atmosphere.  The kid area transforms into a trick-or-treating activity with goodies and treats and a fun prize at the end.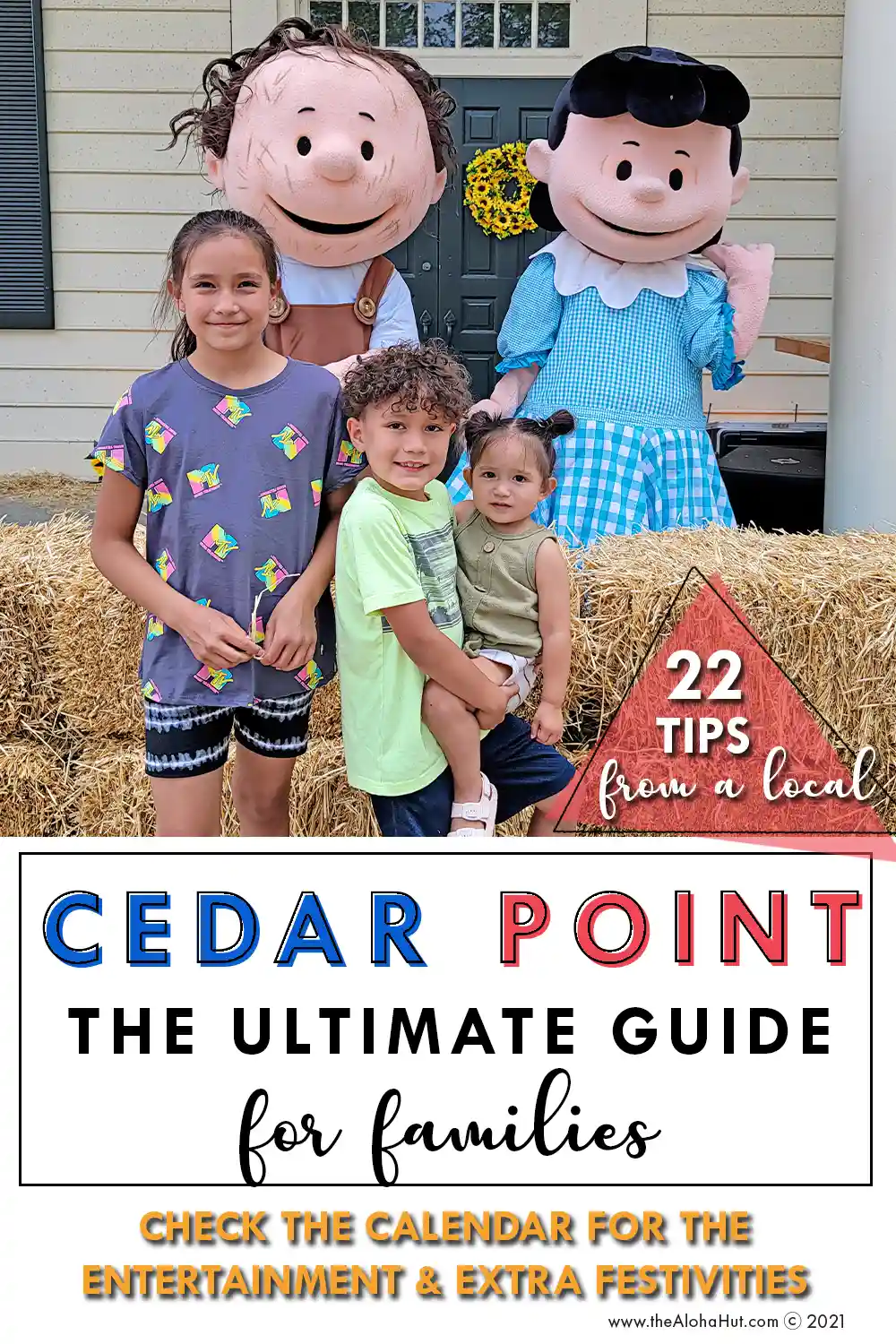 Cedar Point also puts together multiple haunted houses and scare areas. It's seriously a lot of fun. If you want to read more about Hallo-Weekends you can do that here.
That was a ton of information, but hopefully you were able to get a good feel for how to prepare for your next Cedar Point trip. If you have any specific questions, their website has a lot of information or you can call customer service. They're very polite and knowledgeable. You can also leave your questions and comments below and we'll try to answer them. We hope this helps you plan the ultimate Cedar Point vacation!
Happy travels,
Stacey + Niki
---