Legoland California: A Complete Guide for Families
Legoland California: A Complete Guide for Families
This post may contain affiliate links. Read our disclosure policy.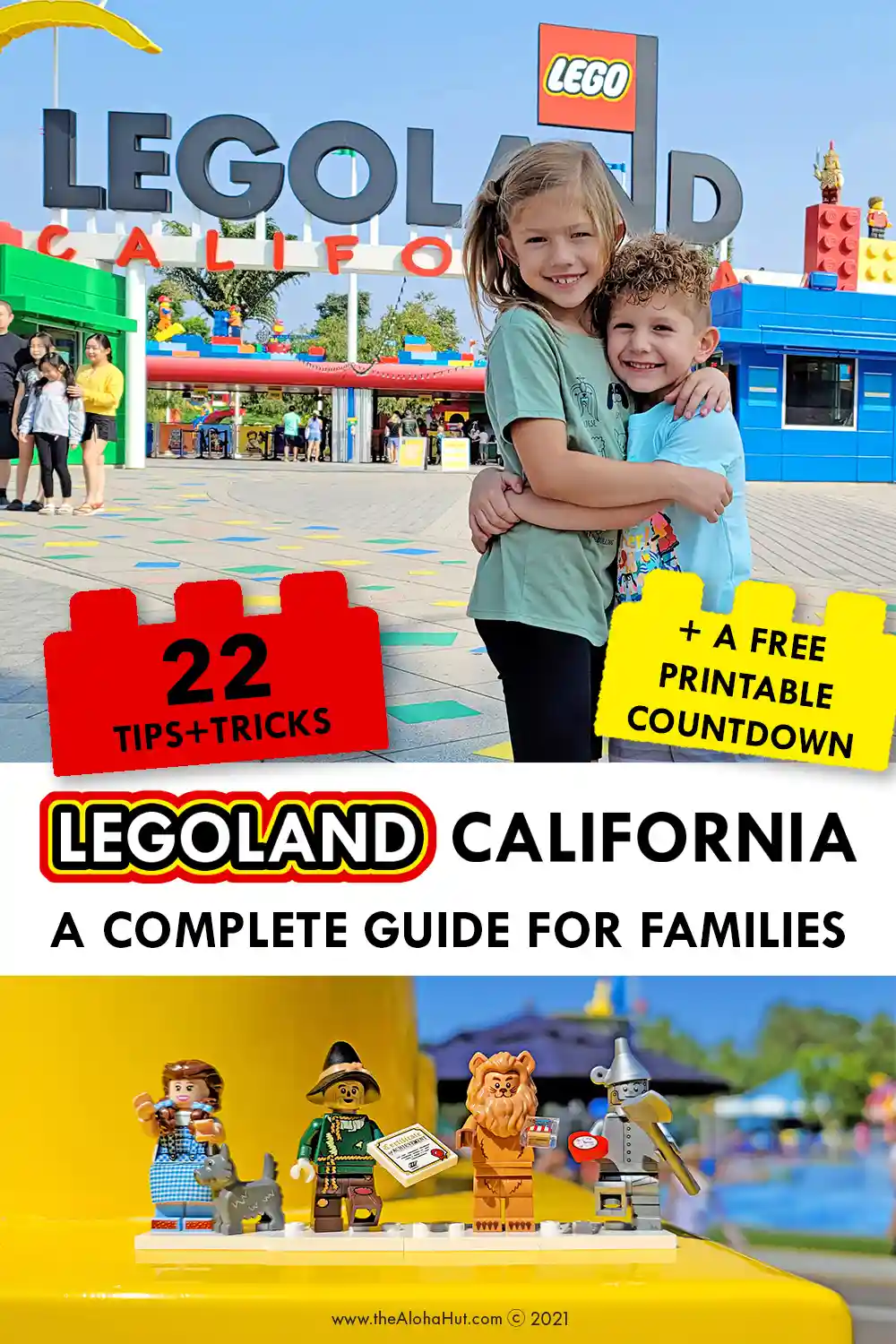 We love to plan vacations and activities! With so many kids, we've always been on a tight budget so we do a ton of research to find the best deals, all the tips and tricks, and the TO DOs in order to maximize our experience and stretch our dollar further. We just got back from another trip to Legoland California and have tons of info that can help you easily plan your own trip and make it awesome! Below are our top 22 tips and tricks for experiencing it all at Legoland California.
#1 Free kids tickets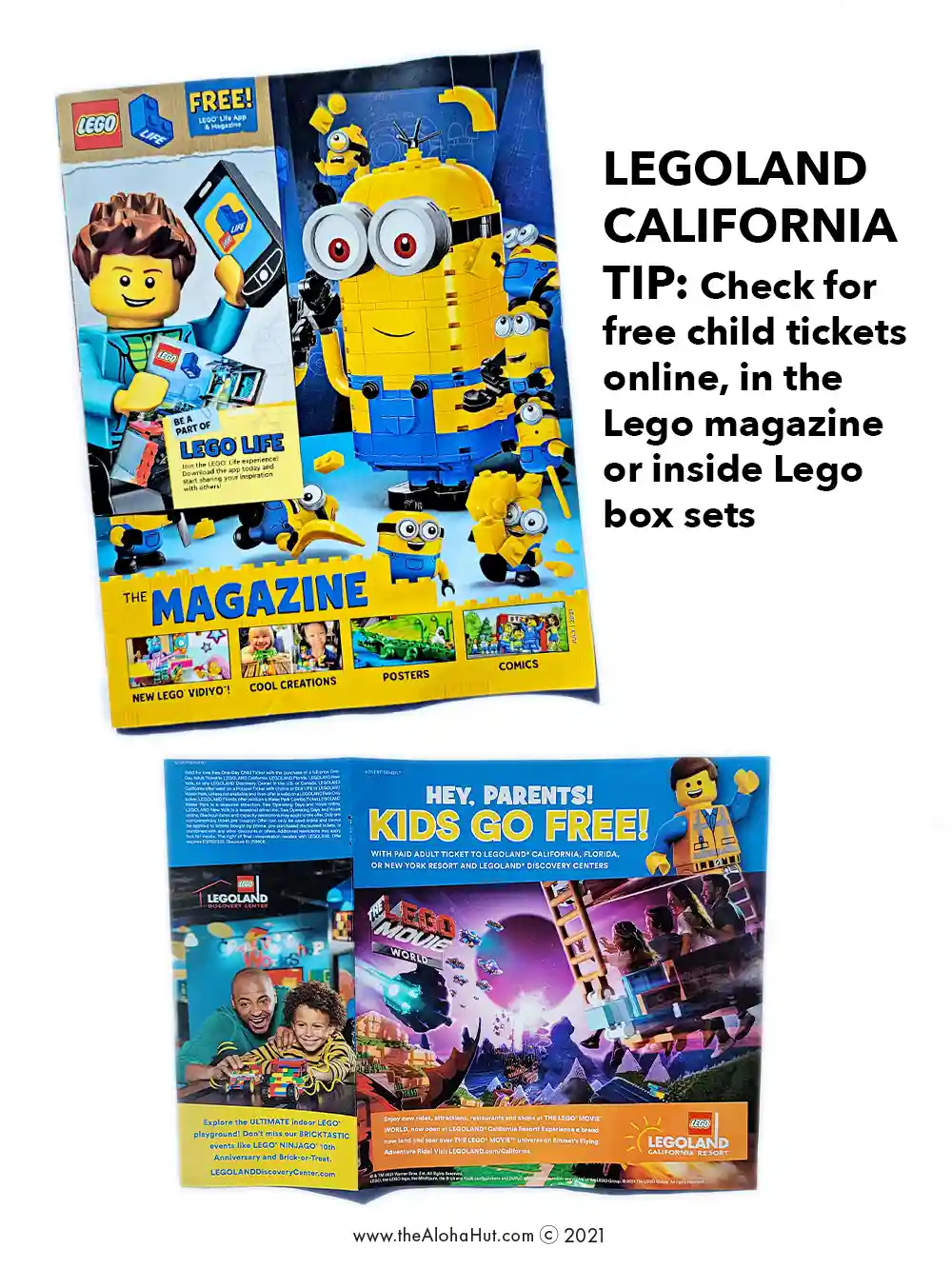 You can almost always find free kids tickets to Legoland. They frequently run Kids Play Free deals where you get one free child ticket with every paid adult ticket. A few ways to find these:
Do a google search for Kids Play Free Legoland tickets. They run different promotions throughout the year and it's pretty easy to find these deals.
Watch for a coupon in select Lego box sets. We've bought several Lego sets that had a coupon inside for Kids Play Free.
Subscribe to the free Lego Life Magazine. We found Kids Play Free coupon codes in the last Lego Magazine. Sign up here for the free magazine. It not only contains frequent coupons, but fun Lego builds, stories, and activities for the kids.
#2 Discounted Legoland tickets + other attractions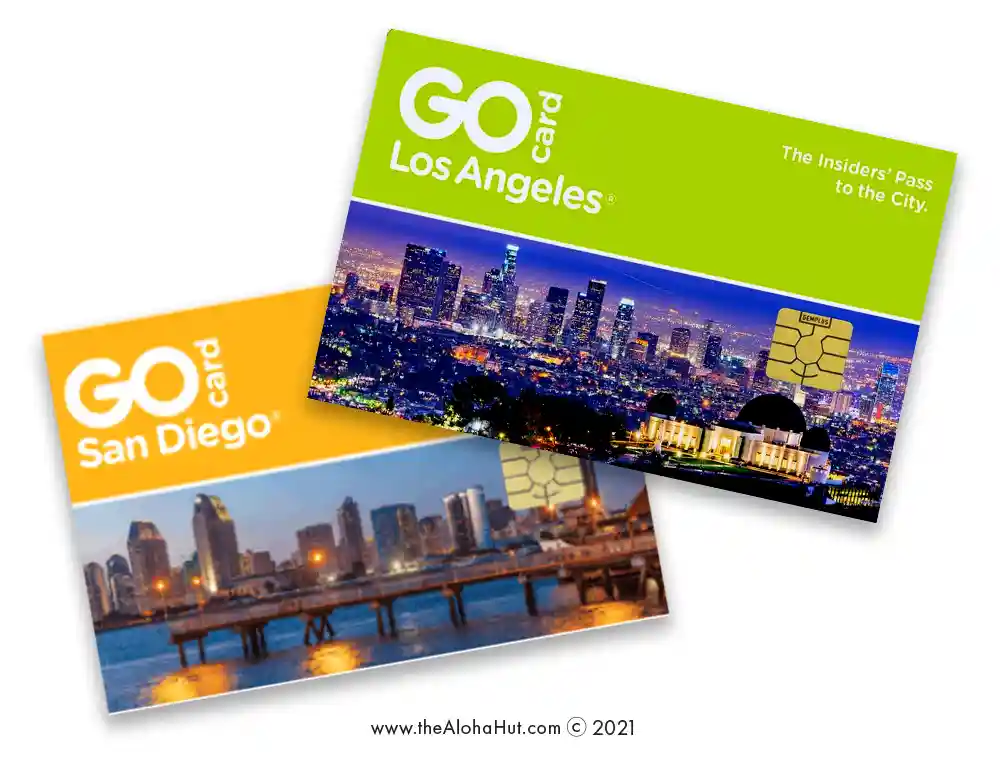 If you're planning to visit more than just Legoland, the Go Los Angeles or Go San Diego card is  the best bang for your buck. The card includes the Legoland Park plus lots of other fun attractions and activities nearby, all at a discount of up to 50% off.
#3 Buy an annual pass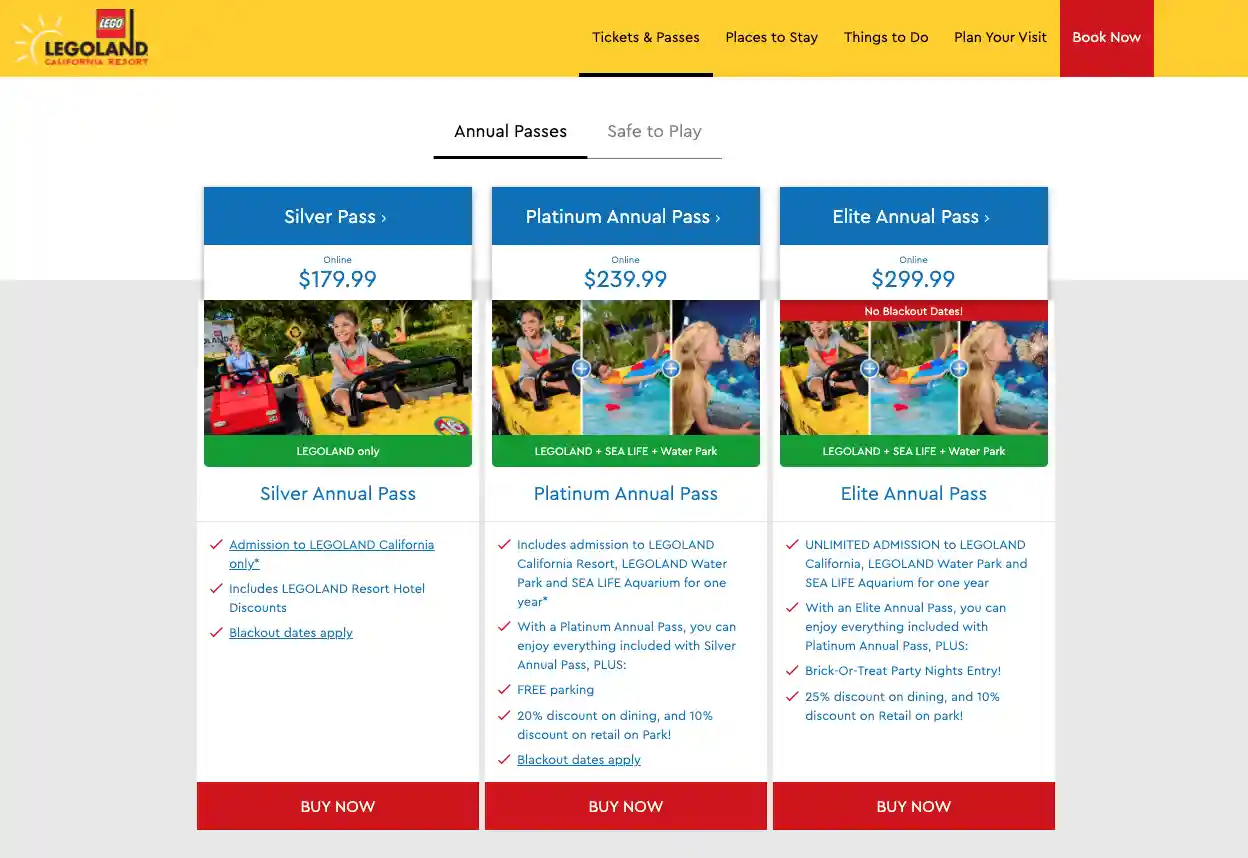 If you plan to visit three or more times or 3+ days, the annual pass is by far the best deal. This is what we ended up buying because it also included admission to the Sea Life Aquarium and Legoland Water Park. The $239.99 Platinum Annual Pass gives unlimited access to all the Legoland parks in the country (California, New York, Florida) plus all the Lego Discovery Centers and Madame Tussaud Wax Museums. The other reasons we bought the annual pass is because it includes free parking (this saved us $25/day), 20% off food in the park and Legoland Hotel restaurants, 10% off retail purchases in the park (the kids always want a new Lego set while we we are there), and 15% off rooms at the Legoland Hotel and Castle.
#4 Visit the park during the weekday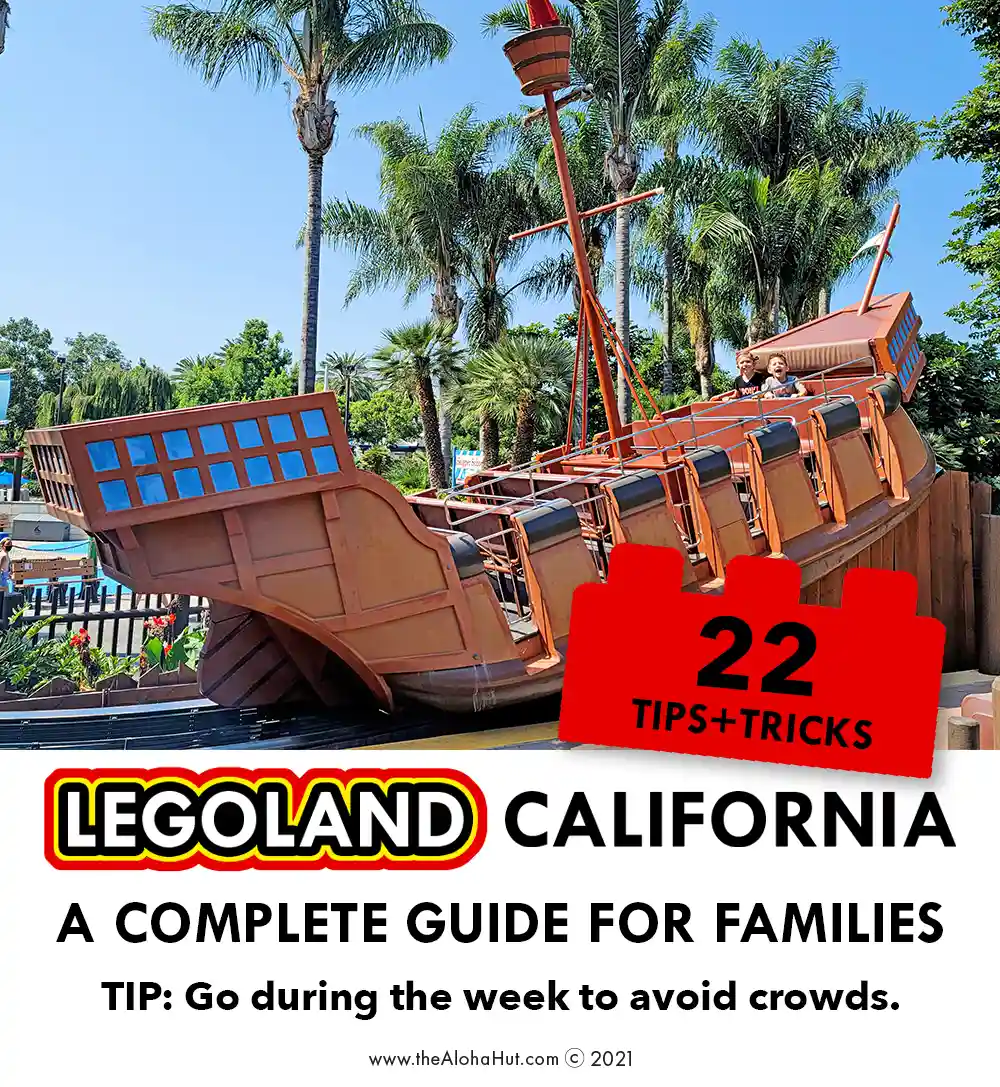 The best days to visit Legoland are Monday – Thursday, and preferably in the off season. Legoland is an awesome amusement park with lots of rides, activities, and play structures all geared towards younger kids (ages 2-10). Little kids have a hard time waiting in line, so we almost always go in the off season. I never feel guilty about my preschool and elementary aged kids missing a couple days of school. This is my number one tip for traveling — go when it's the least busy! You get to experience more, plus everything is cheaper (flights, hotels, tickets).
#5 Bring Lego minifigures to trade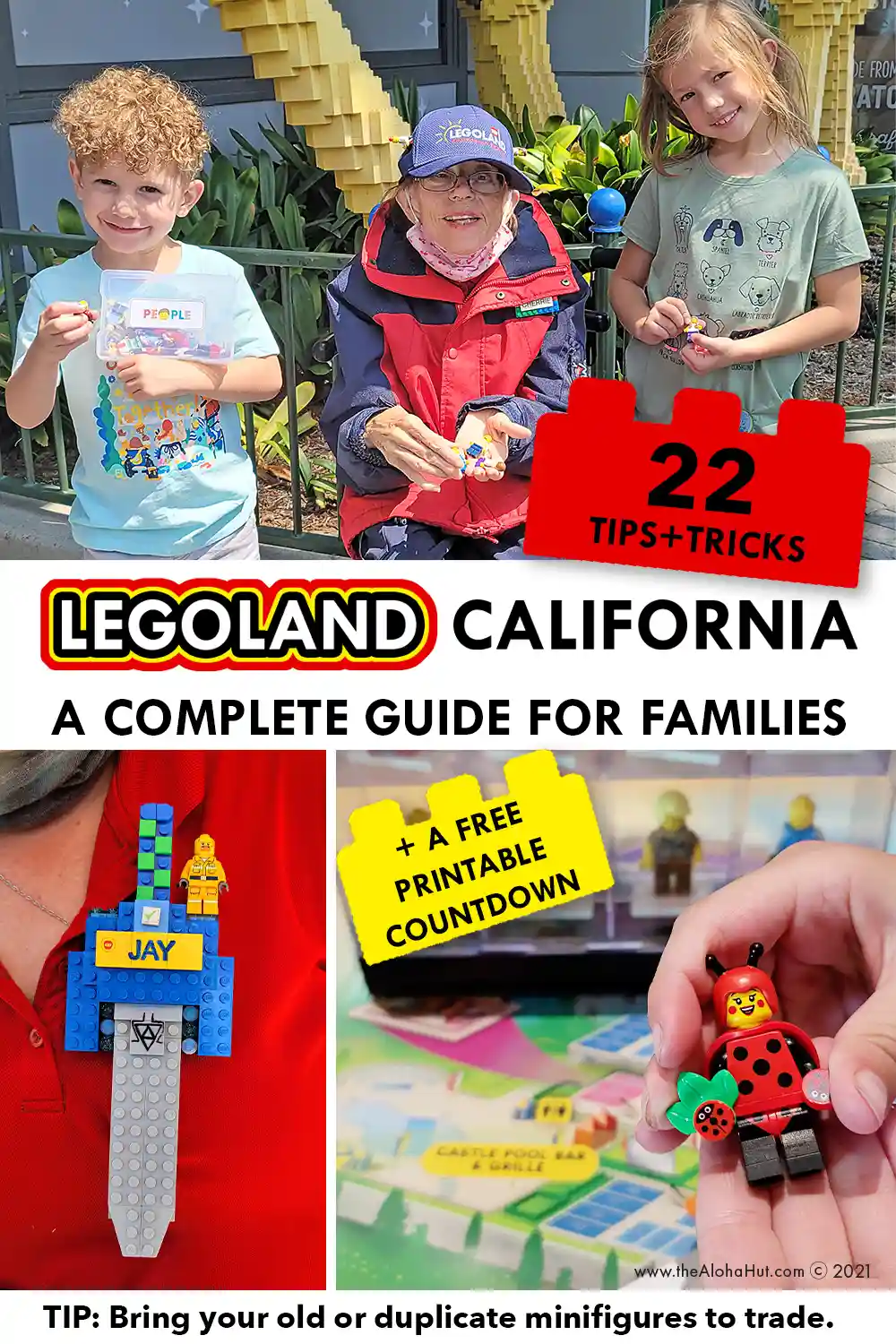 This is a great souvenir and inexpensive, fun activity to do all day long while in the park. We had a blast trading minifigures and found some of the coolest characters. Your minifigure has to have a head, body, and legs in order to trade. Some of our minifigures were missing hands and they were still okay to trade, so bring all your older minifigures or duplicates and trade as many times as you want! If you don't have any to trade, you can buy some in the retail store on site.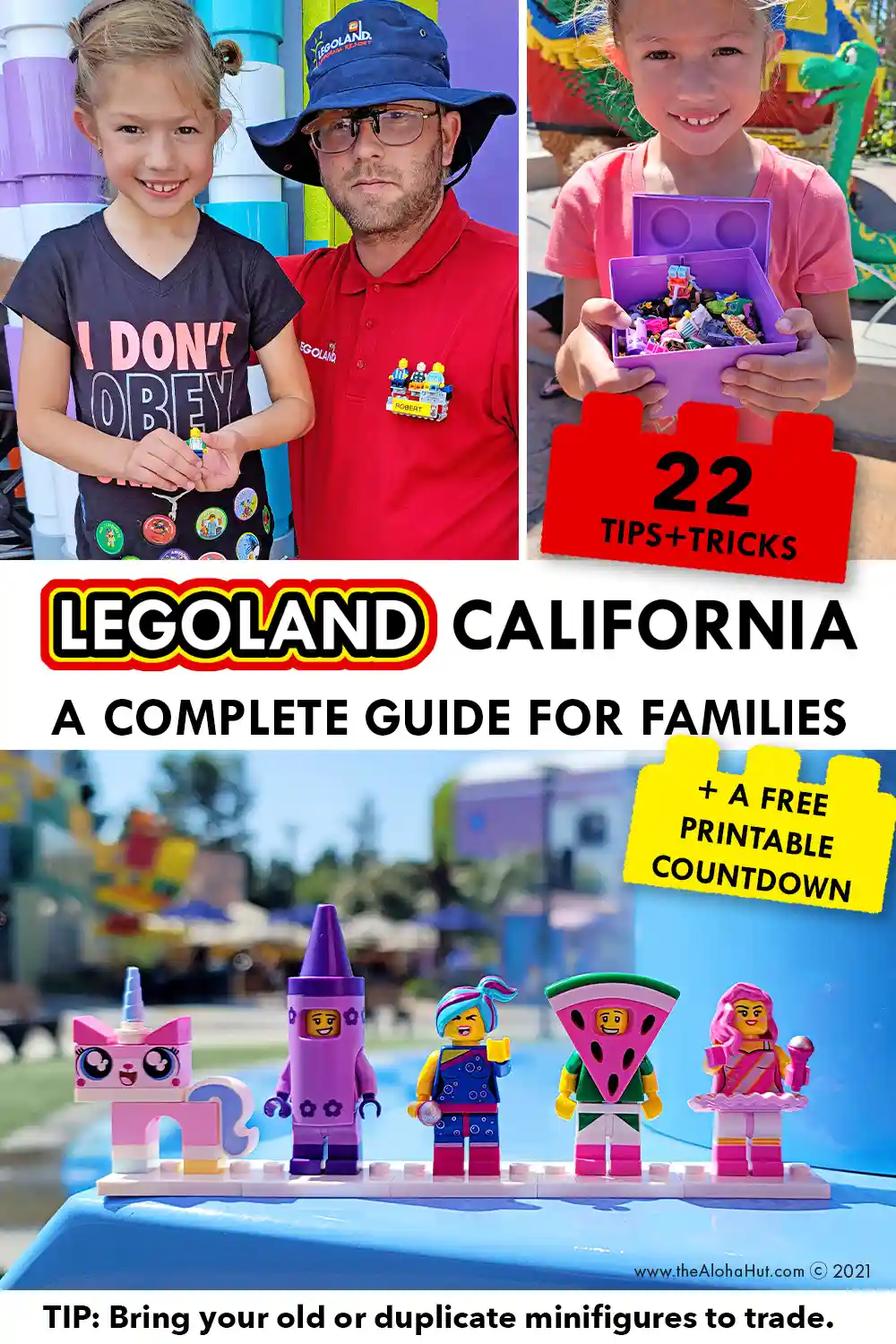 We traded all day long, all over the park. All you have to do is ask! Places we found to trade: 
Legoland Guest Services
Photo Shop (found at the front of the park next to Guest Services)
Dive Shop (right next to the submarine ride)
Rebuild the World in Imagination Zone
Kings Market in Castle Hill
Sea Life Aquarium retail shop
Legoland employees with minifigures on their name badges or hats
The front desk of the Legoland Castle (trade here before you walk into Legoland Park or at the end of the day after you exit the park)
The front desk of Legoland Hotel (trade here before you walk into the park or at the end of the day after you exit the park)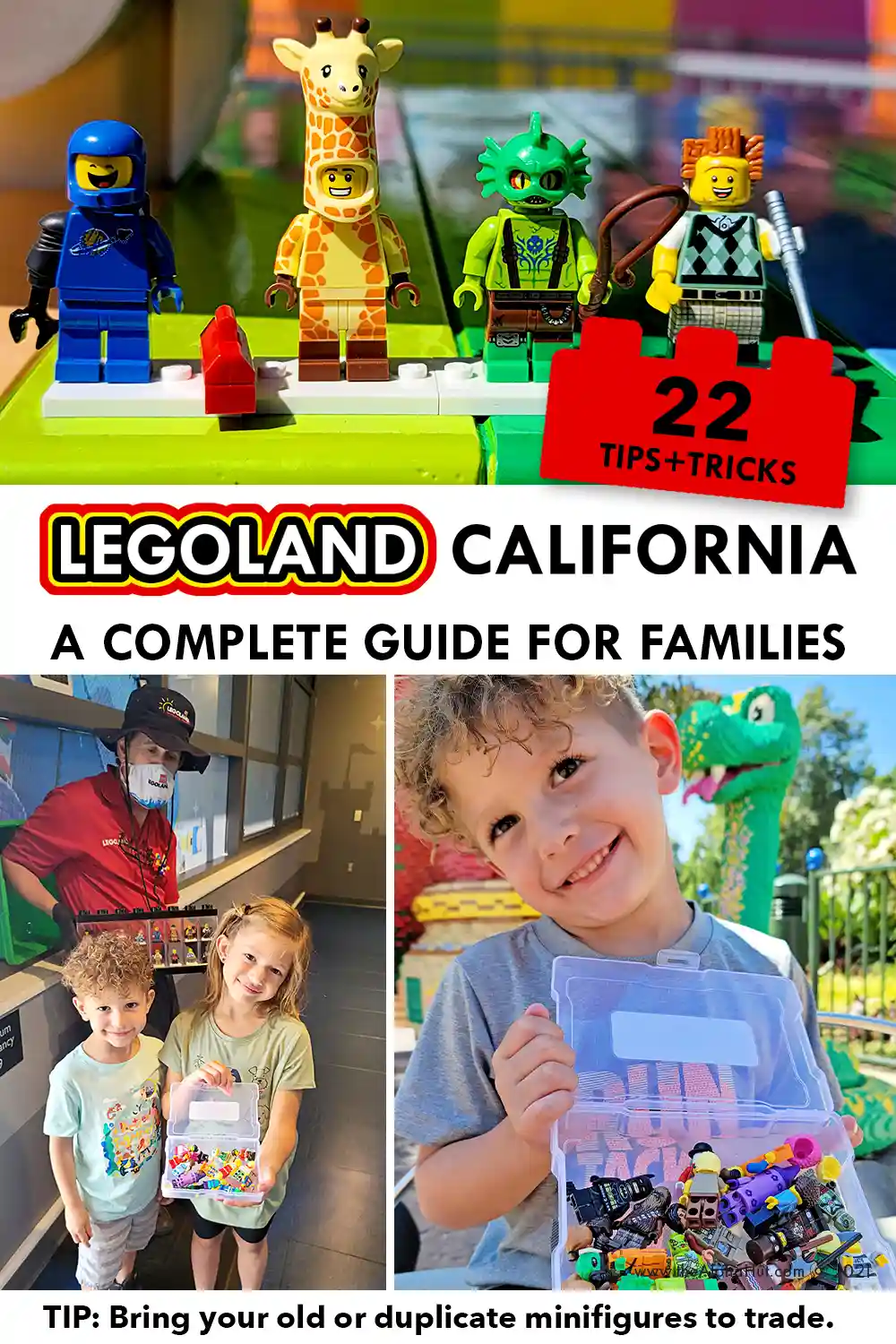 We found a lot of minifigures with hair, fun accessories, and different outfits. You can swap heads, bodies, etc and trade again and again until you find or build the minifigures you want. We got to the point where we loved all our new minifigures and it got harder to part with any of them!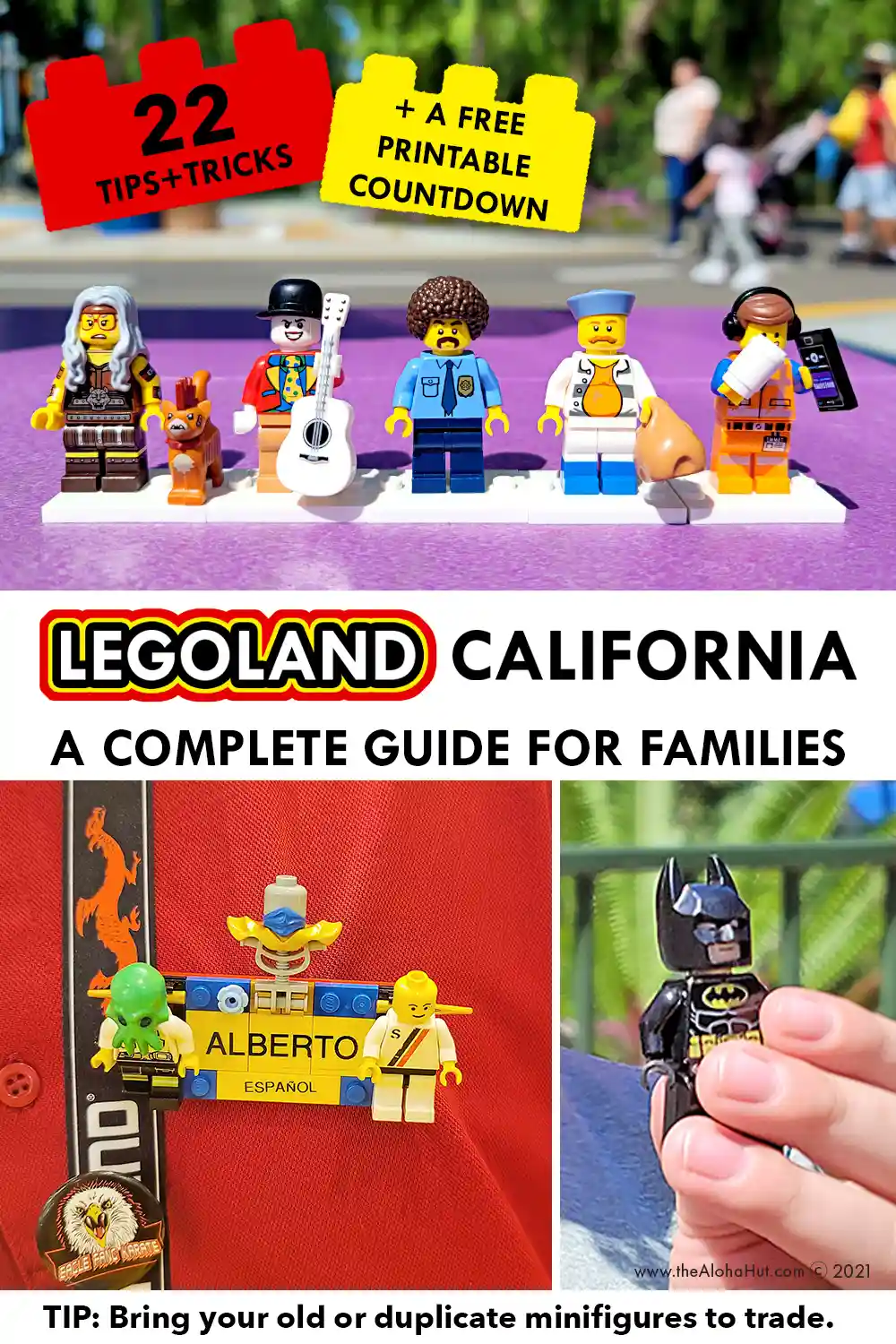 #6 Collect pop badges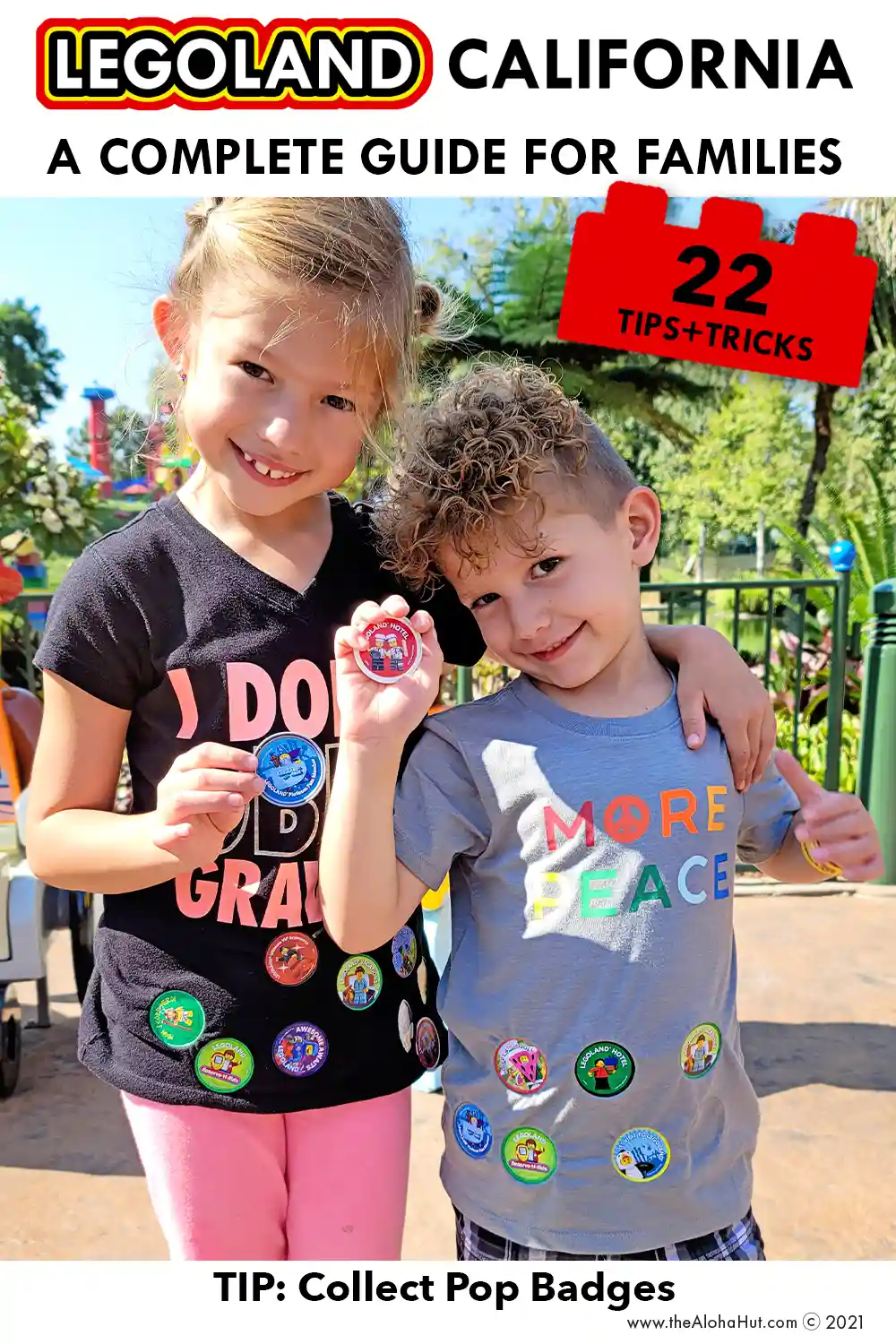 Not very many people know about these cool souvenirs. They're completely free and another extra activity to do while you're in the park. We had a blast trying to find new ones. How to collect pop badges:
When you first enter the park head to Guest Services and ask if they have any pop badges. We got two from them — a First Visit to Legoland badge and a Platinum Pass badge.
First Aid and Security – get the bravery and Jr. Officer badges here.
Visit the Sea Life Aquarium gift shop and ask for a pop badge. Due to the pandemic, their shipment hadn't come in yet. However, the awesome team member (Pablo) brought some from his personal stash he had at home for us to pick up the next day. Talk about going above and beyond!
Some of the rides offer pop badges throughout the year: Ninjago, Technic Coaster, Coastersaurus, Dragon Coaster, Deep Sea Adventure, Lost Kingdom Adventure, Fun Town Police and Fire Academy. Ask when you're in line.
Legoland employees with pop badges on their lanyards will swap pop badges with you or sometimes even just give you what they have! The Legoland team members are phenomenal and everyone we encountered was so helpful and kind.
Legoland Hotel and Legoland Castle Hotel both give out pop badges. After you exit the park, stop by both places and get a pop badge. Don't forget to trade minifigures too. If you're lucky, they'll even give you a free slap bracelet!
Be on the lookout for the Mr. Gold pop badge!! They give 10 team members one to wear and you have to look for him or ask if they have Mr. gold. If you find him, you get a special prize! The Mr. Gold pop badge will be visible on the team member's shirt or pants. If you find him, you can take him to Guest Services for skip the line passes or a small bag of Legoland prizes.
Legoland Water Park – ask when you enter or exit the park.
#7 Look for Mr. Gold's GOLDEN ENVELOPE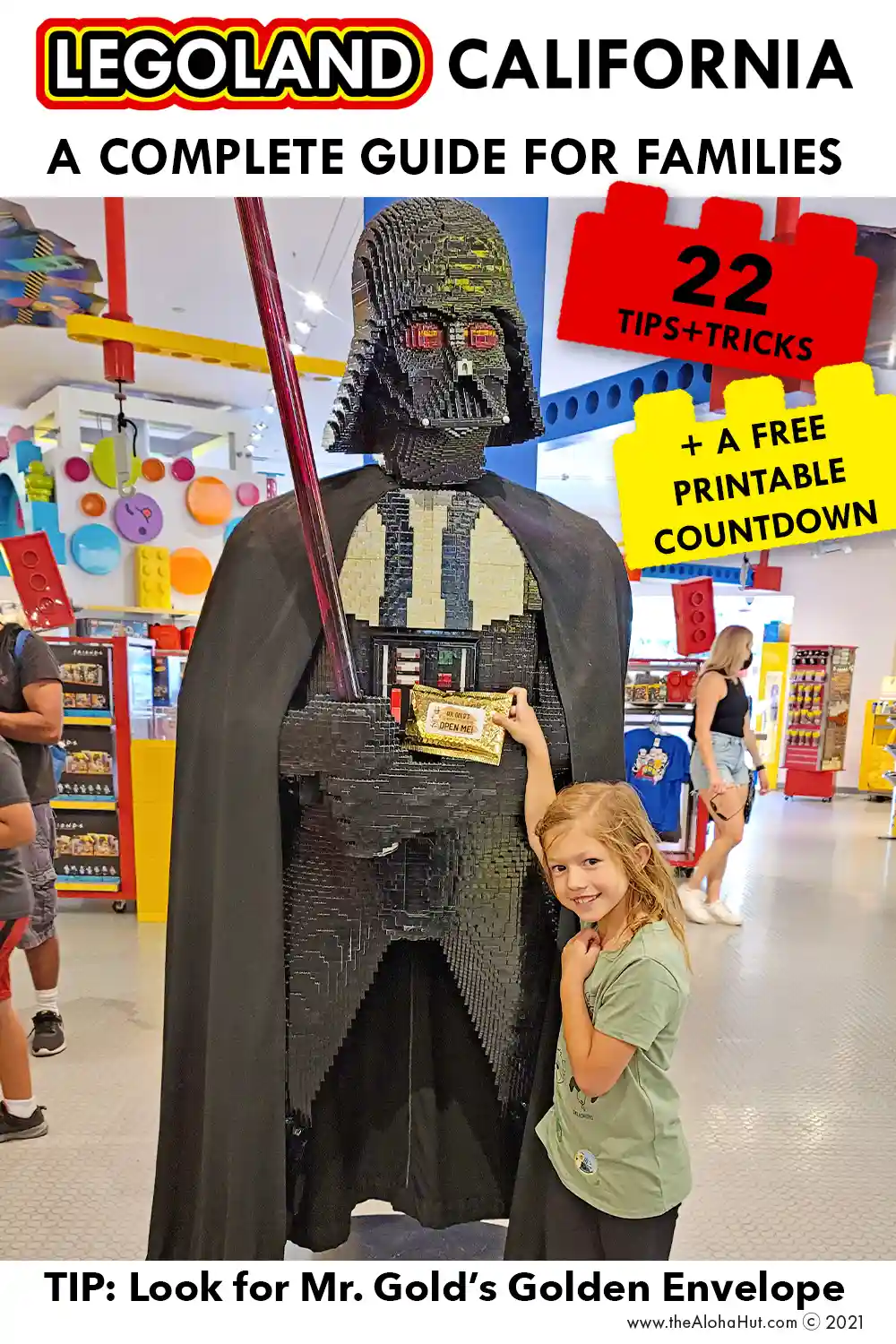 This is new and they don't really tell you about it! We only know because we happened to ask Guest Services about the Mr. Gold pop badges. They hide ten Mr. Gold's Golden Envelopes everyday throughout the park and you just have to be on the lookout. We found one in The Big Shop gift shop on Darth Vader. We were so excited to find one! They can be anywhere. A few places they told us to look: 
While you're waiting in line for a ride, look around. One of the days we were there, they hid one in the bins where you get the 3D glasses for the Ninjago ride.
Near or on any of the Lego statues around the park.
In the retail shops. They will usually be quite visible.
On or under benches.
In Miniland USA.
On paths in the bushes, but still visible.
We loved looking for the golden envelopes while we walked from ride to ride! It made walking around exciting. The envelope we found contained a Lego keychain, Legoland magnet, mystery minifigure, a pop badge, and a little note.
#8 Buy a refillable Legoland souvenir cup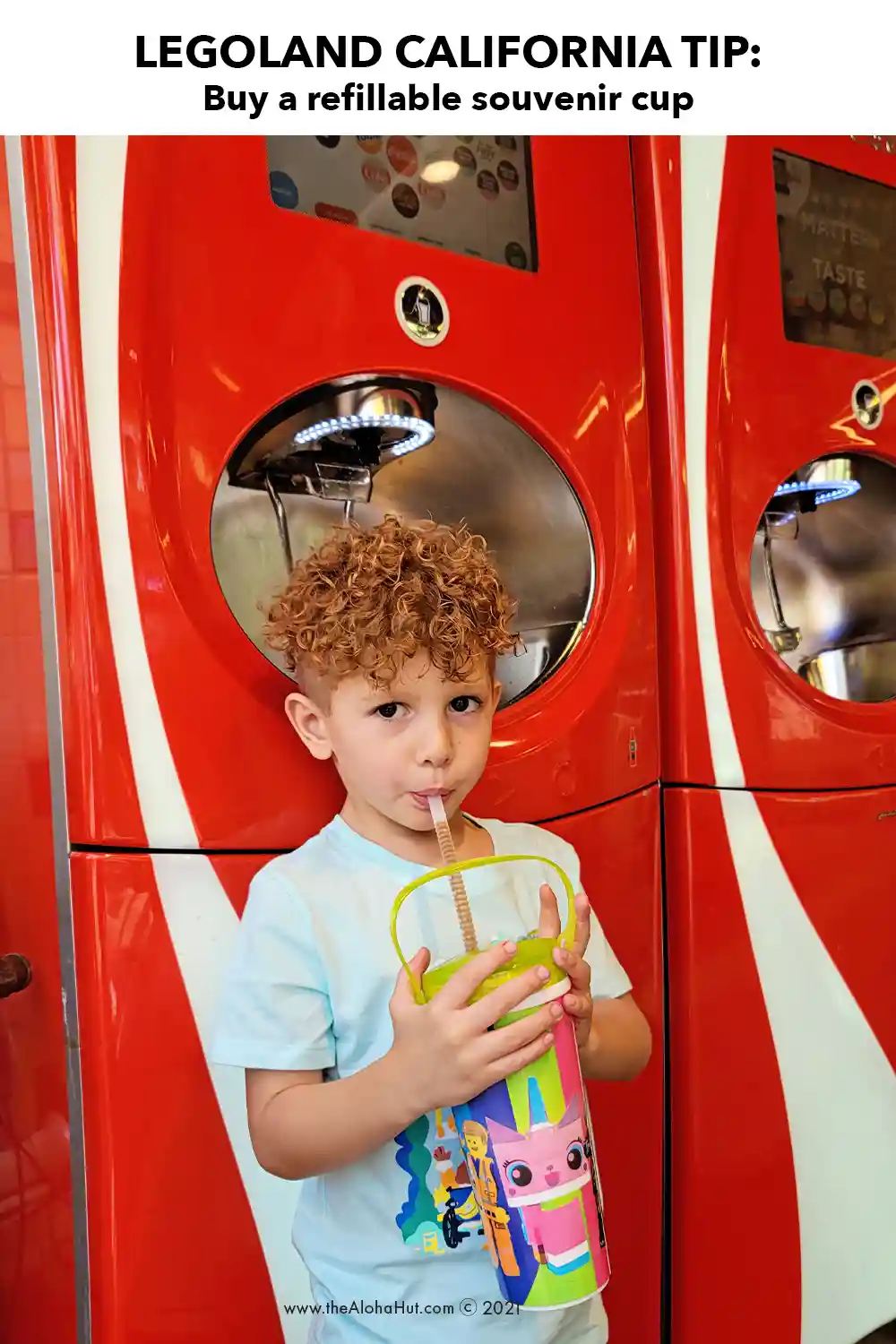 We bought one of these to share and it was so nice to have. They have lots of drink options to choose from. They have red refillable drink stations throughout the park and gray drink stations at the restaurants you can use to fill up your cup. You can even use the drink stations to fill up your hydro flask with ice and water or ask for a water cup. We bought our souvenir cup online at the same time we bought our park tickets and got a deal — buy one day get the second day free. Or you can buy one that is good for a year. This is perfect if you're spending multiple days at the park. We picked up our cup at The Market when we first walked into Legoland and used it all day long.
#9 Pack snacks
For a theme park we think Legoland has some great food options, but it's still smart to pack a few snacks especially if you're traveling with little kids. They are good to let you bring in a small cooler (nothing bigger than 12″×10″) or food bag. This is perfect if you're on a budget, have picky eaters, and/or have any dietary restrictions. Our favorite snacks to pack:
Carrots
Snap peas
Granola bars
Apple slices
Fruit snacks
Fruit leather
Trail mix
Licorice
Crackers
We packed a small cooler bag with ice blocks to keep all our snacks cold and contained.
#10 Try the yummy Granny's Apple Fries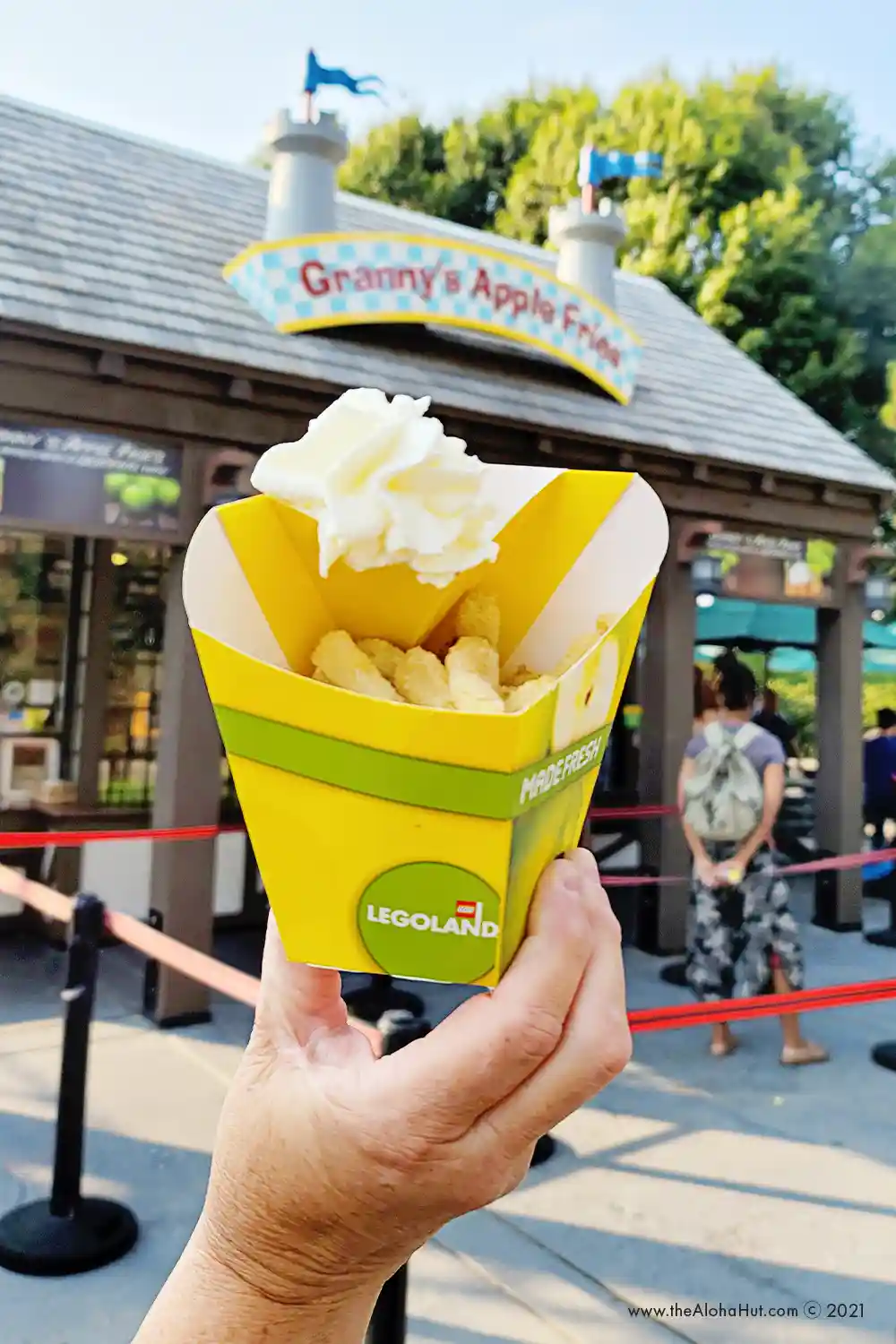 This is a Legoland specialty and tastes like mini apple pies! If you love trying new foods, add this to your list. We got one to share and thought it was delicious. We like apples, so frying them up and dipping them in whipped cream was right up our alley.
#11 Eat at the Knight's Smokehouse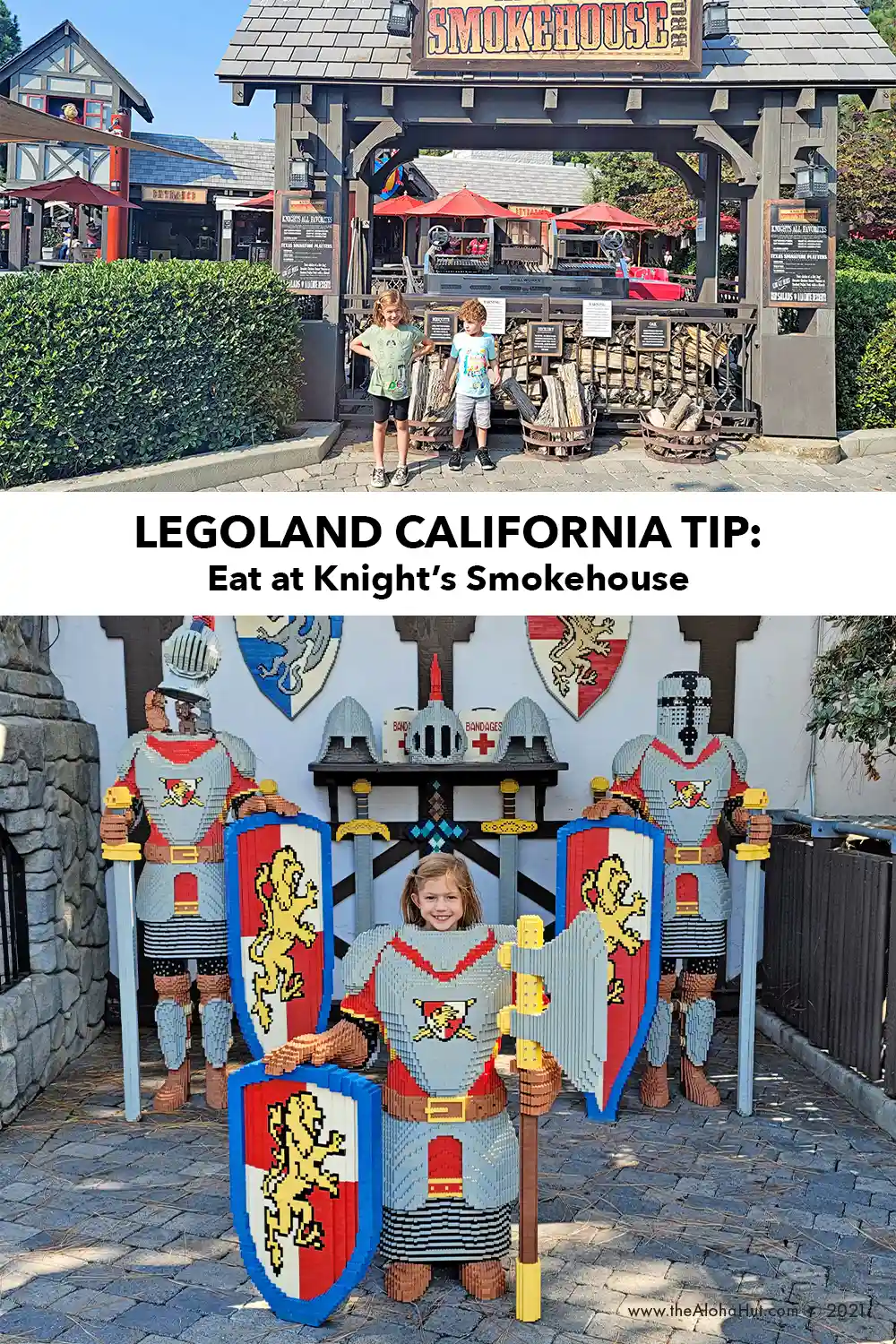 This was our favorite restaurant in the park. The delicious barbecue aroma was calling our name!! The pulled pork and brisket did not disappoint. The kids meal was big enough for our kids to share, so it makes it totally affordable. They close an hour before the park does, so make sure you get your food early. If your kids are like ours — they never finish their food when there's exciting activities going on. We always pack ziploc bags to keep our leftovers in so the kids can finish their food while we're walking around the park. It never fails, they're always hungry an hour later!
#12 Download the Legoland App
The app is awesome. It has all the info you'll need to maximize your day in the park: a map, walking directions, ride wait times, activities in the park, show times, ride information and height restrictions, where to trade minifigures, dining options, restroom locations, and more! Sometimes they even offer dining deals or coupons, depending on the time of year. If they have a coupon promotion going on — it'll show up on the landing page when you first open the app. Download the app so you can plan your day and know what rides have the shortest wait times. If you want a paper map you need to ask for one at Guest Services when you first enter the park.
#13 Rides you don't want to miss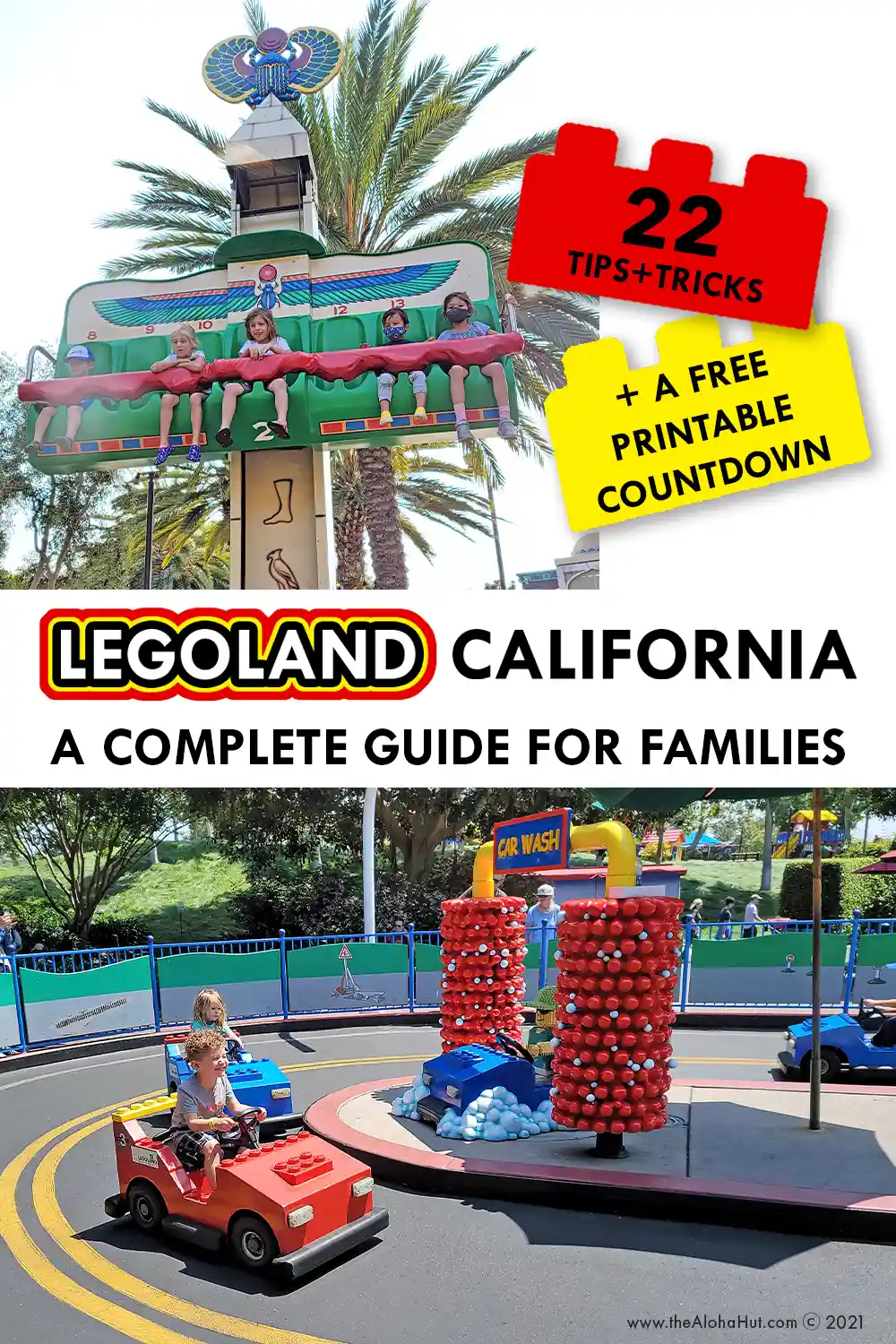 There is a lot to do at Legoland with 27 rides, different activities and shows, plus character meet and greets. If the park is busy you'll want to have a game plan. When we first get in the park we prefer to go to the right because they have some of the bigger, more popular rides when you turn right. We prefer to start riding our favorite rides from the get go! Our favorite rides, in no particular order:
Ninjago
Coast Cruise
Technic Coaster
Lost Kingdom Adventure
The Dragon Coaster
Deep Sea Adventure
Splash Battle
Pirate Reef
Captain Cranky's Challenge
Driving School
Emmett's Flying Adventure Ride
Unikitty's Disco Drop
Coastersaurus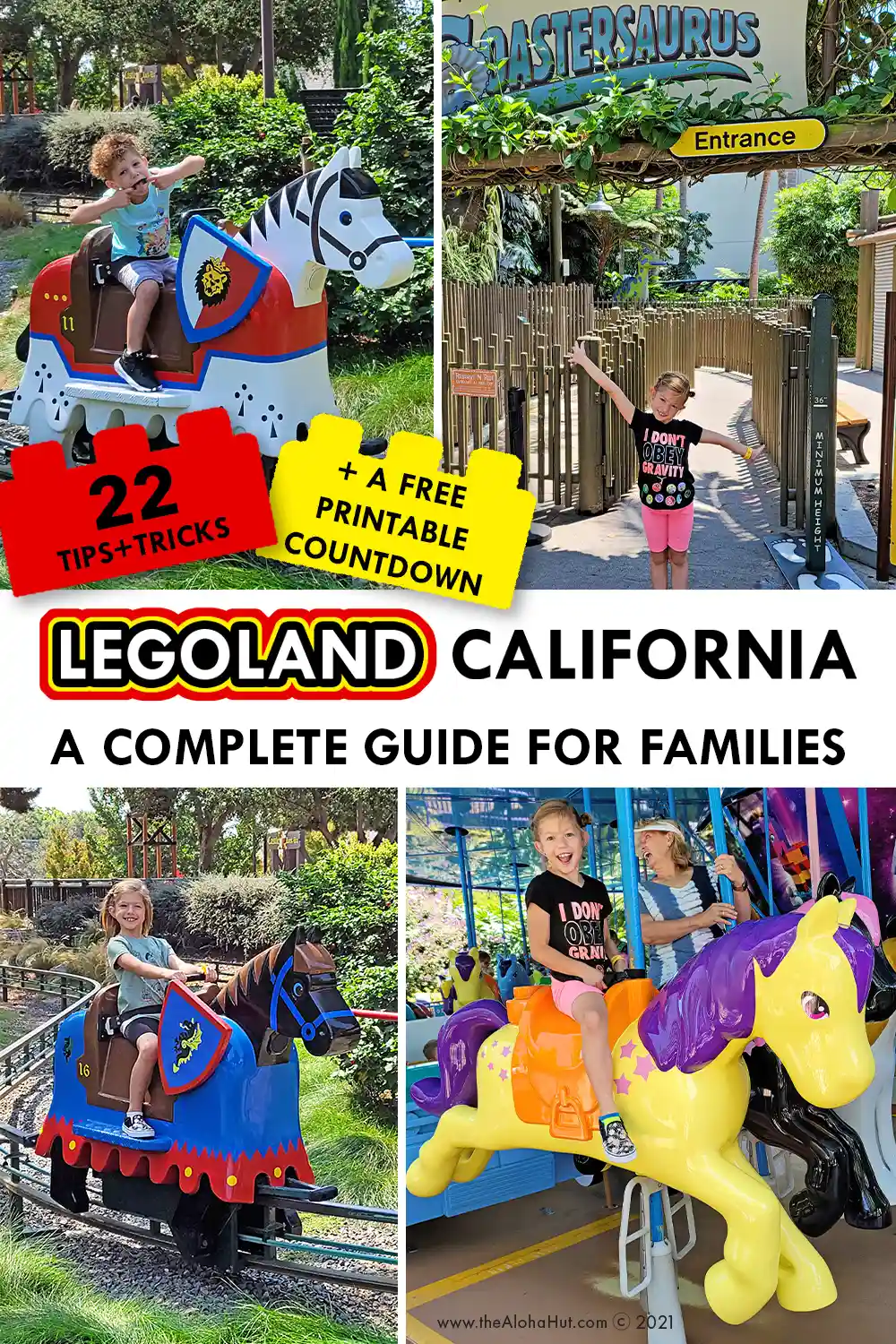 Make sure to check the app for ride information, wait times, and height restrictions.
#14 Make time to play at the play structures and do some of the extra activities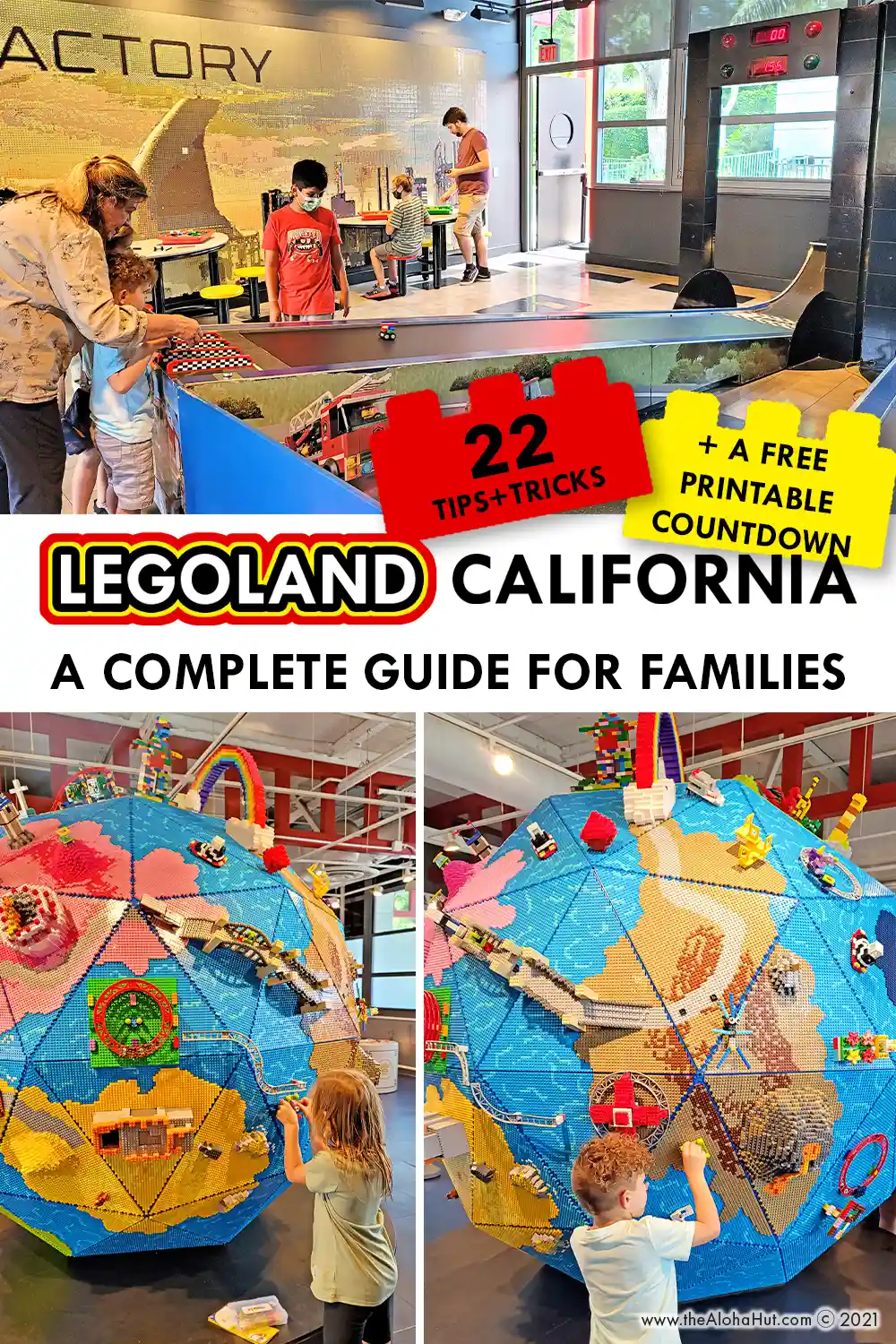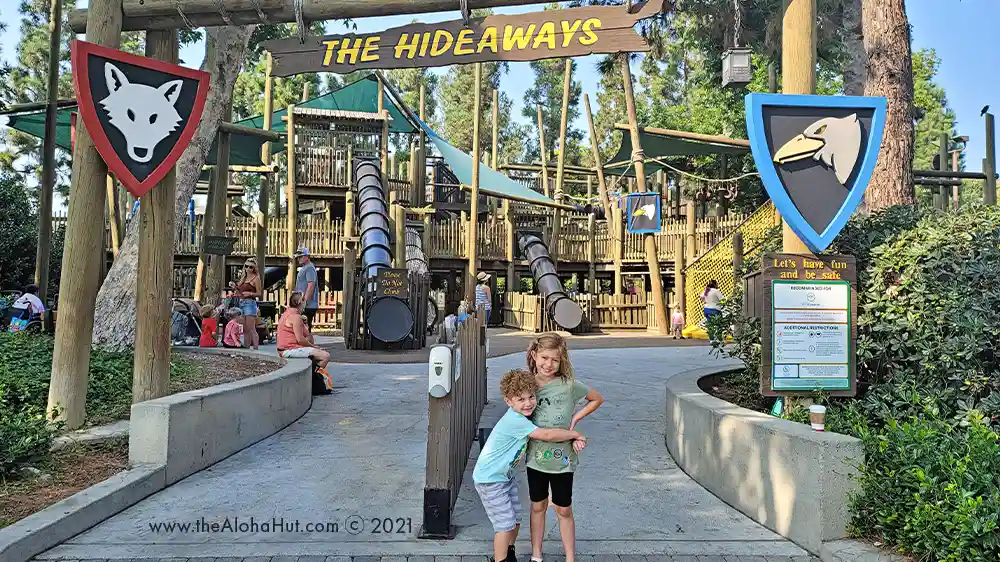 The thing I love about Legoland is all the fun play structures and extra activities they have scattered throughout the park. Younger kids need the downtime to just play instead of waiting in line ride after ride. Legoland does an excellent job of mixing a lot of activities and playgrounds in between their rides and themed areas. You can play on the playground, free build with Lego bricks, build your own boats and cars to race, and sit down to watch a 4D movie or live entertainment.
#15 Take a stroll through Miniland USA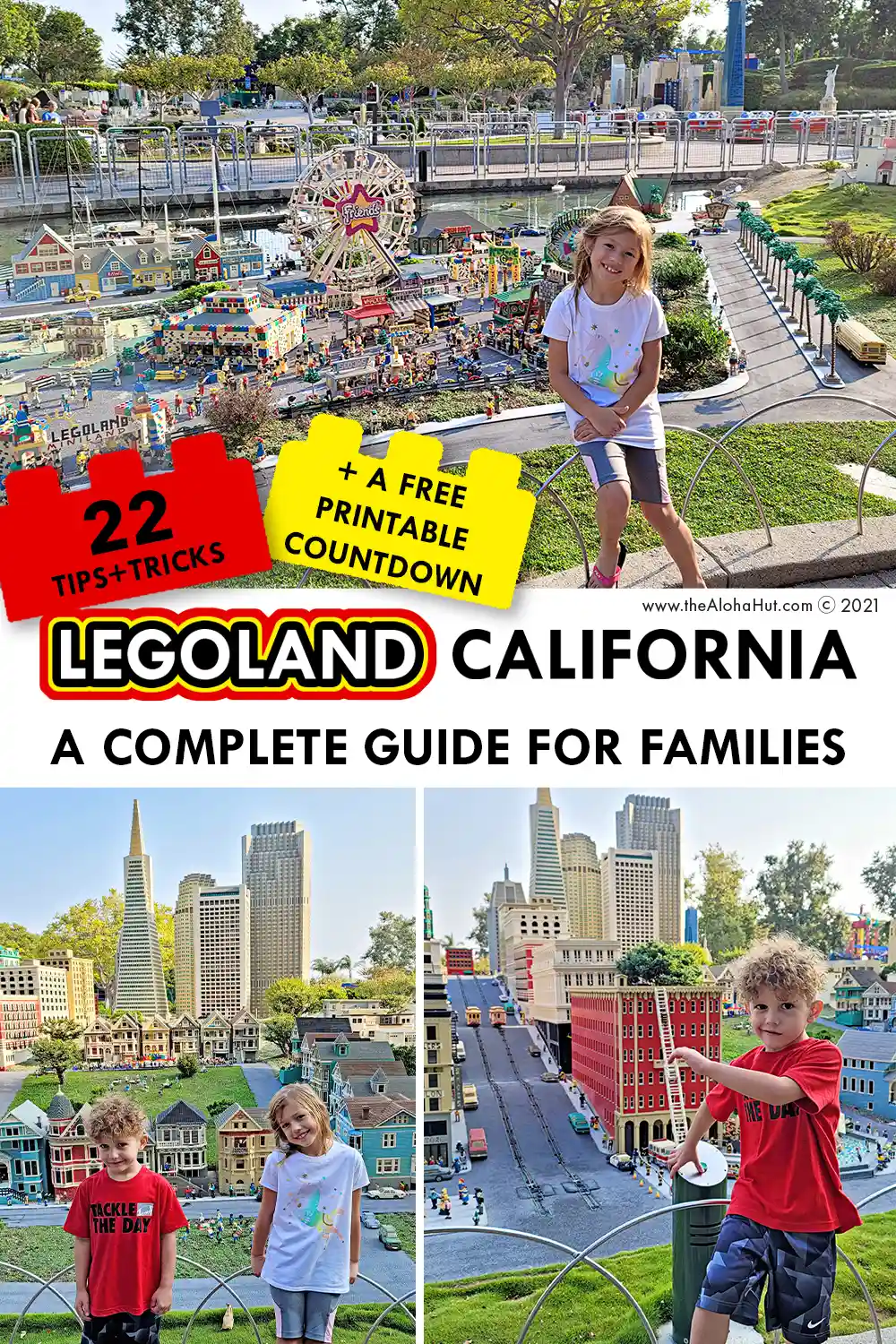 This is an awesome area with tons of cool Lego builds. Visit an entire country in one day made completely out of Lego bricks! The scenery and city sky lines are amazing, so don't forget to take a stroll through this area.
#16 Utilize the Pick Up service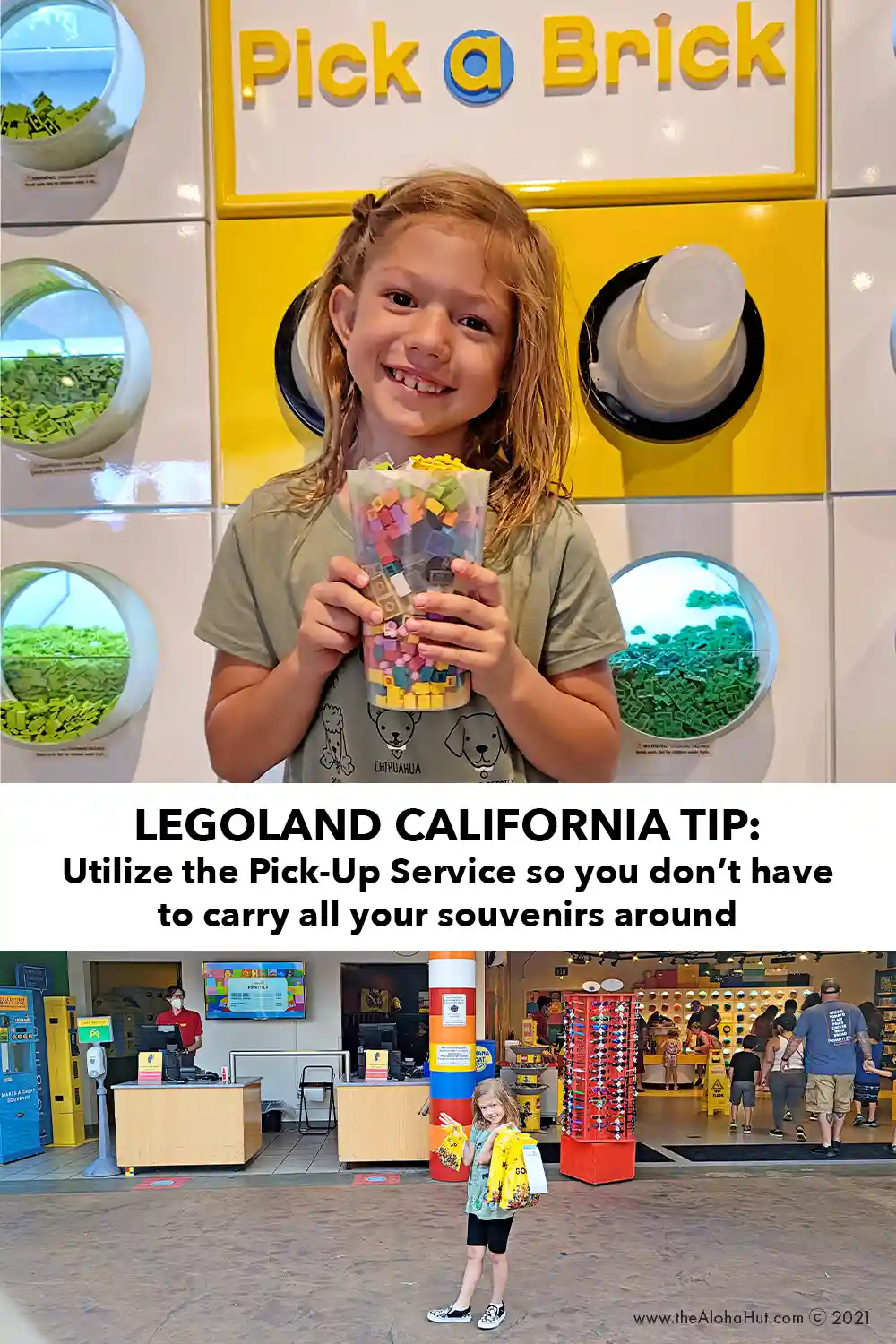 If you buy anything at the retail shop you can have them hold it for you until the end of the day. They will combine your purchases and take it to the front of the park for you to pick up right before you exit. Package pick up is quick, easy, and FREE and is great because you don't have to worry about carrying your packages around or them getting stolen while you're on the rides. We used it both days we were in the park and loved the convenience.
#17 Sea Life Aquarium – is it worth the extra cost?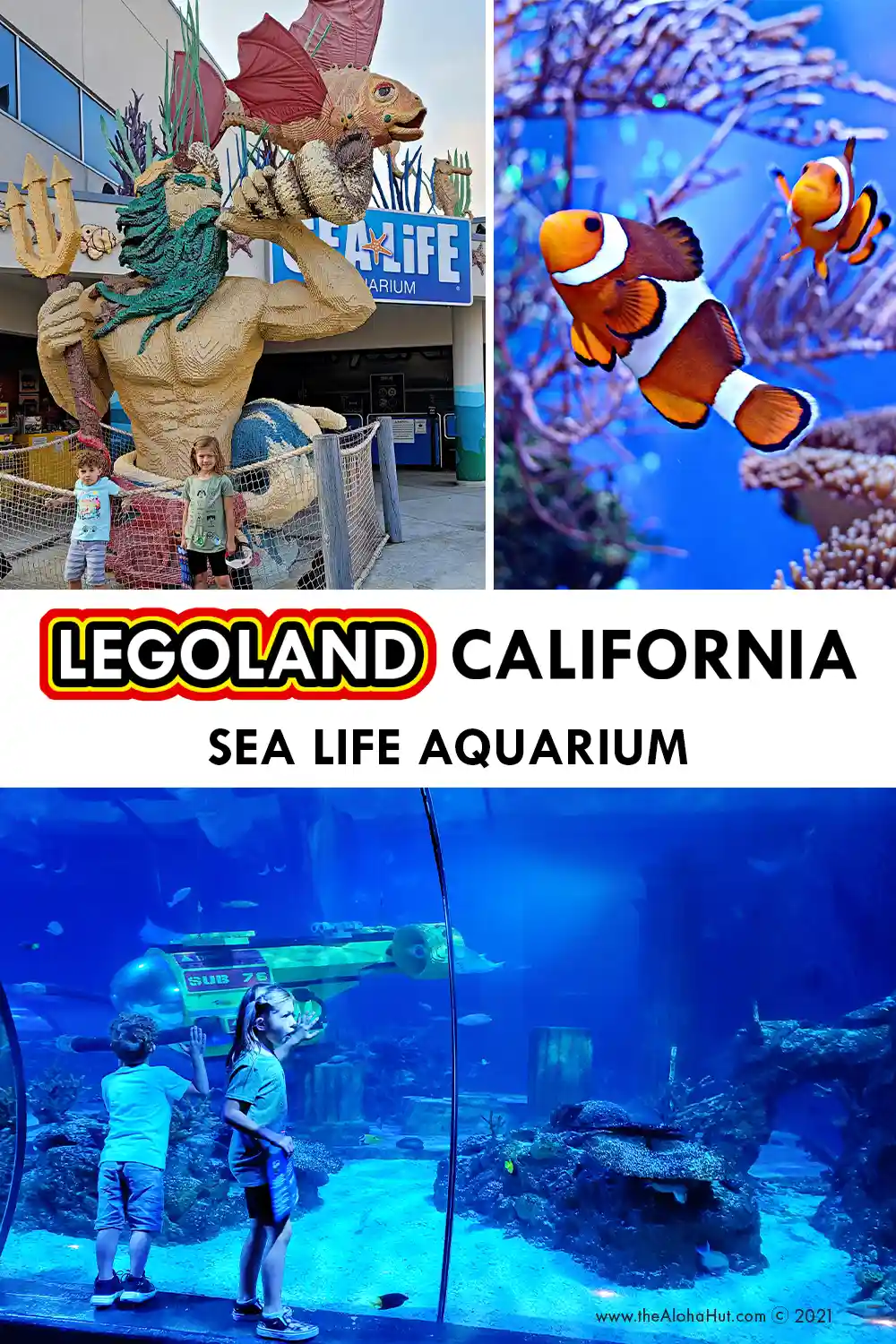 The aquarium is awesome, with some really great viewing tanks and lots of fun and educational info! It took us about an hour and a half to walk through, so plan accordingly. If you're only staying one day at the park, we'd skip paying extra for the aquarium. There's so much to experience at Legoland that it's hard to squeeze in more during one day. I'd only add it if you know you'll make the time to visit the aquarium or are staying for more than one day. You can always upgrade your day pass for $25 at Guest Services if you decide to go while you're at the park.
If you end up buying the one-day park hopper pass, which includes Legoland and Sea Life Aquarium, and run out of time to visit the aquarium — you can stop by Guest Services to get a bounce back ticket at no extra cost. This ticket lets you visit the aquarium within the next 9 days. You have to go to Guest Services to get the new ticket though.
#18 Legoland Water Park – is it worth the extra cost?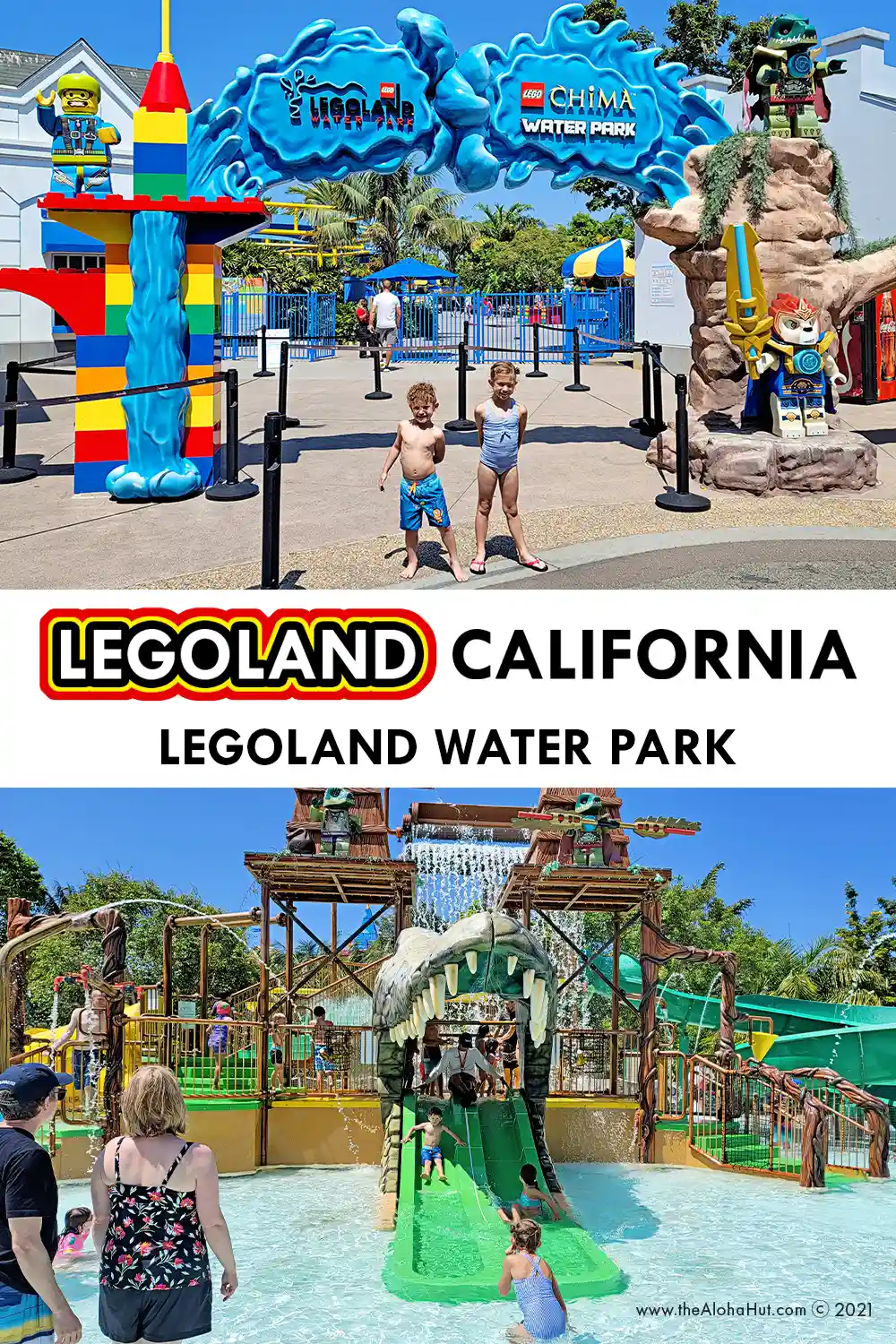 Our answer is the same as above — If you're spending more than one day at the park then yes! If you're only going to be there one day, we didn't feel like it left enough time to adequately experience Legoland and Legoland Water Park. If you don't get one, but want to upgrade your pass later on, it's $30 at Guest Services.
#19 Bring a stroller / wagon or rent one!
We always bring a wagon because it's hard carrying all of our stuff around. I don't have little toddlers anymore, but it seems like there's still lots to pack for a full day in the park. And sometimes my four year old still needs a break from walking. If you don't bring your own stroller, you can rent a single or double for $17-$20.
#20 List of things to pack for a day in the park
We like to come prepared. Our suggested packing list:
Snacks
Sunscreen 
Hat and/or sunglasses
Extra pair of clothes if kids plan to get wet (there are two Splash pads in the park)
Swimsuits if you plan to go to the water park (they provide towels so no need to bring your own)
Water bottle and/or Legoland refillable souvenir cup
Minifigures to trade
Light jacket (depending on time of year)
Portable charger if you plan to be on your phone a lot or are taking a lot of videos
Fanny pack to keep your valuables on you at all times. Only a few rides will require you to take it off, but they have special cubbies to put it in right before you get on the ride. Backpacks must always be taken off so that's why I prefer a small fanny pack.
#21 Is it worth staying in the Legoland Hotel or Castle? Which one is better?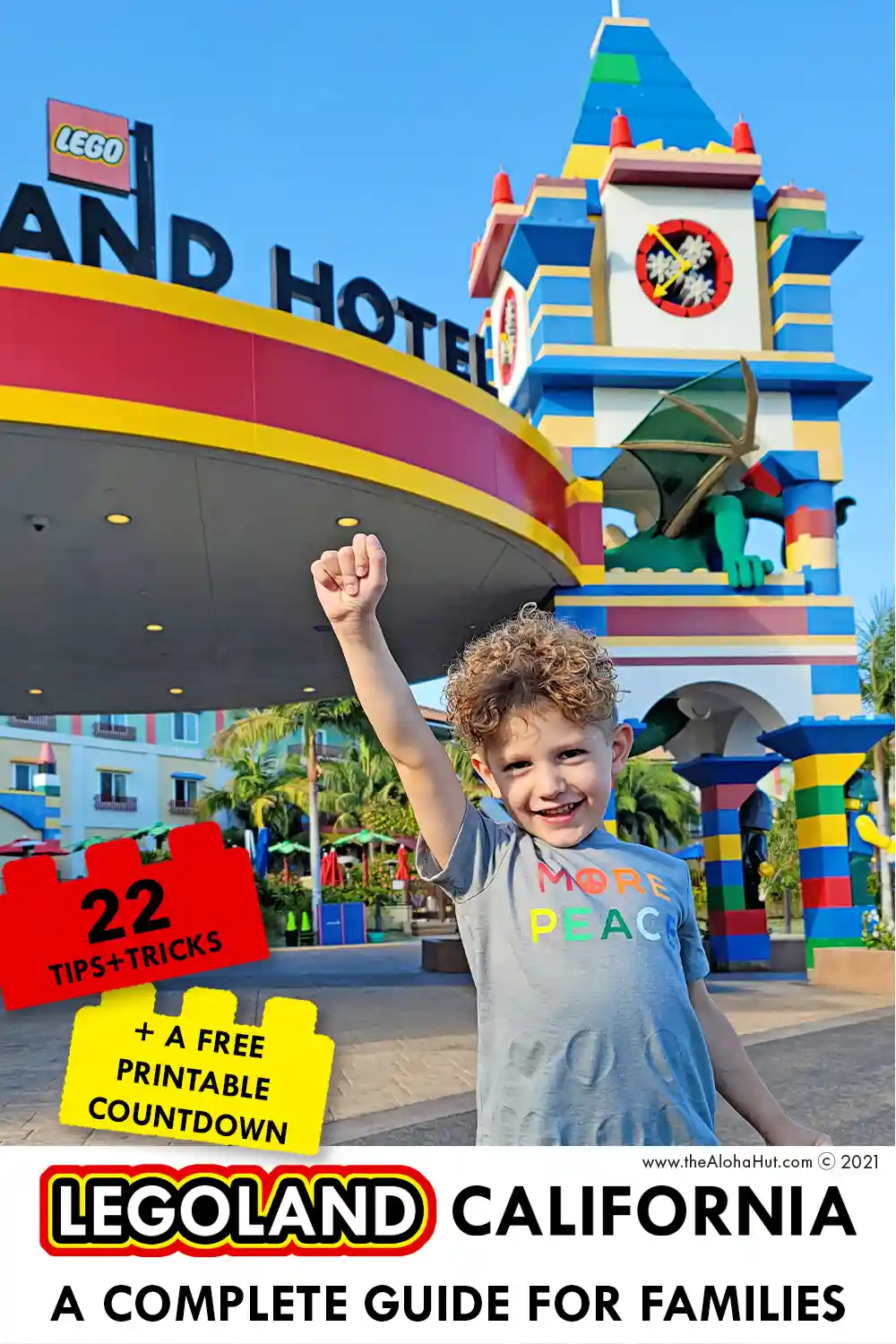 The short answer is yes, both the Legoland Hotel and Legoland Castle properties are phenomenal! If you can swing the extra cost, it's totally worth it and makes the Legoland Park experience twice as fun. This is a whole post on it's own so if you're considering reading more about our thoughts, which one to choose, and how to get the best deal — we'll link you to that post once it's up. Stay tuned for more details and insider information on the Legoland Hotel and Castle.
#22 Download our free Legoland Countdown Printable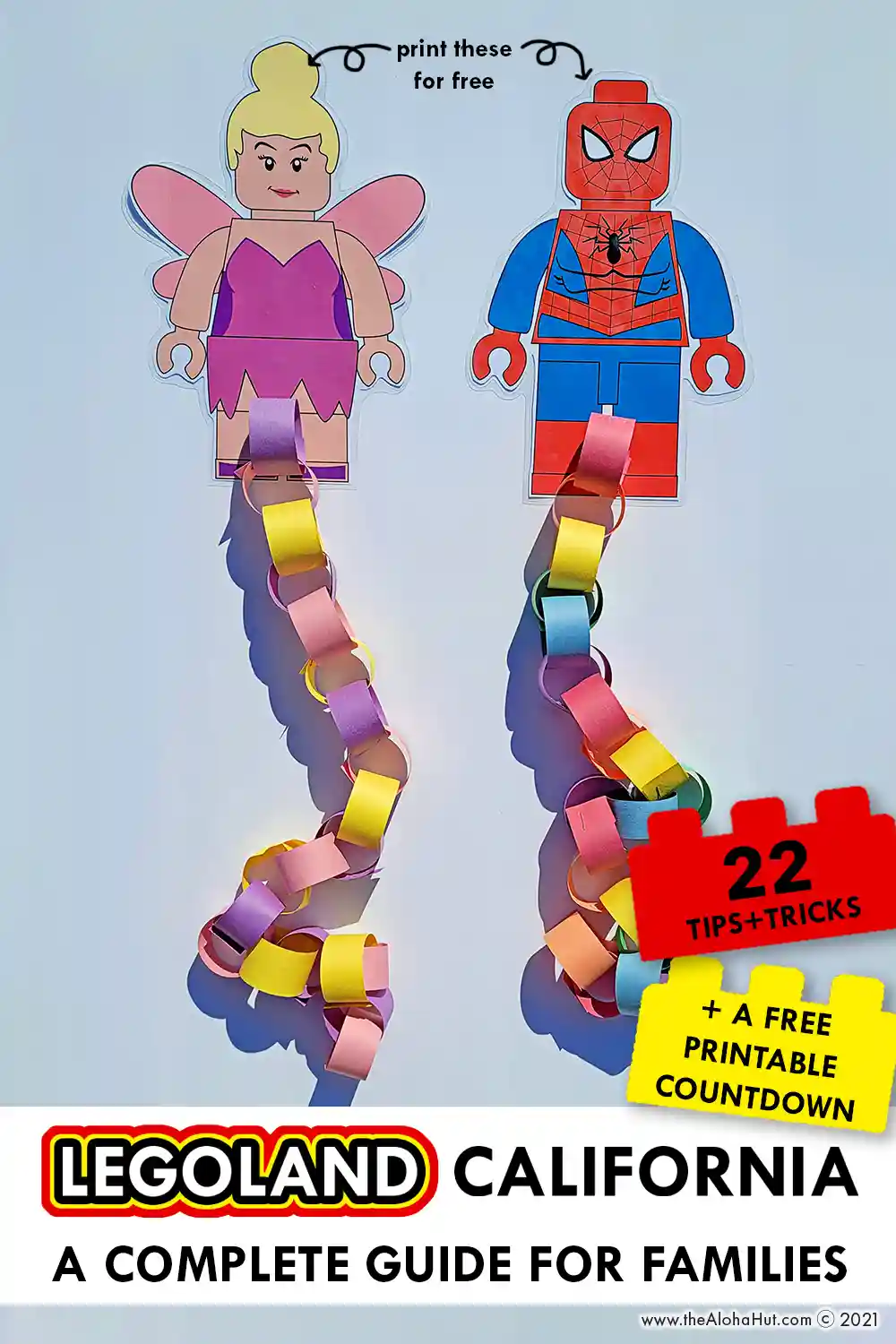 Get kids excited for the trip with our FREE Legoland countdown printable and Lego minifigure coloring page. It helps kids keep track so they're not asking every single day "how many more days until Legoland?" You can print off a Lego spiderman or Lego fairy minifigure, or design and color your own. Add a paper chain to keep track of how many days are left. Use it for any of the theme parks – Legoland California, Legoland Florida, Legoland New York, Legoland Dubai, Legoland Billund, Legoland Deutschland, Legoland Malaysia, or Legoland Windsor!
We hope this guide helps you prepare for your Legoland vacation.
Much love and aloha,
Stacey + Niki