Road Trip Kit & Activities
Road Trip Kit & Activities
This post may contain affiliate links. Read our disclosure policy.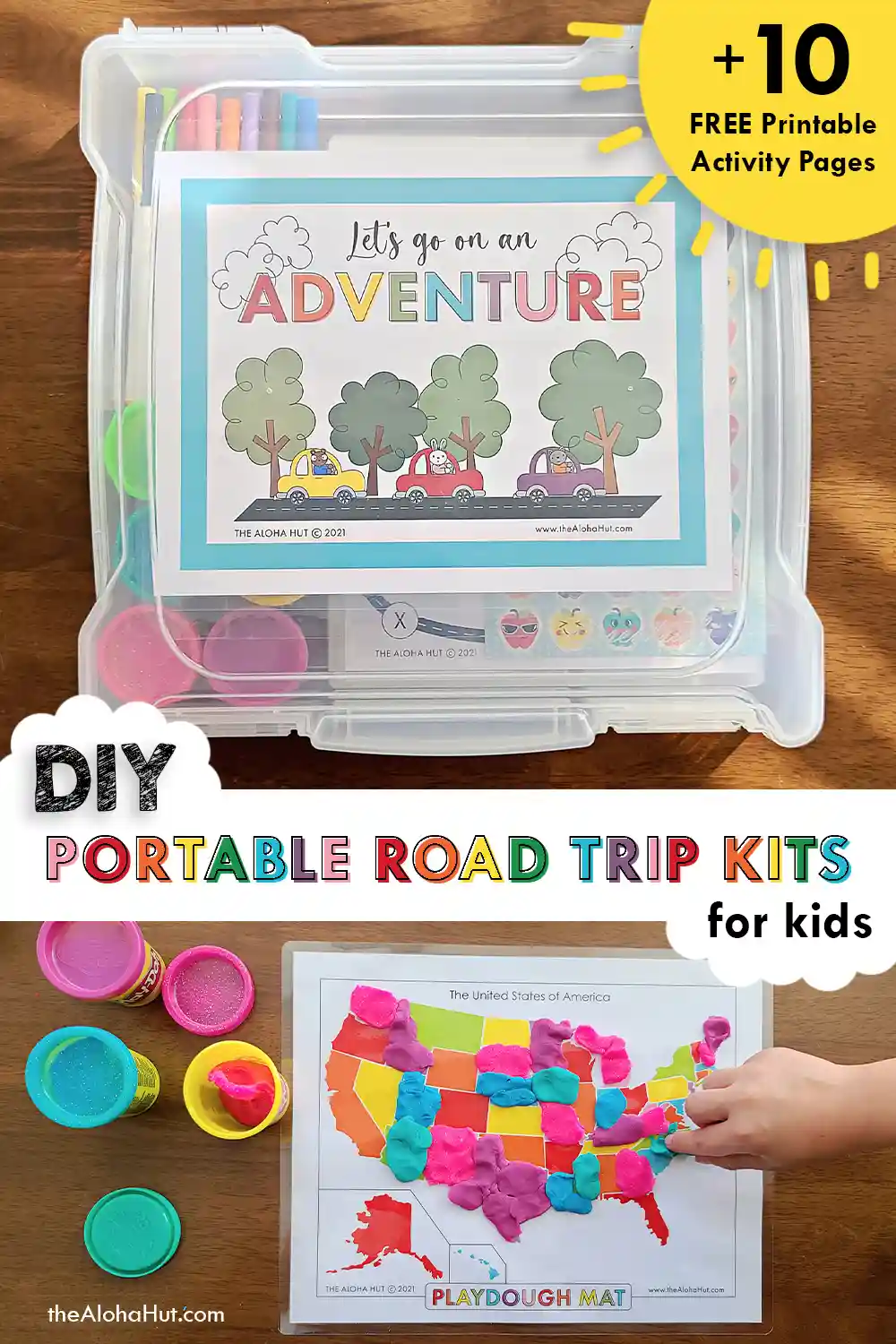 Summer's here! And we've got you covered with a diy portable road trip kit including 10 FREE printables for your kids to keep them busy on those long road trip drives. This pack is chock full of super fun activities and games to help keep boredom at bay and keep parents sane while everyone's stuck in the car.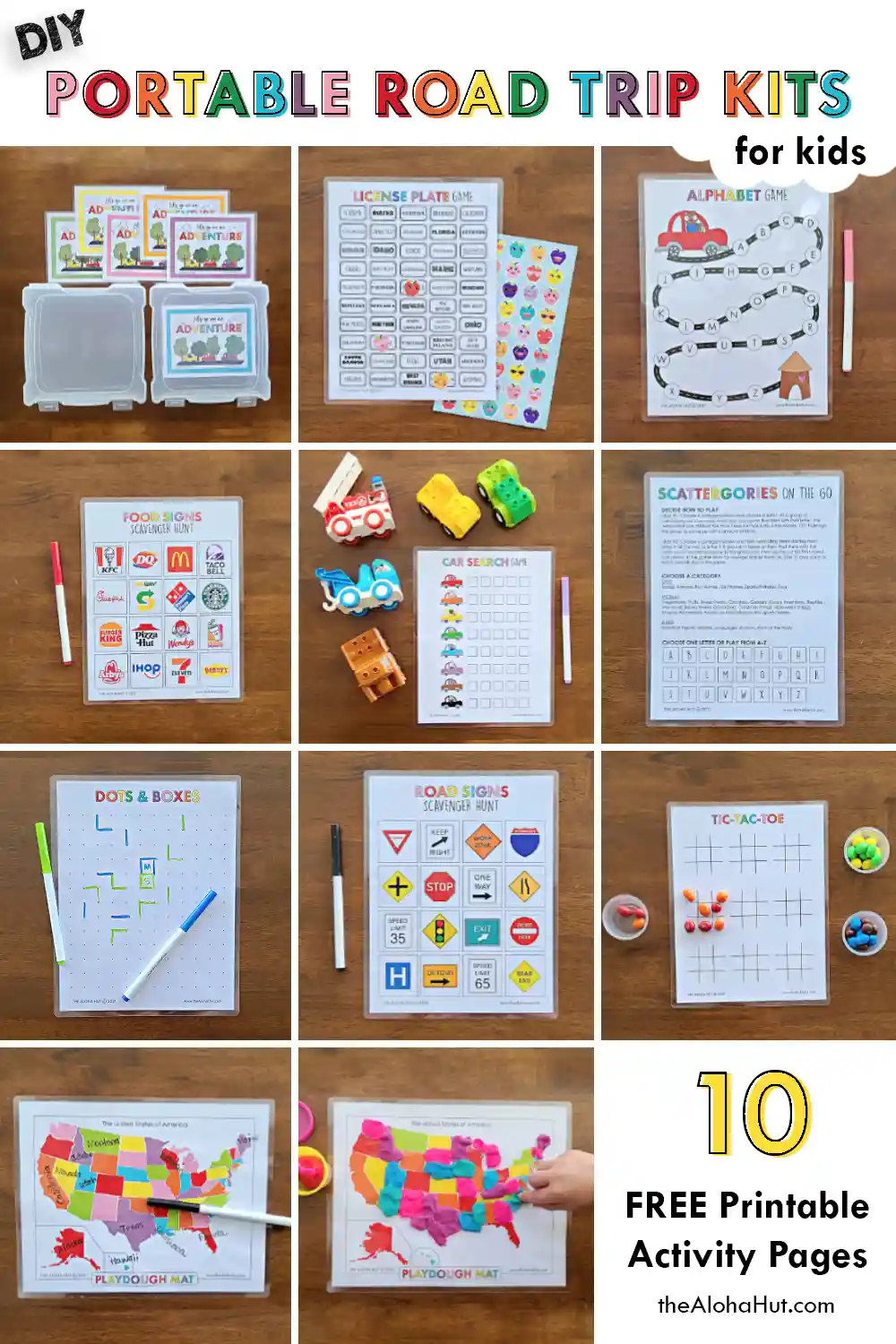 Each game and activity requires minimal supplies. You can get by with as little or as many supplies as you'd like. You could literally just have the prints laminated and a dry erase marker and call it good. Or add things like stickers, playdough and skittles to mix it up a bit. Keep reading for our favorite car ride games and activities…
1) Cover Page and Storage Bin
Ok, this isn't a game or activity but it's a necessary part of the pack! The cover includes 6 different color options so your child can choose their favorite one and also helps when you have multiple kids. We taped ours to the top inside of the storage bin. The storage bin is key to keeping everything contained and for kids being able to write while in the car. We got ours from Walmart but there's a similar version here on Amazon. This is the perfect size as it's 12×12" so it fits not only the papers, but any other supplies/toys you'll want to store. It also has a large writing surface and sits on the lap perfectly.
2) License Plate Game
This is a classic, especially when you're going on a loooong road trip across multiple states. It's hard to keep track of all the different states you've seen but with this printable you just add a sticker or mark it off and see how many states you found by the end of the trip. Make it more competitive and tell the kids there's a prize for whoever found the most!
3) Alphabet Game
Our families LOVE this game and play it all the time. This one works even if you're just doing a short drive of an hour or two down to 30 minutes. If you've never played this game, the rules are simple. Find a word (outside of the car, no cheating and looking for words inside the car) that starts with the letter A and work your way down the alphabet. For older kids, we make them do the letters in order and the word has to begin with that letter. For younger kids, we allow them to find any words that have the letter in it. We also determine before the game starts if there's going to be one or two passes allowed (meaning if you're stuck on a letter for a while then you can opt to skip it). Kids love this game and it takes up a good chunk of time.
4) Food Signs Scavenger Hunt
We tried to get food places that are scattered all over the USA but we also included a blank sheet for those of you outside the United States. We like to let the winner pick where we get to eat for dinner or lunch that day! Makes it a little more competitive and fun.
5) Car Search Game
Slug bug! Enter the dead arm. Come to think of it, seeing a slug bug on the road (aka Volkswagen Beetle) is so rare nowadays! That's probably why kids now scream "yellow car" and then punch their sibling in the arm. With this game I can assure you there will be no punching involved and all colors are equally important and needed to win the game. Parent's, you're welcome! 🙂
6) Scattergories on the Go
This is just like the traditional game but without all the bells and whistles. The full instructions are on the printable with two ways to play and a large list of categories to choose from ranging from animals to Pro Sports Teams to Disney Movie Characters. This is fun for adults to get involved in as well!
7) Dots & Boxes
Who else remembers playing this game almost every week at church while listening to the talks? Good times. 🙂 Such an easy game but does require at least two players. Each player needs their own colored marker (dry erase is best so you can play over and over again). Each player takes a turn making a line from dot to dot, only making one line at a time. The key is to not create an opportunity for the other player(s) to create a box. Once you've drawn a line to finish off a box, you fill it in with your initial and get to go again. Sometimes you'll get multiple boxes in a row (especially towards the end of the game). Once every line is drawn and boxes filled in, count them up and see who has the most!
8) Road Signs Scavenger Hunt
This ones a fun and easy game too that's perfect for little and big kids. Just like the license plate game, give it a competitive twist by giving the winner a prize.
9) Tic-Tac-Toe
This one's self-explanatory. You can use markers or little candies to play…we always opt for the candies. 🙂
10) USA Playdough Mat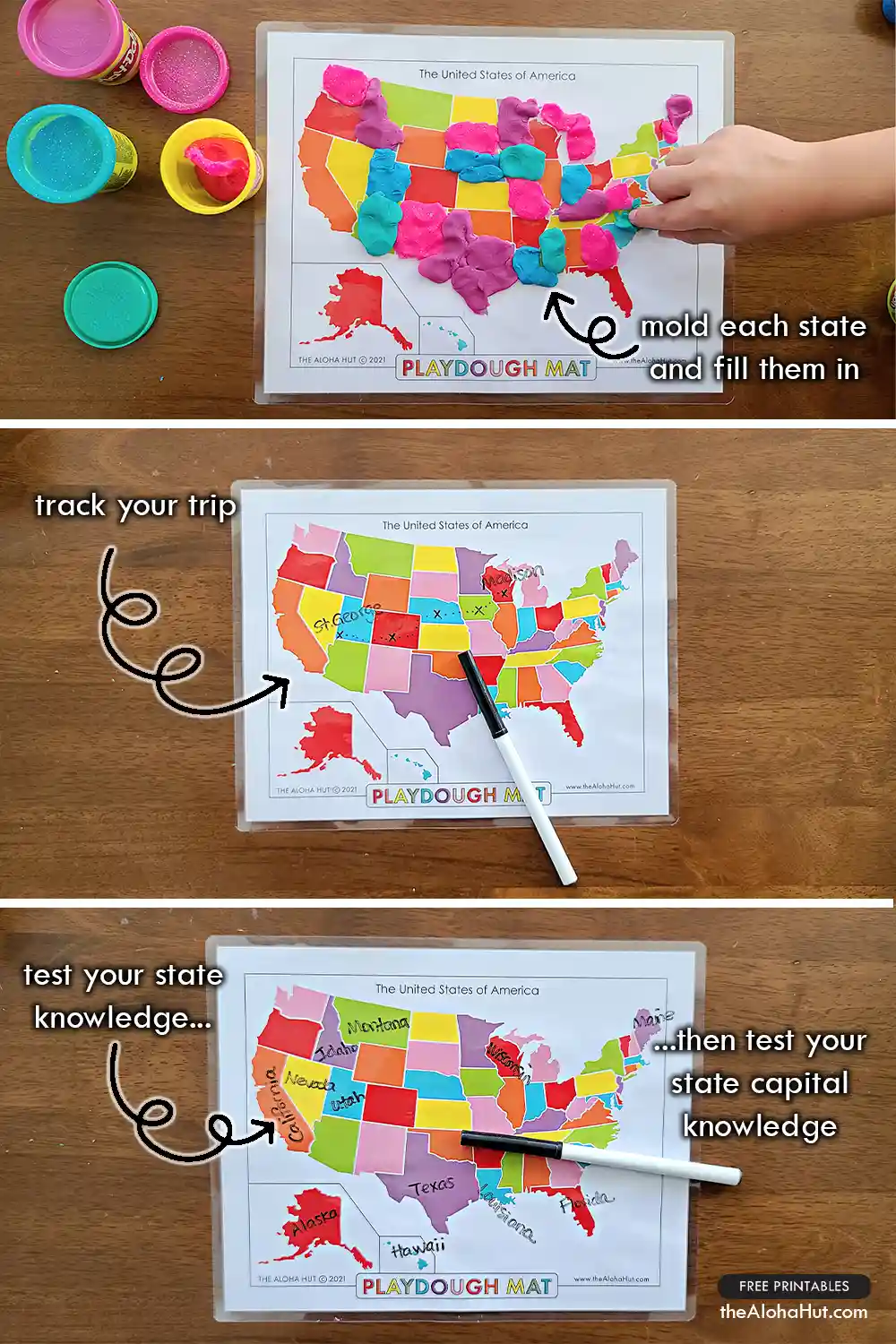 Last, but definitely not least, is a playdough mat! We love playdough mats and have other ones that you can print off for free here and include in your road trip kit. This playdough mat is specifically for the United States (we'll eventually include other countries and will link them when they are created) and can be used in multiple ways. First up is to sculpt out each state and cover the entire map. Second is to track your destination and what cities you've stopped in. This is great for a multiple stop/destination road trip. And third, use it to test your state name knowledge then your capital name knowledge. Parents will appreciate this as it helps keep those brain muscles working!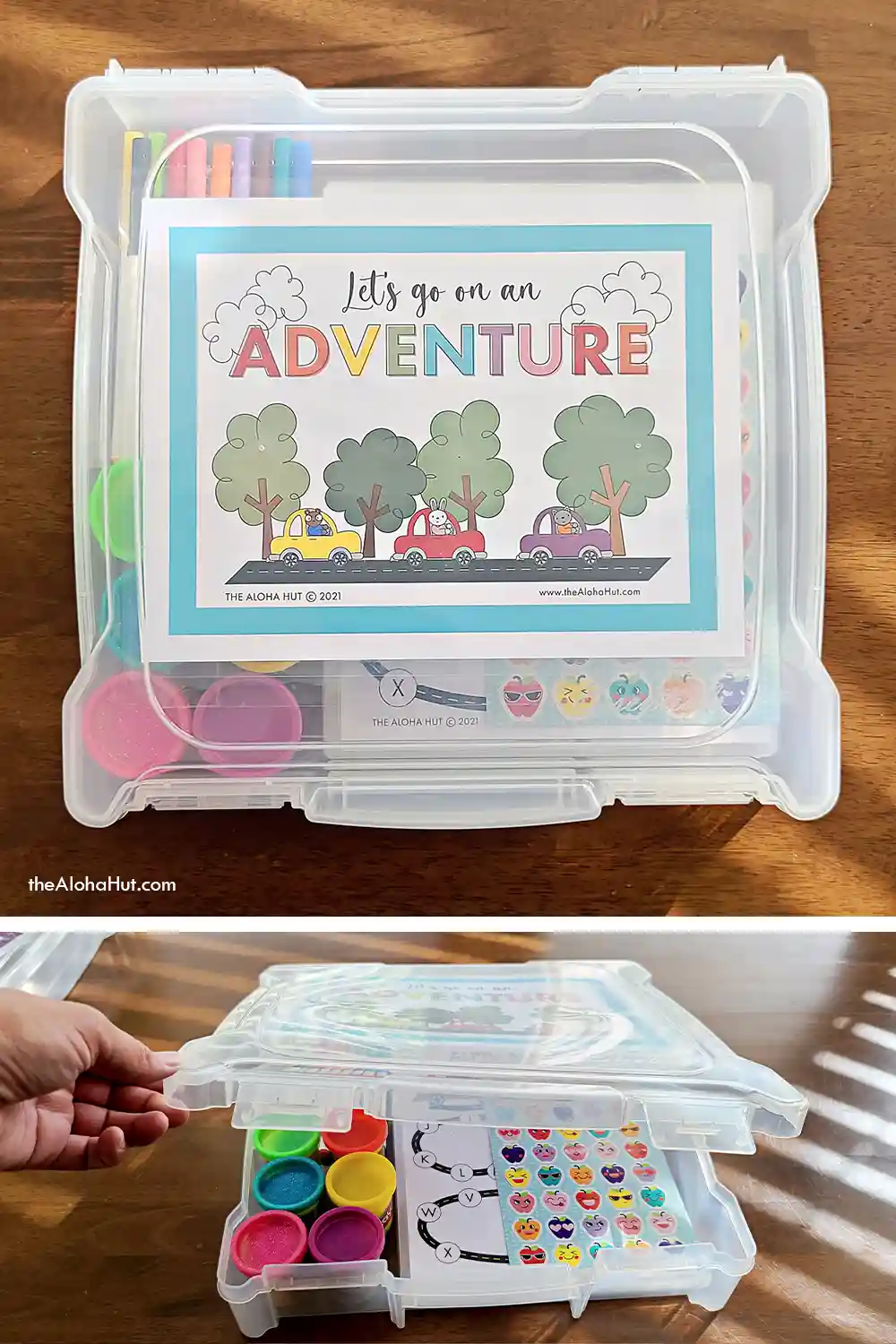 And there you have it; a self-contained, portable box of fun ready for your upcoming long drive! Stay tuned because coming up next is 100 Ideas to Keep Kids Entertained on Road Trips.
Much love and aloha,
Stacey + Niki