Best Hocus Pocus Halloween Party Ideas
Best Hocus Pocus Halloween Party Ideas
This post may contain affiliate links. Read our disclosure policy.
Something wicked this way comes! We love throwing a themed Halloween party. Every year we watch the Hocus Pocus movie with our kids and with the release of Hocus Pocus 2, it was fun to have a watch party as a family. Whether you're doing a Halloween party for kids or a Hocus Pocus viewing party, we've rounded up our favorite ideas to help you throw the best Hocus Pocus Halloween party. Read below for the best Hocus Pocus Halloween party ideas including decor and supplies, games, activities, and bewitching food and drinks.
HOCUS POCUS DECOR
We love to decorate with Halloween decor we already have on hand and then match it to our themed party by adding paper decor. A fun Hocus Pocus banner or Hocus Pocus print make the perfect decor for your Hocus Pocus party. Add some paper bats or a Halloween balloon garland for the wow factor!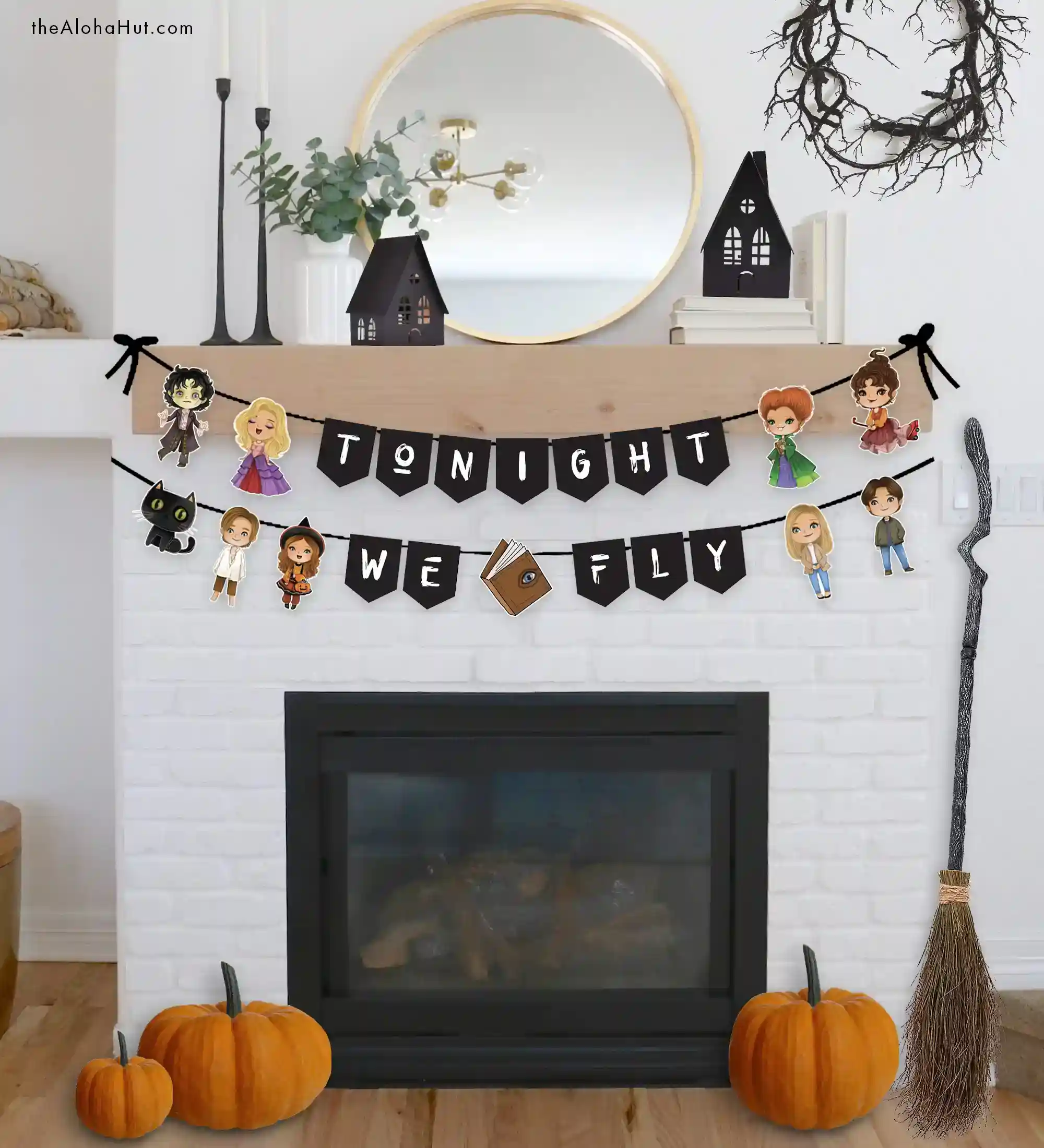 Have the Sanderson sisters meet guests when they first walk in with DIY Hocus Pocus cutouts. Add witch hats and creepy cloths (also available at the Dollar Store) for simple decor that doesn't break the bank!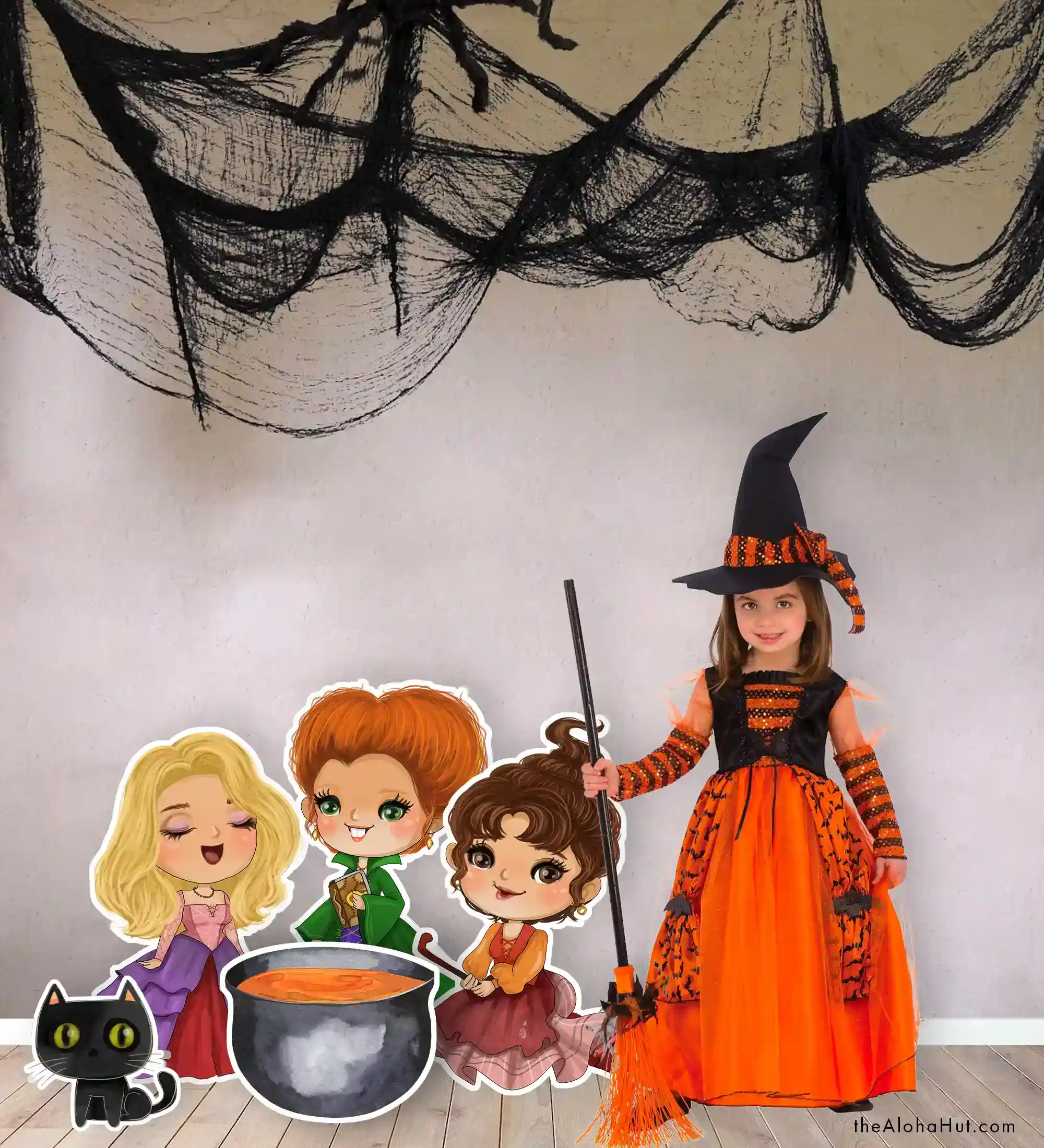 Make your own Hocus Pocus book and use it for decor. We used it at our party and then it doubled as a prop for my little girl's Winifred Sanderson Halloween costume! This DIY Hocus Pocus book was so easy to assemble: get the printable Hocus Pocus book in our shop, cut out, and modge podge to any book. Use a book you already have on hand that you don't mind having a Hocus Pocus cover on, or buy cheap books at the Dollar Store or thrift store.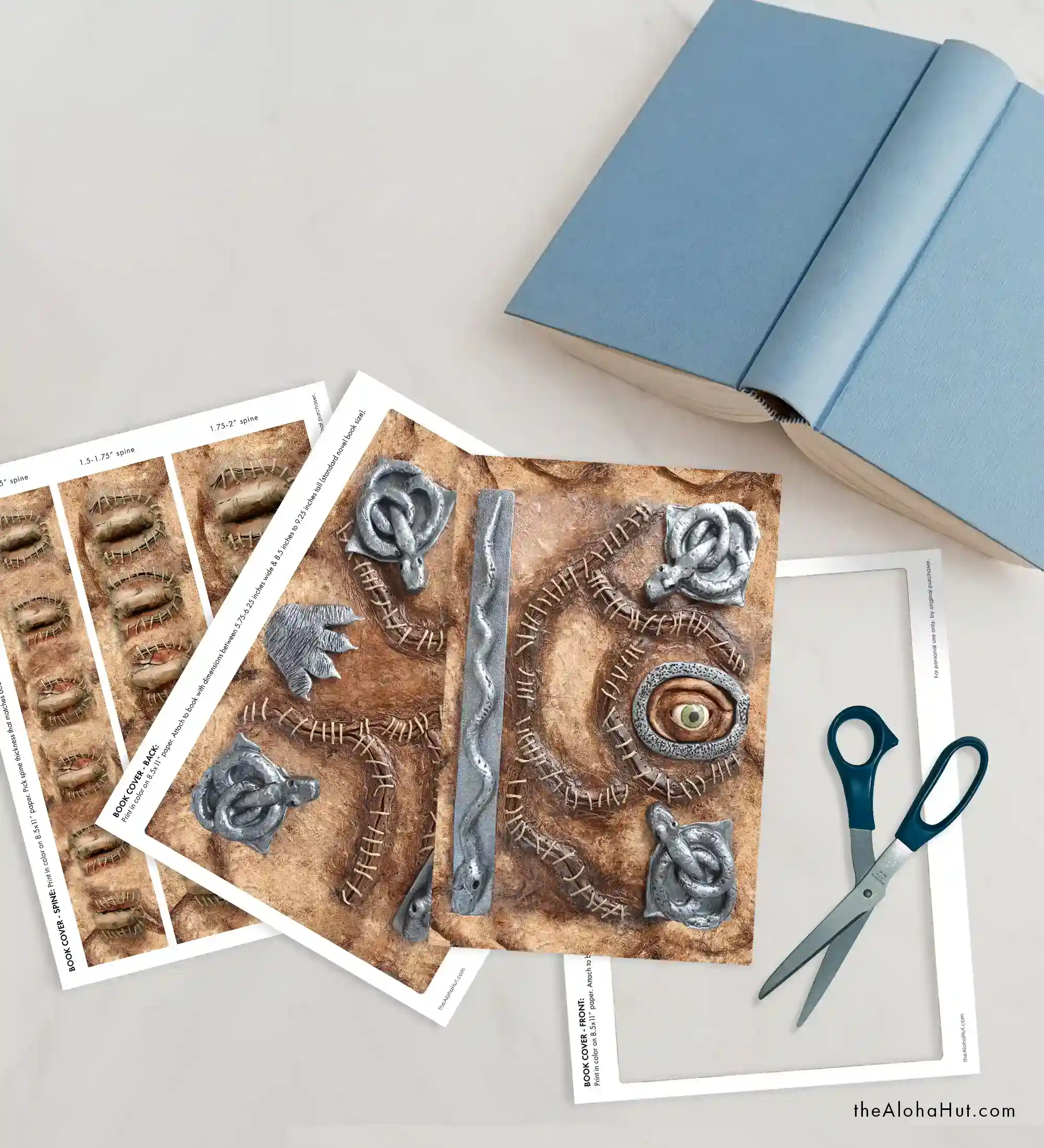 HOCUS POCUS GAMES AND ACTIVITIES
Our kids' favorite game to play is this Halloween scavenger hunt. The game is perfect for all ages and it takes very little time to prep! We hide the characters all around the yard (or house) and send the kids off to find the characters. Make it as challenging as needed by hiding the characters in plain sight (for younger kids) or more hidden (for older kids and adults). Have the kids go in pairs if needed. Each guest wins a prize when they find all the characters. We like to give an extra prize to the child that finishes the scavenger hunt first.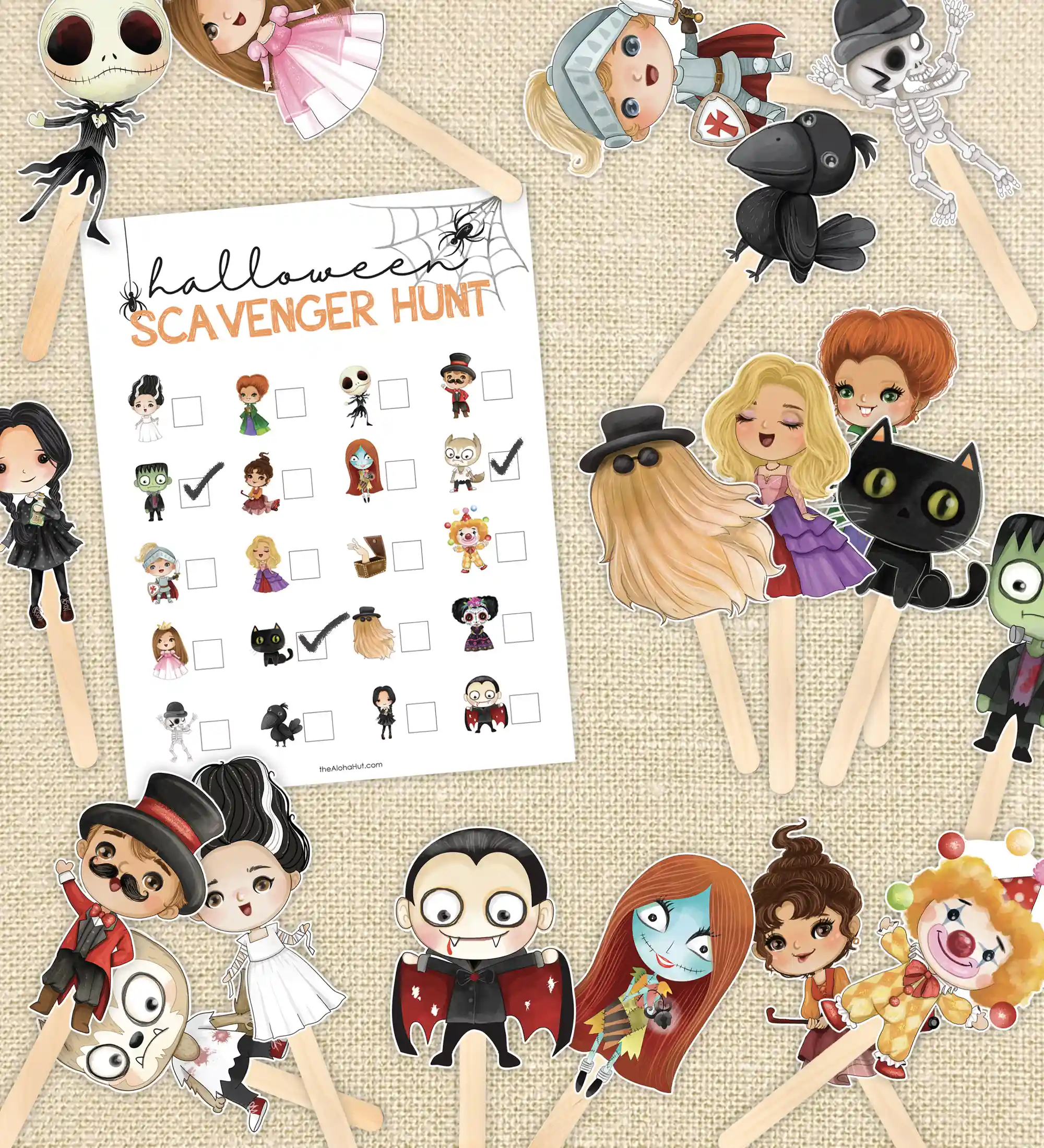 You can't go wrong with the classic party games – BINGO and Pin the Tail! Check out this Hocus Pocus BINGO game and our Pin the Spell Book on Winifred Sanderson game.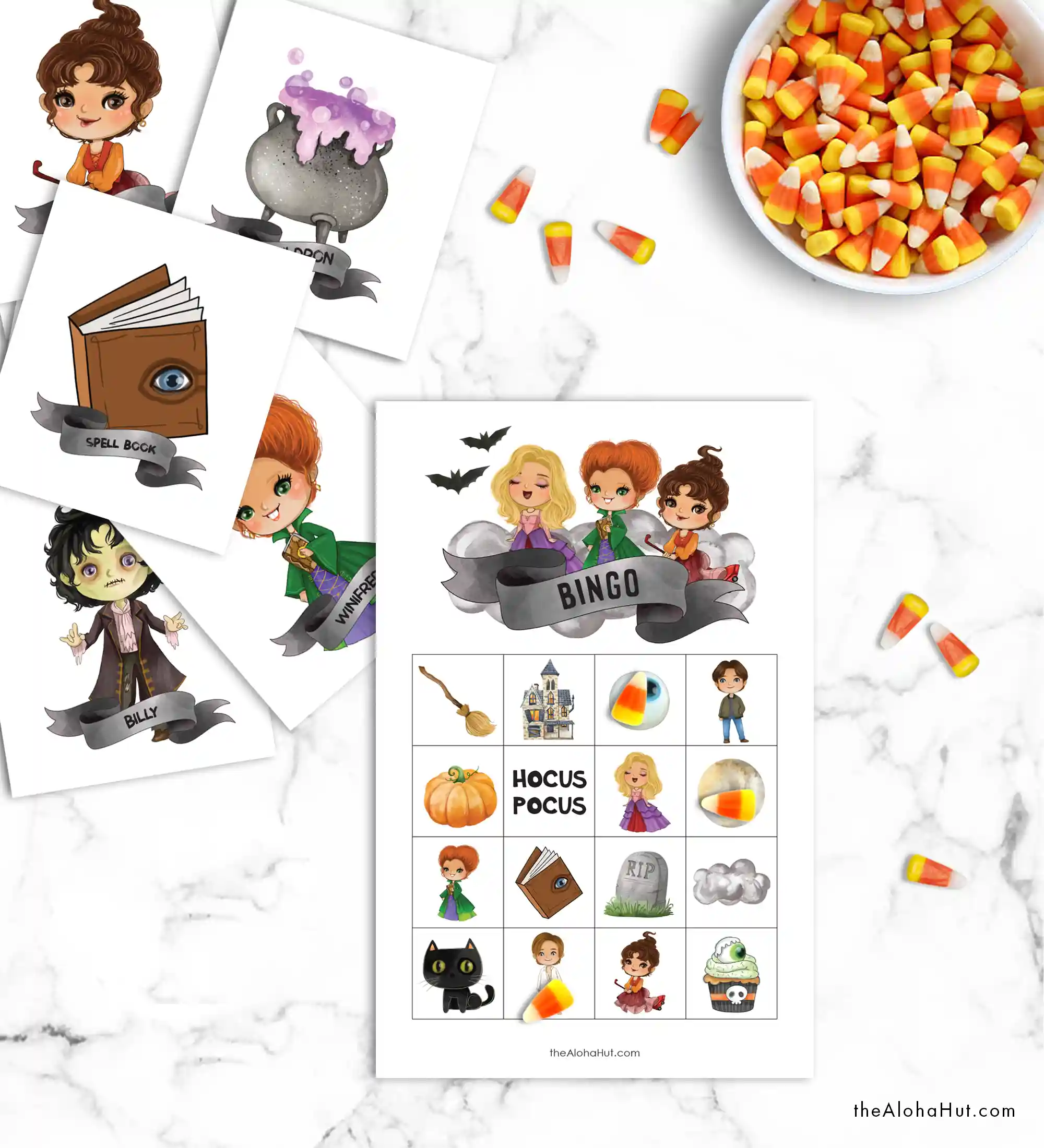 Our kids love to play the cupcake walk game so of course we had to make a Hocus Pocus Cupcake Walk game. This game is so easy to play and you can mix it up to make it more fun.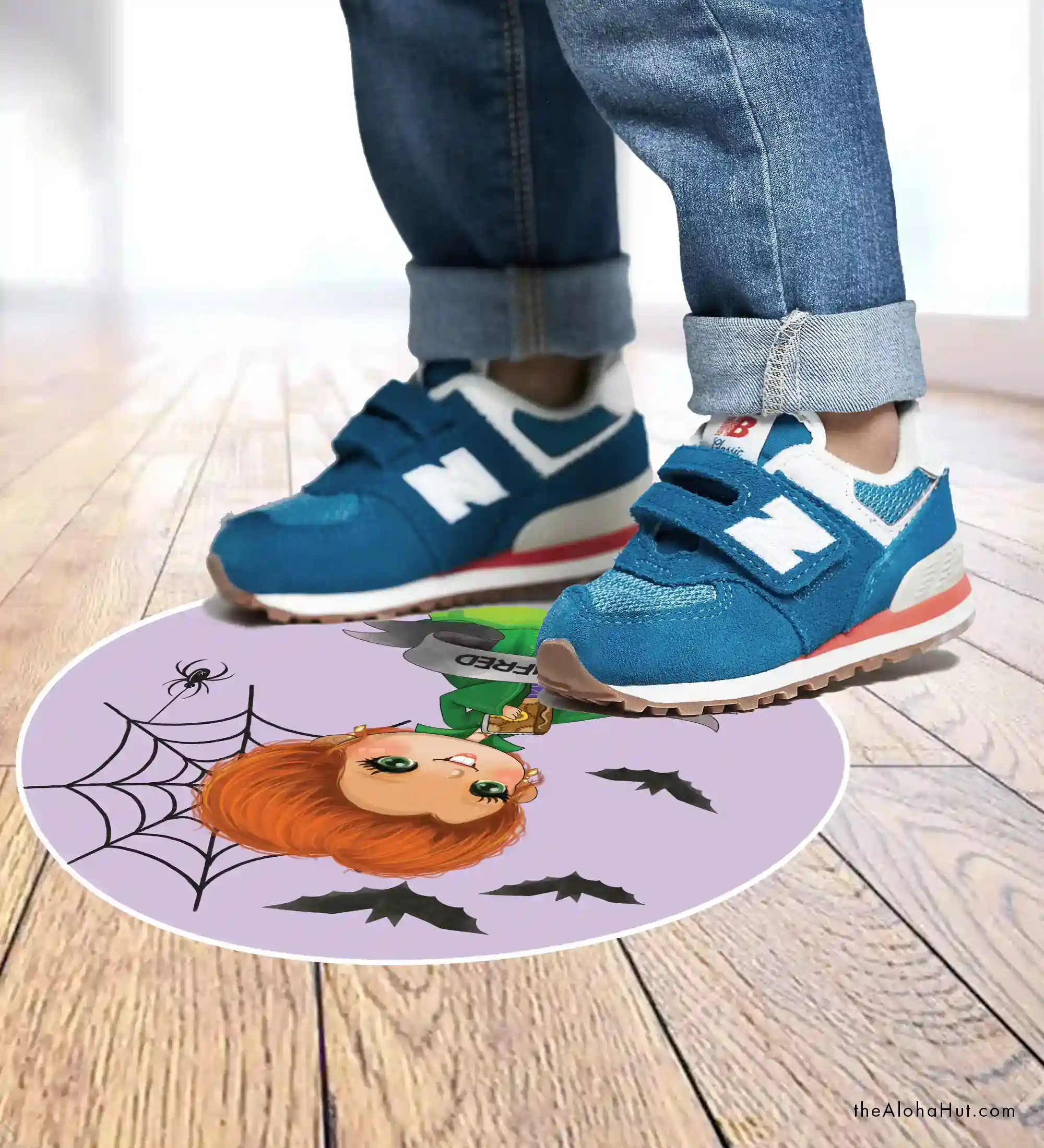 How to play Hocus Pocus cupcake walk game:
Print all of the characters and place them around the room for the kids to walk around while you play Hocus Pocus music.
When the music stops, we choose a card and whoever is standing on that character wins. Some of the characters include Winifred Sanderson, Sarah Sanderson, Mary Sanderson, black cat, Billy Butcherson, etc.
The kids can win a cupcake or a prize. Play as many rounds as you wish.
We like to mix it up and have the kids do silly actions while they're walking around the circle waiting for the music to stop. You could have them walk like the zombie Billy Butcherson, prance around like a black cat, fly around around a vacuum broom, do the funky chicken, hop on one foot, etc. The sillier the better!
You could also play this easy to assemble Halloween bean bag toss game that includes the Sanderson Sisters and other favorite Halloween movie characters. Or play a fun game of charades and pictionary. Write a list of characters and Halloween things on slips of paper to act out and draw, or get our Halloween Charades / Pictionary cards.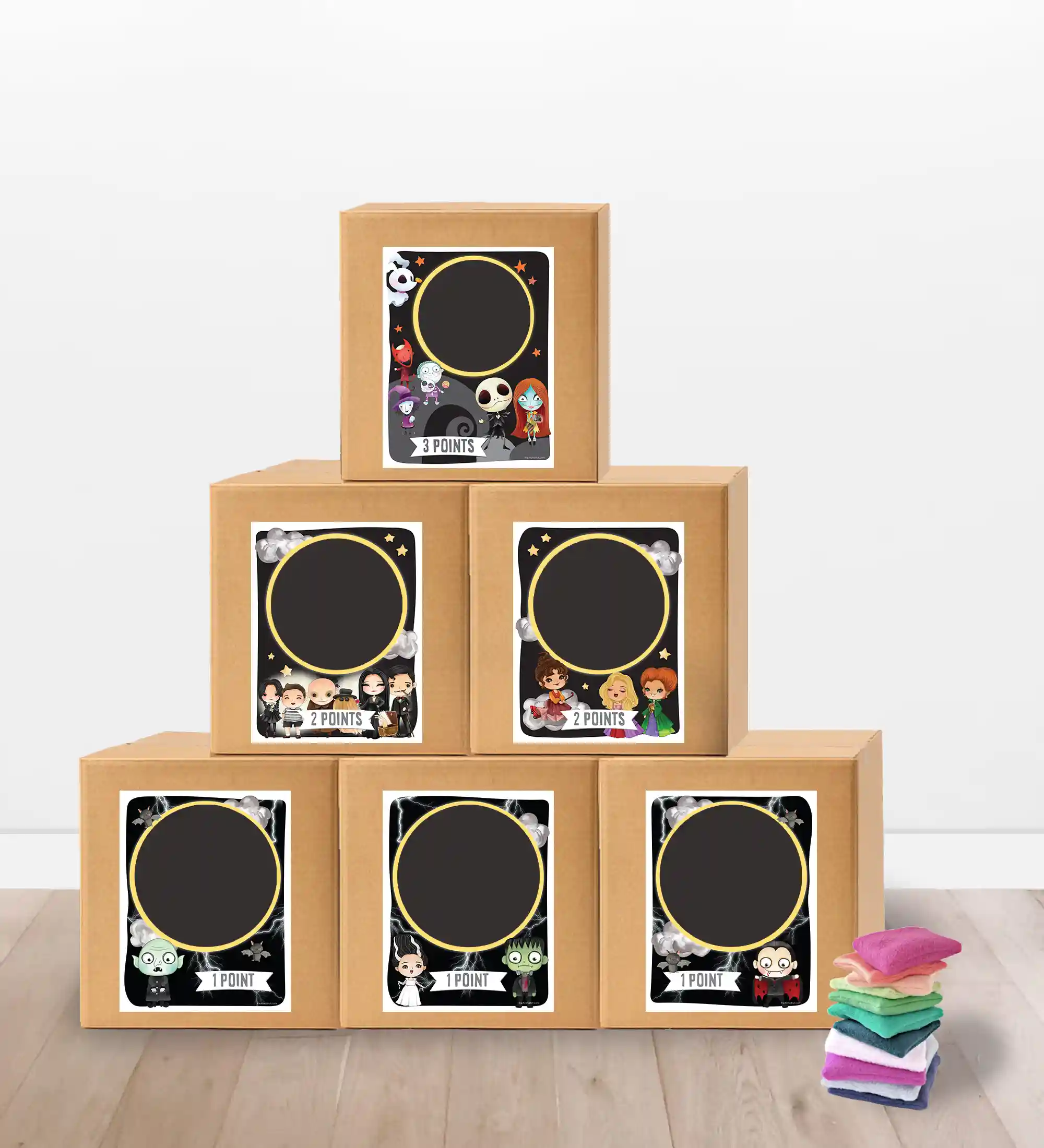 Gather Halloween props and make sure to take pictures of all the guests with a fun photo booth! We have a ton of fun Halloween photo booth props if you need more ideas.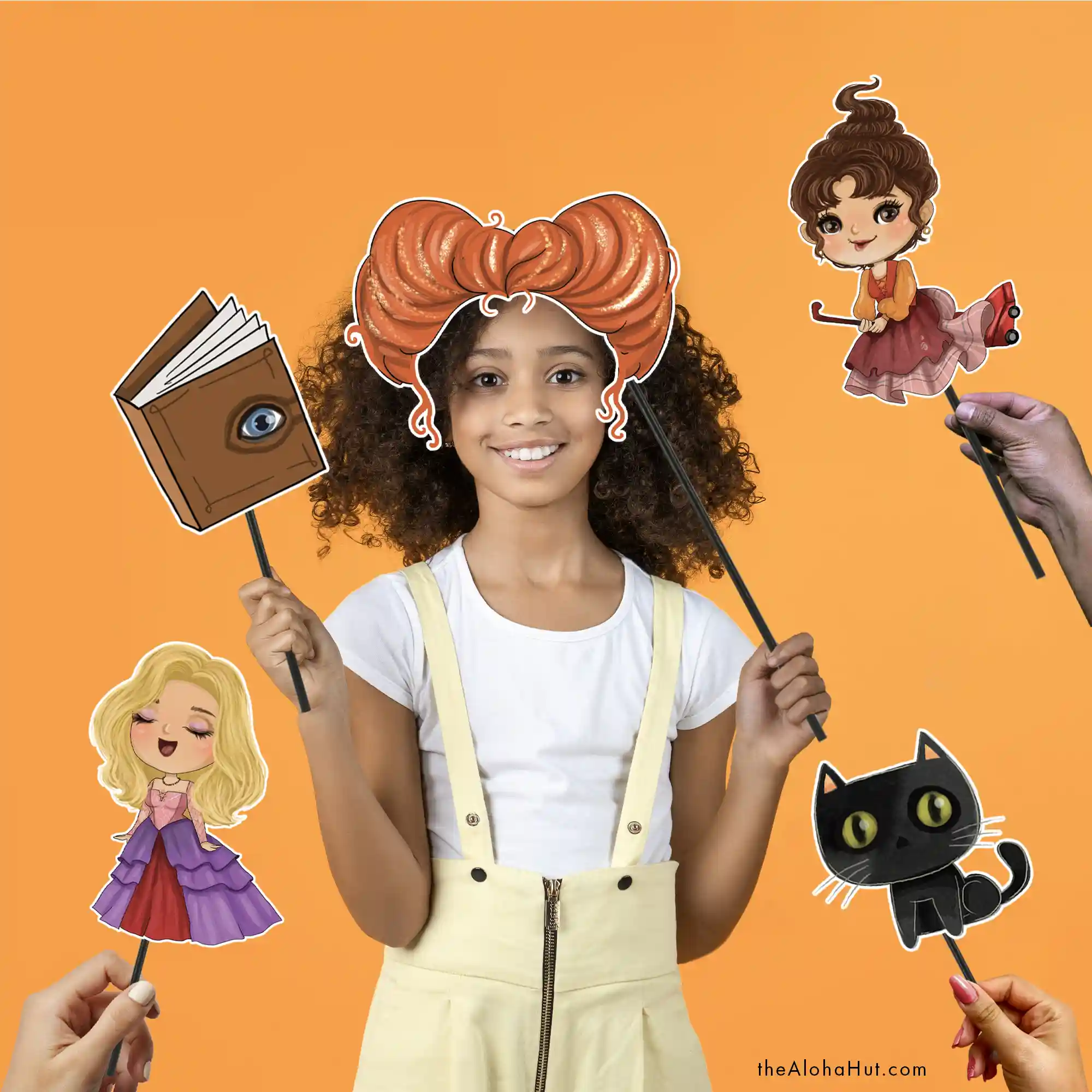 HOCUS POCUS FOOD
Turn everyday foods into fun Hocus Pocus inspired food! Add some Hocus Pocus food labels to complete the look.
Deviled Cat Eyes: make your favorite deviled eggs and add an olive slice for a cat eye.
Witches Brew: apple cider with apples carved into skulls.
Witches Brooms: cut string cheese, pull apart ends, add a pretzel stick, and tie with chives.
Severed Fingers: hot dogs cut/sliced to resemble a finger, ketchup for blood!
Spell Books: brownies decorated with a candy eye and black writing frosting.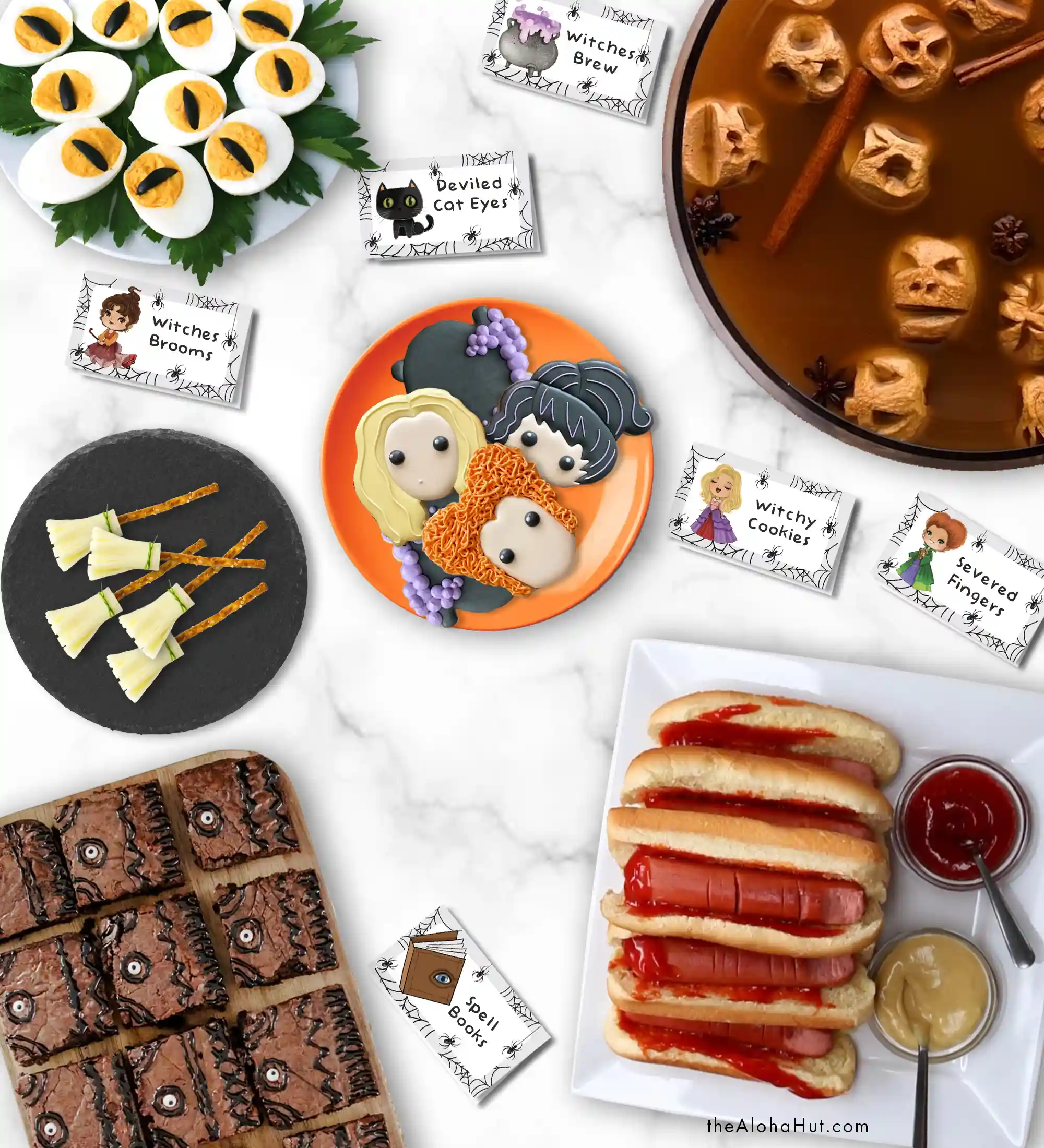 Or easily turn any cupcakes, cake, or pastry into a Hocus Pocus party food with cupcake toppers and a cake topper. Add candy eyes if you have any on hand!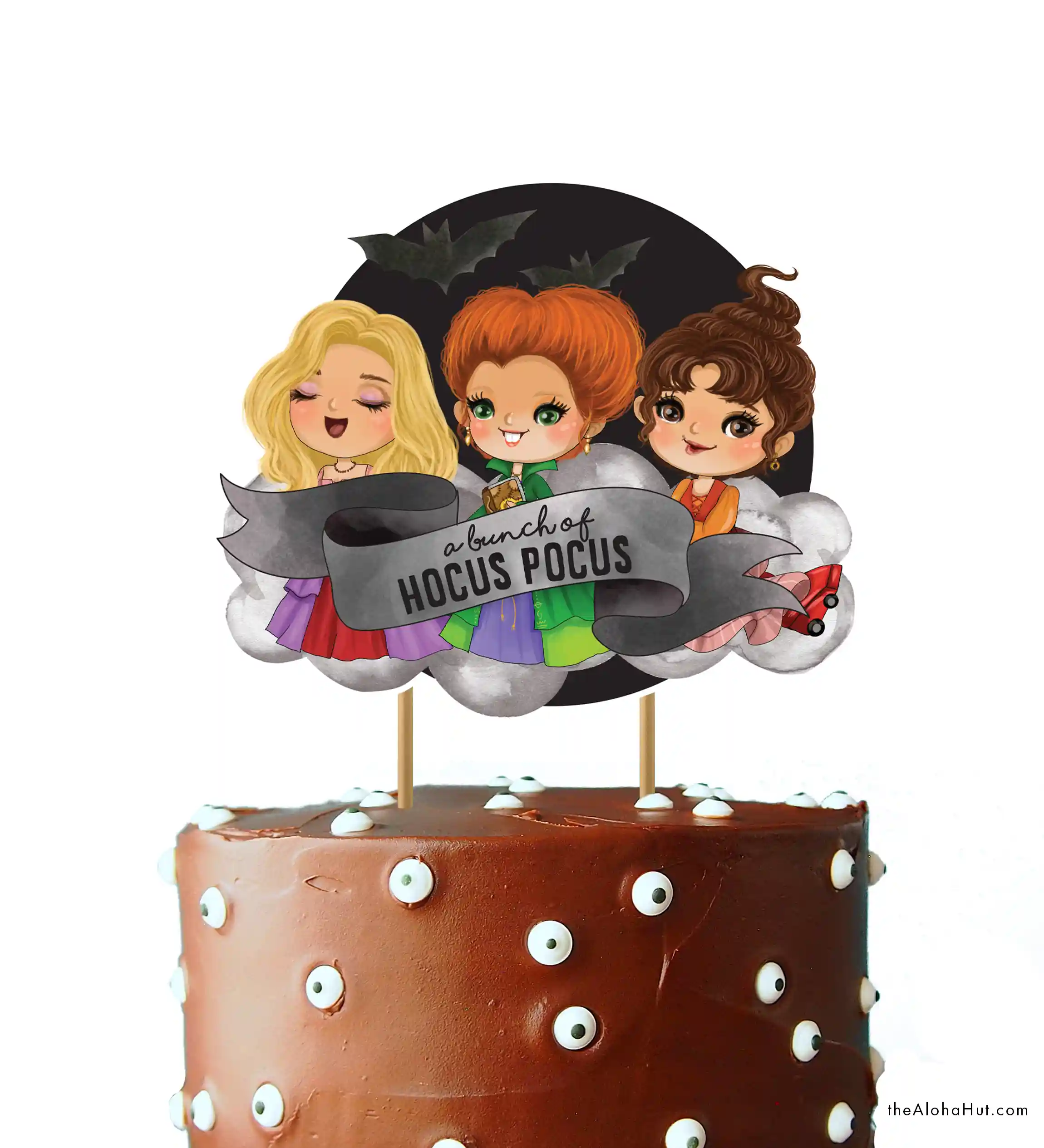 Make a charcuterie board that is Hocus Pocus themed. They're a little bit of work, but the results are magical and spooktacular!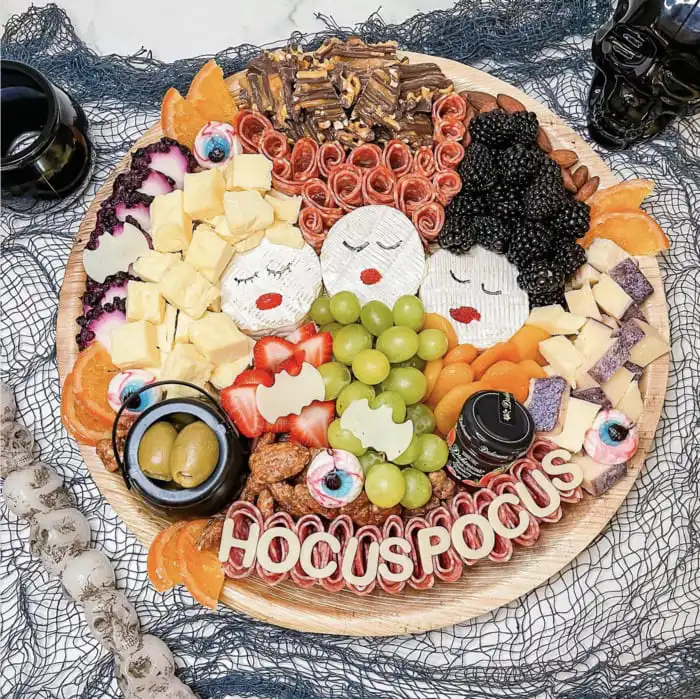 Make healthy Hocus Pocus food by adding eyes to all the fruits and vegetables and a little bit of chocolate drizzle for some bewitchingly delicious bites!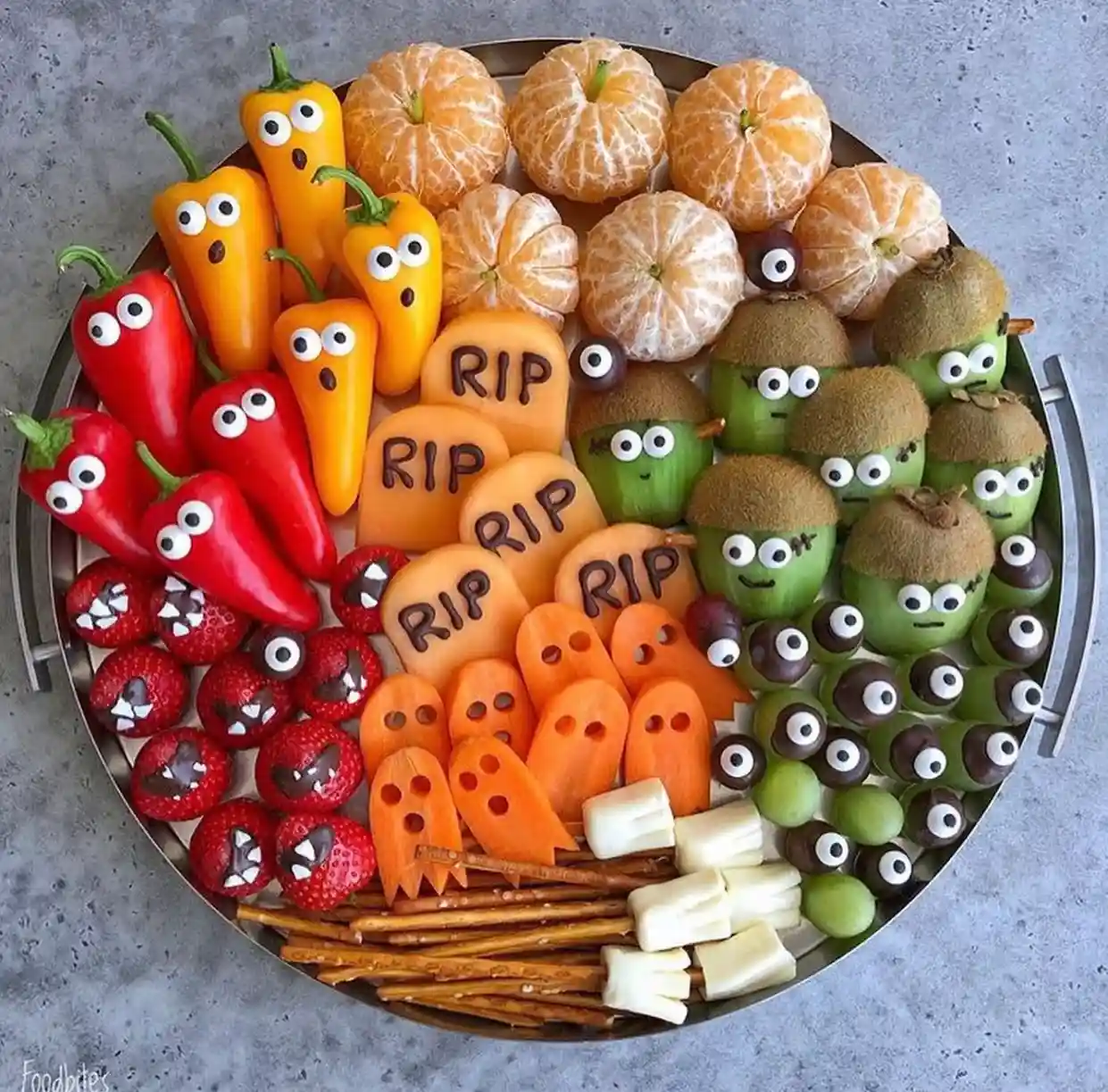 Drink labels are another easy drink alternative. Add them to water bottles, soda cans, juice cans, etc.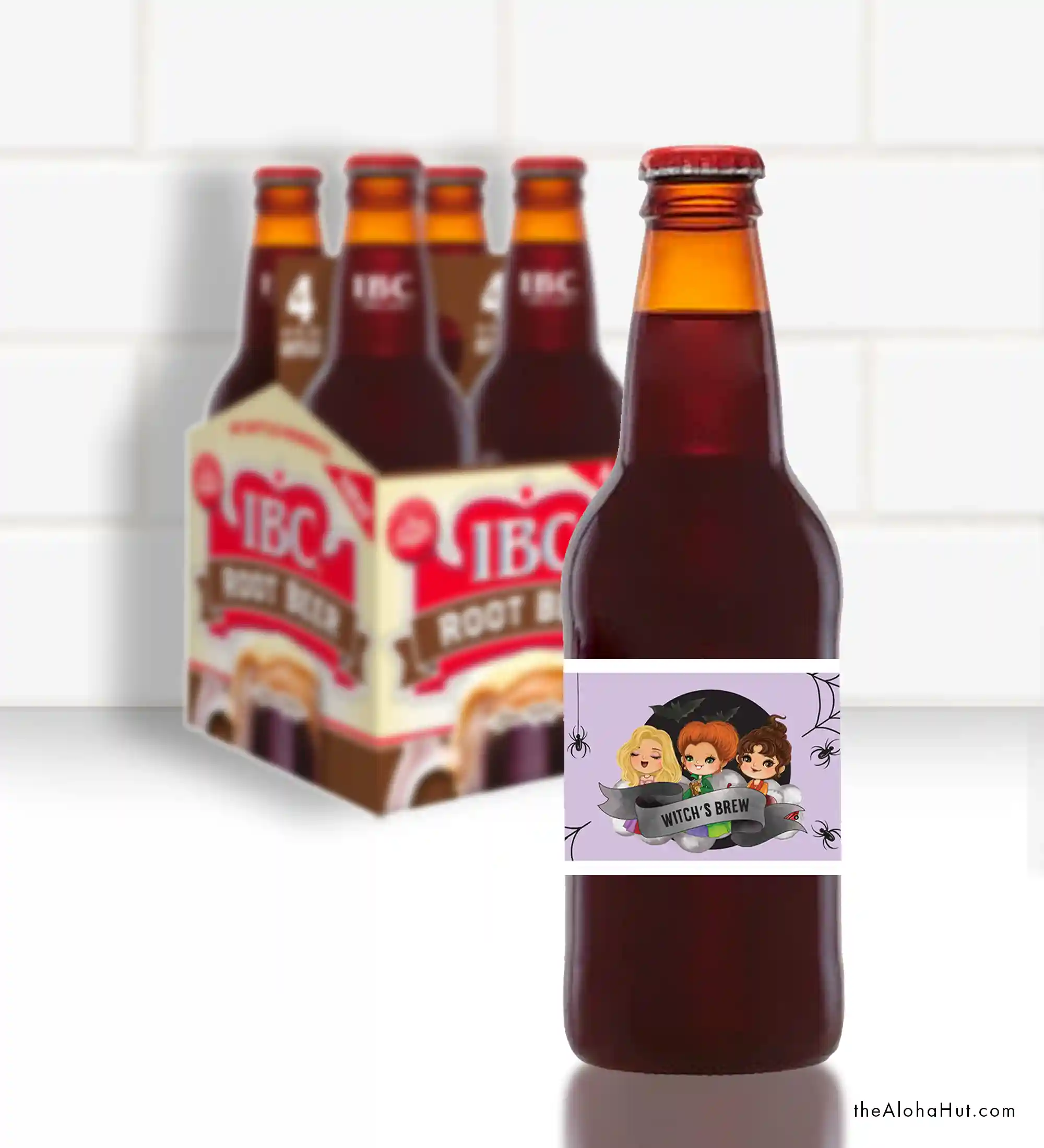 Don't forget to decorate the tables! Decorate the table with little pumpkins and turn them into Hocus Pocus centerpieces by adding all the characters on sticks. You could also add the characters to vases with flower, some witchy cauldrons, or anything else you have on hand. Make it Hocus Pocus themed decor by adding the Hocus Pocus characters.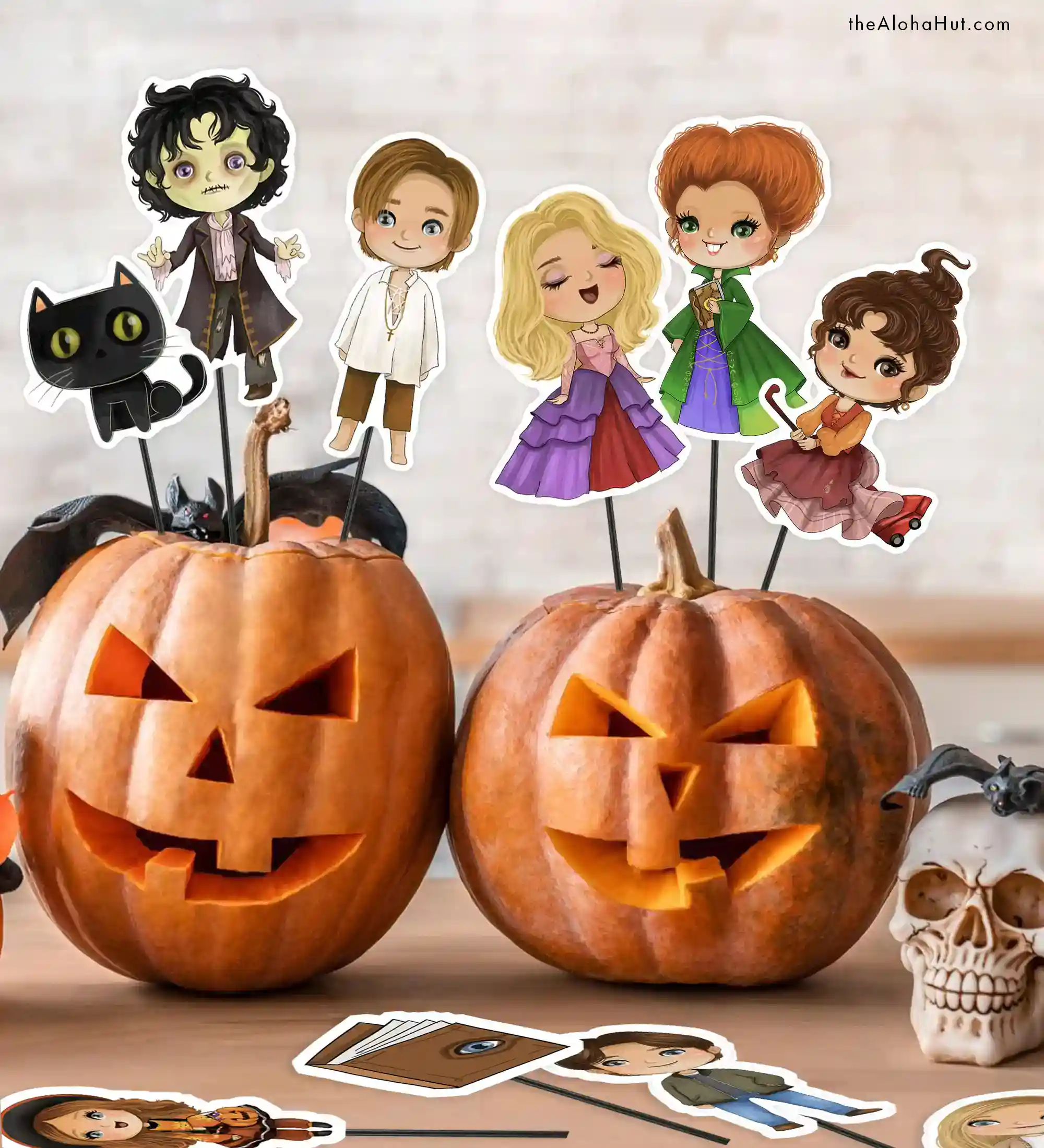 HOCUS POCUS INVITATIONS
Can't forget the party invites! Write in the details or use a free editing app like Adobe or Canva to add text.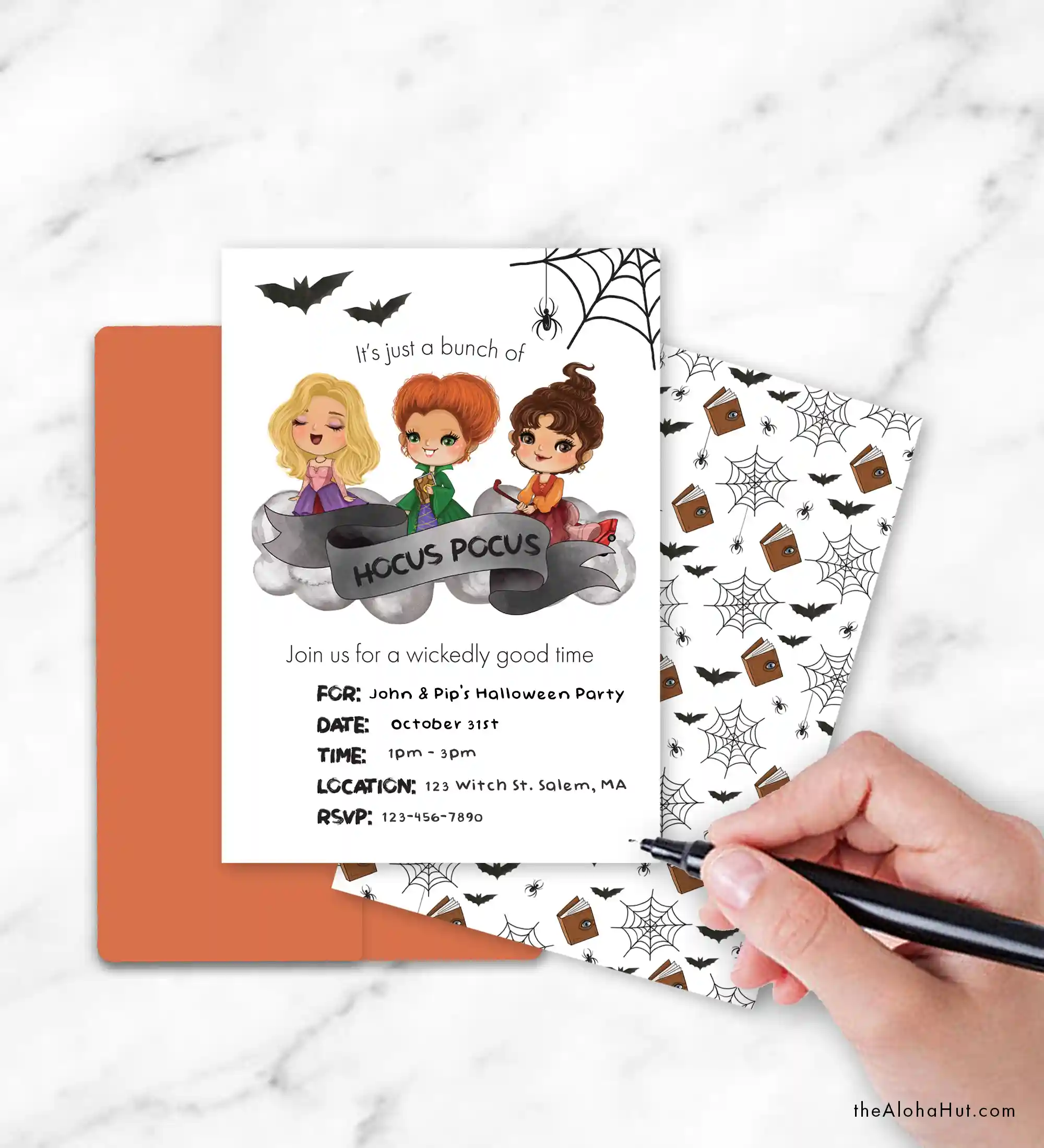 Happy celebrating witches. Tonight we fly!!
Stacey + Niki
---