13 Fun & Easy Class Halloween Party Games and Activities
13 Fun & Easy Class Halloween Party Games and Activities
This post may contain affiliate links. Read our disclosure policy.
Need help planning A Halloween class party for your child's classroom? Volunteering in the school classroom is so much fun and is a great way to get to know the teachers and the students in the class. It can also be stressful being the room mom and having to plan all the holiday parties. Below are 13 fun and easy class Halloween party ideas for games and activities to help make party planning a cinch!
Choose the ones that will be easiest to prep and that you think the kids will love. These ideas are great for a preschool or Kindergarten Halloween party and even for the older elementary aged kids. These are also great activity ideas for a Halloween party with friends!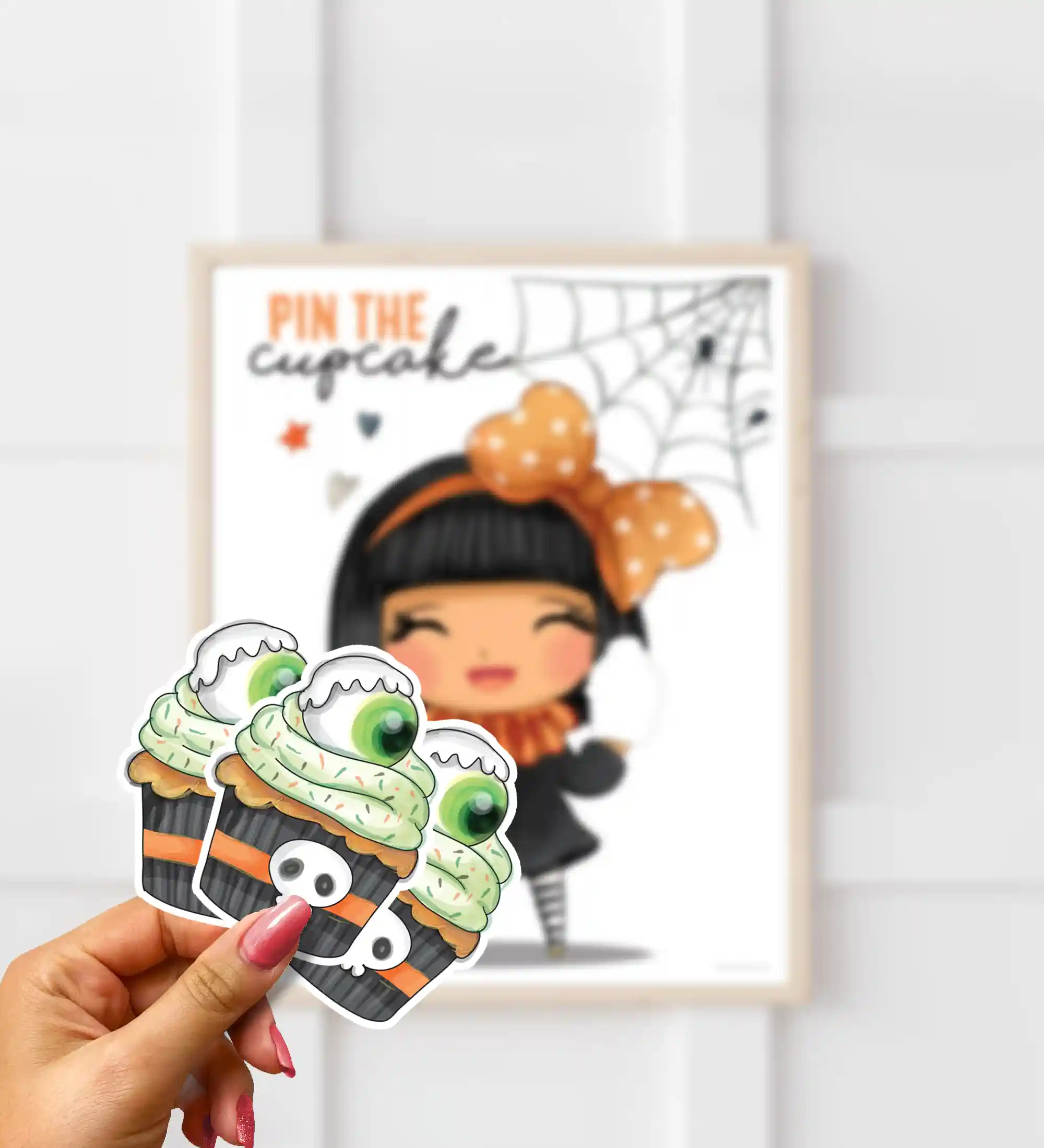 We love to do rotations for our Halloween class parties. So depending on how many kids are in the class divide them up evenly into groups. We like to have 5-6 kids per group. Decide on the time needed for rotations and then plan accordingly (we normally do 10-15 minutes at each station). Assign one parent/aide to be in charge of each station. Read below for our top 13 fun and easy class Halloween party ideas for games and activities.
#1 HALLOWEEN BINGO
A classic game all the kids love, but a Halloween inspired BINGO. Give them small candies or BINGO chips to put on the squares. Play a couple rounds and then play blackout BINGO at the end. We always like to give out small prizes like stickers, erasers, pencils, small toys, candy, etc. You can find lots of Halloween prizes at the Dollar Store and in the Target Dollar spot.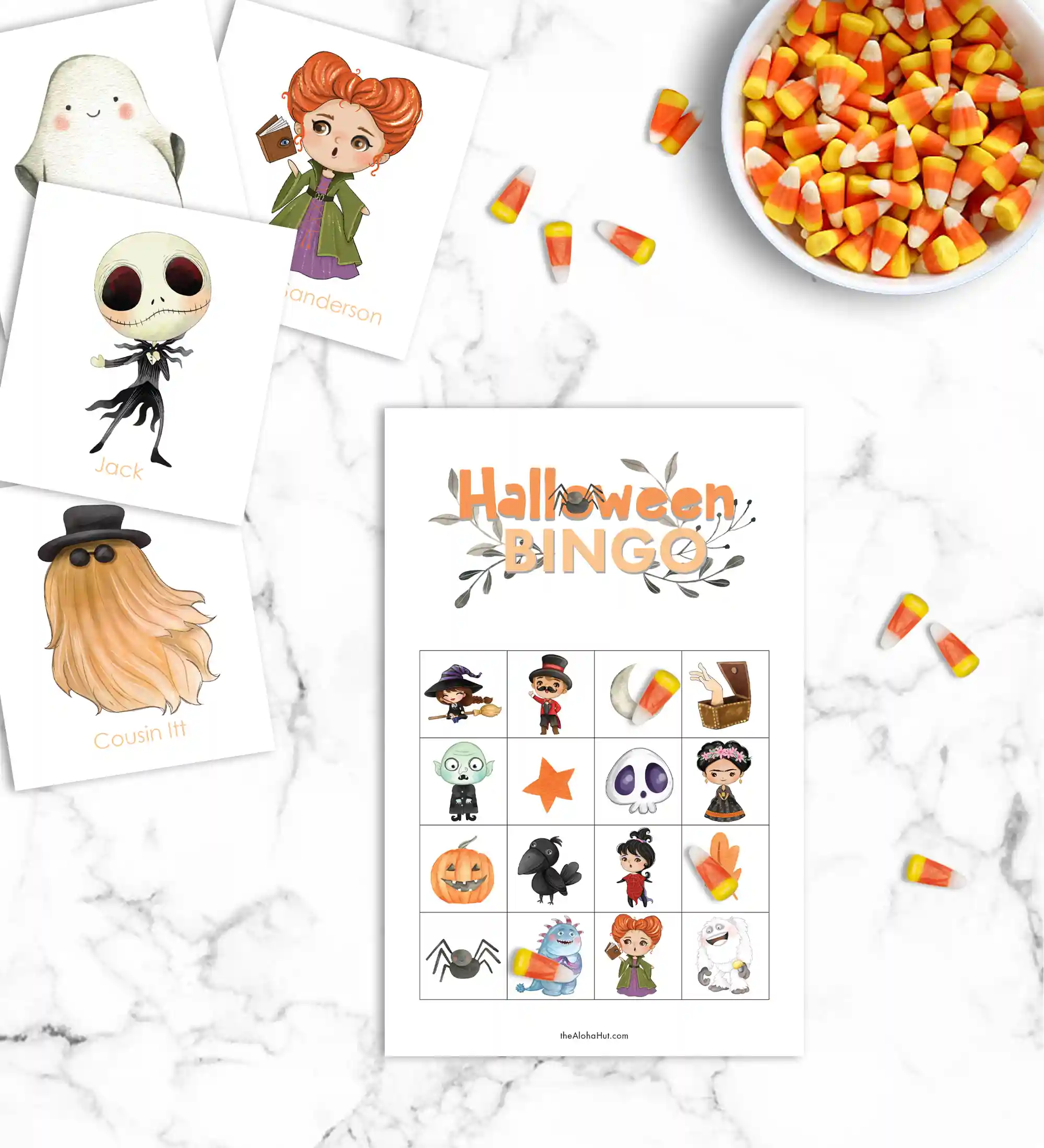 #2 HALLOWEEN SCAVENGER HUNT
This Halloween scavenger hunt game is so easy and so fun! It gets the kids active. Print out all the characters and hide them around the class before you start. If the kids are older make it more challenging by hiding the characters out of plain sight so the kids really have to search for them. Print enough scavenger hunt lists to give each kid and then let them go around quietly finding all the characters on the list and checking them off one by one. This is a great game to play outside too! The first one done gets an extra prize/treat and then they all get a small prize/treat for completing the list. For a healthier treat give out cuties when they finish their list instead of candy.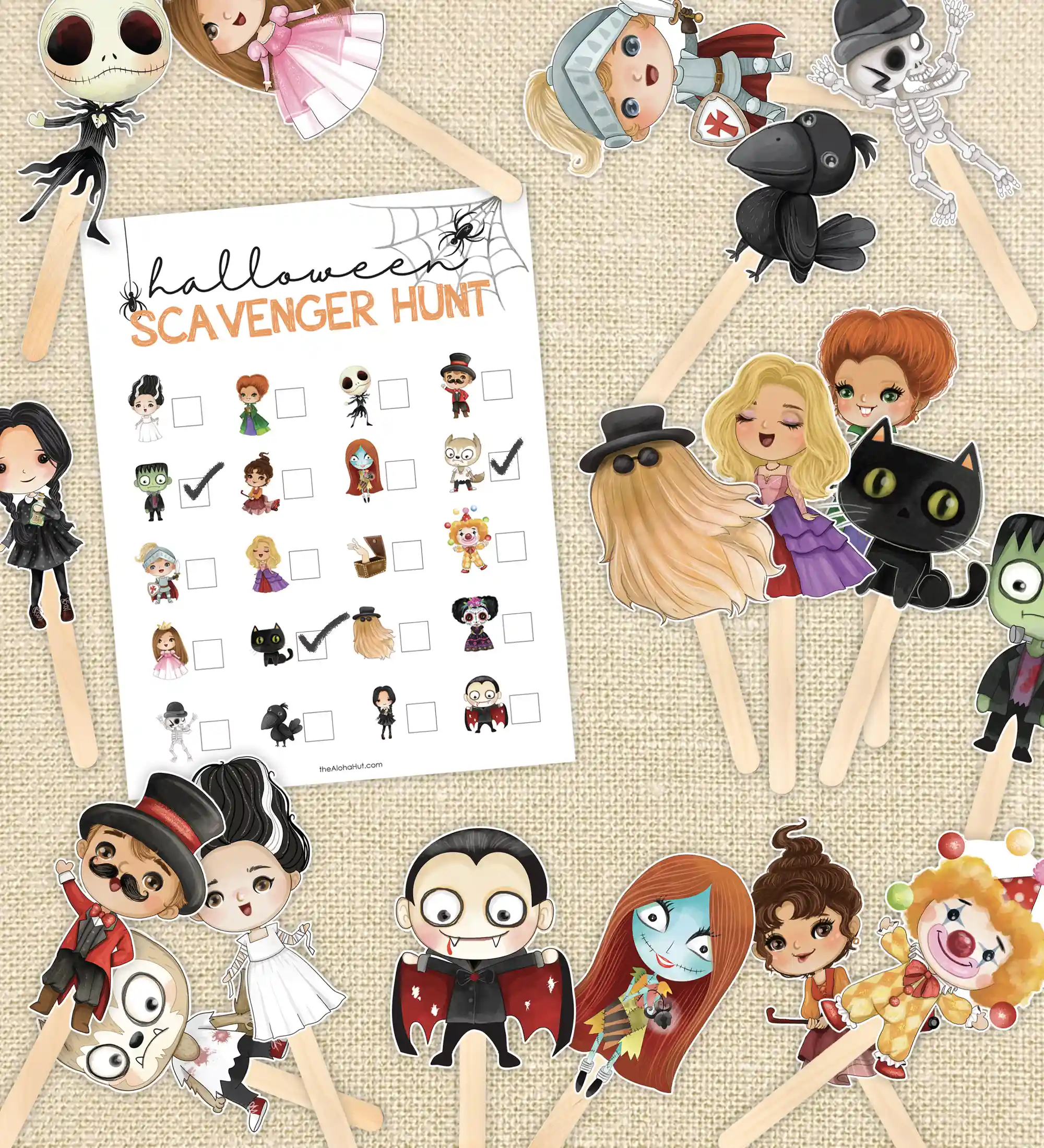 #3 DON'T EAT PETE
Don't Eat Pete is in our top three games to play! The kids LOVE it!! We have two different ones to choose from: Don't Eat the Monster & Don't Eat Spooky. Prep the board by putting treats and prizes on each square for the kids to try and win. One child leaves the room and the other kids decide which character is going to be the monster. The child comes back in and one by one tries to clear the board without choosing the monster. When they choose the monster all the kids yell "Don't eat the monster!!" The child keeps everything they won and then a new child gets to go out and take a turn at clearing the board. Make sure to bring enough items to cover each character. You can play with small candy like candy corn, candy pumpkins, gummy bears, skittles, M&Ms, and also small prizes scattered throughout.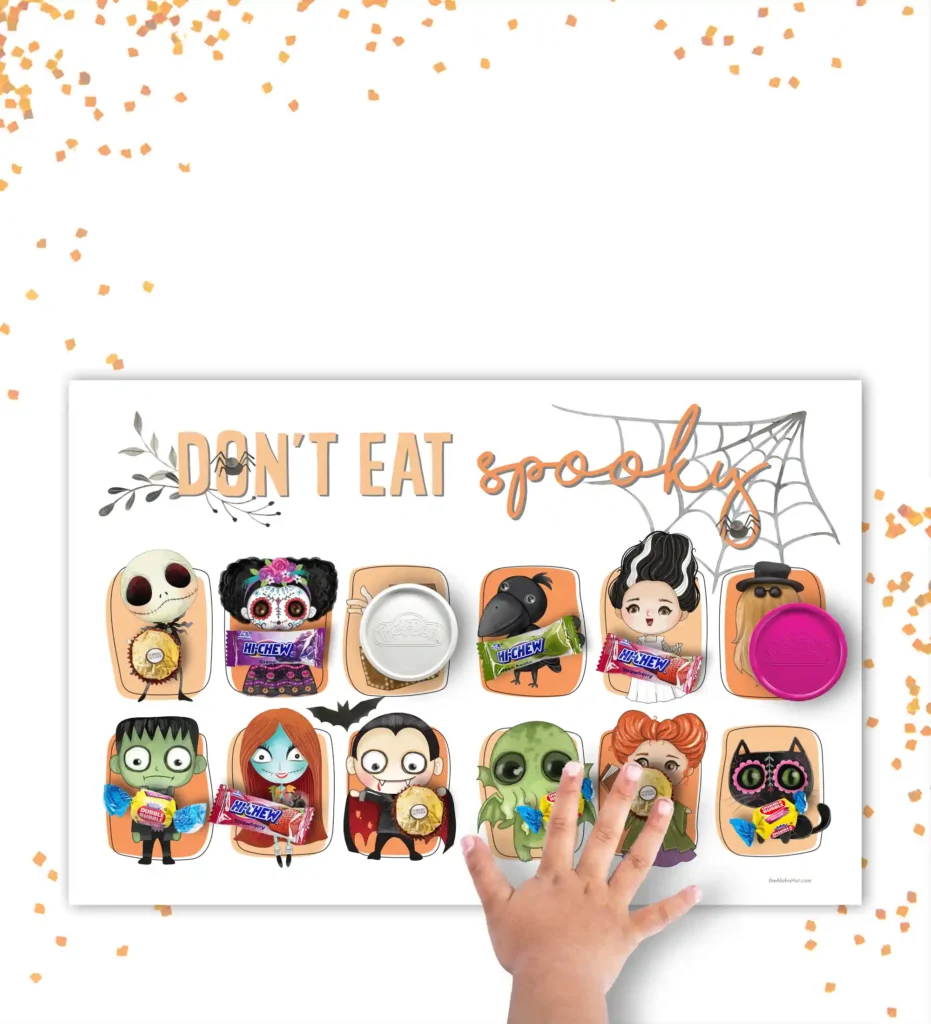 #4 HALLOWEEN CHARADES
Prep a bunch of papers with Halloween inspired items for the kids to act out or print our Halloween charades list we have on our site. You could separate the kids into two teams and let each team take turns for 1 minute guessing as many as they can. Our favorite way to play is where everyone plays all together instead of in teams. Have one person act out the card and whoever guesses it gets to act out the next one, etc. Whatever student got the most correct is the winner!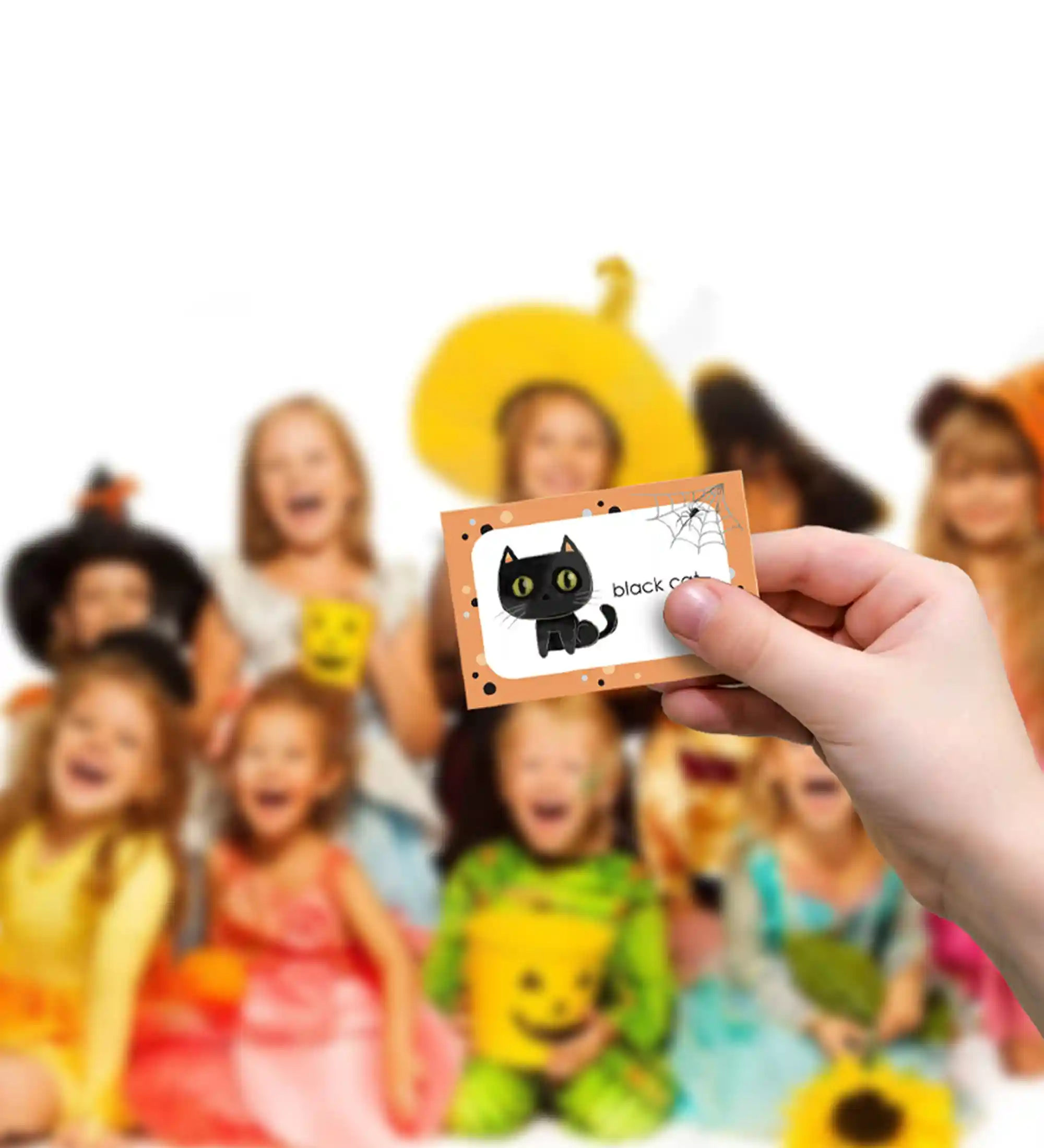 #5 HALLOWEEN CAKE WALK / CUPCAKE WALK
We played this at school carnivals growing up and LOVED it. Print out all the characters for the Halloween cake walk, put them in a circle, play music, and have kids walk around. When the music stops, call out a character and whoever is on that wins! They can win a cake (we do cupcakes), drink, prize, healthy treat, etc. When the music is playing we like to make the kids do funny things while they're walking around the circle. So for example – "for this round walk like a zombie" or "dance like a ballerina" or "hop on one foot", etc. The crazier the funnier. Plus the kids get out all their wiggles. We like to get the kids moving!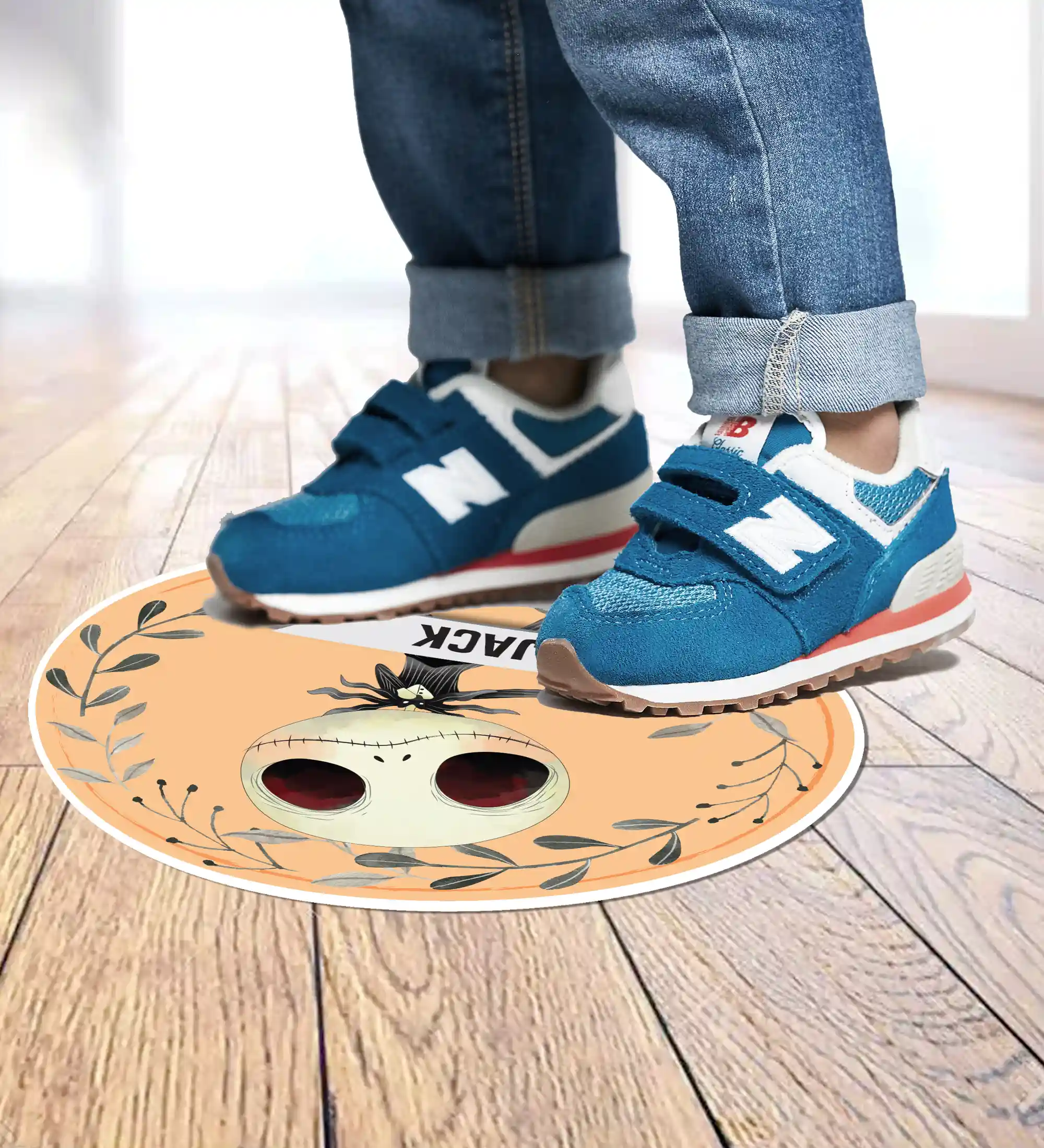 #6 HALLOWEEN PLAYDOUGH MAT STATION
Print our free Halloween playdough mats and then put out playdough, playdough tools, glitter, poms poms, googly eyes, etc. Let the kids get creative with their playdough mats and see who can come up with the most original, scariest, coolest, etc creation! It's fun to just let the kids explore and work with their hands.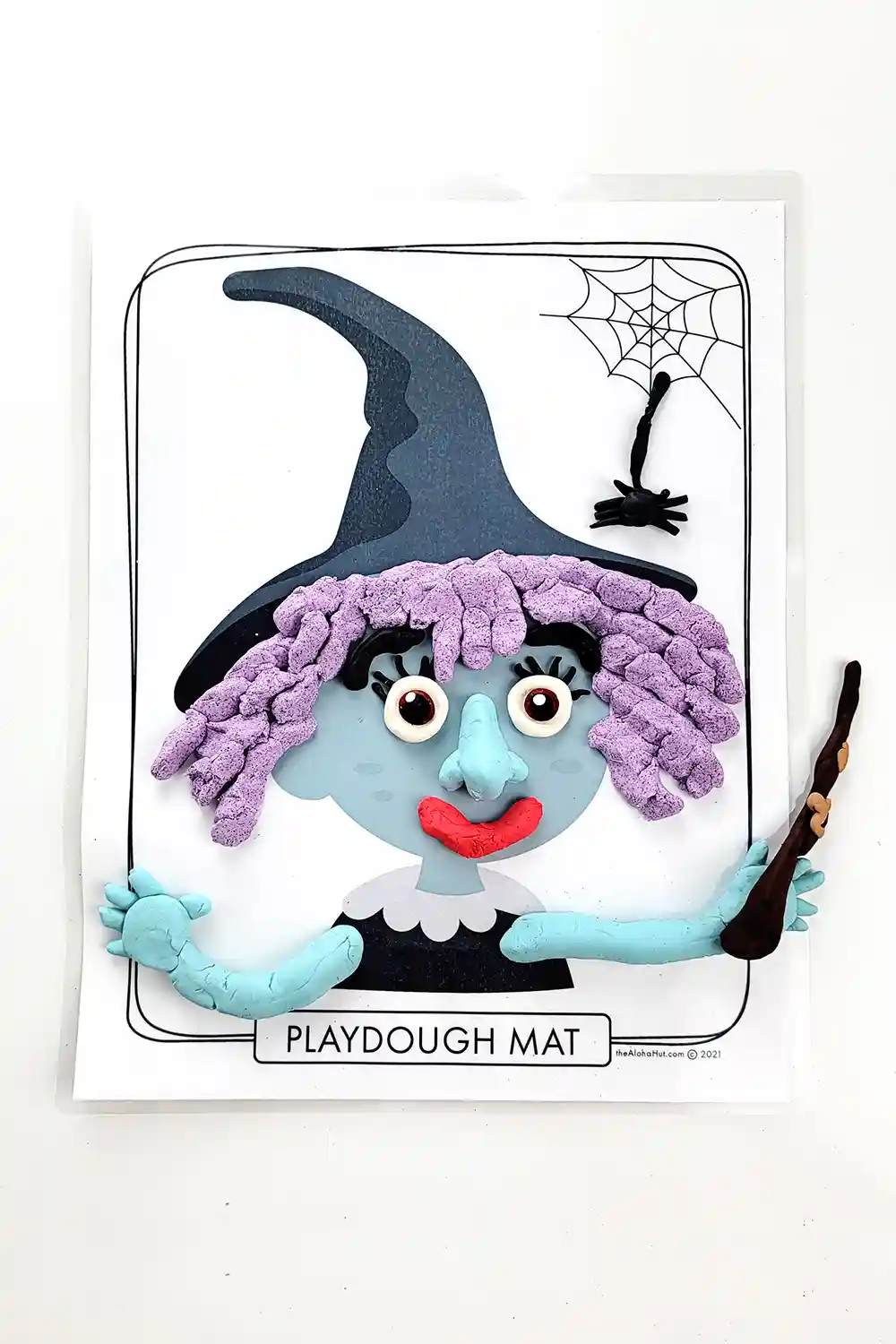 #7 PIN THE TAIL
Another classic game, but made Halloween style. Make your own or check out our Halloween Pin the Tail games we've already drawn up. Play multiple rounds. If the game goes by too quickly for this station, you can also combine this one another shorter game or activity.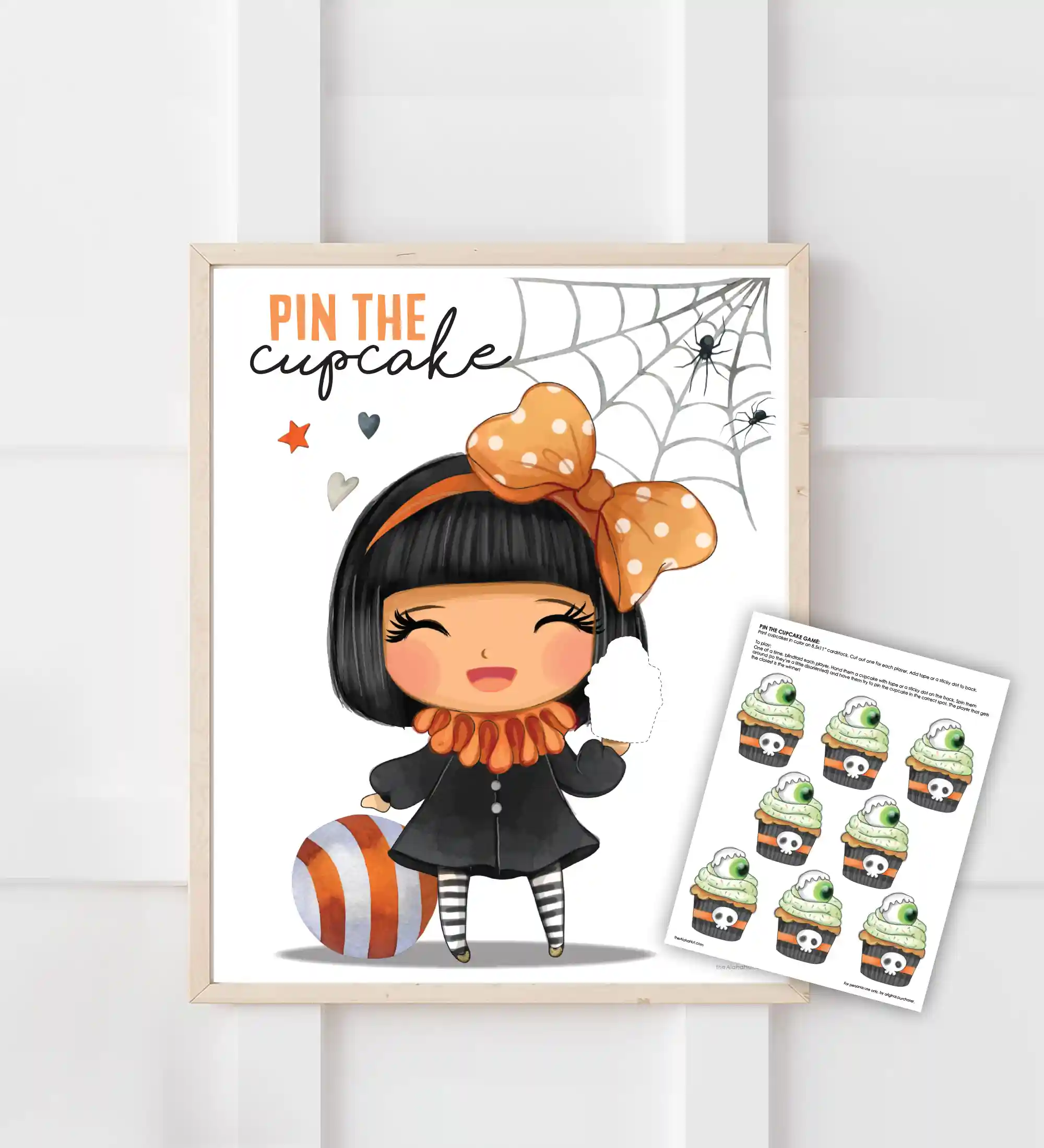 #8 DECORATE HALLOWEEN SUGAR COOKIES OR CUPCAKES
Our tip for this station is to make a Halloween cookie kit for each kid. Put a cookie on a small plate or tray. Prep frosting in a small container (we like these 2 ounce condiment cups) beforehand so it doesn't dry out or add it to each tray/page right before kids come to the station. Fill a small condiment cup with Halloween candy and sprinkles for decorating (or again add to each tray). Give the kids a popsicle to spread the frosting. If you have extra time you could also read a book while the kids eat their cookies.
#9 FEED THE ZOMBIES
This is like a bean bag toss game. Find the Zombie game on our website. Play with bean bags, balls, plastic body parts (we found some at Walmart and the Dollar Store), or zombie candies (also found at the Dollar Store).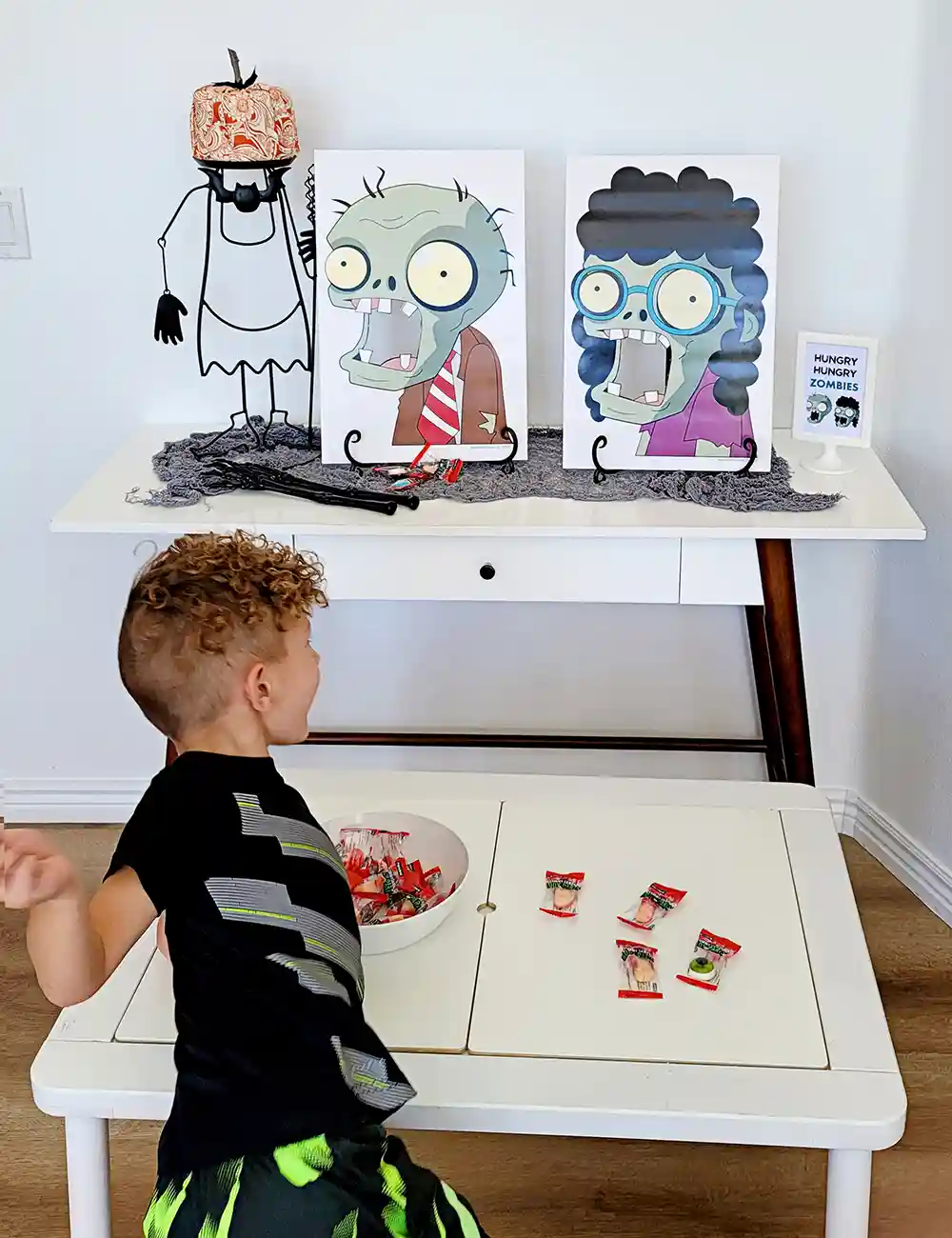 #10 HALLOWEEN BEAN BAG TOSS
Our kids love bean bag toss games. Make your own bean bag toss game or check out the Halloween Bean Bag Toss game we have already designed. Let the kids see how many points they can get. Play multiple rounds. This is a great game that includes a little math!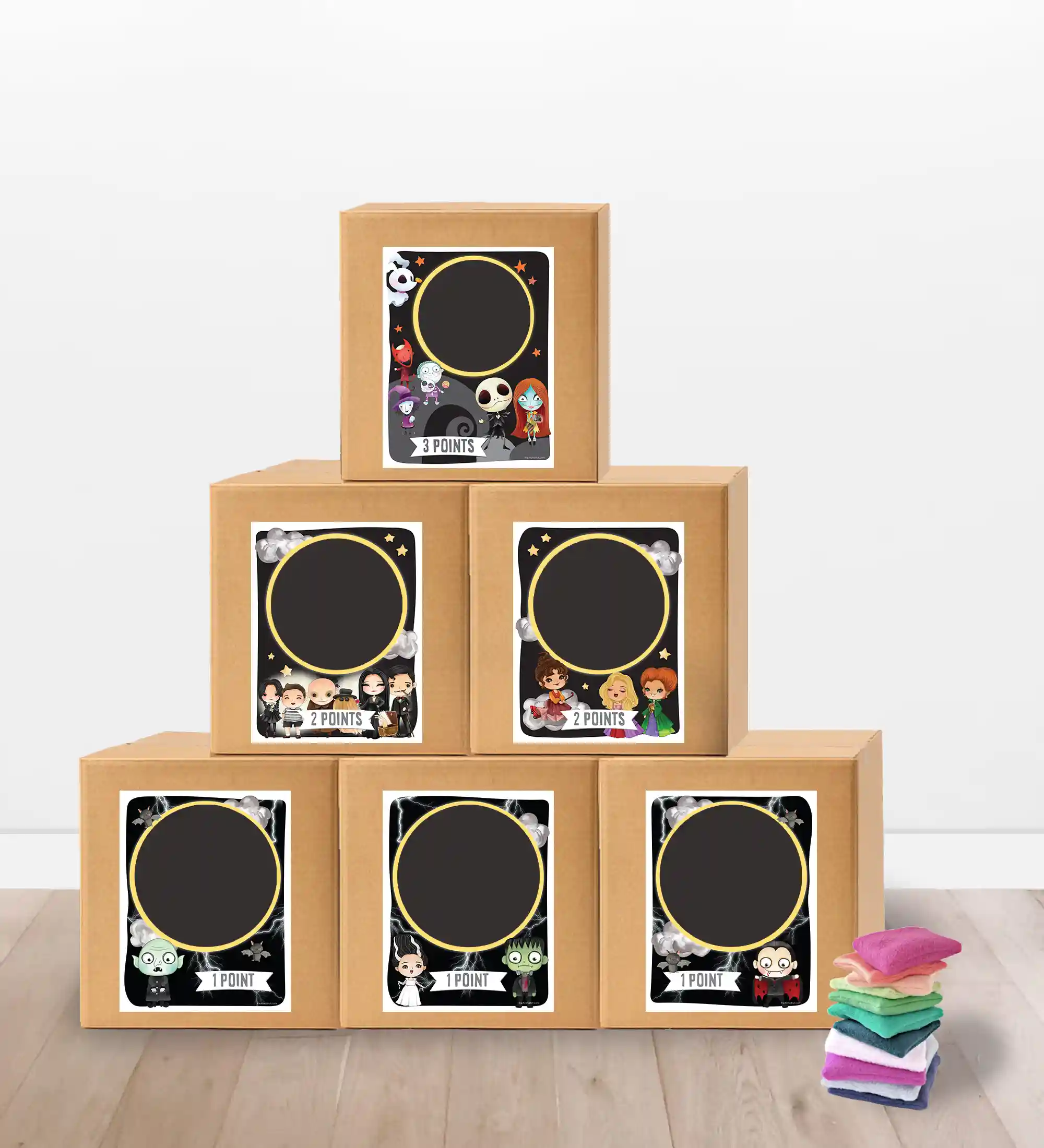 #11 HAUNTED HOUSE / HAUNTED MANSION GAME
Another easy game to prepare. Print the haunted mansion and attach it to a cardboard box. Cut out the doors and have the kids take turns rolling balls to see how many they can get inside the house. We found eyeball ping pong balls at the Dollar Store.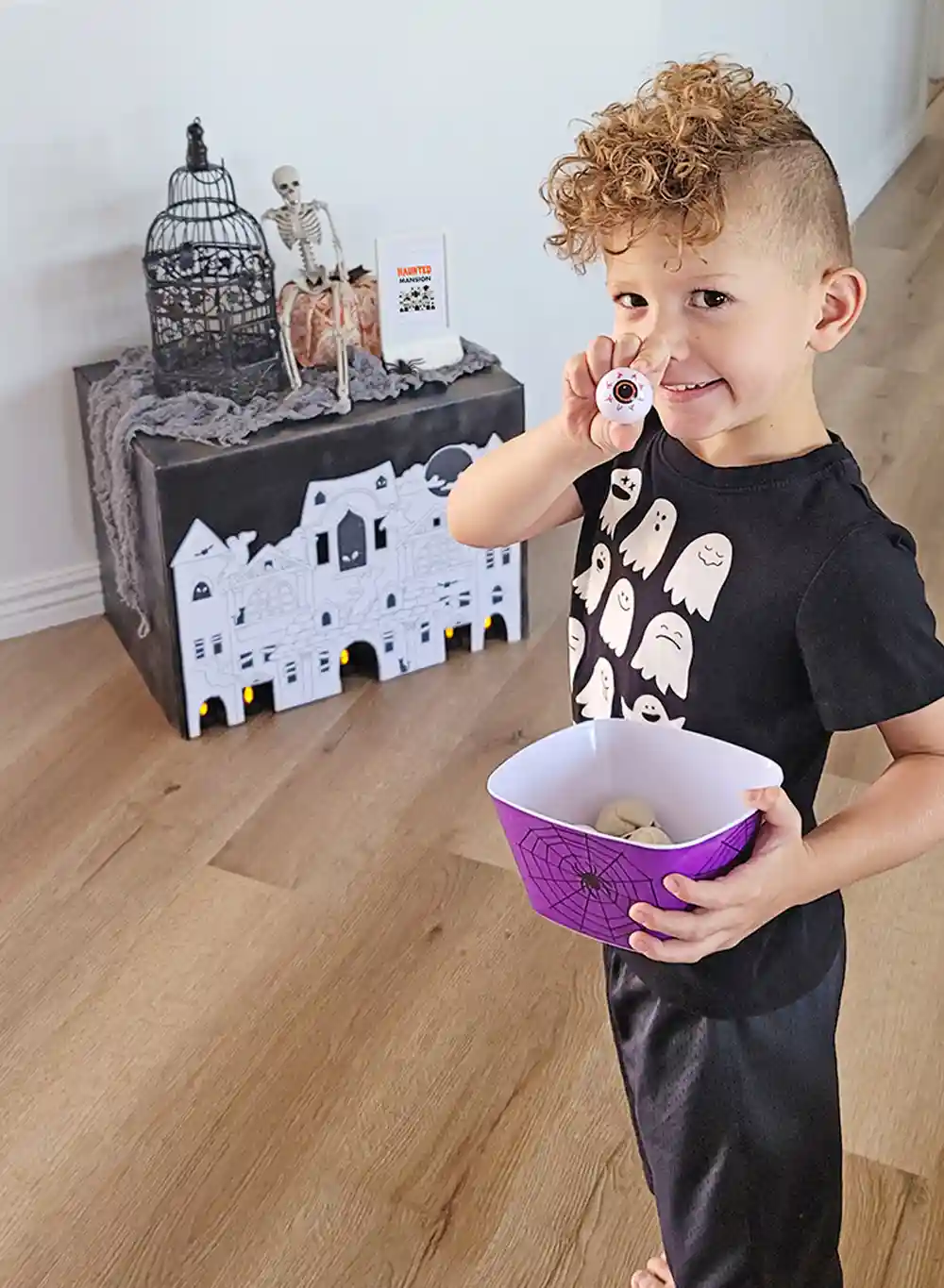 #12 READ A HALLOWEEN BOOK & COLOR A HALLOWEEN PICTURE
Find a Halloween book at the library and read while the kids color or make a simple Halloween craft. There are a lot of Halloween coloring pages online or Halloween crafts at the Dollar Stores and any of the craft stores. You could print a pumpkin page for each child and let them design their own Jack-o'-lantern. Put out crayons, markers, or colored pencils and let the kids color while listening to a book.
#13 HALLOWEEN PICTIONARY
Use the dry erase board at the front of the classroom if you can. Kids LOVE to draw on the dry erase board. Come up with a bunch of Halloween inspired things to draw (or you can print our Charades / Pictionary Game). Either split into two teams or play all together where one person draws and whoever guesses correctly gets to draw next. This game is super because the prep is so easy!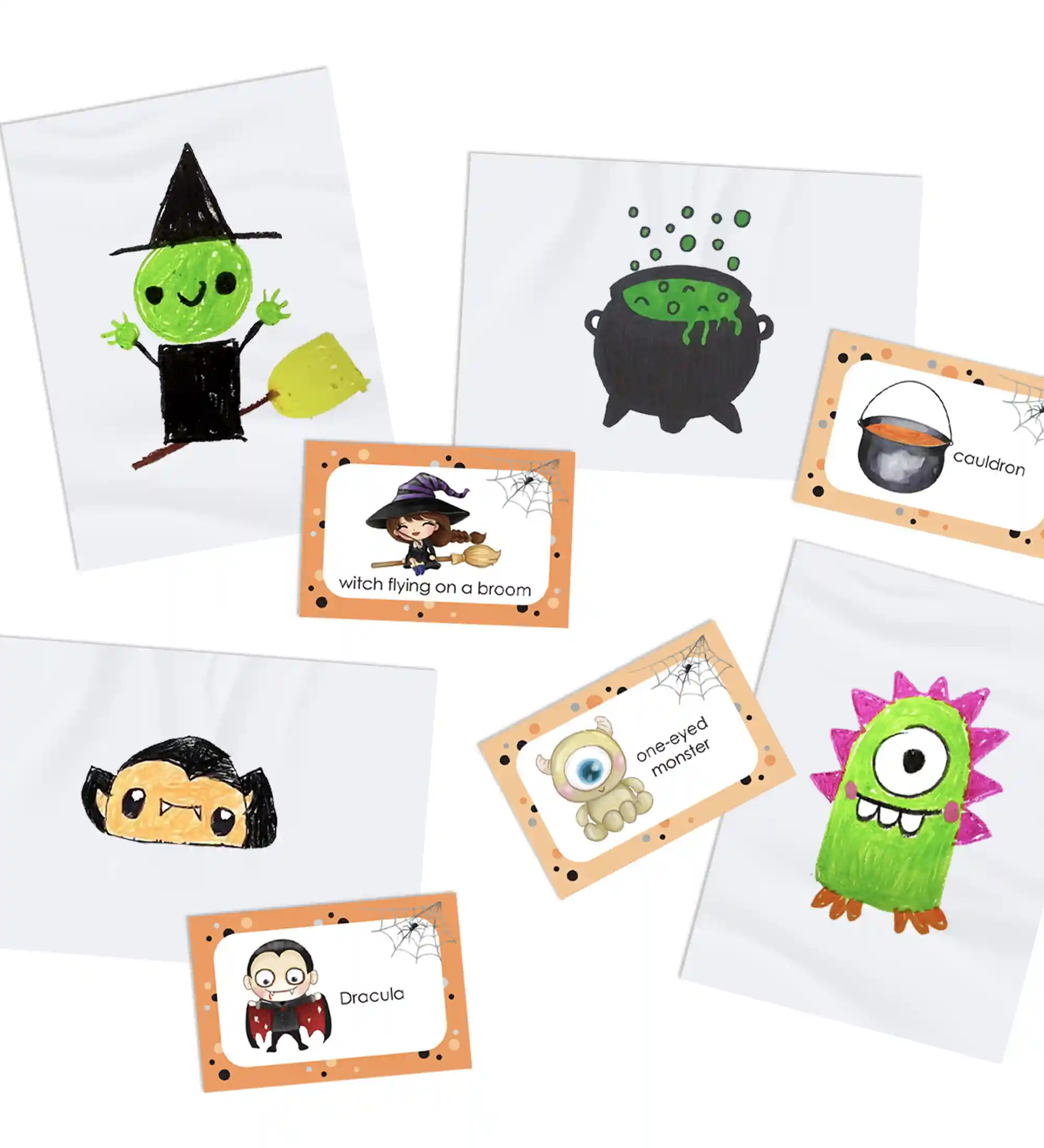 If you need help planning more Halloween parties with family and friends, check out our other parties!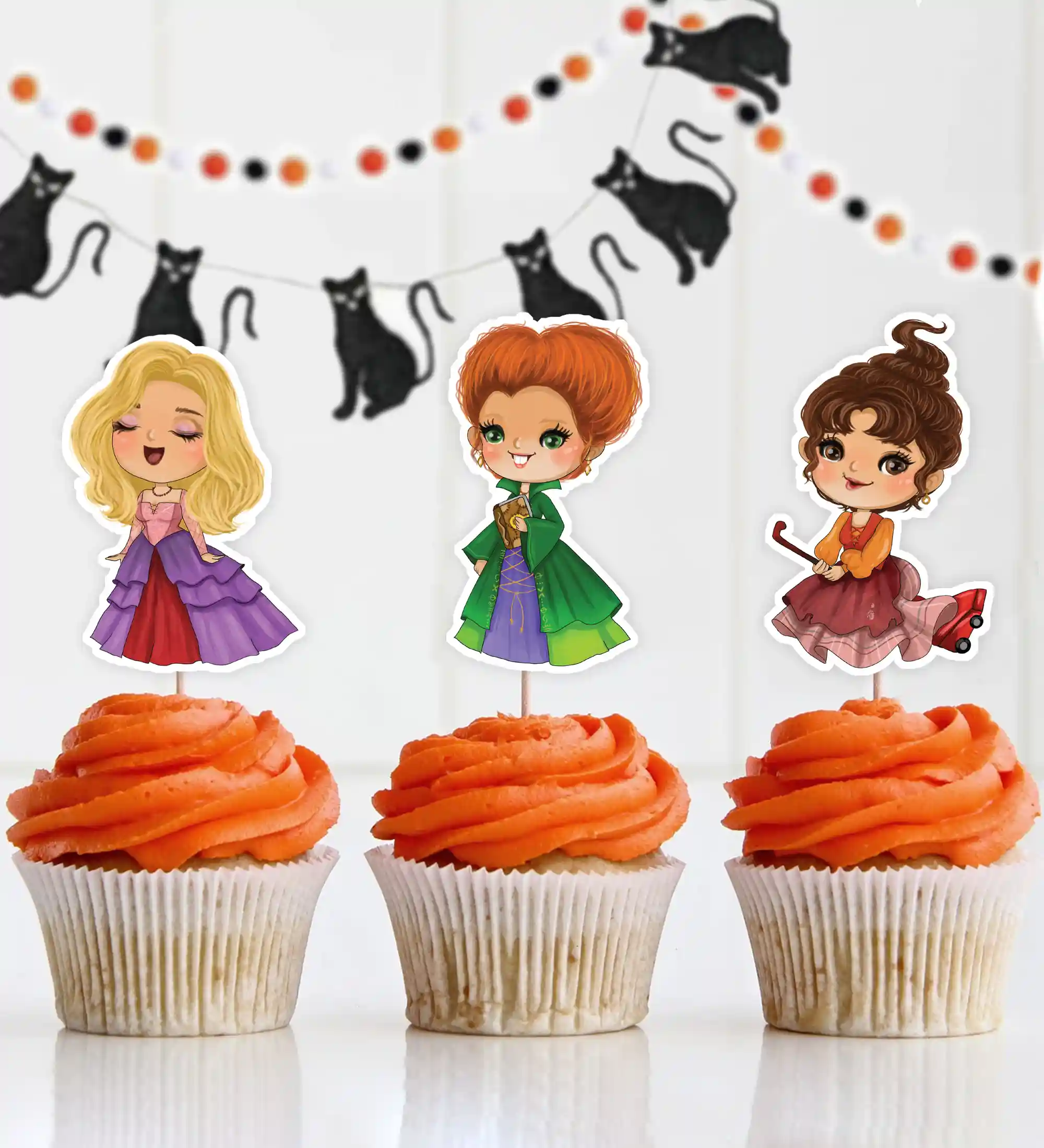 Happy Halloween friends!!
Much aloha,
Stacey + Niki
---