Harry Potter Party: Ollivanders Wands in Diagon Alley – DIY Wand Tutorial
Harry Potter Party: Ollivanders Wands in Diagon Alley – DIY Wand Tutorial
This post may contain affiliate links. Read our disclosure policy.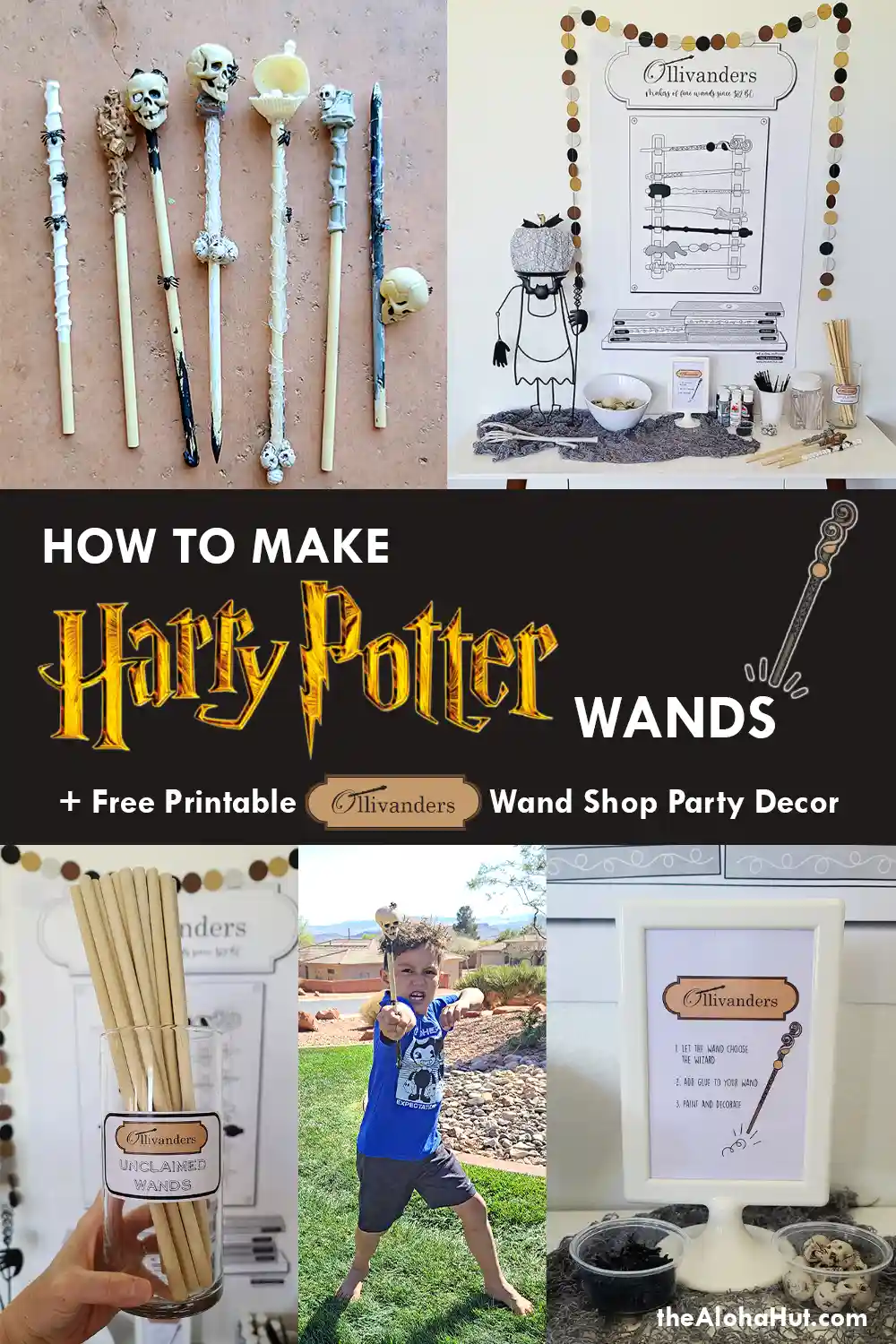 Harry Potter is one of our favorite stories / movies. It will never go out of style. It's just too iconic! We've put together an entire Harry Potter party pack with game ideas, activities and printable party decor all for FREE! There's so much to unpack that we will be breaking the Harry Potter party posts up into four parts over the next few days. Here is what you can expect:
Part 4 – Games (Quidditch and a few more!)
Whether you're throwing a Harry Potter birthday party, Harry Potter Halloween party or even a Harry Potter Christmas party our free printable decor, activities and games will go perfect with your Harry Potter theme!
Ollivanders Wand Shop – Makers of Fine Wands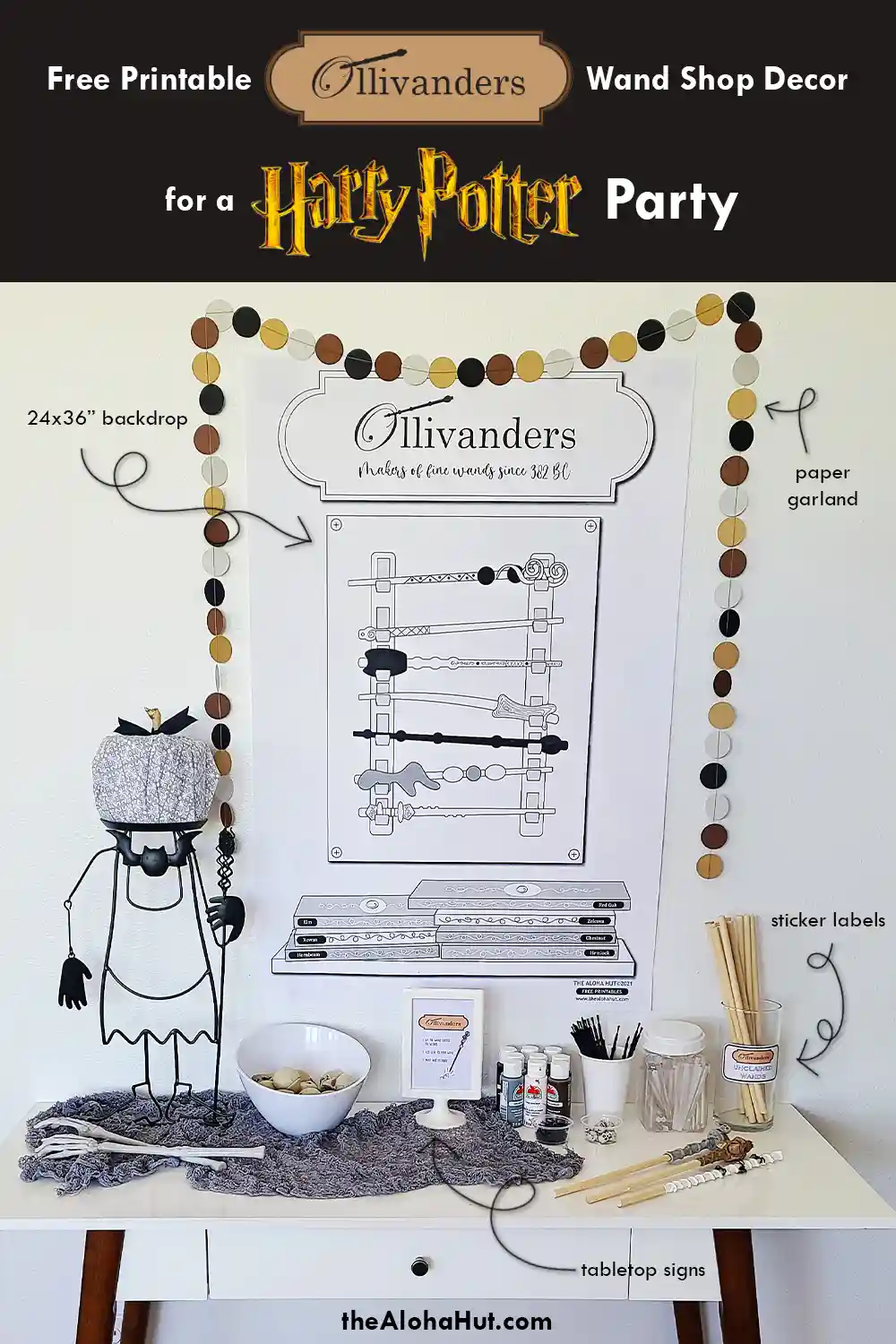 First things first, get all your decor together. Print off our free 24×36" Ollivanders backdrop. These can be printed at your local print shop and they'll be called either an engineer print or a blueprint. It's very simple: download the print to your phone or computer (free downloads are at the end of this post) then either upload your files to your chosen print shops website or email the file to them. For reference, we get ours printed for $3. These are printed in black and white because it's so cheap and then if you want to add color, color the backdrop either before the party or use it as a filler activity and color in between games. You can also add balloons or a garland for extra color. We LOVE making paper garlands for all our parties, holidays and celebrations. Check out the tutorial here.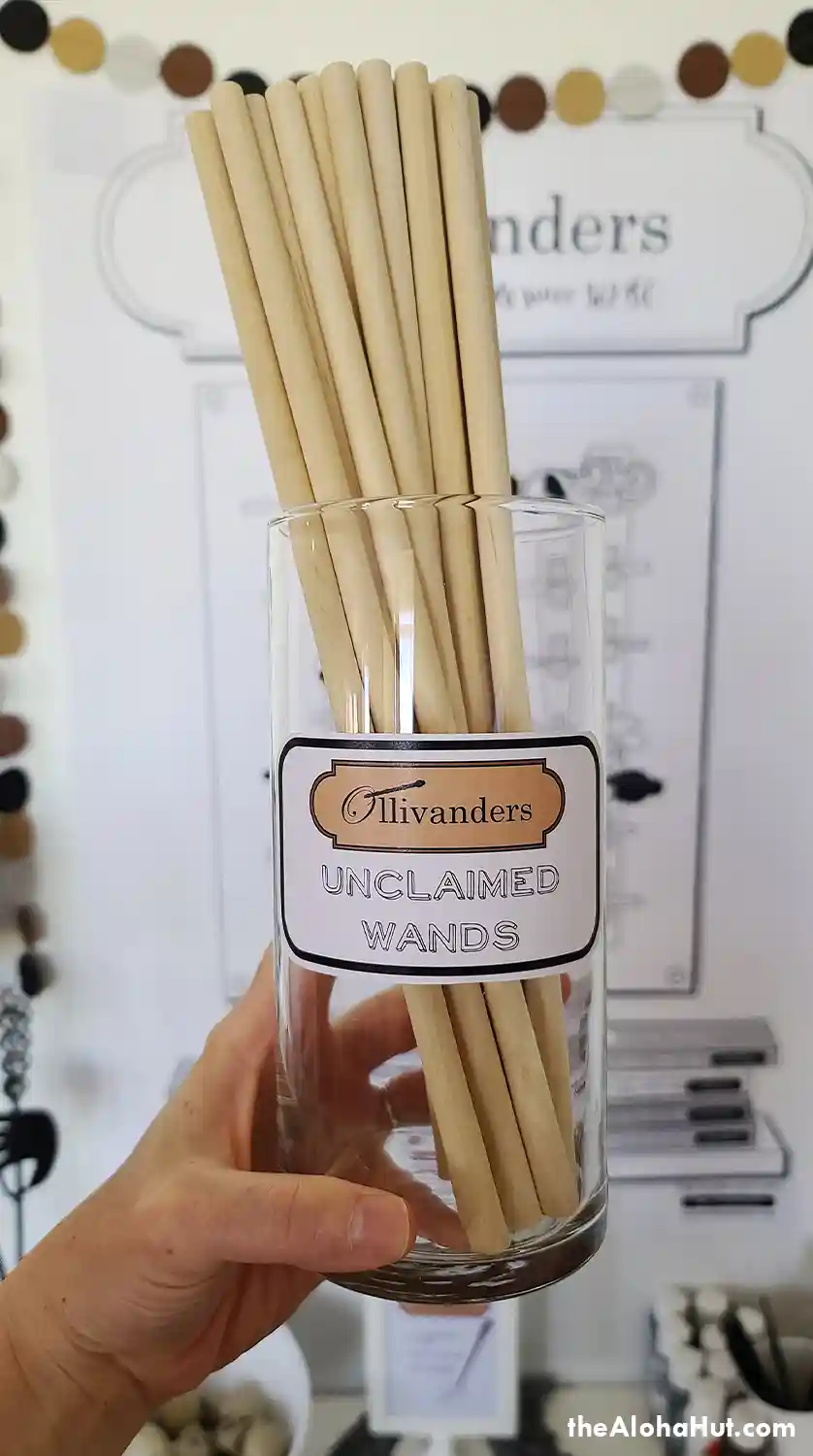 Print off the free sticker label, cut it out and place on a glass jar. We got these vases from the dollar store but any jar or vase will work.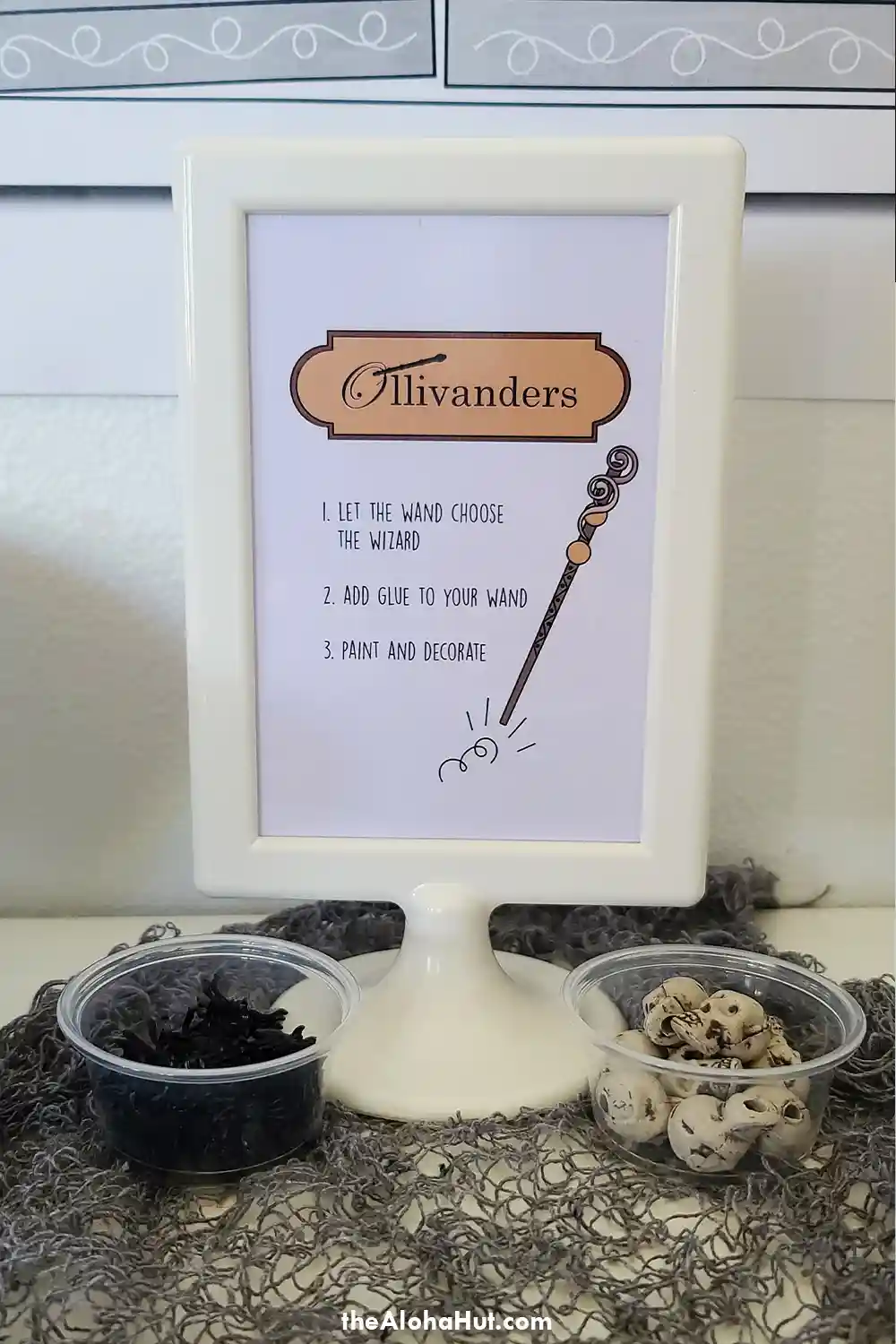 Print off the free tabletop sign, cut it out and place inside a picture stand. We use these Ikea frames but they're no longer making them so if they're not available on Amazon here is a similar option.
Harry Potter Wands – Supplies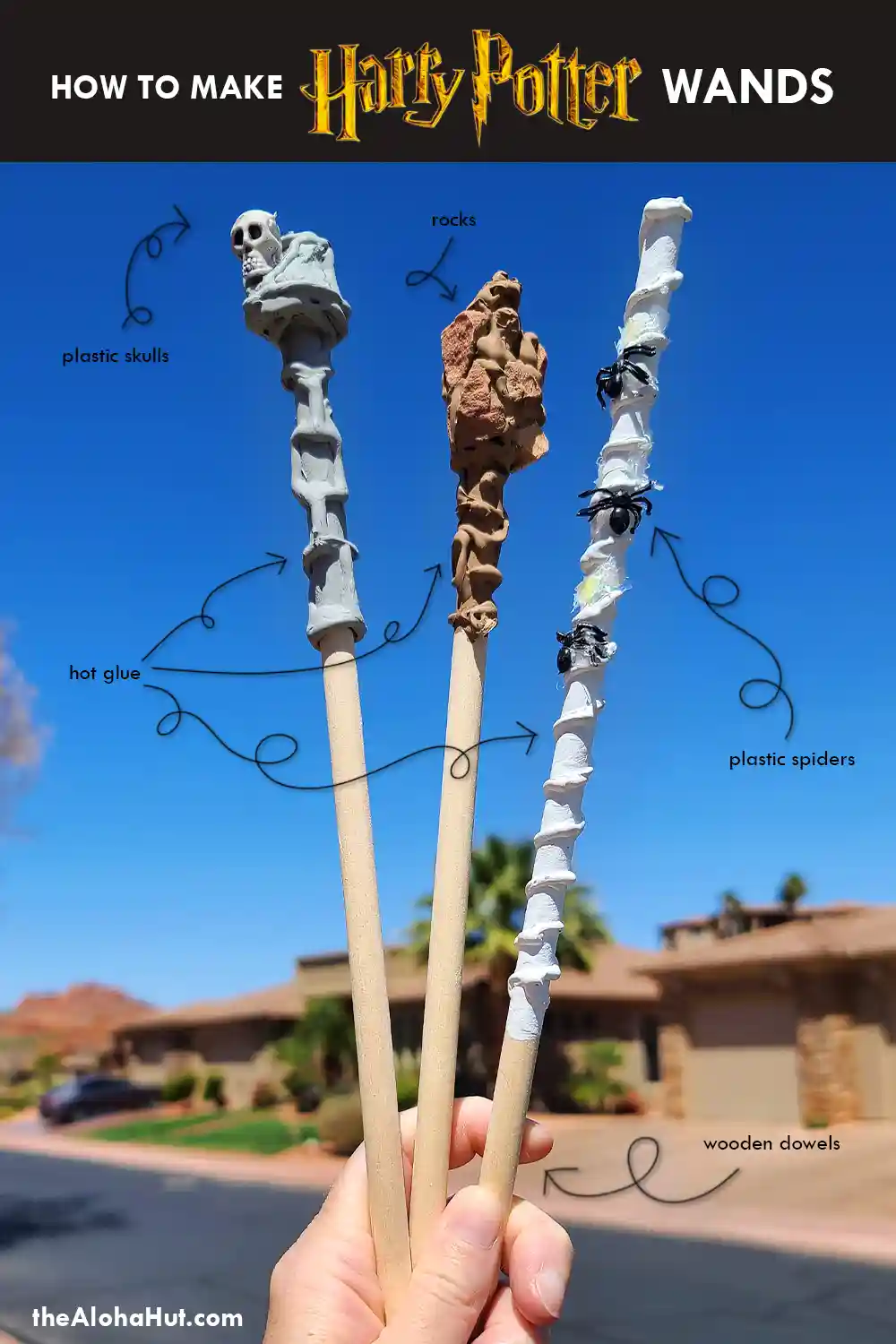 Now that you've got the decor together, set it up on something like an entryway table and then get all your supplies together. Here's a list of things that would work great for decorating the wands:
String or yarn
Rocks
Marbles
Beads
Glitter
You can pretty much use anything.
Three other items that you'll need are:
Broken off branches, dowels or chopsticks for the wand
LOTS AND LOTS OF HOT GLUE
Paint
Assemble the Harry Potter Wands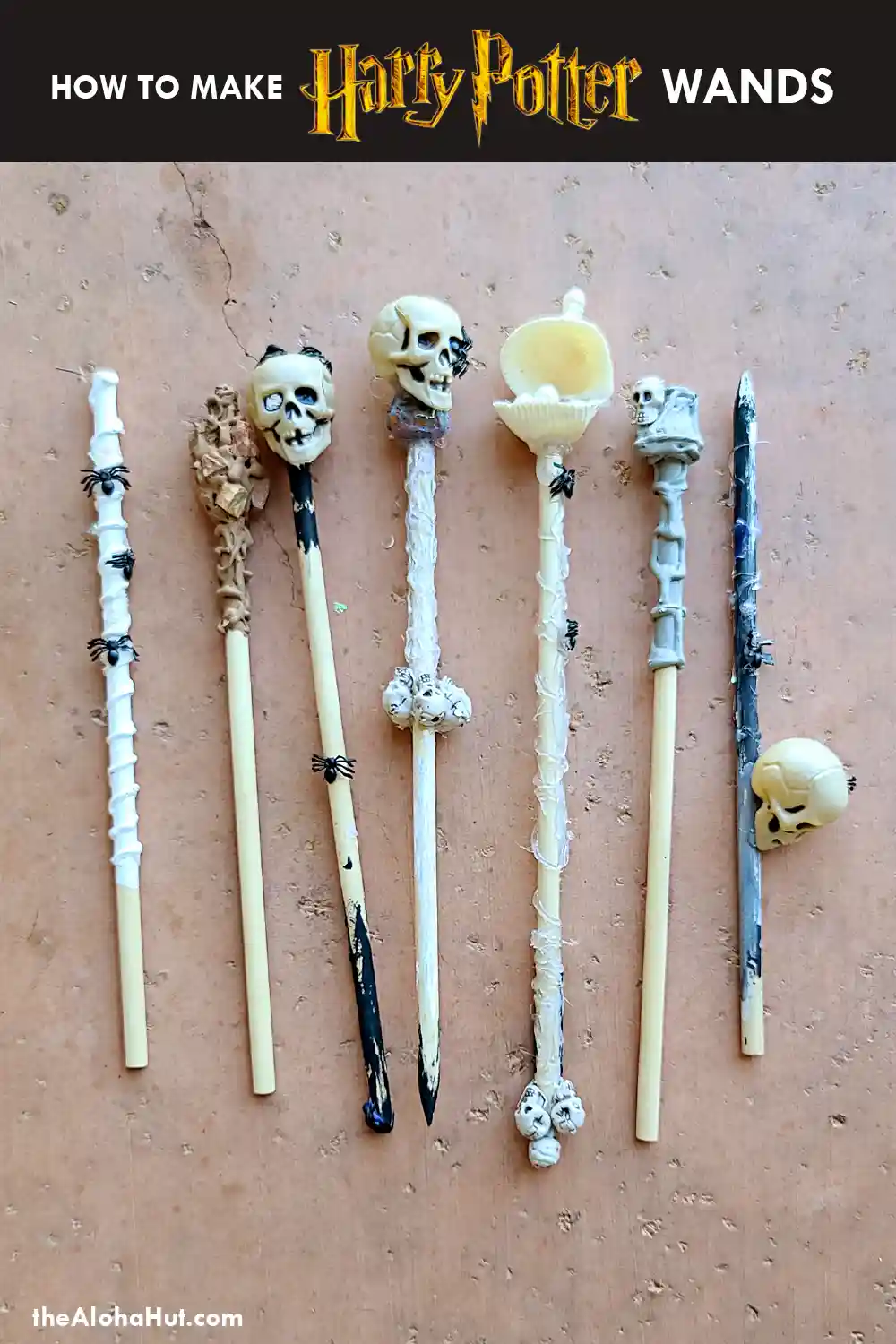 There's really no wrong way to make these wands. The wooden dowels were the same size on both ends so some of the kids decided to shave one end down to make it look more realistic and closer to the wands seen in the movie. They did this by rubbing it back and forth on the cement. Add all your decor with a hot glue gun and build up the handle part with hot glue. Add hot glue wherever and however much you want. Again, there's really no wrong way to do these. Paint the wand with any gray, black or brown paint then let dry.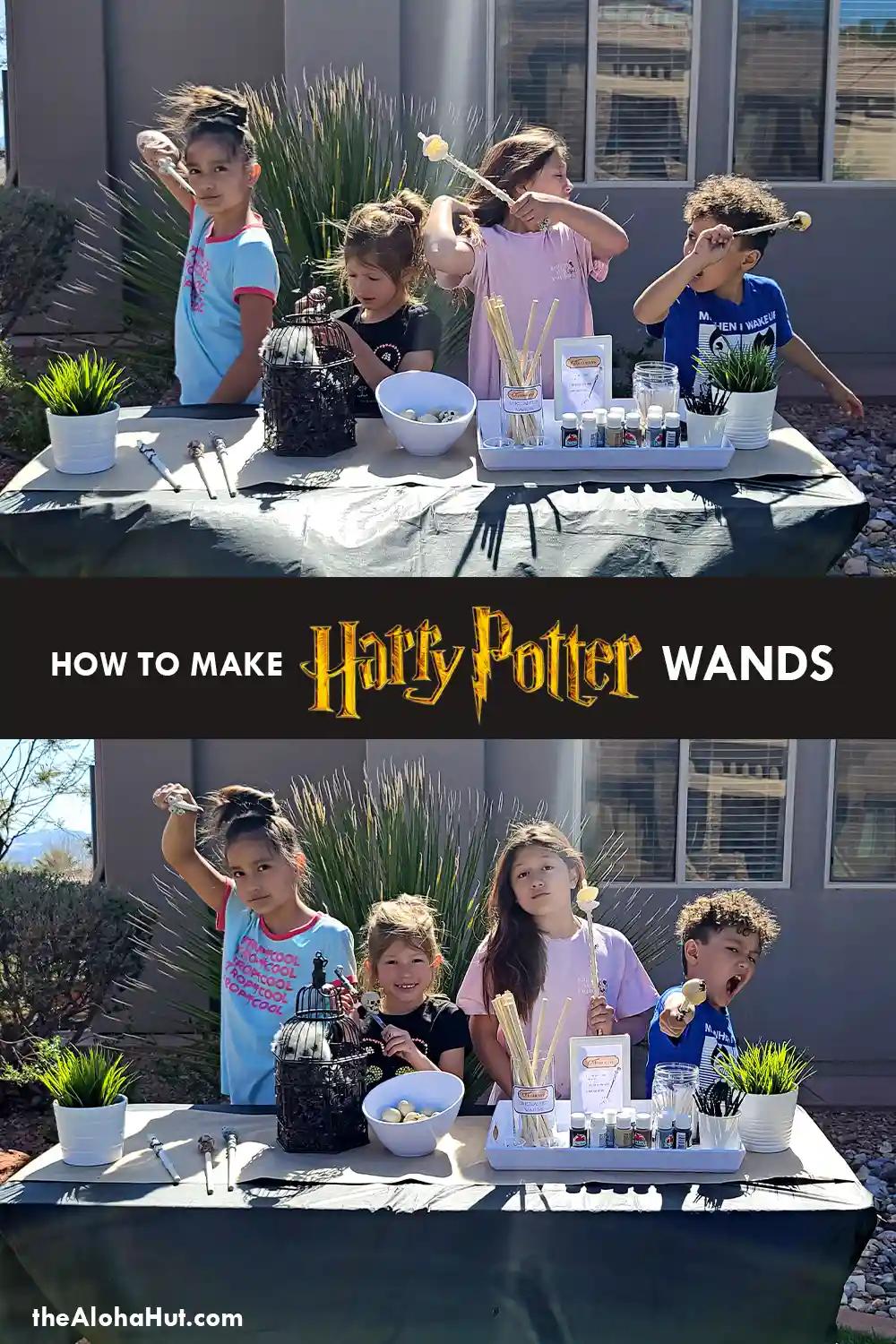 For these messier activities, we like to go outside if the weather permits. We use a white platter to keep all the supplies together.
Cast Your Spell!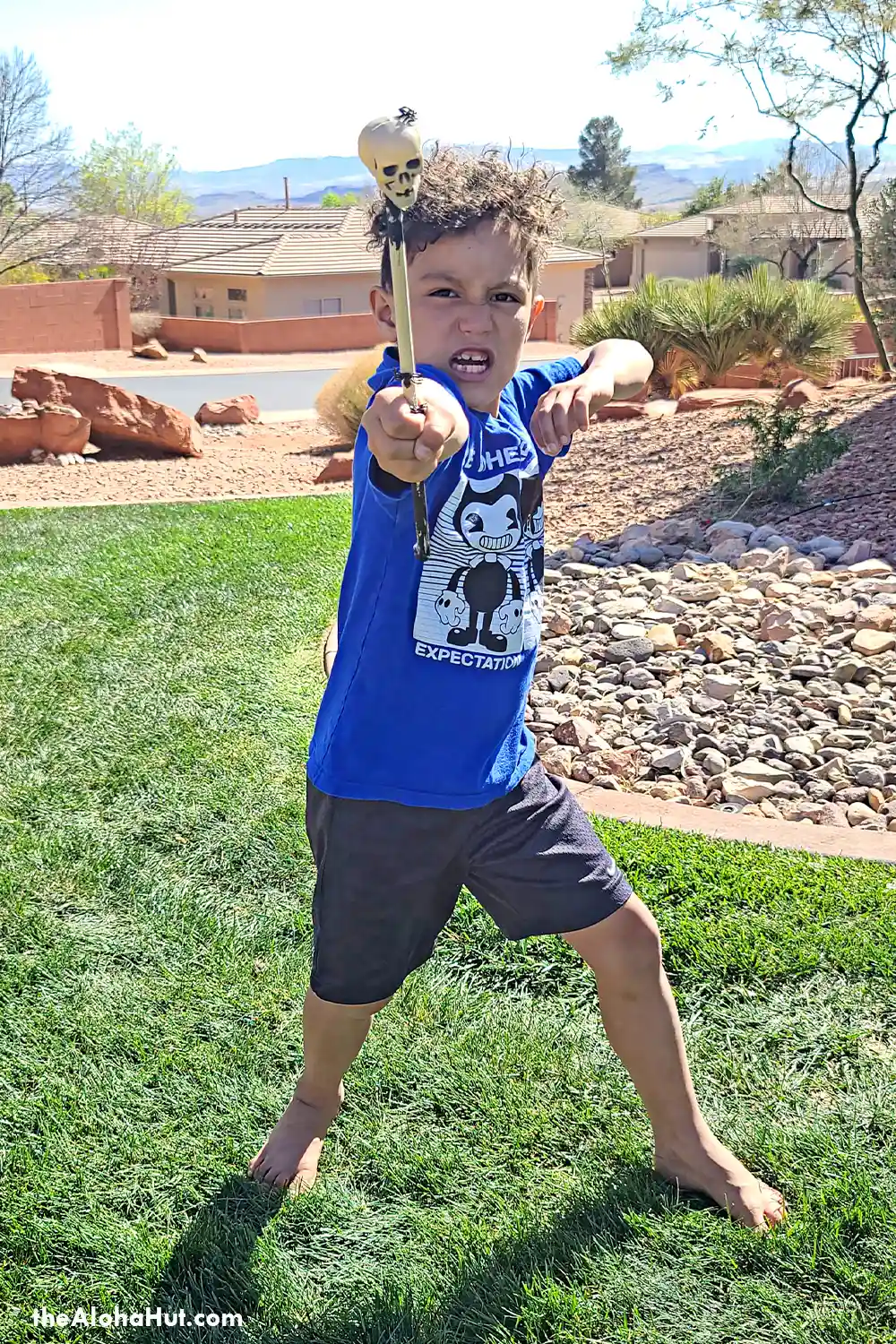 Congratulations! You are officially a wizard/witch and are ready to duel with the evil Voldemort. Here are some spells you can use (thanks to https://harrypotter.bloomsbury.com/uk/ for creating this list):
Expecto patronum – to summon up a Patronus 
Accio – to call an object to you 
Wingardium Leviosa – to levitate objects 
Expelliarmus –to disarm your opponent 
Lumos – to ignite one's wand-tip to provide light 
Alohomora – to open locked windows and doors 
Avada Kedavra – to bring about instant death 
Sectumsempra –  the incantation for one of the Half-Blood Prince's spells 
Obliviate – to make the subject forget 
Riddikulus  –  to make a Boggart take on a comical appearance and eventually explode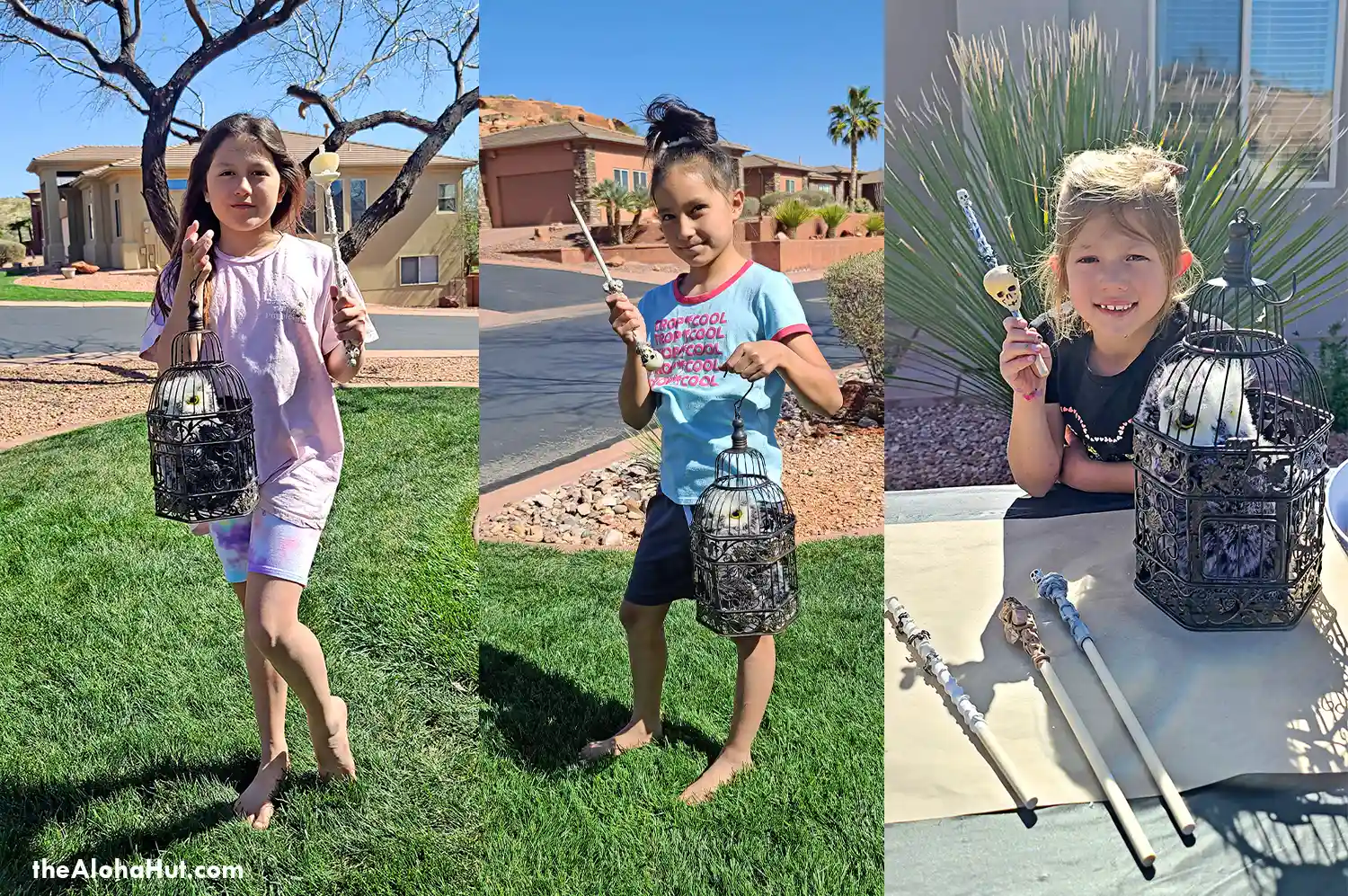 Stay tuned for part two of our Harry Potter party. We've got a Honeyduke's Food station that will make your mouth water along with some really fun and unique party invitations.
We solemnly swear I am up to no good,
Stacey + Niki
---