25 Whimsical Fairy Party Ideas for a Magical Celebration
25 Whimsical Fairy Party Ideas for a Magical Celebration
This post may contain affiliate links. Read our disclosure policy.
Welcome to the mystical realm of fairy parties, where imagination takes flight and magic dances in the air! If you're planning a celebration fit for little fairies, we've conjured up 25 fairy party ideas that will transform your event into an ethereal experience. From fluttering wings to glittering crafts, these suggestions are sure to make your fairy-themed gathering an unforgettable adventure.
1 – ENCHANTING INVITATIONS
---
Begin the magic with fairy-inspired invitations. Think glitter, delicate fonts, and a touch of sparkle to set the enchanting tone.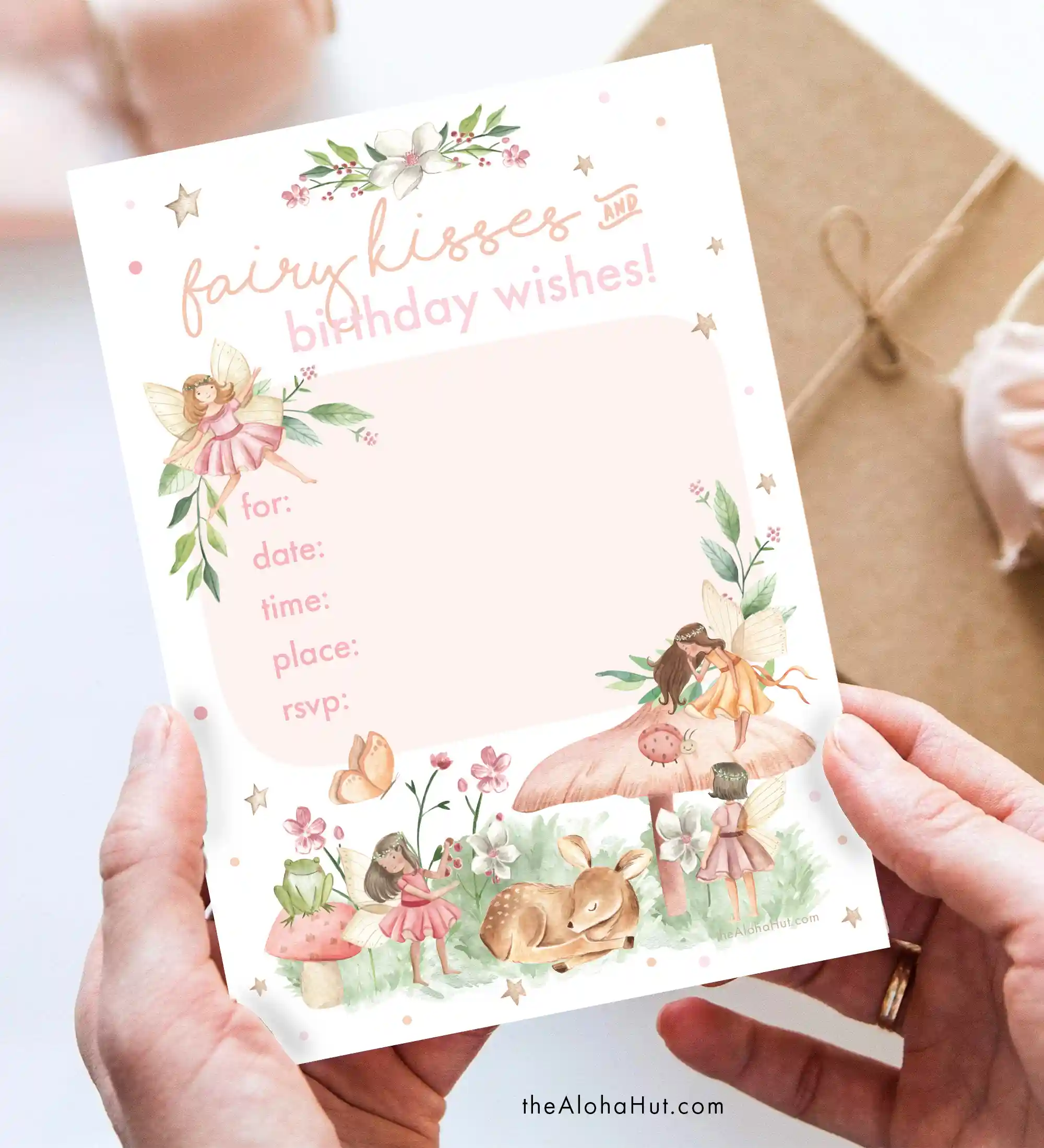 2 – DIY FAIRY WINGS STATION
---
Let little fairies spread their wings by setting up a station for creating their own wings. Provide fabrics, ribbons, glitter, jewels, pom poms and glue for a fun craft. Or use cardboard and contact paper to make it easy for toddlers to make their own wings without the mess. We love using flowers as the decorations but all the craft items listed above work just as well!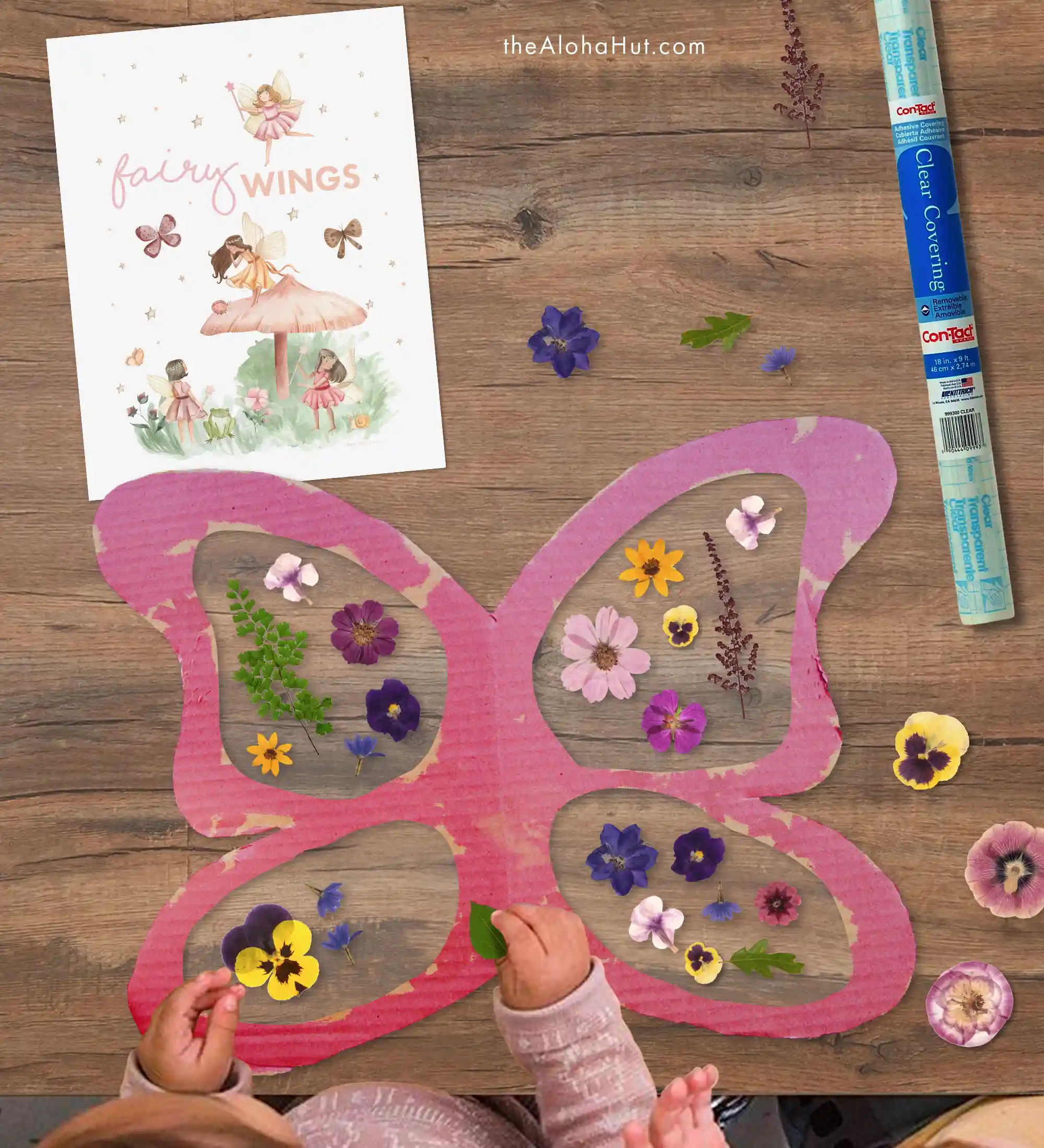 If you have other crafts/activities scheduled and opt not to make DIY wings, just put out a Fairy Wings sign and some wings for guests to grab as they enter the party because no fairy should be without their wings!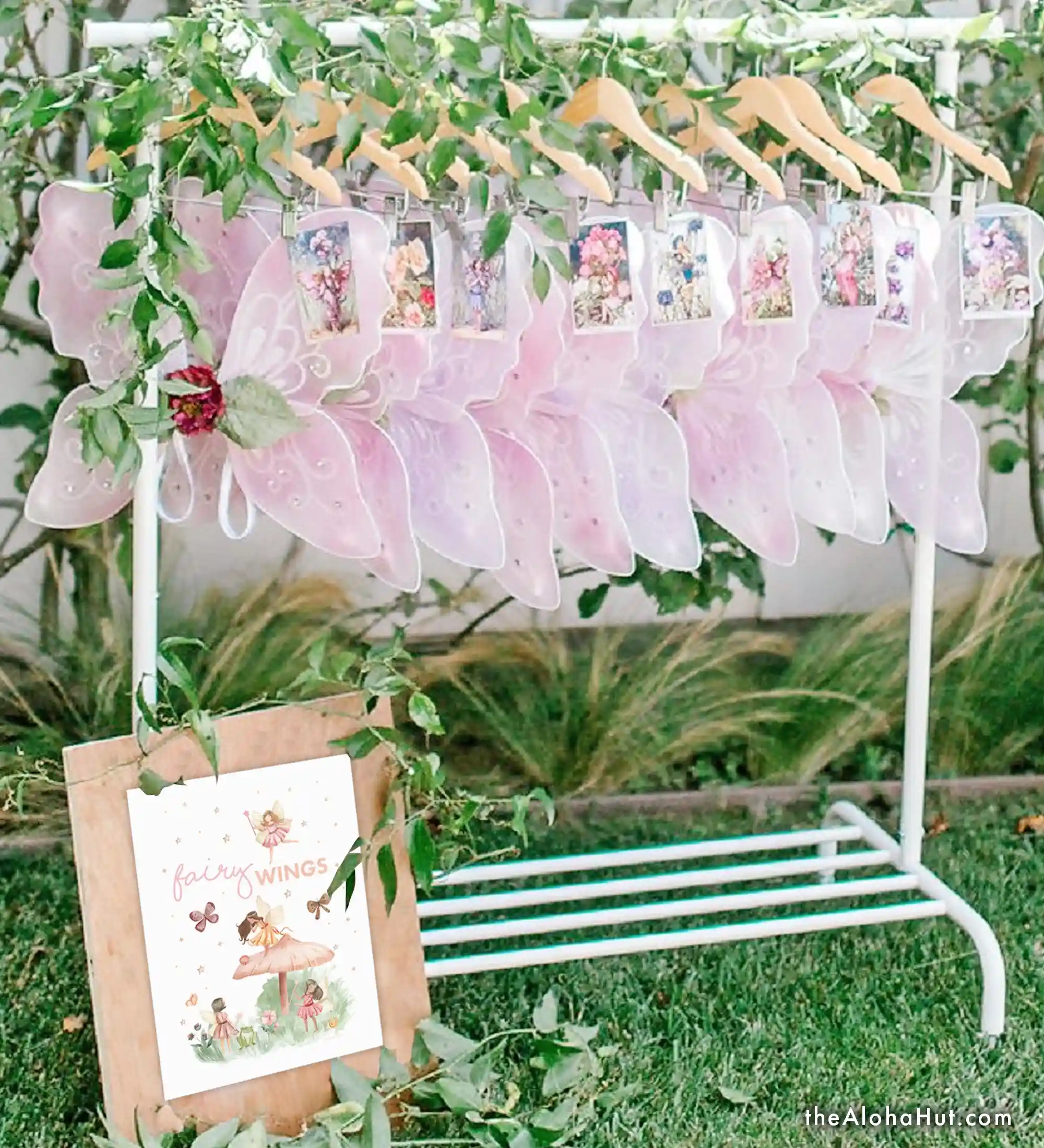 3 – FAIRY GARDEN DECOR
---
Transform your party space into a fairy haven with some wood details and flowers.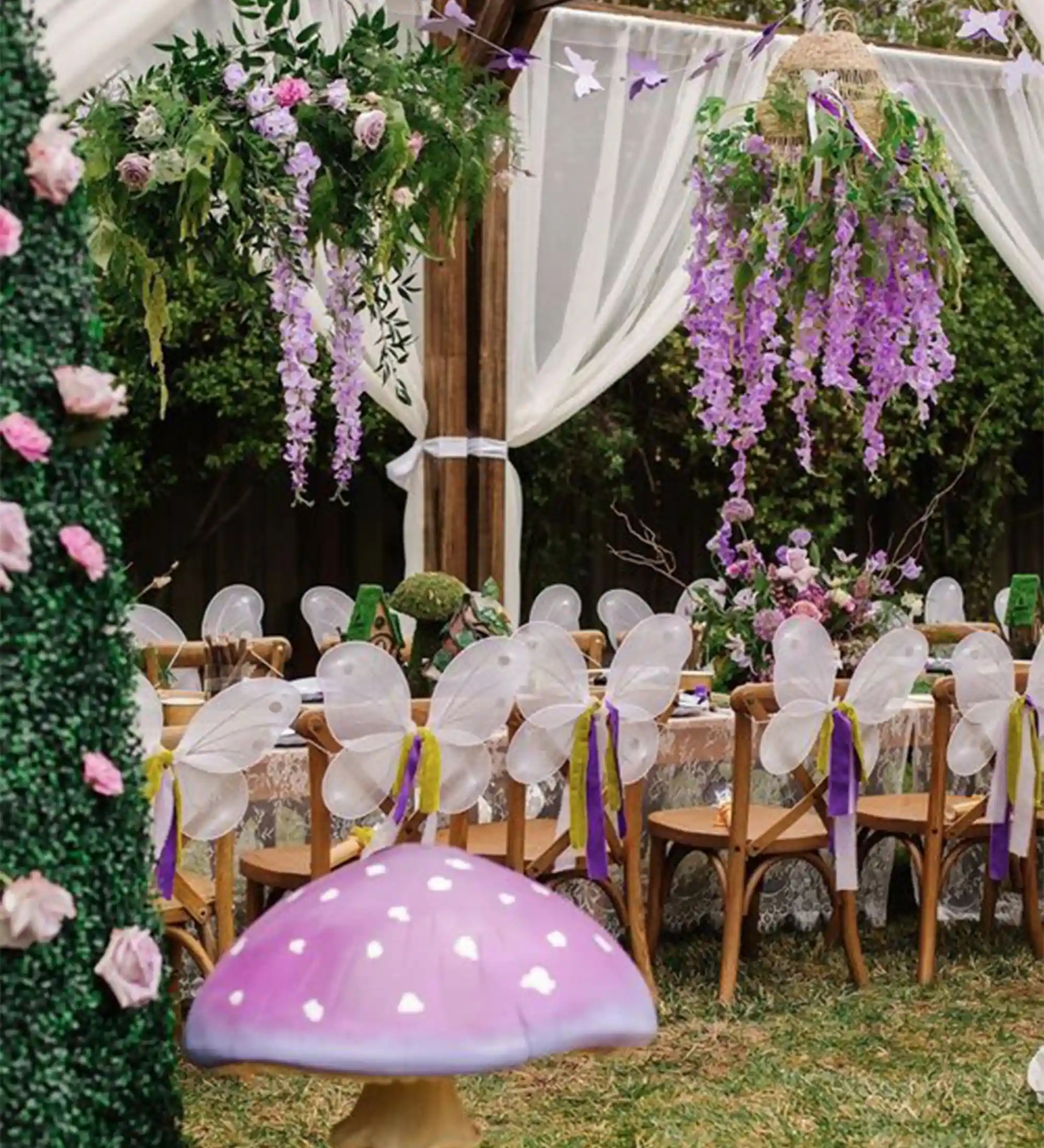 Anything that looks whimsical will work. Hanging twinkle lights & ribbon sets the perfect mood! On tables, we love using slices of wood, pots of flowers or greens, and printable fairy centerpieces for a quick and effortless look!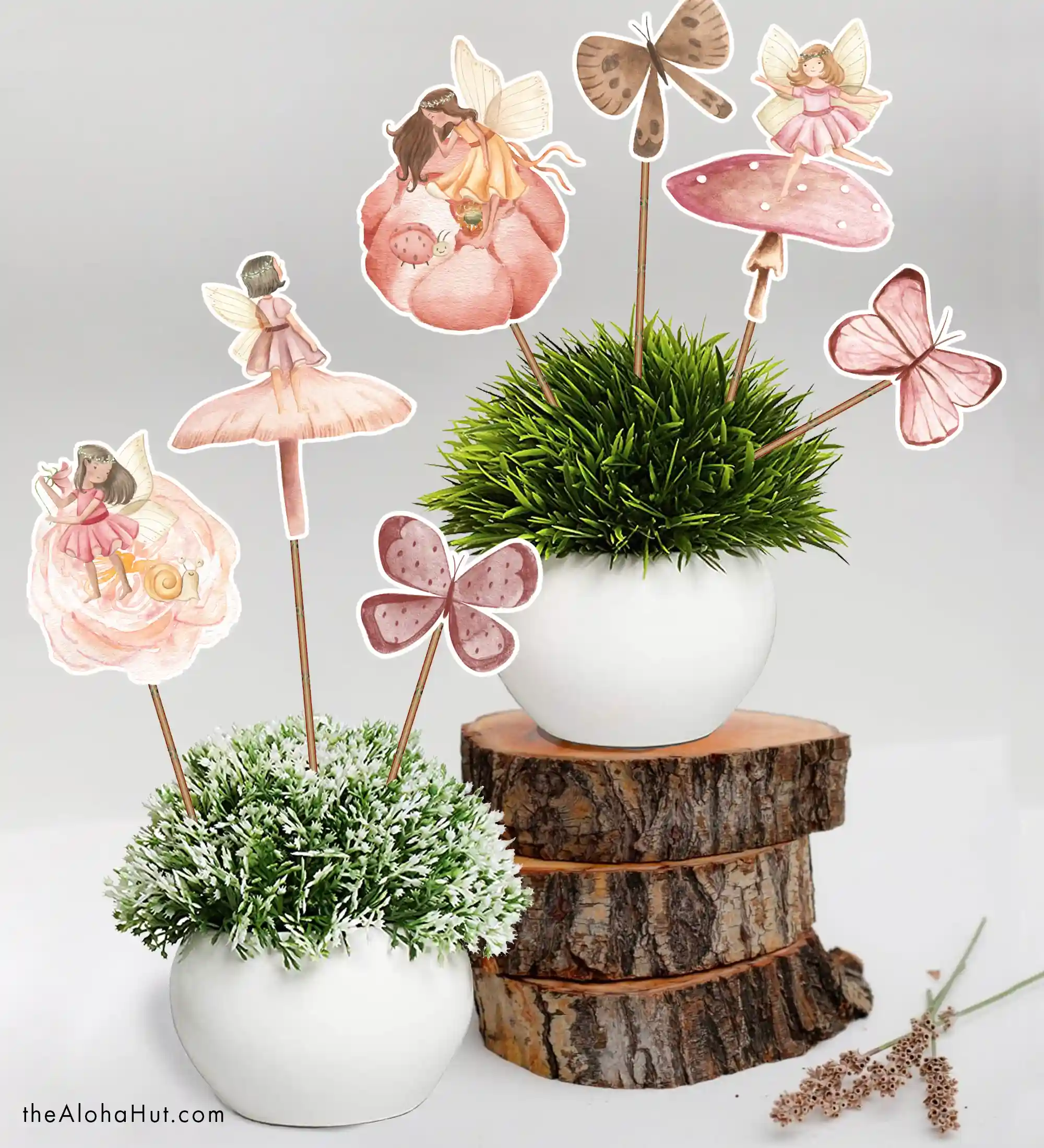 4 – MAGICAL ENTRANCE
---
Create a gateway to wonderland using fairy lights, balloons, large fairy cutouts, a personalized fairy door sign or a "Fairies Welcome" sign inviting guests into a world of enchantment.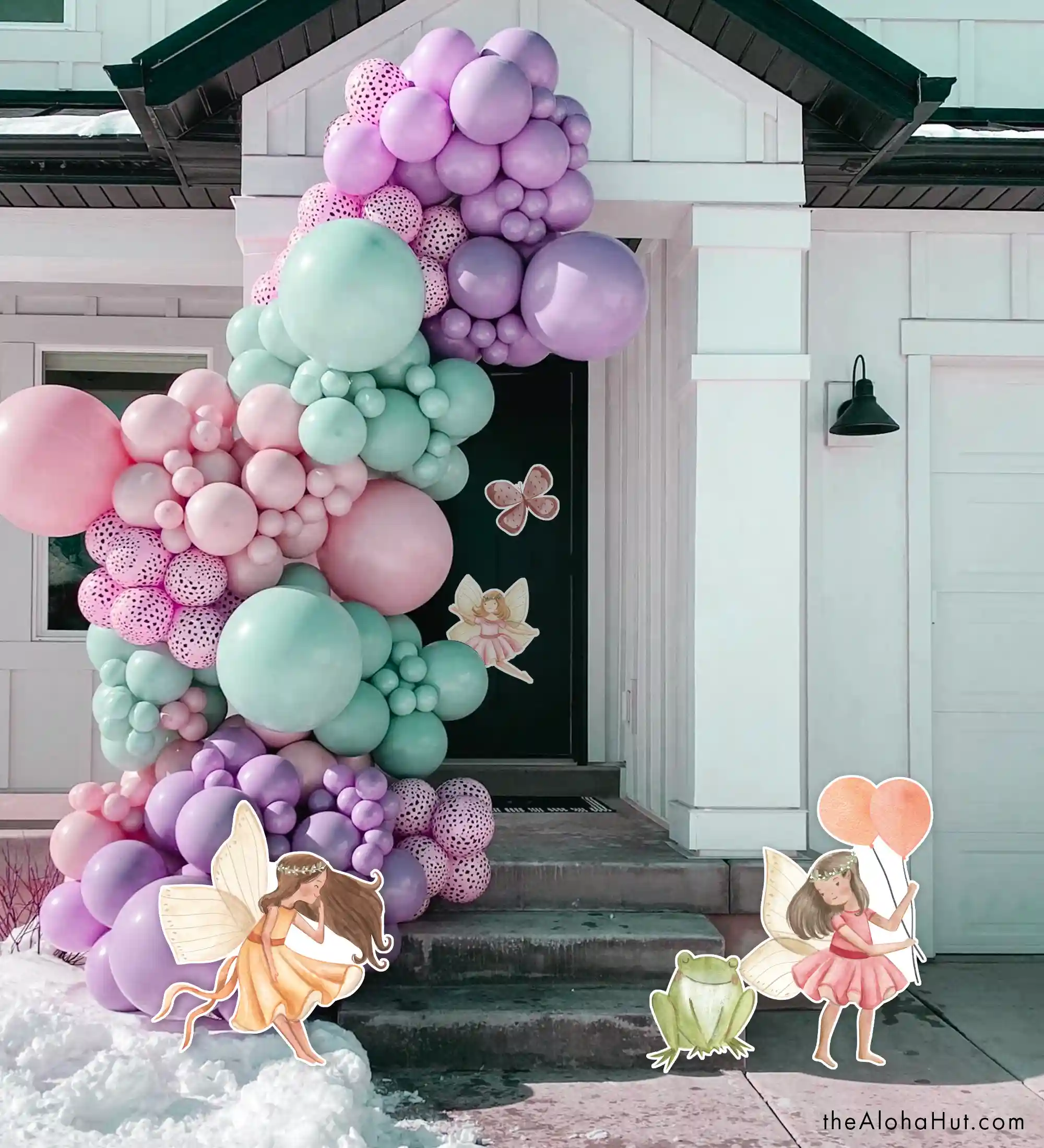 5 – FAIRY COSTUMES + ACCESSORIES
---
Encourage guests to dress in fairy attire by providing tutus, wands, wings, or crowns for an extra sprinkle of magic.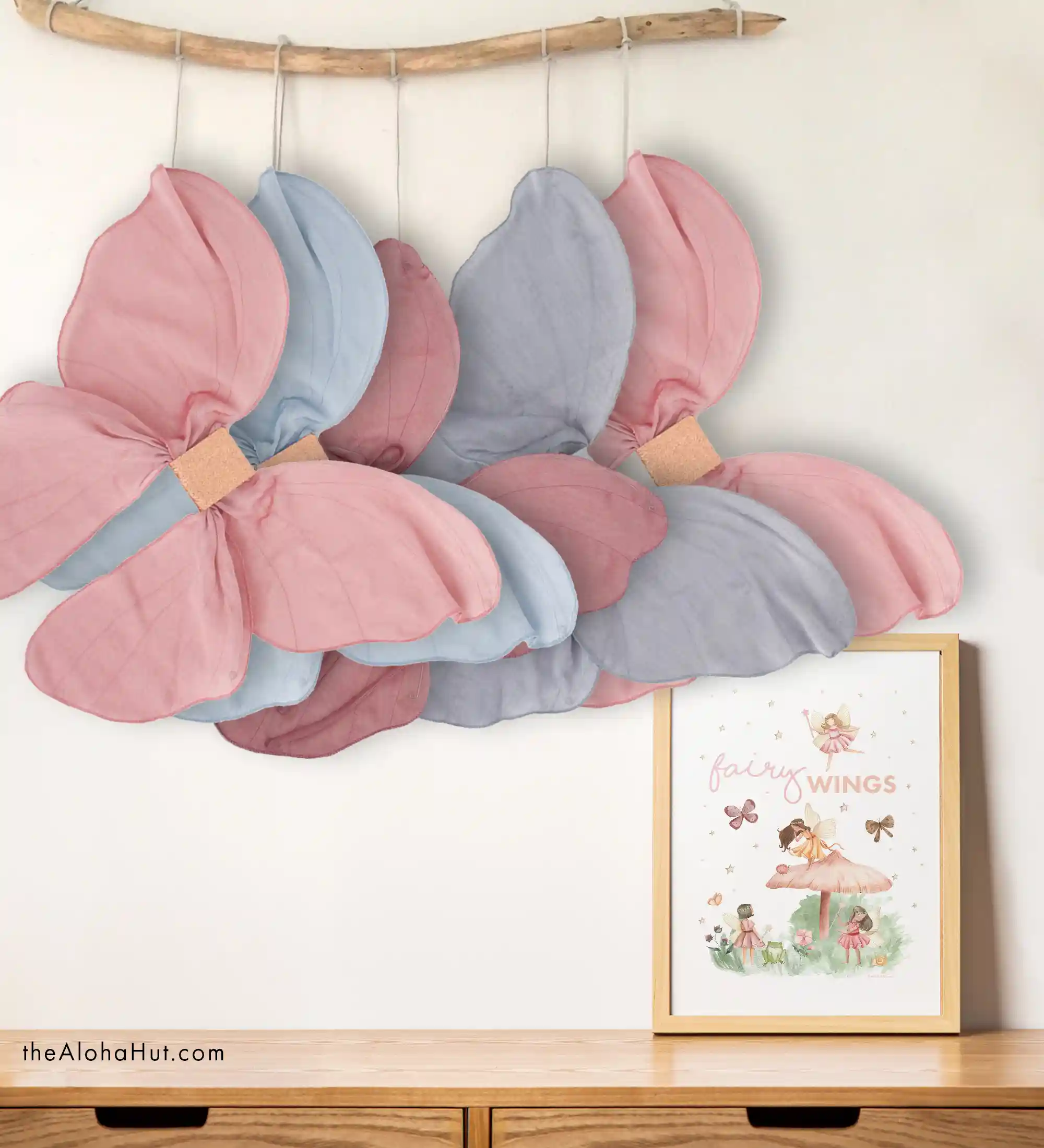 6 – FACE PAINTING MAGIC
---
Hire a face painter or ask some older neighbor kids to turn little faces into works of fairy art, complete with delicate designs and sparkles. If you need a recommendation for face paint, we've been using Wolfe FX for over 10 years now and will never use anything else when doing Halloween makeup or face painting at our parties. It's so pigmented, easy to apply, doesn't give our kids rashes and washes off with just water. Plus it lasts for FOREVER!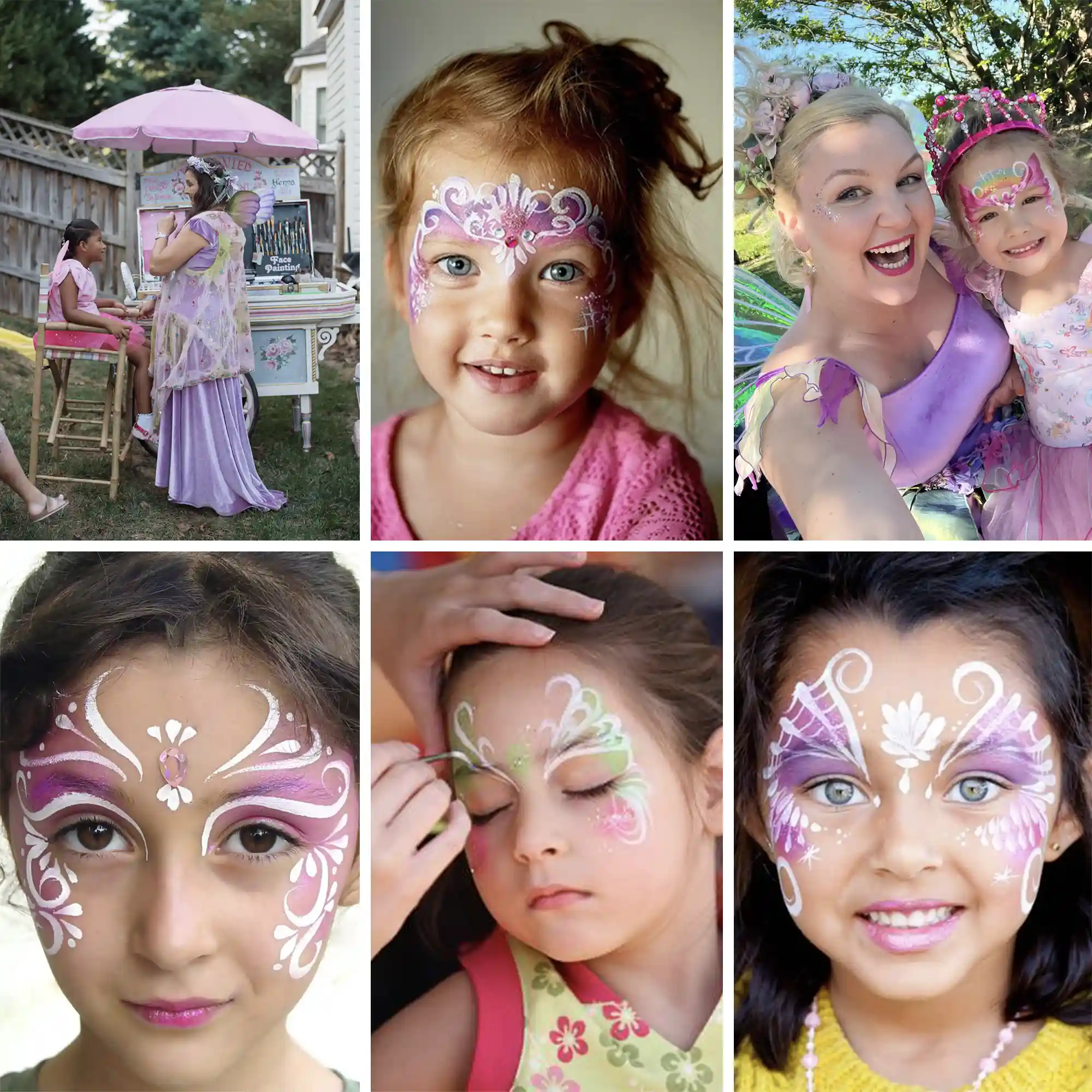 7 – FAIRY TALE STORYTIME
---
Transport the children to magical lands with a fun book that captivates their imaginations.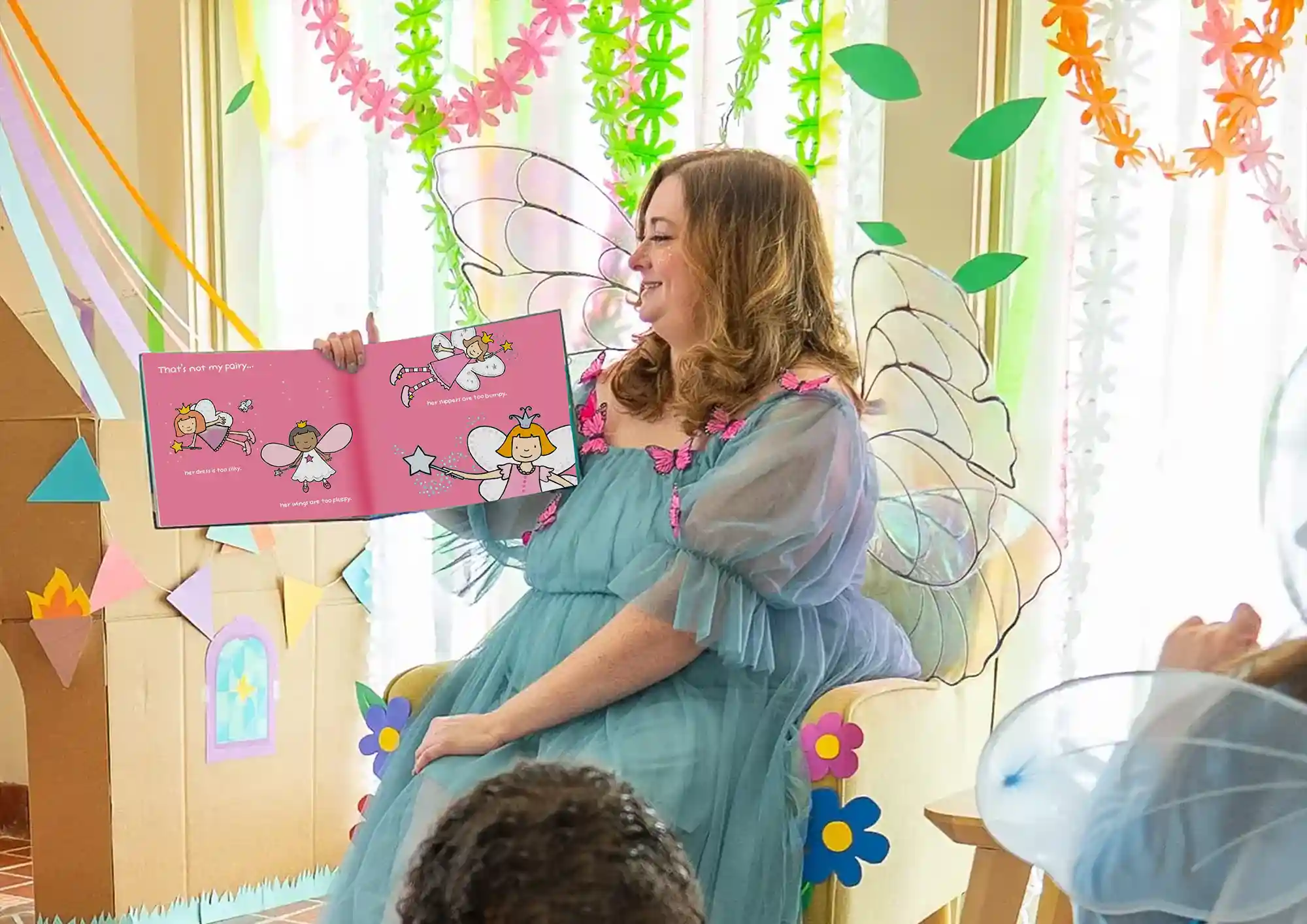 You could read any of the classic fairy tales but we prefer something short and sweet when it comes to big groups so we always opt for a quick picture book. Some of our kids favorite fairy picture books are: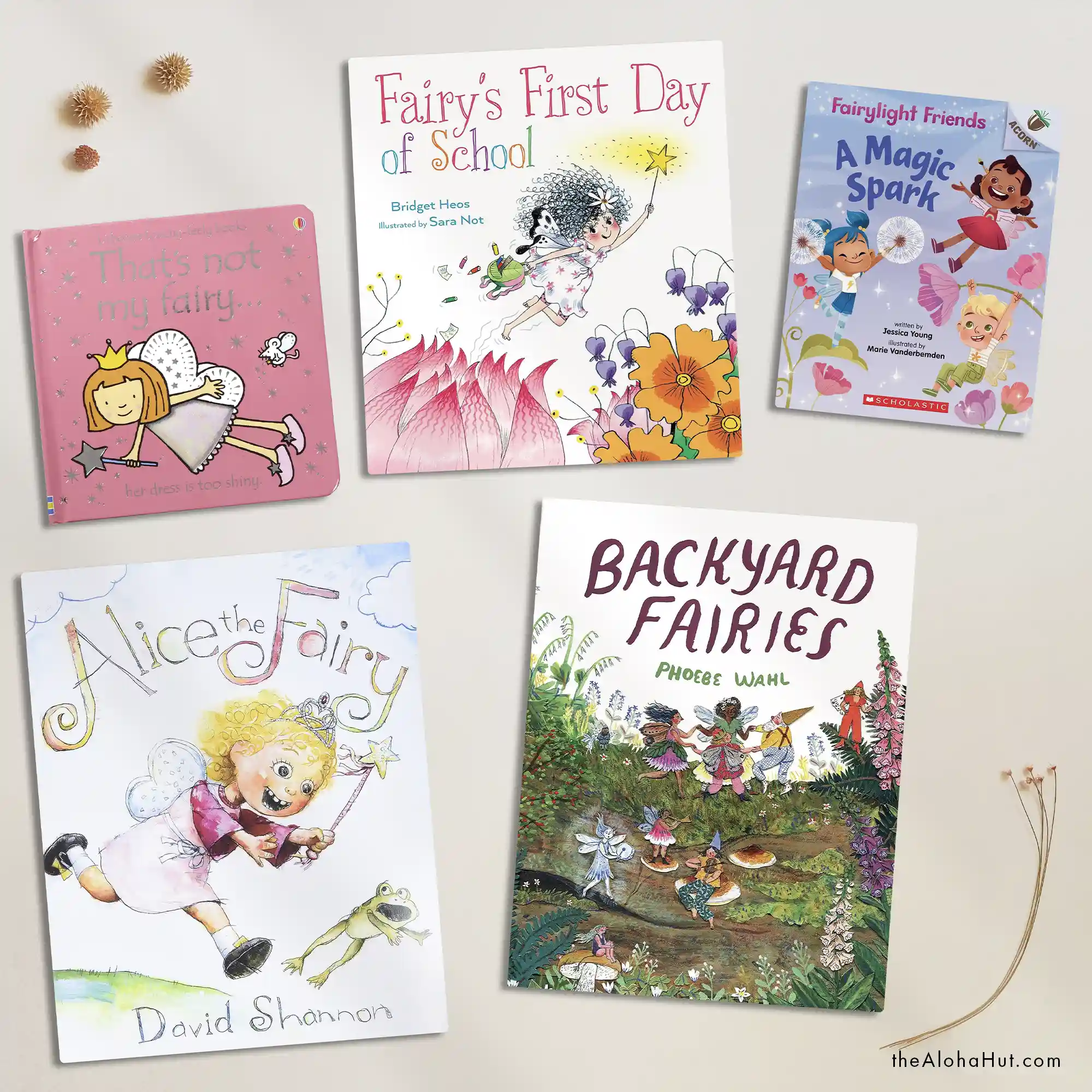 8 – DECORATE A FAIRY HOUSE
---
We love a good take home craft; especially something that goes along perfectly with the party theme. DIY Fairy Houses are so much fun to create and the materials can easily be found at a dollar store or craft store.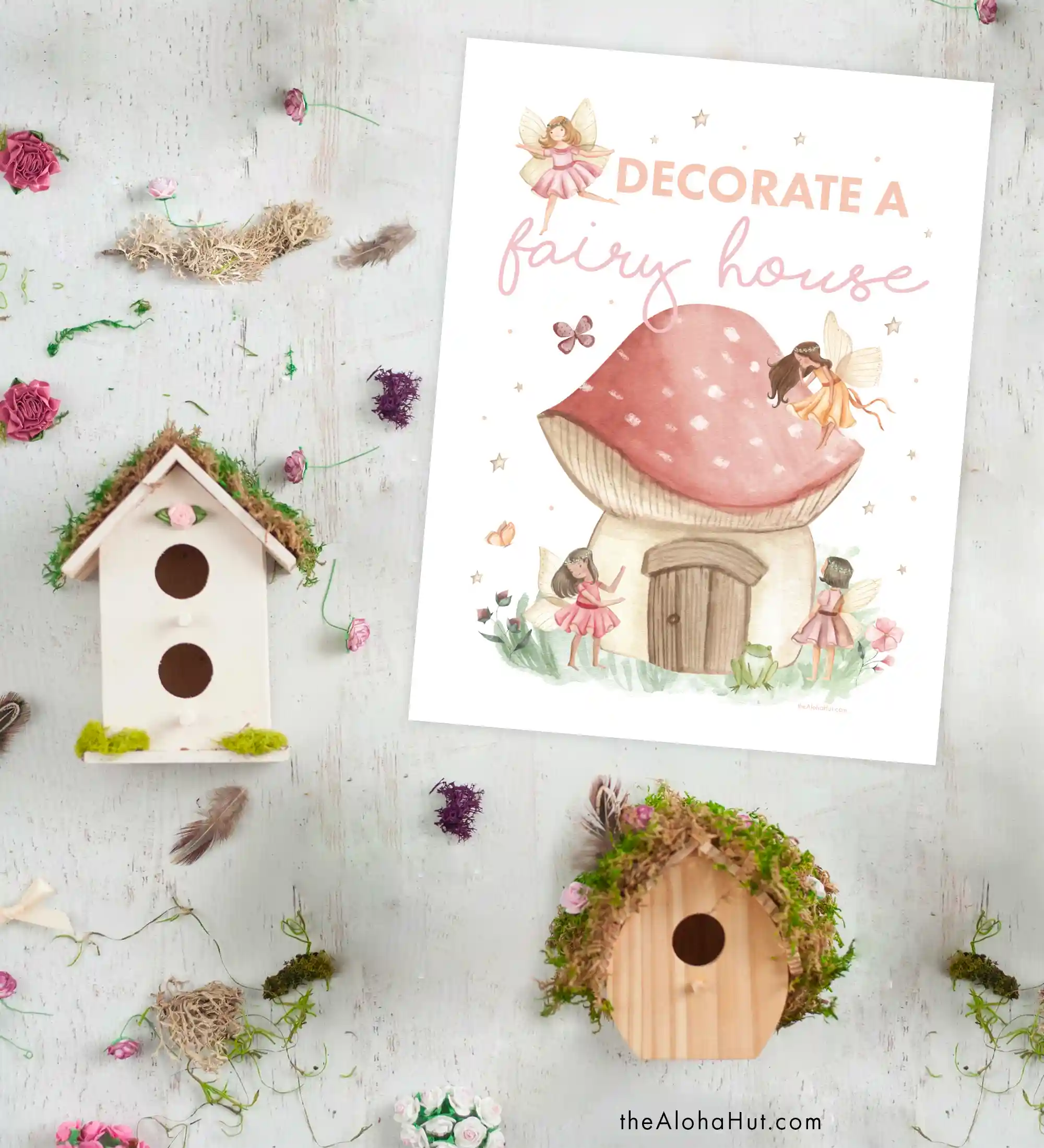 Materials we used were small wooden bird houses, paint, faux moss, faux flowers, small wooden cutouts, glitter & sequins, and a "Decorate a Fairy House" sign for our station.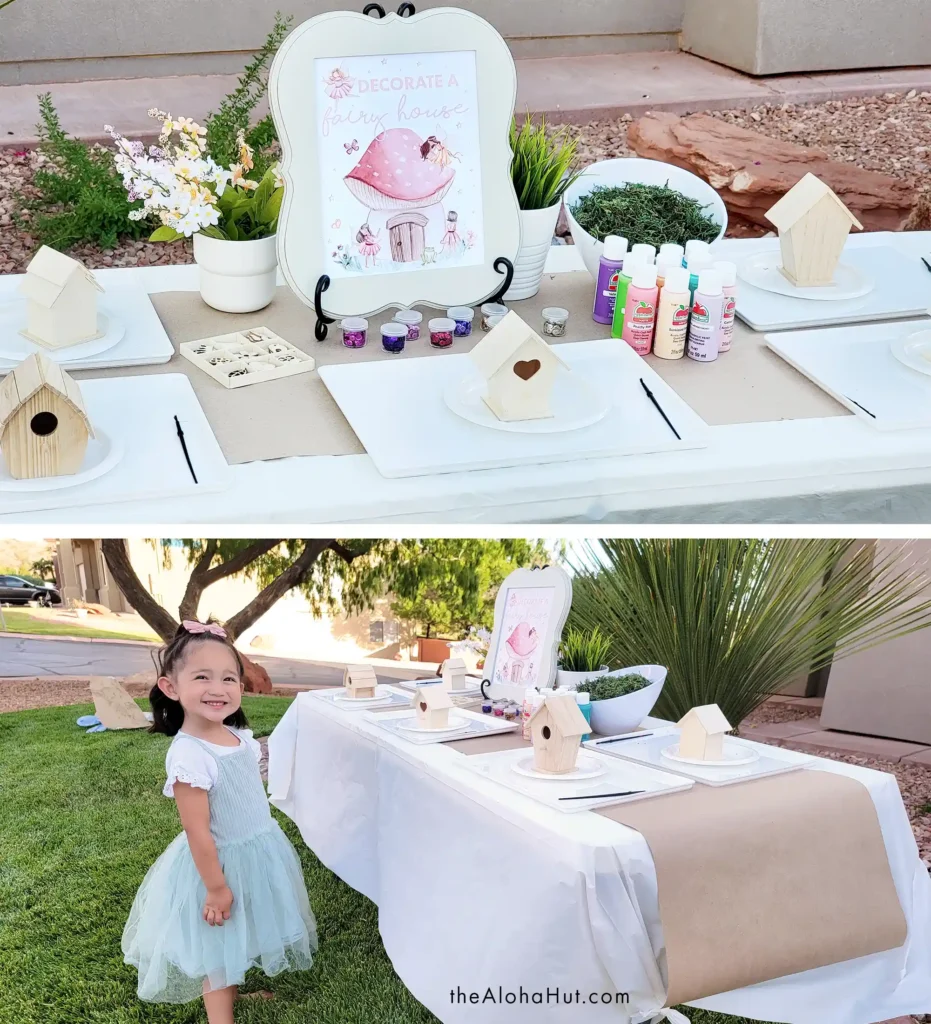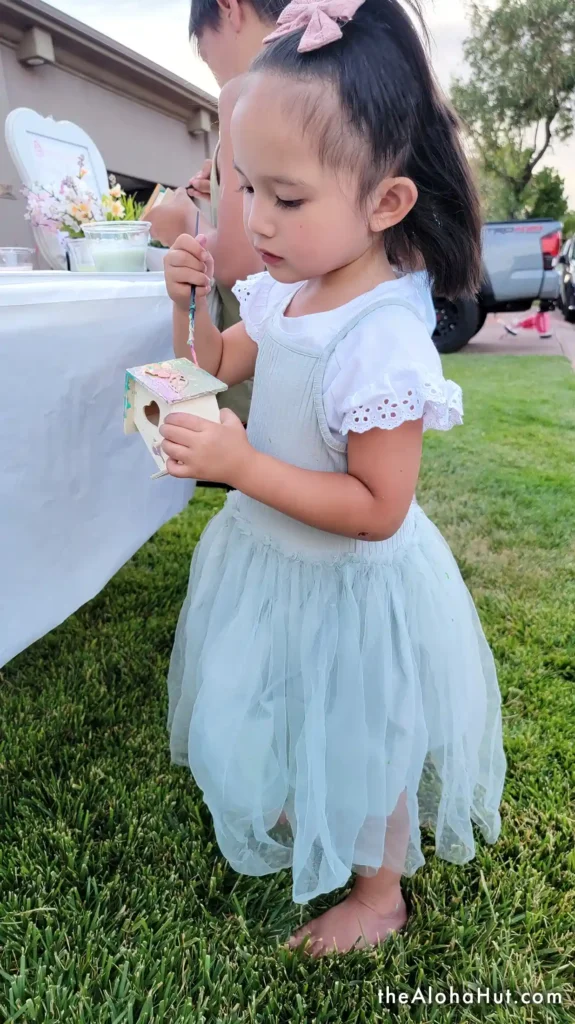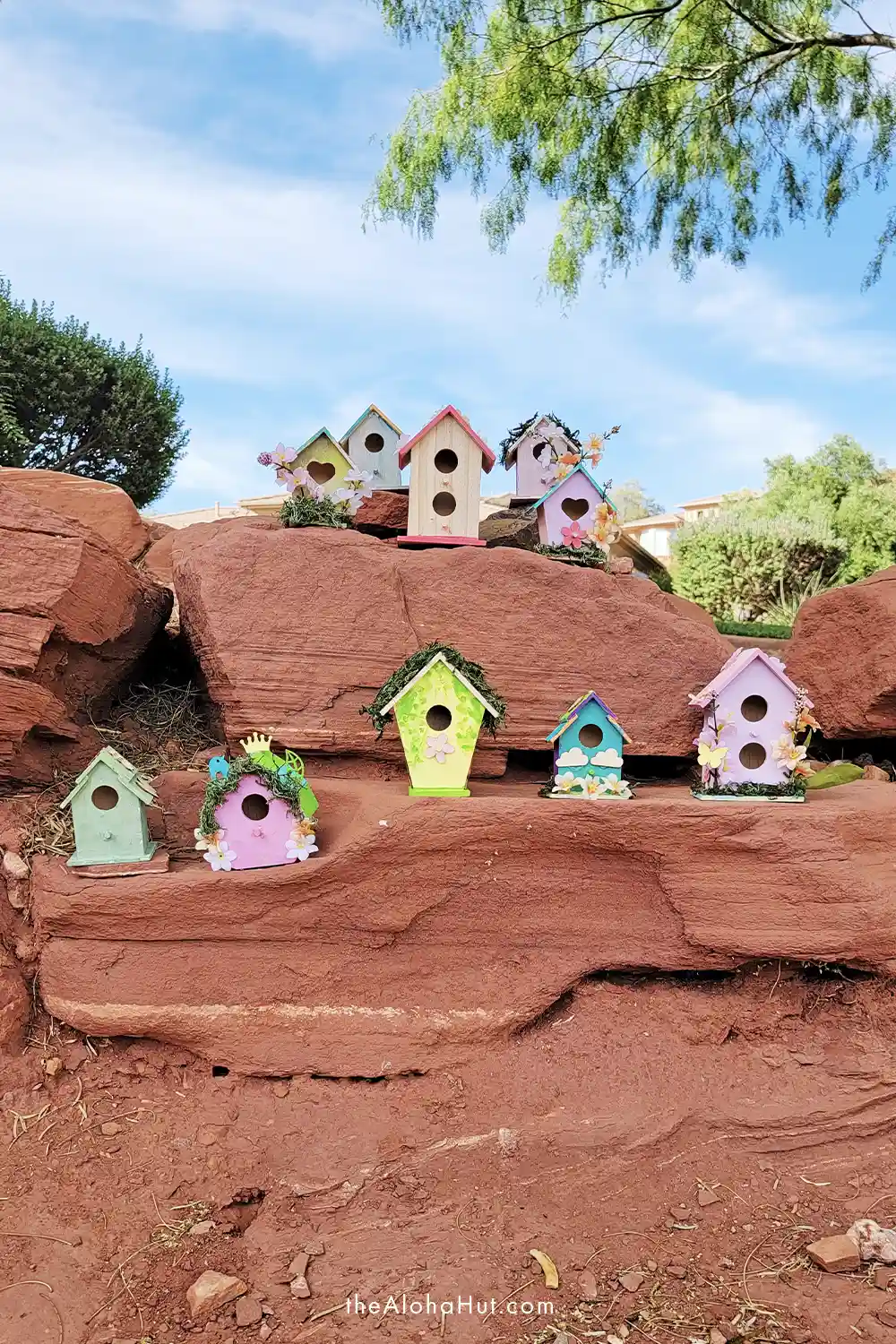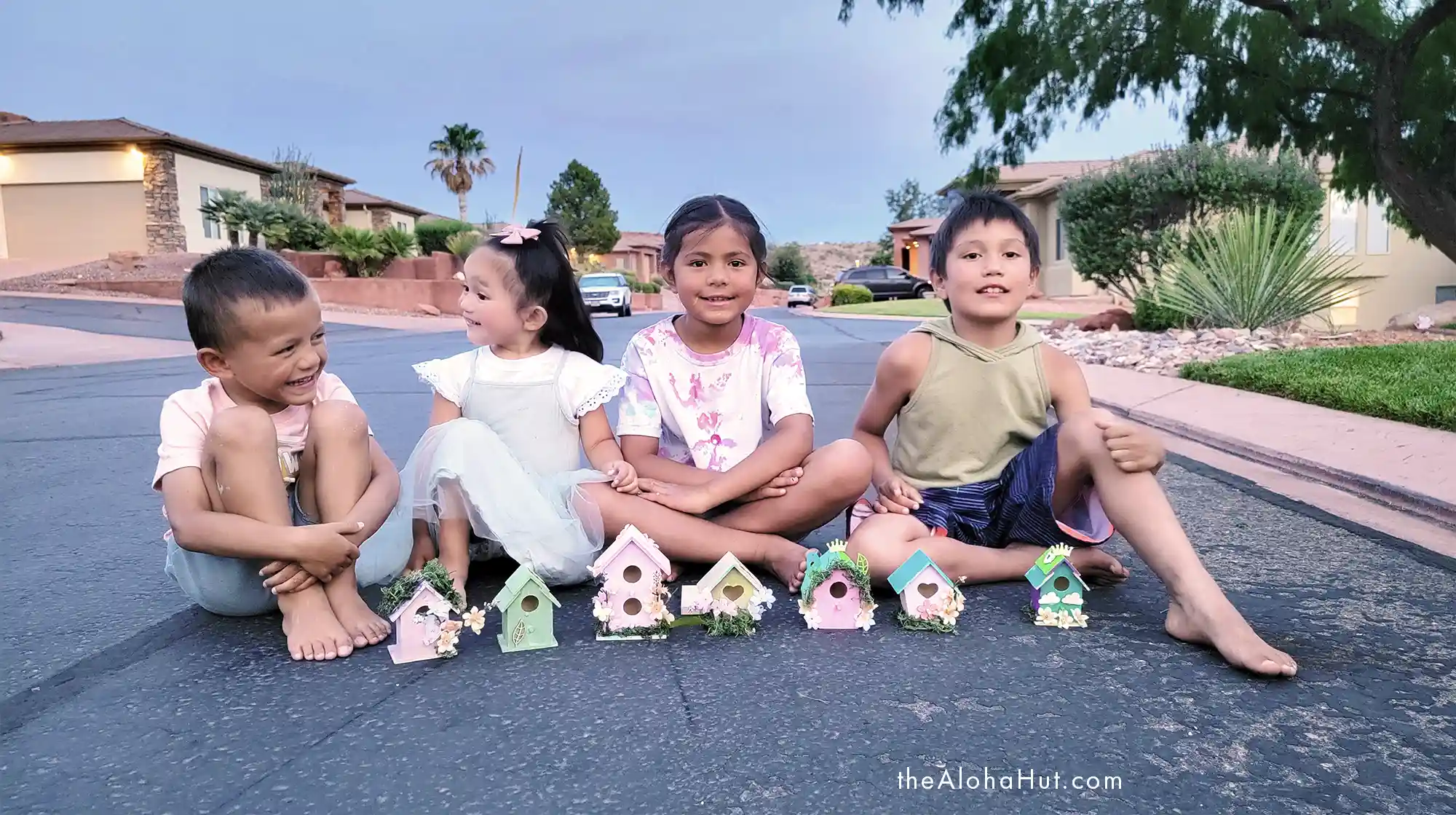 9 – DIY FAIRY WAND
---
What's a fairy without a wand? Let kids create their own magic by DIYing their own fairy wands. We set out a "Fairy Wands" sign with clear sun catchers for the tops of the wands, paint, hot glue to glue the tops on, wood sticks, ribbon and wooden beads.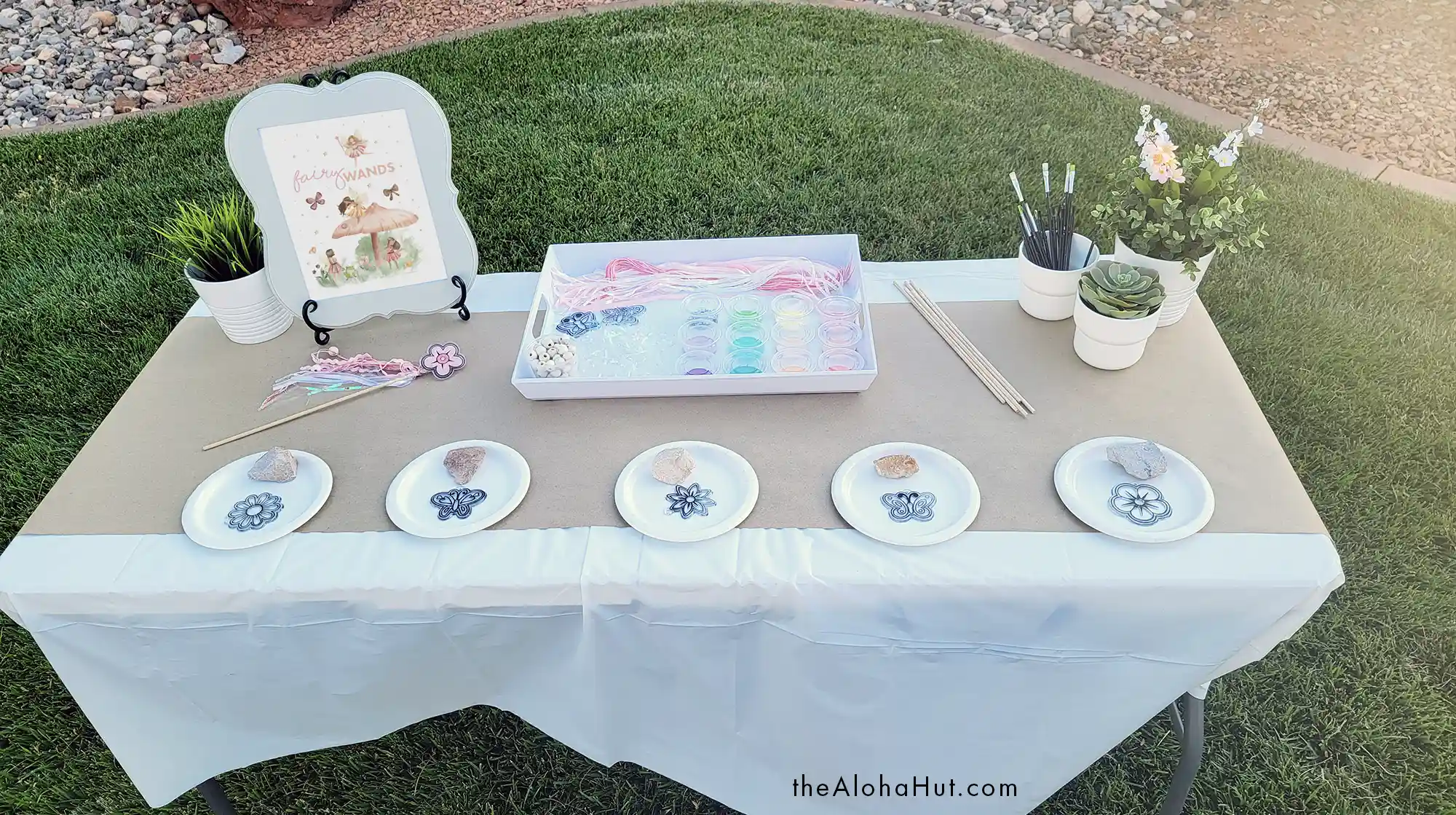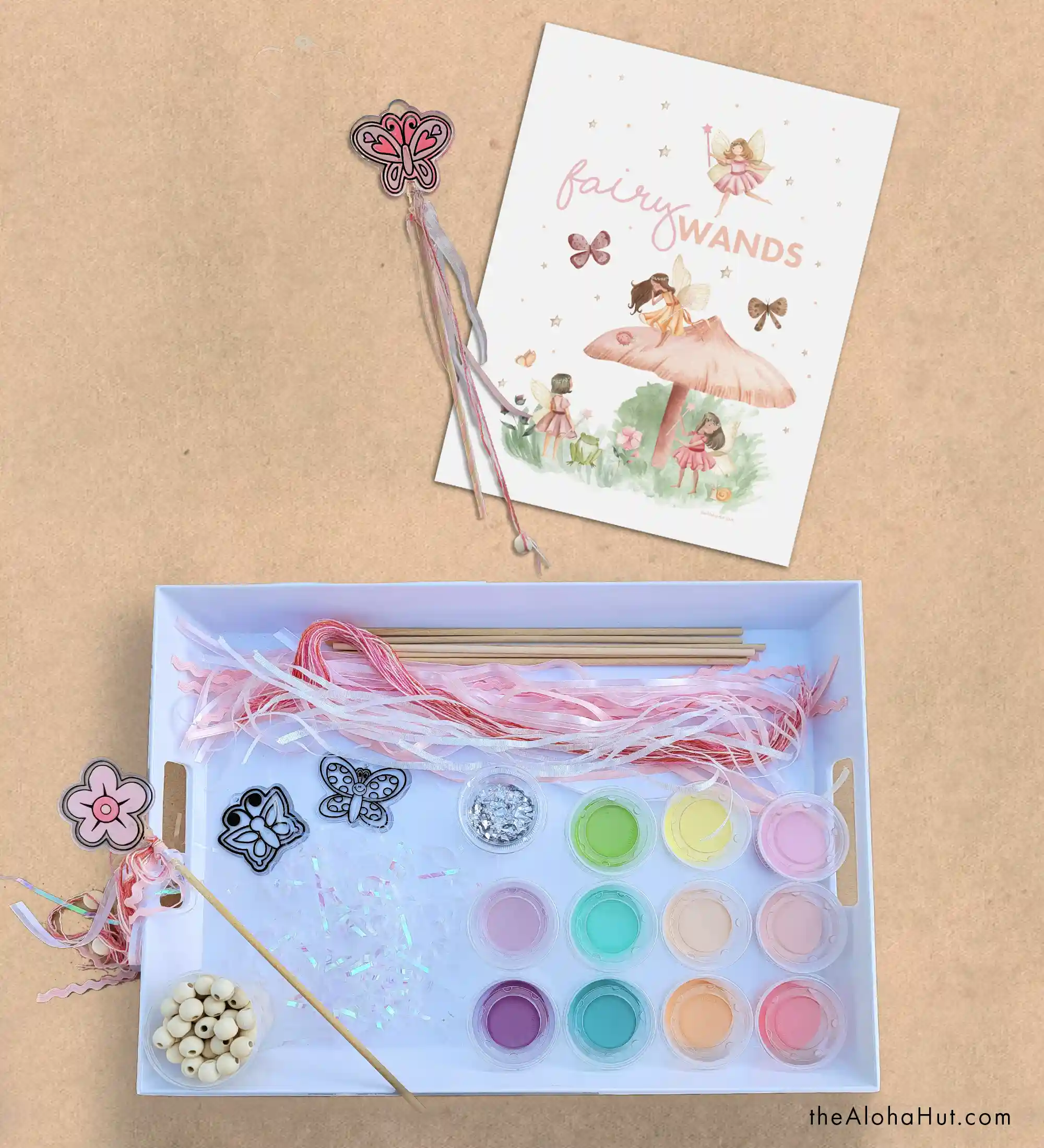 10 – FAIRY CROWN CRAFT
---
DIY printable fairy crowns is a great activity kids can do while waiting for food or in between games & activities. For less mess, only set out crayons or markers. If you don't mind turning it into more of a craft, set out a "Fairy Crowns" sign, glitter, glue, sequins and jewels so kids can make the crowns more dimensional.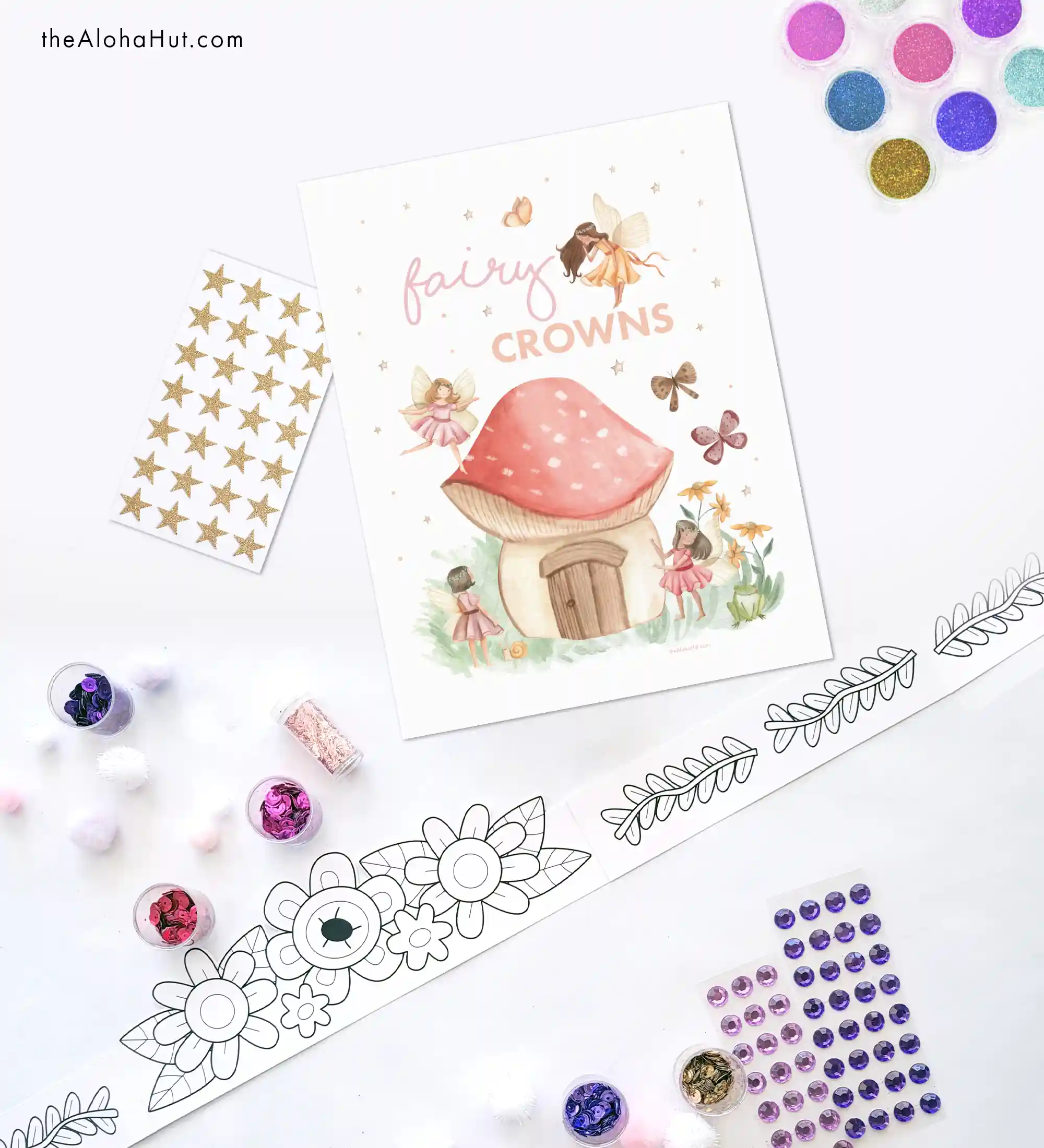 11 – ENCHANTED PHOTO BOOTH
---
Capture fairy memories with a photo booth adorned with large cutout fairies for kids to stand by. Make sure kids have wings, wands, and flower crowns to pick from for their magical moment.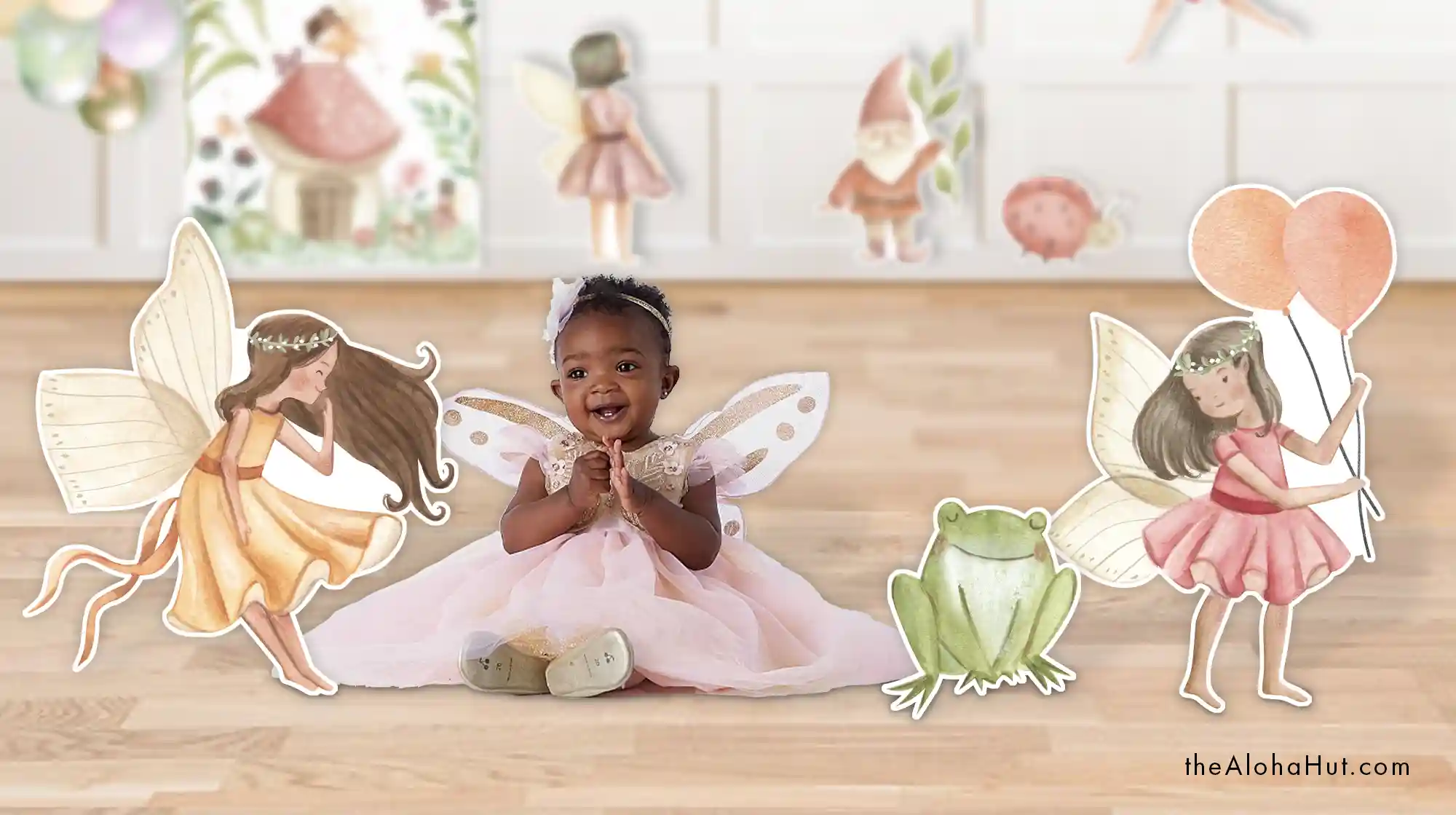 12 – FAIRY DUST STATION
---
Let the children create their own fairy dust with an assortment of glitters and colorful powders. The Handmade Home has a quick & fun tutorial on how to make the magic stuff!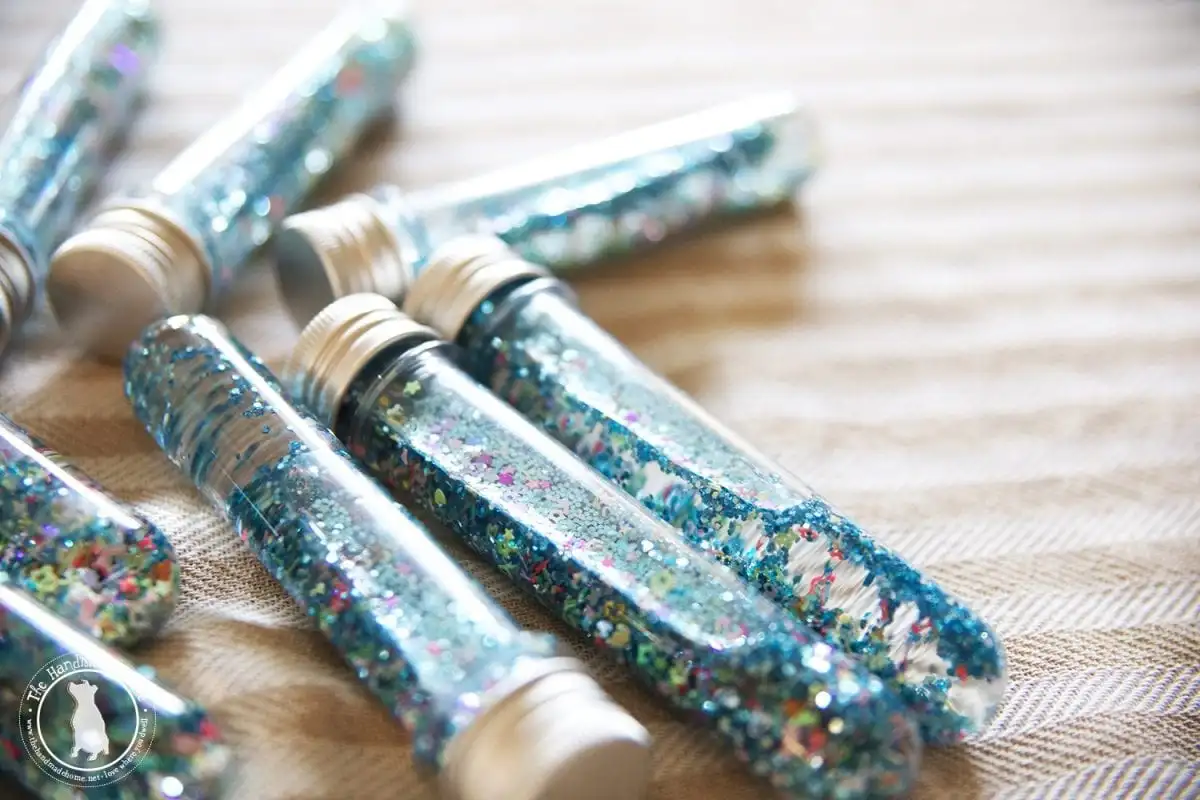 13 – PIN THE FLOWER ON THE FAIRY
---
Just like Pin the Tail on the Donkey but this Pin the Flower on the Fairy game goes along with the fairy party theme.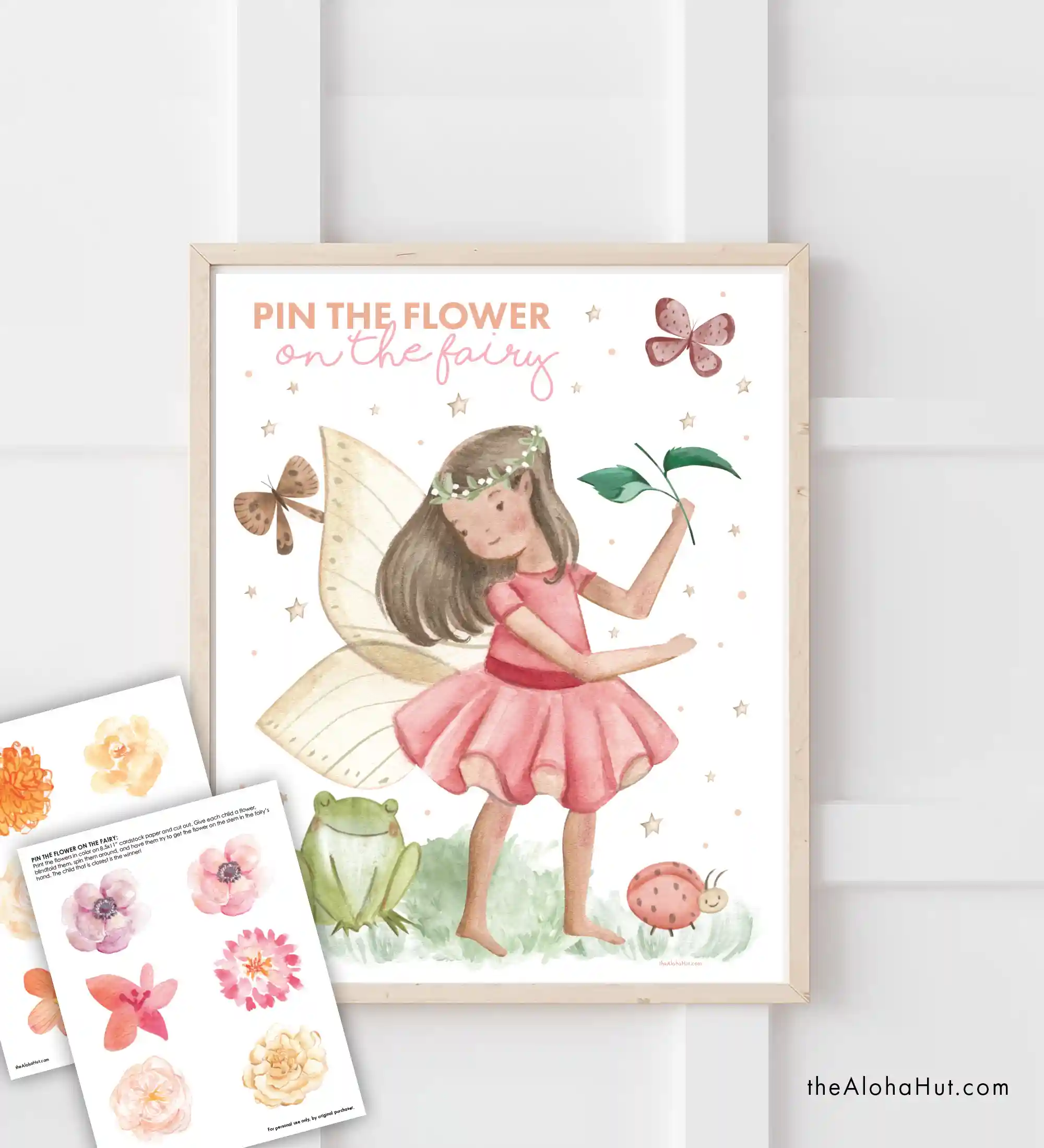 14 – FAIRY BINGO
---
This Fairy Bingo is made for little kids in mind with less squares and includes large cards for all the little eyes to see. There are enough game cards for 12 players.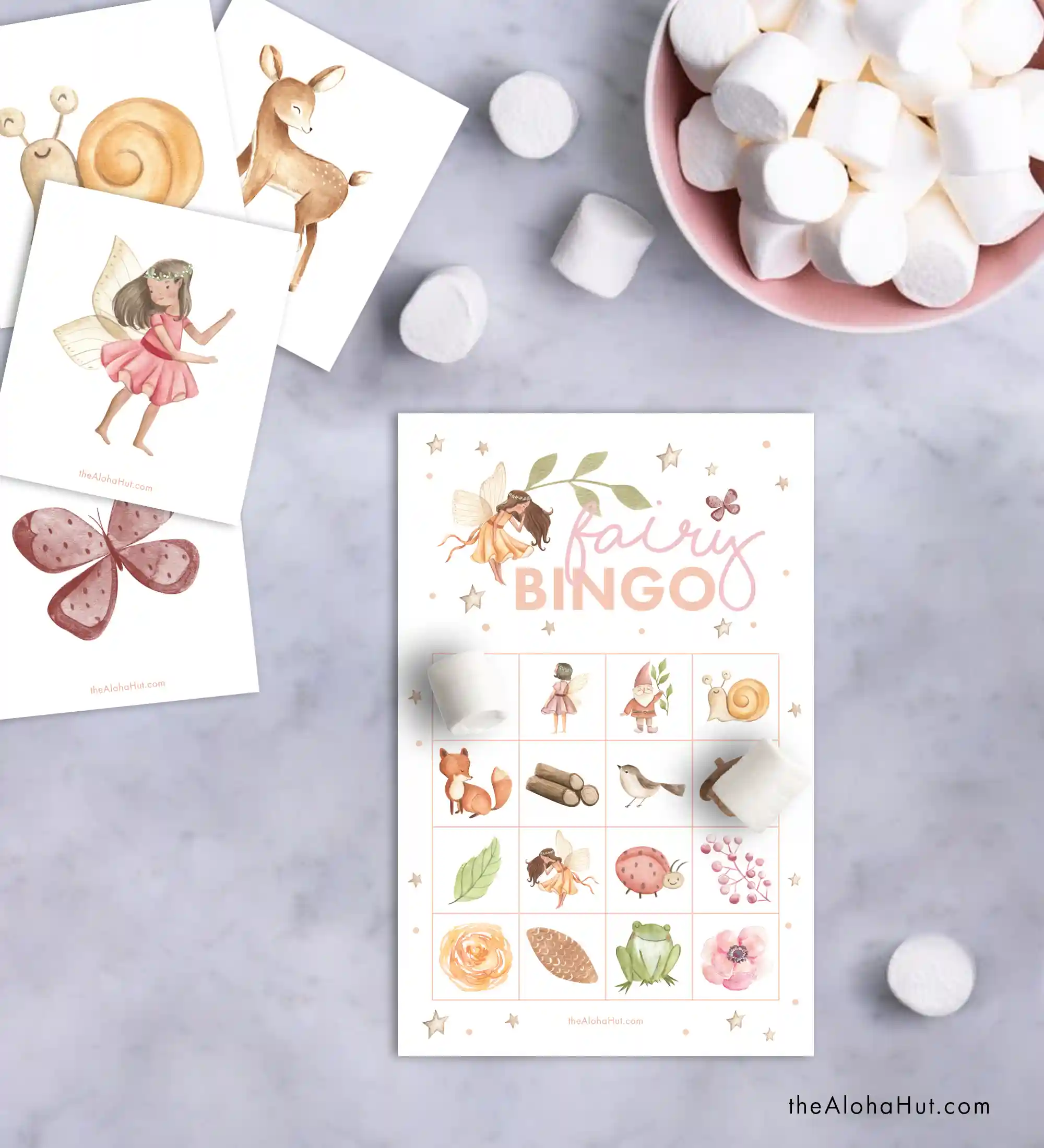 15 – DON'T EAT THE FAIRY FRIEND
---
This Don't Eat Pete style Fairy game is ALWAYS a huge hit! We play it for almost every celebration (making a new matching board each time).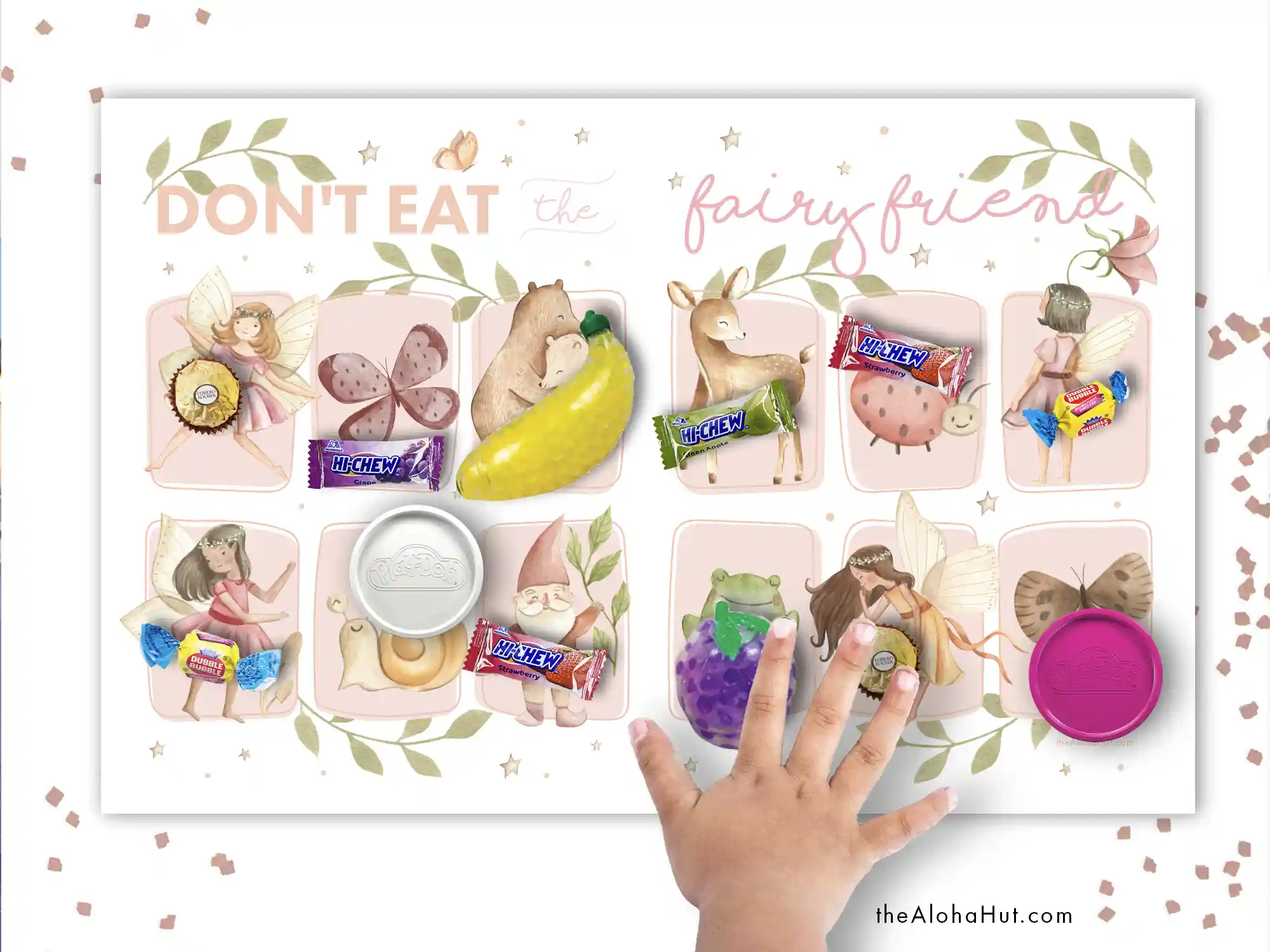 It has the same rules as the classic game Don't Eat Pete:
Place a piece of candy or small toy/prize on each of the spaces on the board.
First player leaves the room while all the other players choses a character to be the "Fairy Friend."
First player comes back in the room and begins grabbing the candy/prizes, one at a time.
The goal is to get as many pieces of candy/prizes as possible before you accidentally pick the "Fairy Friend."
Once the player picks the chosen space with the candy/prize on it, everyone yells "Don't Eat the Fairy Friend!" and that player's turn is over.
They get to keep all of the candy/prizes that they picked but leave the other ones on the board.
Refill the board with more candy/prizes and repeat with another player, until all players have had a turn.
It's such a fast pace game and gets quite intense, especially when there's only a few candies/treats left on the board.
16 – FAIRY BEAN BAG TOSS
---
So easy to set up. Just grab some boxes and cut holes in the fronts. Stack them and add some fairies and butterflies to decorate. Or you can use this quick printable Fairy Bean Bag Toss game to make it even easier to assemble.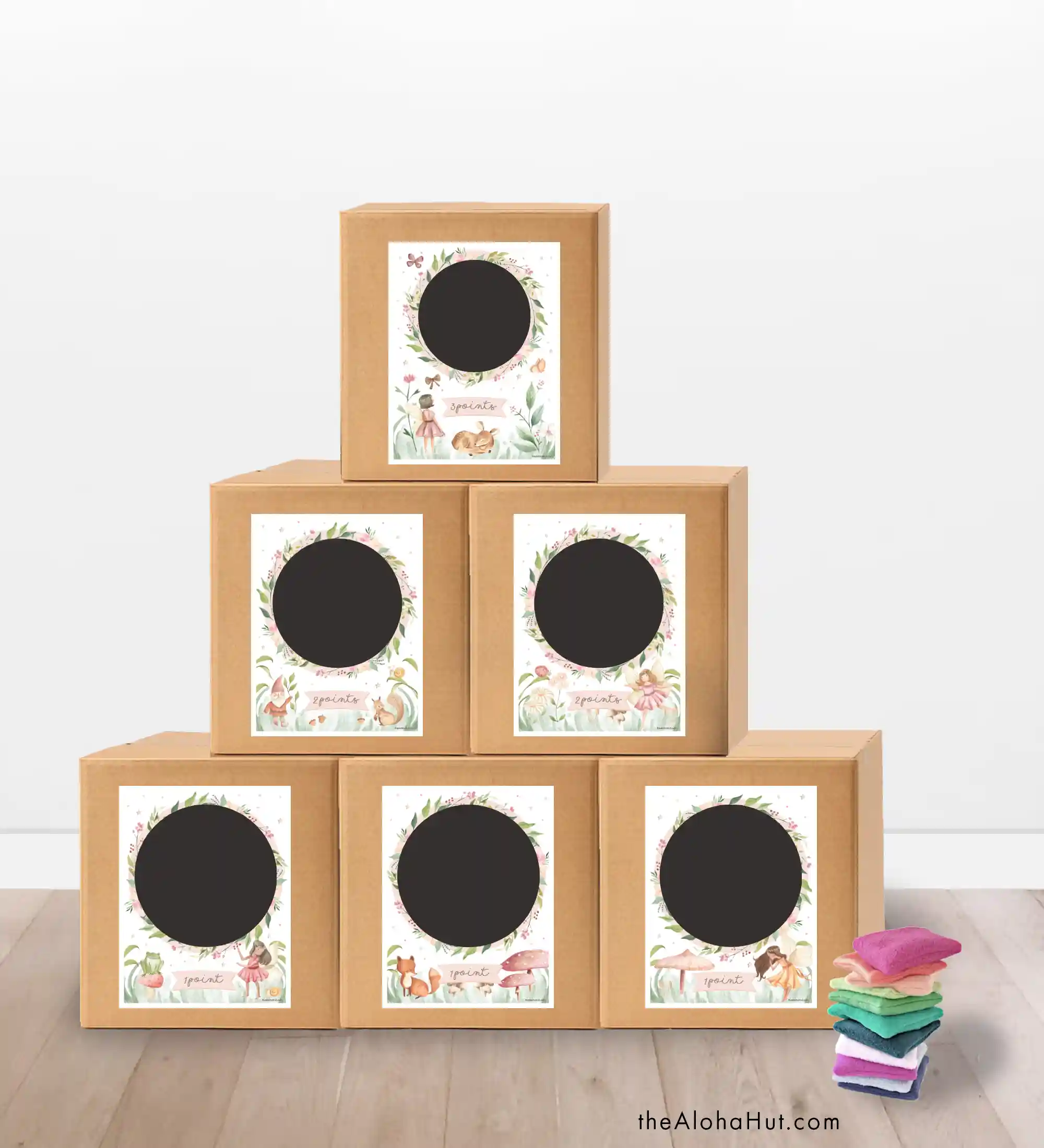 17 – CAPTURE THE FAIRY
---
If you've played Elefun, then you'll know how to play this game. If not, all you do is give the kids some nets and throw fairies & butterflies from a balcony (or you could use a ladder).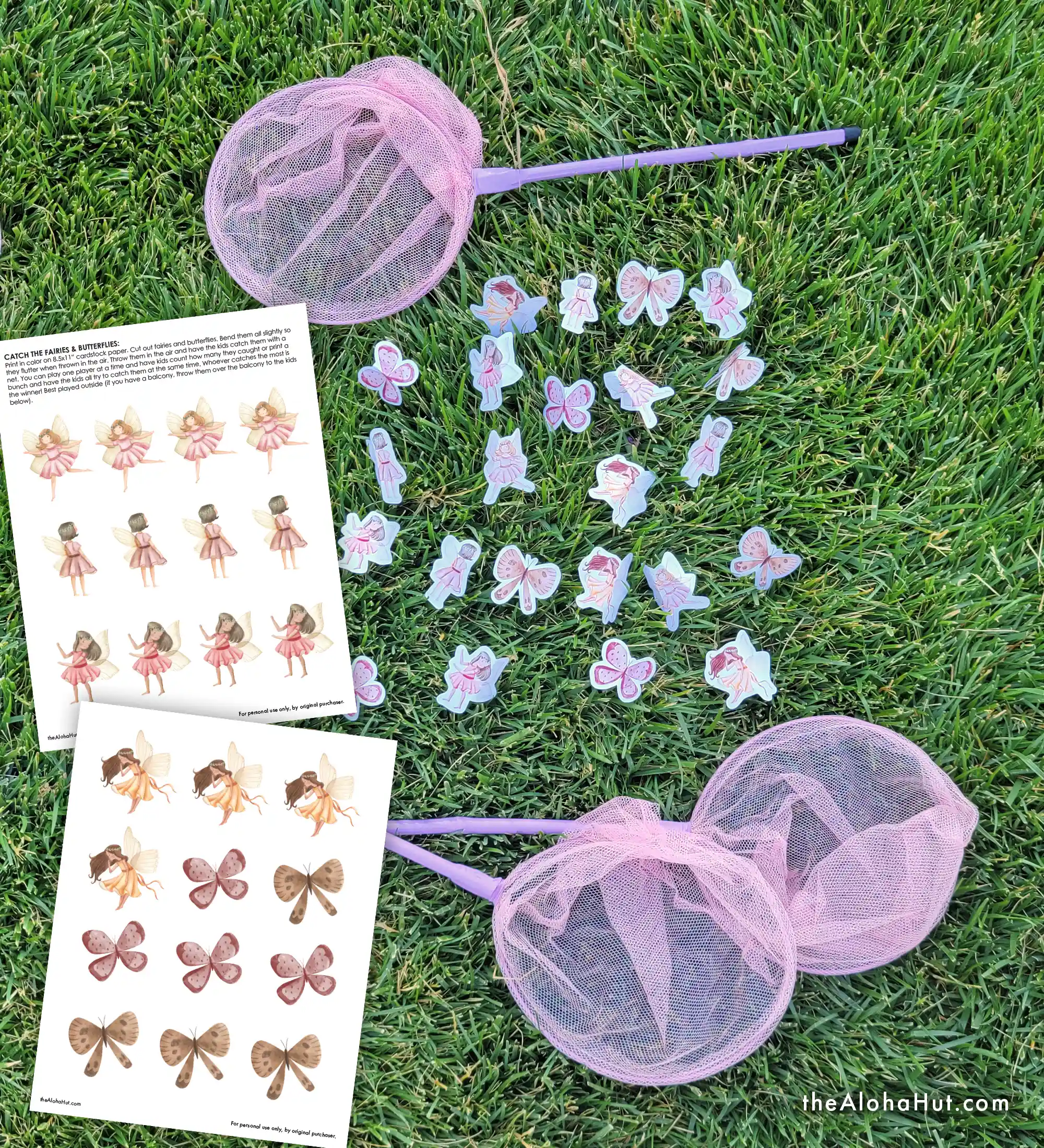 Watch the kids run around trying to catch as many as they can. To make the fairies/butterflies float a little longer, we like to bend the edges a bit. It also makes them fall in a helicopter pattern, making it so funny to watch because the kids can't always guess where it's going to land.
18 – FAIRY DANCING
---
Play some fun whimsical music and let the kids have a fairy dance party…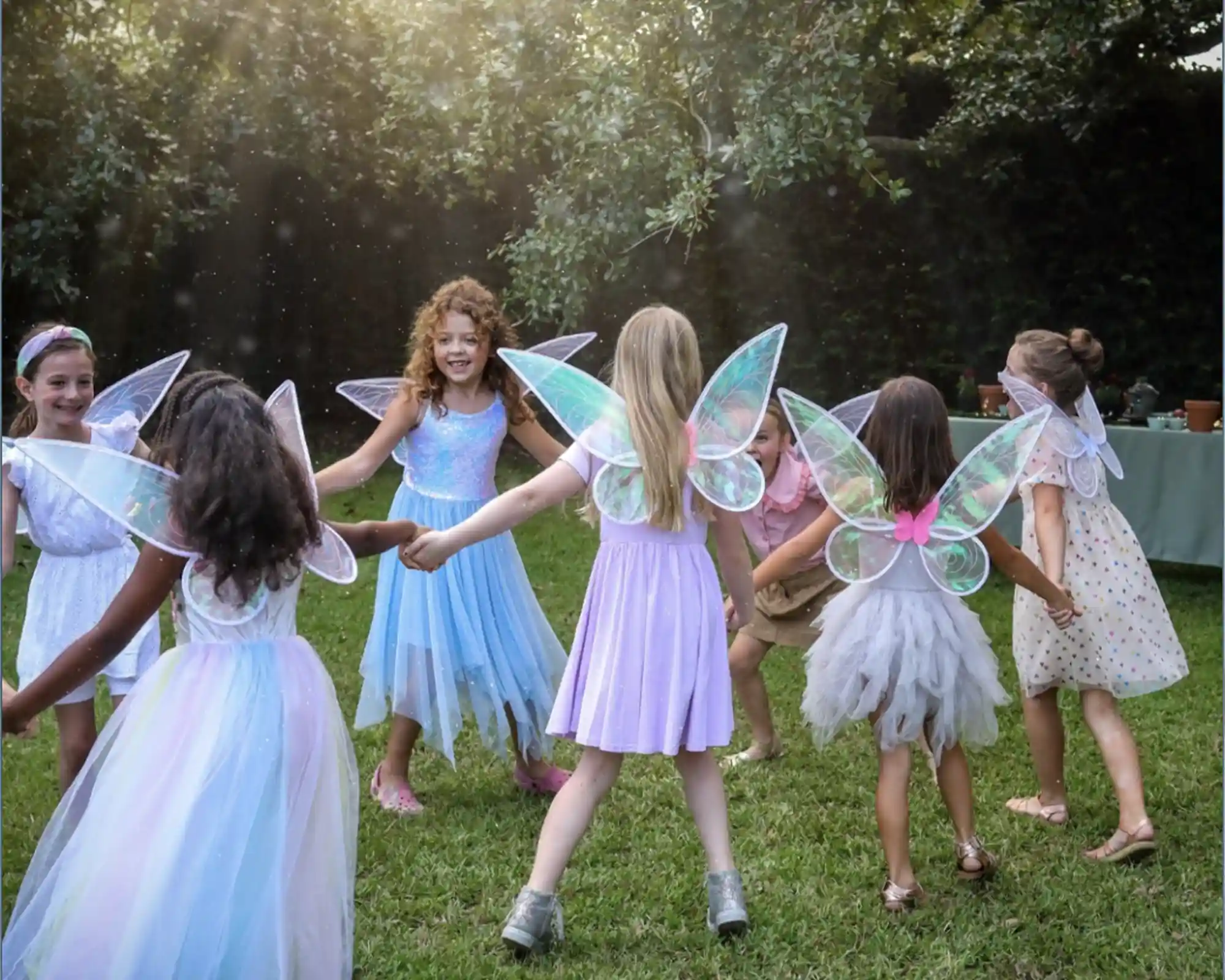 …or turn it into a game using this Fairy Cake Walk Game. This game can be played two ways; like a normal cake walk, where the one standing on the picture that gets chosen wins a cupcake or small treat. Or play like musical chairs where you have one less circle than kids and everytime the music stops, someone gets out. Both ways are super fun!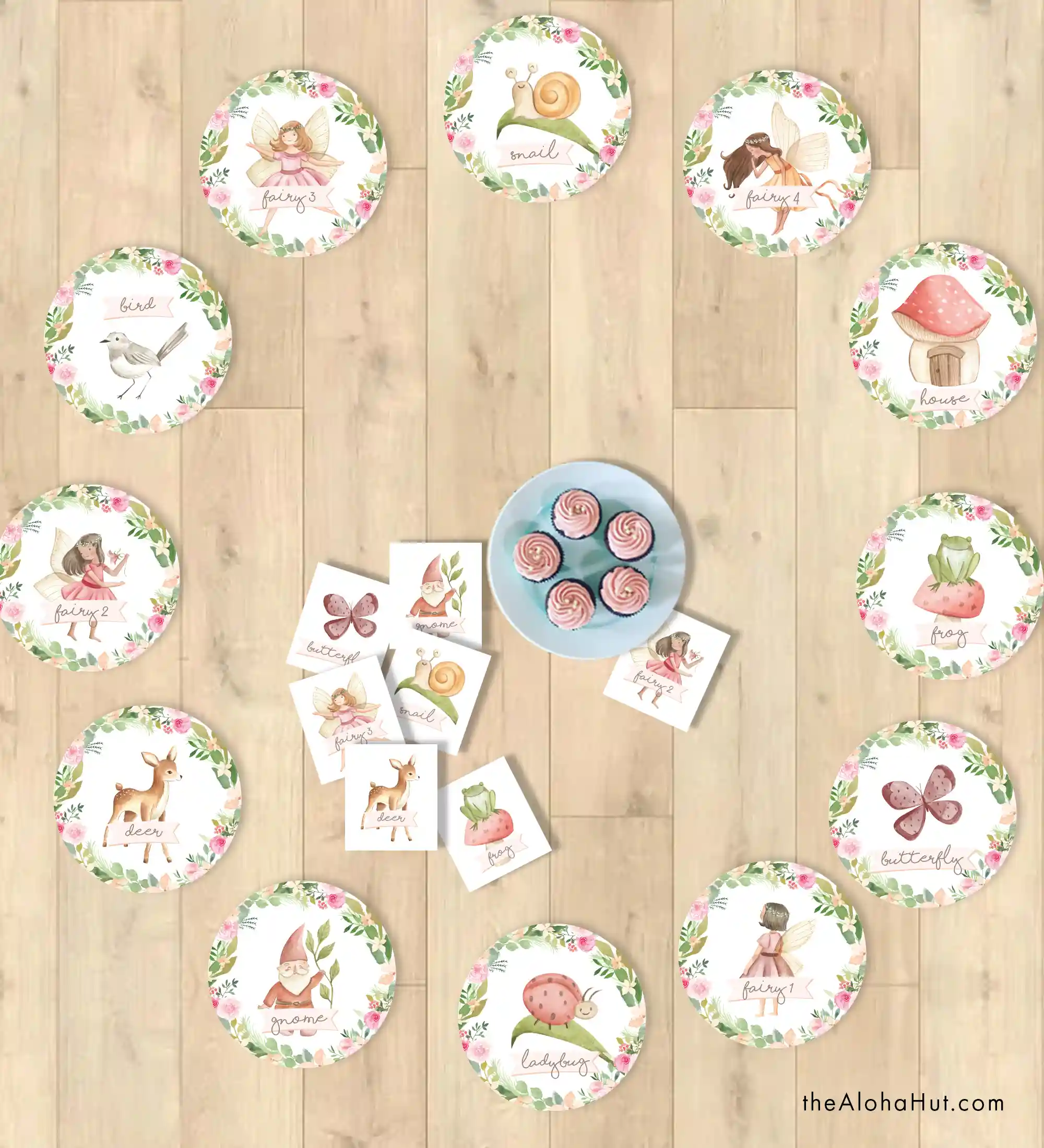 19 – FAIRY SCAVENGER HUNT
---
Hide items all over (indoors or outdoors) and send kids on a magical quest to find all the treasures. Hide your own fairy treasures, letting kids collect them as they go. Some fun ideas are toadstools, magic rocks, magic pinecones, magic acorns, miniature wands, feathers, etc.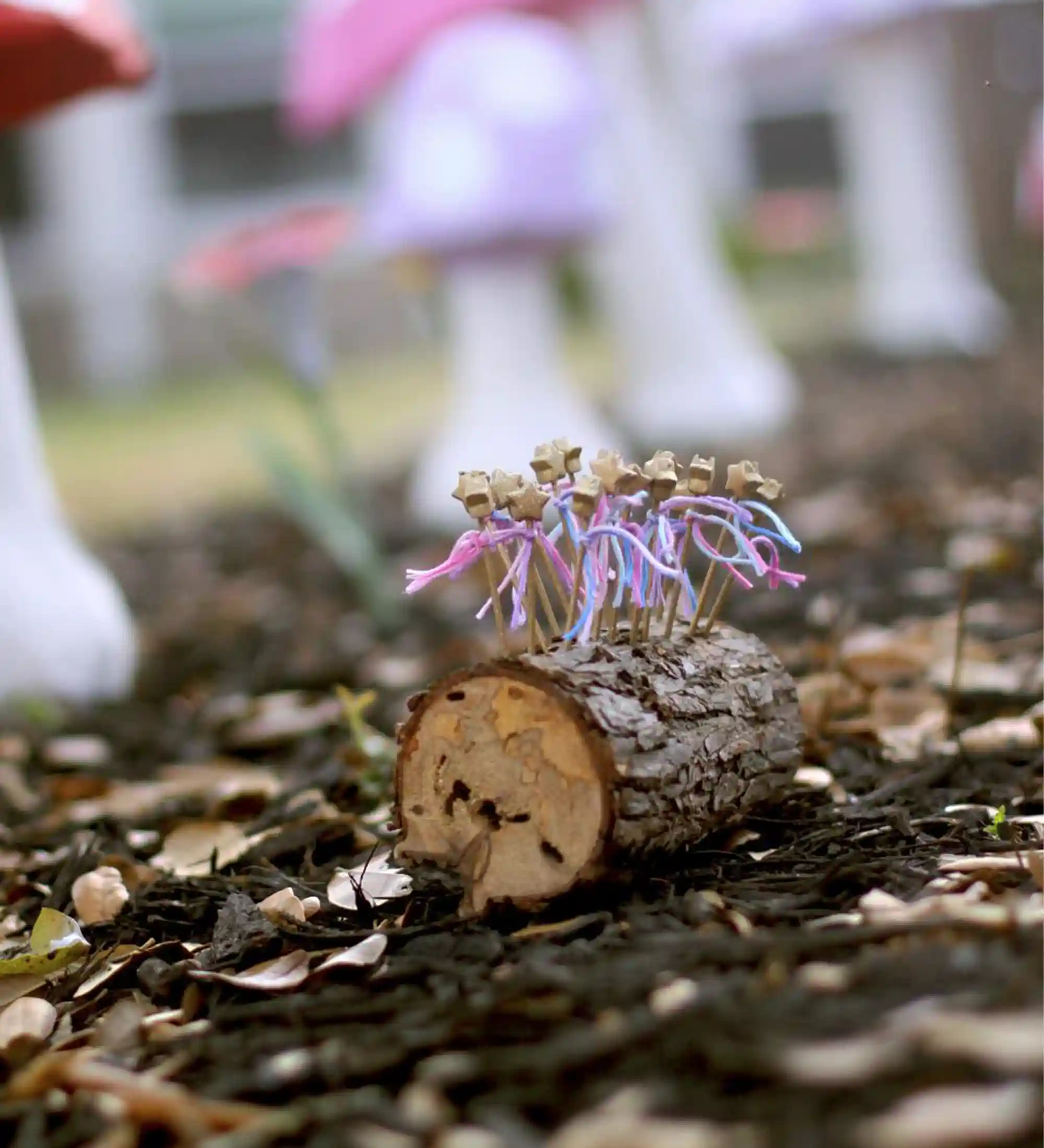 Or make it easier on you by printing out a fairy scavenger hunt and have the kids check off each one on their list once they've located it.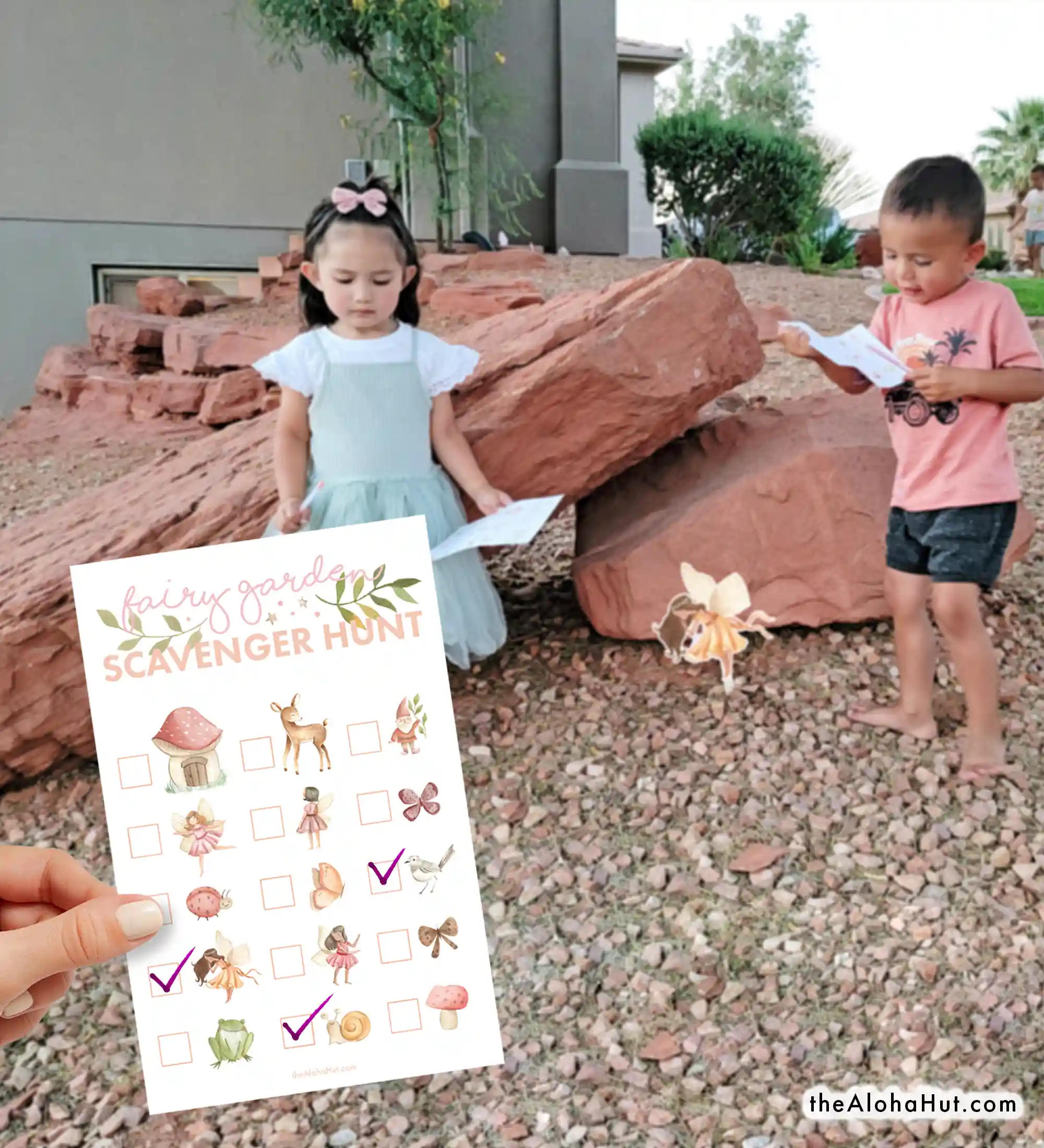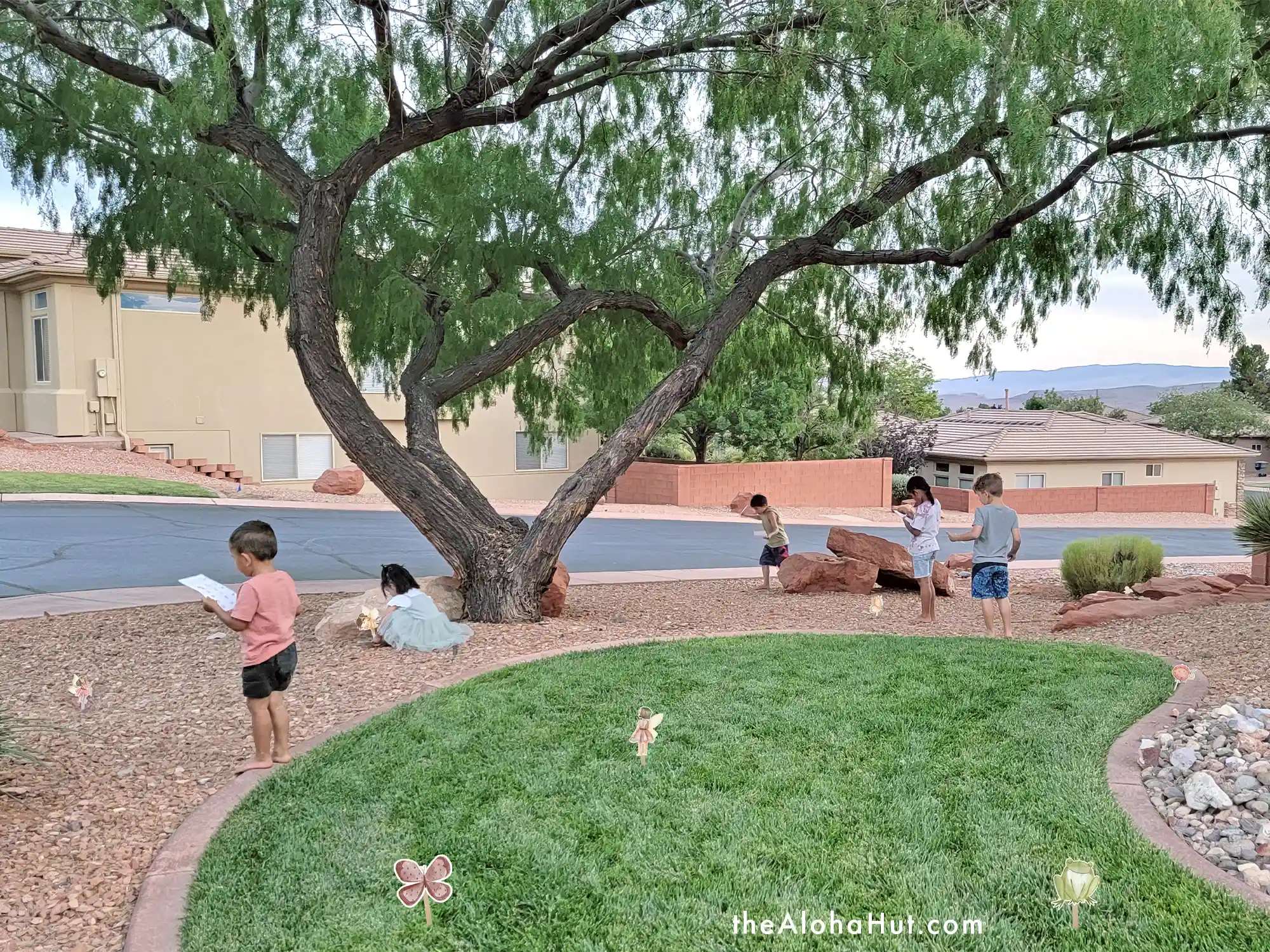 Scavenger hunts are perfect for any age because all you do is hide the items easier or harder, depending on the children's ages.
20 – FAIRY ACTIVITY PAGE / PLACEMAT
---
Use the same tactic restaurants use to keep little ones occupied and sitting quietly. Print off a coloring page and place it under each child's plate at the table to give them something to do while they're eating.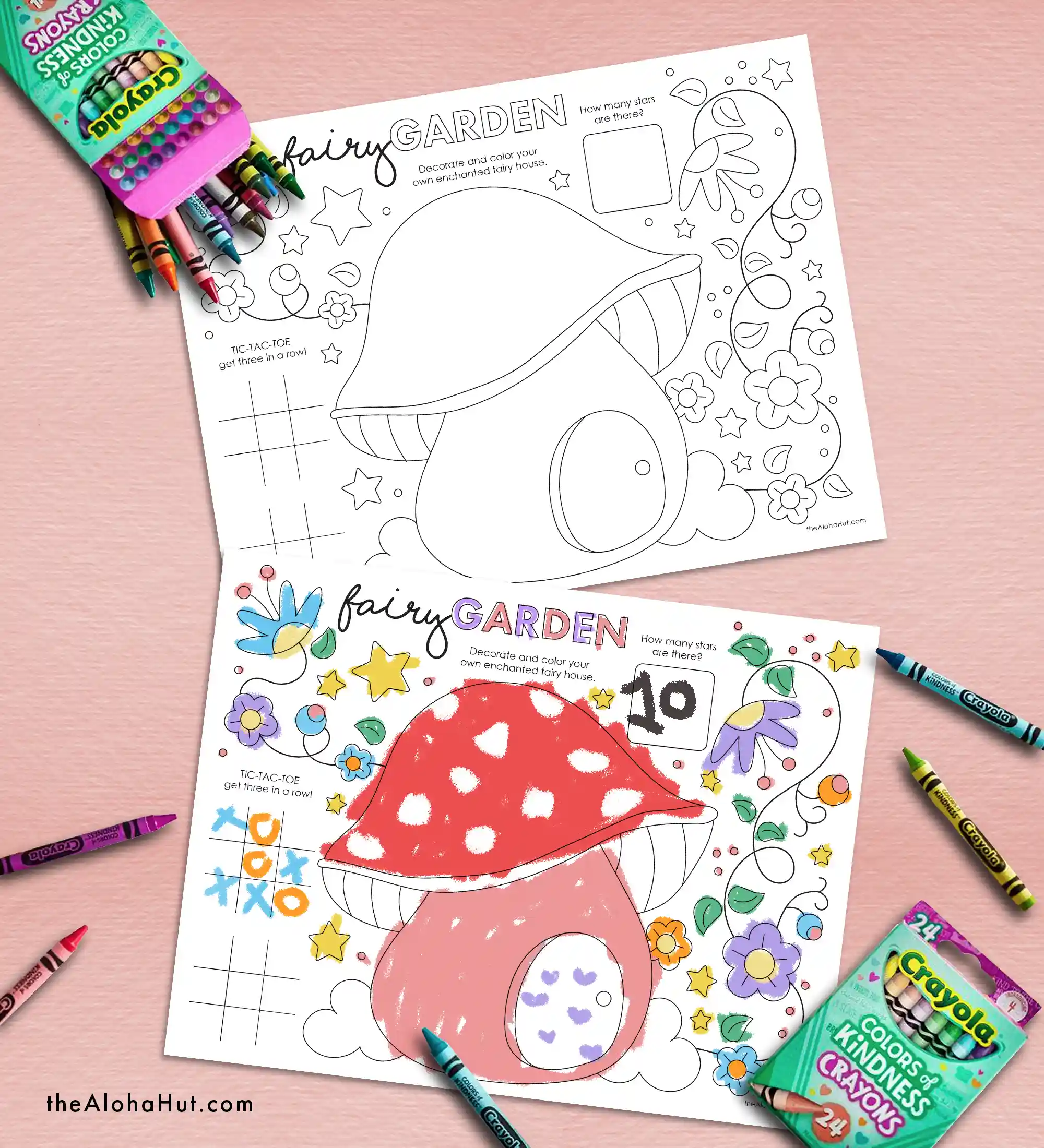 21 – FAIRY SNACKS
---
Serve up enchanting snacks that are perfect for little fairies. Some of our favorite fairy treats are:
Fairy Cake or Cupcakes: Just add a topper and you're done!
Fairy Bread: This fun treat comes from Australia & New Zealand. Add butter to bread, coat with sprinkles, and you've got a yummy little snack!
Fairy Wands: Chocolate dipped pretzels with sprinkles or edible sugar.
Garden Flowers: Use flower shaped Bento cutters to quickly turn any fruit or veggie into a flower.
Garden Bugs: Make some fun fruit & veggie bugs using peanut butter, almond butter or ranch dip as the glue.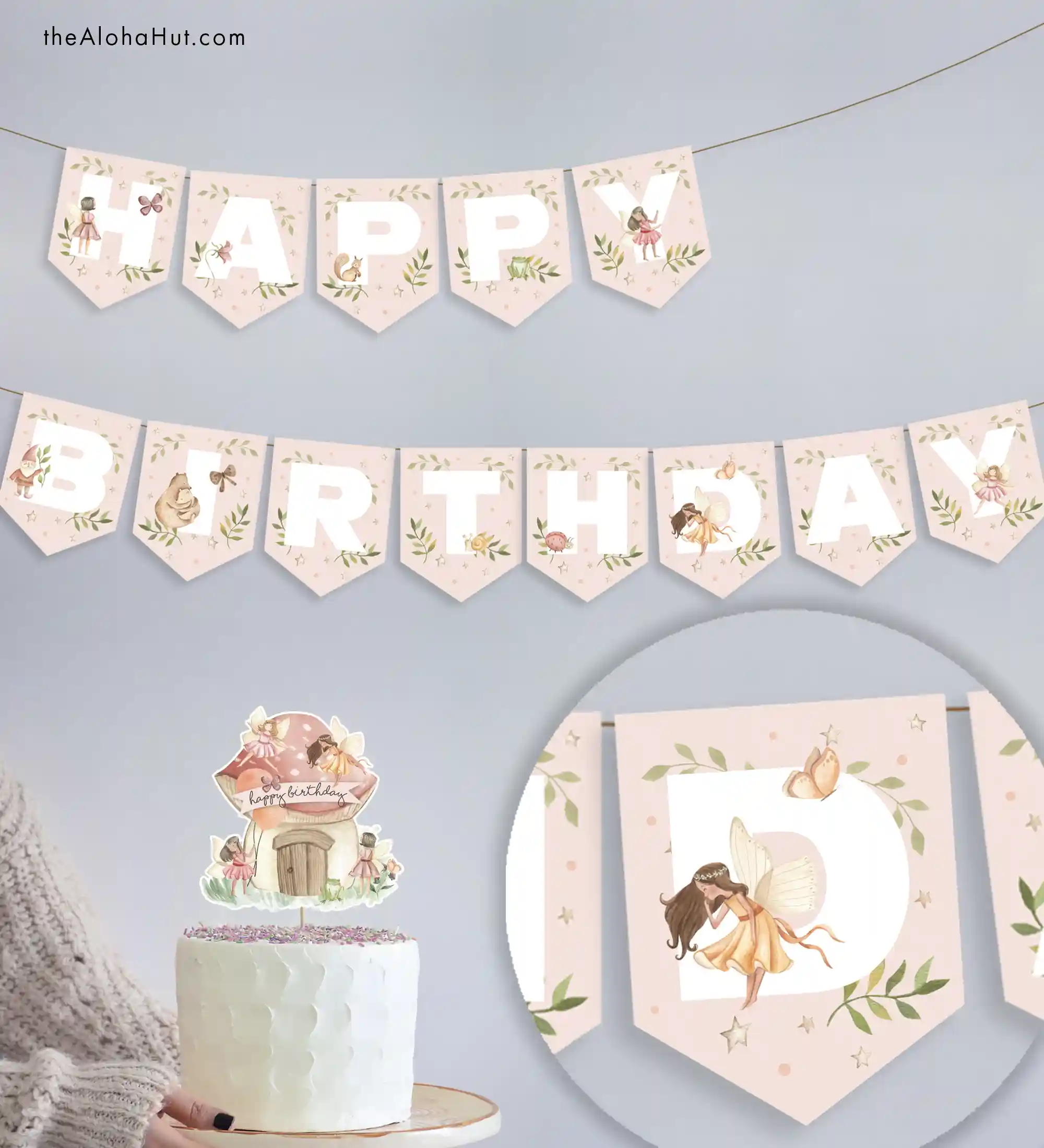 Don't forget to add fairy food labels so guests know what each magical dish is called!
If you want to keep it simple, any pink or purple treats with a sign that says "Magical Treats" will be just as enchanting.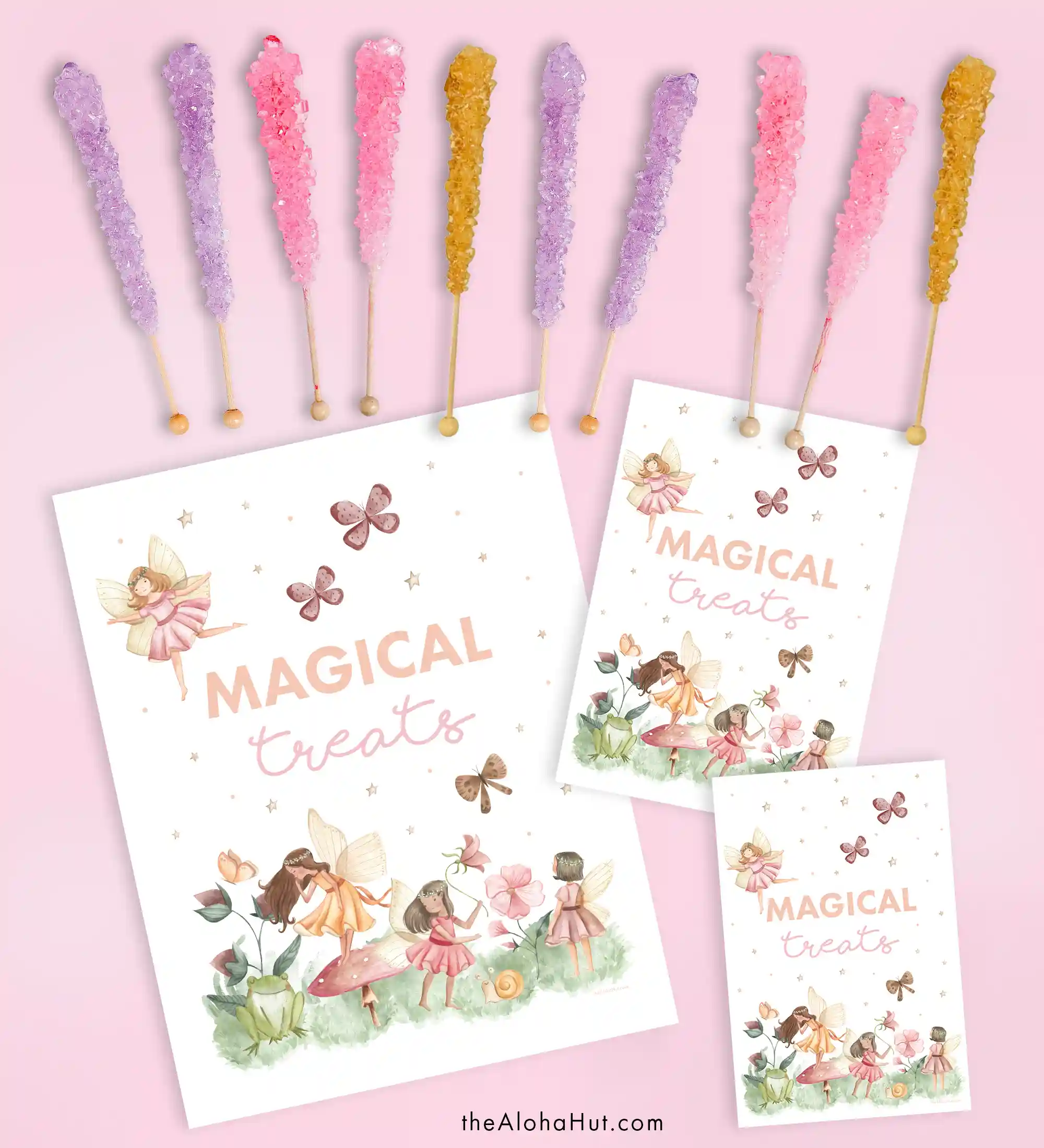 22 – FAIRY DRINKS
---
What do fairies drink? Flower nectar of course! You can serve pink lemonade, pink chocolate milk, fruit punch or any pink or purple colored drink. Add some flower ice cubes for an even more whimsical touch.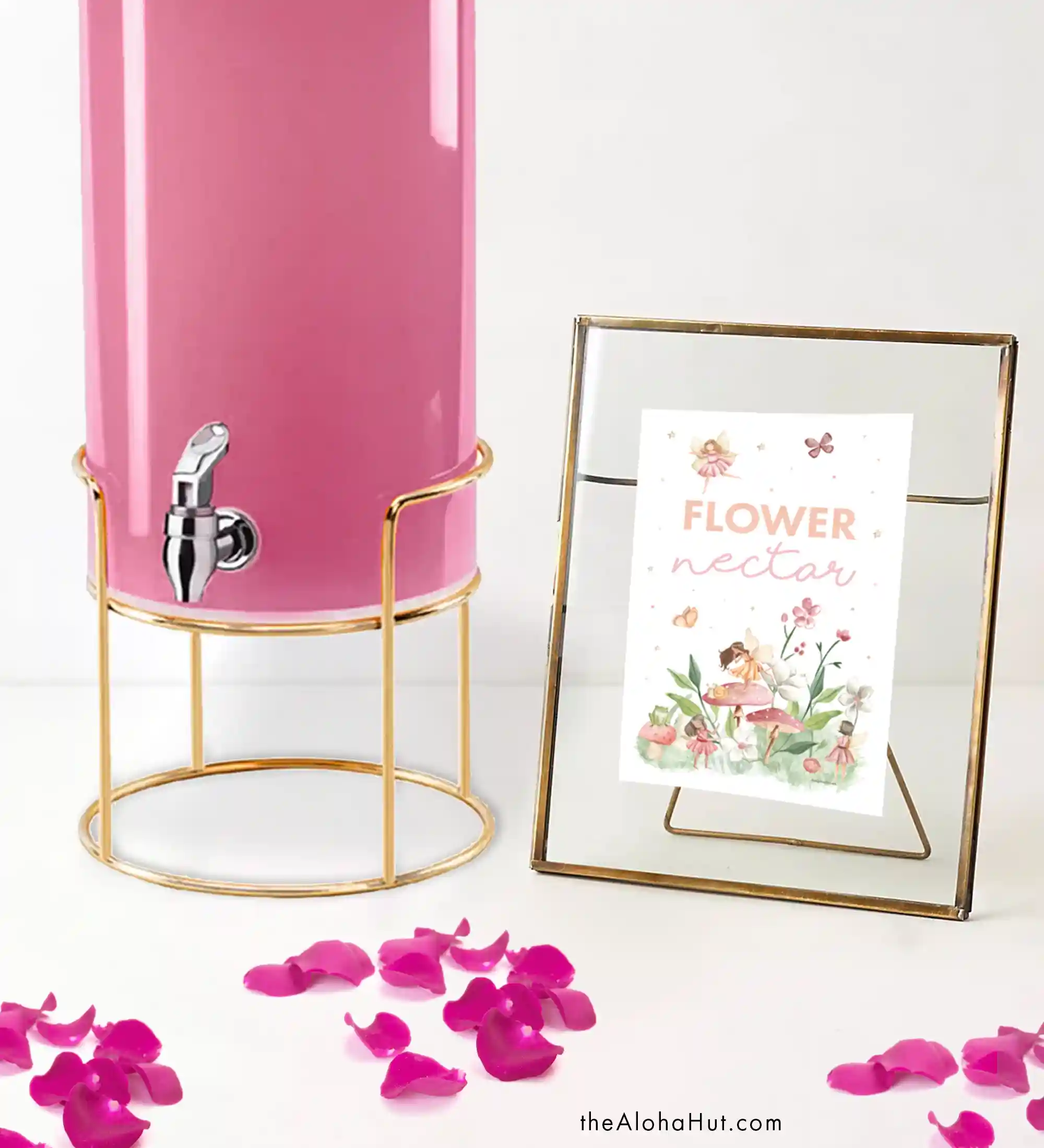 23 – FAIRY PINATA EXTRAVAGANZA
---
Fill a fairy-themed pinata with candies and goodies. Let the children take turns trying to unveil the hidden treasures within.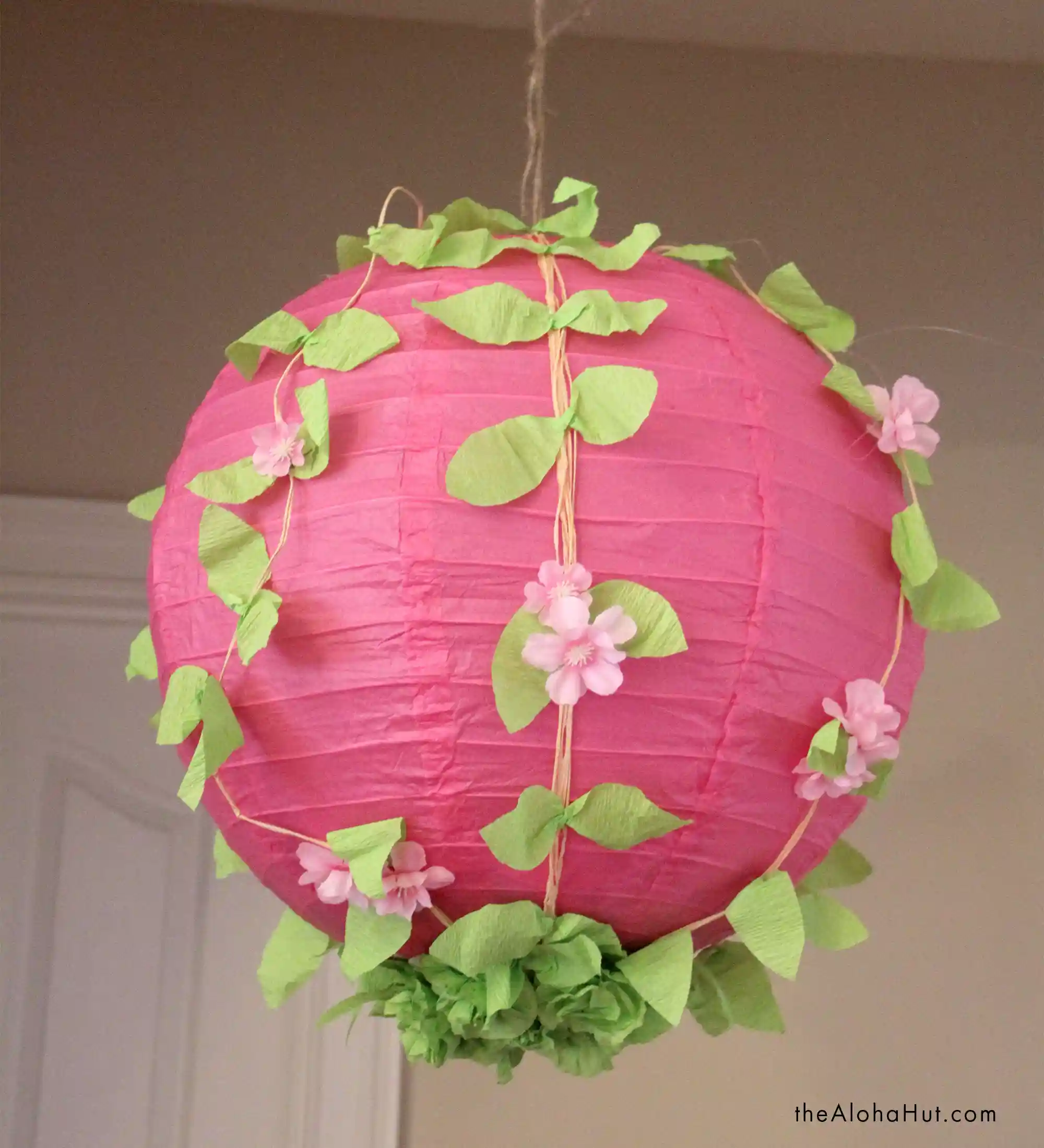 24 – ENCHANTED FOREST
---
Go all out and turn your backyard into an enchanted forest with some cardboard, scissors and paint. Add a post full of signs, little doors & windows on trees, and turn cut wood logs into toadstool chairs for little guests.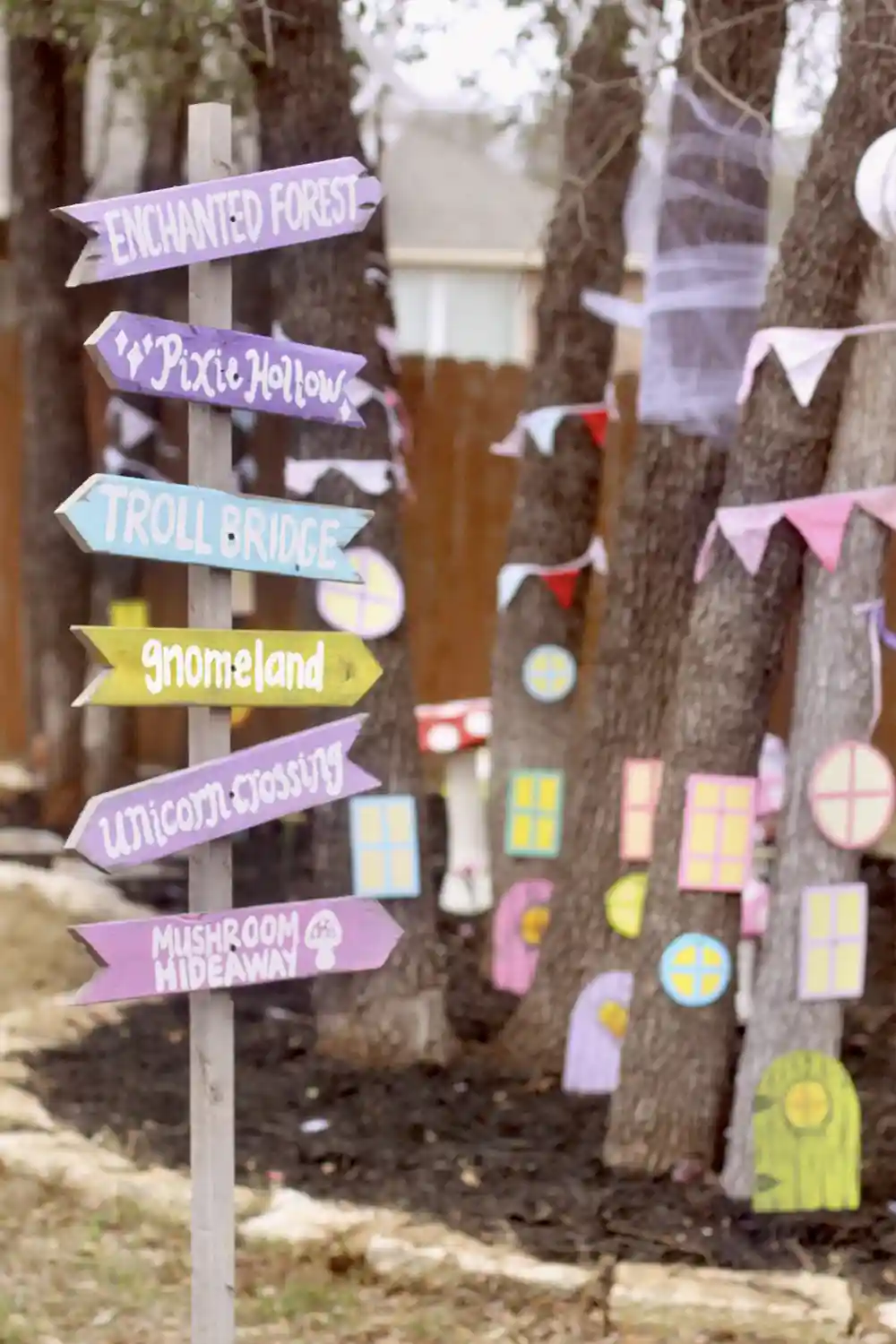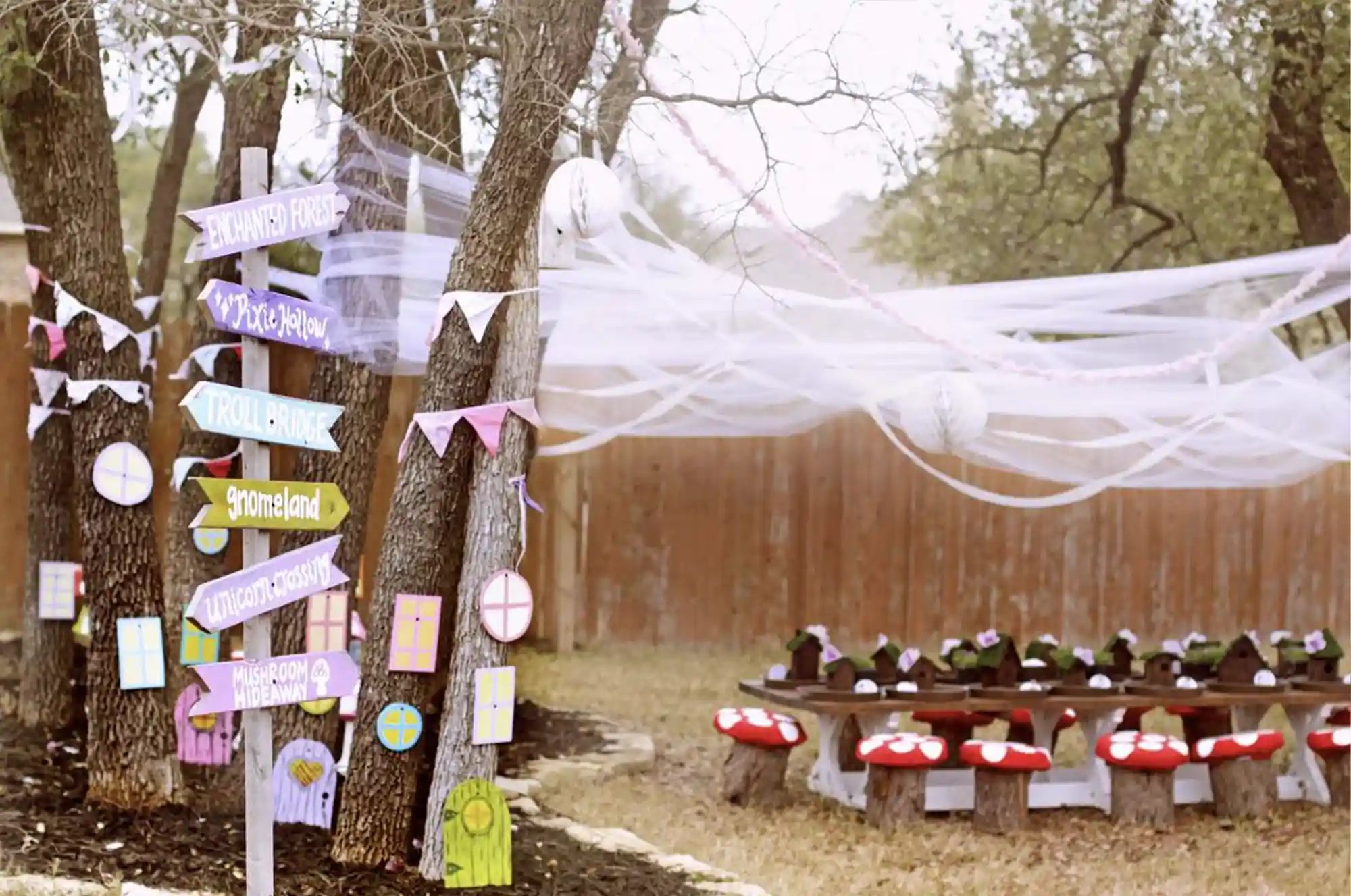 25 – FAIRY THEMED FAREWELL
---
Thank you FAIRY much! Bid adieu with fairy wands as party favors, ensuring the magic lingers even after the celebration ends.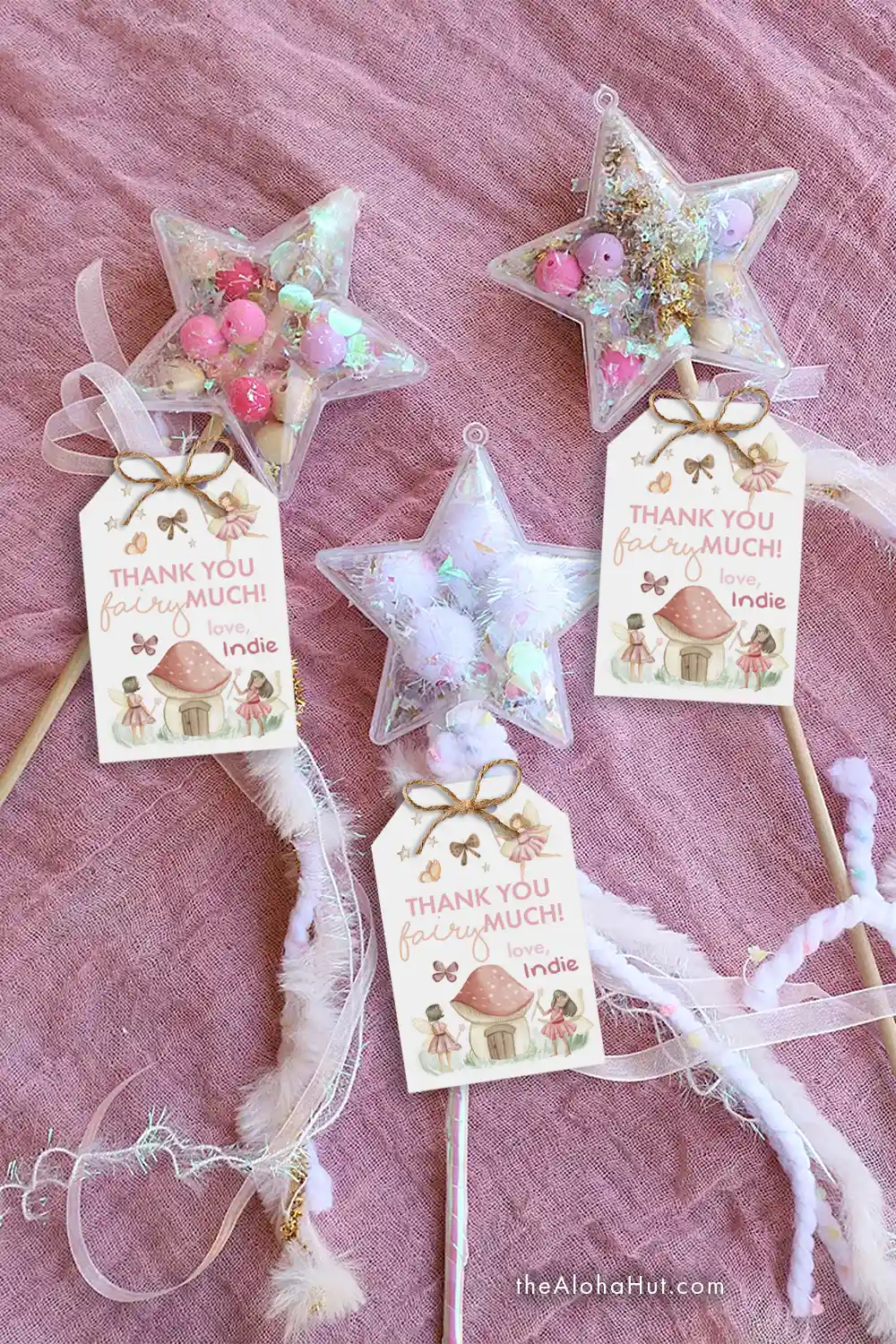 With these 25 enchanting fairy party ideas, you're ready to weave a tapestry of magical moments for your little ones and their friends. Embrace the whimsy, let creativity sparkle, and watch as your fairy-themed celebration becomes a cherished memory for all who enter the realm of enchantment. May your party be filled with joy, laughter, and a sprinkle of fairy dust!
Stacey + Niki