Harry Potter Party Decor and Labels for Honeydukes Store
Harry Potter Party Decor and Labels for Honeydukes Store
This post may contain affiliate links. Read our disclosure policy.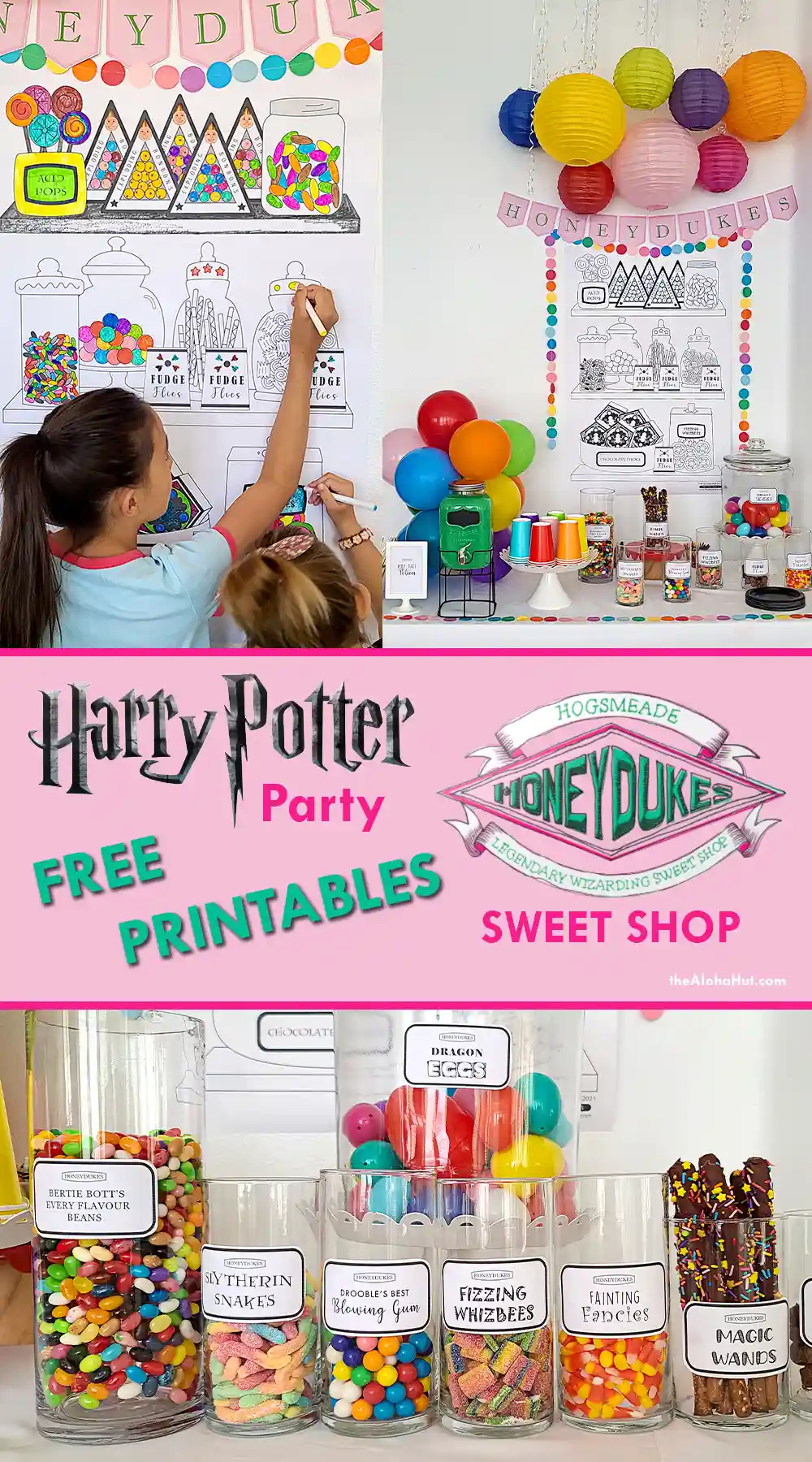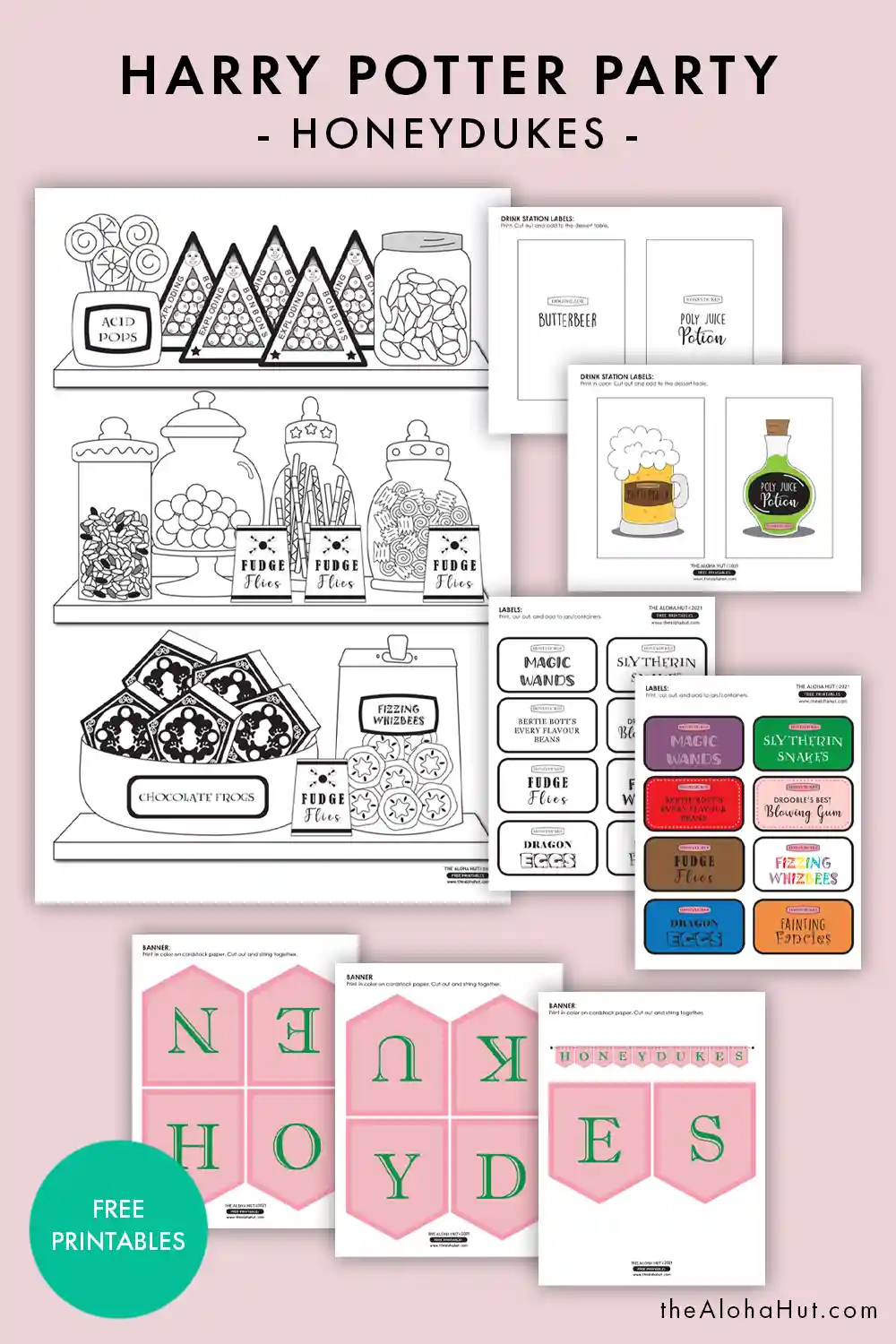 Ready for part 2 of our epic Harry Potter party? We've got lots of free printables for this one including a backdrop, sticker labels for the sweets, drink labels and a Honeydukes banner! Check out part 1 of this Harry Potter party where we visited Ollivander's Wand Shop and made some magical wands (click link below).
And because this party has so many bells and whistles, we've broken it up into four parts:
Part 4 – Games (Quidditch and a few more!)
Honeydukes – The Sweet Shop Backdrop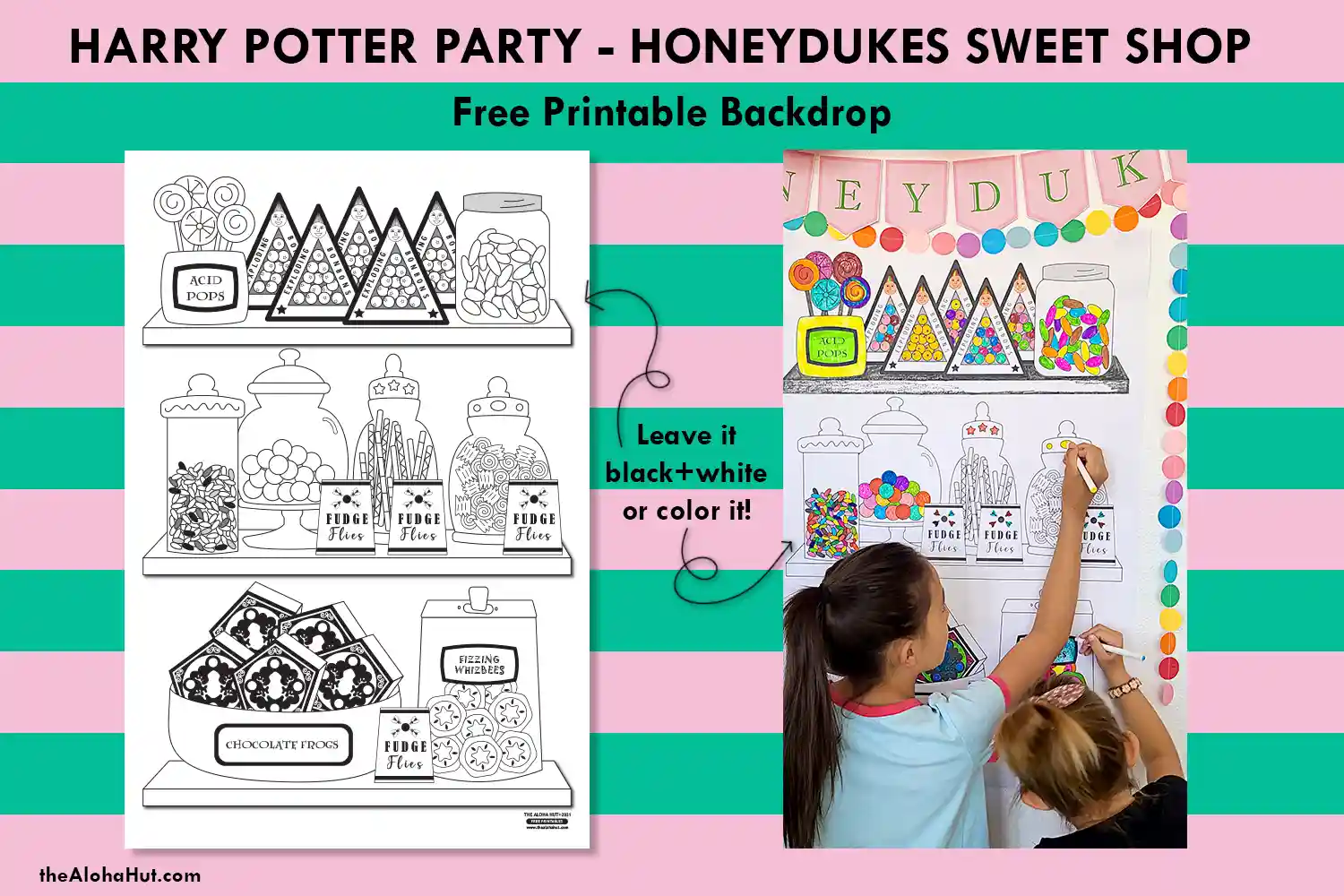 Print off our giant 24×36" Honeydukes Sweet Shop backdrop (free download at the bottom of the post) and leave it as black and white or pull out the markers and color away. This print adds a huge punch of whimsy to your party decor. They can be printed at your local print shop and will be called either an engineer print or a blueprint. Don't get overwhelmed with the size, they're very simple to get printed. Here are the steps: download the print to your phone or computer; then either upload your files to your chosen print shops website or email the file to them and that's it. For reference, we get ours printed for $3. To up the wow factor, you can also add balloons or a garland for extra color. We LOVE making paper garlands for all our parties, holidays and celebrations. Check out the tutorial here.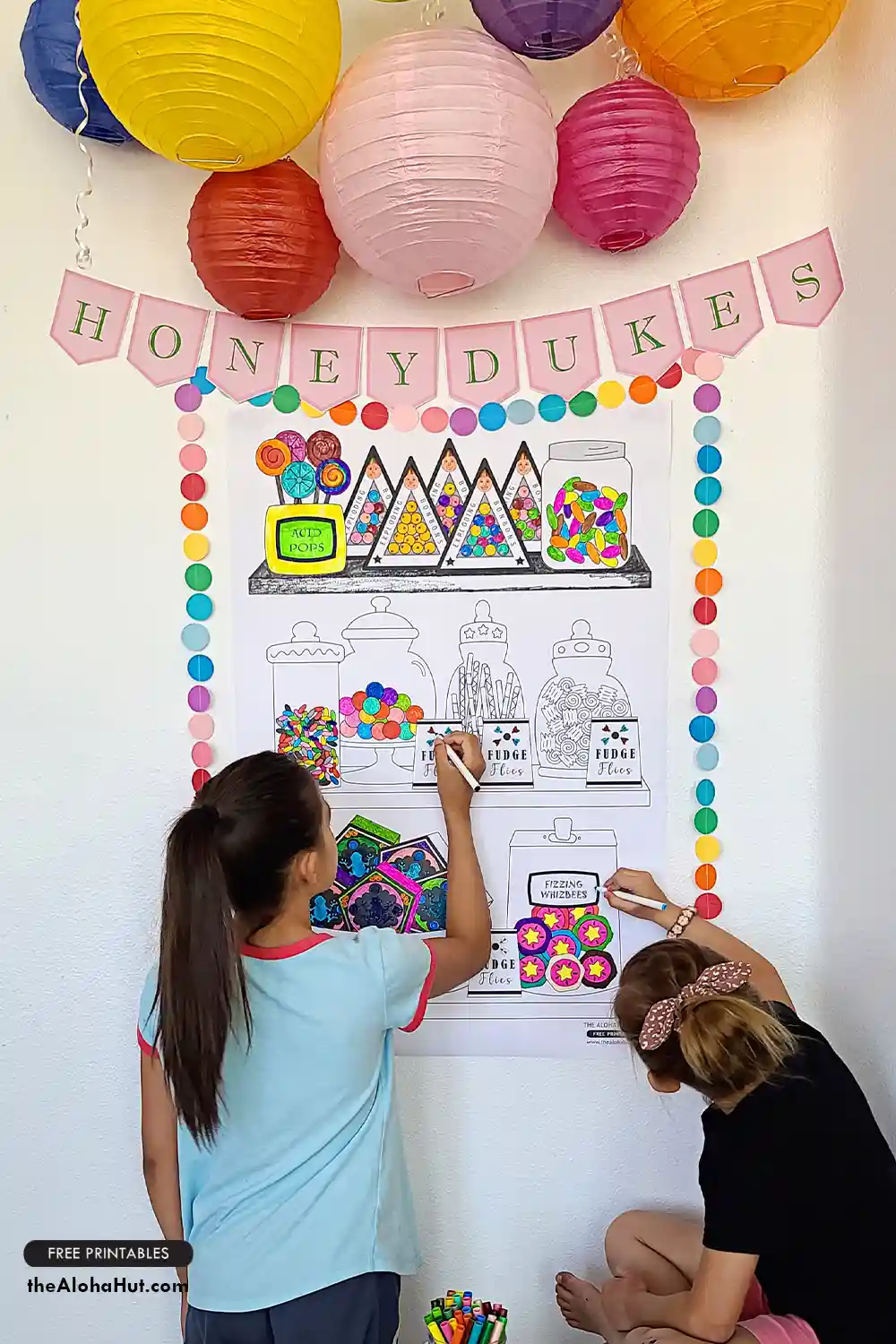 Honeydukes – Sweets Sticker Labels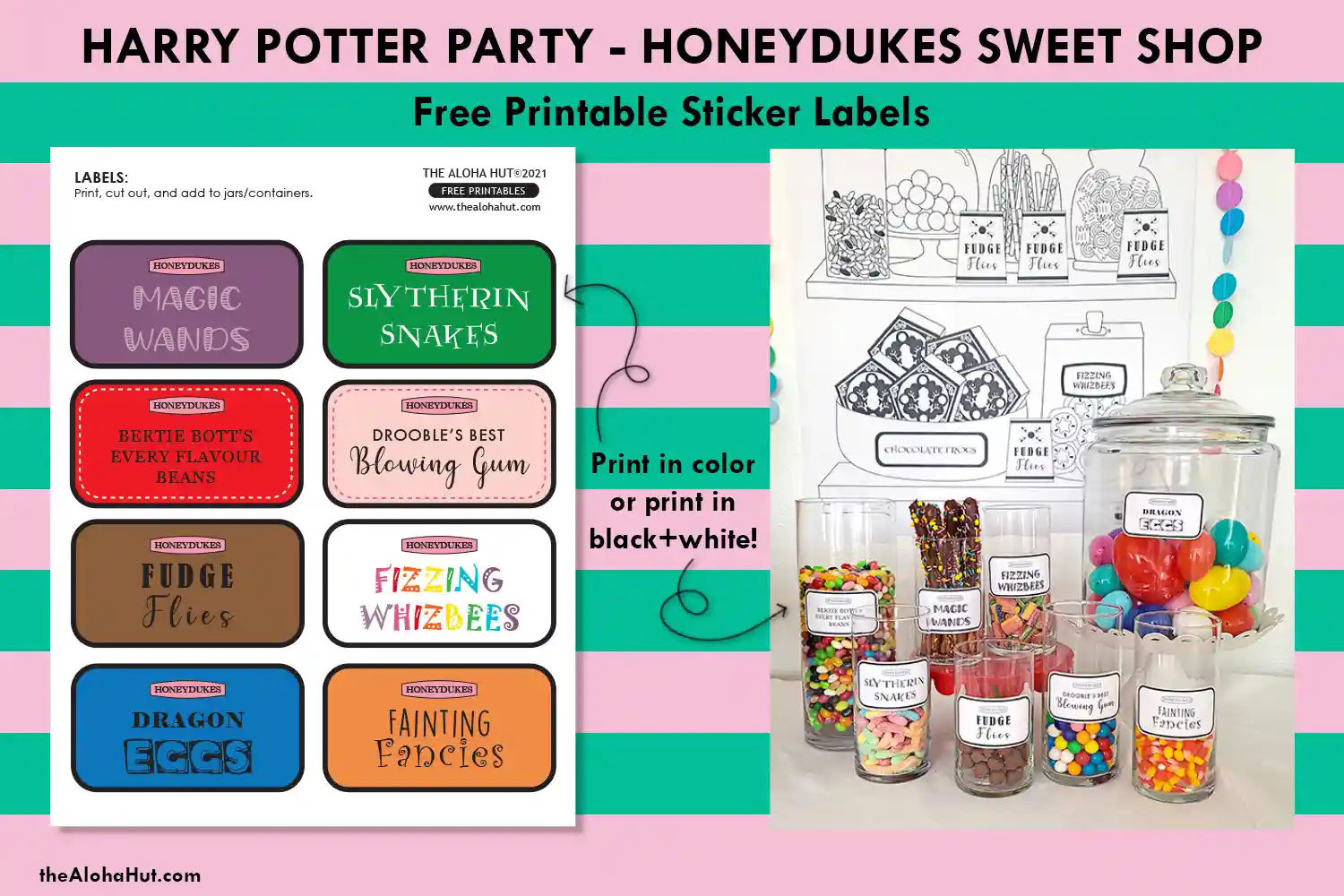 This is where you can get real creative. You can try to match the sweets that are in the movie or just use some fun colorful candy. In our dragon eggs we put Whoppers Robin Eggs and for the fudge flies we used chocolate covered peanuts but really you could do anything. We're gonna let you in on a little secret…if you look closely at the picture that's taken from above, you'll notice that the jars have something inside them other than the candy. Yup, we put in little condiment cups and some saran wrap down the middle to give the illusion that they're more full than they are. They actually were more full than the pictures showed but the kids kept sneaking up and stealing the candy when we weren't looking. 🙂 Sneaky kids.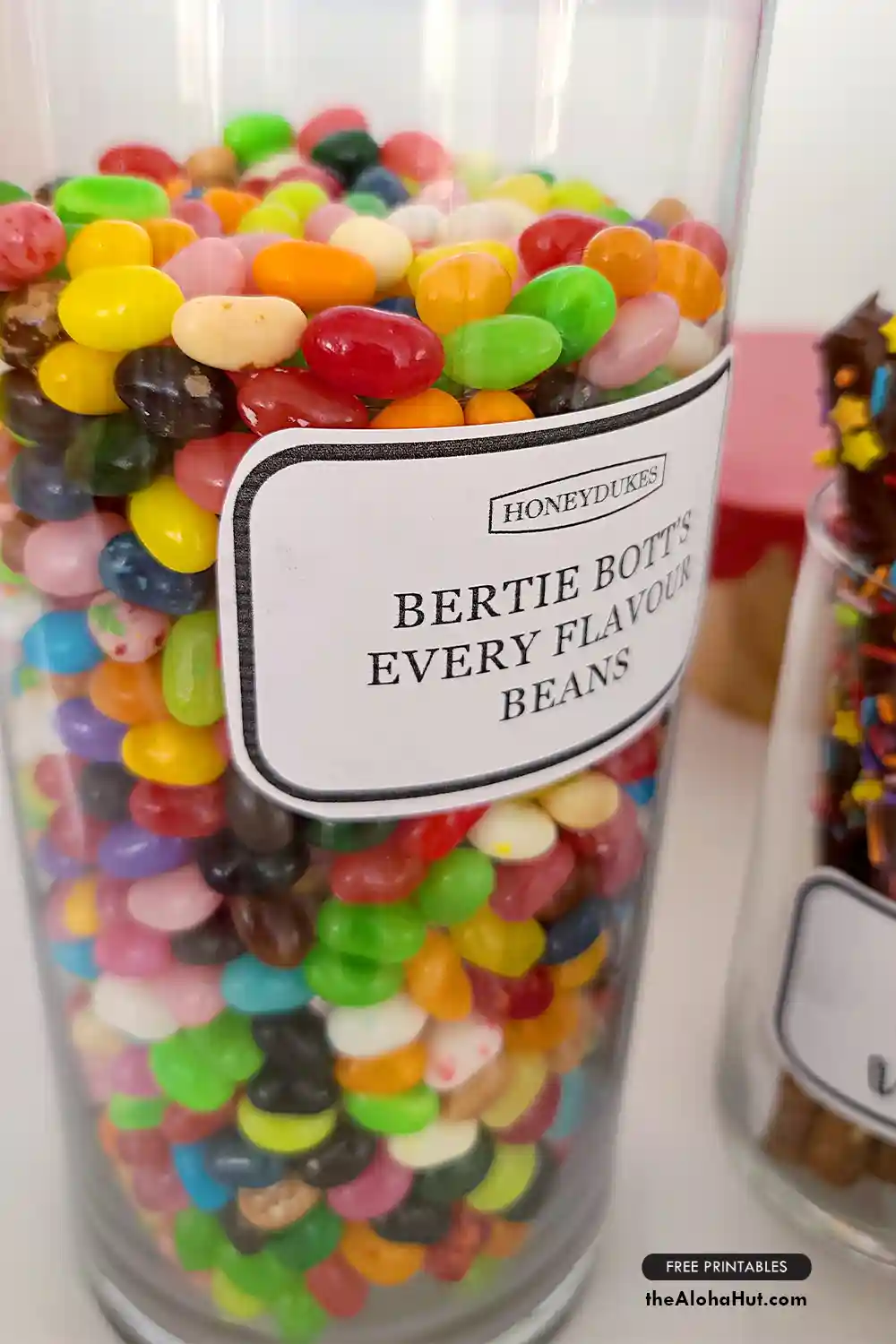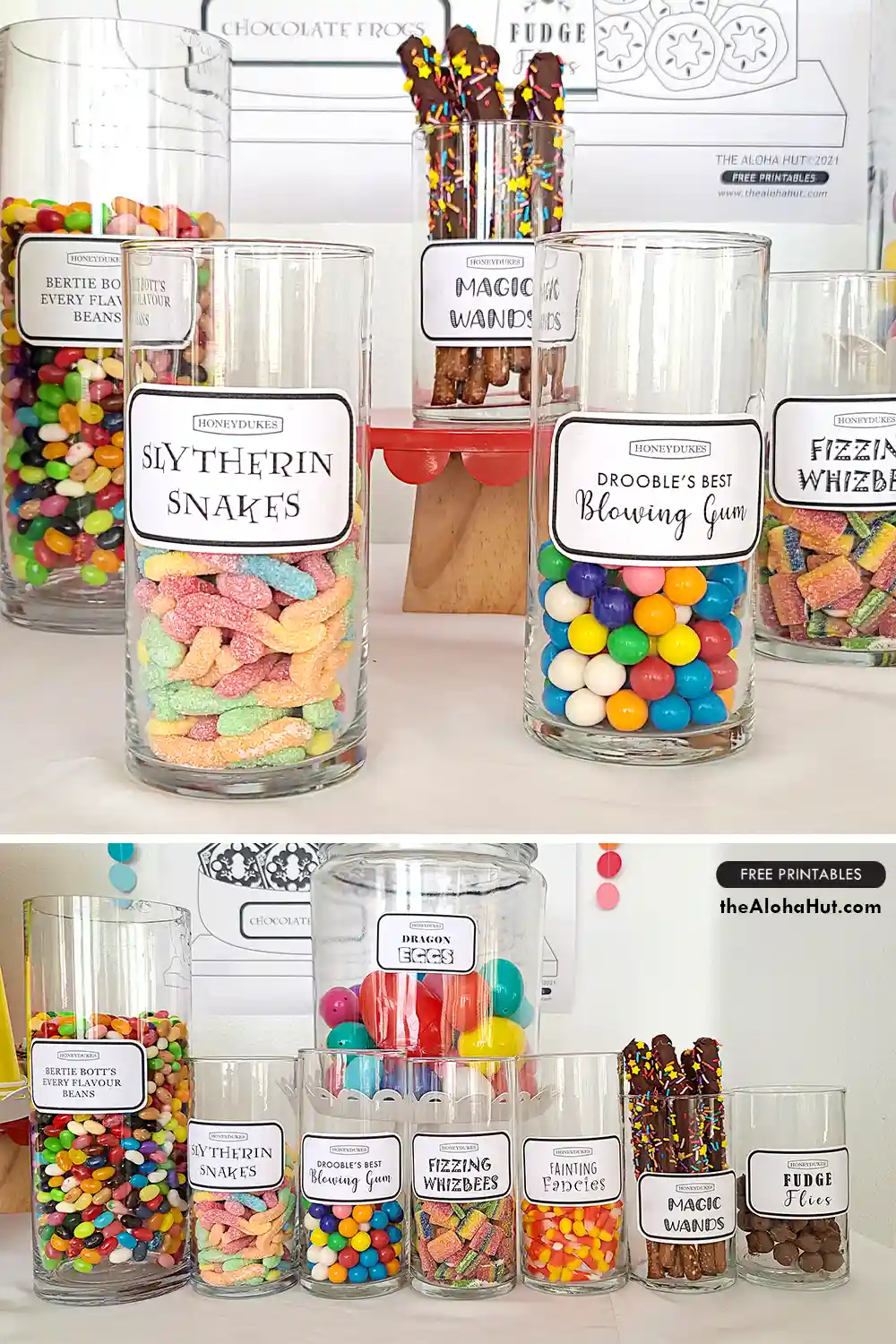 The magic wands were just giant pretzel sticks dipped in chocolate and sprinkled with a bunch of different sprinkles. So easy, so pretty and so yummy.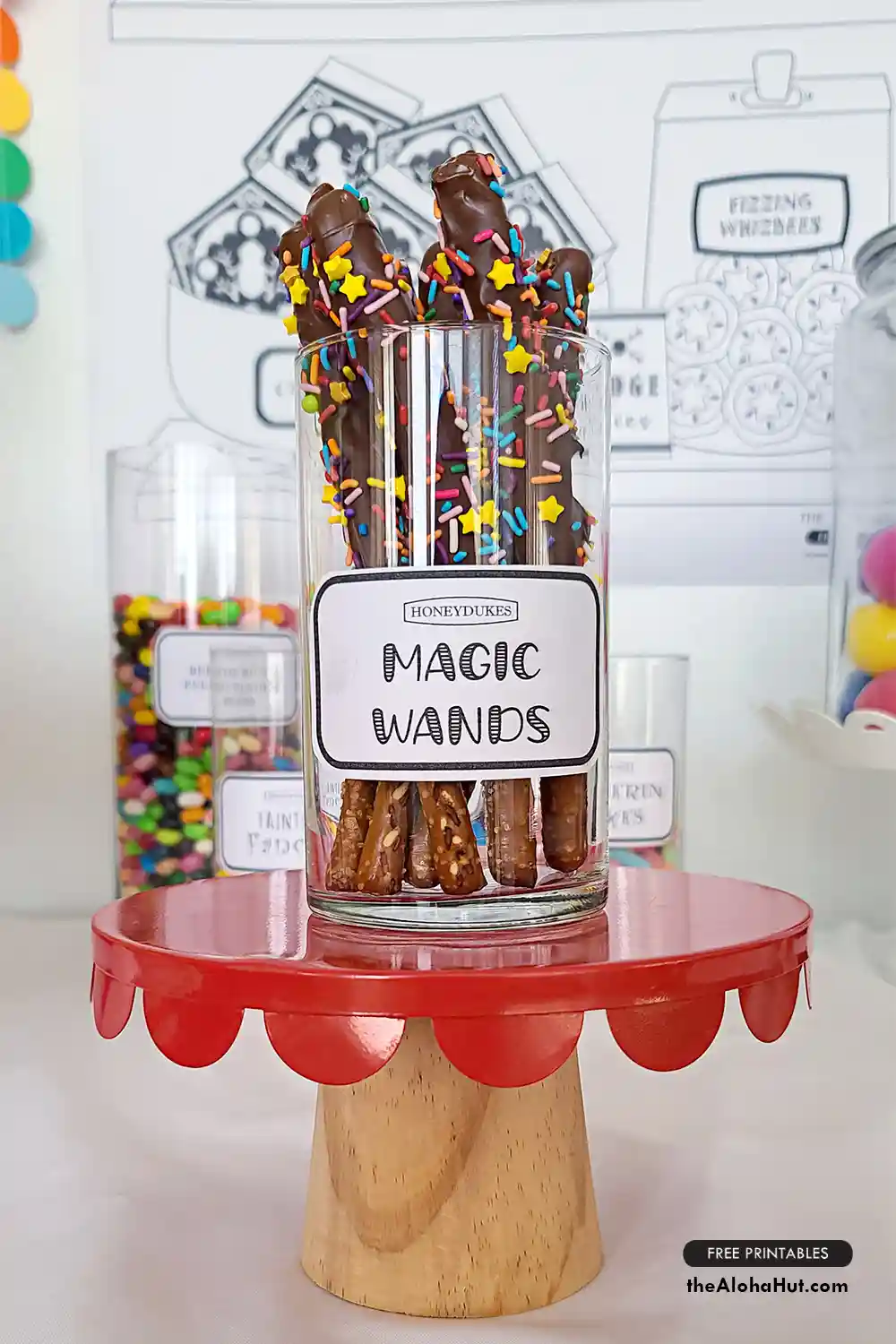 Honeydukes – Drink Labels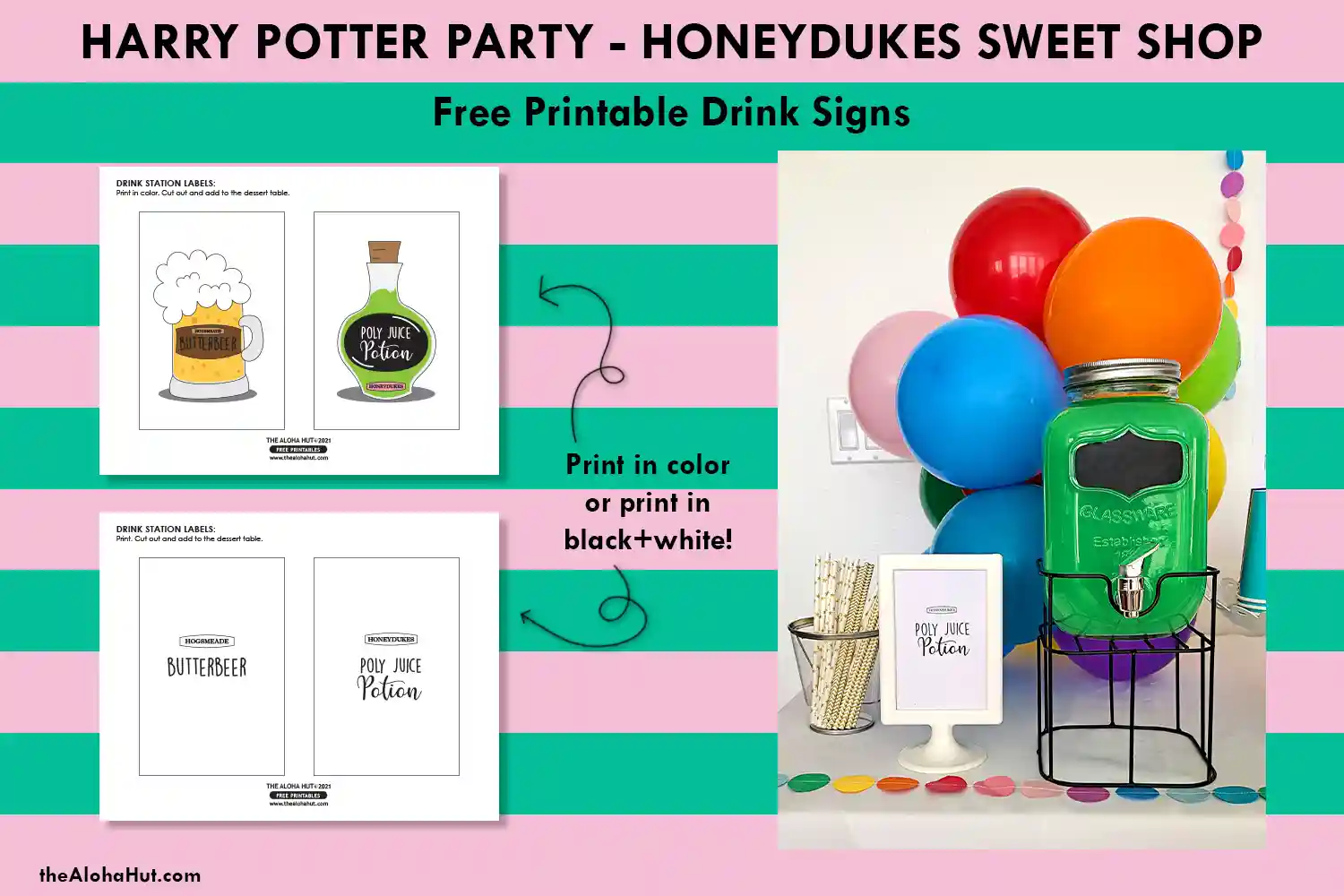 We drew up two different options for drinks: Butterbeer + Poly Juice Potion. There are lots of recipes online for the Butterbeer but we wanted to do something quick so we just made some lemonade and added green food dye. You could do any flavored drink that doesn't have a strong color and just add green dye for the color. It doesn't look like the movie (the potion is more of a sludge) but the kids still loved the aesthetics of it all!
We use these Ikea frames for the labels but they're no longer making them so if they're not available on Amazon here is a similar option.
Honeydukes – Banner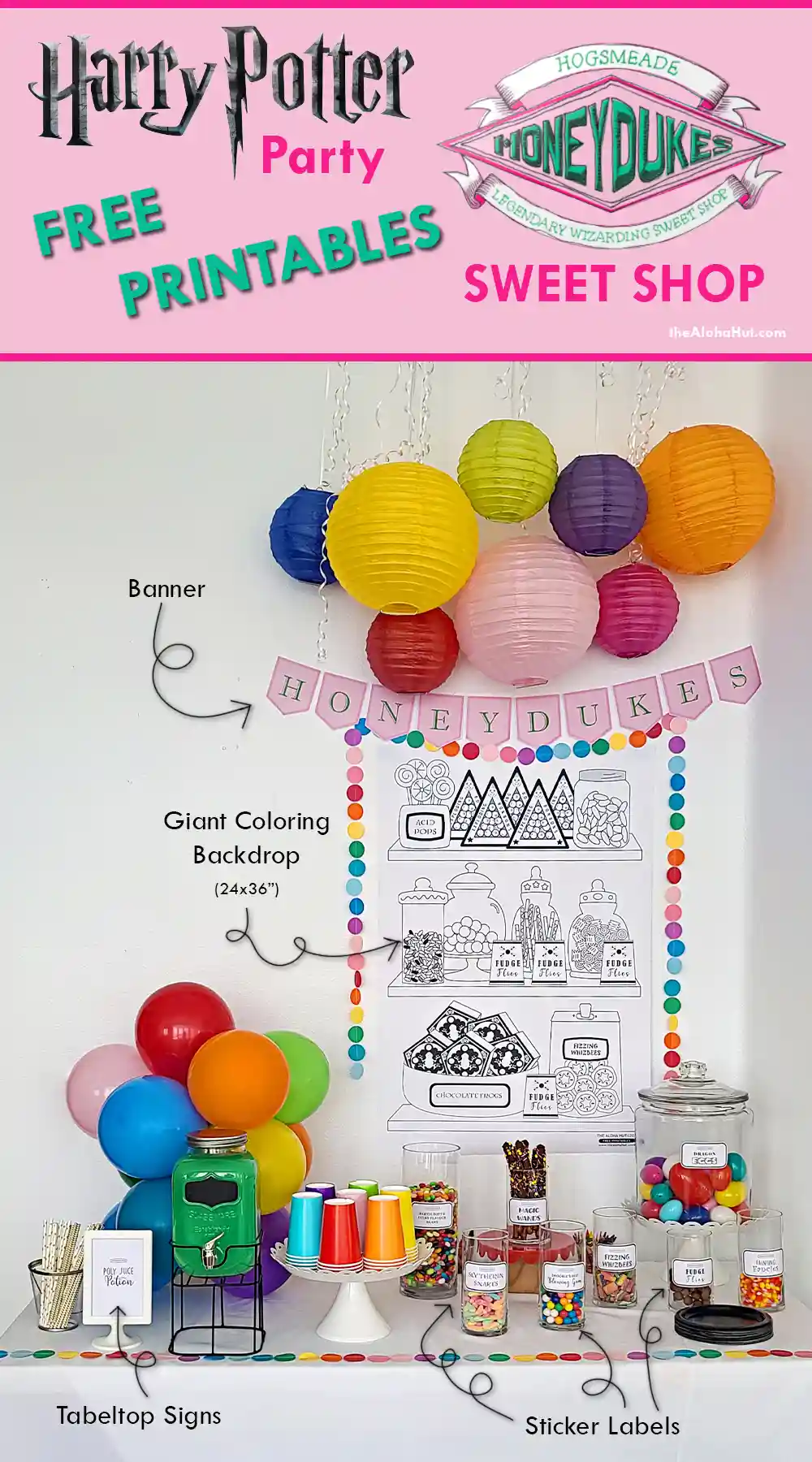 To tie everything together, print off our free Honeydukes banner. We also added some paper lanterns hanging from the ceiling as well as a small balloon bunch on the table. Mixing the the textures and heights on a food table is more pleasing to the eye and will be the difference between an ok setup to a WOWZIE WOWZA setup. 🙂
Honeydukes – Bertie Botts Every Flavor Bean Challenge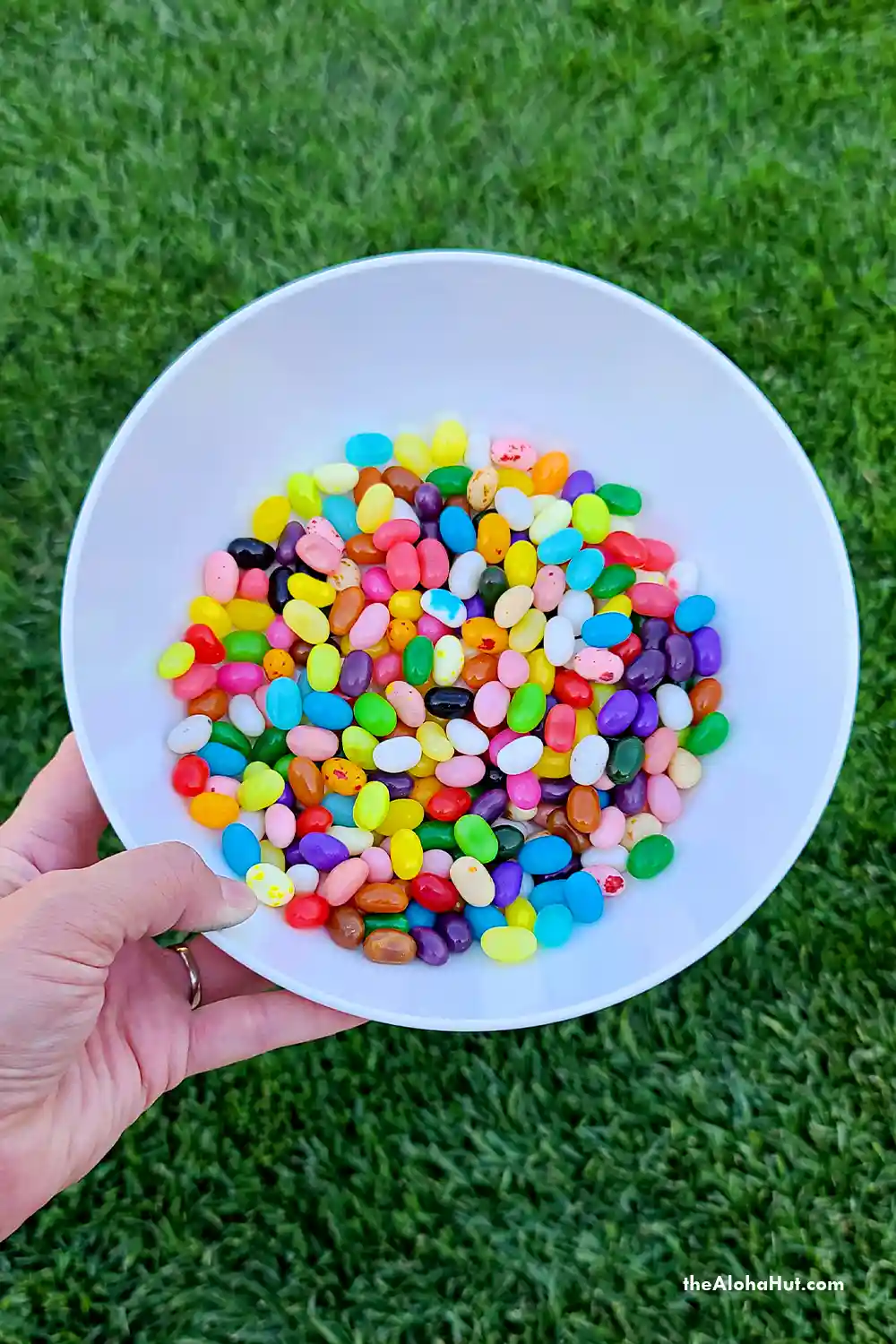 And last but not least, you can't visit Honeydukes without including a Bertie Botts bean challenge! With flavors like earthworm, earwax, vomit, soap and more, you're sure to get a good laugh out of watching everyone's face as they figure out which flavor they got.
And that's a wrap. Harry Potter Party – Honeydukes Sweet Shop is ready for you to use at your own party (birthday, Halloween or just for fun)! Follow us on instagram @thealohahut or sign up with our mailing list to be notified whenever we put out new printables and activities. And don't forget, our printables are always free!
Until next time muggles,
Stacey + Niki
---