28 Awesome Carnival Party Ideas
28 Awesome Carnival Party Ideas
This post may contain affiliate links. Read our disclosure policy.
Step right up and unleash the magic of carnival fun with the best carnival party ideas! If you're planning a carnival-themed party, we've rounded up our 28 top carnival party ideas to help you get inspiration for your own carnival bash.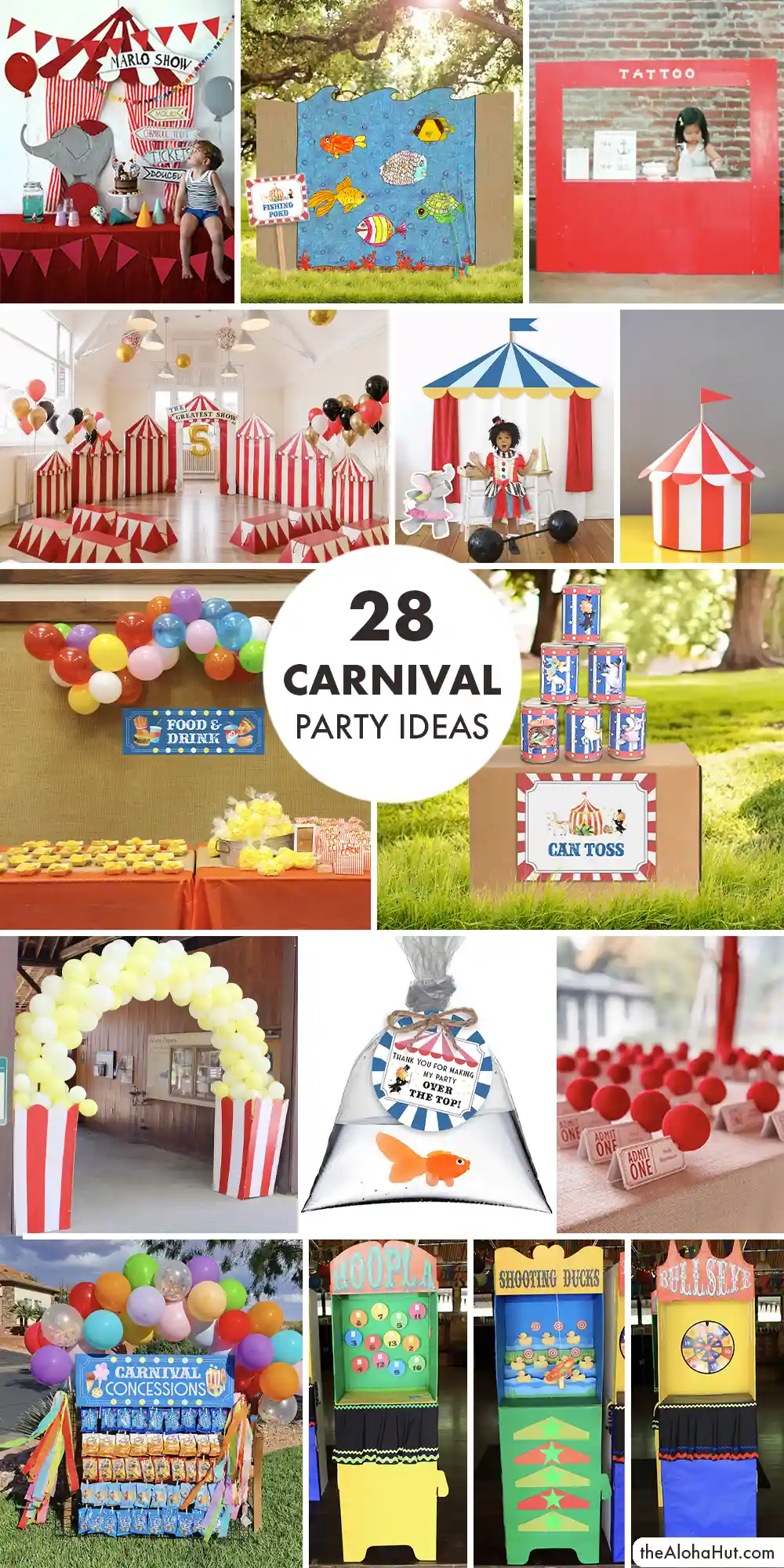 Get ready for some awesome ideas from decor to food to games that are all carnival and circus themed. You'll be able to easily recreate most of these ideas quickly and with minimal effort…especially if you opt to use our printable decor and games! Keep reading for all the details, including links, to our best carnival party ideas:
INVITATIONS: SET THE TONE FROM THE START
1 – DIY your own invitations that resemble vintage circus tickets, complete with bold colors and playful fonts.
2 – Purchase an editable carnival party invitation on Etsy to save time.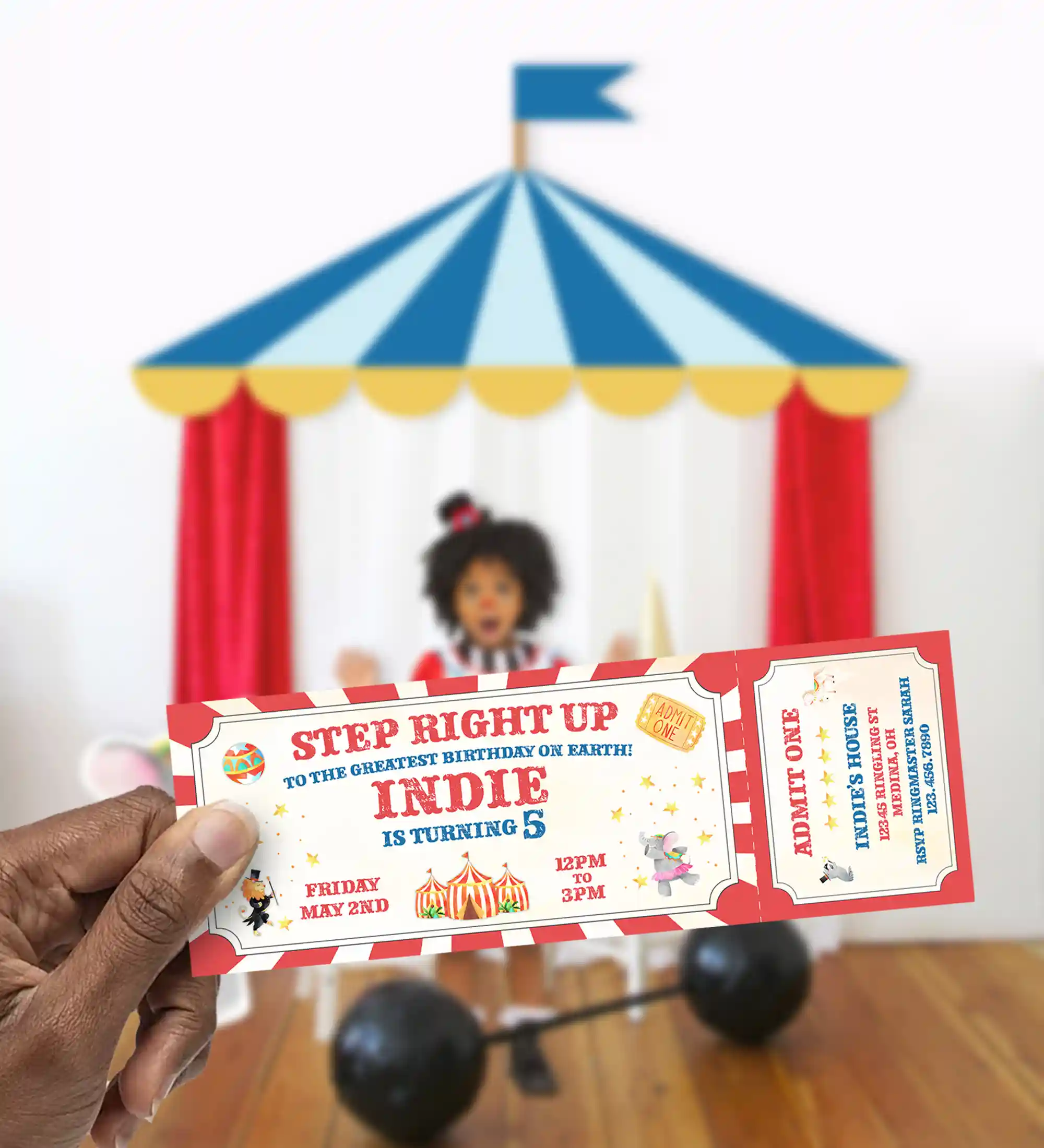 COME ONE, COME ALL: ENCOURAGE GUESTS TO DRESS UP
3 – Encourage guests to come dressed as their favorite carnival characters from ringmasters to acrobats to clowns. Our favorite dress ups are these homemade vintage clown costumes from The House That Lars Built. We also loved the creativity of this clown and bear piggyback costume from Make It & Love It and Stellaweens acrobat and clown costumes.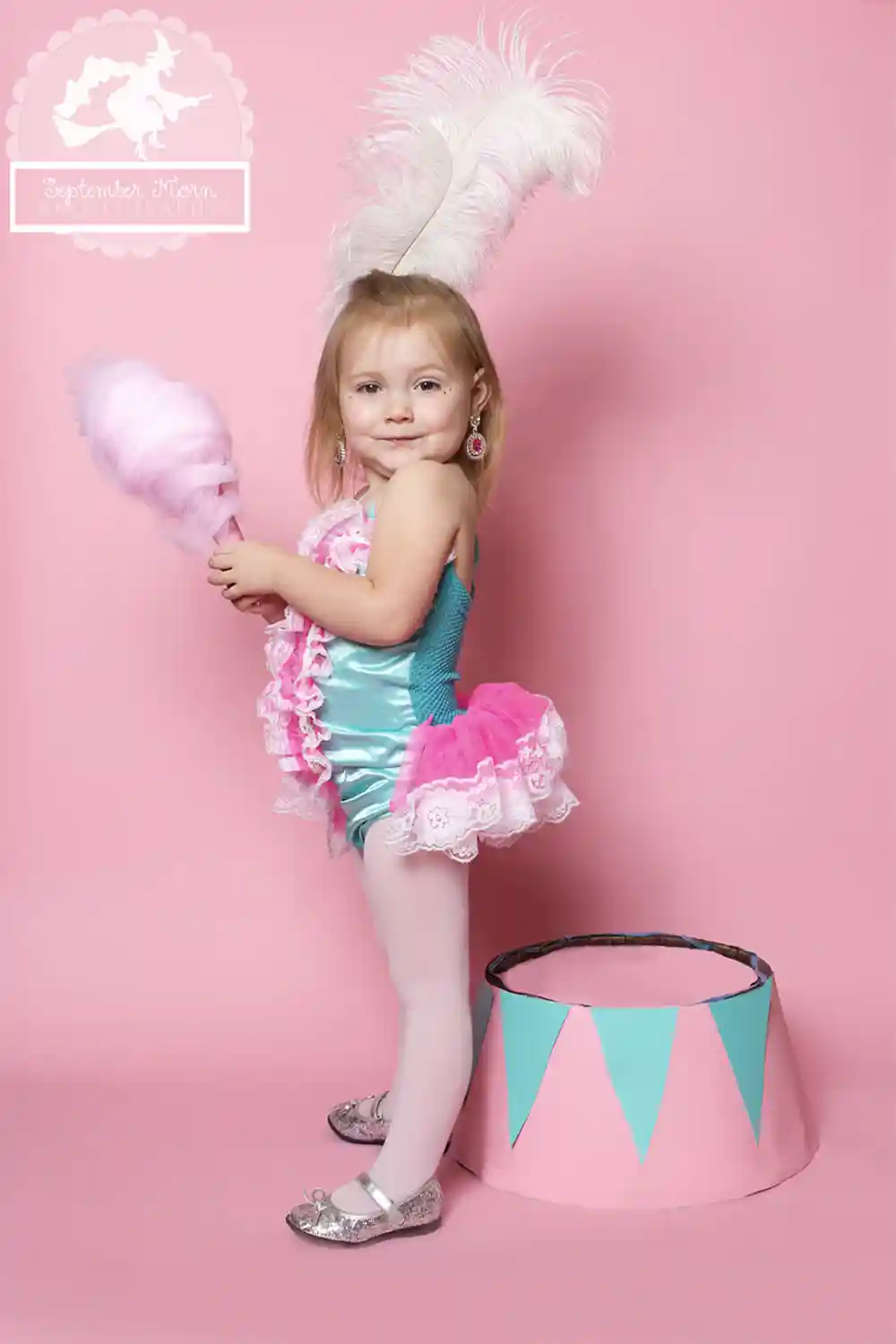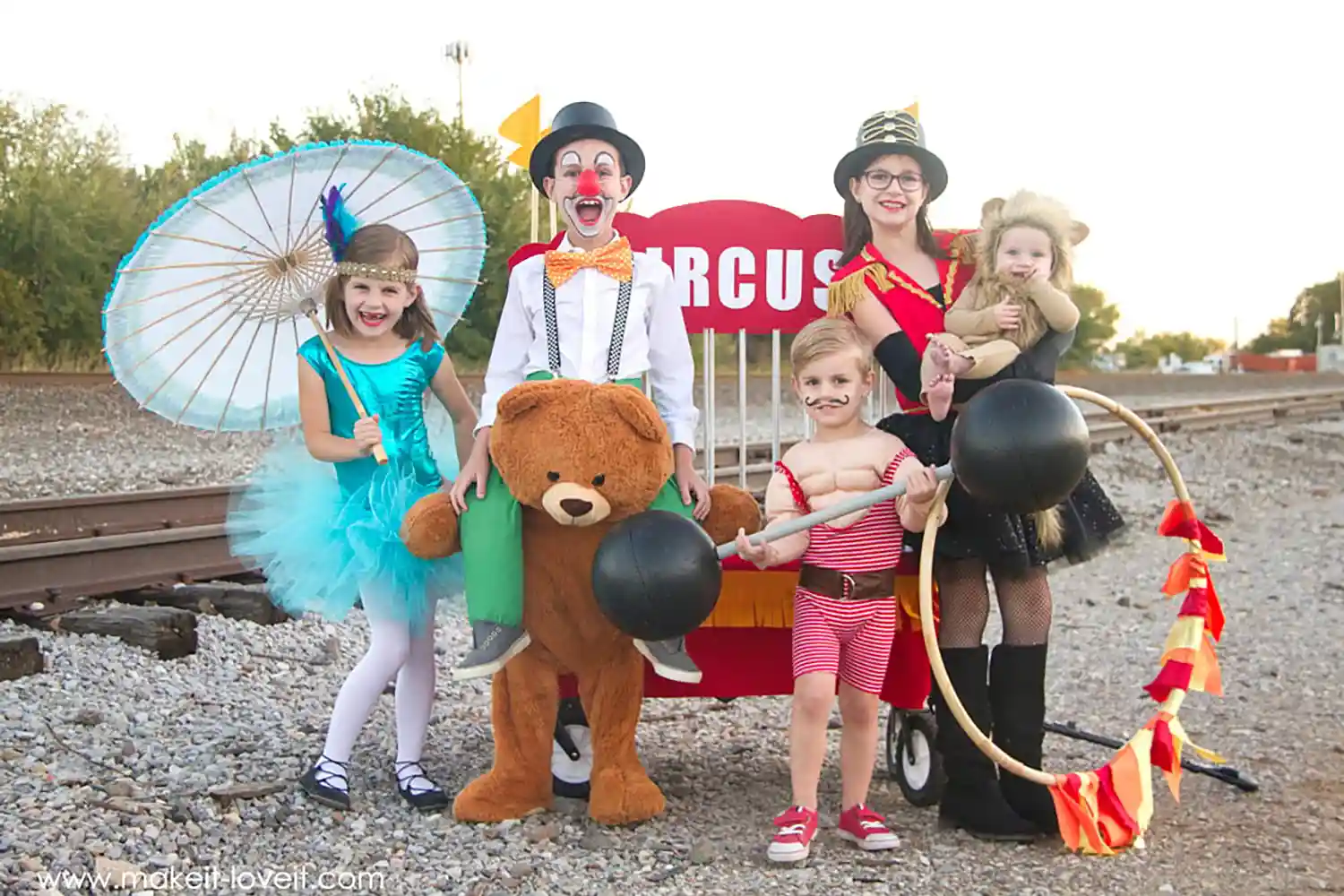 4 – Have name cards made up on "admit one" tickets for each guest and include a red clown nose. This will for sure make a great group picture!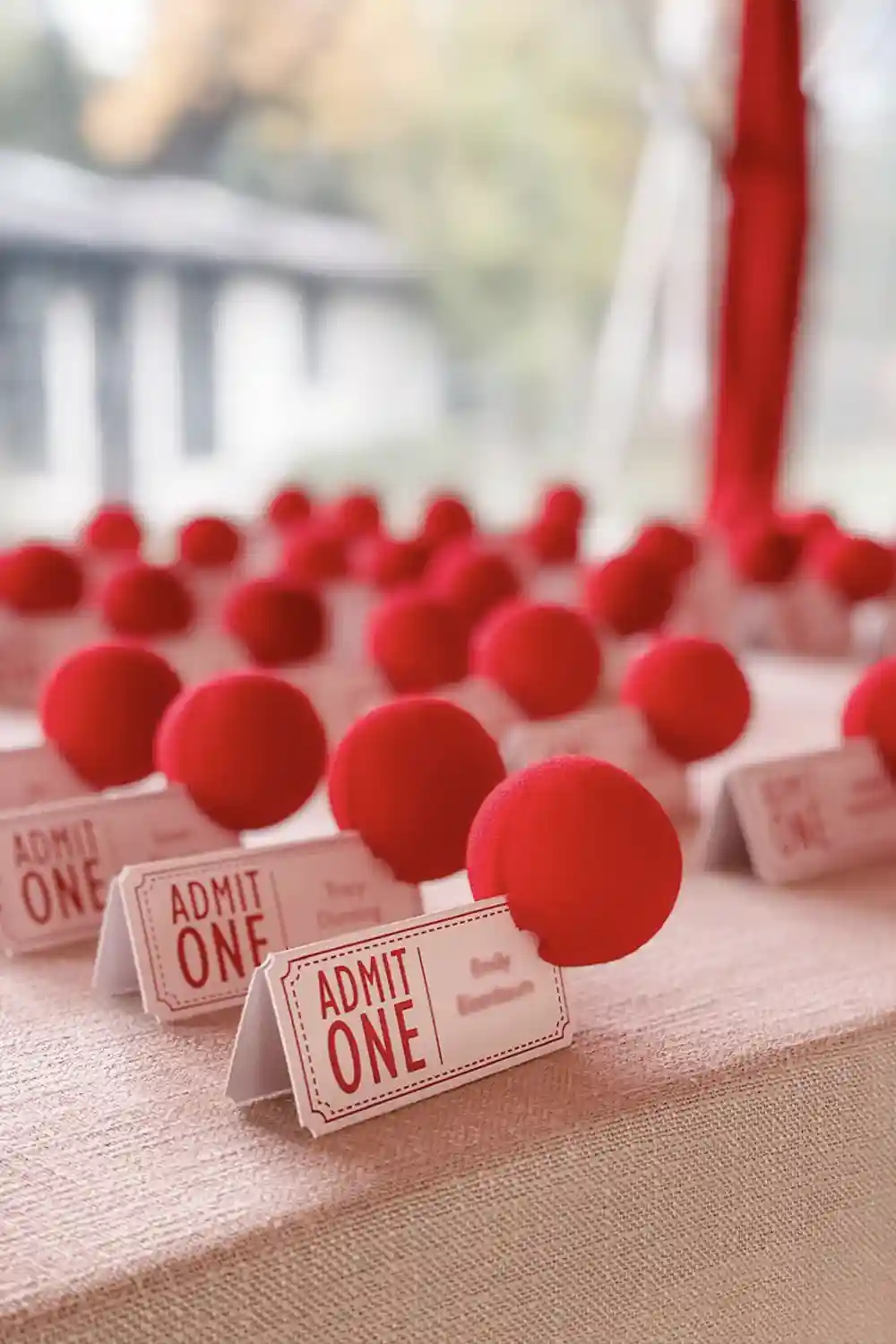 DECORATIONS: CLASSIC COUNTRY CARNIVAL
5 – Create an inviting entrance with a popcorn balloon arch and some cardboard boxes.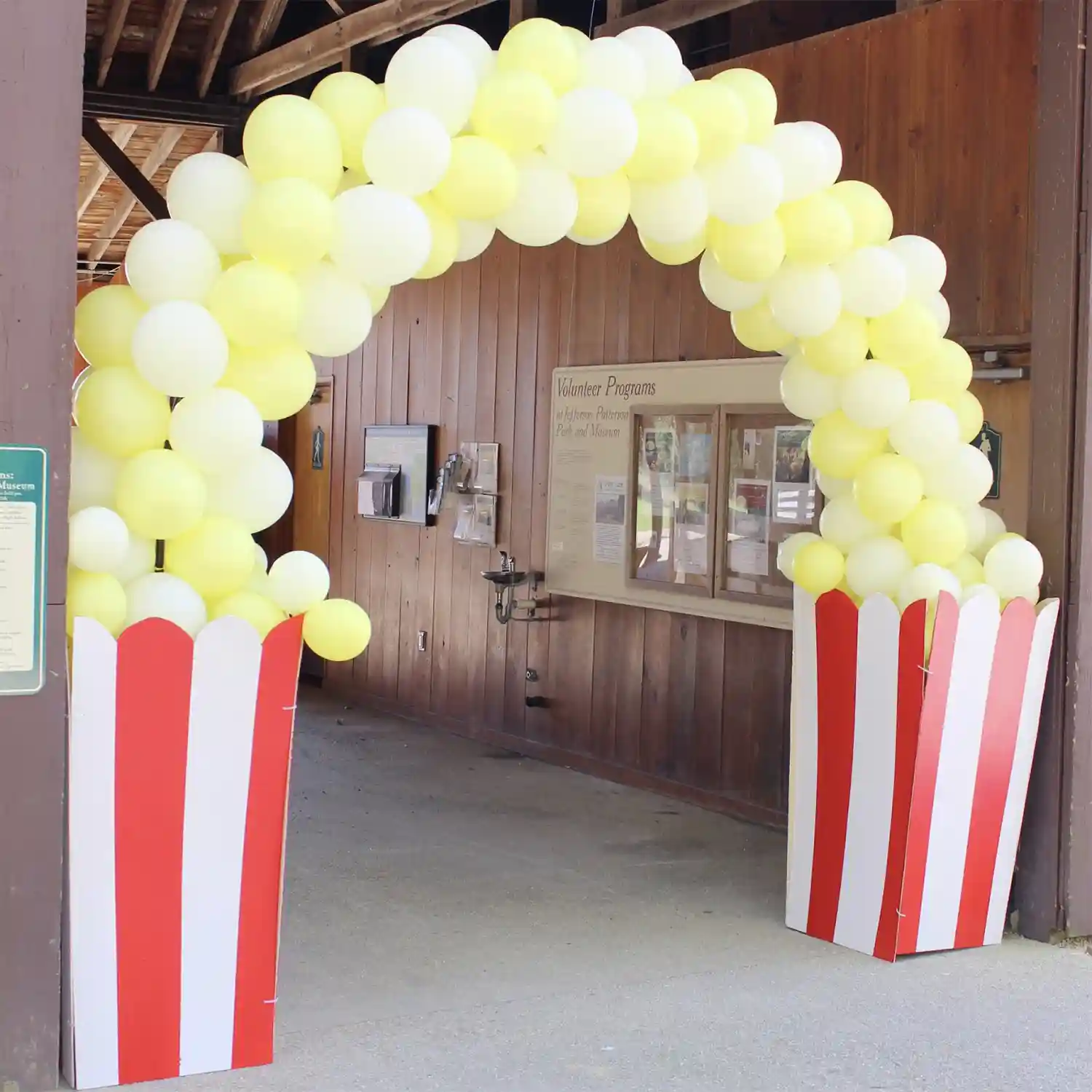 6 – Set up cardboard booths for all the games and food. Classic red and white or blue and white stripes make for the perfect color scheme. There are lots of options on how to set these up; two cardboard boxes stacked on top of each other, tables with trifold presentation boards, or large backdrops covered in cloth or tablecloths.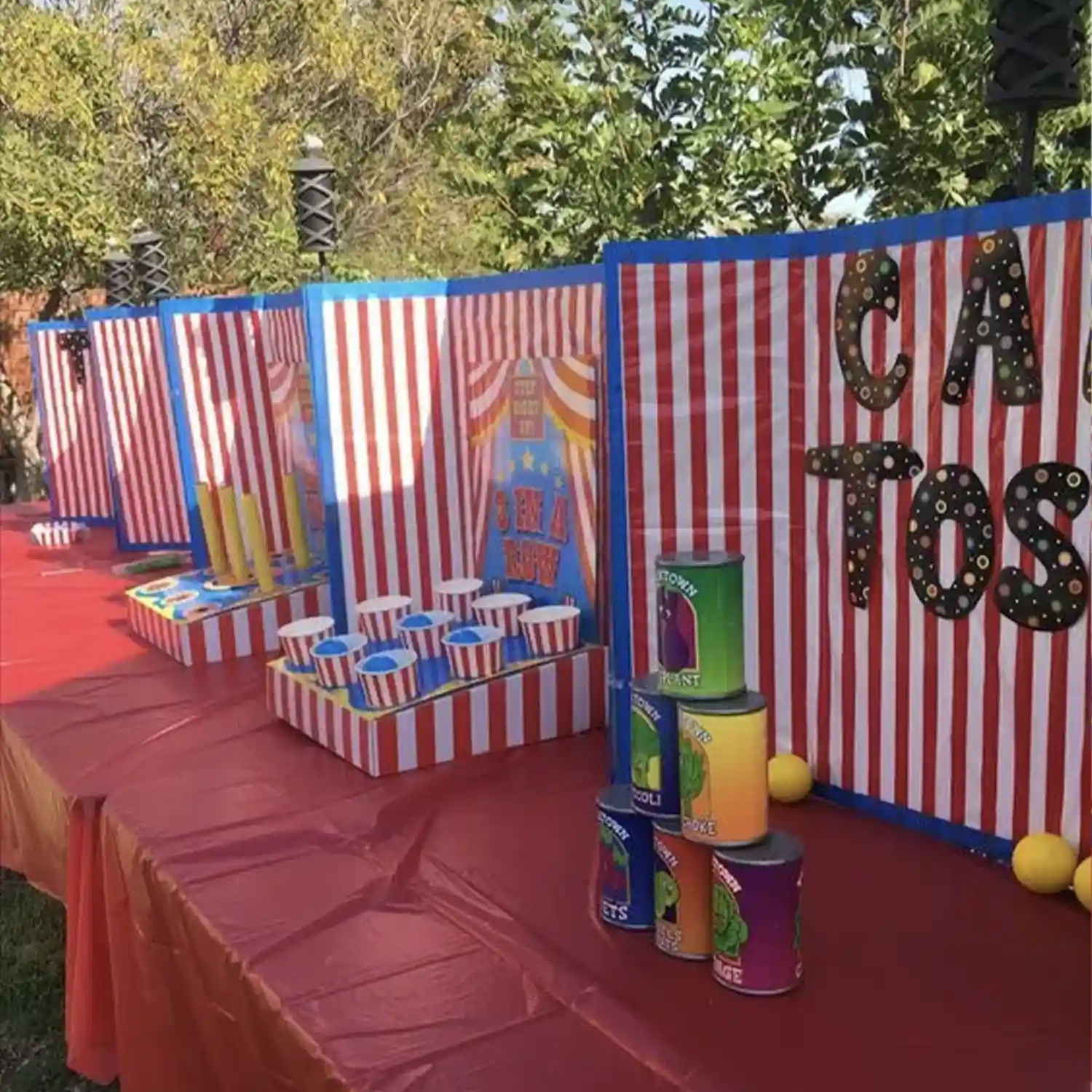 7 – Set up a ticket booth that doubles as a photo booth.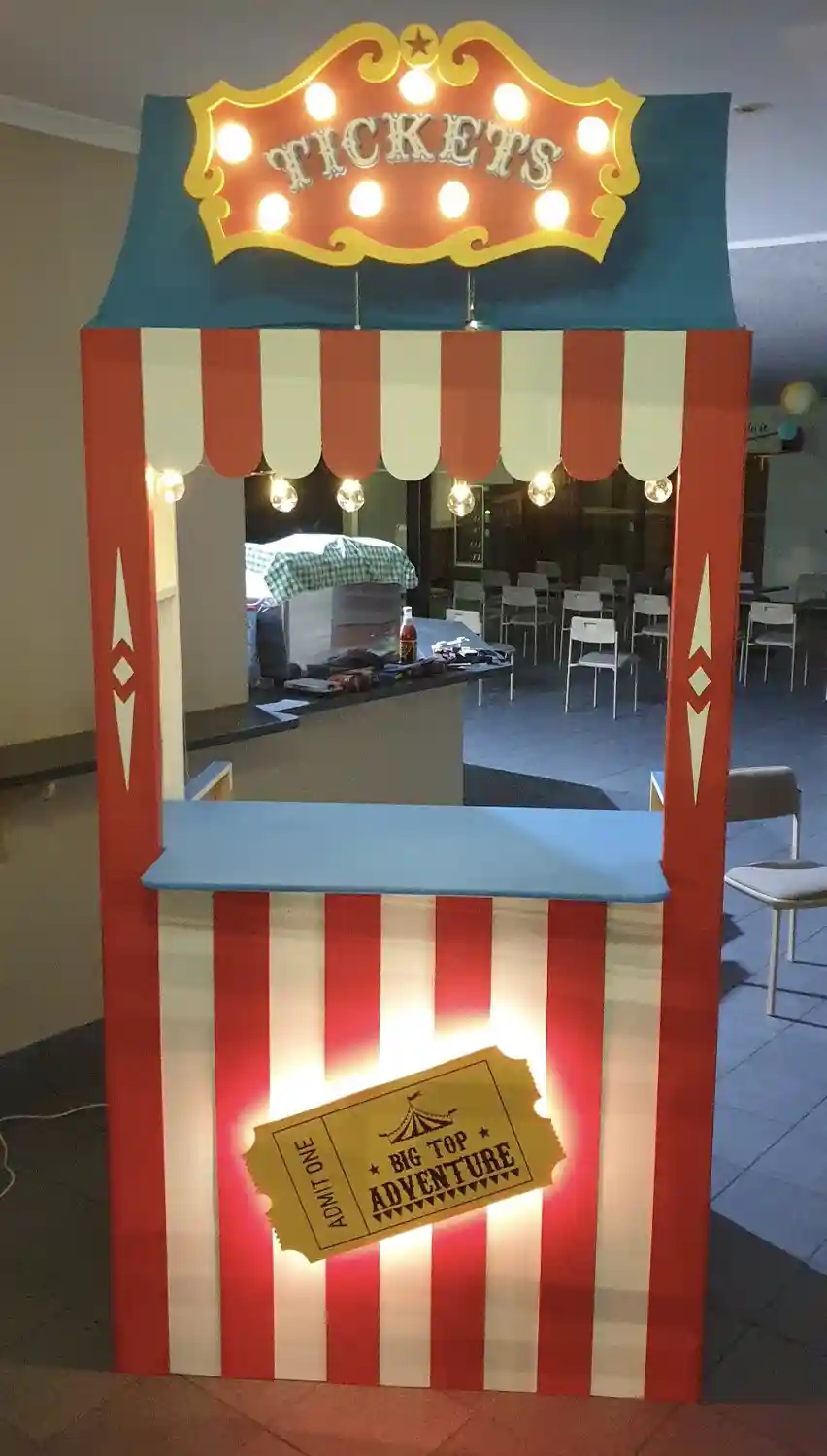 8 – Make an easy circus tent backdrop using these printable banners and some tablecloths. Set out a box of photo booth props so it will double as decor and a fun photo booth for all the guests.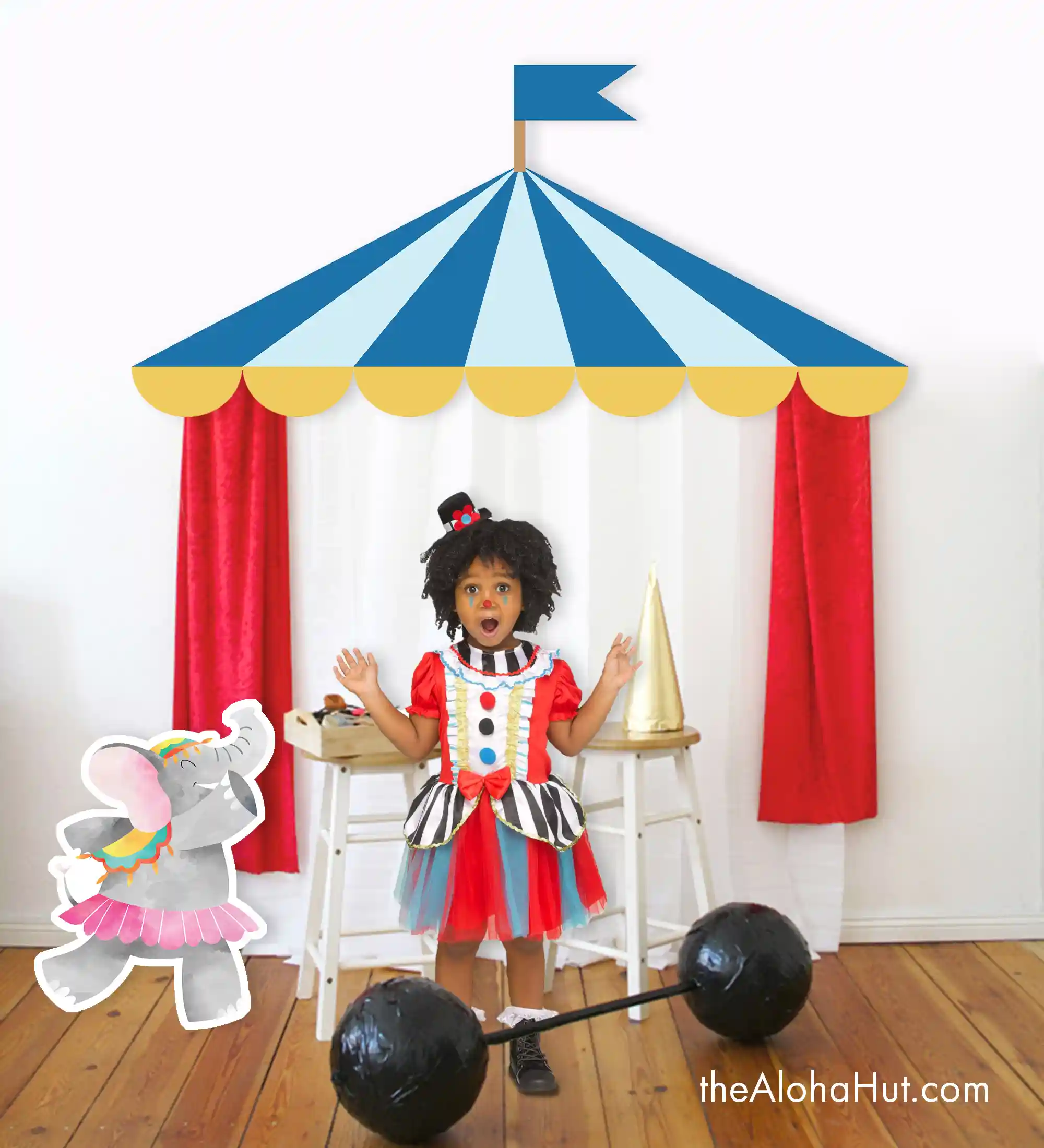 CARNIVAL GAMES AND ACTIVITIES: FUN FOR ALL AGES
9 – Make the games all look cohesive by using cardboard voting booths like Fiona Carter made or just two cardboard boxes stacked on top of each other. Decorate the boxes using colored paper, markers, paint, etc. This is one the kids would enjoy helping out with!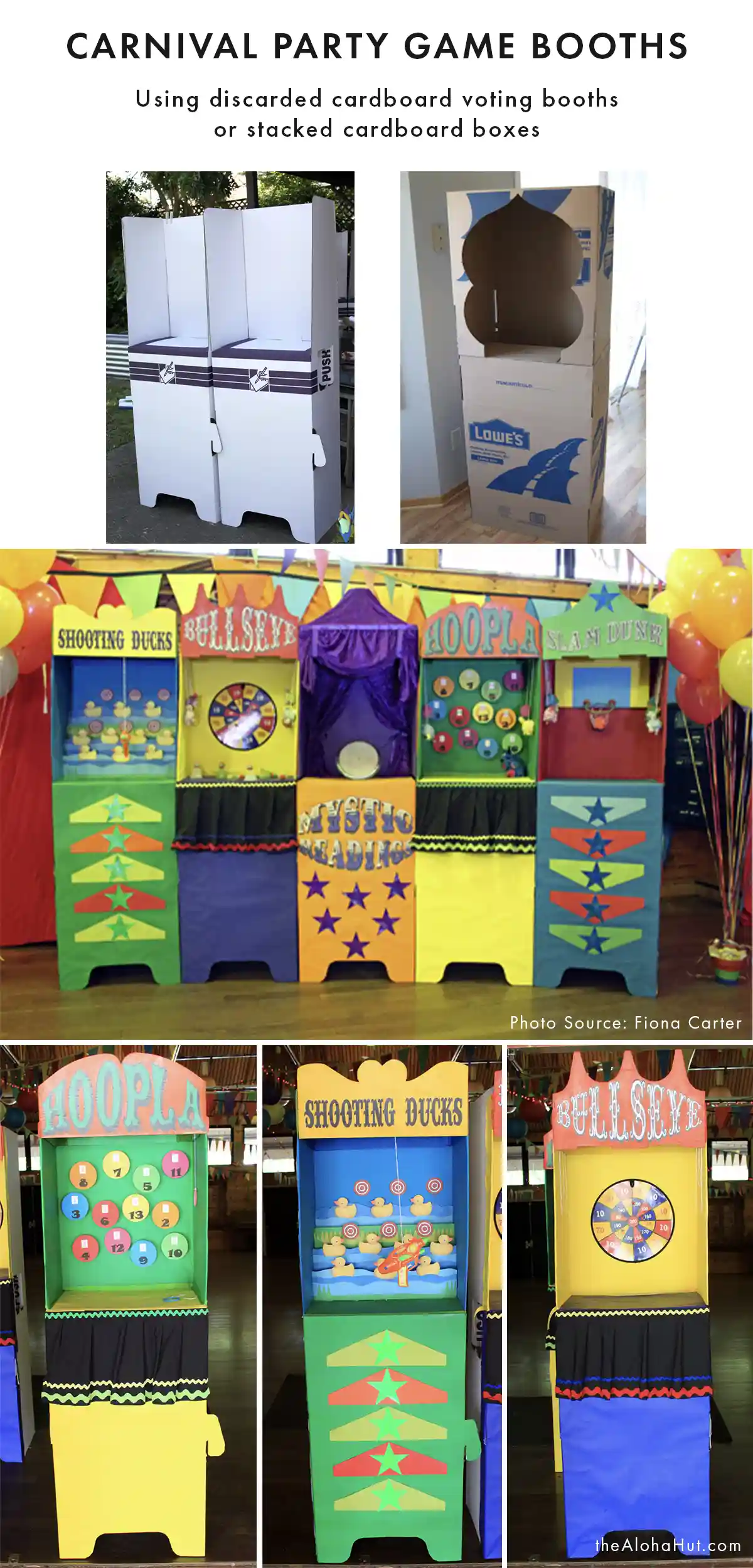 10 – Don't have time to decorate game booths, no worries. Set up classic games like can toss, plinko, bean bag toss, and a prize wheel. Make them look cohesive with matching signs.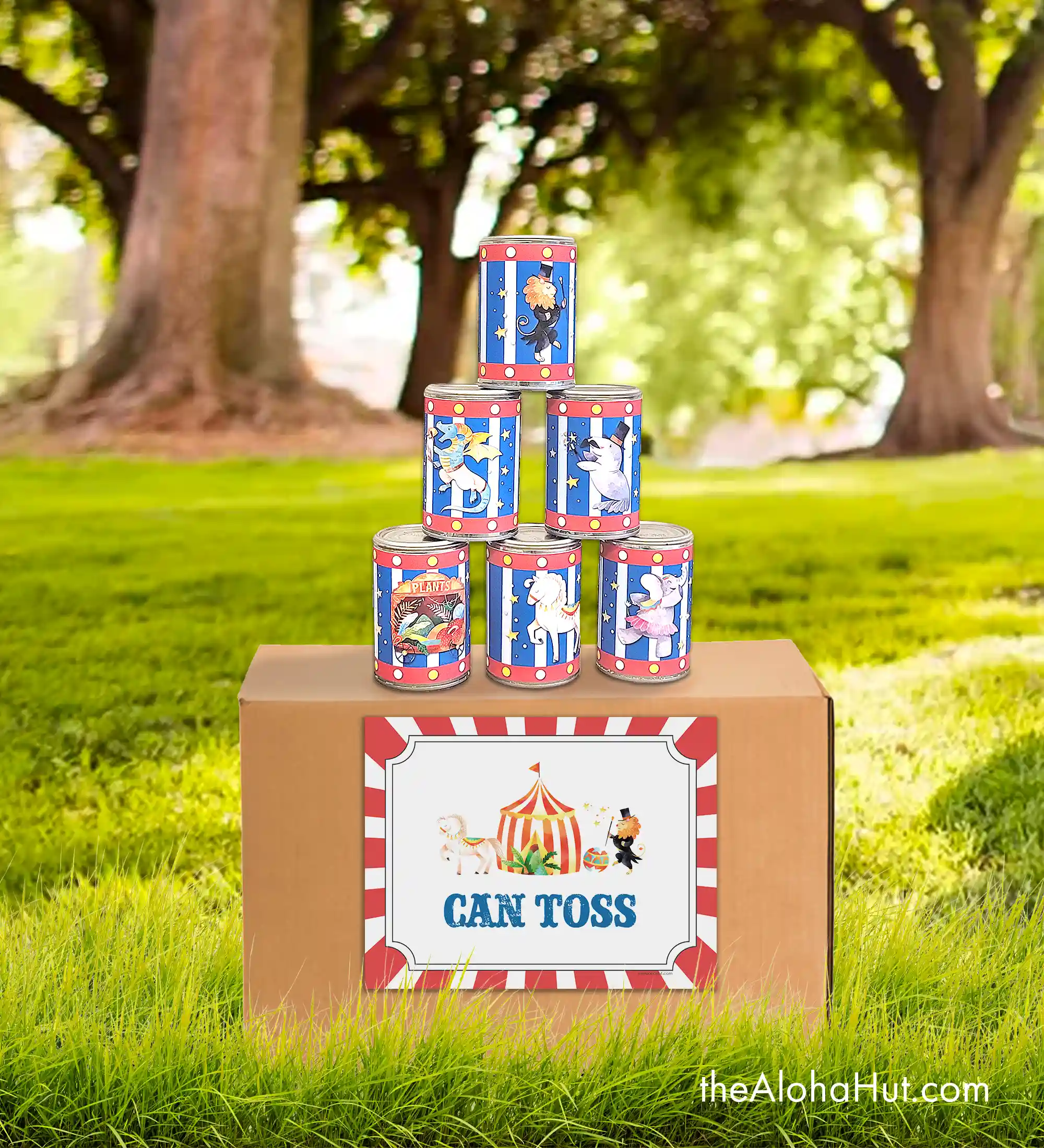 Check out our blog post for more Carnival game Ideas. We made a giant list of 26 Carnival Party Games & Activities Ideas for a list of carnival party games and carnival party activities you can easily put together for your own backyard Carnival party. These Carnival Game Signs pretty much cover all the games we could come up with.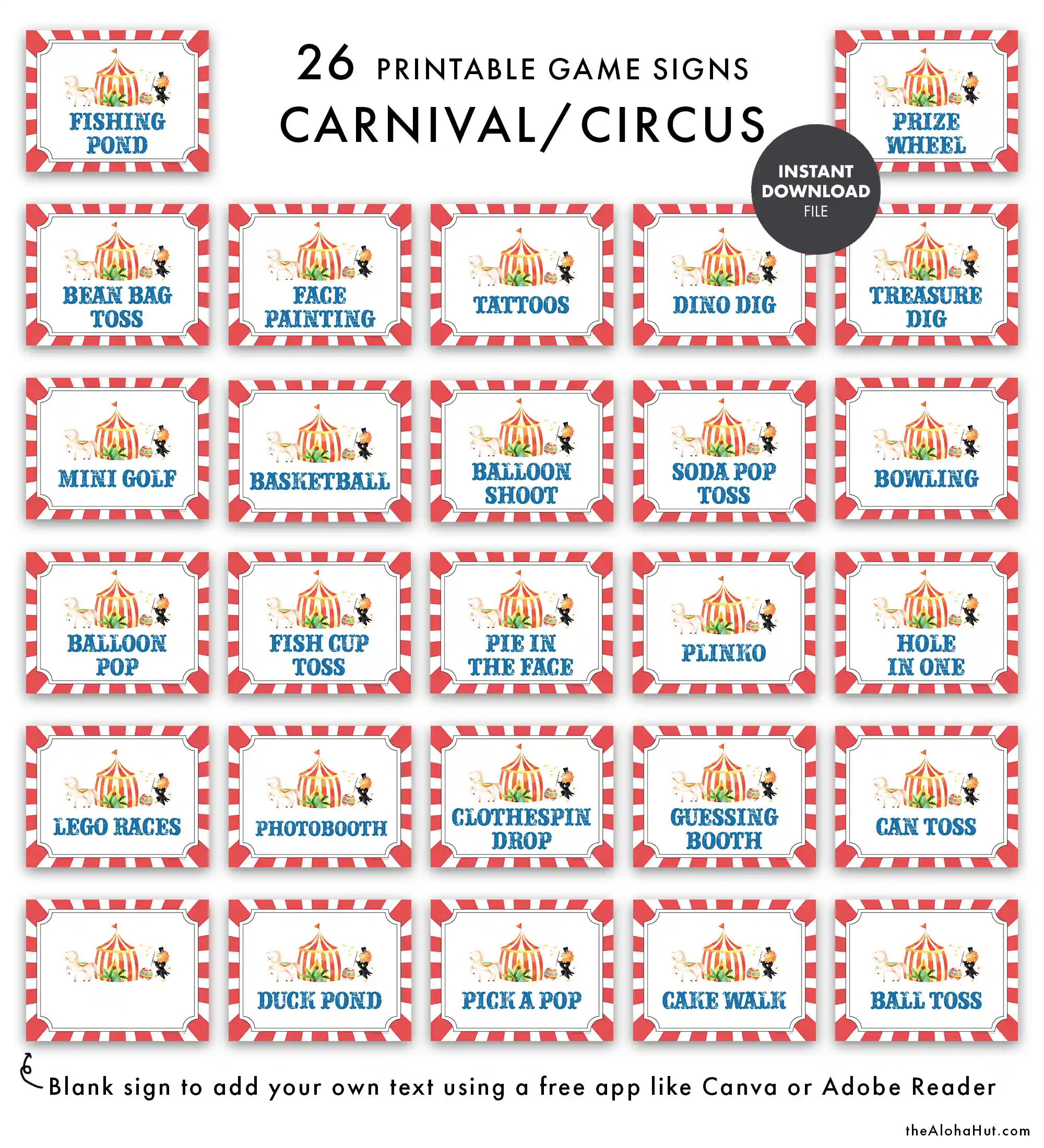 11 – Organize a "Fish Pond" game with magnetic fishing rods. Attach paperclips to small toys as prizes. To create the game, grab a big appliance box, open it up and cut out waves at the top. Let the kids paint it blue with bubbles then have them paint fish on smaller cardboard boxes; cut the fish out and glue them all over the big box.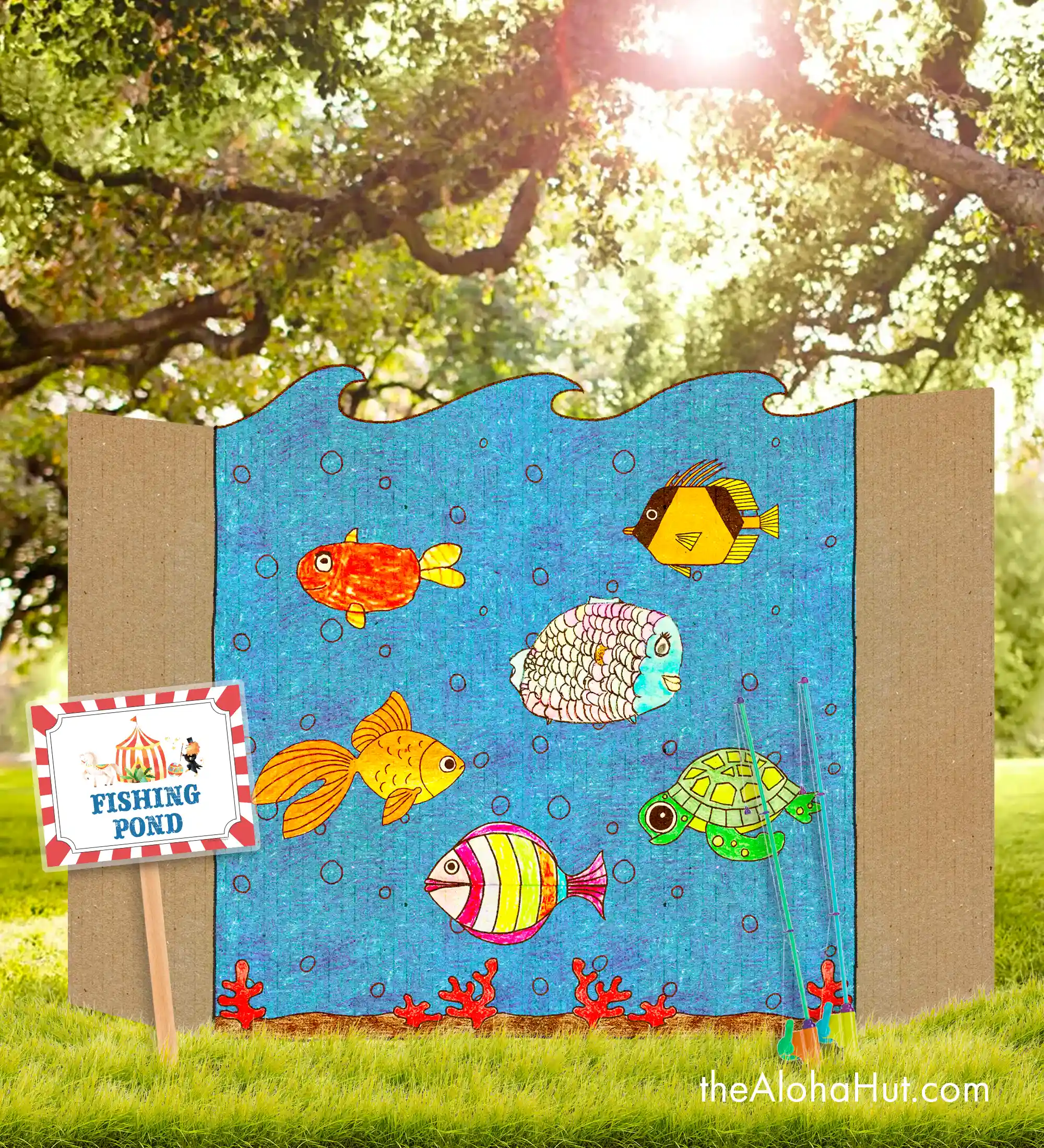 12 – Have a face painting station for the little ones. You can hire a professional or ask a parent or neighbor kid to manage the booth. Our ABSOLUTE FAVORITE face paint is this one from Wolfe FX because it's so pigmented, easy to apply, and comes off quickly with just water! Plus we've had the same one for over 5 years now and we've still got at least 5 more years left of product!
13 – Set up a tattoo artist booth. You can get fancy and construct your own booth out of cardboard or go simple with a tattoo booth sign, a kids table & chairs, some temporary tattoos (we like the glow in the dark ones but make sure your child isn't allergic by testing on a small area a few days before the party), a bucket of water and some sponges.
14 – Don't forget to set up a prize table for guests to spend all their tickets they collect from playing all the games.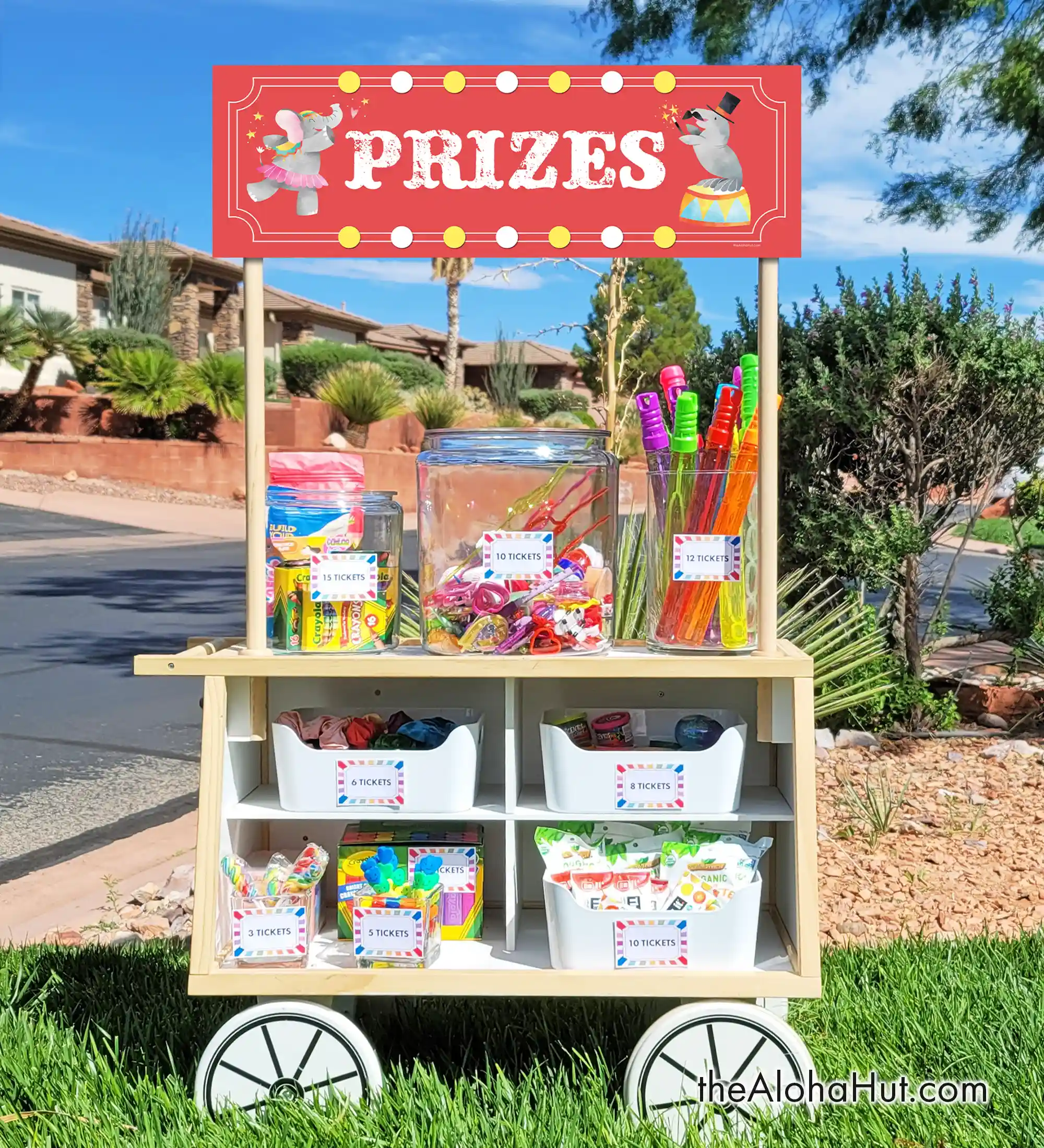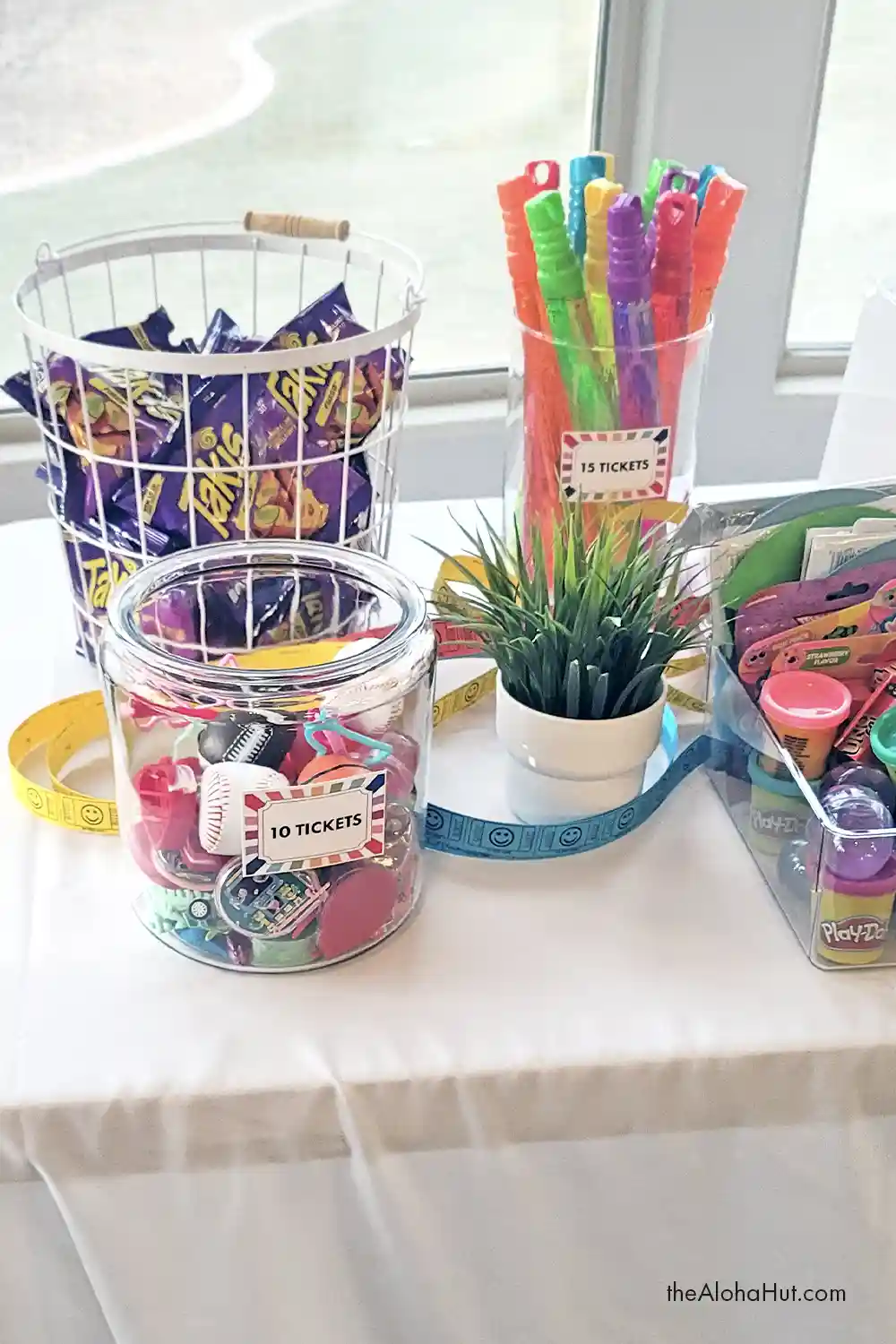 15 – Send the kids on a scavenger hunt. You can hide tickets and tell them to go find them or you can use this Carnival Scavenger Hunt game and hide the characters all over. This game is always a huge hit that all the kids (big & small) love playing so we try to make one for each of our parties.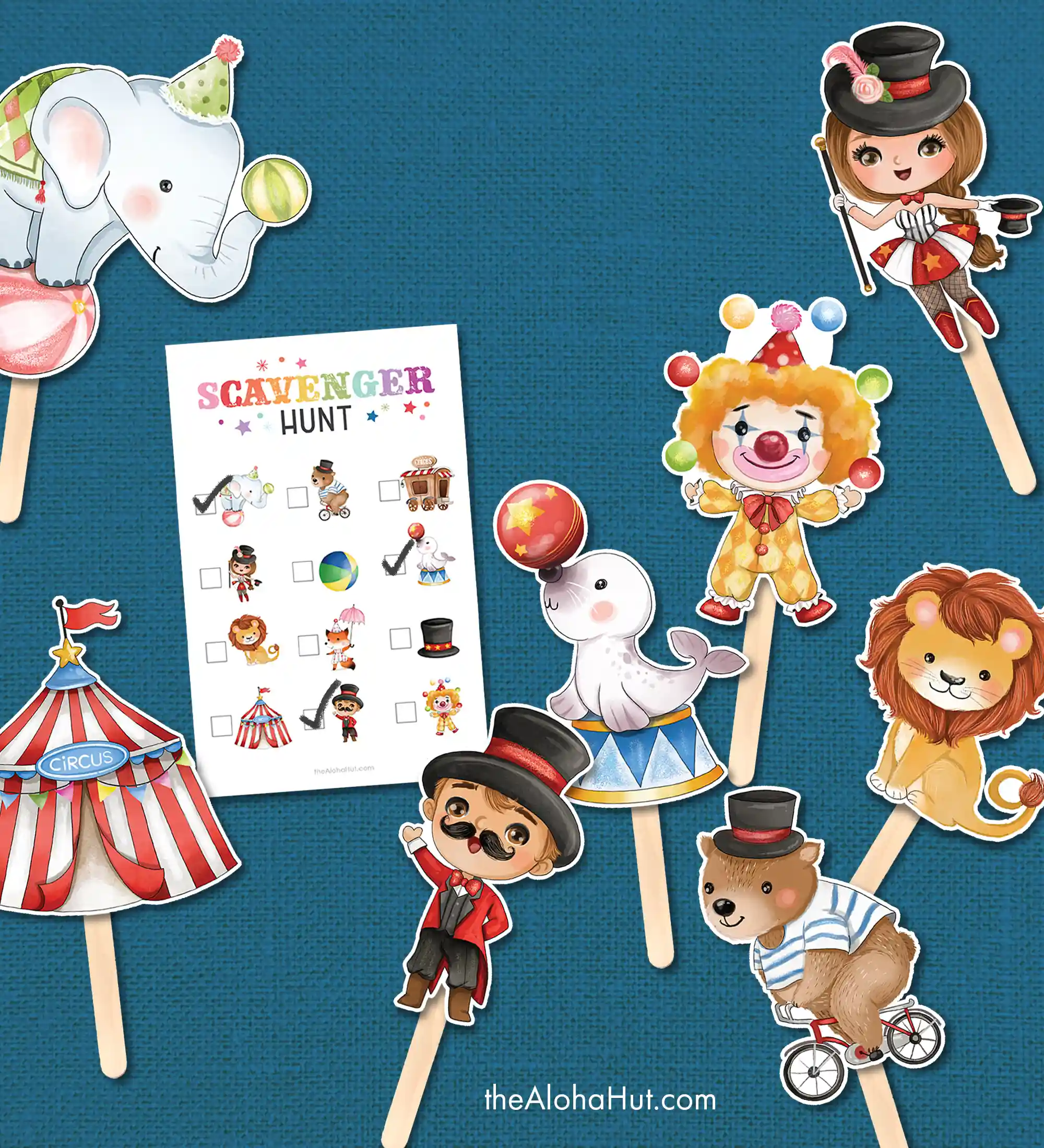 FOOD AND DRINKS: CARNIVAL CONCESSIONS
16 – Serve classic carnival fare like cotton candy, popcorn, nachos and hot dogs.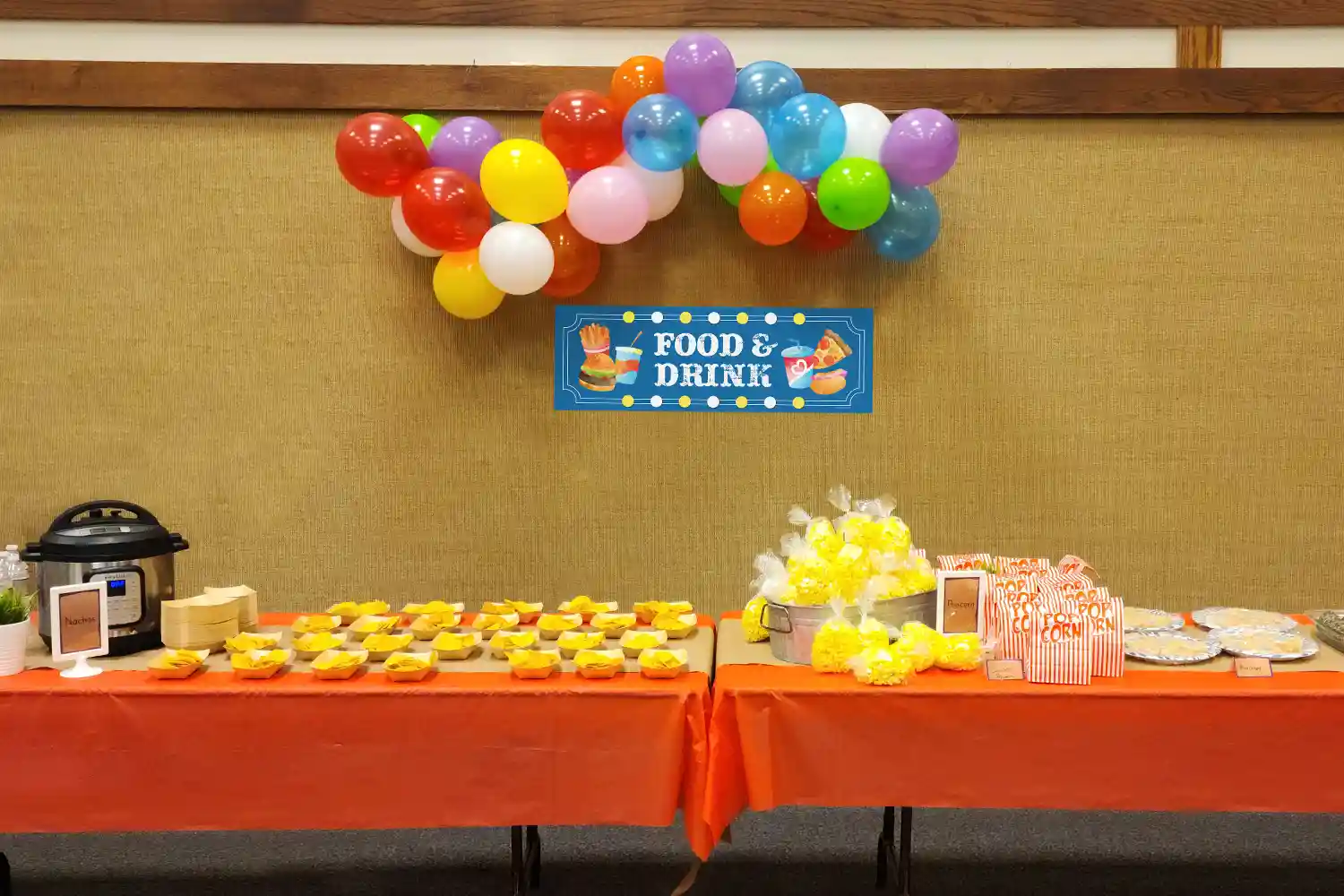 17 – Use Carnival-themed signs to add to the decor. Go big with poster signs like these "Food & Drink" and "Carnival Concessions" signs or if you prefer to label the individual foods, use these 8.5×11 inch Carnival Party signs & Carnival food labels / tent cards to help display the different cuisine.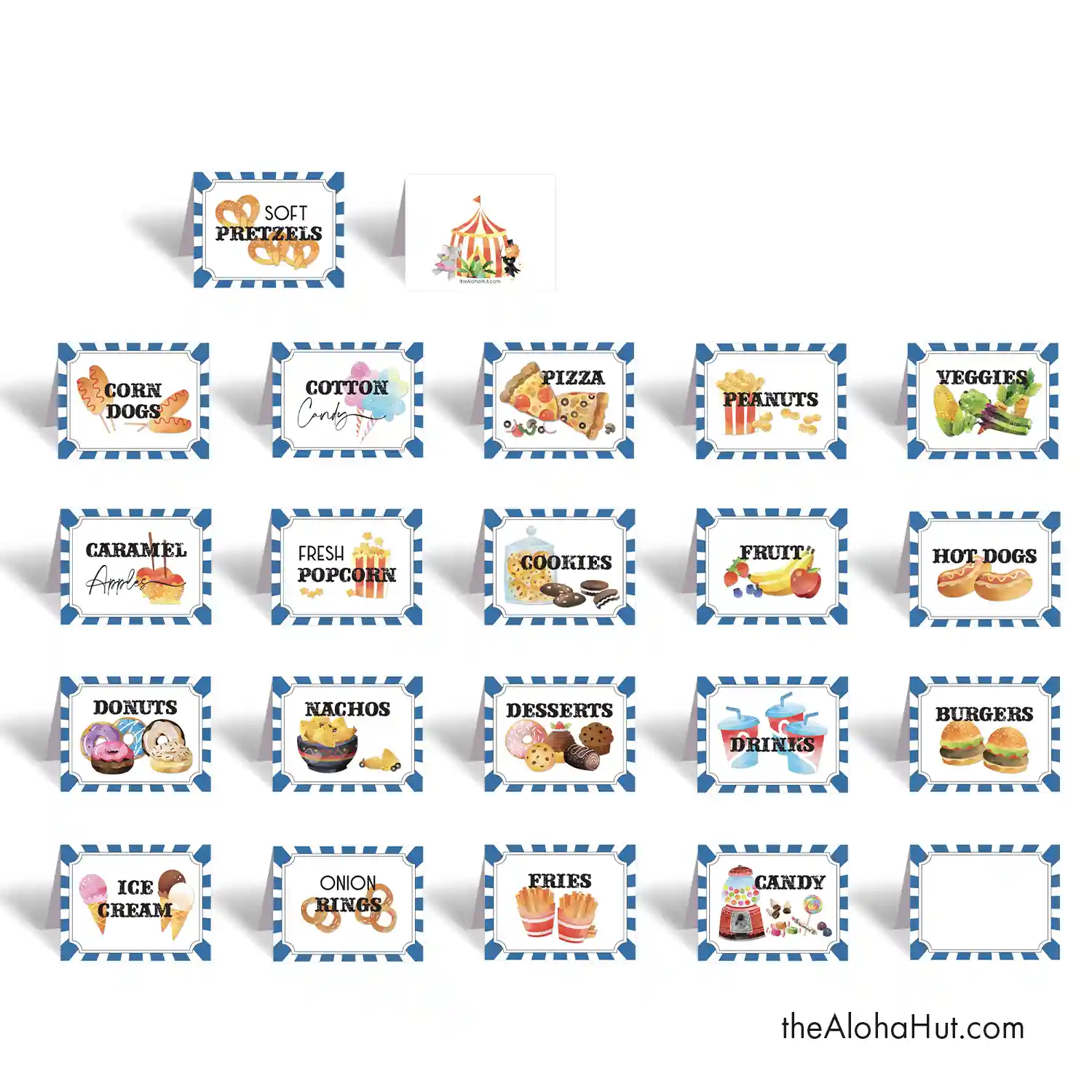 18 – Let guests snack as needed by putting out some fun carnival concessions. We displayed our snacks using our large Carnival Sign, a metal garden fence panel from Home Depot, and clothespins.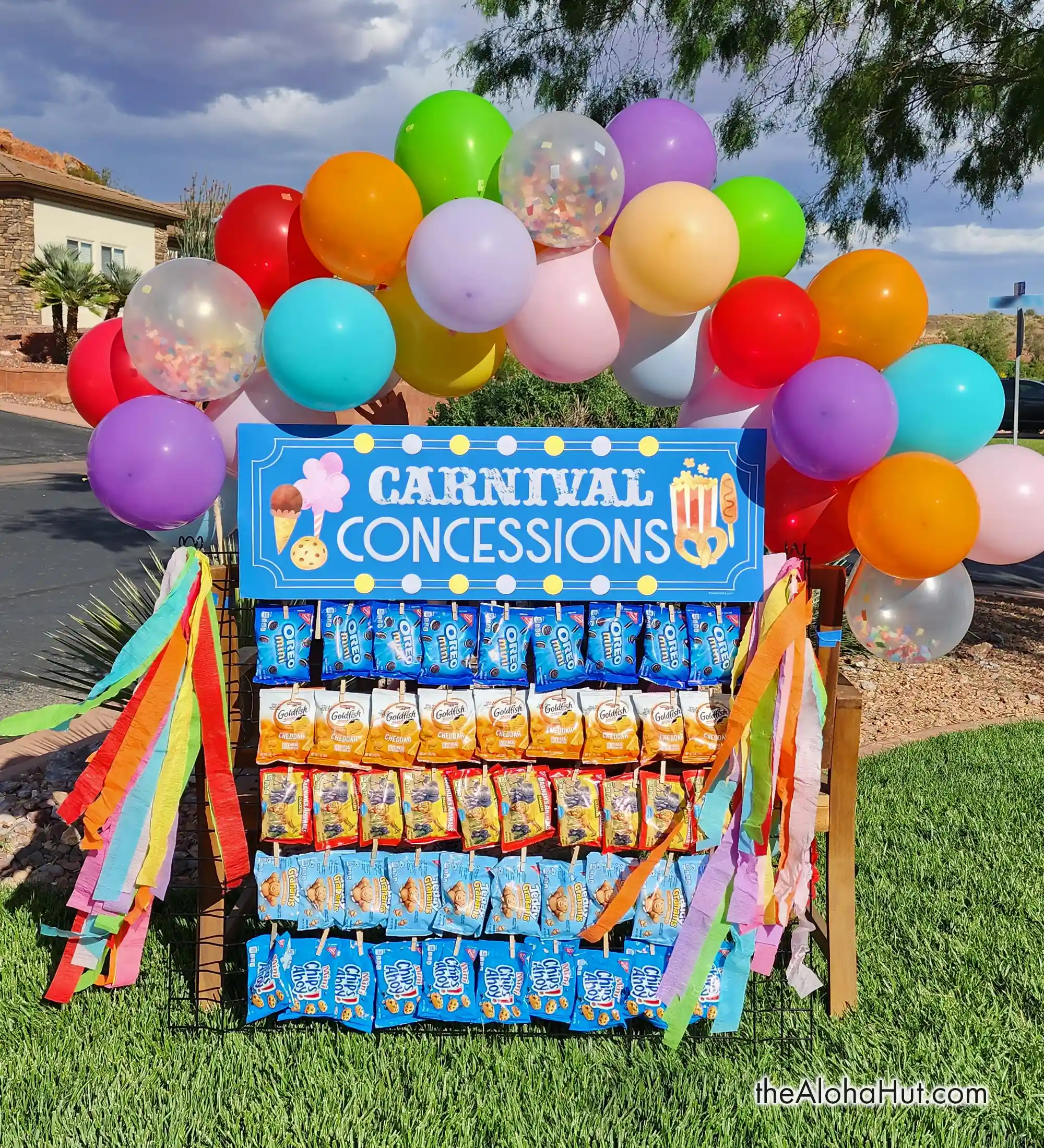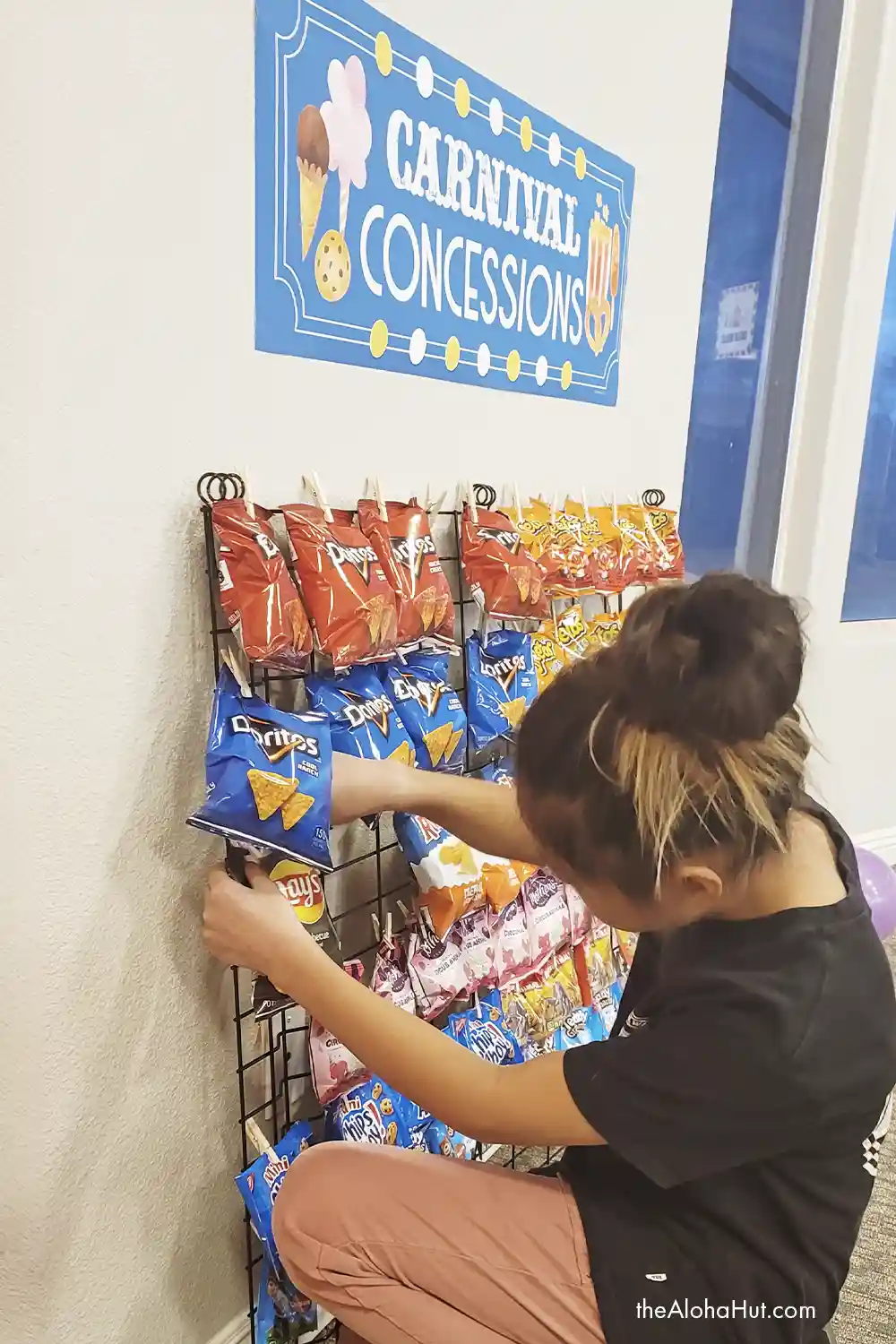 19 – Create a DIY popcorn bar with various seasonings and toppings, different flavored popcorns or just regular buttered popcorn & caramel popcorn.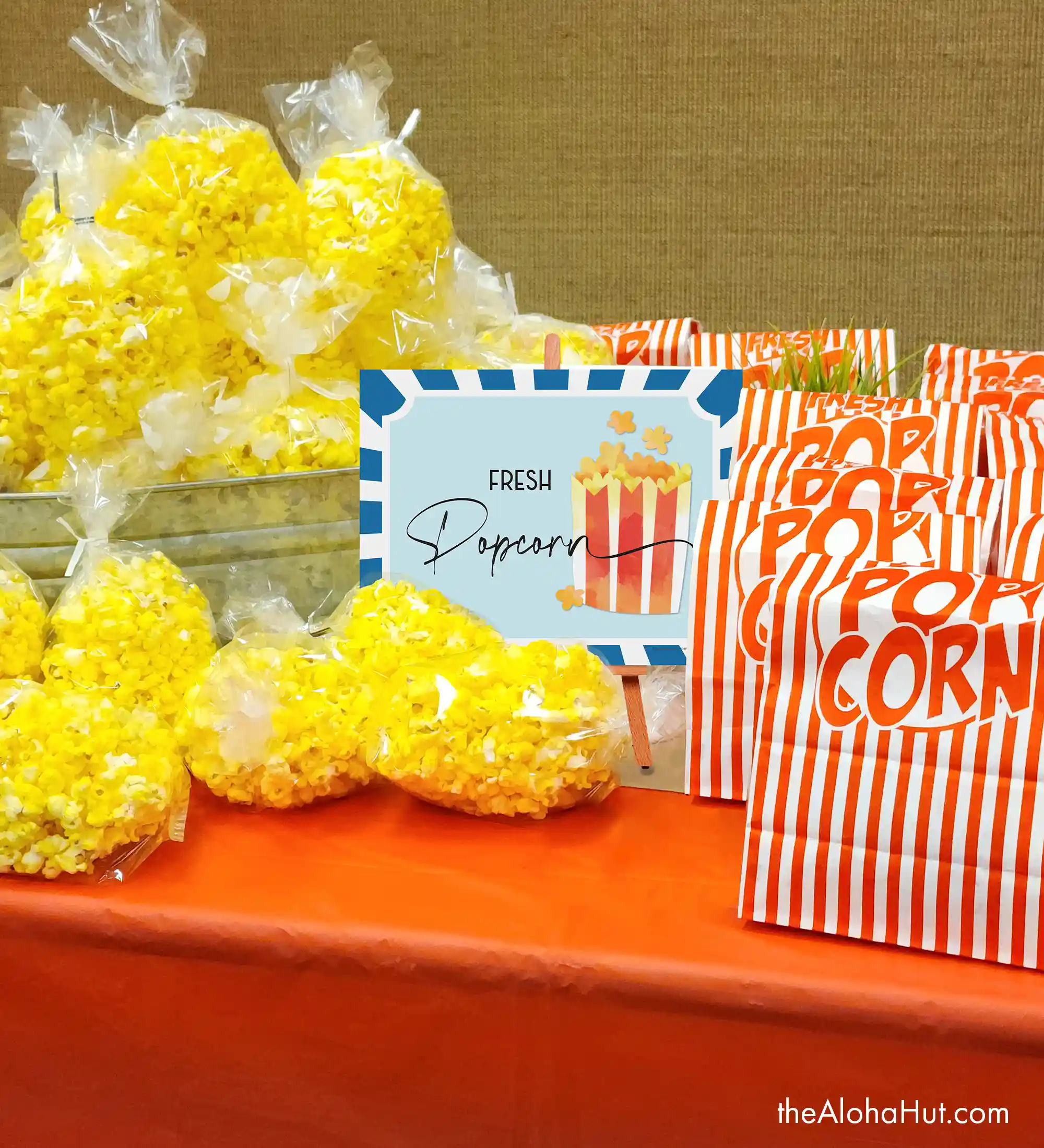 20 – Set up an Italian Ice bar for a refreshing touch. This gets requested for ALL our parties so we always make sure we have the ingredients on hand!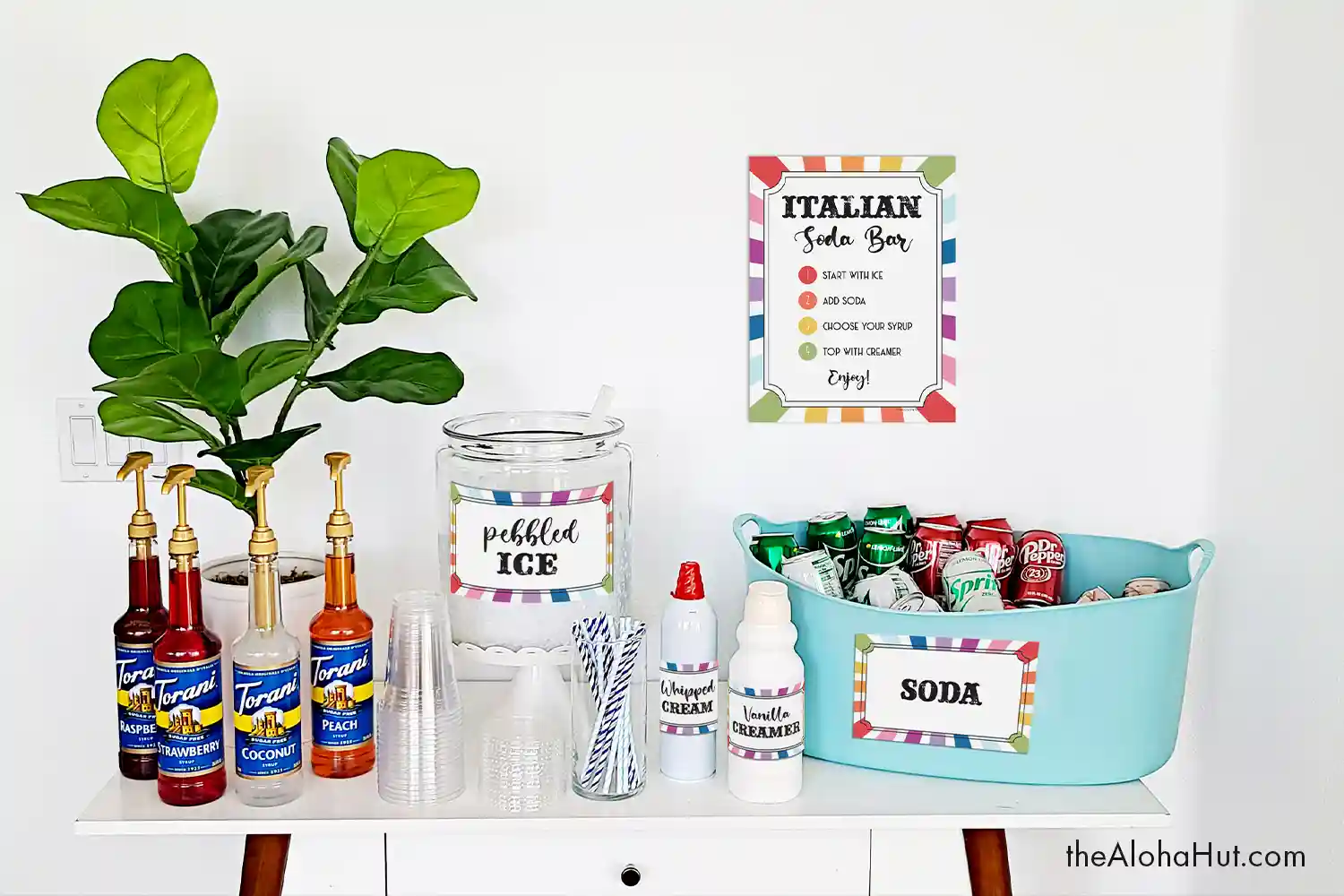 Italian Ice Ingredients:
Soda (any flavor, even sparkling water tastes great)
Pebbled ice
Torani syrups (we only use this brand because it tastes the best)
Coffee creamer (we love french vanilla the best)
Whip cream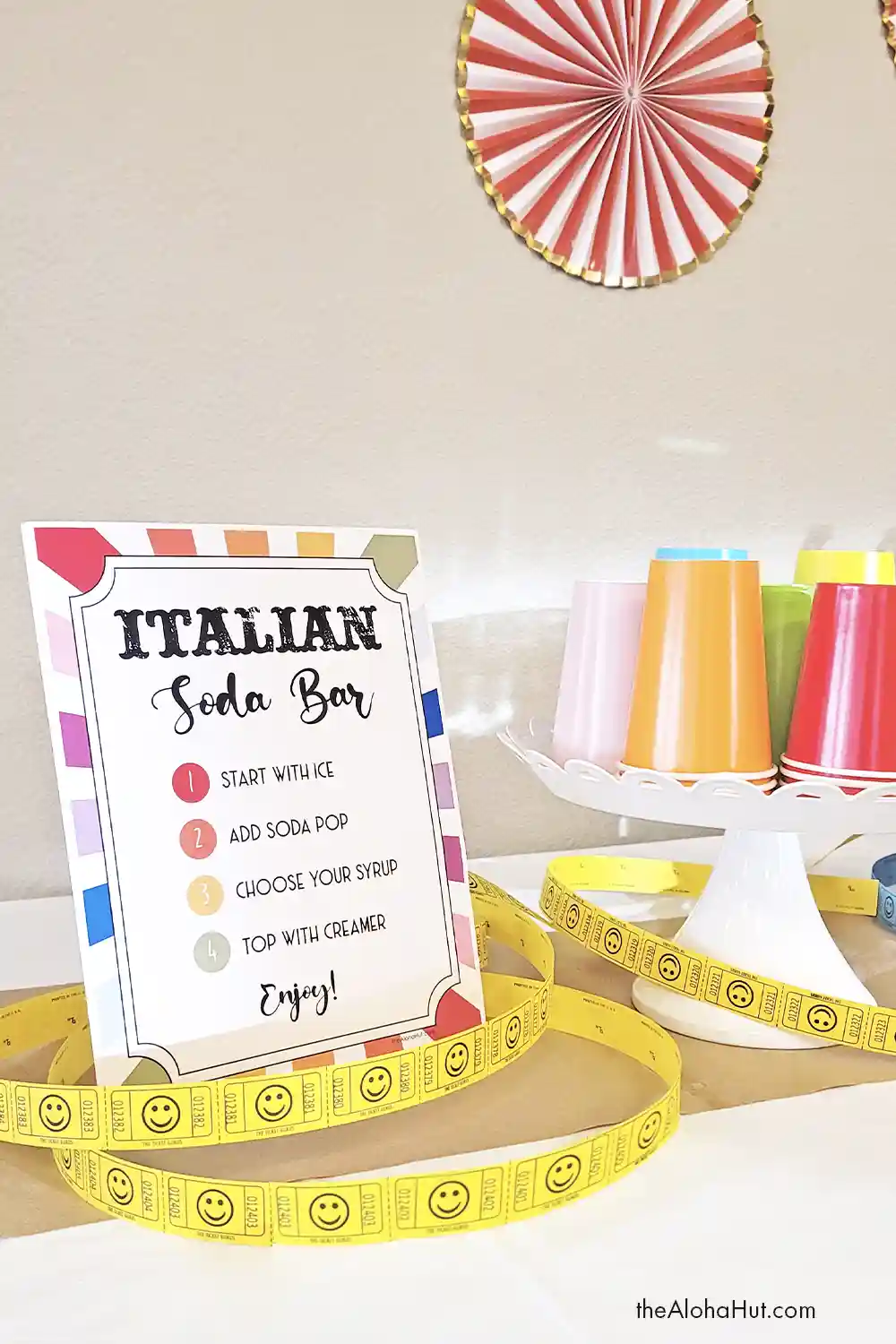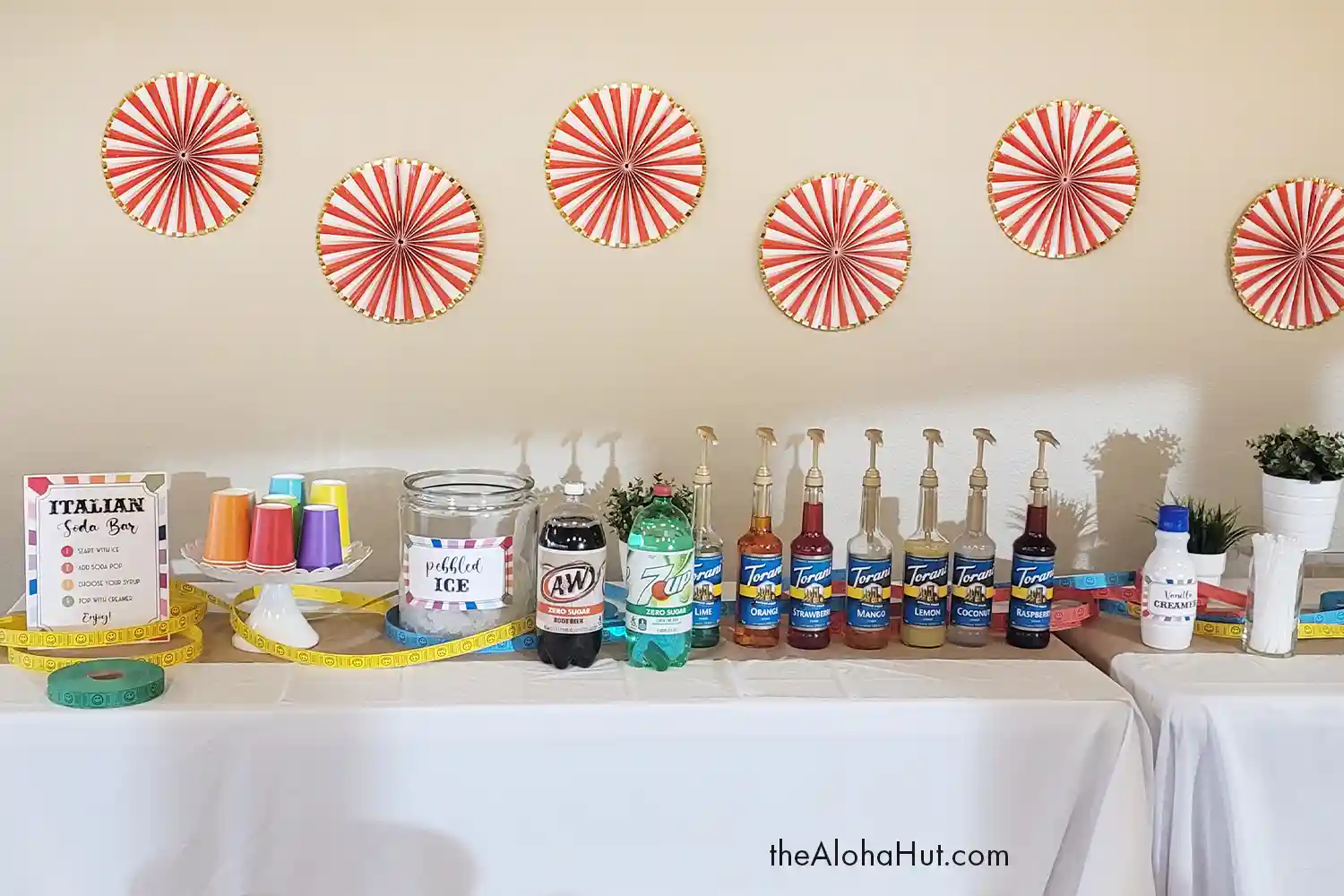 21 – Most carnival's include lots of fried foods. Switch it up and add healthy options for guests to much on like sandwiches, fruits and veggies. Use tickets to decorate the tables and still feel like a carnival.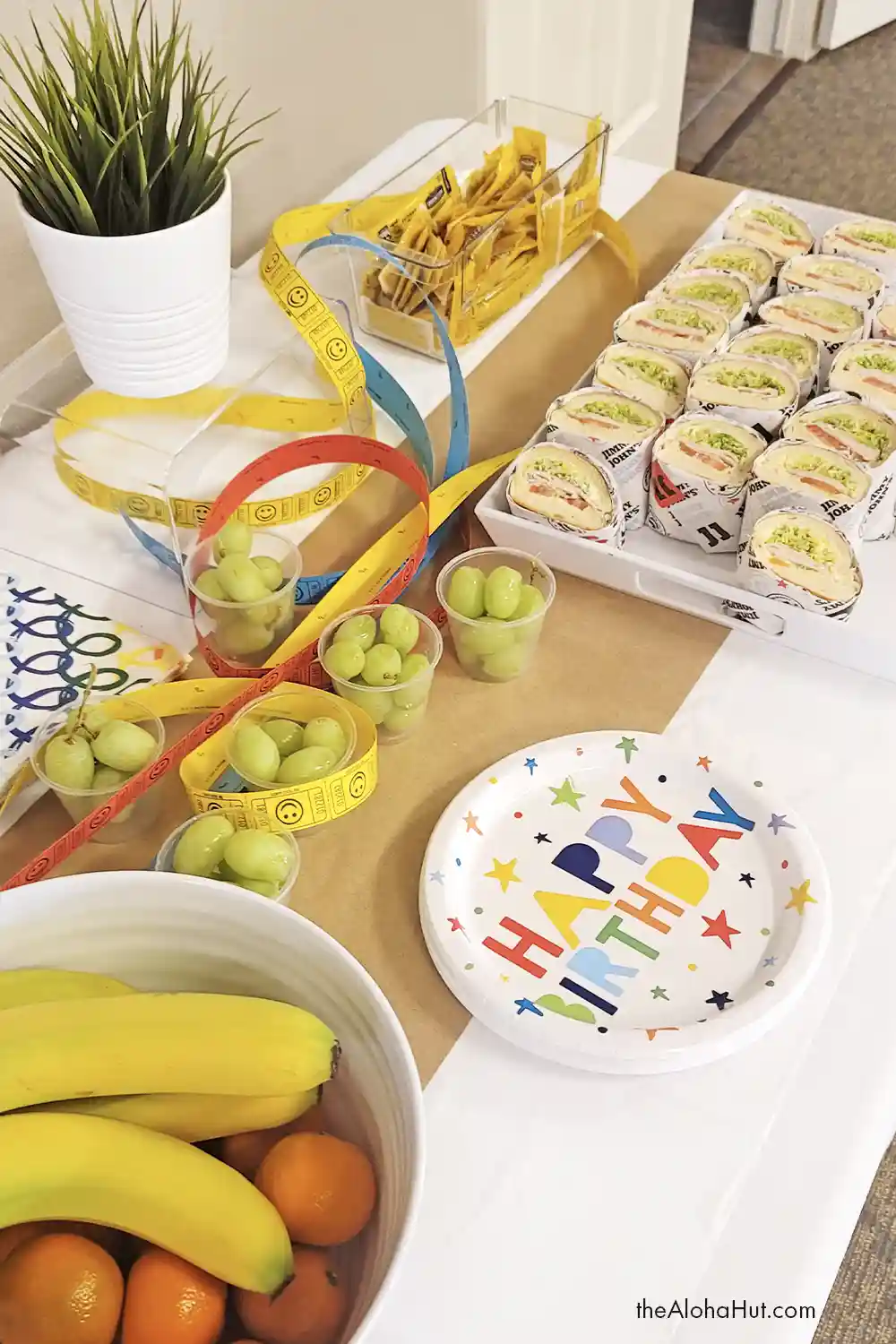 22 – Use Nabisco Barnum's Animal Crackers, peanuts, Circus Peanut Candie's & plastic toy animals for decor on the food table.
23 – Celebrate under the big tent with these simple Carnival Cake Toppers.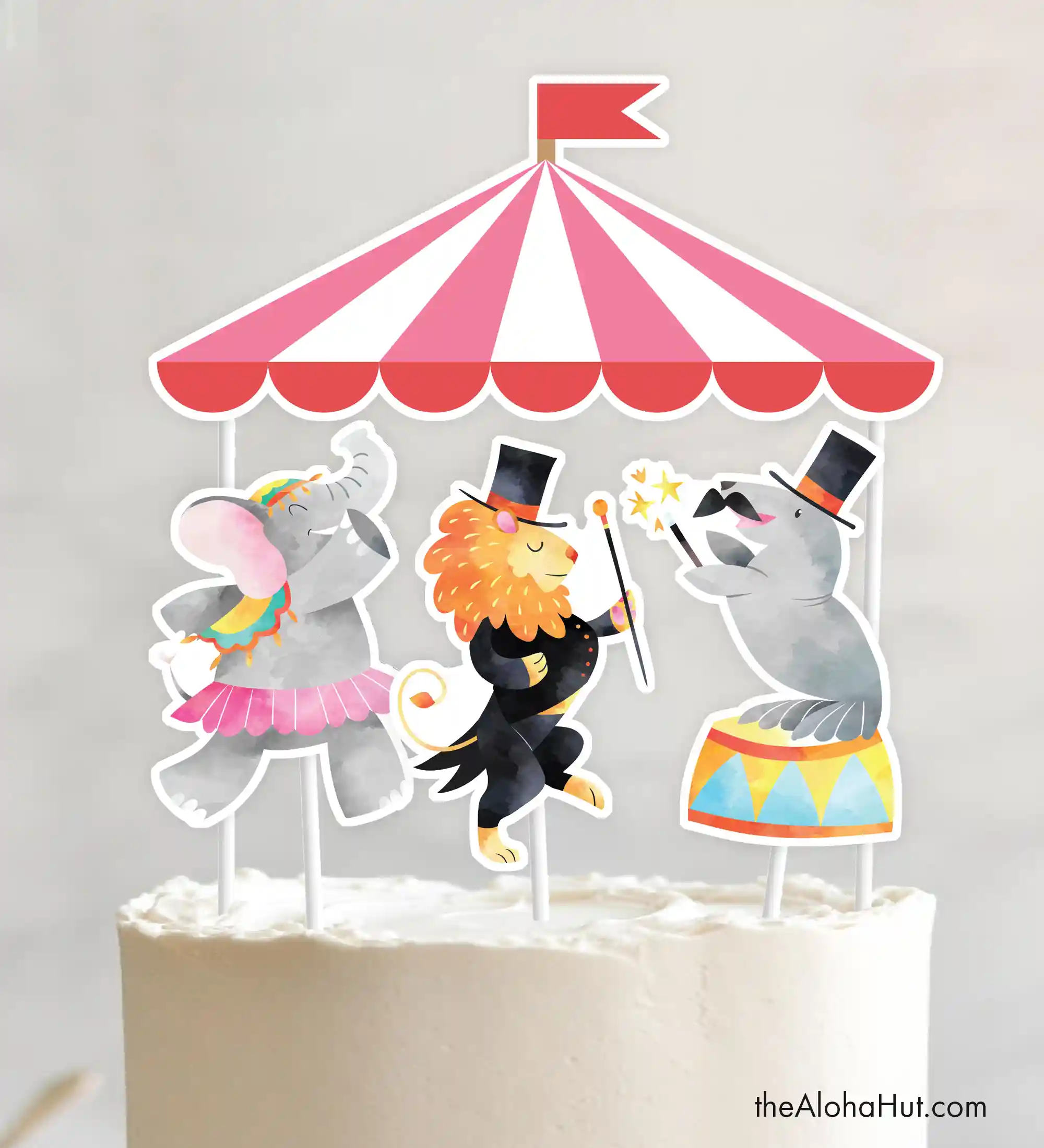 ENTERTAINMENT: BRING ON THE SHOW
25 – No party can be complete without the "Greatest Show on Earth." Make a stage for entertainers to come and entertain the crowd.
Ideas for entertainment:
Hire a magician
Hire a clown to do silly tricks & funny jokes
Hire a clown balloon artist
Invite guests beforehand to think of some talents they can share
Dance off – make up a fun playlist and let party-goers take turns showing off their best moves
Hire a company to do a reptile & amphibian show with some fun (and some scary) live creatures
Hire a contortionist – might be hard to find but would definitely be something guests leave astonished!
26 – If you're party is going to include a movie, set up the stage like above but with a screen and some bean bags for comfy seating.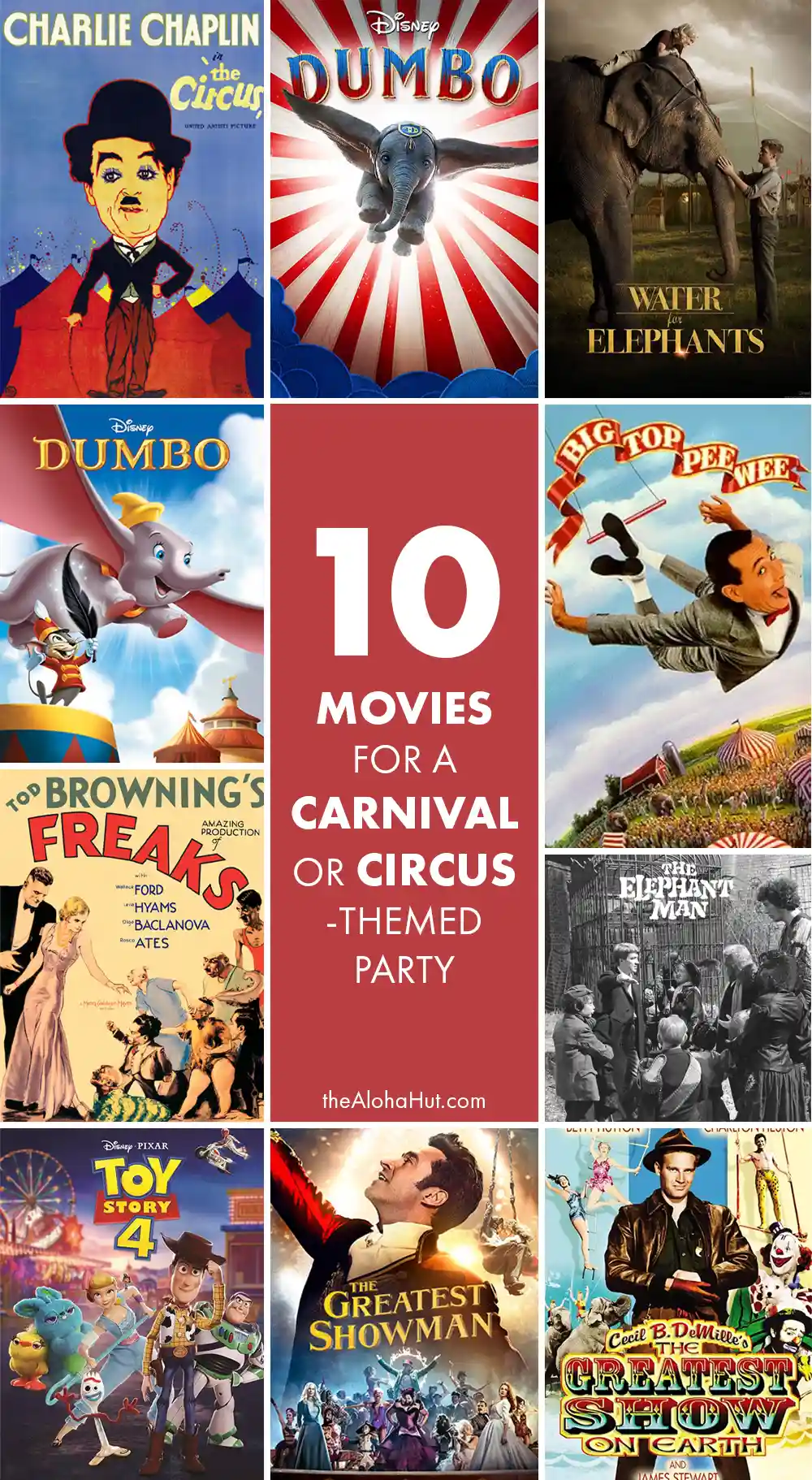 Some great movies for a Carnival or Circus themed party include:
PARTY FAVORS: SEND GUESTS HOME WITH A SMILE
27 – Create these cute party favor circus tent goodie bags from Party With Unicorns and add treats like candy, small toys and carnival-themed trinkets. You can download the free printable from their blog.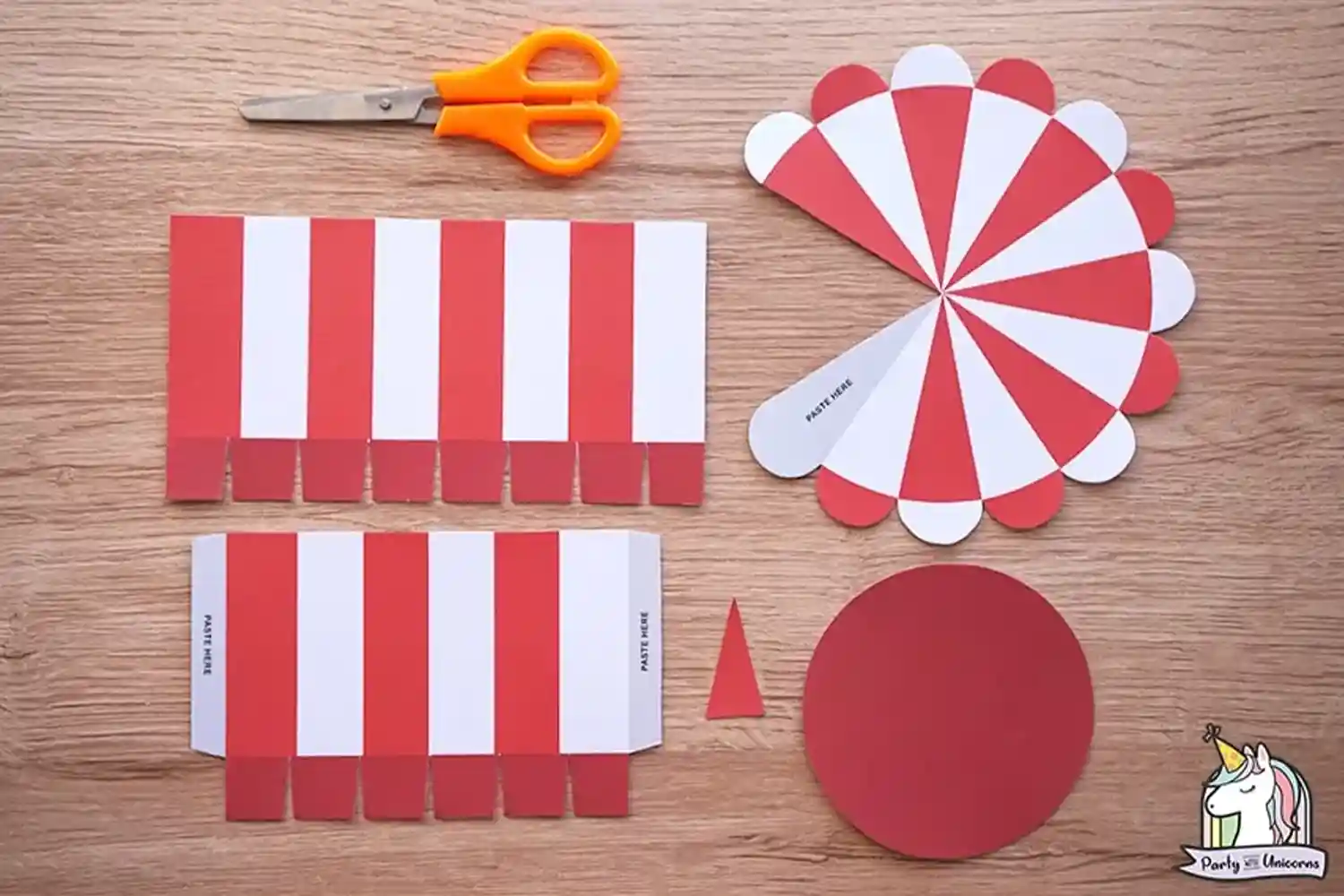 28 – Take it back to the original carnival party favor by sending guests home with a pet fish! You could do a real one but the kinder option (to the fish and parents) is a plastic fish like these or these instead. Use plastic bags that don't zip shut. You can put the fish in water or make it more interesting by putting them in clear slime!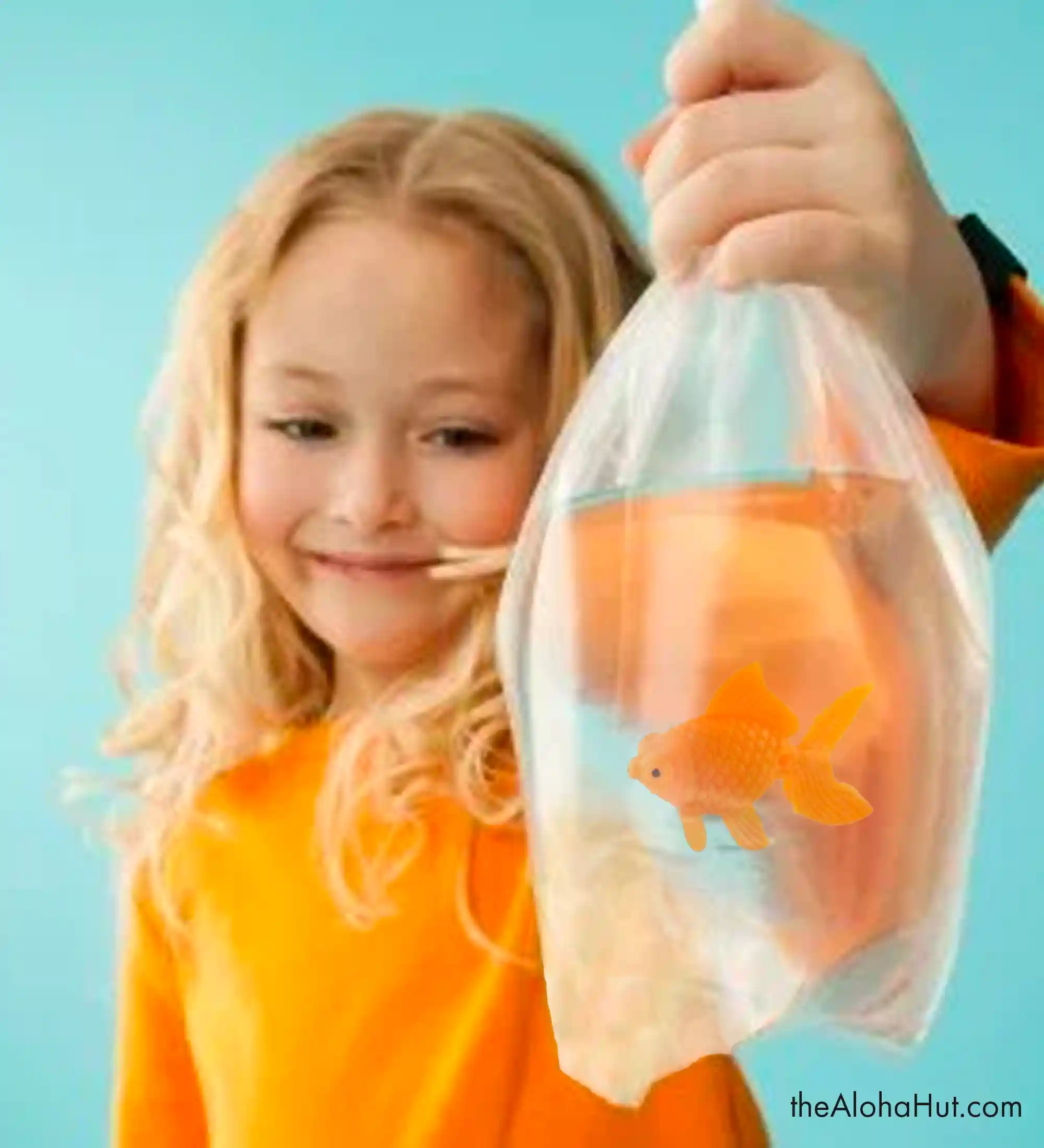 As the curtain falls on your spectacular carnival party, take a bow for orchestrating an event filled with laughter, joy and memories to last a lifetime. With these 28 creative carnival party ideas, your guests are sure to leave with smiles on their faces, and maybe a little bit of cotton candy too. So, step right up and let the magic of the carnival unfold in your own backyard with these top carnival party ideas!
Stacey + Niki