Looking to host the BEST Stranger Things Party? You've come to the right place as we've collected all our ideas to help you throw an epic Stranger Things party along with a bunch of printables.
This post is chock full of ideas so we've broken it down into four posts. Today we're unfolding Part 2 – Decor & Party Favors. Click the links to jump between posts:
Part 1 – Stranger Things Party Invitations & Cupcake Toppers
Part 2 – Stranger Things Decor & Party Favors
Part 3 – Stranger Things Party Food
Part 4 – Stranger Things Party Games & Activities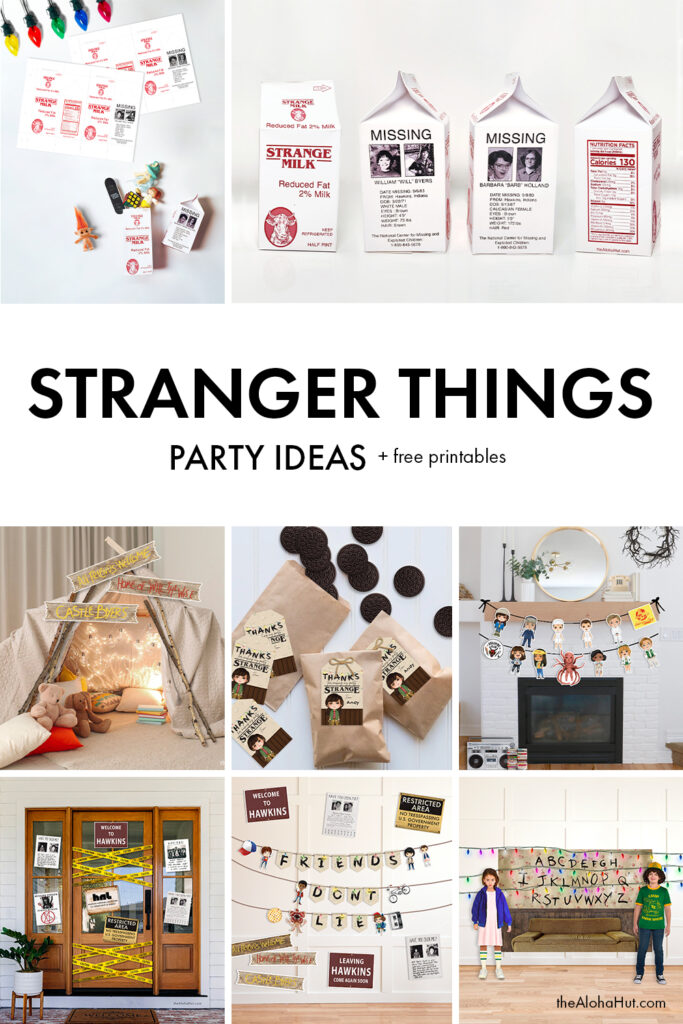 STRANGE DECOR FOR A STRANGE PARTY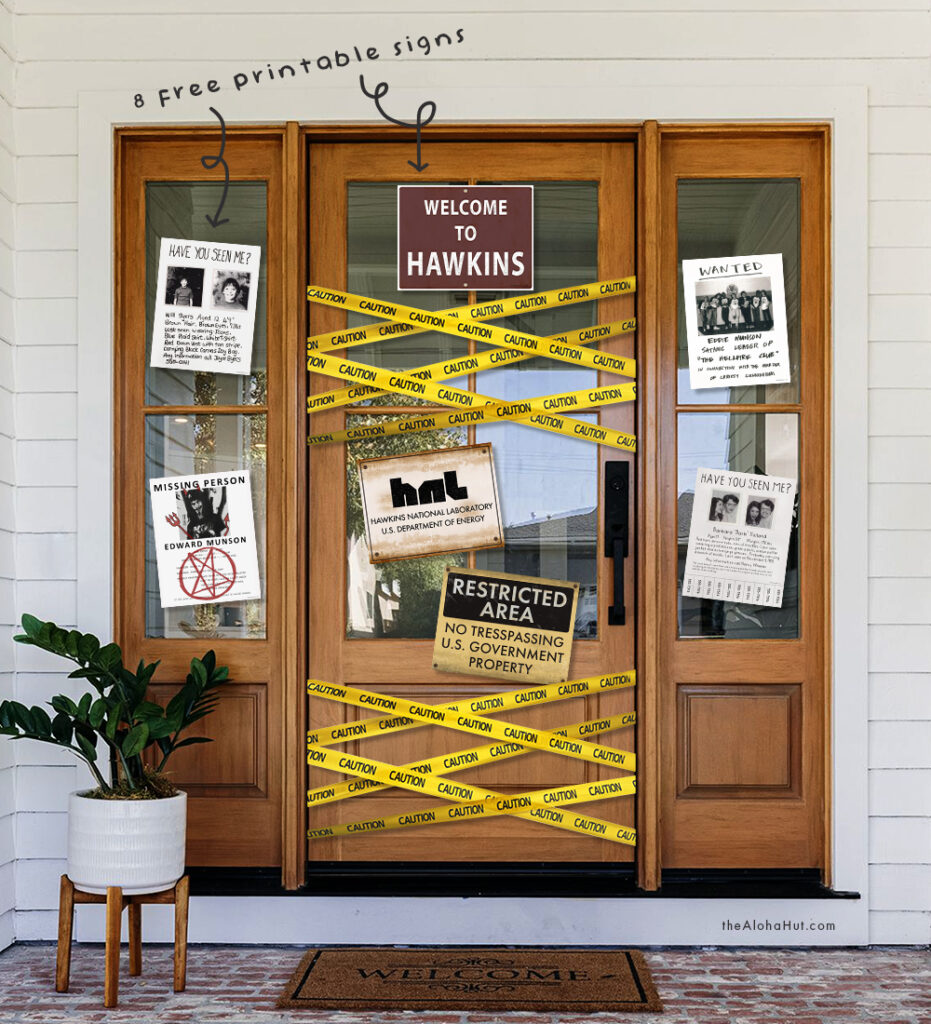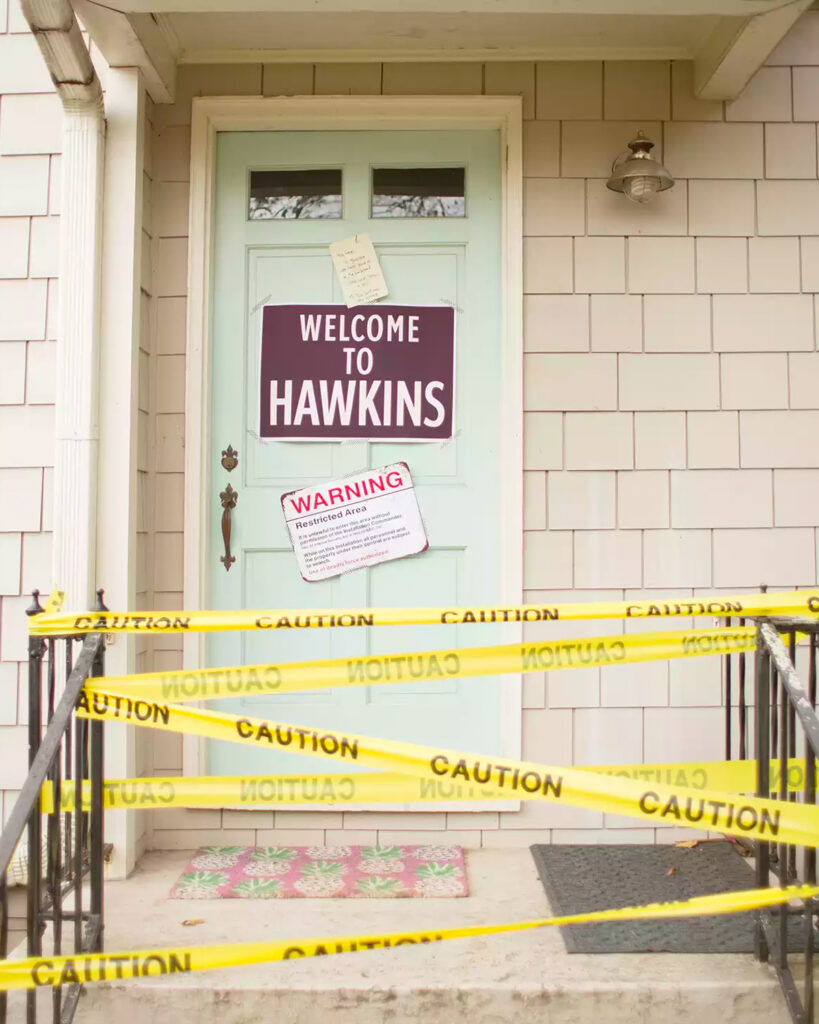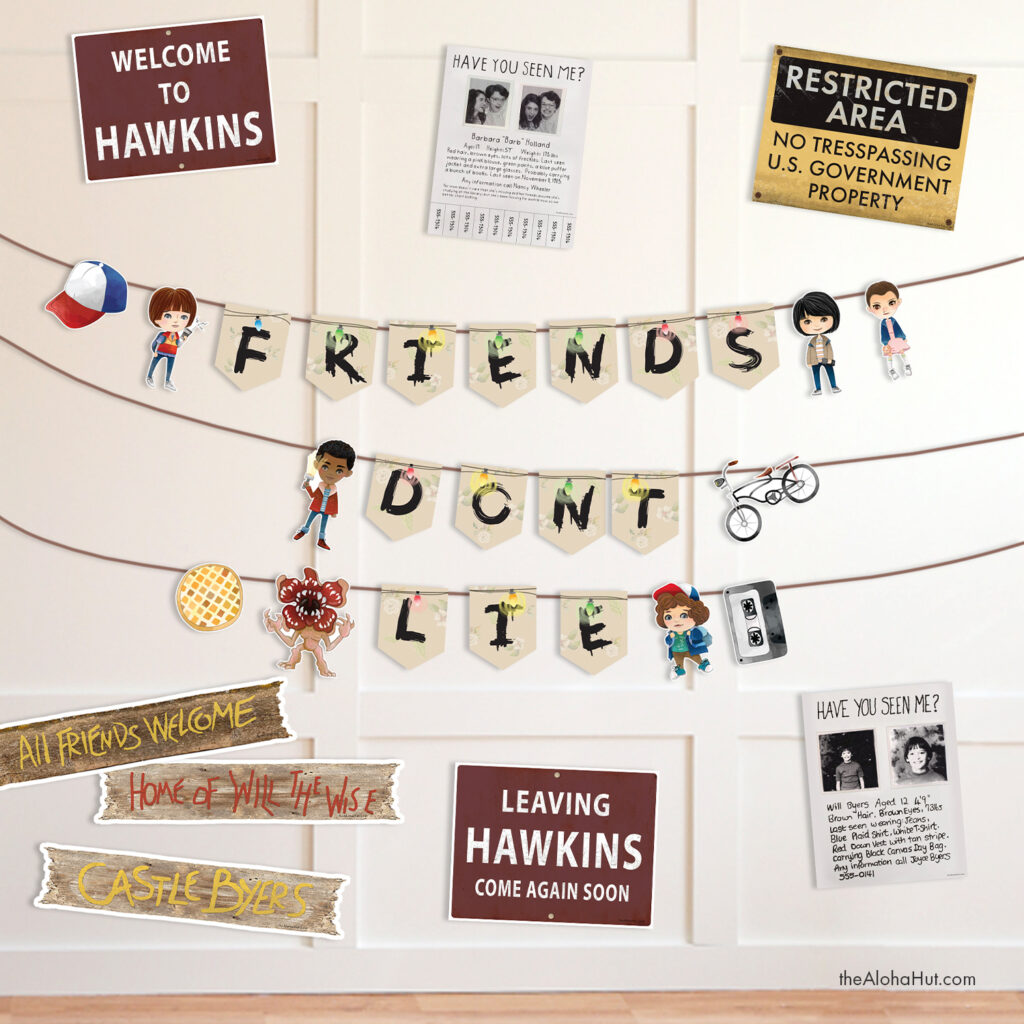 Set the mood for your party by decorating the front door as well as the inside. This can be done quickly with a few signs & some caution tape or more elaborate if you have the time & creativity. It would be super cool if you could turn your home into the Upside Down, Vecna style, for a super creepy Halloween party but if you don't have the patience, you can use our FREE PRINTABLE Stranger Things signs as a good & simple alternative. Here are what we have for the free download:
Welcome to Hawkins
Leaving Hawkins Come Again Soon
HNL Hawkins National Laboratory U.S. Department of Energy
Restricted Area No Trespassing U.S. Government Property
Missing Posters for Will, Barb, & Eddie Munson
Wanted Poster for Eddie Munson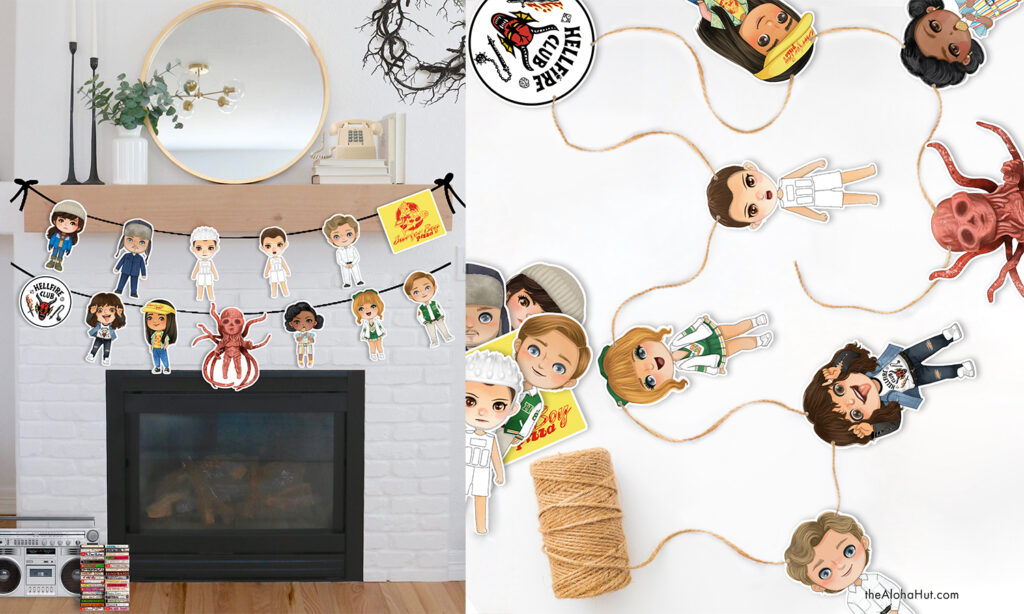 For the interior, we love using banners and garlands as well as props from the 80s. You could use old cassette tapes, a boom box, an old telephone, roller skates or any 80s toys you have lying around. Display these toys on and around the mantle or on the food table. You can easily add a personalized message with our Stranger Things inspired alphabet garland available in our Etsy shop. Print the separate pages off as many times as you need to spell out any message. Combine our Stranger Things Alphabet Garland with any of our FREE PRINTABLE character garlands. We included most of the main Stranger Things characters (Eleven, Will, Mike, Dustin, Lucas, Max, Hopper, Joyce, Nancy, Jonathon, Barb, a Demogorgon, Robin, the Mind Flayer, One, Vecna, Eddie, Argyle, Erica & Jason) along with a few extra items from the show (waffle, bike, walkie talkie, bandana, cassette tape, Dustin's hats, Sony Walkman, Hellfire Club logo & Surfer Boy pizza logo). Click on the hyperlinks to download: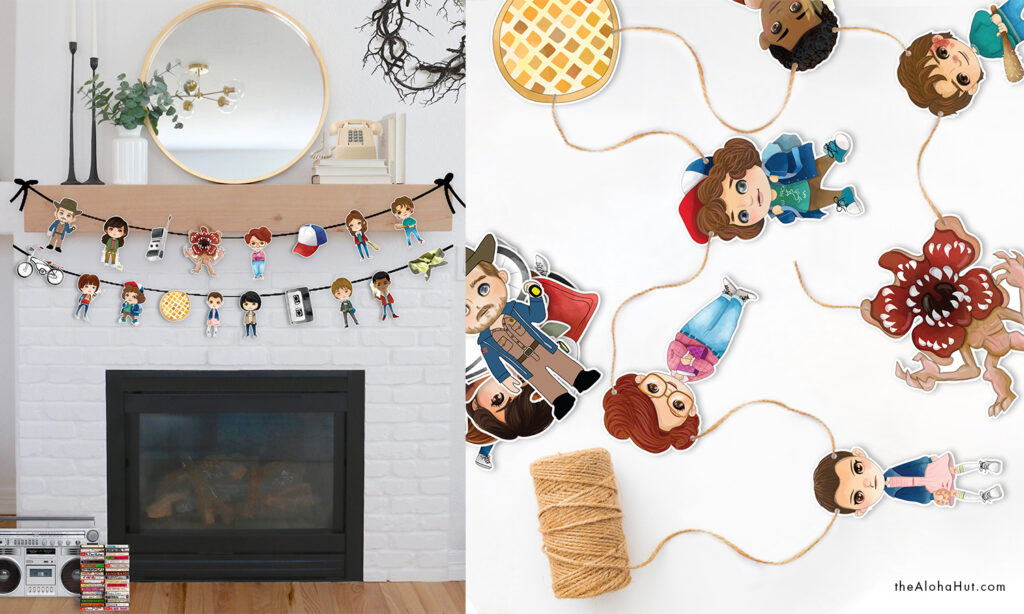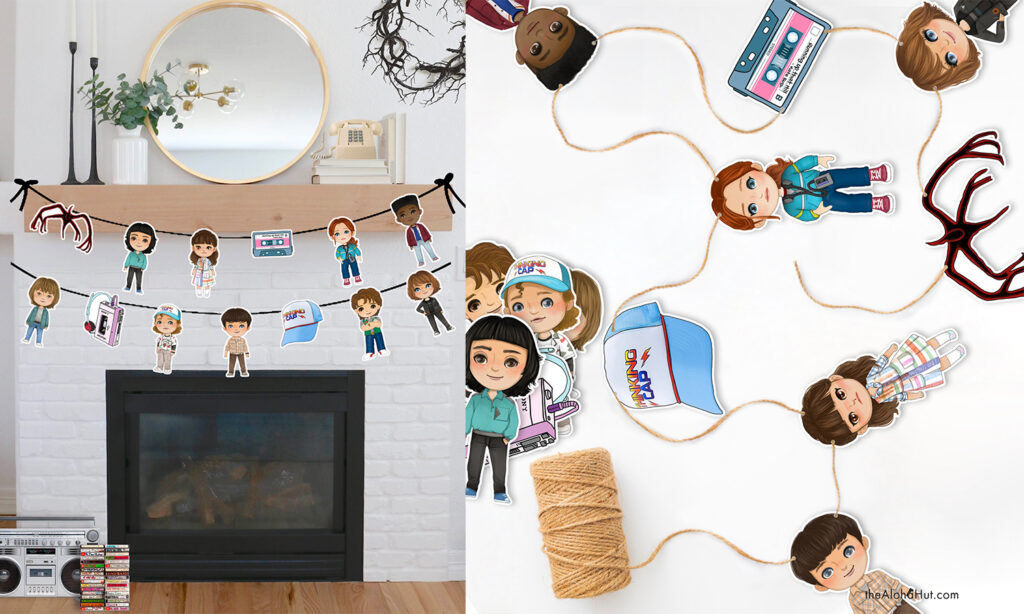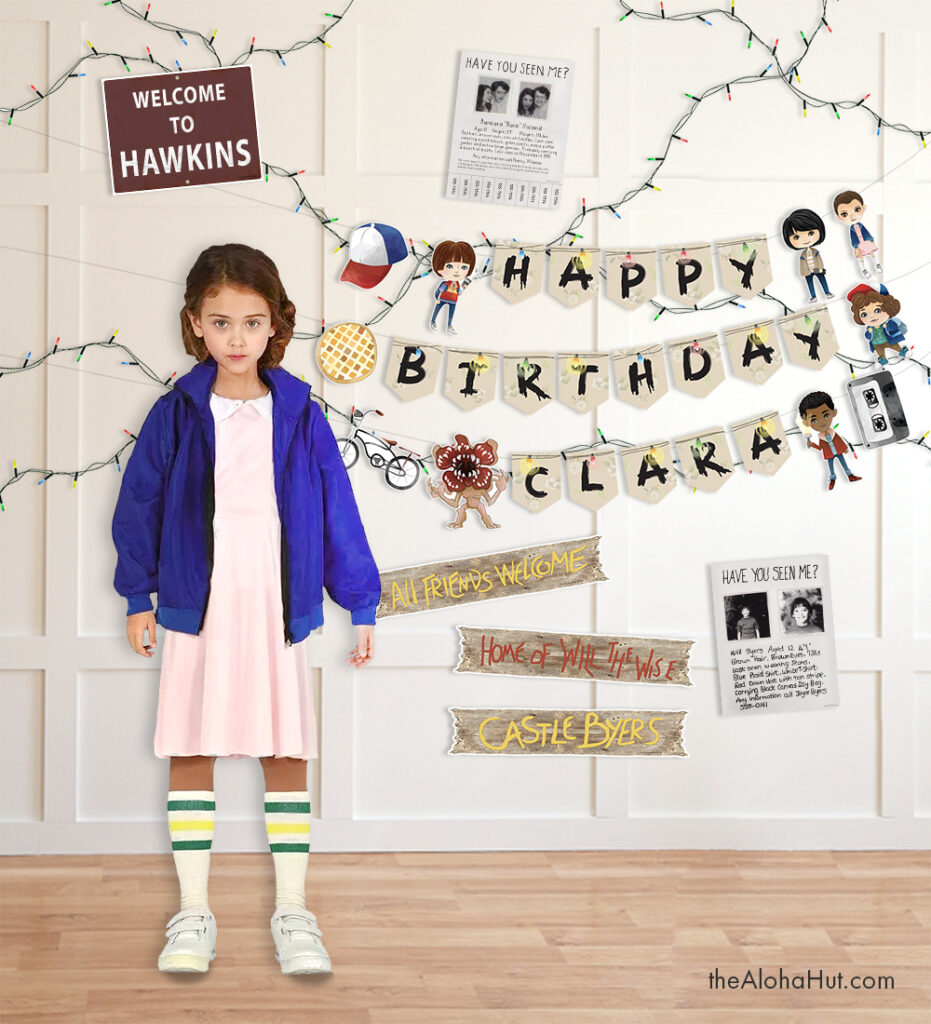 Some phrase ideas that would go well with a Stranger Things themed party are "Happy Halloween," "Friends Don't Lie," "Happy Birthday (person's name),"Not Today Vecna," "Mouthbreather," "Stuck in the Upside Down" and so on.
BUILD A FORT & TURN IT INTO CASTLE BYERS FOR A FUN VIEWING PARTY OR TO PLAY GAMES AND EAT JUNK FOOD WITH FRIENDS FOR A BIRTHDAY PARTY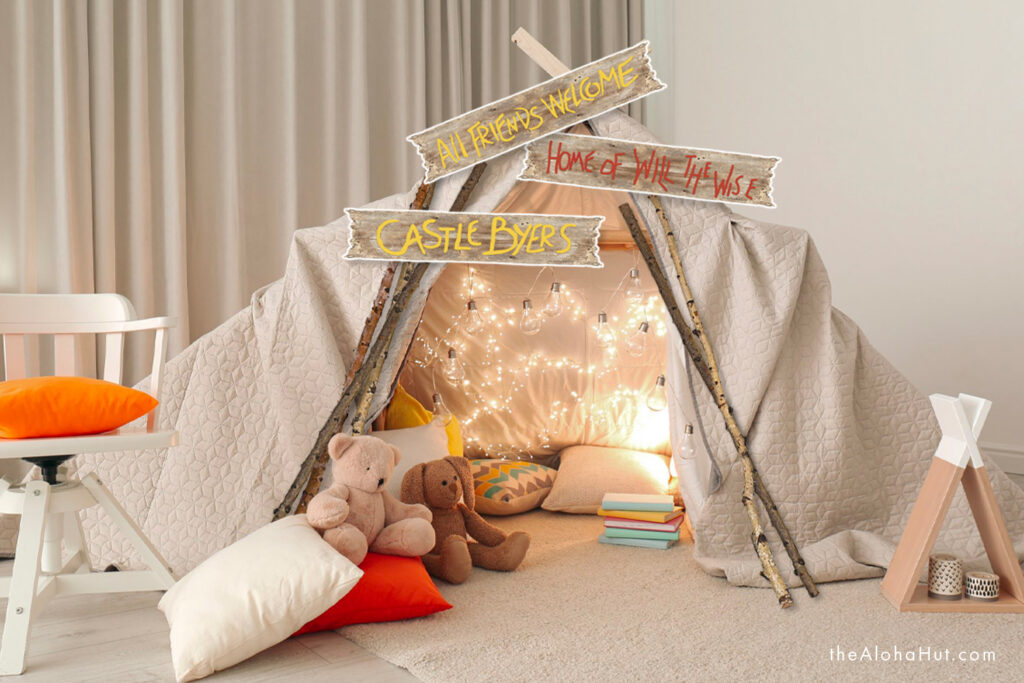 Castle Byers was Will's sanctuary where he would draw pictures and read comics. He hid in it for 3 days while he was in the Upside Down. Make your own fort hideout and easily turn it into Castle Byers with some blankets, chairs, a few sticks (not necessary but adds an awesome touch) and either make your own signs or print off our signs to hang up. This would be super fun to watch Stranger Things for a viewing party or a place to play some old school board games, eat some junk and hangout during your birthday party. The cool thing is pretty much any kind of fort or tent can be turned into Will's wooded hideout. All you need to do is add signs and voila, it's Castle Byers. Will put up three signs in total: Castle Byers, Home of Will the Wise & All Friends Welcome. We made two FREE PRINTABLE sizes, 8.5×11 inches (standard printer size) or a 16×20 inch to print at your local print shop like Walmart or Walgreens.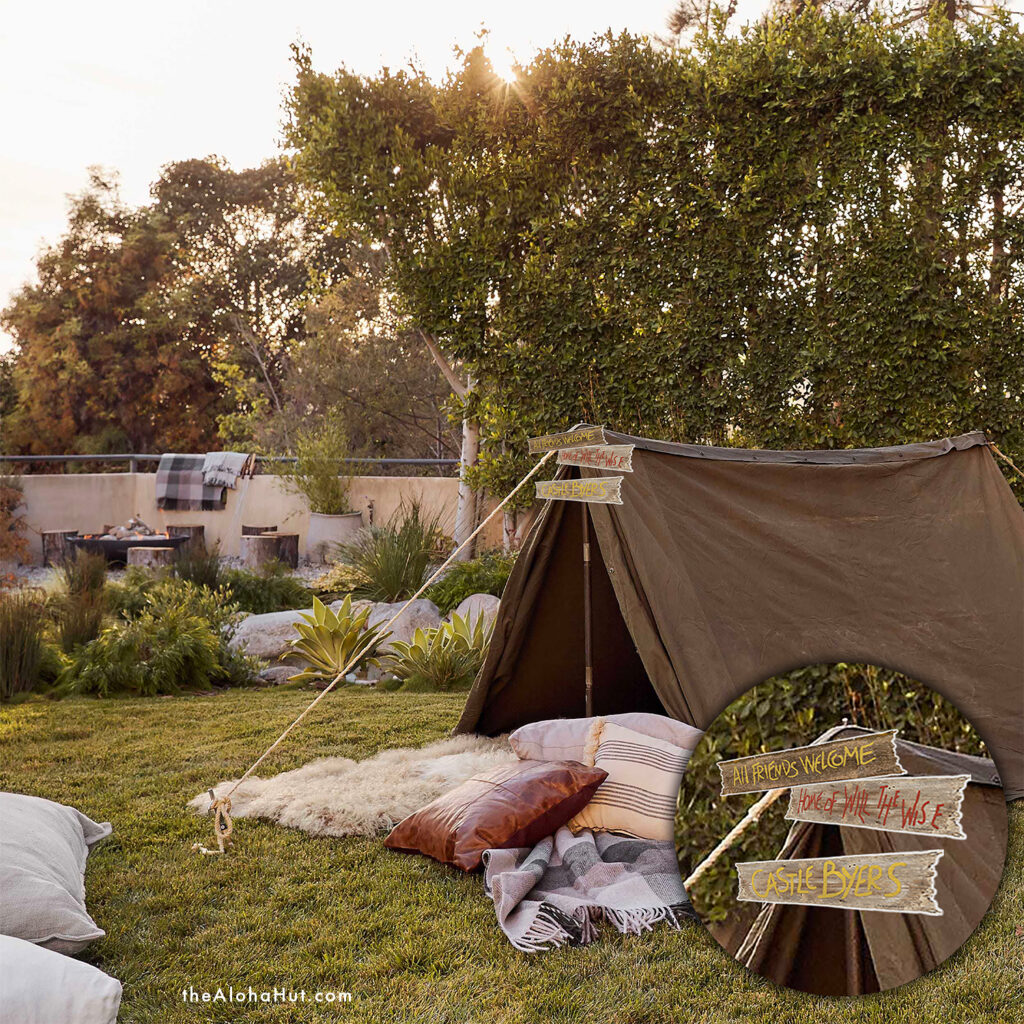 Don't forget to make your hideout extra comfy by adding some blankets, pillows and maybe a mattress or two just like the actual Castle Byers.
ALPHABET WALL PHOTOBOOTH BACKDROP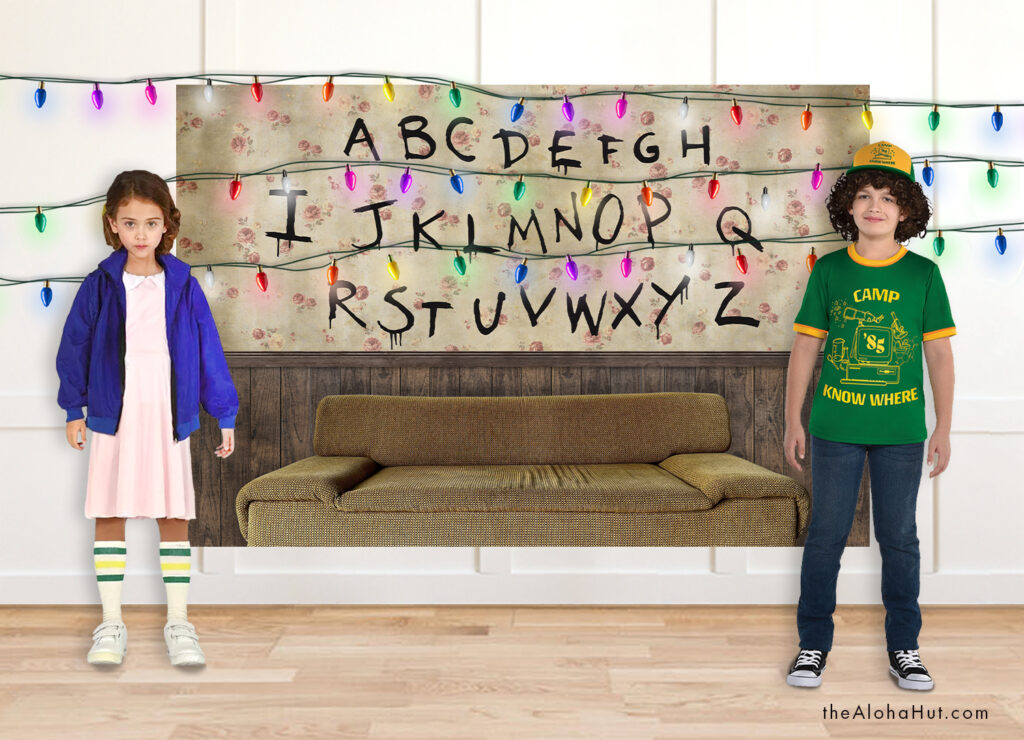 If guests decide to get all dressed up, they'll definitely want a picture to remember the evening. There's nothing more iconic from Stranger Things than Joyce Byers' living room Alphabet Wall with Christmas lights. We recreated the Stranger Things Alphabet Wall for you as another FREE DOWNLOAD. It's a large print (4×6 feet) but for a photo booth you need something large. We recommend printing at your local Makerspace. These can be found inside local libraries and are available to the public (if located in the United States). If you don't live in the United States or near a Makerspace, check your local print shop for prices. The Makerspace is awesome because you can print on vinyl up to 5 feet wide and however long as you need. The cost for the one located here in Ohio is only $3 per linear foot! I got this printed off for Halloween this year and only paid $18! I put it outside for all the Trick-Or-Treaters to take selfies with and they loved it!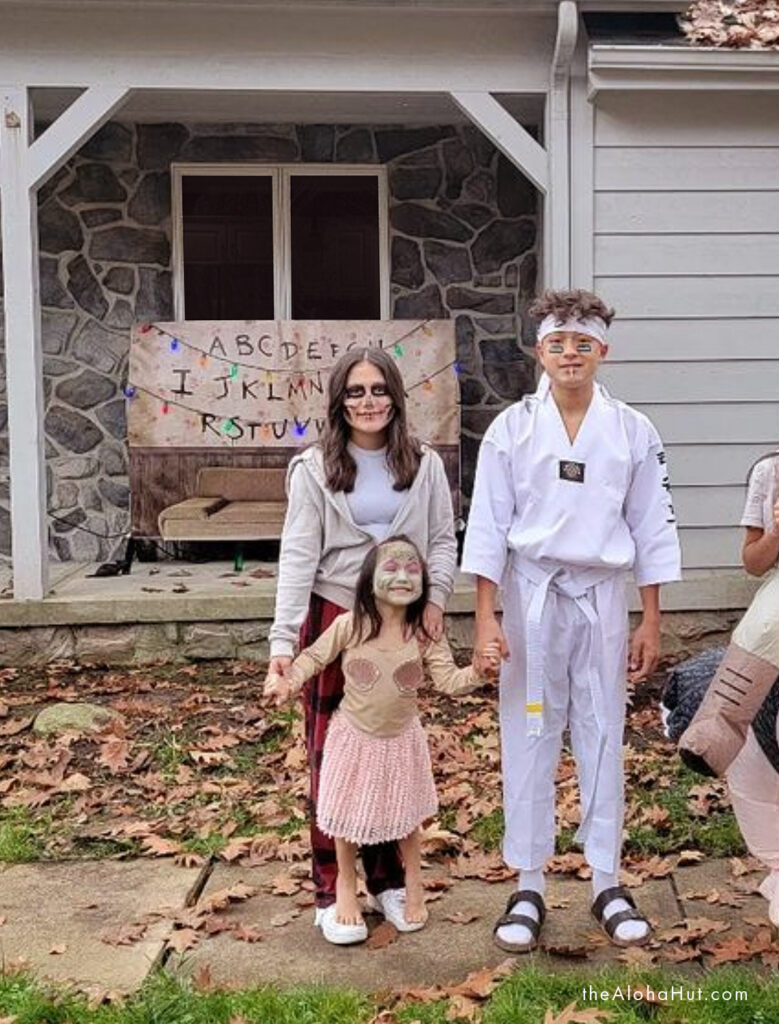 Next year I'll add a small landscaping light pointing towards it so it lights up better. The Christmas lights weren't bright enough to light up the entire thing as it got darker.
AWESOME PARTY FAVORS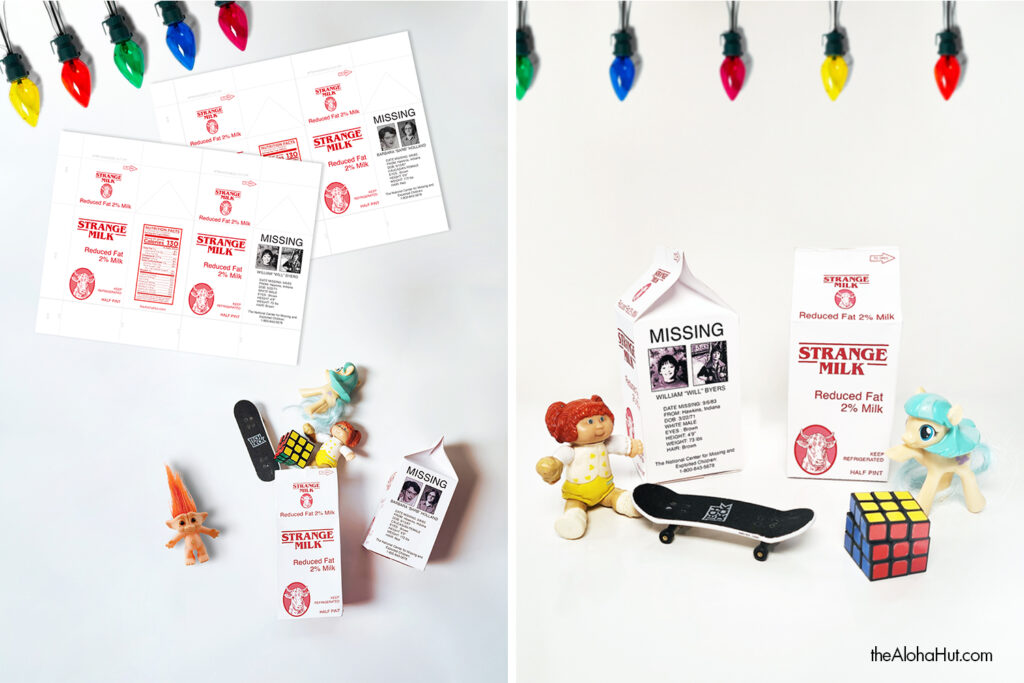 Don't forget to send guests home with a goody bag. We have three FREE PRINTABLE party favor options. First up is this 80's inspired Missing Children's Milk Carton party favor. In the early 1980's the idea of using milk cartons to advertise missing children became a huge thing. As time went on, better forms of advertising became available so this was phased out but it is one of the many symbols of the 80's. We made our own Strange Milk with Will's "Missing" poster as well as one for Barb. These were really easy to make and took under 5 minutes. You can fill it full of small treats or small toys from the 80's. They are really cool as they also double as party decor!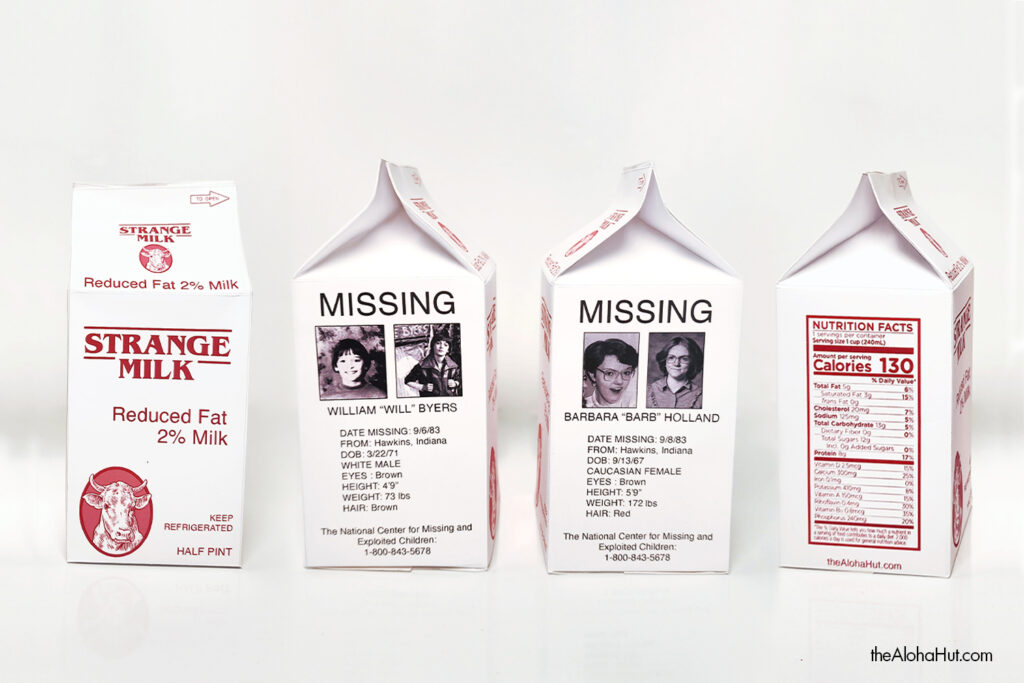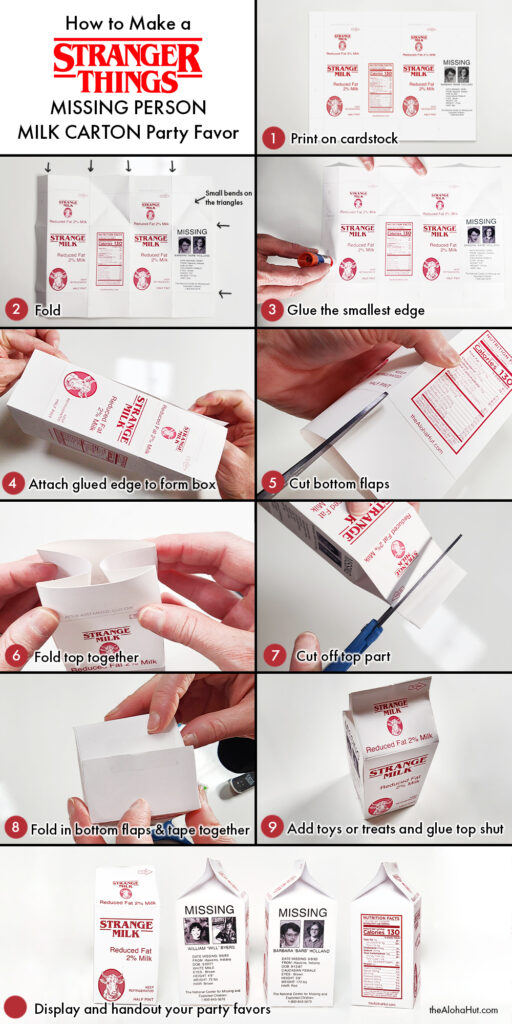 If you want to go the super easy route, print off this Stranger Things tag that says "Thanks for making my party strange" and attach it to any party favor of your choice.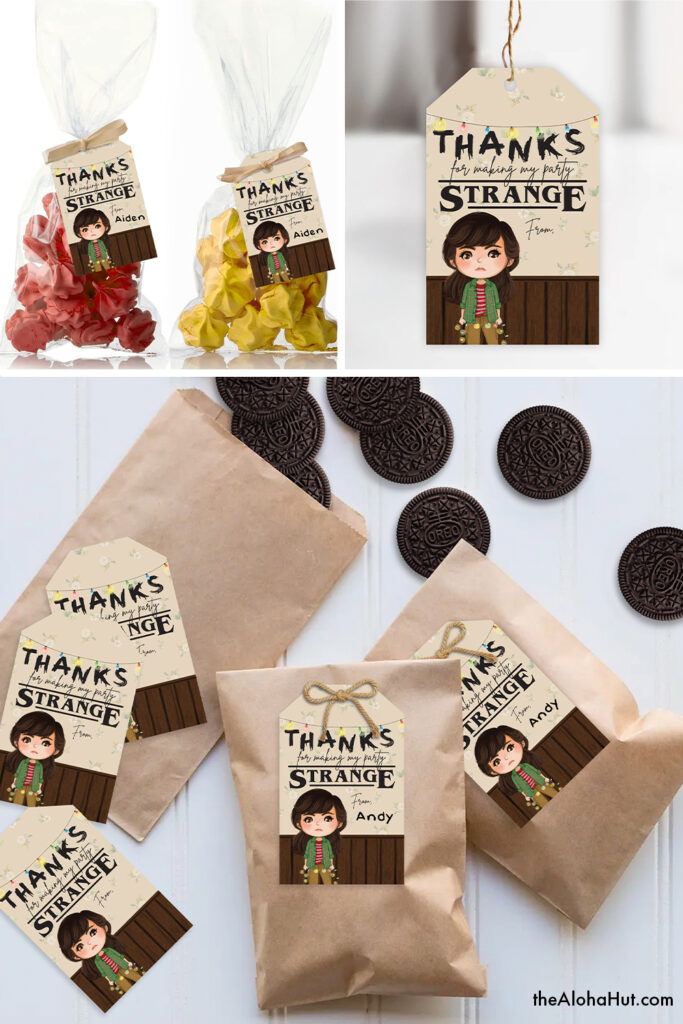 Up next, food! A great party includes great food and we've got some really great ideas on how to easily put together a cohesive good table to go along with any Stranger Things themed party. If you use our printables, please share by tagging us on Instagram.
Thanks for being Strange with us,
Stacey + Niki
---