13 Magical Encanto Party Ideas – Decor
13 Magical Encanto Party Ideas – Decor
This post may contain affiliate links. Read our disclosure policy.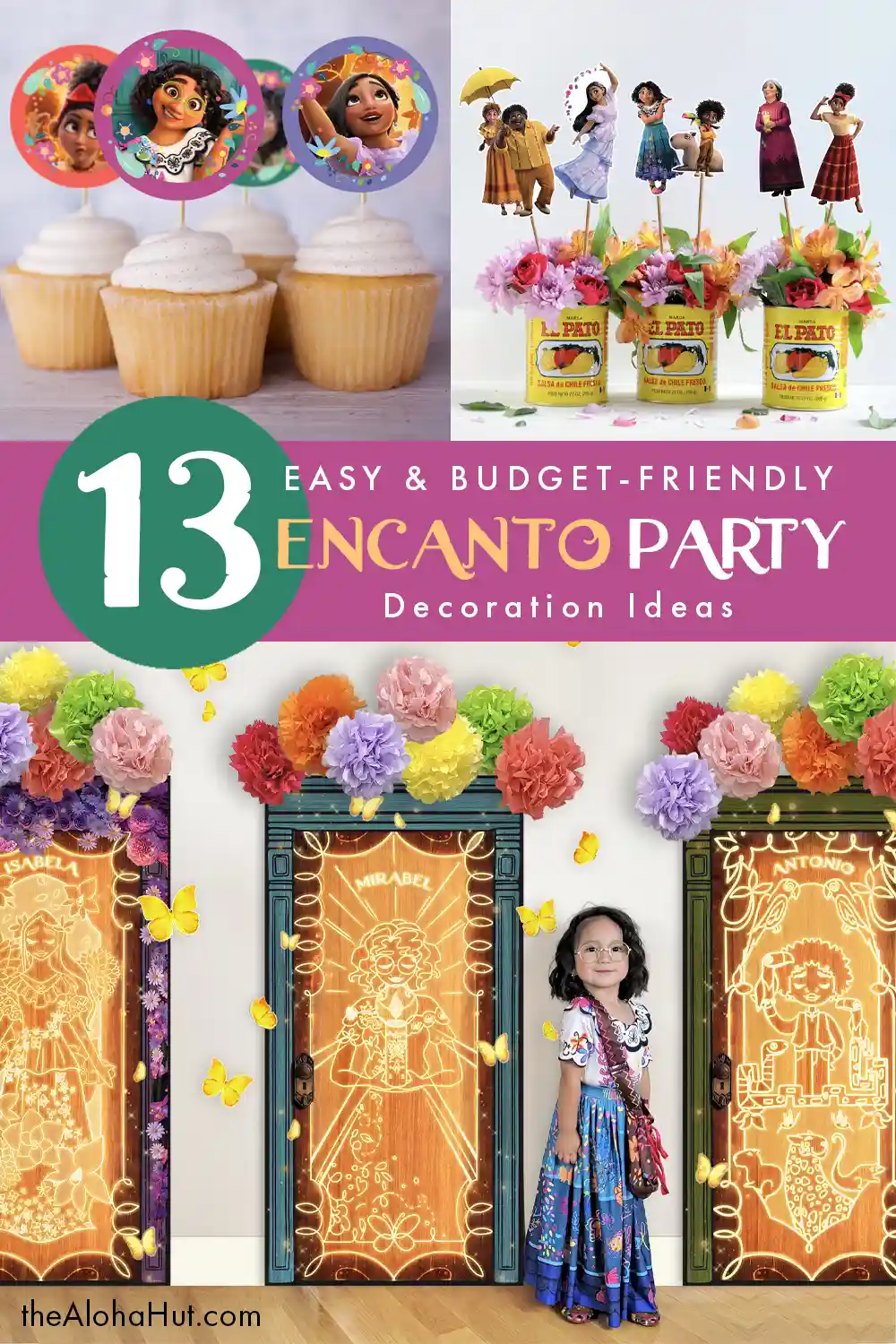 We loved Disney's movie Encanto and were so excited to plan an Encanto themed kids birthday party! We had so much fun creating a fantastical and magical casita with all our favorite Encanto characters, lots of colorful decorations, fun Encanto themed birthday party games + kids activities, and of course yummy food. So you're in the right place if you're looking for some awesome Encanto party ideas for your next birthday party or Halloween celebration!
If you're trying to plan an Encanto themed kids birthday party – we're here to help! We've got lots of simple and easy ideas for decorating on a budget (or going all out if that's your style), fun Encanto themed kids games and activities everyone will love, and simple food ideas you can easily throw together. We've broken them down into three parts to make it easy to follow and jump ahead to the section you're looking for – (1) Encanto party decorations, (2) Encanto party games and kids activities, and (3) Encanto themed party food.
The movie Encanto is full of vibrant colors, fantastic music, and great messages about family. We wanted to encompass all of that in our Encanto party decorations and include lots of vibrant, fun colors and decor!
ENCANTO DOORS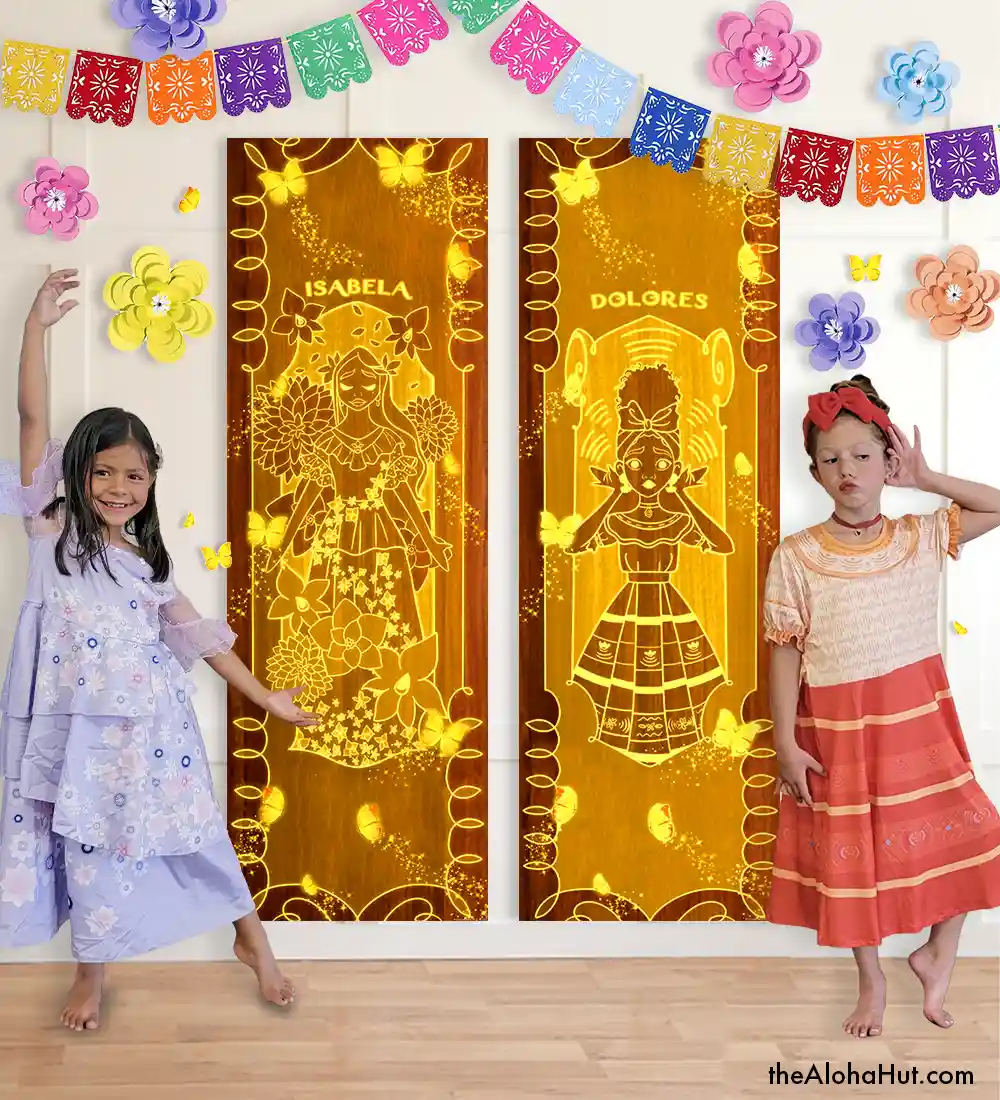 The Encanto movie is centered around the Madrigal family and their house Encanto – so of course we had to recreate the Encanto casa for our birthday party. Our favorite party decorations were all these fun Encanto magical door prints! These easy Encanto doors transform the space into the Encanto casita when you line them all along the walls. We had a magical door for each Encanto character: Mirabel door, Isabela door, Luisa door, Dolores door, Camilo door, Antonio door, Julieta door, Pepa door, Bruno door, and Abuela door.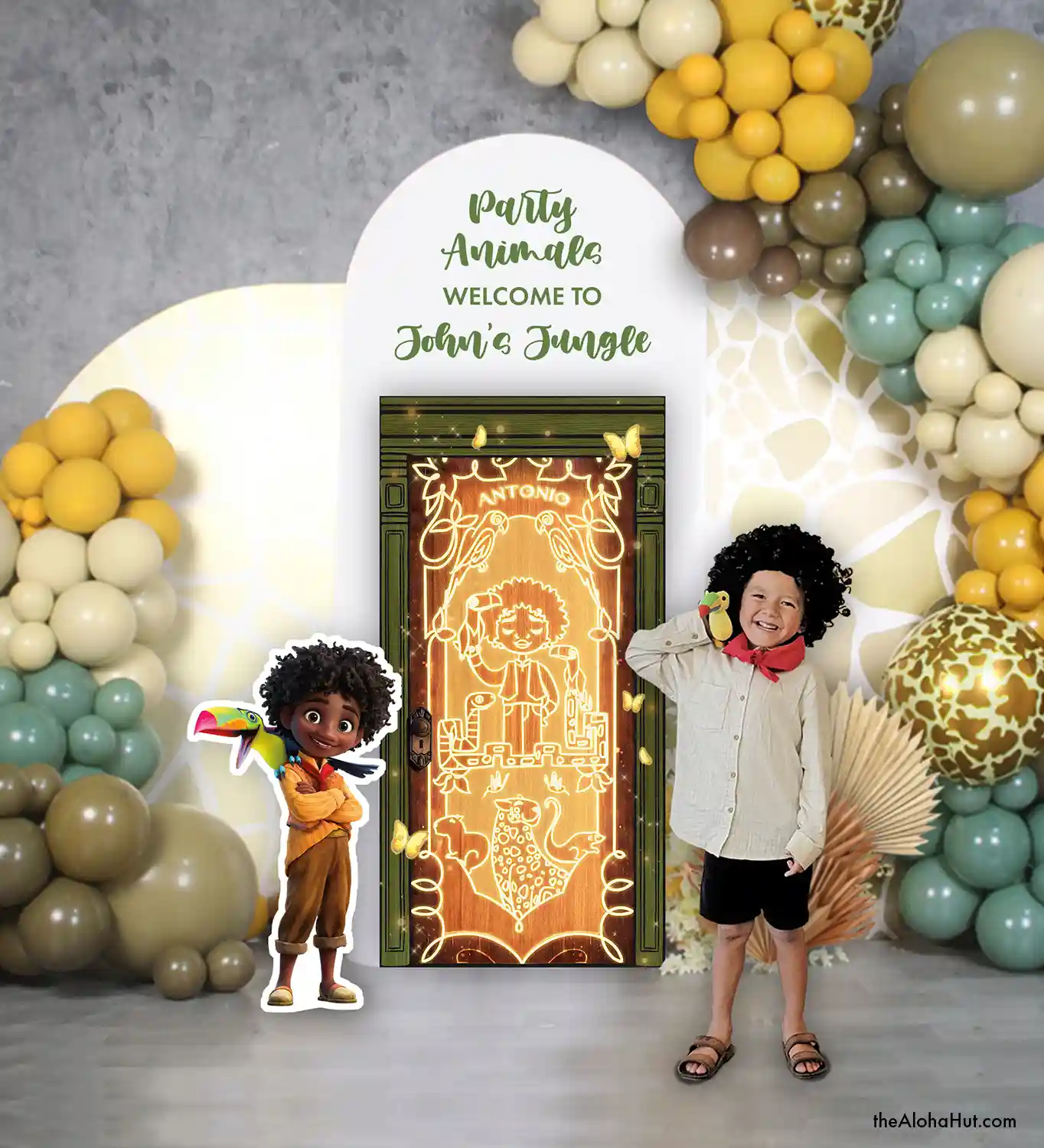 We had two different Encanto door sizes – a regular sized Encanto magical door that is great to put on an actual door and then fun and colorful kid size Encanto doors. The kids loved the kid size Encanto doors because they're the perfect height for them. They had so much fun finding their favorite Encanto character's door and taking a picture in front of the magical door! The Encanto doors were not only a fun decoration, but doubled as a great photo backdrop. The magical Encanto doors were super easy to print too. We printed the Encanto doors at Walmart and Walgreens and loved the quality of both. Walmart prints on glossy, thick photo paper. Walgreens prints on matte paper that we got half off because they're constantly running Walgreens photo coupon promotions. Google "Walgreens photo coupon" to see if they have any coupons before you print from Walgreens.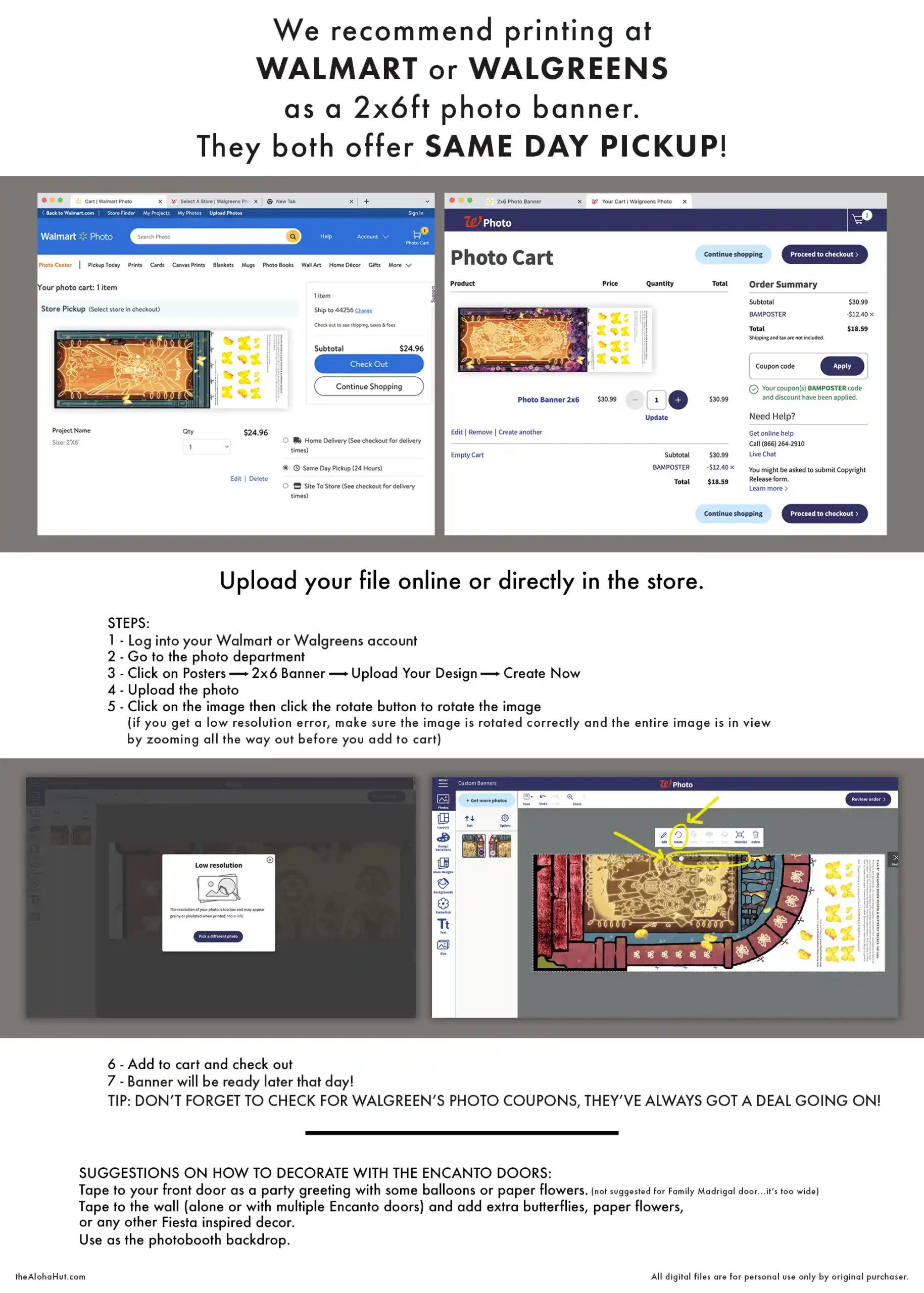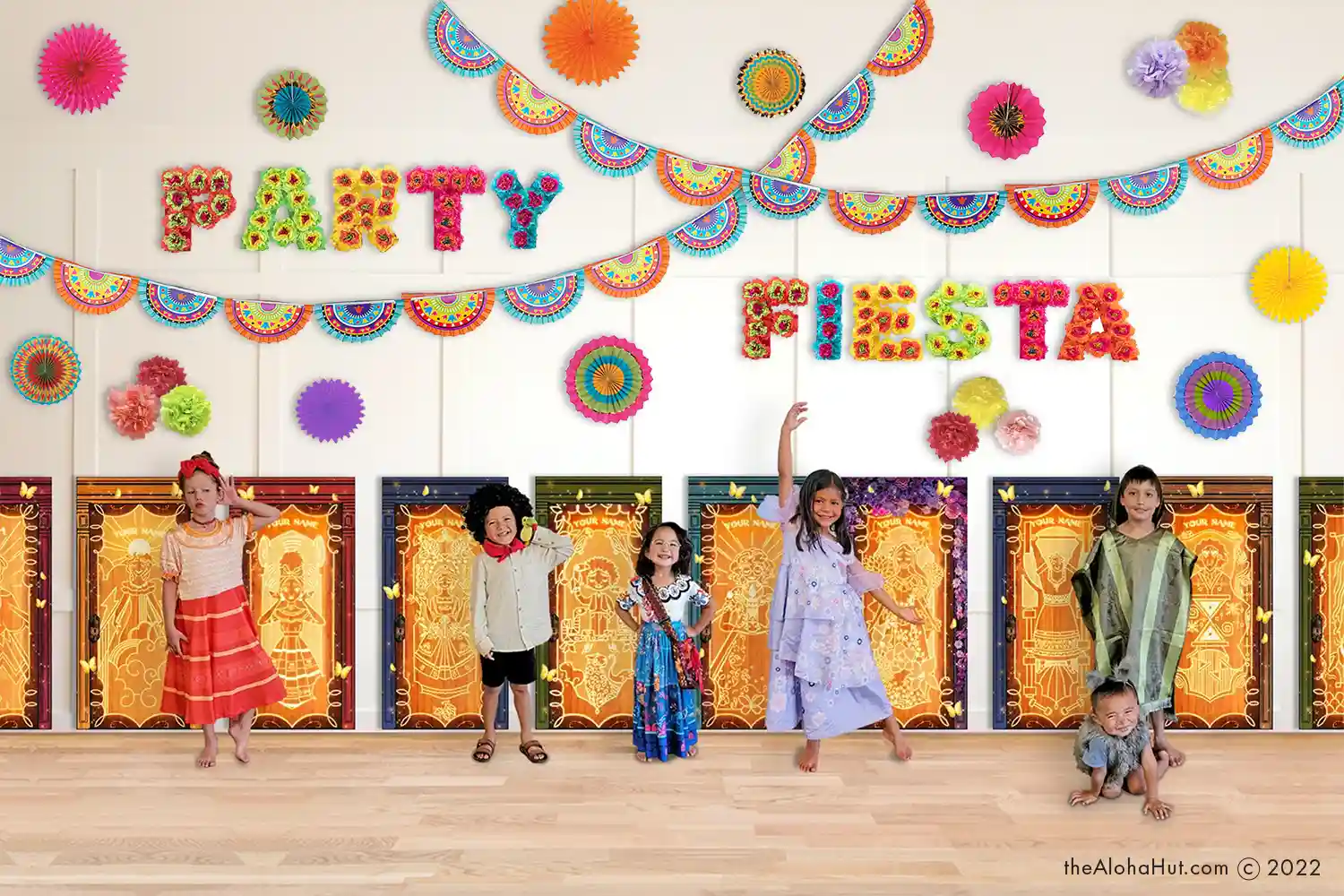 TISSUE PAPER FLOWERS & FIESTA BANNERS
Pair the Encanto doors with tissue paper flowers and fiesta party banners / plastic flags. Both are budget friendly party decor! We bought plastic flags off Amazon and made our own tissue paper flowers.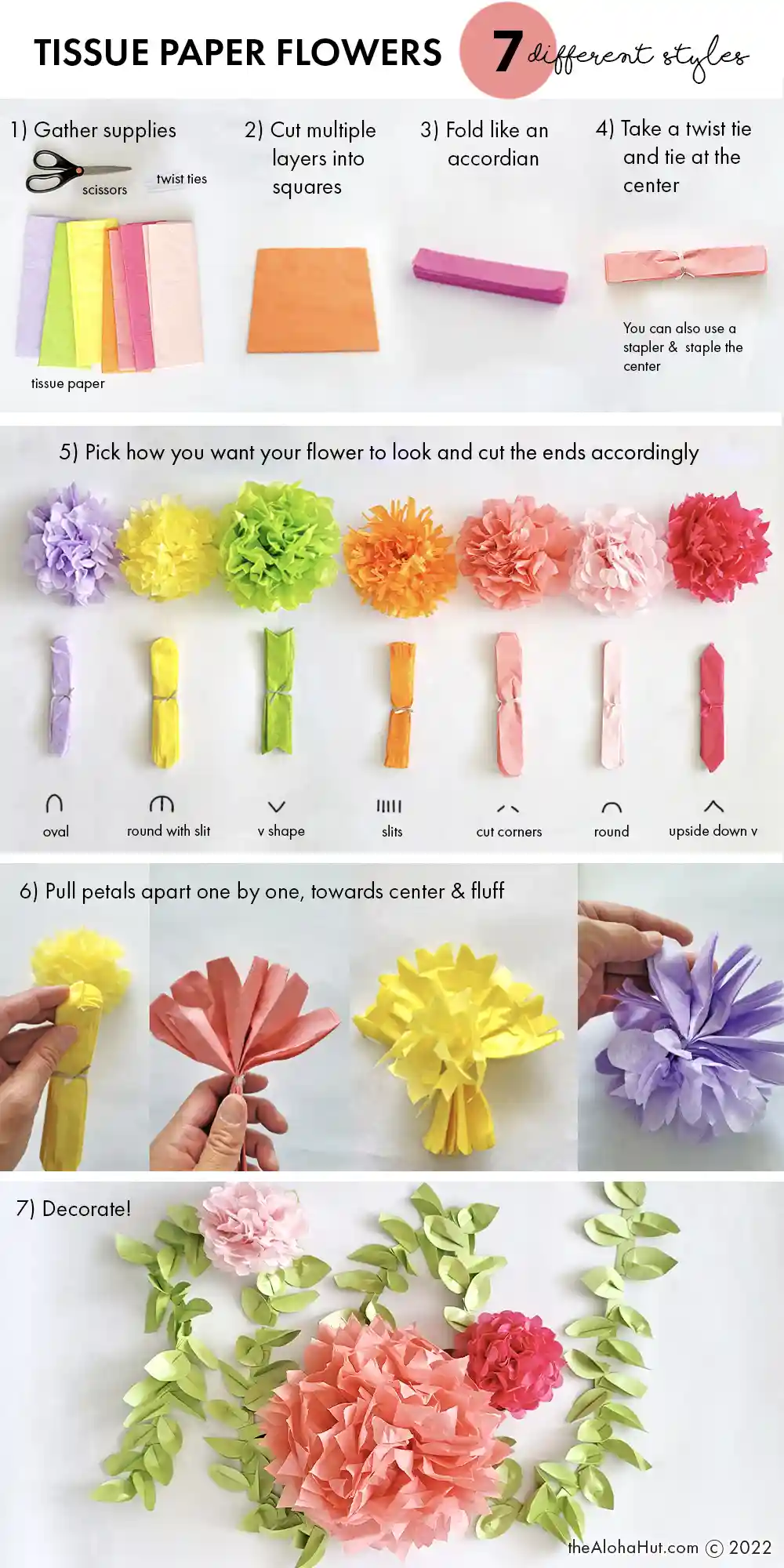 Tissue paper flowers are super cheap and so easy to make…even for beginners. The colorful tissue paper flowers make a big wow statement, come in a bunch of colors to match your party theme, and are a great and easy DIY party decoration. You can make a variety of flowers depending on how you cut the ends, mix colors or do a single color, vary how many sheets of tissue paper you use to get fuller flowers, make them big or little, etc…so many possibilities! Tissue paper flowers are a simple, budget friendly decoration that added so much fun and flair to the Encanto birthday party.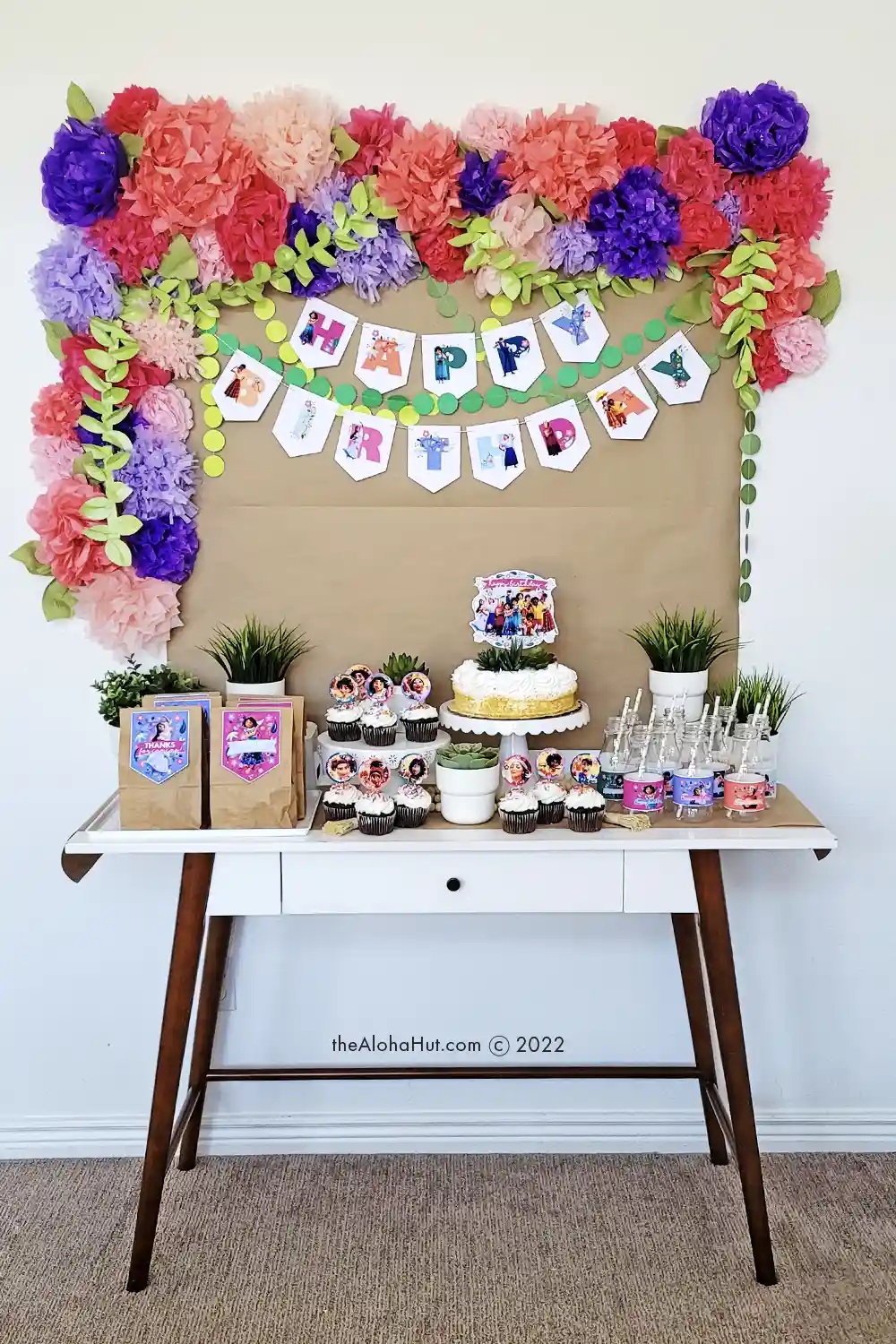 PRINTABLE DECORATIONS
One of our favorite tricks to decorate for EVERY party is to add themed printable details. We've created 11 easy & budget-friendly printables to help elevate your Encanto party. All are instant downloads and can be found in our Etsy shop.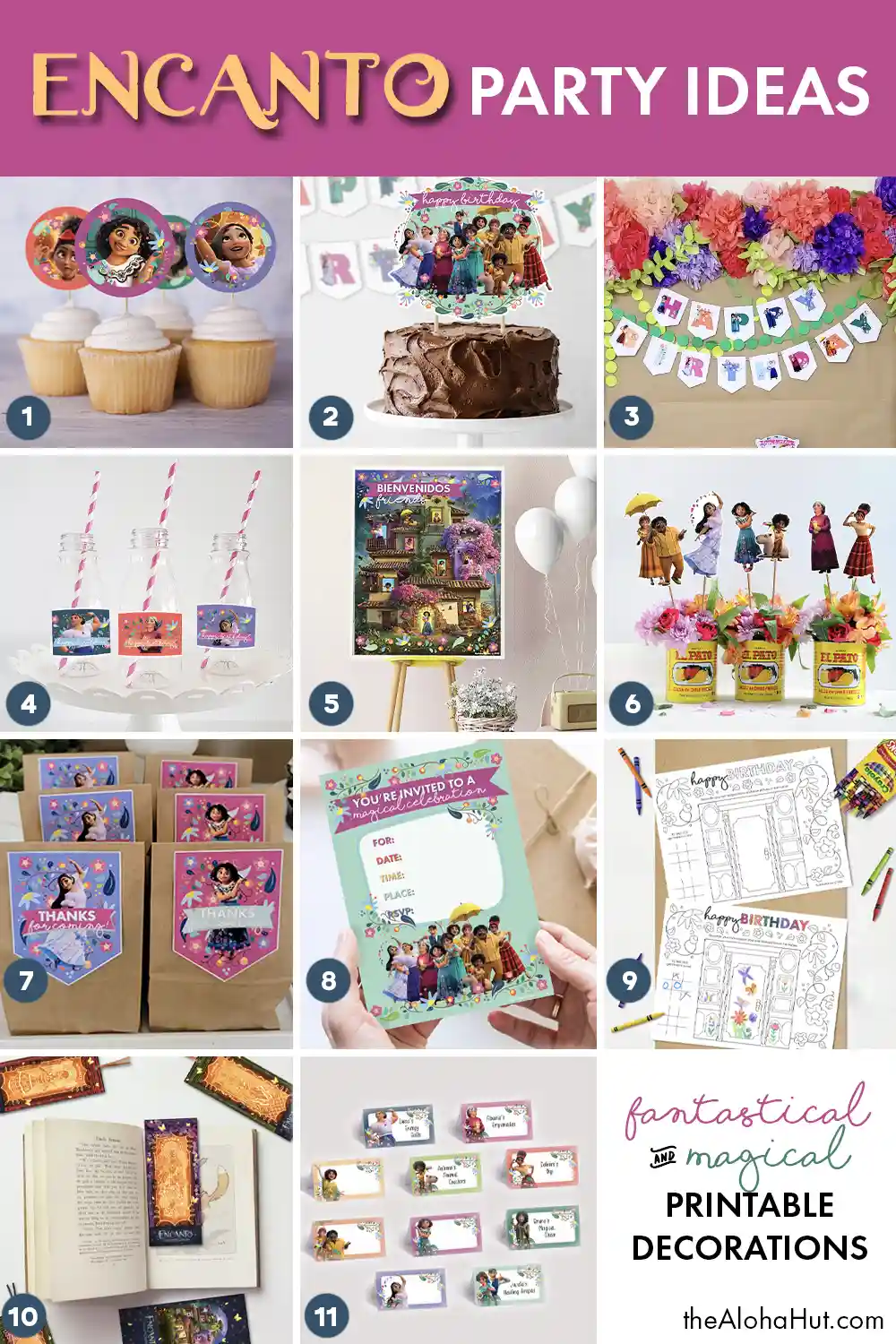 #1 Encanto cupcake toppers – has all our favorite Encanto characters. Print from home and use a 2" circle punch to cut perfect circles. Add a toothpick and put in your cupcakes for easy and cute Encanto cupcake toppers.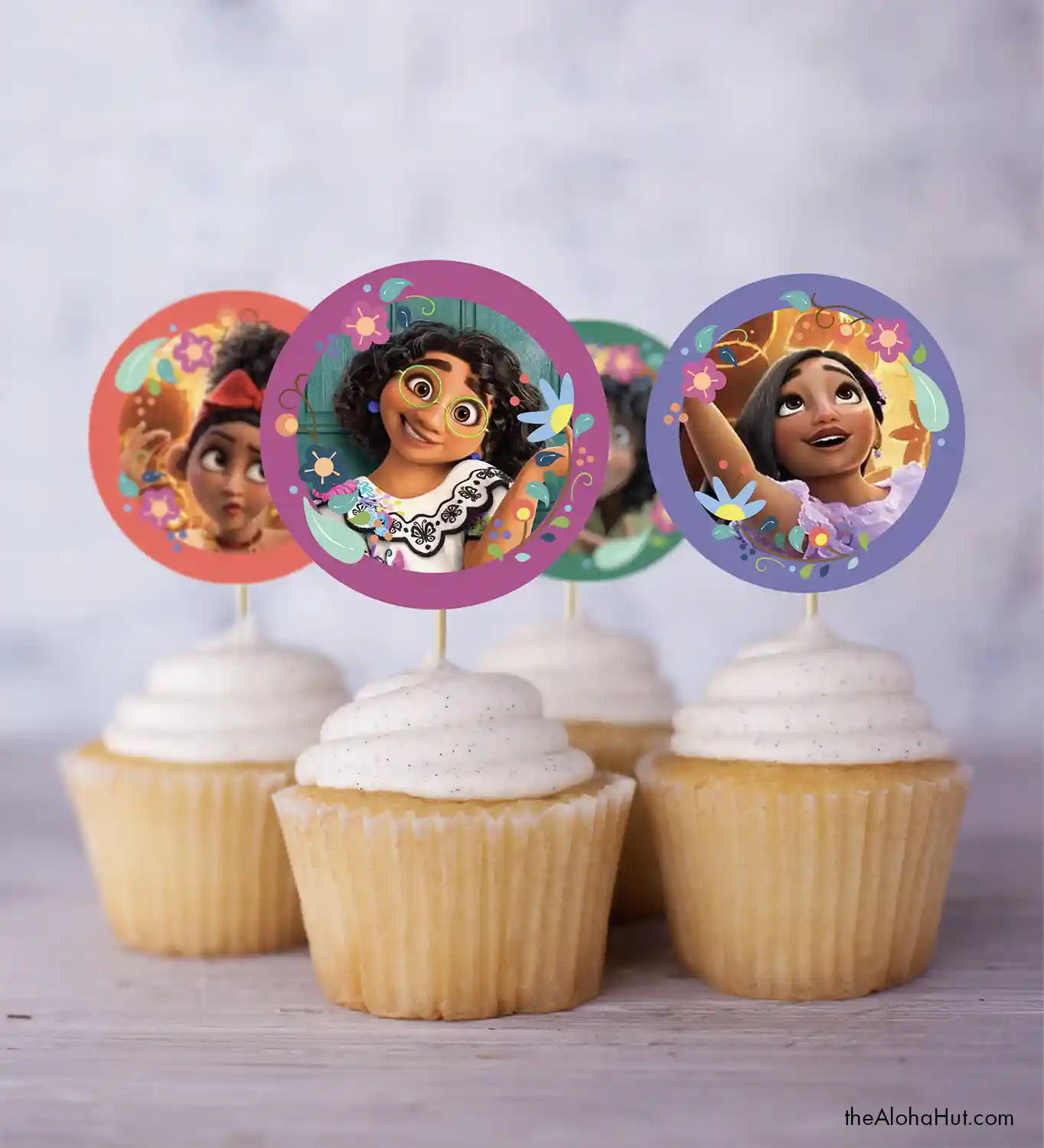 #2 Encanto cake topper – print from home, attach a stick, and put on top of your Encanto cake. We love to dress up a store bought cake with extra sprinkles, flowers, or greenery, and then add a themed cake topper. This Encanto cake topper made it easy to turn a store bought cake into an Encanto cake within minutes!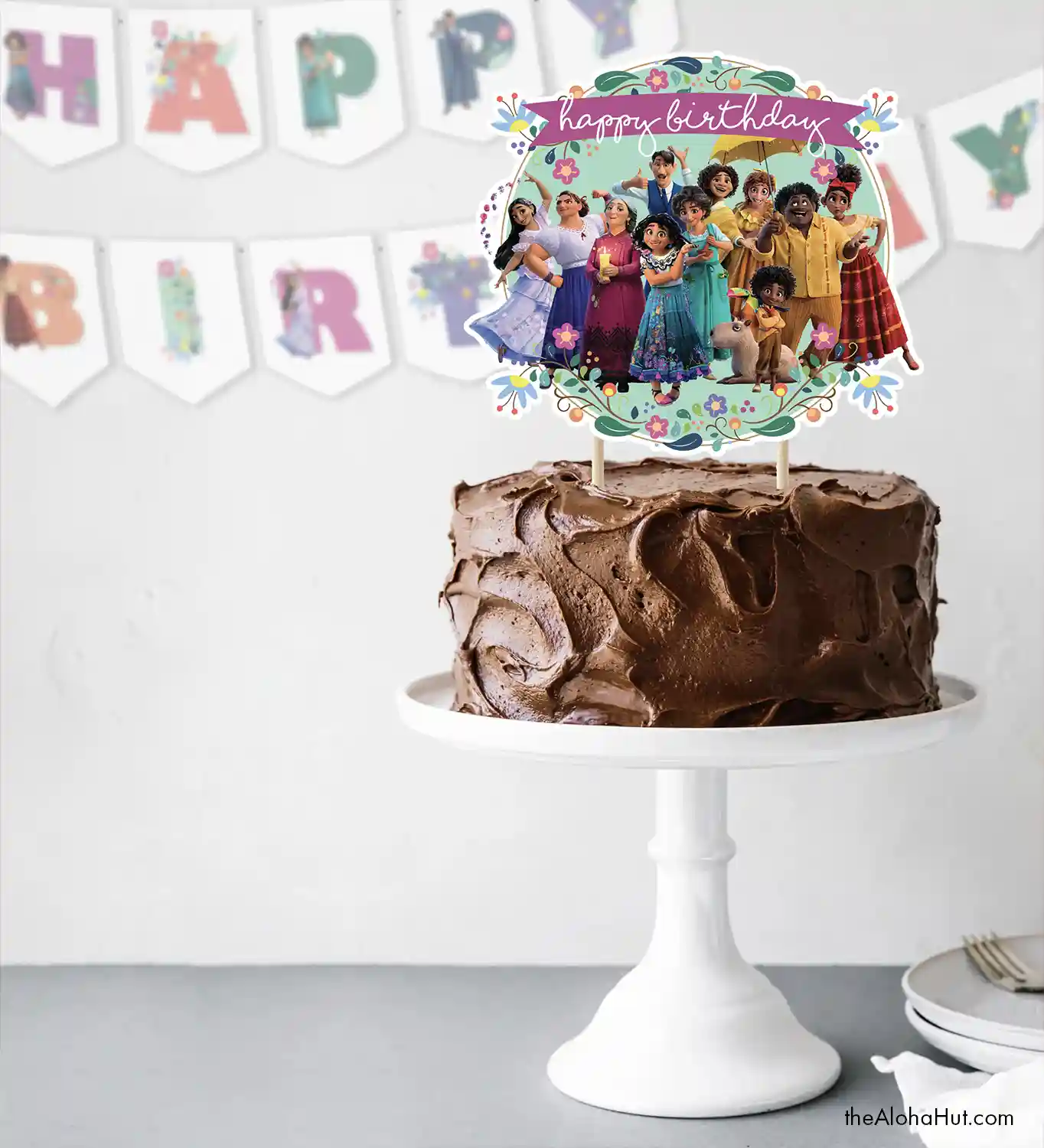 #3 Encanto birthday banner and garland – print, cut out, and attach with twine. We love DIY paper garlands!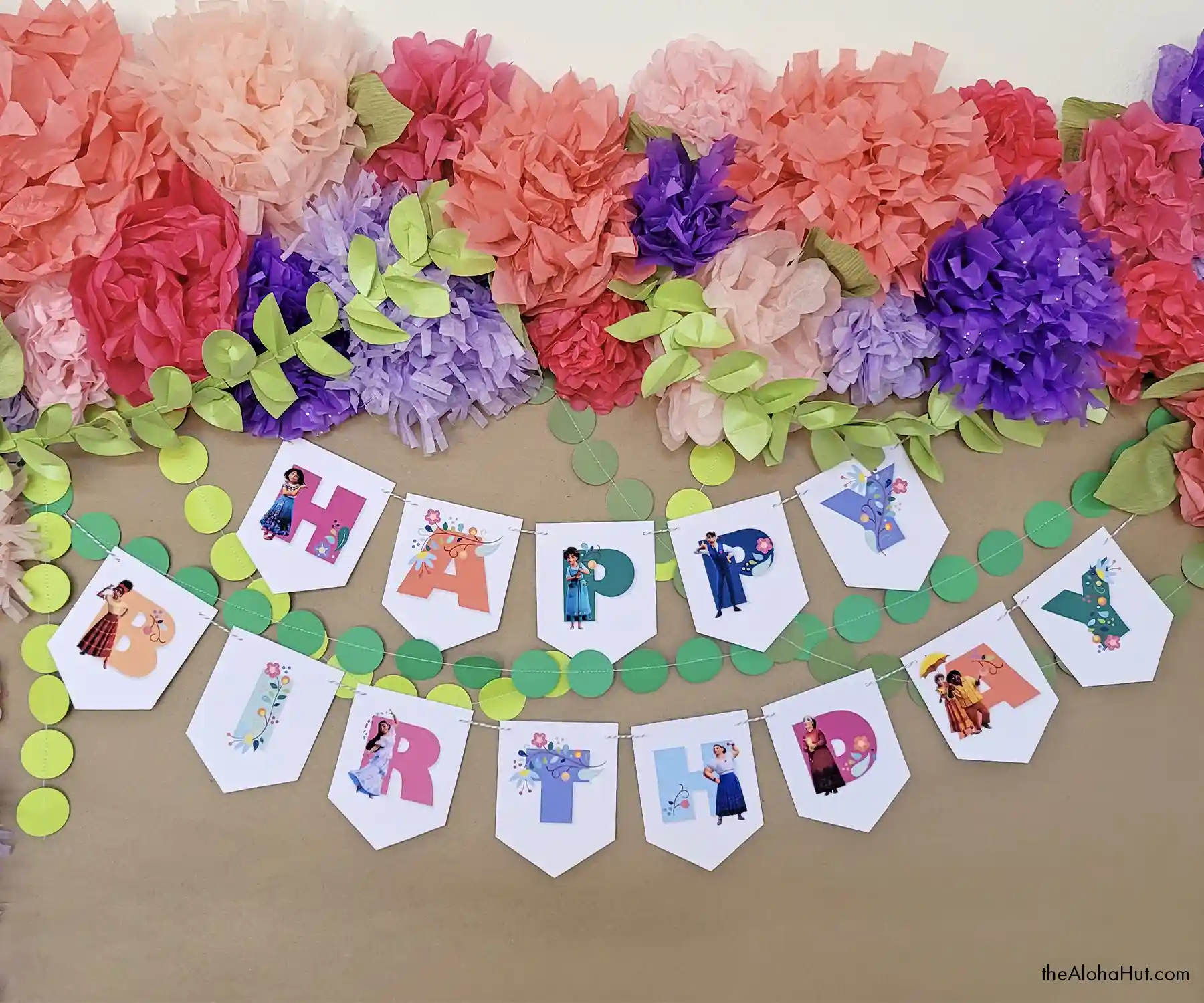 #4 Encanto drink labels – we love to wrap these around water bottles and plastic milk jugs (that we got from Amazon). Adding little touches takes the party to the next level.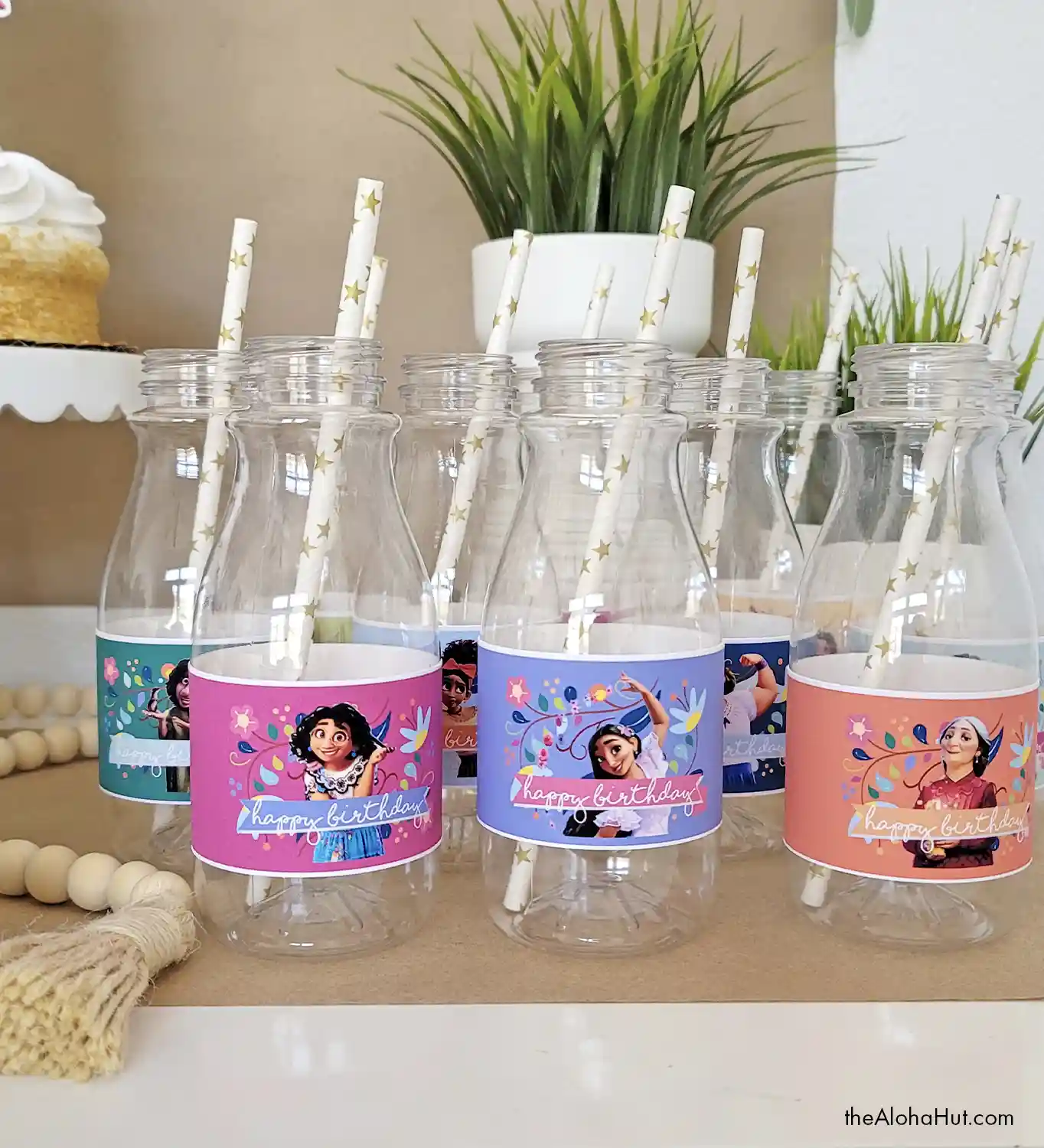 #5 Encanto welcome party sign – we love greeting guests with a welcome sign.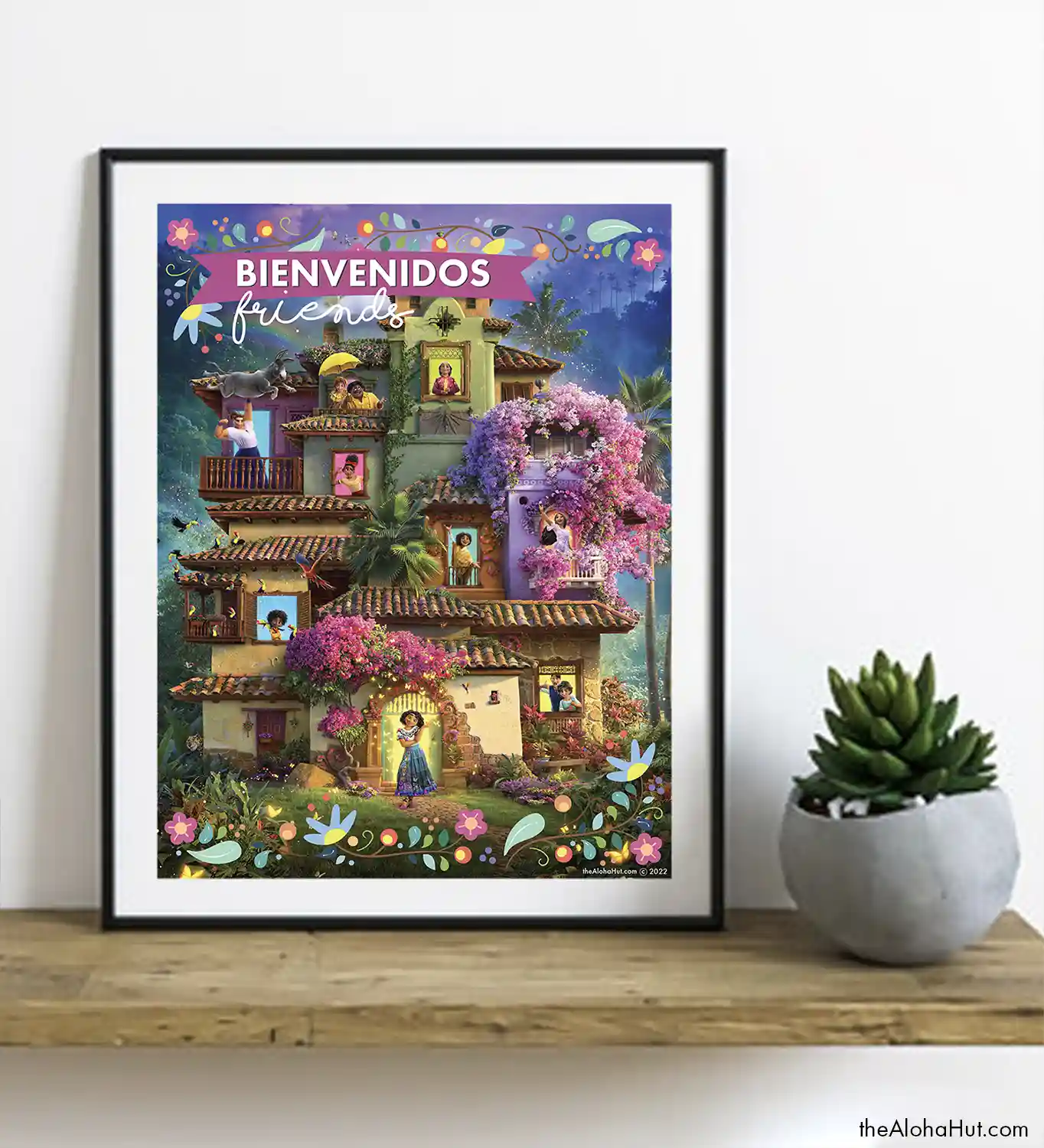 #6 Encanto party centerpieces – these were so easy to put together. Take an empty Mexican food can, add colorful flowers, and then top it off with Encanto characters on a stick. Such a festive and fun centerpiece idea.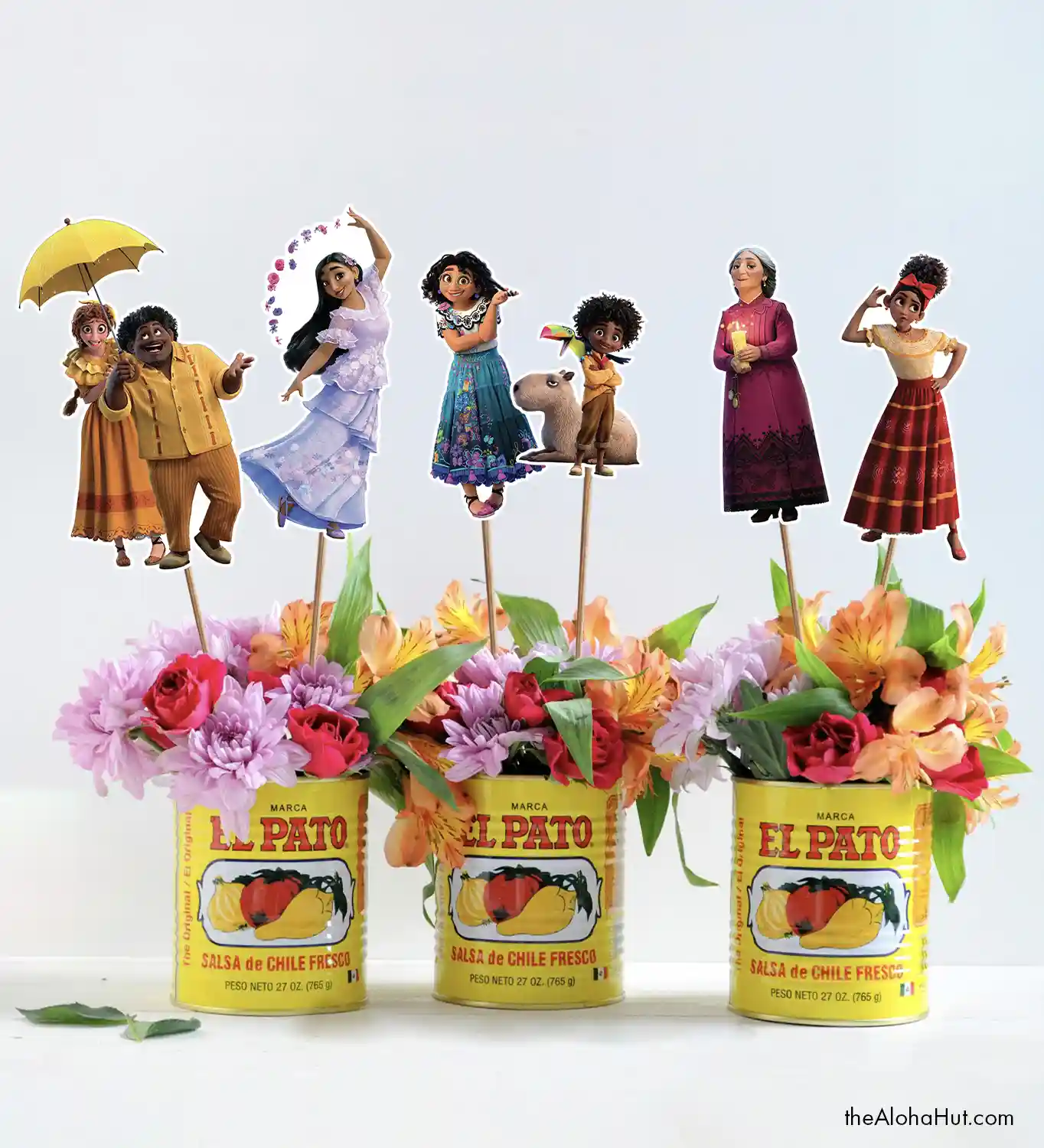 #7 Encanto party thank you tags – print from home and attach to treats and prizes for the kids.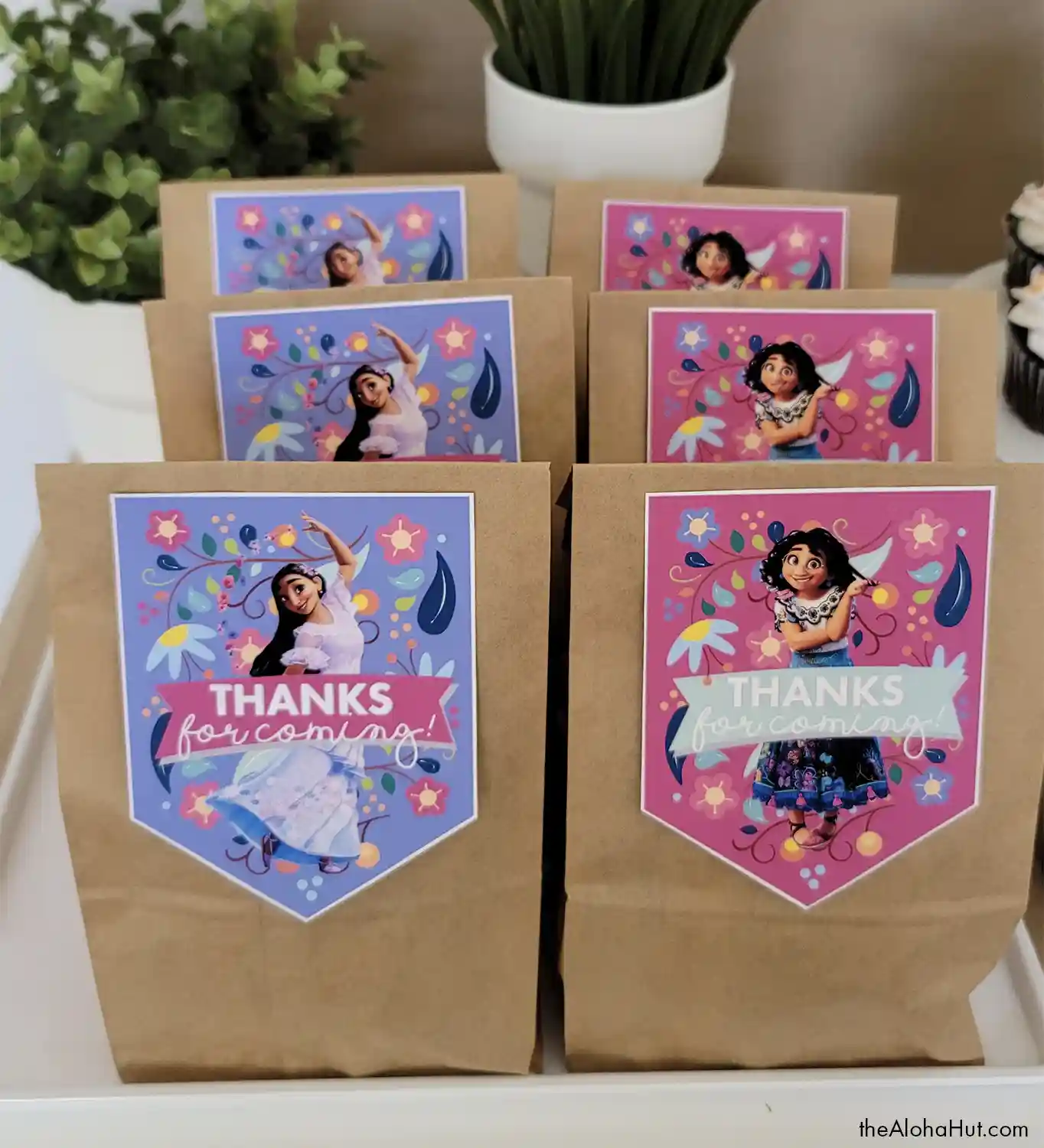 #8 Encanto birthday party invitations – we like printable birthday party invitations because you can print as many as you need! If you want to keep them as a digital invite, download the free Canva app and write your information in the blank spaces provided.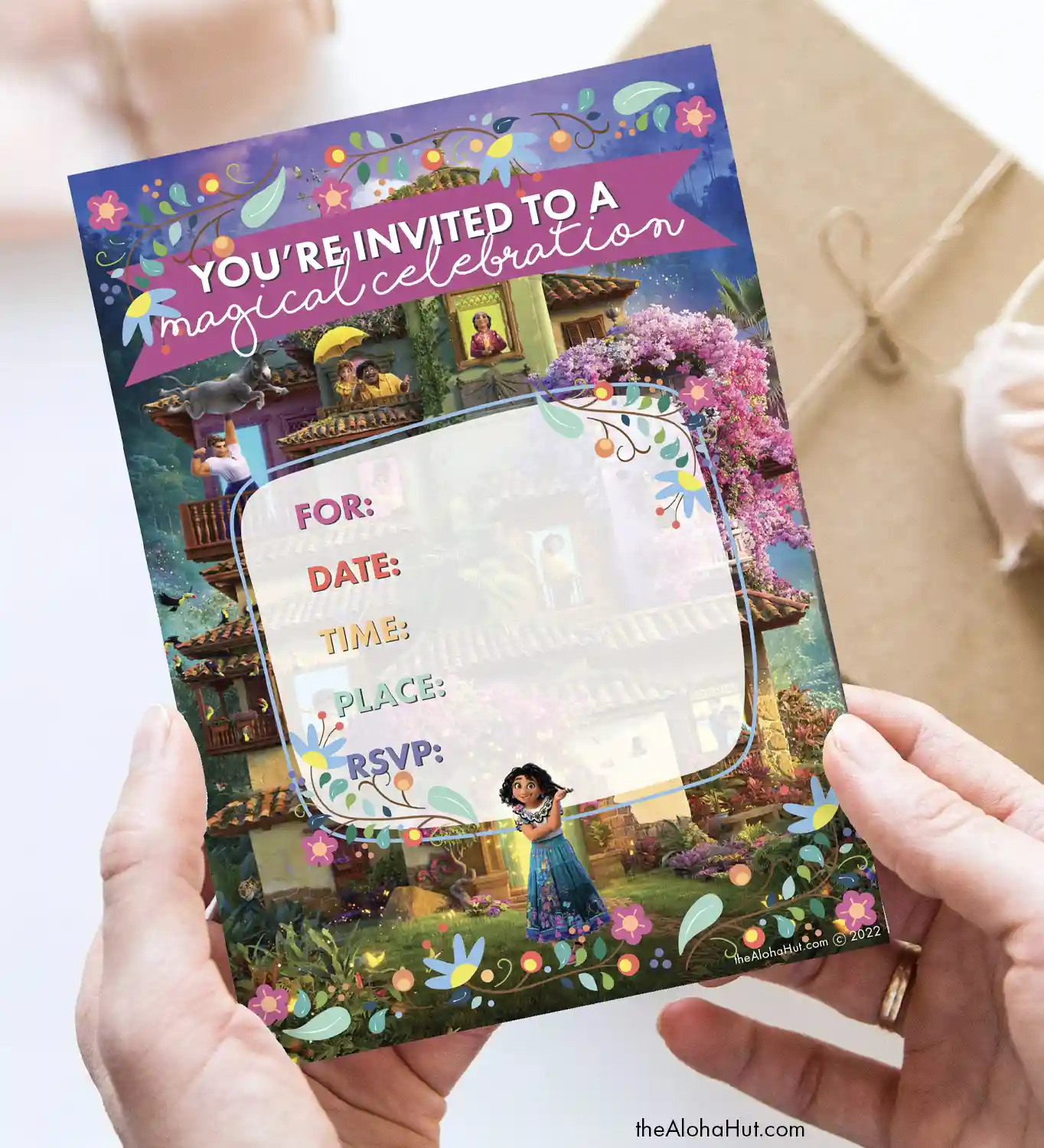 #9 Encanto activity page / Encanto placemat – doubles as a placemat and fun Encanto activity page and coloring page for the kids to do while they're eating.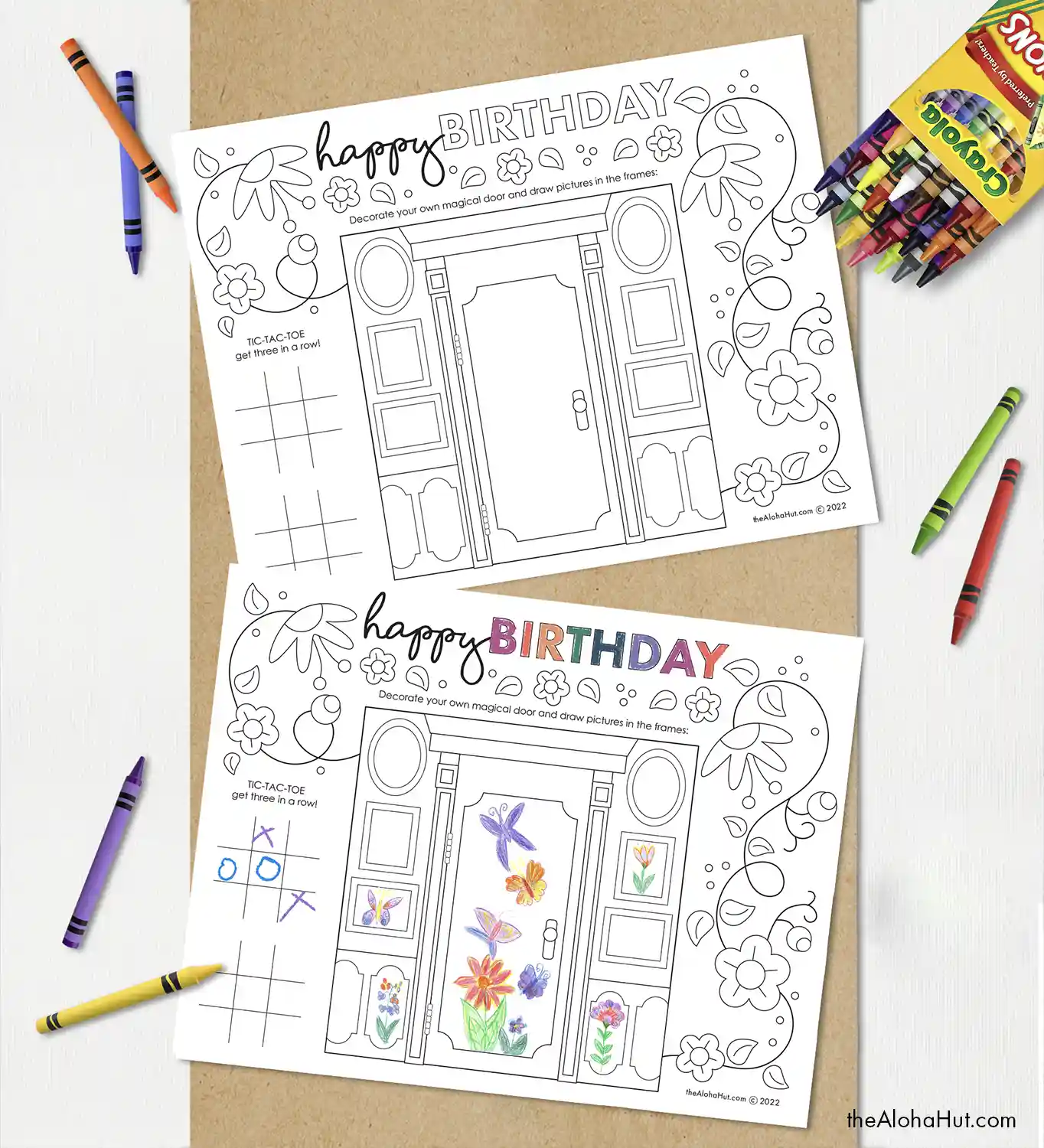 #10 Encanto door bookmarks – these make such a fun and easy party favor! We love reading and encouraging kids to read, so these Encanto Door bookmarks paired with a new book is our kind of party favor! All you do is print off, cut out, punch a hole and add ribbon, braided string or leather in the hole.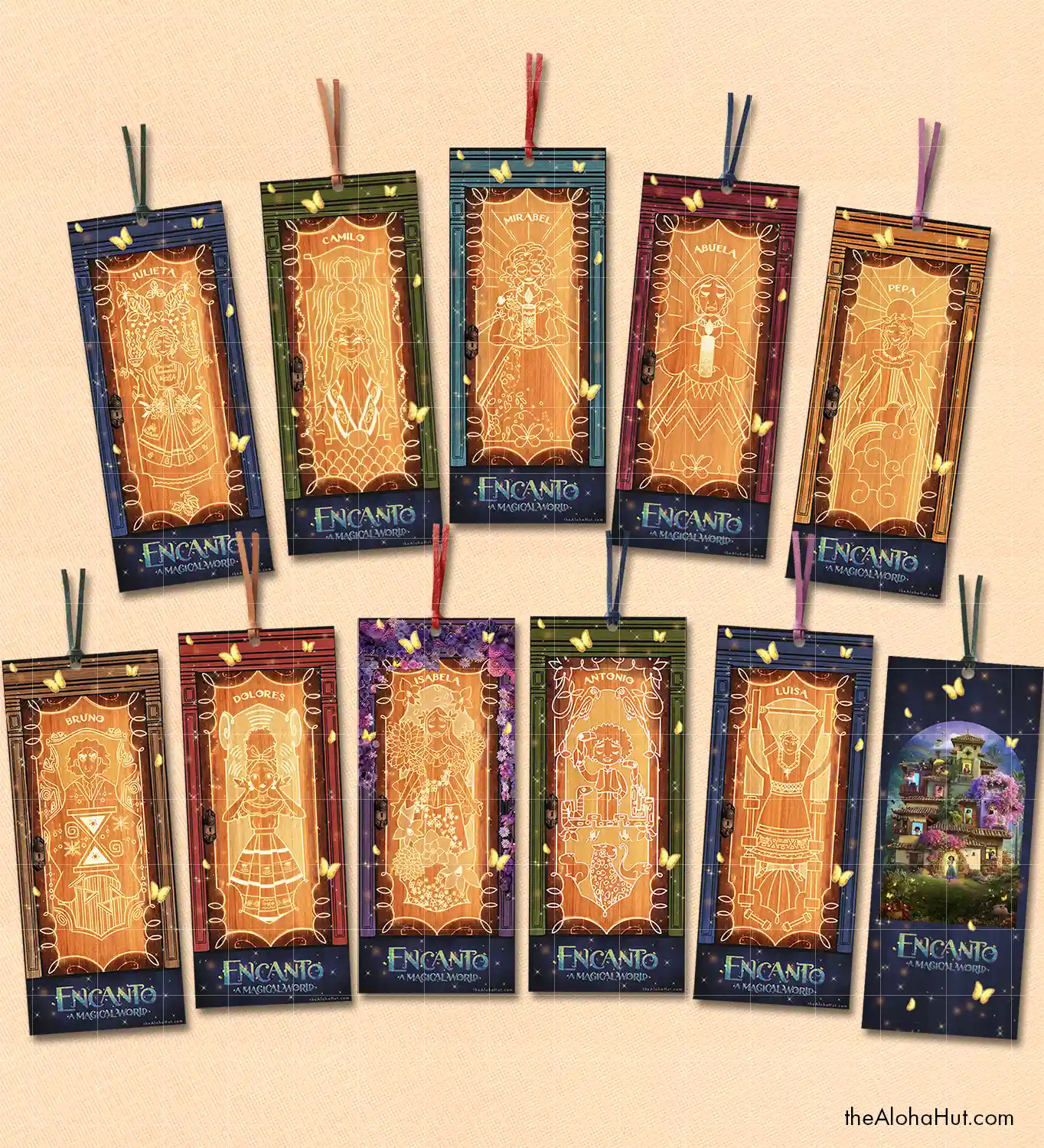 #11 Encanto food labels – lots of little extra details make a party go from your regular birthday party to over the top special! Add these cute Encanto food labels / tent cards to your buffet table with some themed Encanto party food to take your party to the next level. For food ideas visit our Encanto birthday party food ideas post.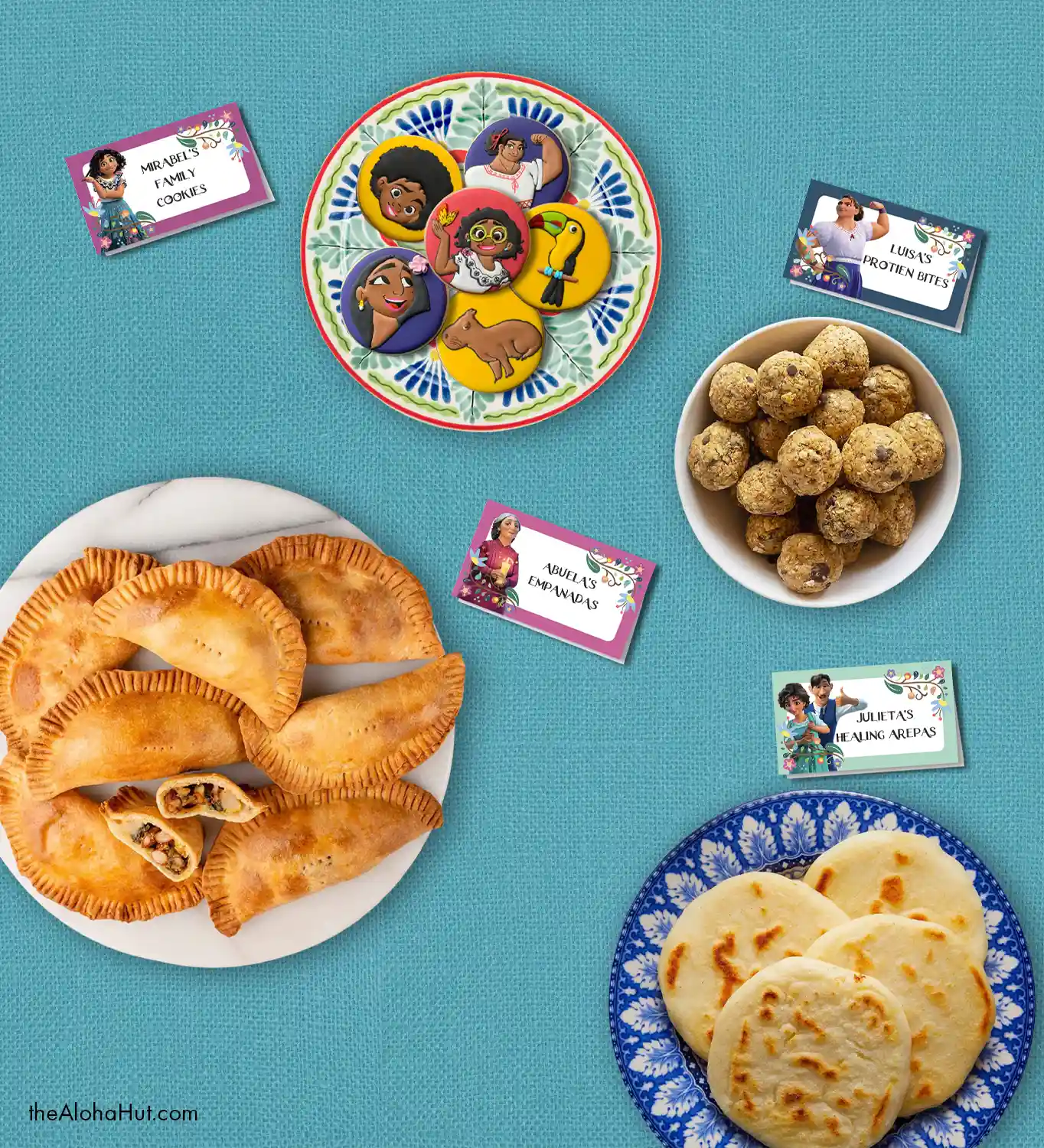 ENCANTO COSTUMES
The kids loved dressing up as their favorite Encanto characters for the birthday party. We found costumes from Amazon that will be great for Halloween costumes this year. You could also get creative and make some simple DIY Encanto costumes with items you already have on hand.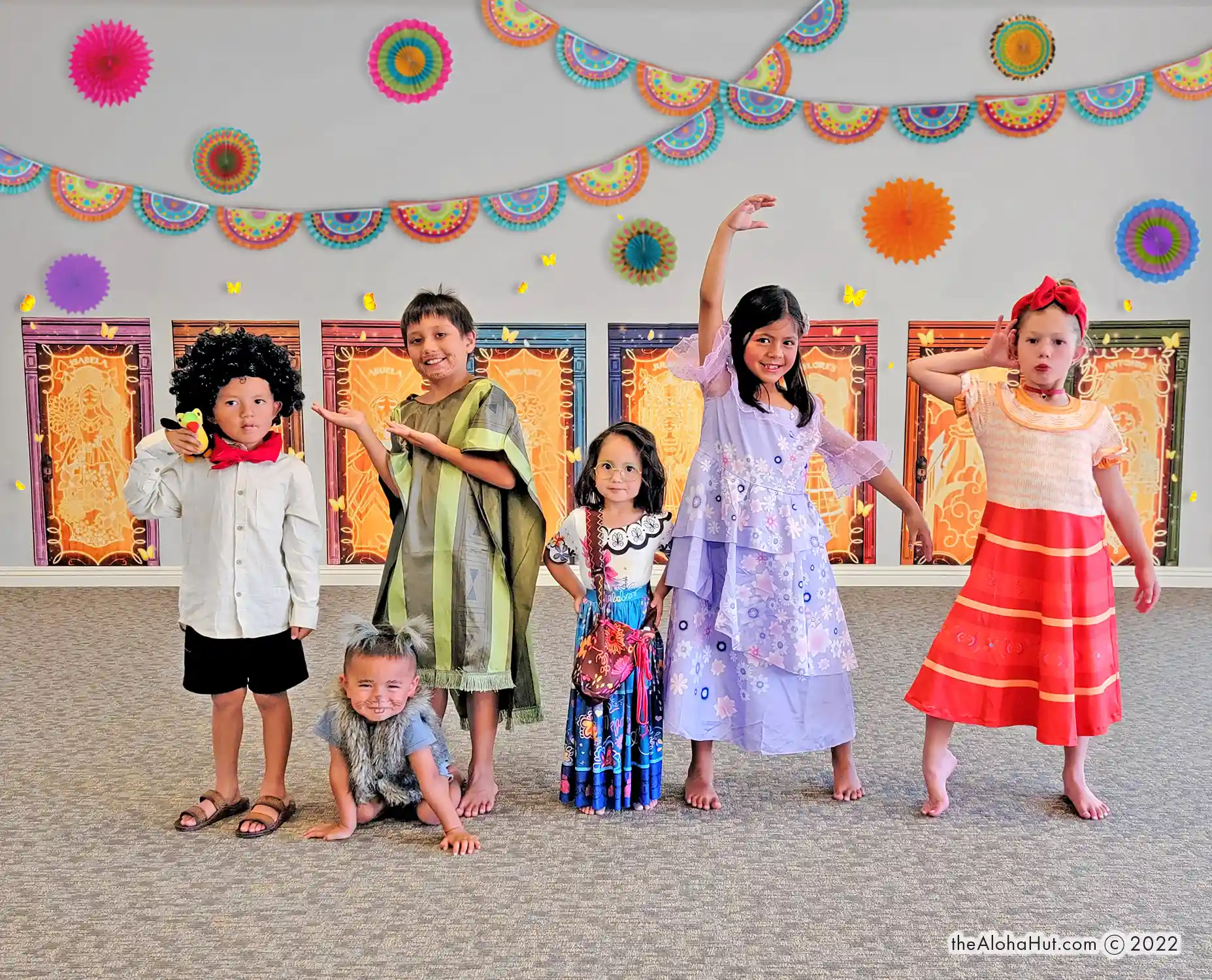 Mirabel costume – we didn't love the glasses that came with it so we bought these Mirabel glasses & were so glad we did! Indie just turned 3 and is wearing a 2T-3T but it was a bit tight around the waist. She's pretty little so it was a bit longer than we'd like. We should have bought the 3T-4T (especially so she'd still fit in it for Halloween & dress ups over the next year or two).
Isabela costume – Ava is 6 years old & wearing a 7-8…it was a little big.
Dolores costume – Kamaile is 8 years old and wearing the biggest size 150. Pretty sure that converts to a 9-10. We wanted it bigger because some of our older girls wanted to play dress up too.
Antonio costume – our boys aren't as keen on dressing up as the girls are (unless it's a policeman or firefighter). We had a cream pinstriped button up shirt and just had John wear his regular shorts (if your child has brown shorts, then you're good to go). To add the details, we tied a scrap red piece of cloth around his neck and bought this little toucan.
Bruno costume – for Bruno's rat, we did a simple DIY costume with homemade ears and a furry vest we already had on hand. Draw a rat nose and some whiskers with eyeliner to complete this easy DIY Encanto costume! You can also create a simple DIY Encanto costume for Bruno as well if you have some green material lying around. Just cut a hole for the head and paint on the details. Then use eyeliner to draw some scruff on Bruno's face and some dark makeup to add dark circles under the eyes.
---
Our number one tip for decorating on a budget is to use paper and printable items! It's so versatile and super cheap because you can print as many as you need! We hope some of these Encanto party decorations and ideas will help you plan your own Encanto birthday party or Encanto themed event. If you're looking for Encanto themed party food ideas and Encanto birthday party games and activities check out these posts: Encanto Party Food and Encanto Birthday Party Games and Activities.
To help you plan and organize the perfect party, download our free printable party planning guide below and have fun celebrating!
With love and aloha,
Stacey + Niki
---