Simple Mother's Day Gift Ideas
Simple Mother's Day Gift Ideas
This post may contain affiliate links. Read our disclosure policy.
Celebrate mom this year with one of these three quick and simple mother's day gift ideas: free printable Mother's Day questionnaire, Mother's Day cards or Mother's Day prints!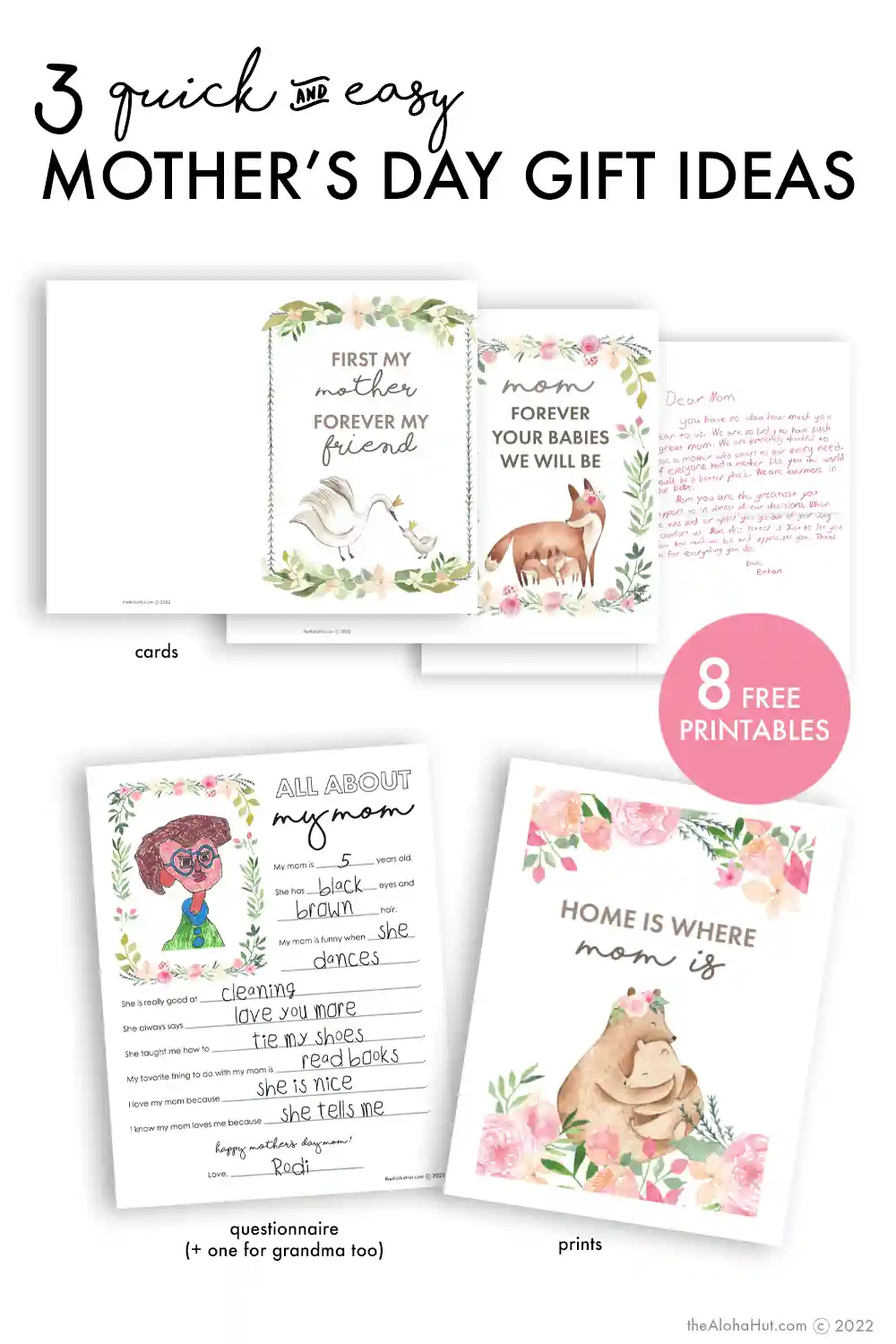 One of our favorite Mother's Day gifts is this simple "All About Mom" printable questionnaire the kids fill out each year with one of their teachers. Our kids have filled out an "All About Mom" page almost every year either at preschool, elementary school, or in their church primary class. We love the "All About Mom" printables so much that we save them every year and put them in the memory book. The kids' answers are always so funny! And we couldn't forget grandma! So we included an "All About Grandma" printable as well to help her feel the love this Mother's Day.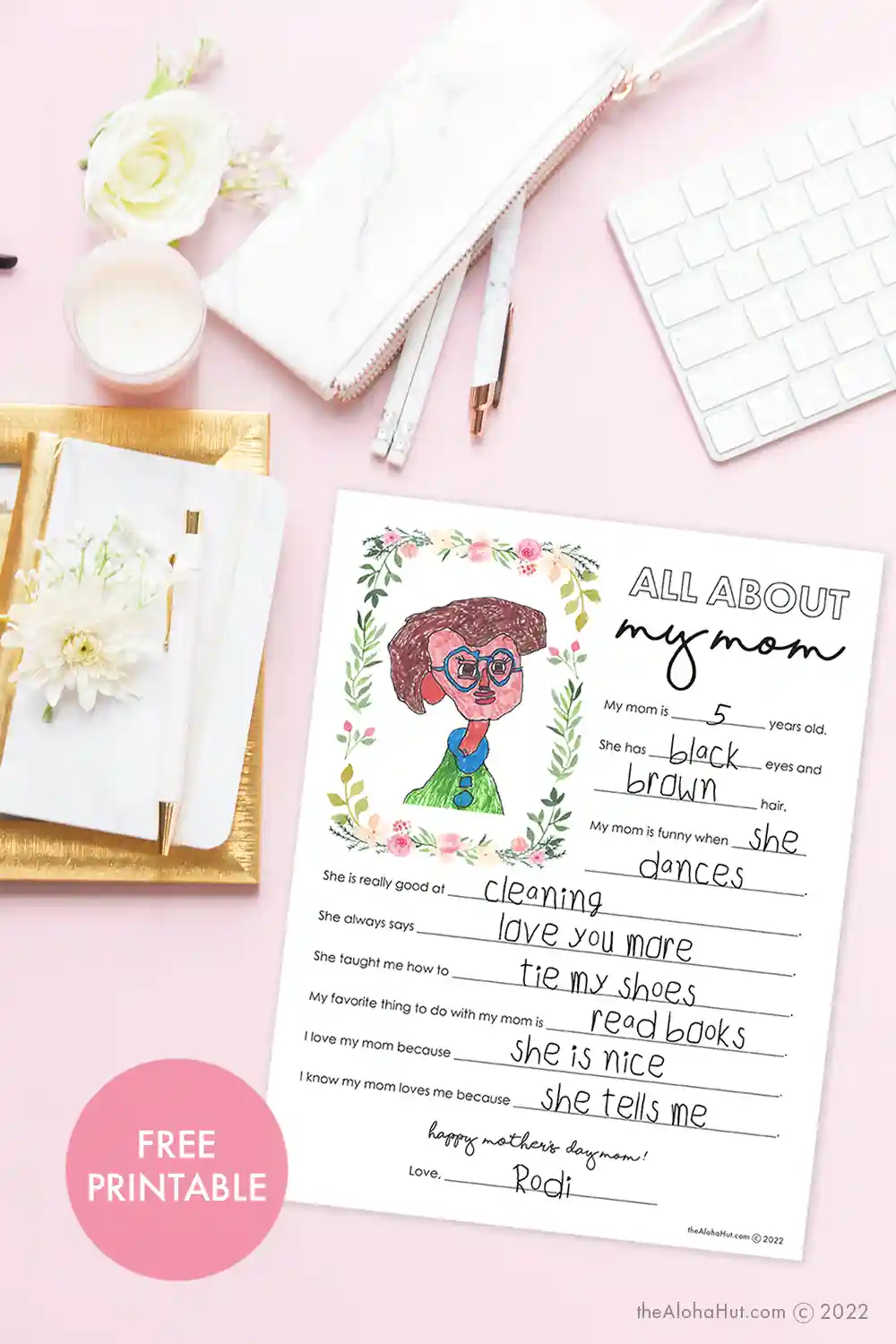 If you're like us and you love hearing "All About Mom" from the kids' perspective, you'll love this printable questionnaire too. If you're a teacher looking for a fun, simple, and memorable gift for mom this Mother's Day – have your class fill out an "All About Mom" page out and draw a picture of mom (or grandma, we included a free printable for her as well). These types of Mother's Day gifts are gold and so fun to look at each year. It's definitely a Mother's Day gift we treasure. And the best part is – it's such an inexpensive Mother's Day gift. You can find the free printable All About Mom questionnaire at the bottom of this post. Print from home for the cheapest and easiest gift ever!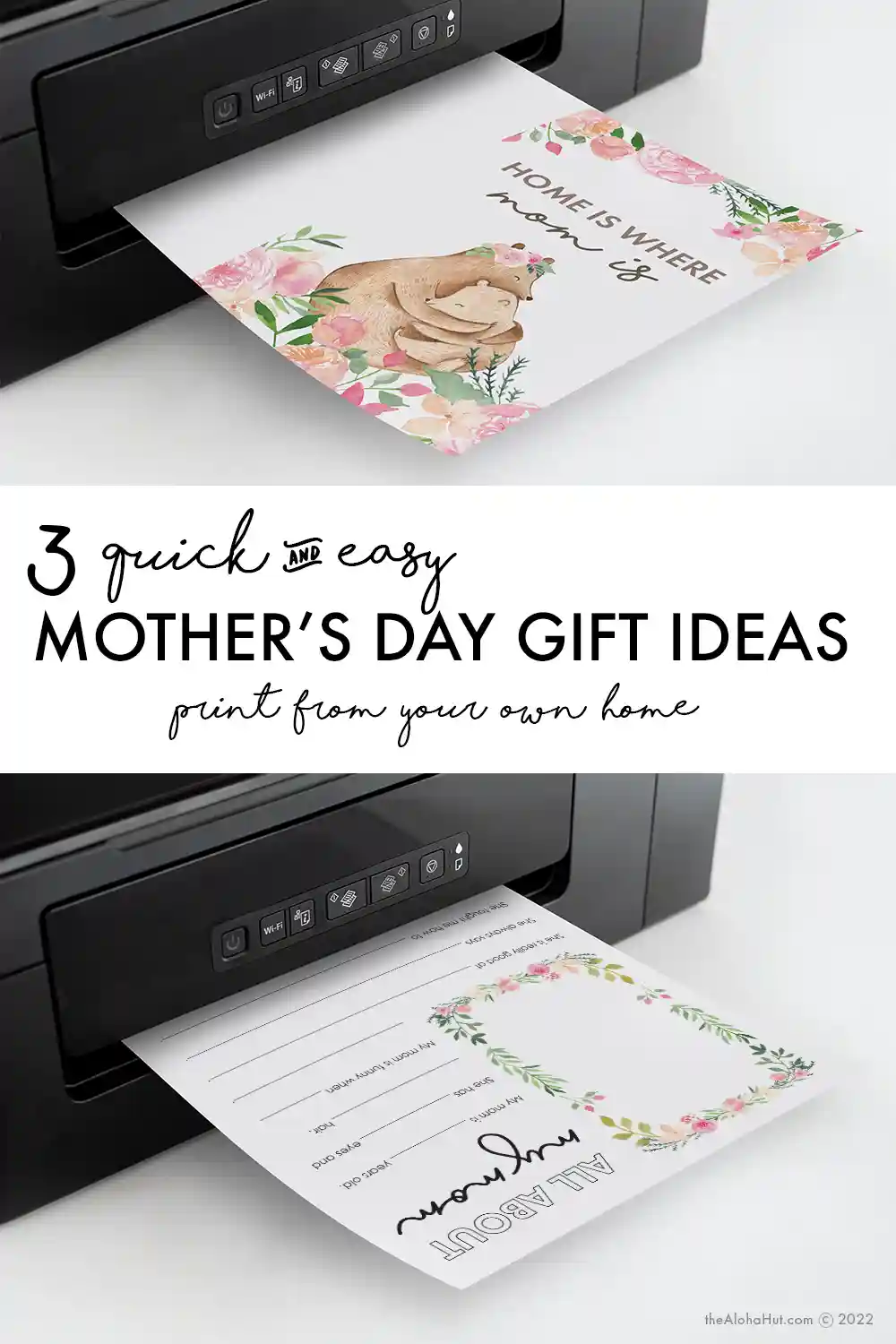 We even love the "All About Mom" printable for young kids. In fact, those are some of the best ones because their answers are all over the place and funny! Toddlers will need a little help writing in the answers, so make sure to plan enough time to help the little kids answer questions about mom and fill in the questionnaire.
Don't forget to have the kids draw a picture of mom too! We love seeing their art and comparing their portraits of mom from year to year. Homemade cards, drawings, art, and little personal love notes are some of the very best Mother's Day gifts. We love thoughtful DIY gifts for Mother's Day! This printable "All About Mom" page is the best of both – a note to mom and a work of art.
If you have older kids that don't want to draw mom, print off our cute Mother's Day Cards (download at the bottom of this post) and add a personal message to mom.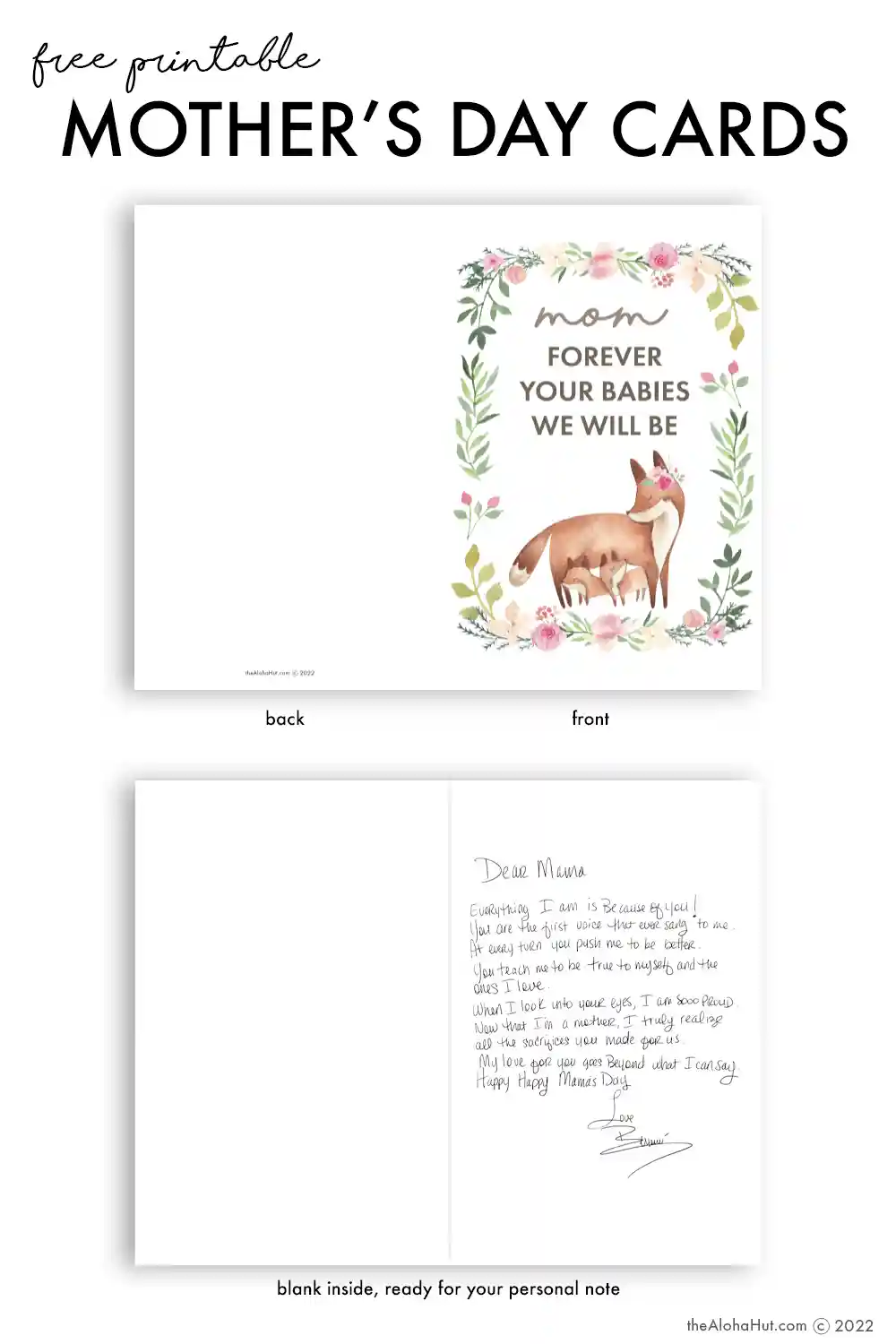 Looking for cute Mother's Day wall art and prints? We've got three printable Mother's Day prints that are free to download! Download the Mother's Day prints at the bottom of this post, print in color on cardstock paper, and add them to a 8×10" frame for an easy Mother's Day gift mom can keep forever.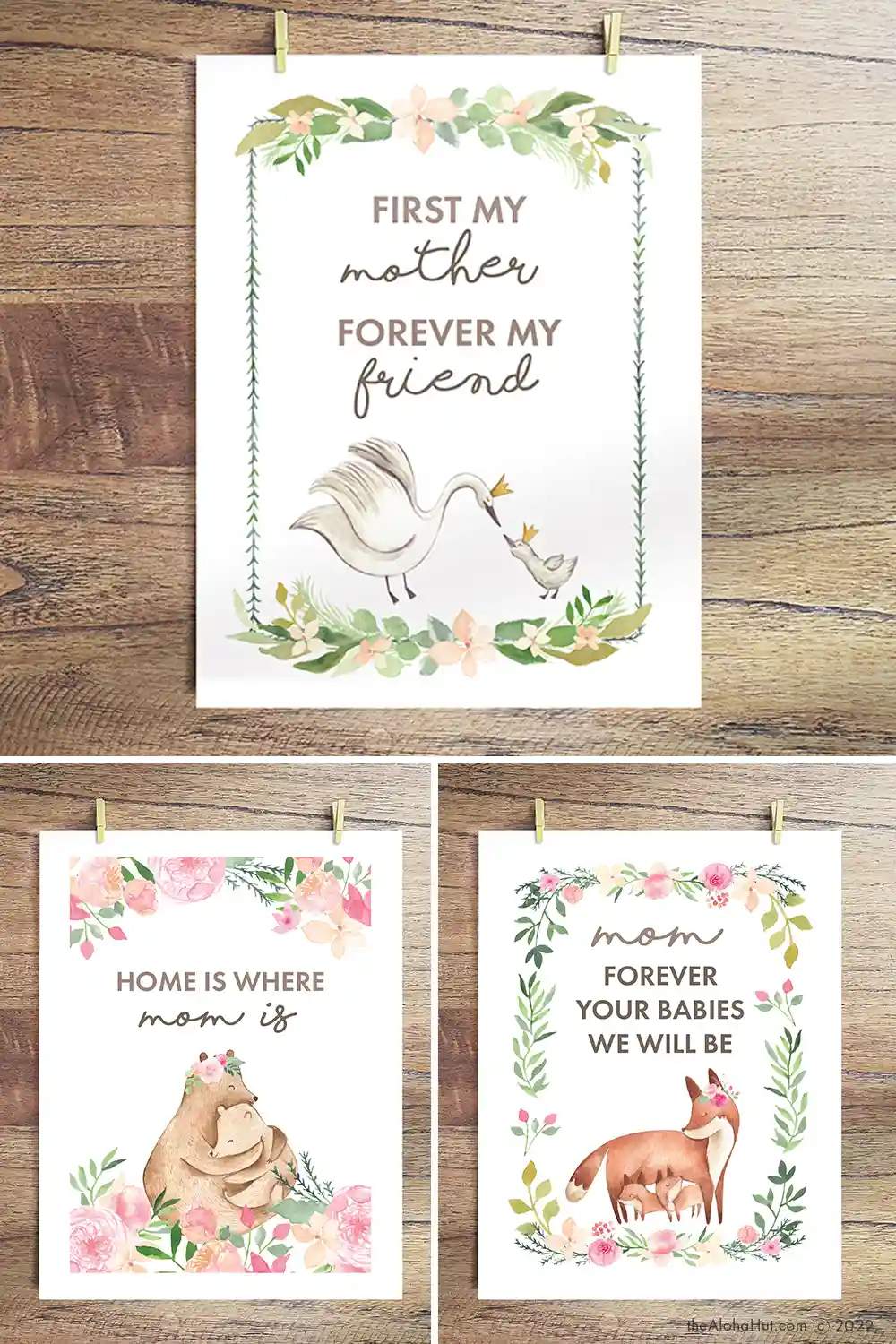 There are three different Mother's Day wall art prints to choose from.
#1 HOME IS WHERE MOM IS
#2 MOM FOREVER YOUR BABIES WE WILL BE
#3 FIRST MY MOTHER FOREVER MY FRIEND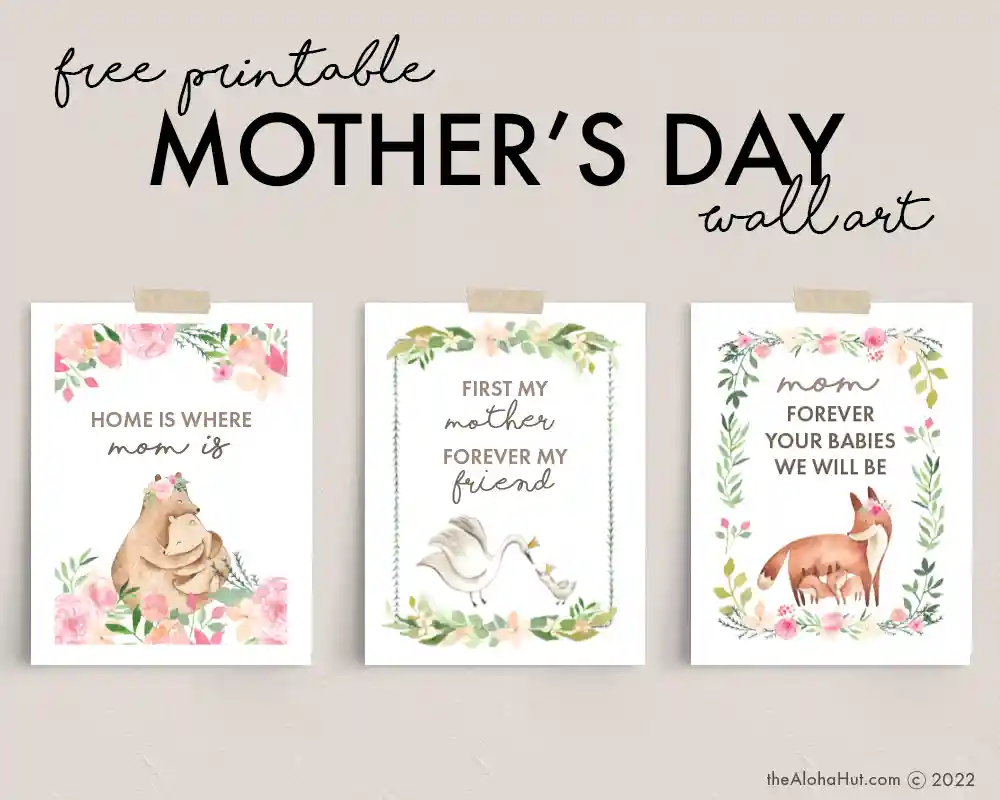 Need more ideas for easy and inexpensive Mother's Day gifts for mom and/or grandma? Check out our other posts for simple Mother's Day gift ideas from the kids.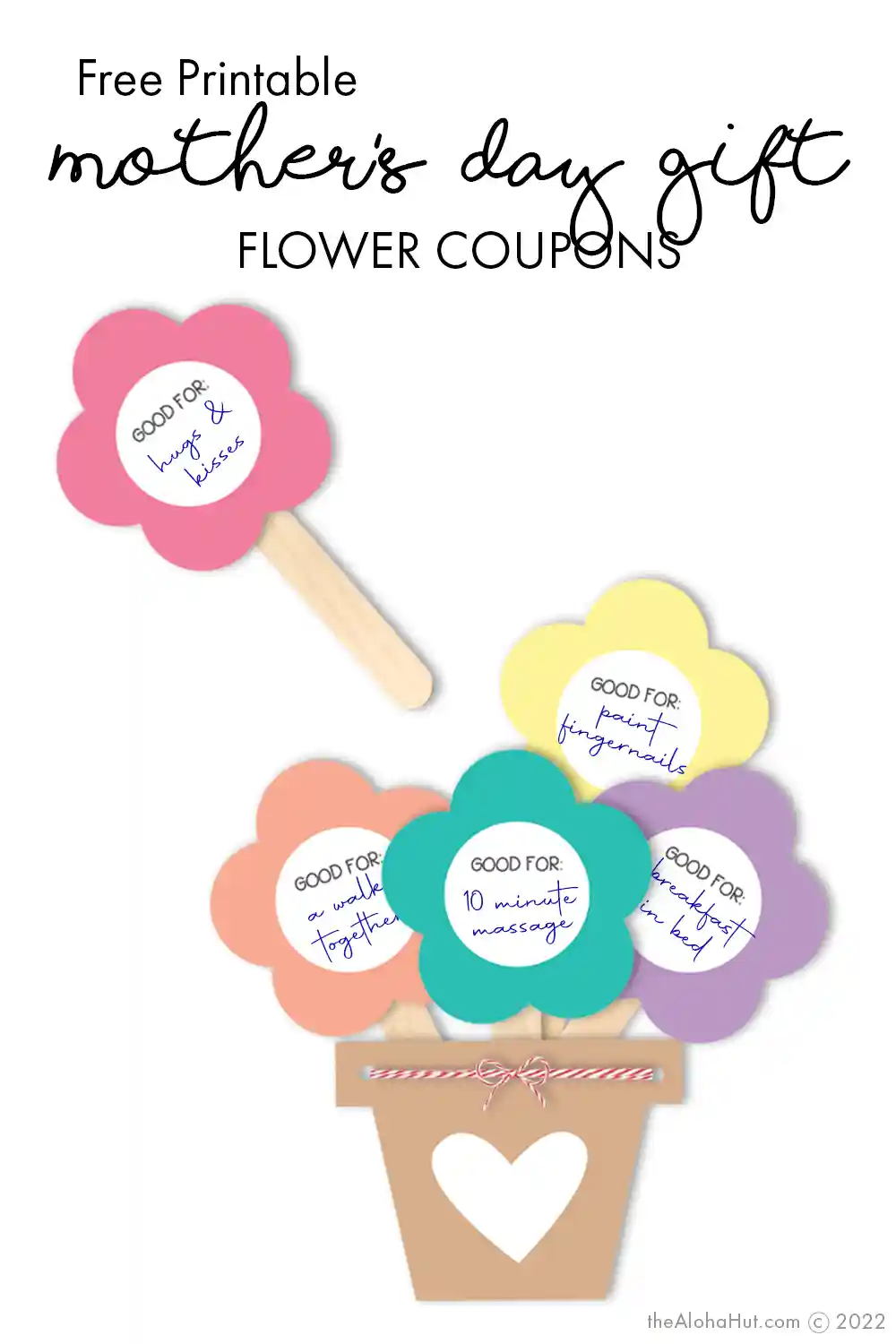 If you need Mother's Day gift ideas to hand out at church our give to your ministering sisters make sure to check out our Mother's Day gift tags we have in the shop. They make the perfect tag to hand out to all the women on this special day. We have a fun M&M mom's day tag and also a religious Mother's Day tag with a beautiful quote about the influence of women. We sure do appreciate all the women who nurture, love, inspire, and show up for those in their life and how they "mother" those around them (whether it's your own kid or not). It takes a village.
Happy Mother's Day friends!
Much love and aloha,
Stacey + Niki
---