Ultimate Fear Factor Party
Ultimate Fear Factor Party
This post may contain affiliate links. Read our disclosure policy.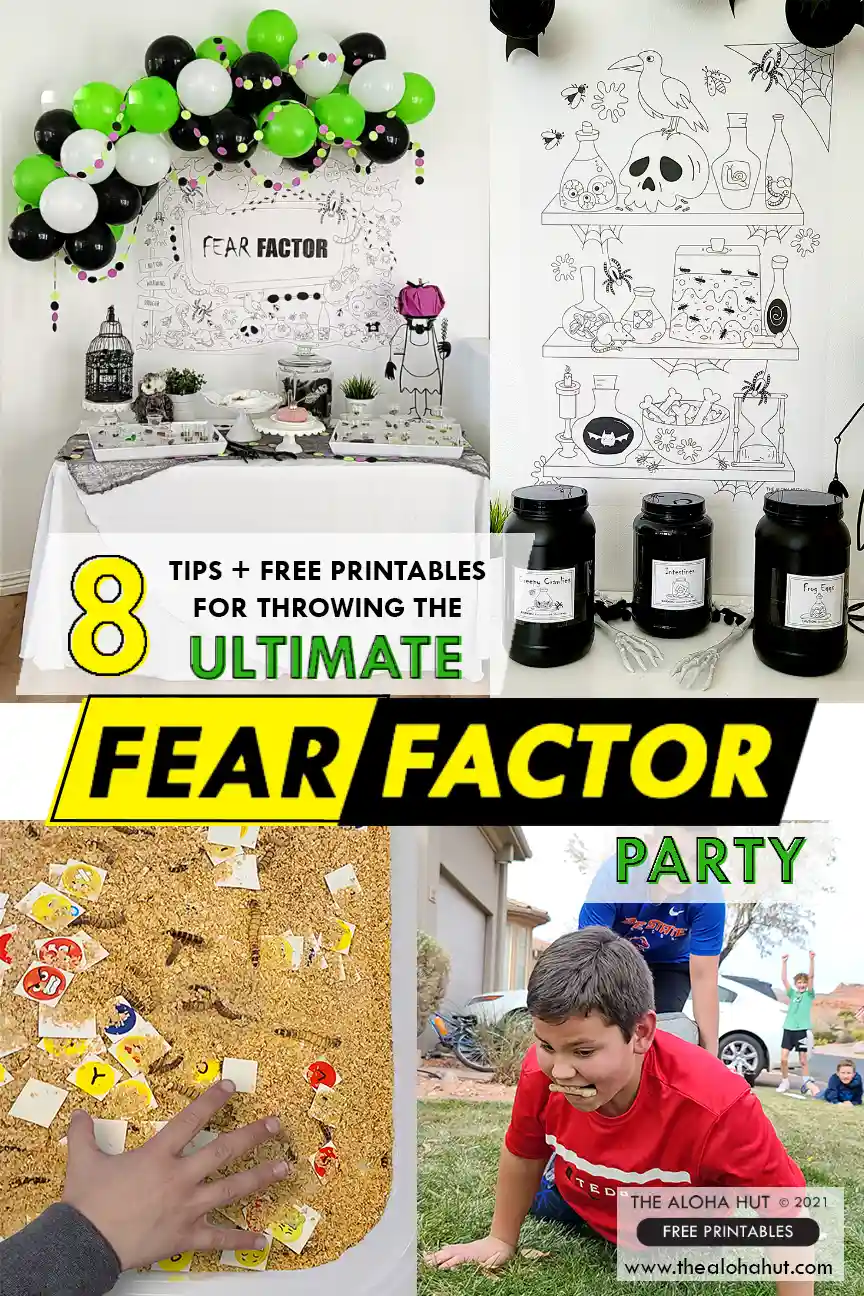 This Fear Factor party is one of our favorite parties! We've done several variations —  as a birthday party, Halloween party, at a family reunion, and for a youth activity. Every time it's been scary good! We want to help you throw the ultimate Fear Factor party at your next get together. Here are our top 8 tips and ideas, with FREE PRINTABLES, to help you take your party to the next level.
1. ENTER IF YOU DARE – PARTY SIGN
Print our free Fear Factor party door sign and get guests excited before they even walk through the door!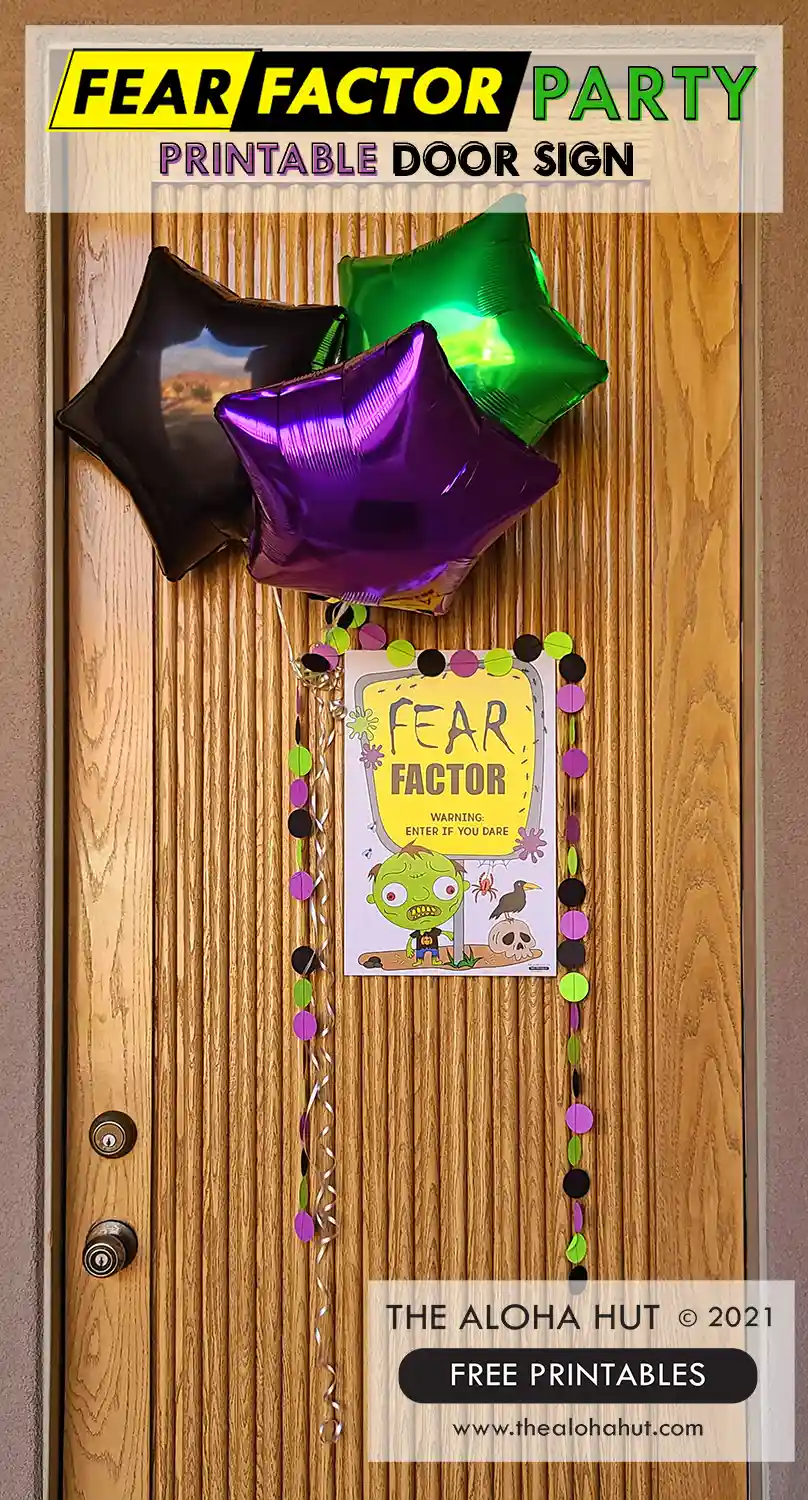 2. PARTY BACKDROP
We LOVE party backdrops. They're cheap and make a big wow statement! We printed our huge 36" x 48" Fear Factor Photo Booth backdrop at our local print shop as a blueprint/engineer print for only $5. But it's not just a decoration — play our Fear Factor "I Spy" game and then put out some crayons or washable markers for guests to color away!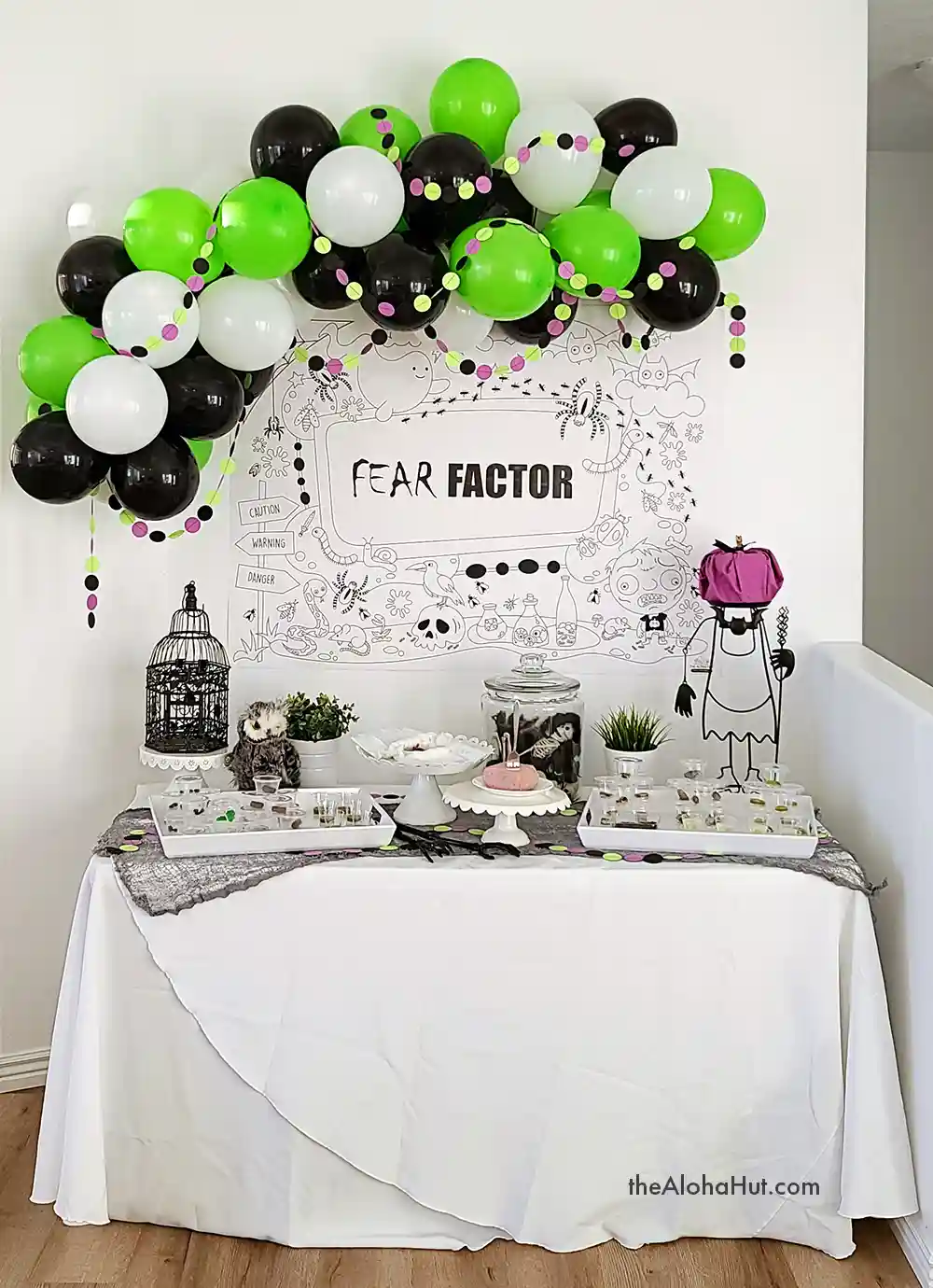 3. FOOD CHALLENGE
You can't have a Fear Factor party without a disgusting food challenge! This is where you can be REALLY creative. We served up some delicious and not so delicious treats in this Fear Factor Food Challenge game. The sky is the limit! Just make sure to have a garbage can or bucket ready for guests who can't complete the challenge. Print out our Fear Factor Scorecard to easily keep track of points.
Some ideas for gross foods (we like to mix them in with other normal items that taste good but just look gross…like dirty diaper, aka a melted snickers):
Canned Snails – Escargot (We did this one for a combined boys and girls youth activity and they all ate one!! No one wanted to be left behind I guess!)
Apple Cider Vinegar
Baby Food (make it a mixture to make it even grosser)
Spam
Jalapeños
Butter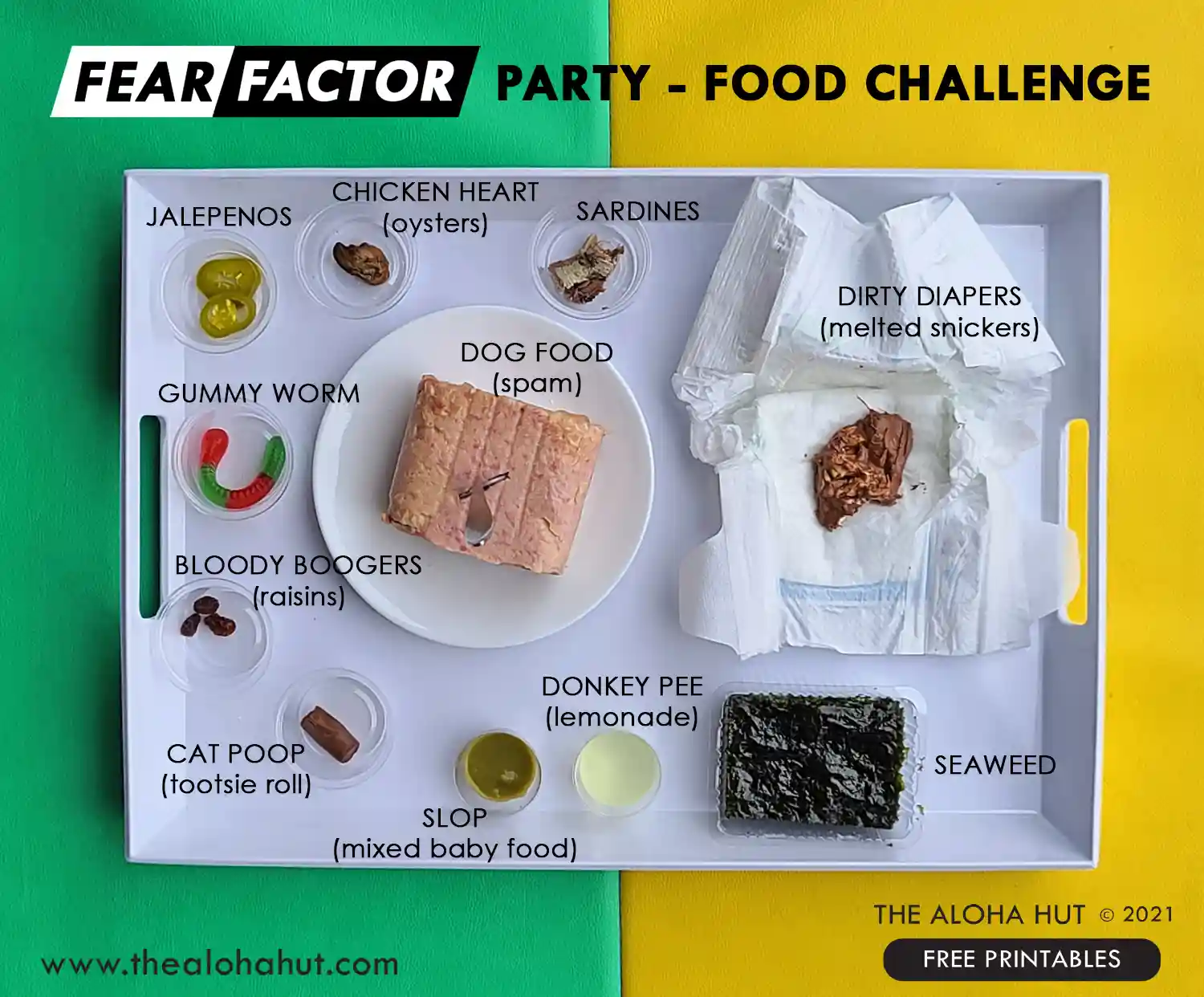 4. MYSTERY JAR GUESSING GAME
No peeking! In this super fun sensory game, guests have to stick their hand in the jar and guess what it is. Make sure to build it up by telling them to be gentle so they don't harm the specimen or let it out! We print the 24" x 36" backdrop for $3 at our local print shop. Print our mystery jar labels on a sticker sheet and stick them on empty protein powder tubs or any jar that is not see through for easy prep. We like to add at least a few bugs to one of the jars and then use them in the rest of the games.
Some ideas for the Fear Factor Mystery Jar Game: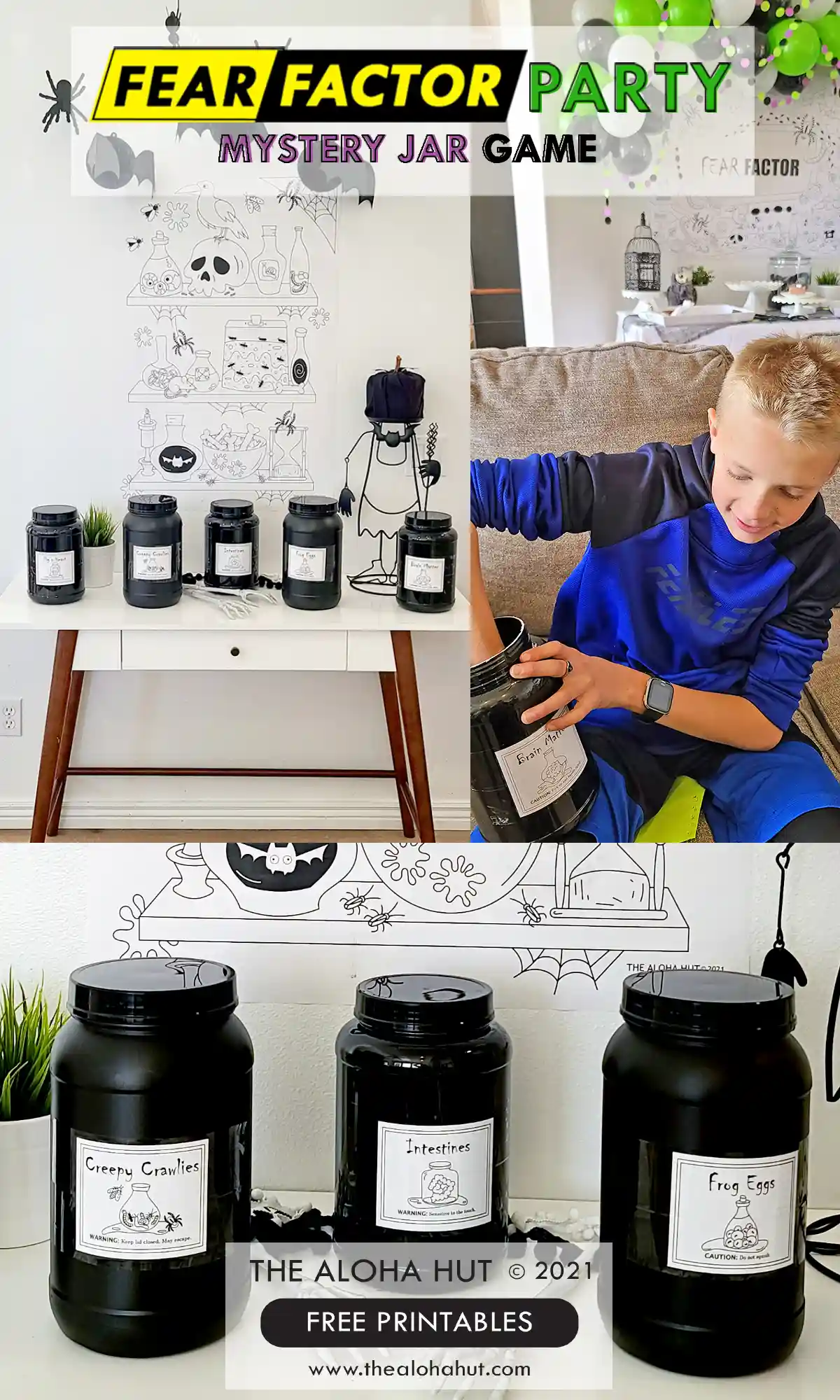 A fruit with toothpicks poked all around it so it feels spiky.
Cooked spaghetti
Peeled grapes
Water beads (this is a favorite for EVERY kid no matter what the age)
Popcorn kernels
Real animals like a pet rat, guinea pig, hissing cockroach, lizard, bearded dragon, worms…just make sure to put them in a container with holes so they can breathe. We made a box for the live animals like the one Jimmy Fallon uses. All you do is tape up a box, cut out the front and replace it with a plexiglass sheet. We used one from an old Ikea frame. Cut a hole on each side for guests to reach in. We placed a foam sheet cut and cut an X in the middle to place over the holes so the animals (especially the hairless rat) wouldn't escape easily. We had a hairless rat, hissing cockroaches and worms. The best part was we made the adult leaders do this one. The kids died from laughter as the adults were scared to death to put their hands in there. It was seriously a blast and something the kids still talk about to this day.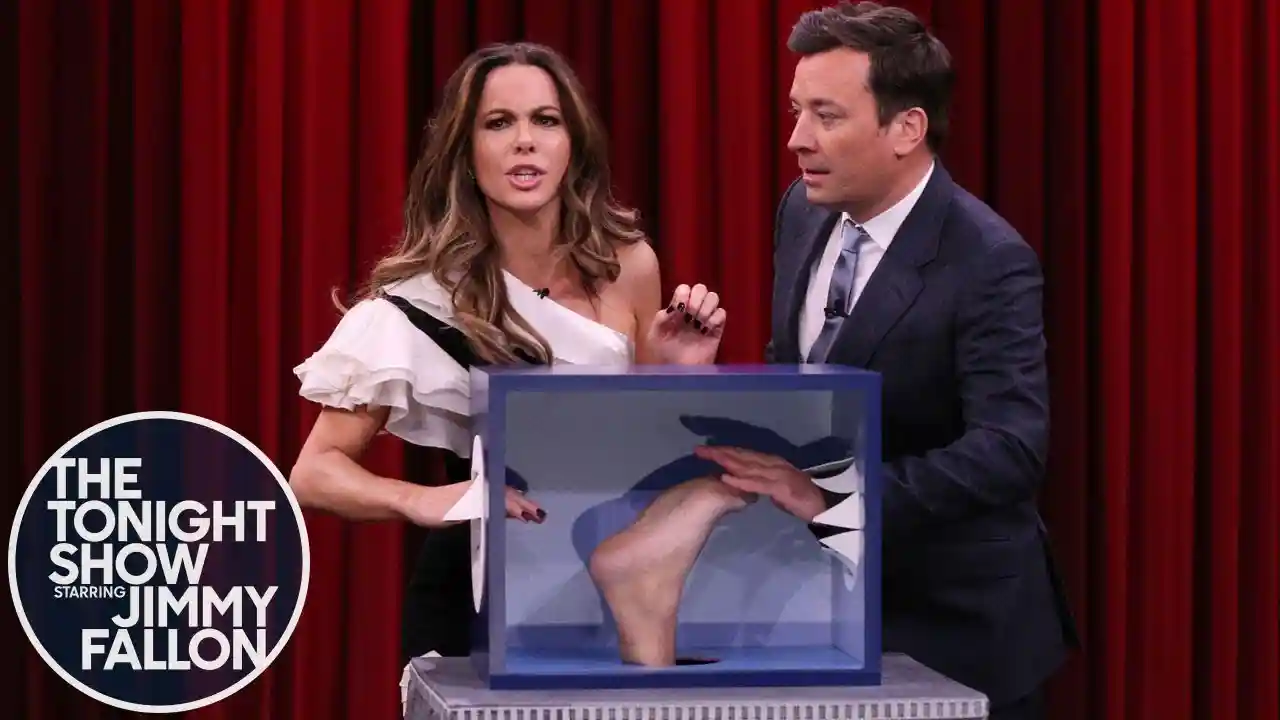 Use your imagination. You can put anything inside! A Fear Factory Mystery Box Game is great for all ages but especially young toddlers because of the sensory aspect!
5. HANDCUFFED
Lots of live bugs makes this game creepy, crawly fun. And in our minds, the more the merrier!
How To Play: Players will need to pair up for this game. One player is handcuffed holding a LIVE BUG while their partner has to dig through a bucket of worms, crickets or superworms (we mixed all 3!) to find the stickers that match the handcuff code. If the handcuffed player drops the bug or squishes it before being unlocked, they are disqualified. Place chairs in a circle for all the handcuffed teammates to sit down. Put the bin of bugs in middle. The partner digs through the bin of bugs in the middle finding one letter/number at a time, going in order. The first player to unlock their partner wins.
To Prep: Make paper handcuffs out of cardstock and use stickers to make unique code combinations for each partnership. Then prep a bin of extra stickers and lots of bugs for the teams to have to search through. We like to buy superworms at the local pet store because they don't like being uncovered and will squirm around trying to hide again.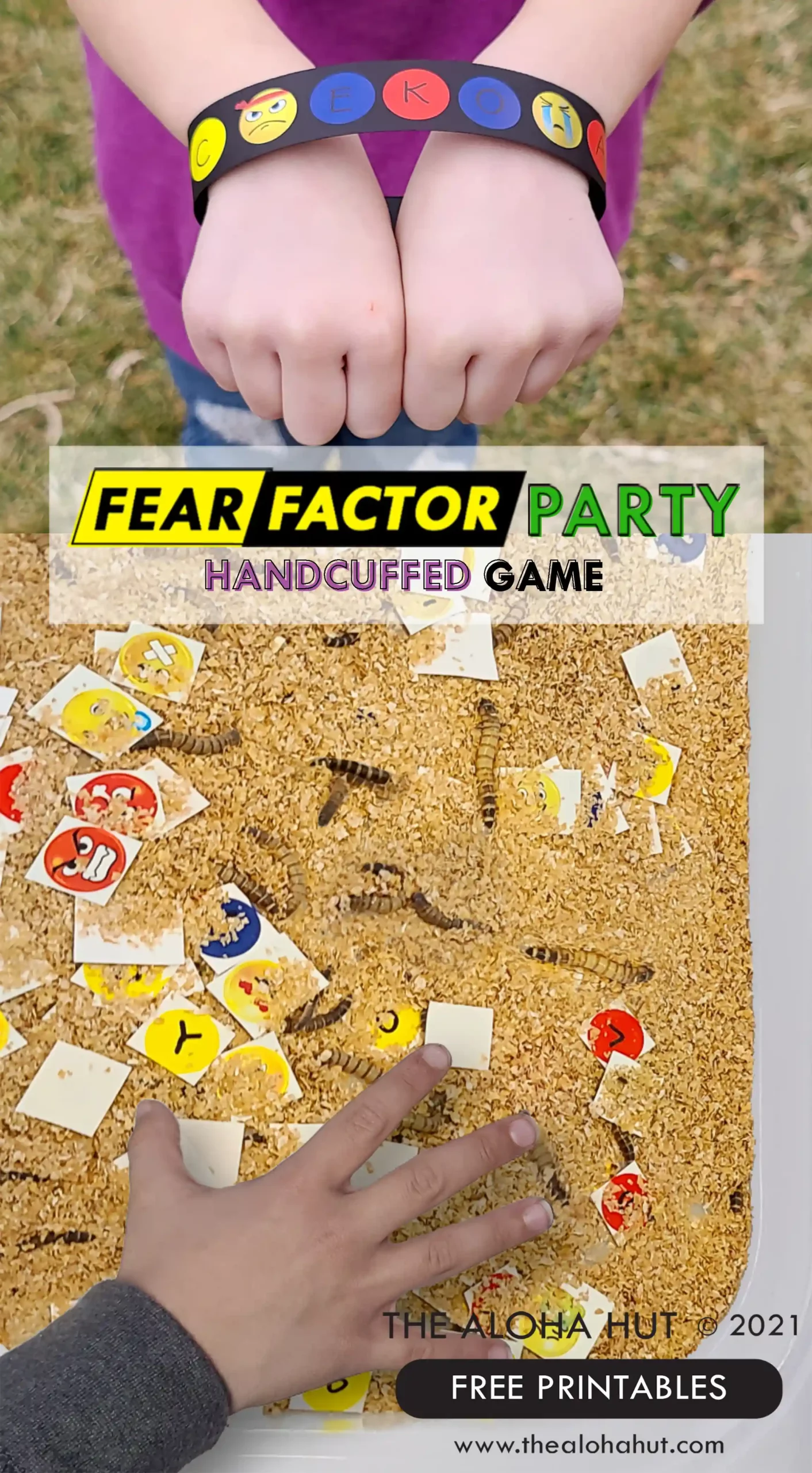 As scary as this is, the kids absolutely LOVED IT!! Especially the fact that they had to race each other to try and finish first.
6. DOG RELAY RACE
We used real dog biscuits for this game (yummy!), but you could easily use cookies that look like dog biscuits. Partner up again for this game. Using only their mouth, players have to transport all their dog biscuits from one bowl to the other bowl by wheelbarrowing their teammate back and forth. They can switch who gets to wheelbarrow and who has to be the "dog." First team to get all of their biscuits to the empty bowl is the winner.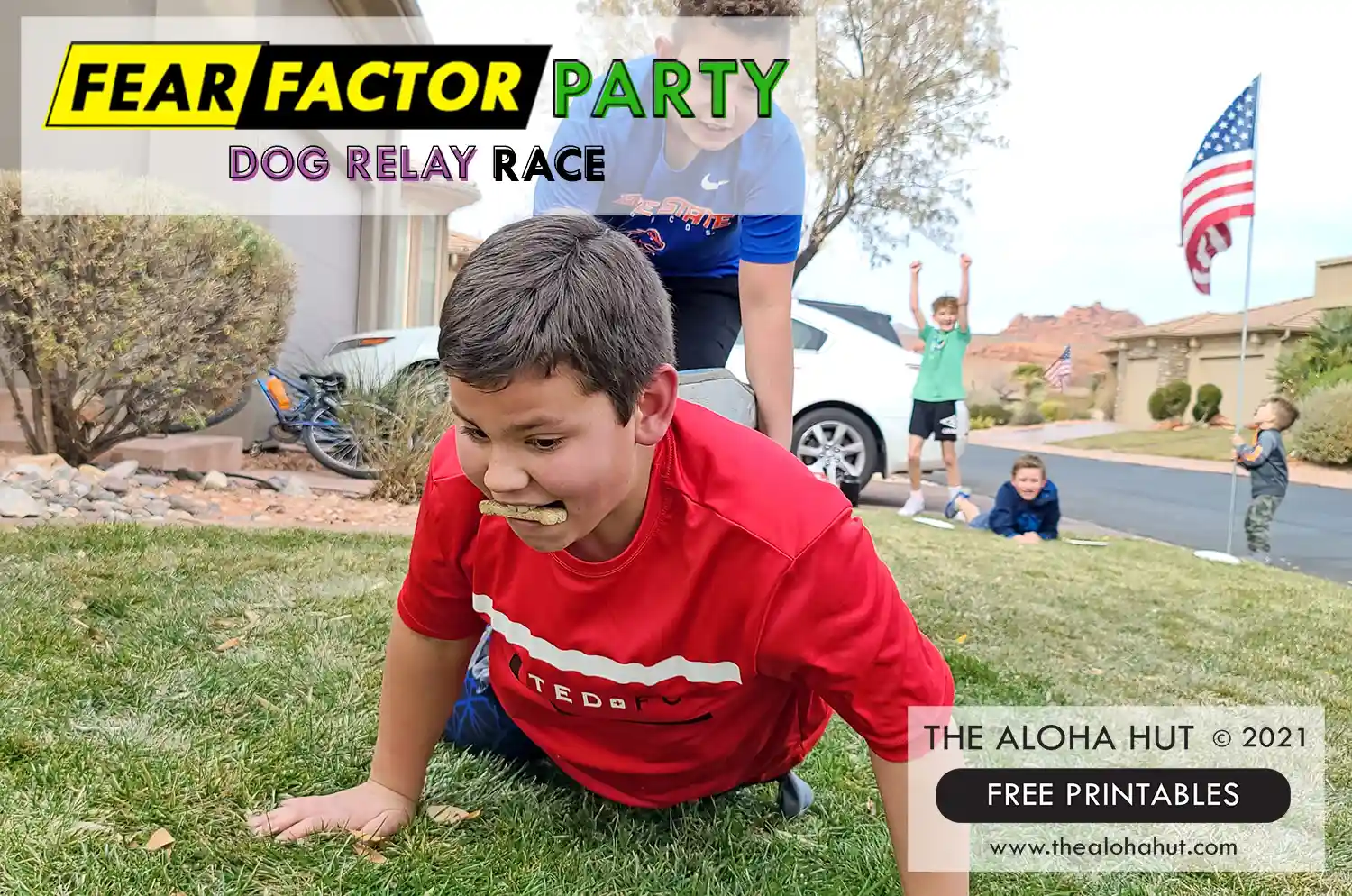 7. FROSTBITE
This game is a lot harder than it looks. Some kids couldn't even complete the challenge because it was too cold. To prep this game add ice, water, and marbles to a bin. You can even buy the plastic dollar trick-or-treating baskets for each player. They're a little smaller so it makes it a little more difficult for older kids. The first player to get all of their marbles out of their bin, wins! The catch — you can only use your feet.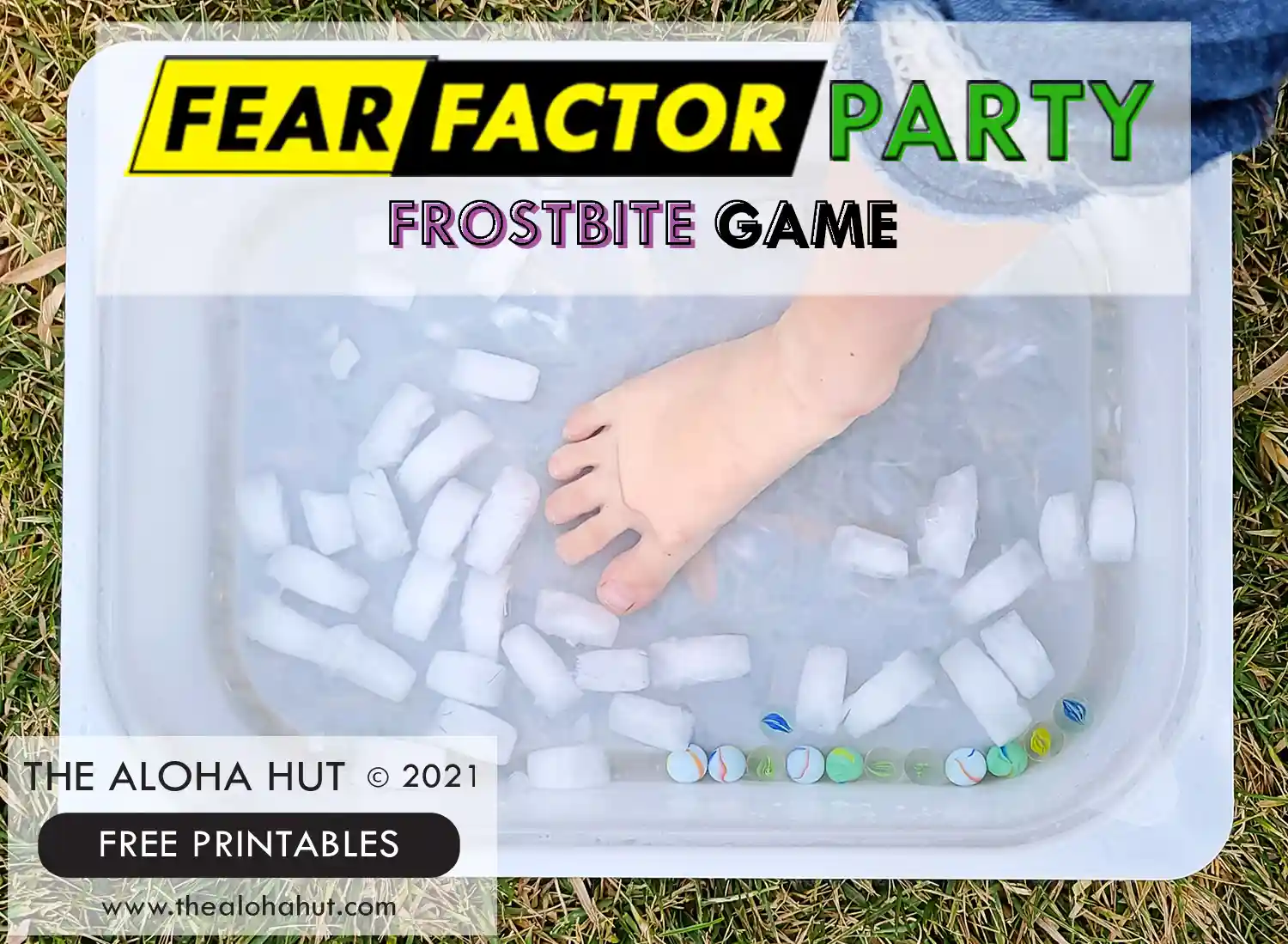 8. MUSIC
Don't forget about the music! We like to have some good music playing in the background. Our favorite Fear Factor playlist: Thriller, The Addams Family, Monster Mash, Ghostbusters theme song, Somebody's Watching Me, This is Halloween, Eye of the Tiger (if kids are having a hard time completing the challenge it's fun to play this and get them pumped!). Anything to get the kids pumped up and ready for a challenge.
We hope these ideas help you plan your own ultimate Fear Factor party and take your gatherings up a notch! Follow us on instagram and Facebook, and tag us so we can see what you come up with.
Much love and aloha,
Stacey + Niki