How to Play Among Us in Real Life
How to Play Among Us in Real Life
This post may contain affiliate links. Read our disclosure policy.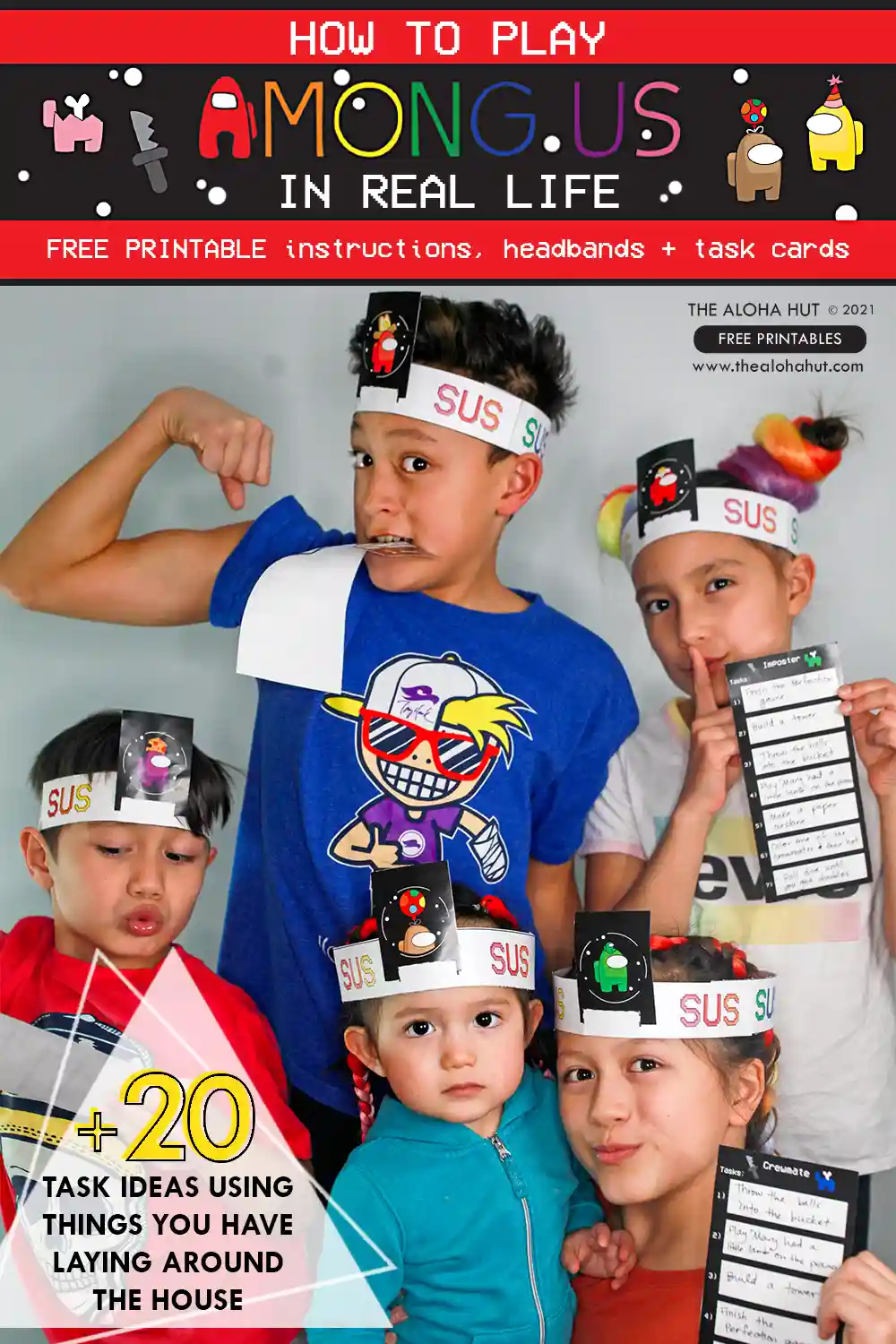 Here it is, how to play Among Us in Real Life with FREE printable instructions, headbands and character cards plus a list of 20 simple task ideas to help you get started right away. This is fun to play as a family, with friends, as a youth activity for church groups or at a birthday party. If you are planning an Among Us birthday party, you'll definitely want to check out this post. We have an entire Among Us birthday party setup with TONS of FREE PRINTABLE decor, games and crafts to throw an amazing birthday bash!
Printable Instructions + Game Pieces
---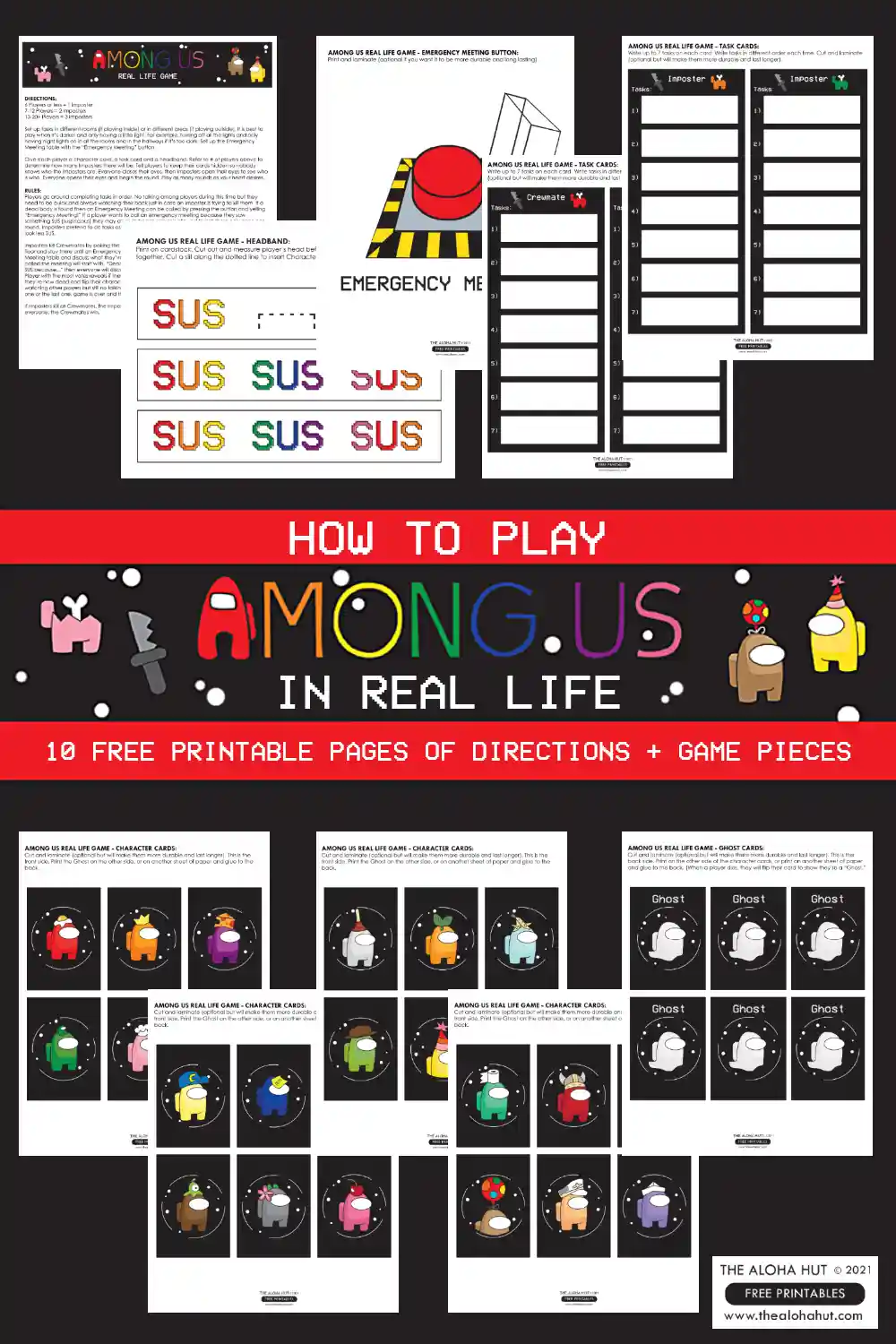 First things first, print off all the directions and game pieces in order to play Among Us in real life. You will need to print off the ghost page a few times to cover all the backs of the crewmates/characters cards. And you'll need to print off as many headband pages as there are players. The headbands are super simple to make. Just cut out, staple or tape, and cut along dotted line to insert the character card. When we first played the game with the youth group it was hard to tell who was dead and who was still alive. I kept trying to "kill" players that were ghosts. So these headbands not only make the game more fun because of the aesthetics, but they also help everyone know who's still alive and who's not.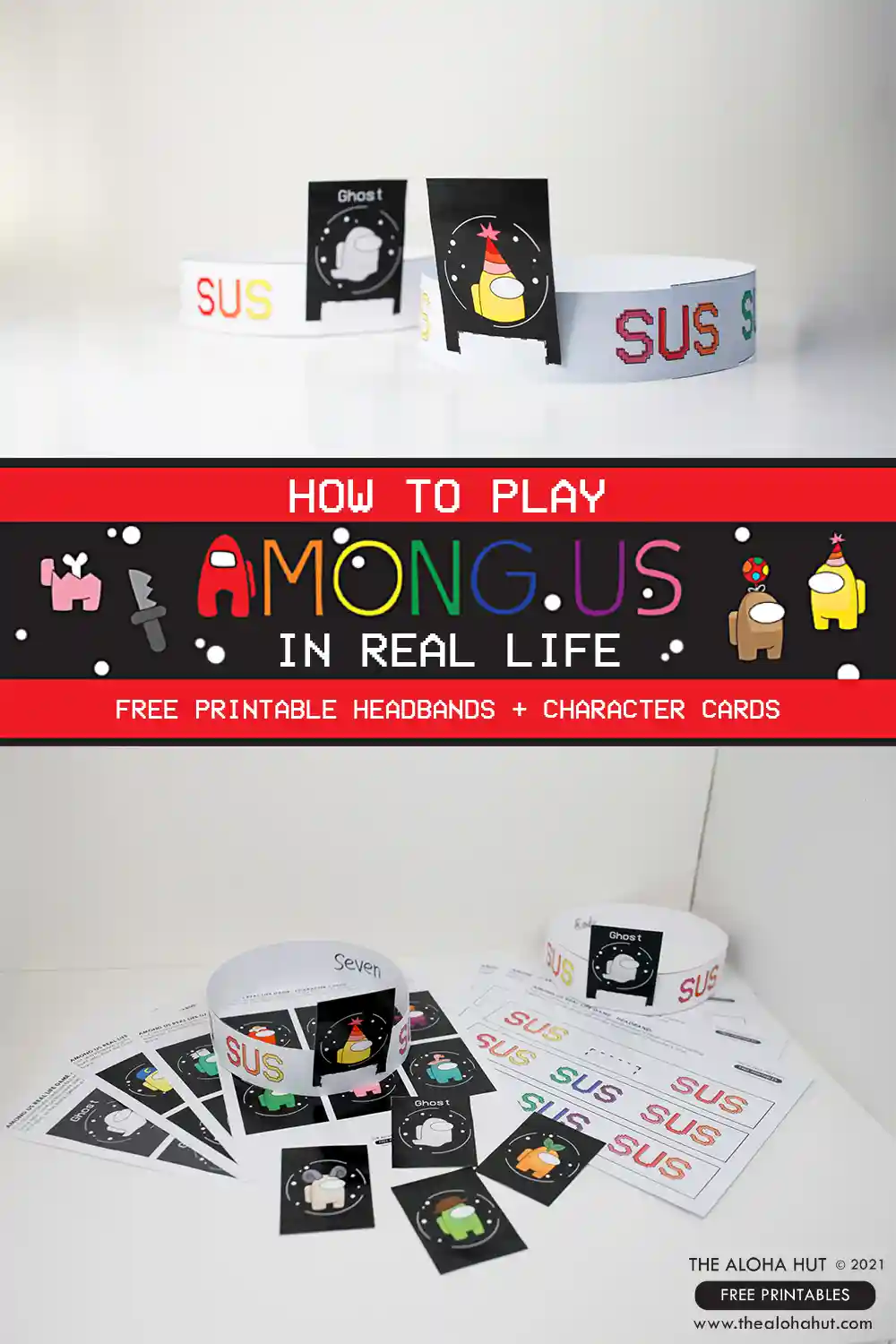 Decide on Tasks and Write Them on the Task Cards
---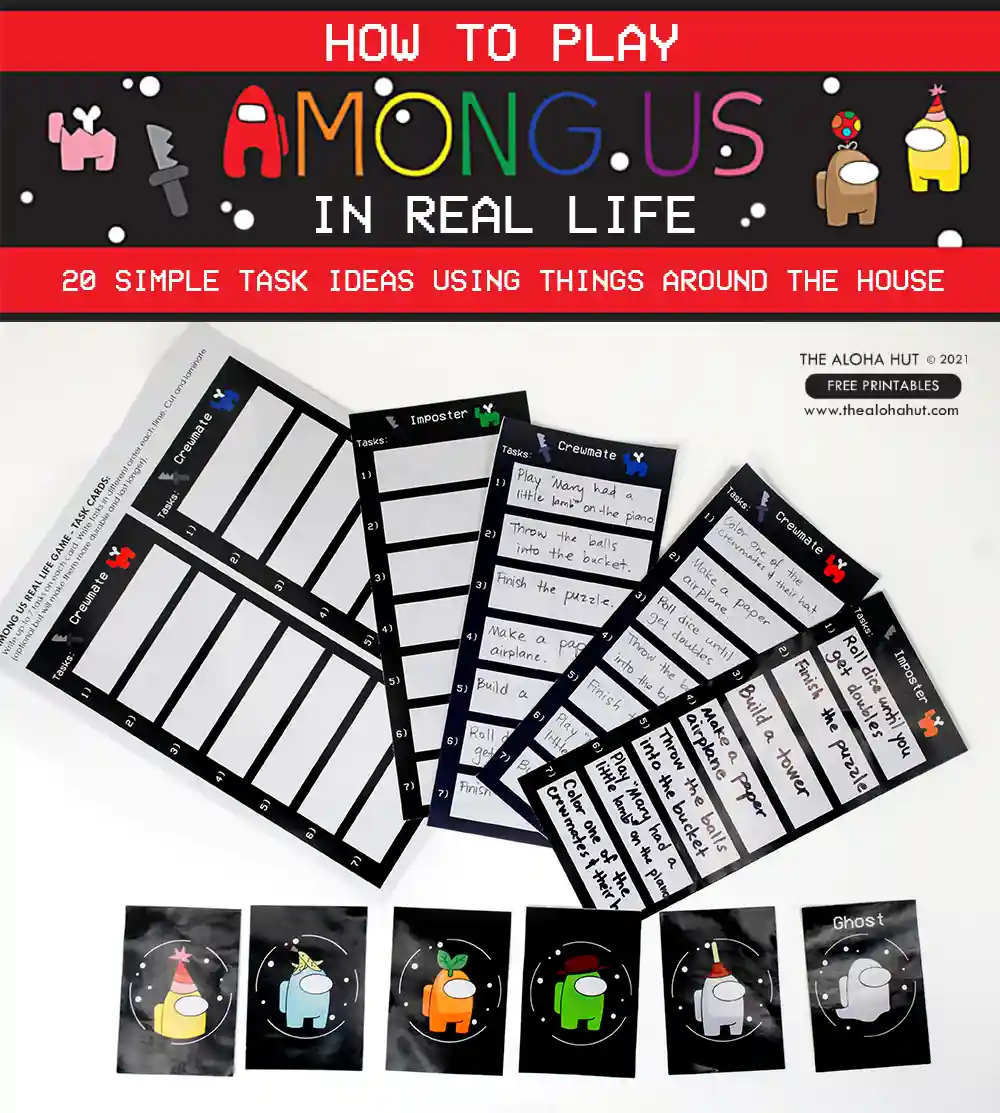 The tasks can be as easy or as tough as you'd like. We noticed that mixing up super simple tasks that take a minute with some harder tasks that take a few minutes is the best combo. If they're too hard and take too long then you get a bunch of players bunched together around one task. We put together a list of 20 SIMPLE TASKS with everyday items that can be found in most homes:
Roll dice until you get doubles.
Finish the puzzle (the wooden ones for toddlers are perfect).
Build a tower (using

blocks

,

Magnatiles

or

Legos

).
Make a paper airplane.
Throw the balls into the bucket.
Play "Mary Had a Little Lamb" on the piano.
Color one of the Among Us crewmates (use our printable backdrop or any coloring page you can find like

these ones

).
Finish the

Perfection

game.
Stack the cups into a triangle tower.
Put the markers in the color order of the rainbow.
Do 20 sit-ups (or any exercise).
Read a book (a

little toddler's picture book

would work best).
Write down the abc's (if playing with older kids, have them write it down backwards).
Draw your favorite Among Us character and hat.
Fold and put away 5 pieces of laundry (this one is for us moms…why not make the kids be a little productive while they're playing). 🙂
Blow up a balloon until it pops.
Mold an Among Us character out of

Play-Doh

.
Drink a full glass of water.
Put the beans in the bowl using the straw only (5-10 beans will be plenty).
Roll the car into the cup (tape a cup to the ground on its side and then put a line of tape about 3 feet or so away; the player needs to roll the toy car from the line into the cup).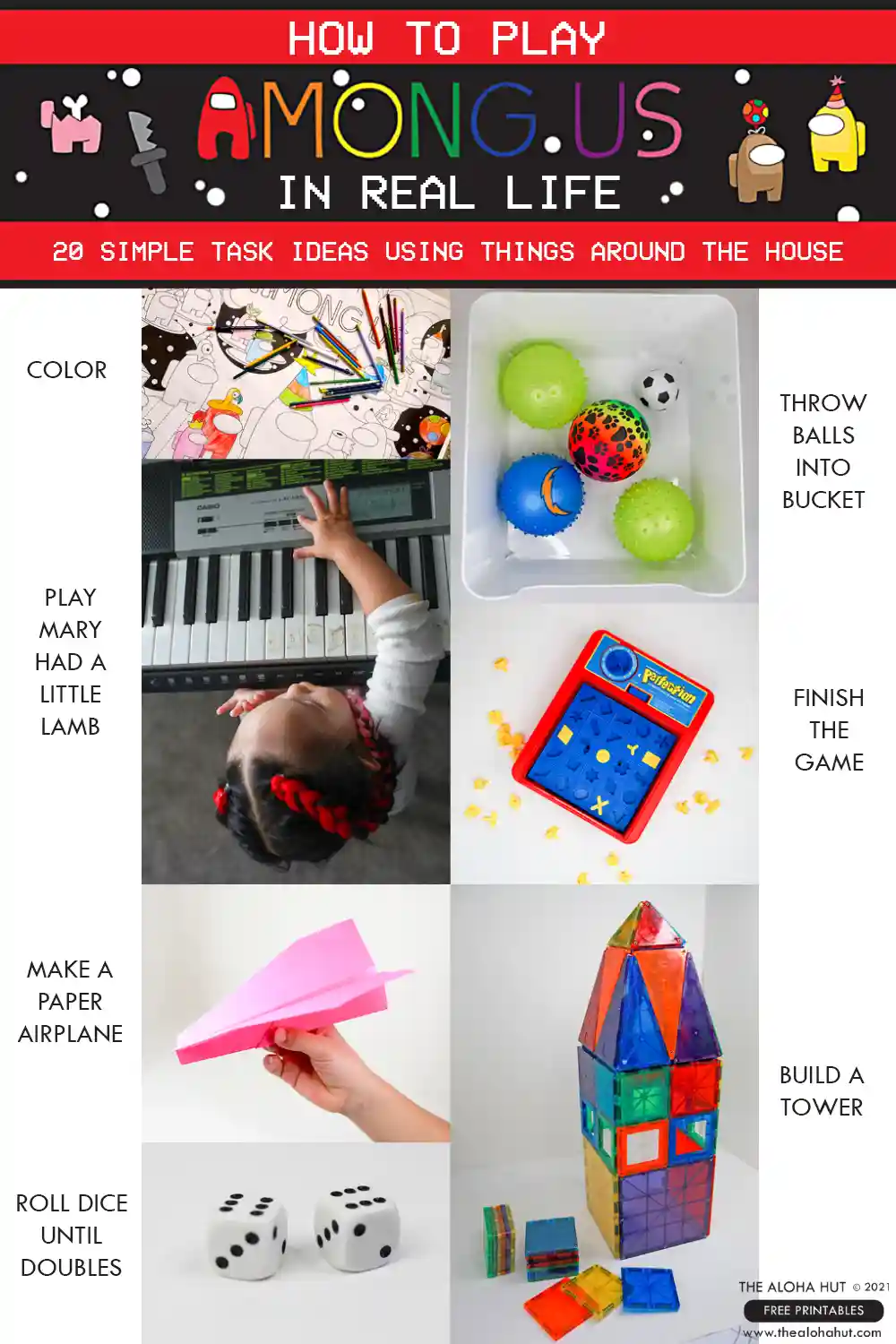 PLAY!!
---
Two last tips to make your game as fun as possible. We like to play when it's dark. We turn off the lights and only have nightlights in the rooms and hallways. In the emergency meeting room we used a fun ring light that has a flashing red/blue light option. It really set the mood and made it feel like we were in the game. We also played some fun music that helped so we couldn't hear as much making it harder to discover the imposter.
Hope you enjoy the Among Us in Real Life printables and have a blast playing this epic game! Don't forget to check out the entire Among Us birthday party pack where we put together everything you need to turn this into an entire birthday party with FREE printable decor, another printable game, printable activities/crafts, and so much more! (see pictures below for a small glimpse of just a few of the free printables we've got).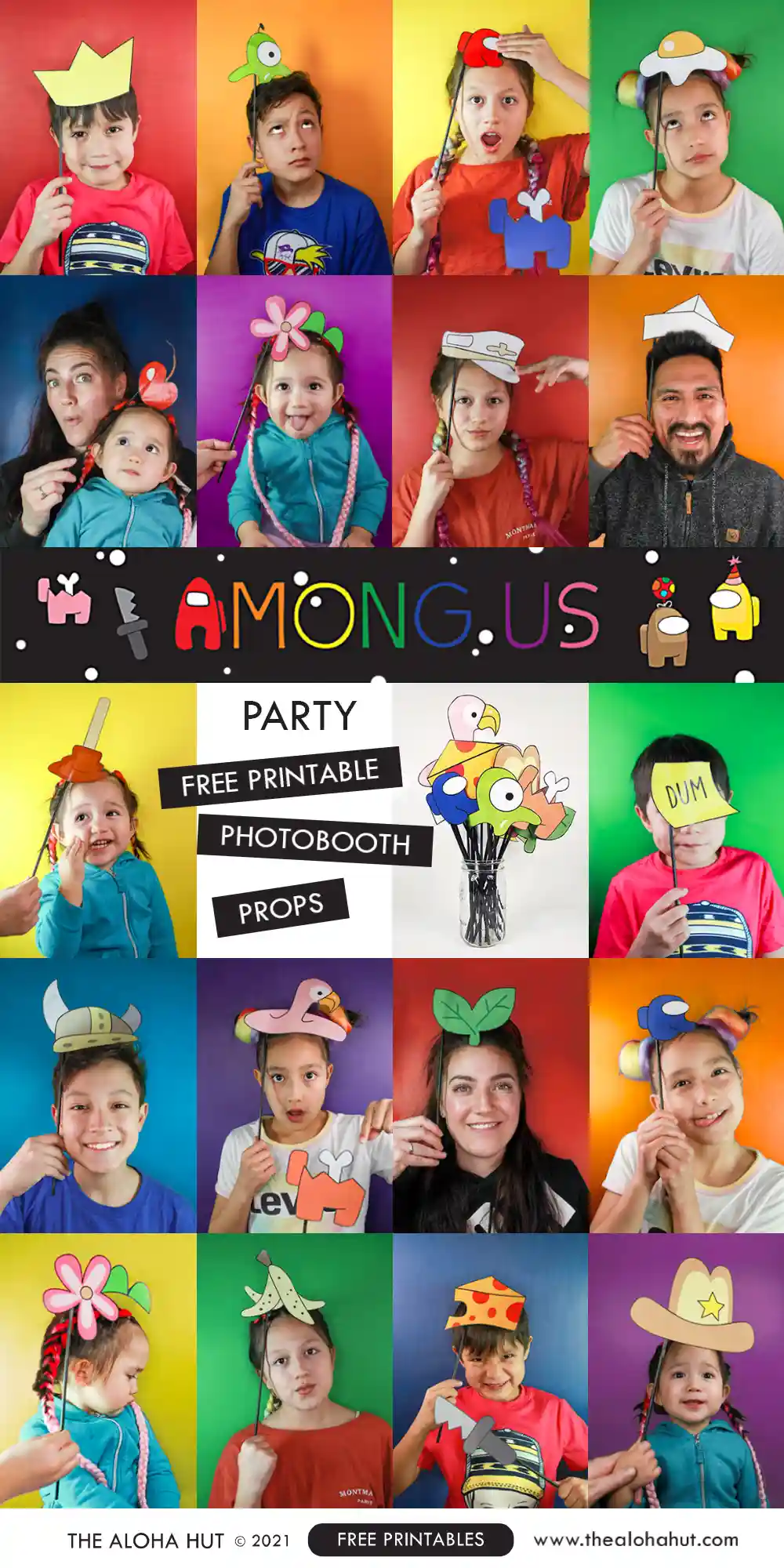 Much love and aloha,
Stacey + Niki
---