The Best Among Us Birthday Party Ideas & Games
The Best Among Us Birthday Party Ideas & Games
This post may contain affiliate links. Read our disclosure policy.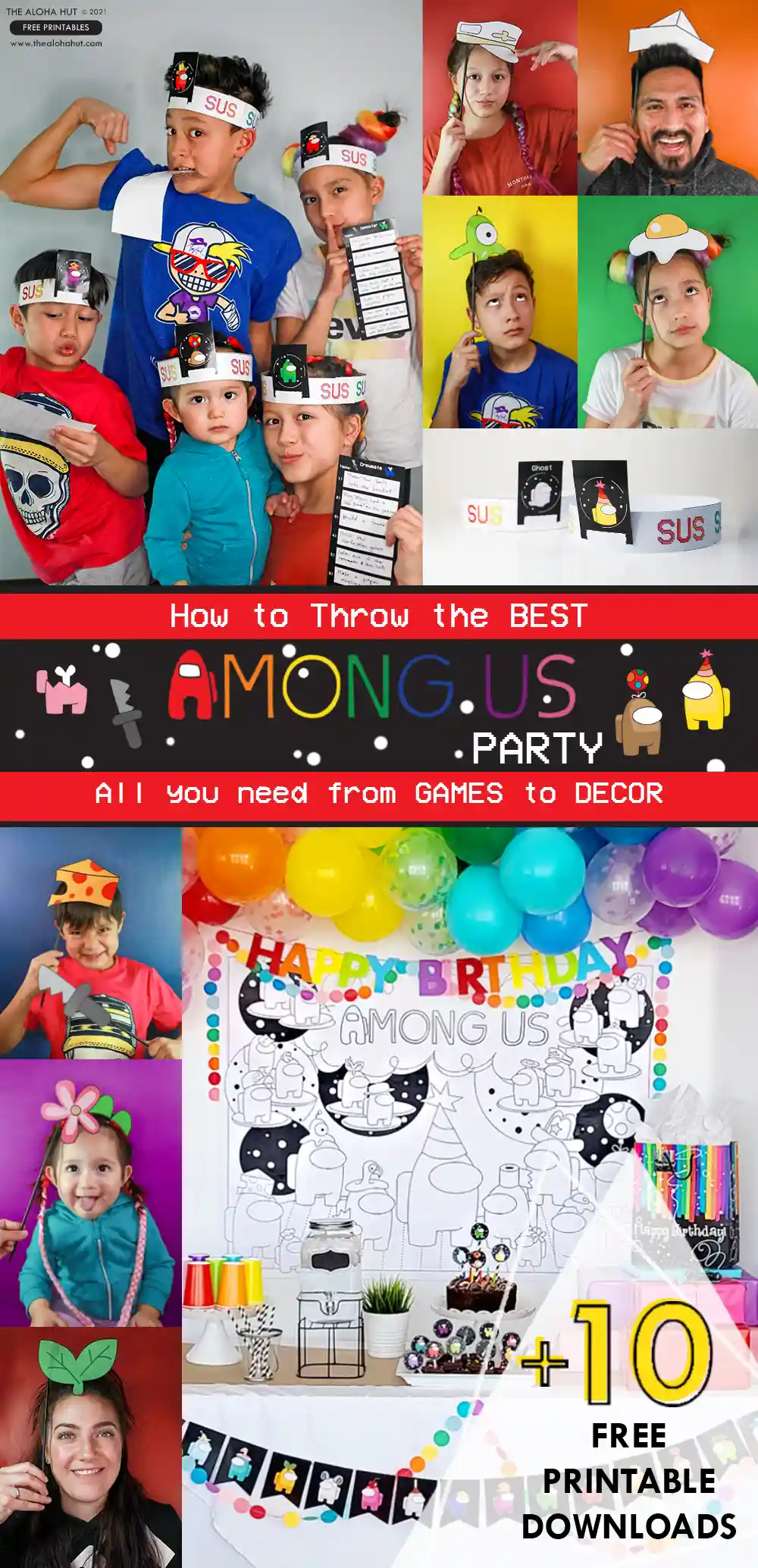 AMONG US Birthday PARTY, need we say more? I don't know a child that hasn't heard of and adores this 2020 cult phenomenon. Ok, technically it was created in 2018 but I would say it didn't explode in popularity until the pandemic. And boy howdy, did it explode! We had to jump on the Among Us bandwagon and create an entire party pack for you all. We put together 10 FREE printables from party decor to games that will help you have the BEST AMONG US PARTY possible including how to play Among Us in Real Life Game!
1) COME PLAY AMONG US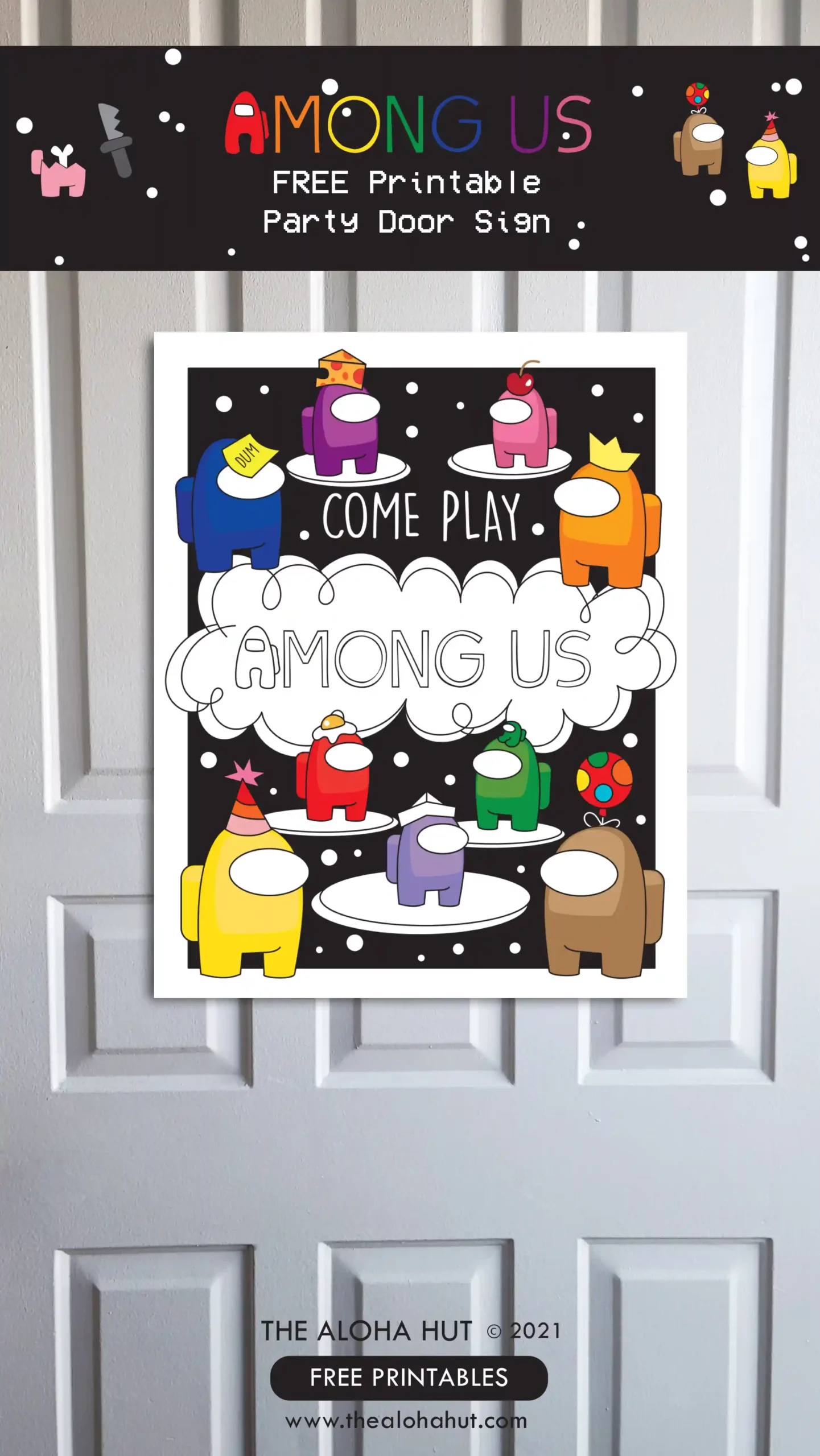 We like to set the tone for every party right from the get go. Our 16×20" door signs are super cheap to print and make a huge+colorful impact. We print them from our local print shop for $10. Add balloons for an extra punch of color.
---
2) PHOTOBOOTH PROPS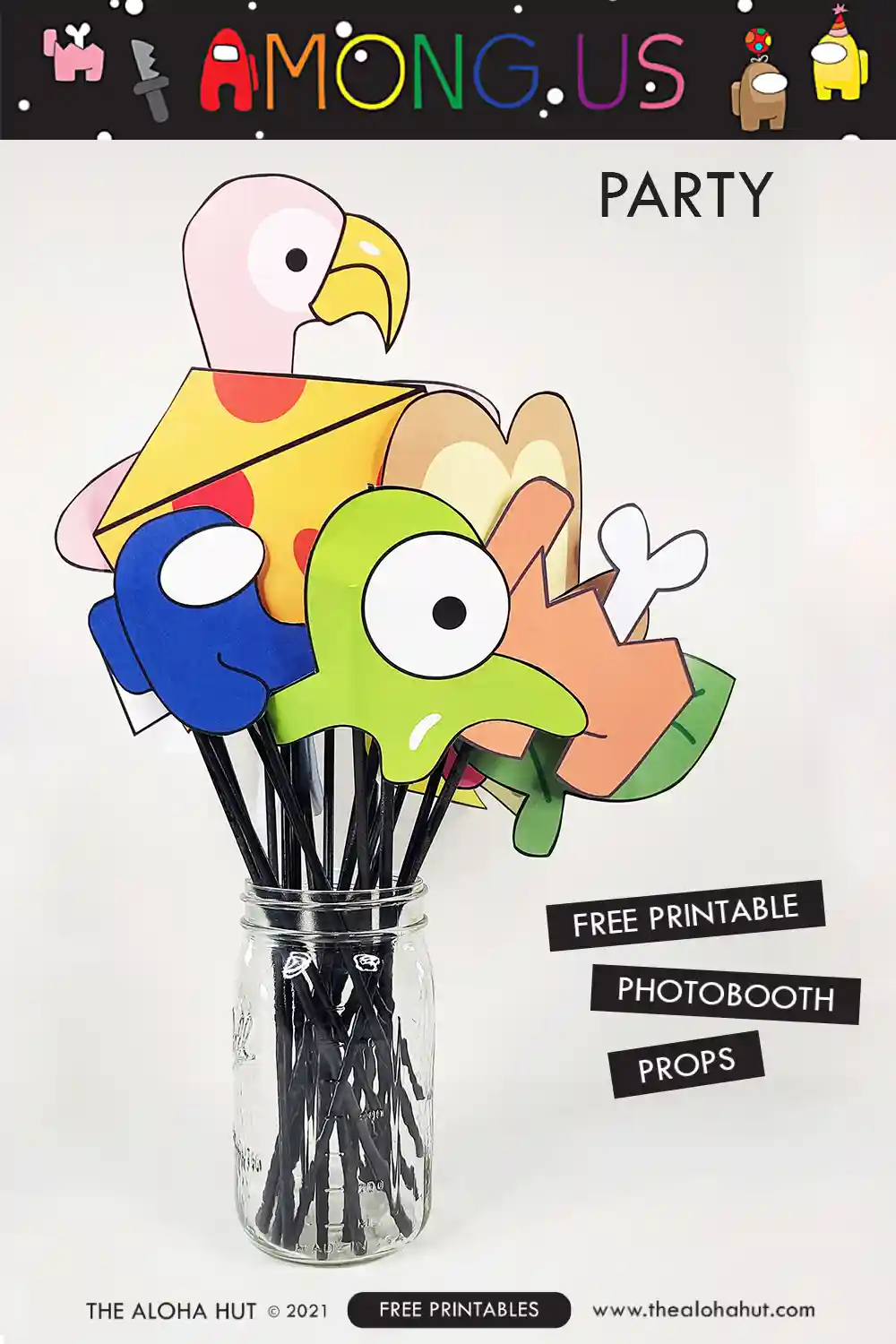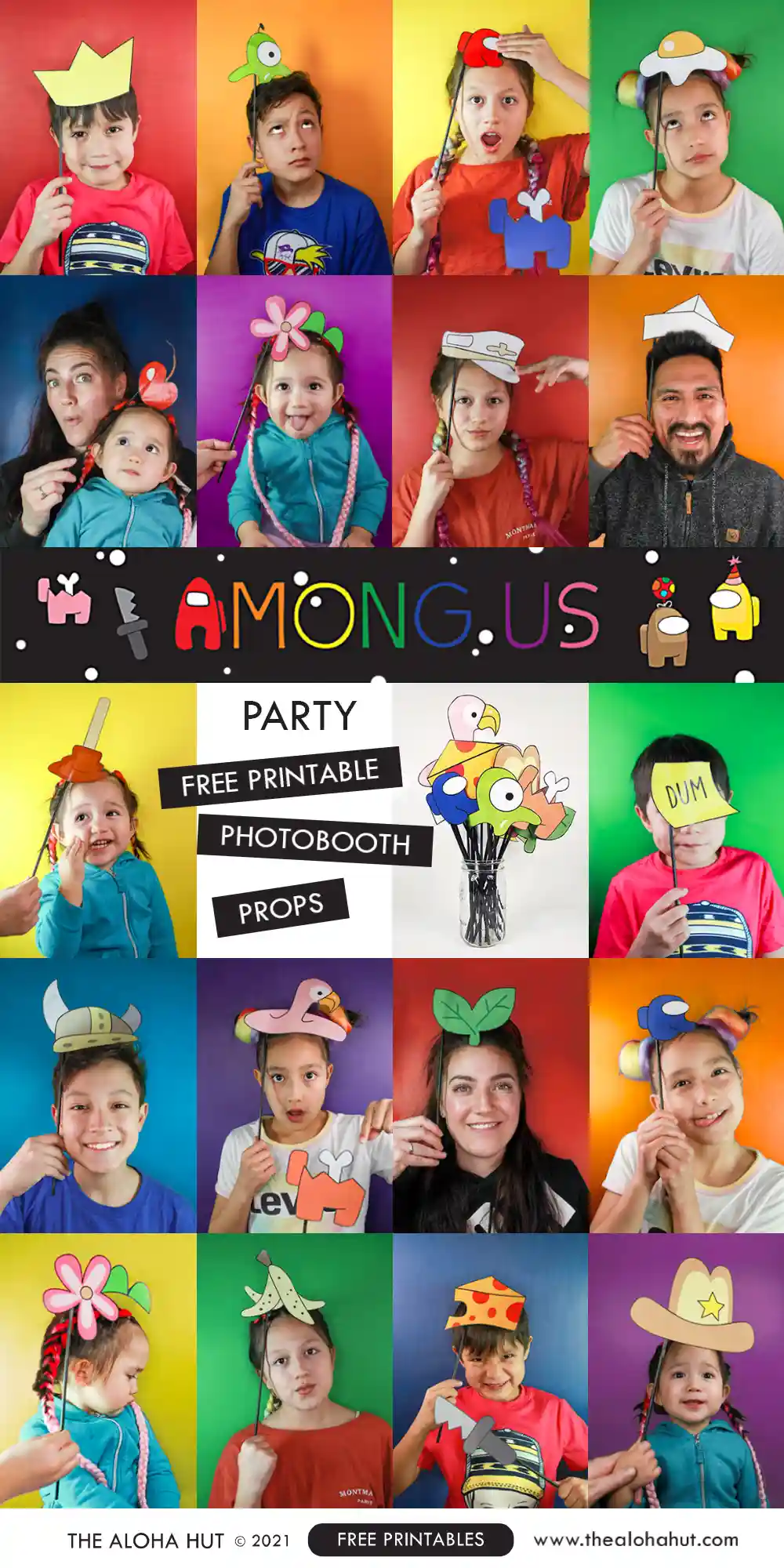 You can't have a party without a great photo op righ!?! We drew up 29 Among Us hats + accessories from the game. Guests are bound to find a few of their favorites! For the backdrop, get some colored poster board and tape it to the wall or use our GIANT printable backdrop (see #3 below).
---
3) GIANT COLORING BACKDROP + I SPY GAME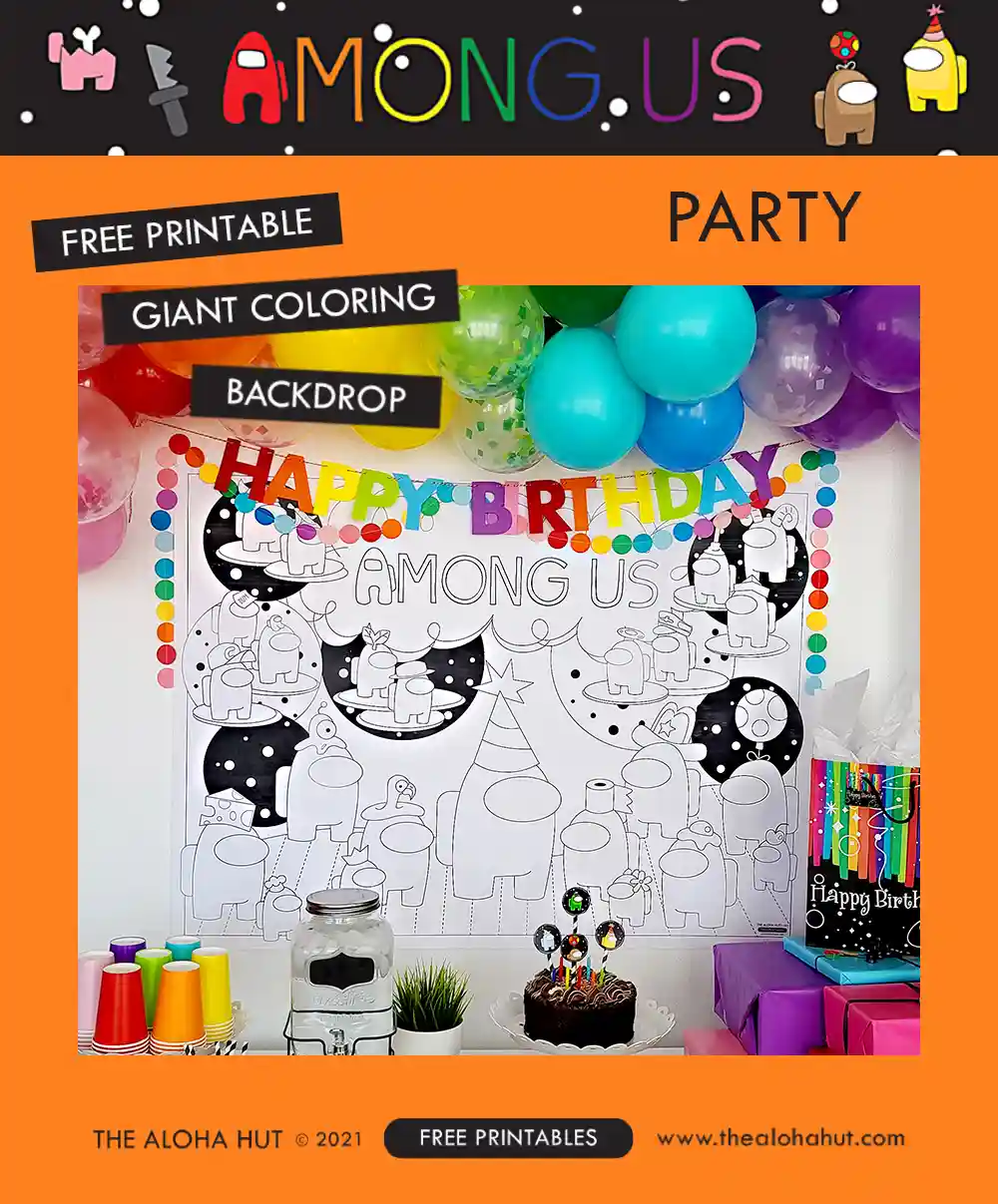 One of the easiest ways to decorate for a party is to print off a HUMONGOUS themed backdrop. We always add a few balloons and a garland to add color and dimension. These backdrops are GIANT…we're talking 36×48"! They can be printed at any local print shop. They are called engineer prints or blueprints. Our local shop charges us only $5!
These backdrops and perfect for decor but can also be used as a photo op, a filler activity while guests are arriving or if a child finishes their craft/activity early, and as a game by printing off our "I Spy" printable. Let the kids coloring the Among Us backdrop / giant coloring page and while they're coloring it they can play the "I Spy" game. Download the 36×48″ poster below and then print the "I Spy" game on 8.5×11″ paper and give one to each child to play.
---
4) BIRTHDAY BANNER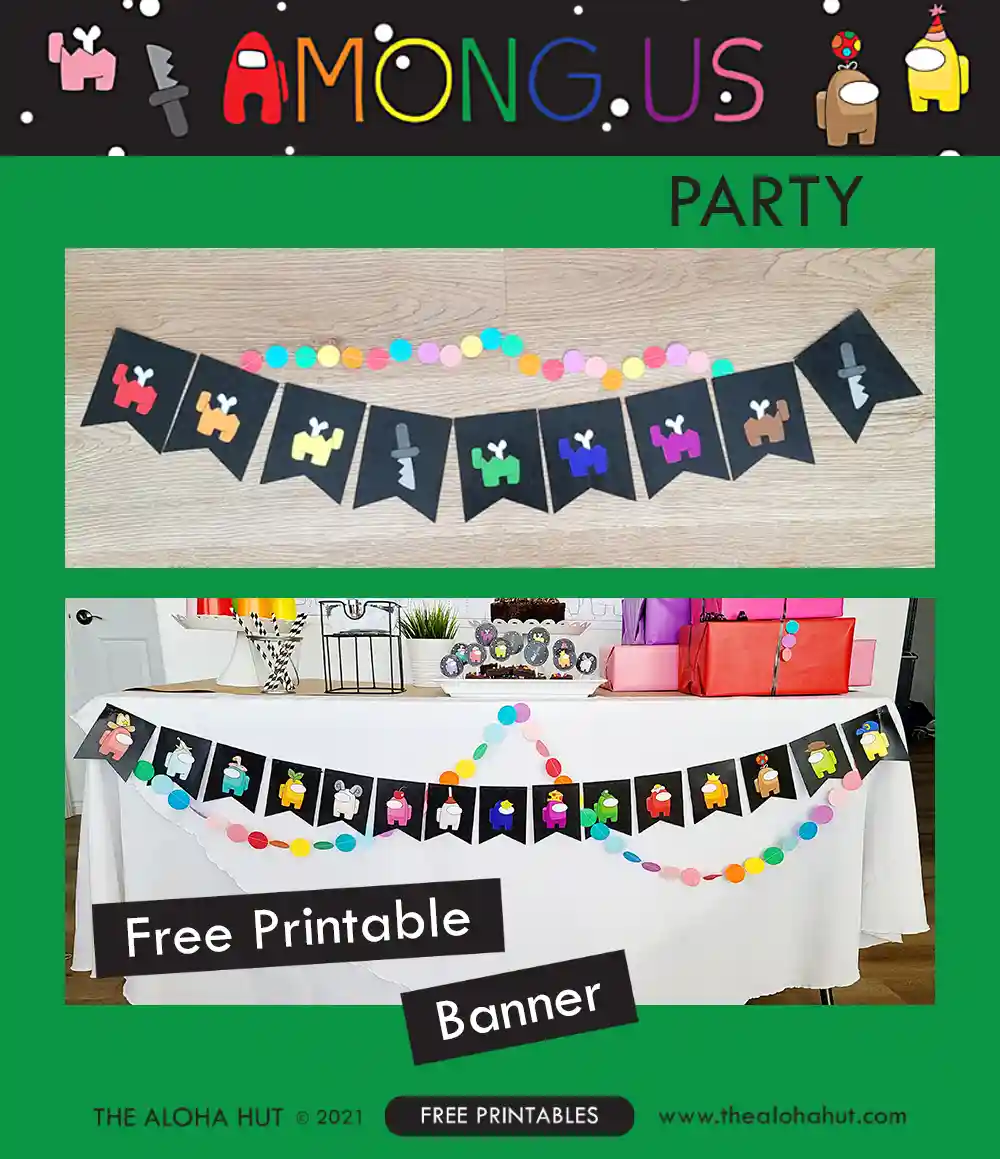 Decorate with a simple banner that has lots of the fan favorite Among Us characters. Download the Among Us banner, cut out, and string together.
---
5) CUPCAKE TOPPERS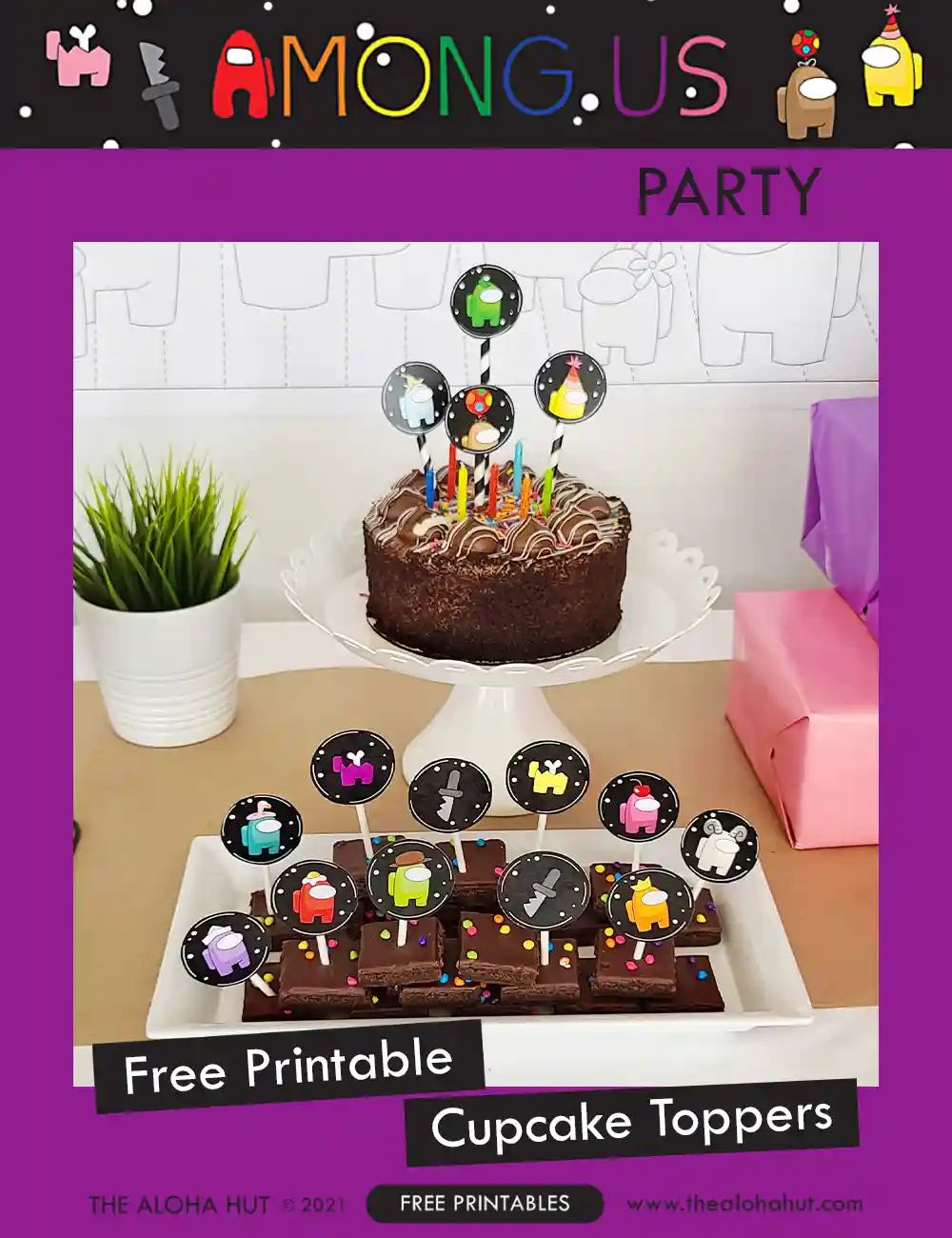 Add cupcake toppers to your desserts, cupcakes, or as a cake topper. Or use them as tags for party favors. Cut out the circles and either attach to a stick (for a cupcake topper) or hole punch and tie to goodie bags and party favors.
---
6) BIRTHDAY INVITATIONS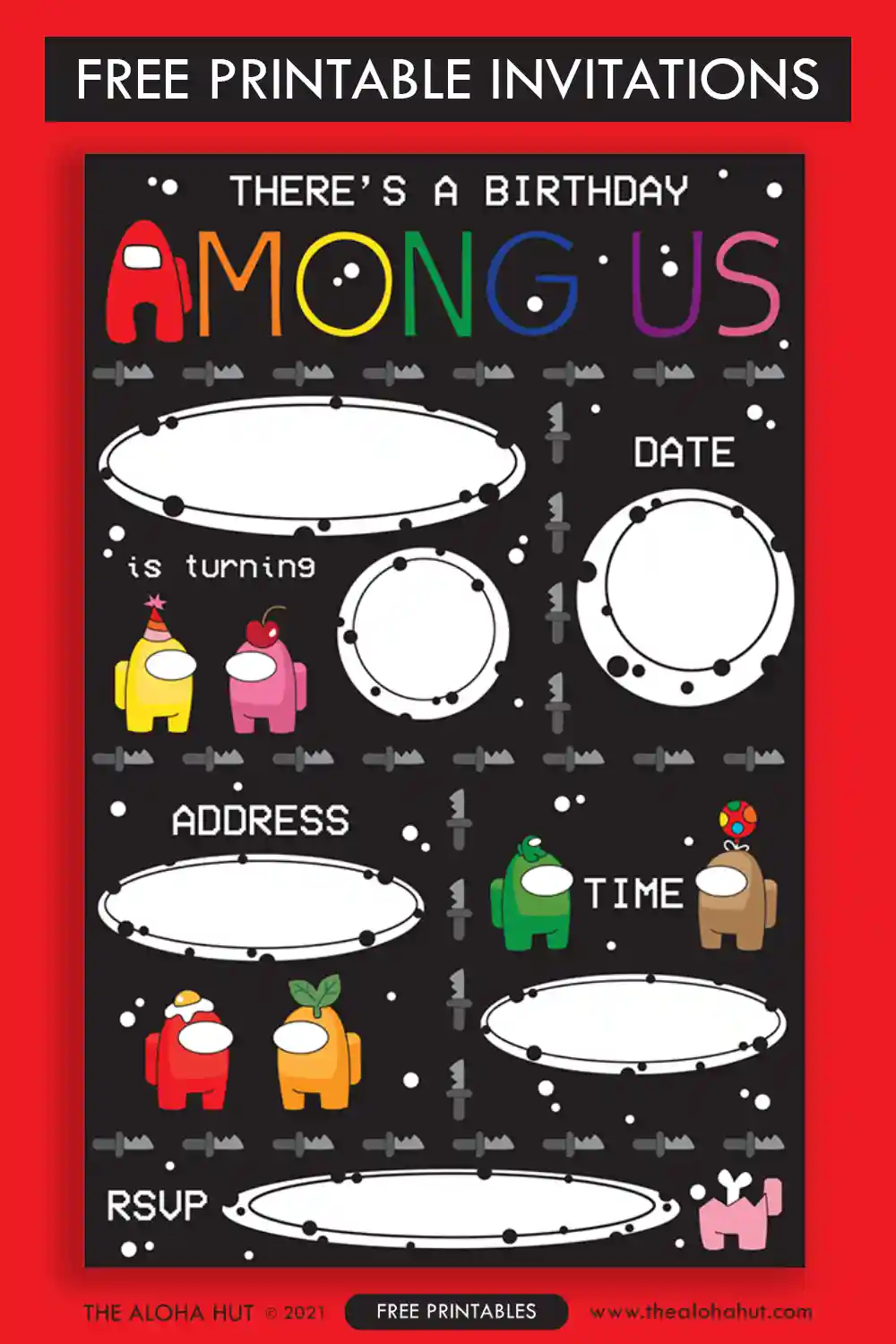 Fill in all the party details for these Among Us invitations.
---
7) SHRINKY DINK KEYCHAIN CHARMS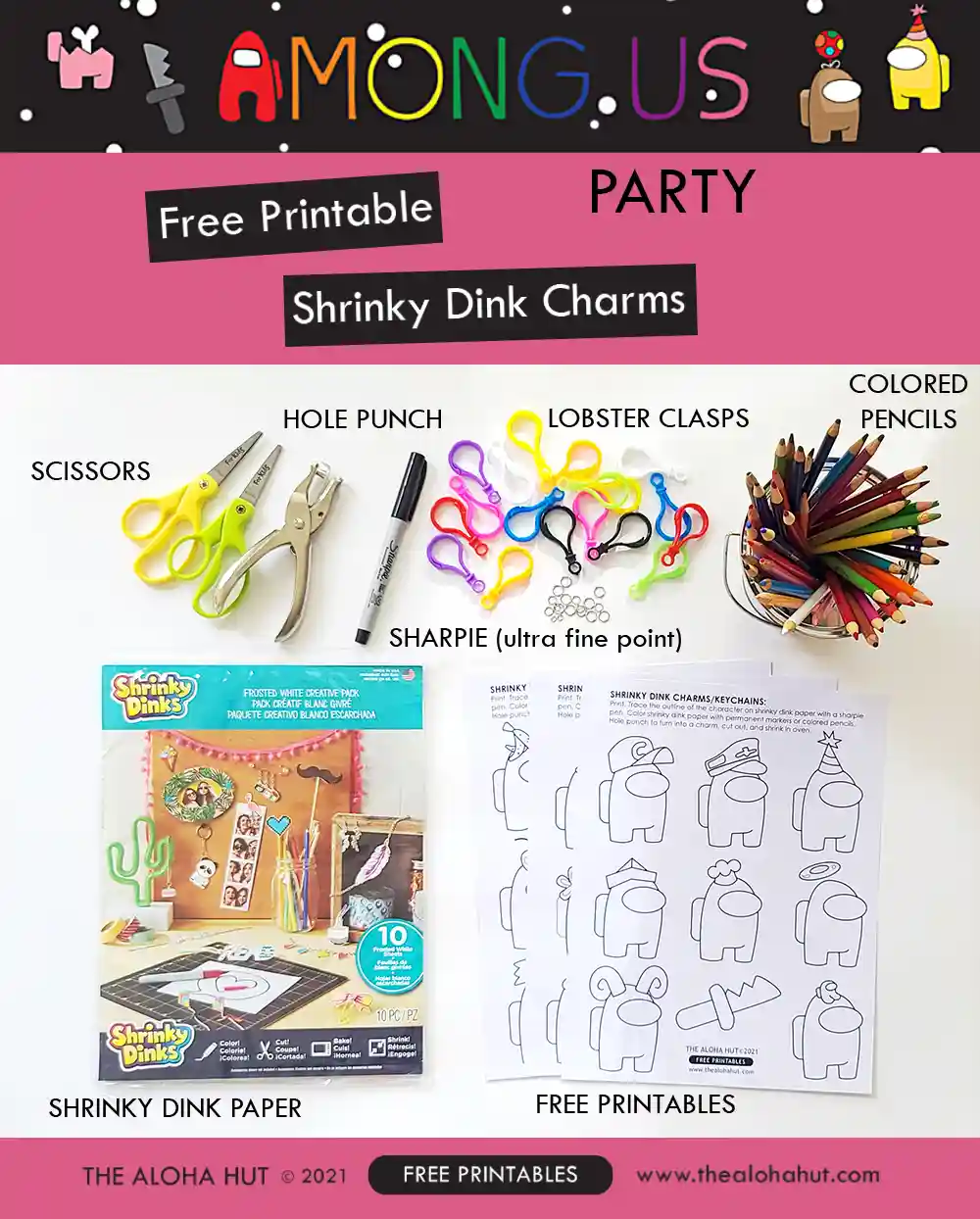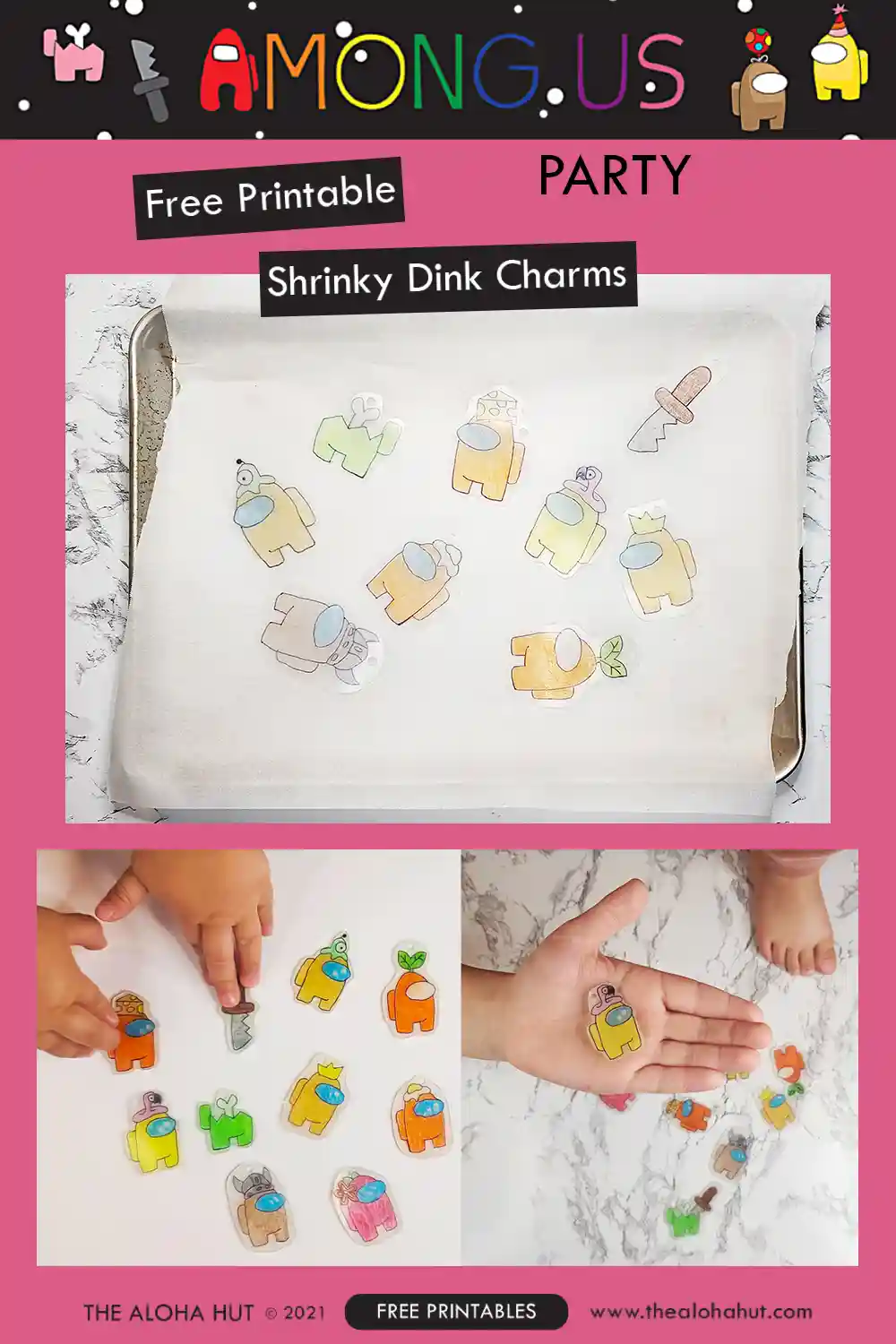 We love Shrinky Dinks around here! And these Among Us Shrinky Dinks are perfect for little hands because of how simple the drawing is. We use the Shrinky Dink Ruff n' Ready brand. It gives the best results by far. We found that outlining with a Sharpie Ultra Fine Point marker on the smooth side and coloring the rough side with Crayola colored pencils gives the best end result.
---
8) GAME – DON'T EAT THE IMPOSTER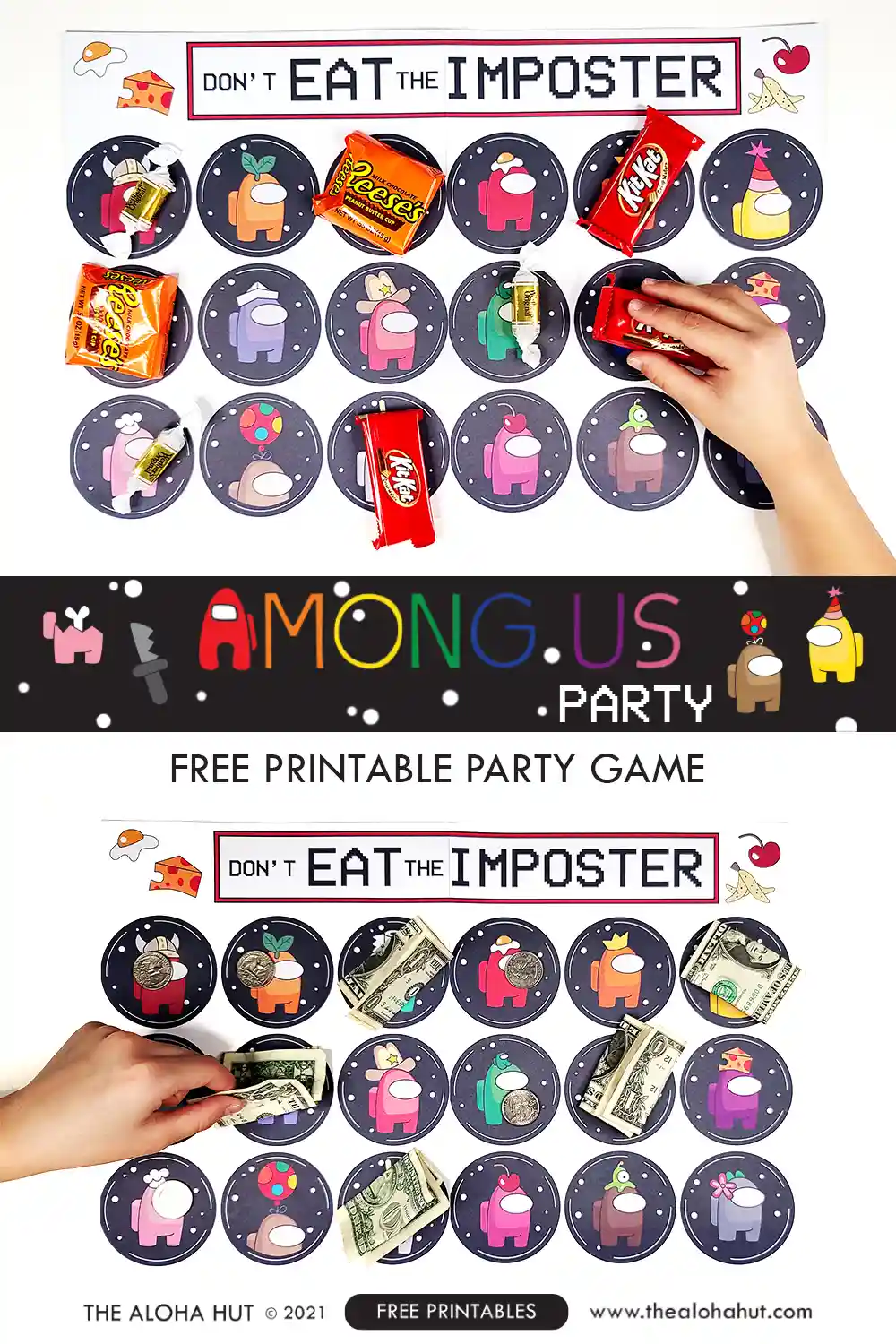 Kids LOVE this game. If you've ever played "Don't Eat Pete" it's the same thing. Each player takes a turn going out while the other players choose which character is the imposter. Candy is placed on all the characters and the player comes back in. They start picking up one candy at a time until they pick up the candy on the imposter. Everyone yells "Don't Eat the Imposter!" and that player keeps all the candy they had picked up to that point. A fun way to play is to replace the candy with money for the birthday child! That's way more fun than money in a card!
---
9) GAME – AMONG US IN REAL LIFE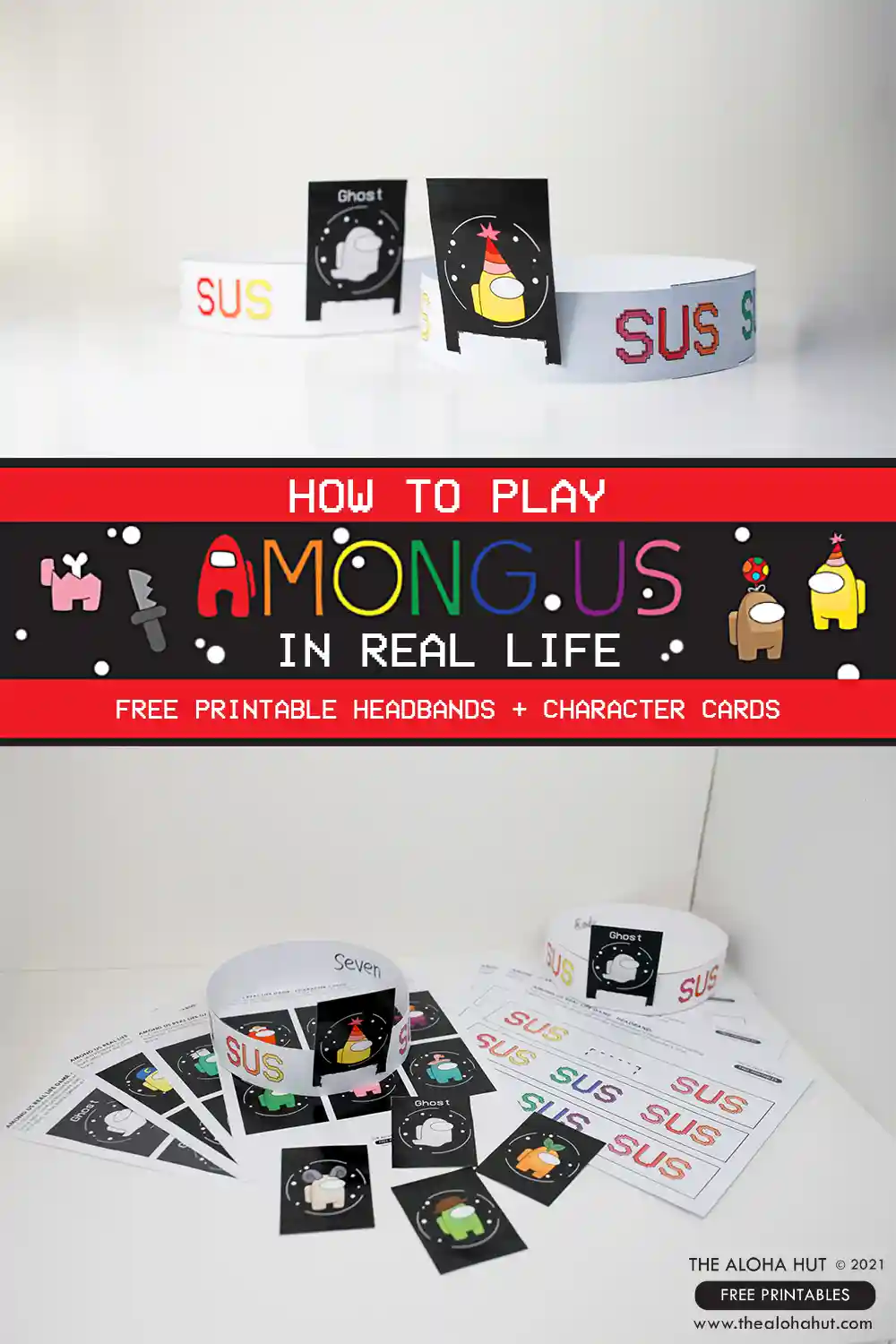 And last, but definitely not least, the printable Among Us in Real Life game. This is so much fun!! For more details on exactly how to play and a list of 20 easy task ideas, read this post here. You can't have an Among Us party without playing the actual game!
We hope these ideas and free prints help you plan your own EPIC Among Us party! Don't forget to follow us on Instagram and Facebook to stay up to date with all our free printables from activities to parties to holiday decor.
Much love and aloha,
Stacey + Niki
---