Jurassic World Camp Cretaceous Dinosaur Party
Jurassic World Camp Cretaceous Dinosaur Party
This post may contain affiliate links. Read our disclosure policy.
This one's for all the dinosaur lovers! We've got a free printable party pack with 19 FREE printables for decor and activities to help you throw an awesome dinosaur birthday party. These can be used for any dinosaur themed party or specifically a Jurassic World Camp Cretaceous party. Keep reading to see how we set up a simple and easy party table, sure to please your little dinos!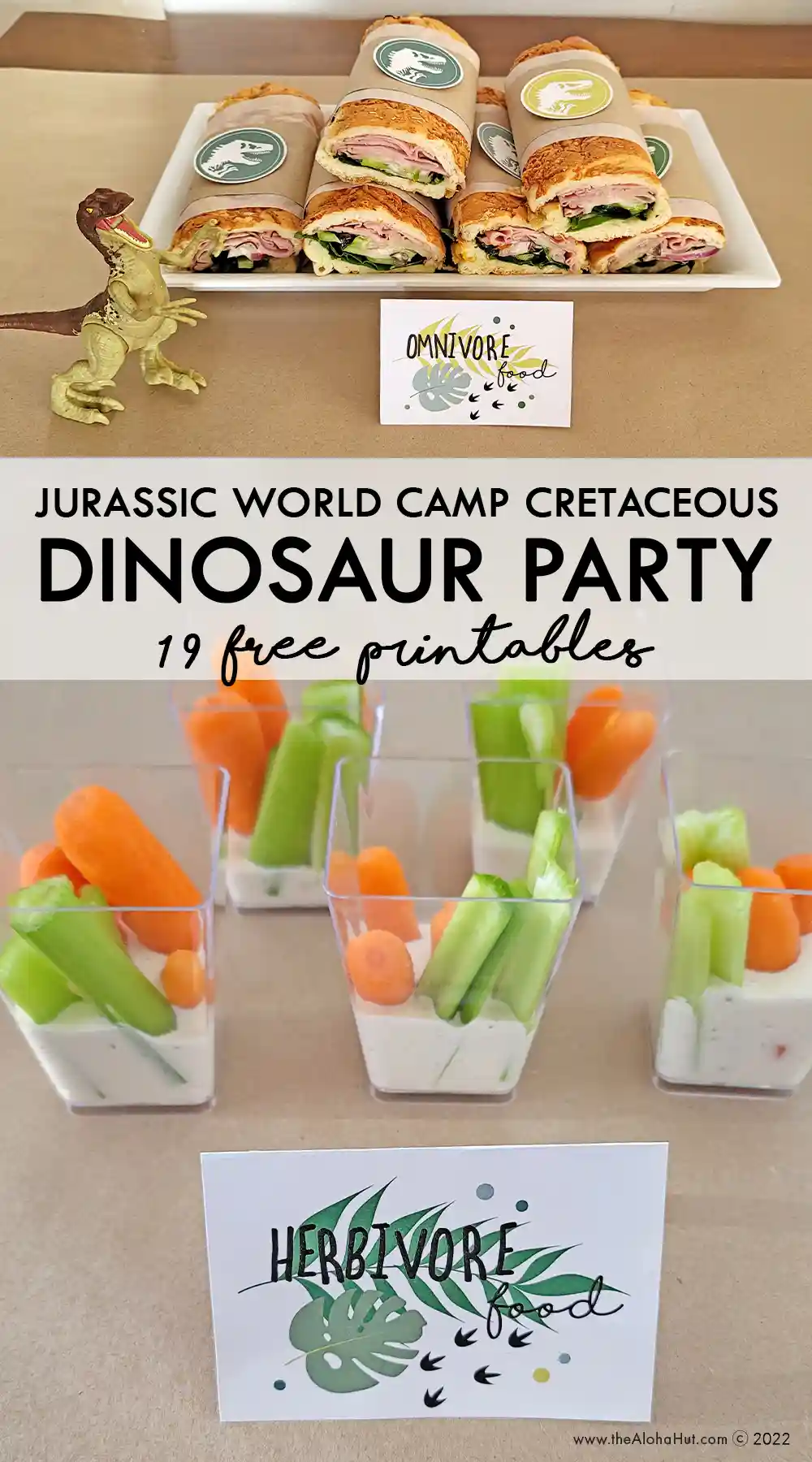 I remember when I watched Jurassic Park for the first time. I had gone with my neighbors to the drive-in and had no idea what Jurassic Park was, nor a drive-in! We didn't watch much tv or many movies when we were young so I was so confused when my mom said I was going. I thought it was going to be an actual park. 😛 To my surprise, it's turned out to be one of my favorite movies! That show brought dinosaurs to life like the world had never seen and I'm pretty sure it's why dinosaurs are a staple in almost every toy room!
If you're here it's probably because you have a little one that's obsessed with the giant creatures and are now planning a birthday party around them. Well you're in luck, we've drawn up some free printable decor and included an activity pack straight from the Dreamworks Jurassic World Camp Cretaceous website. Now onto the details.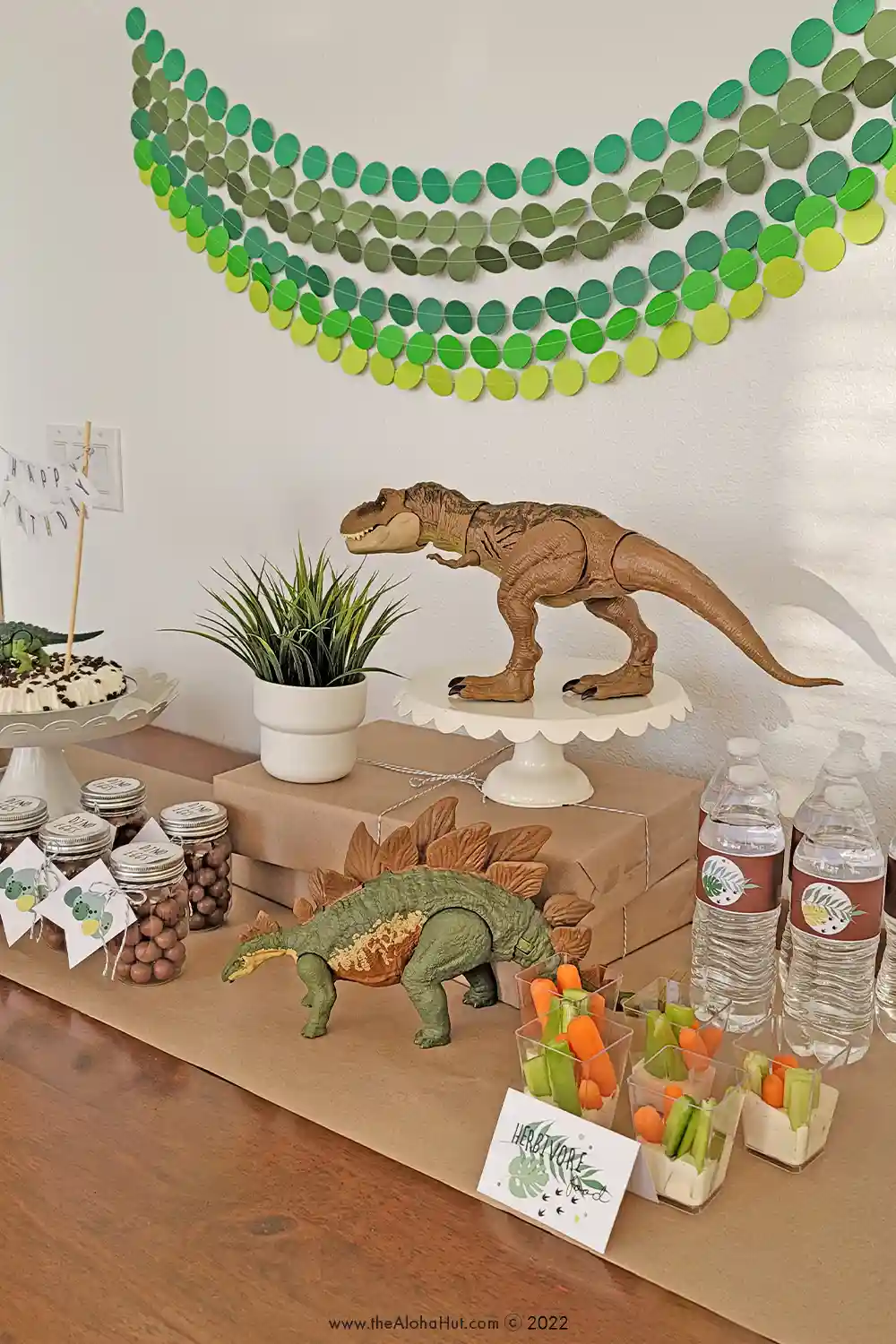 First up, the birthday cake. Whether you have a store bought cake or bake your own, it's easy to dress it up and add height by adding a quick "Happy Birthday" banner. A trick we use for all our birthday cakes is purchasing a new toy in the theme of the party (or using one you already own) and adding it to the cake. Doubles as a quick and easy cake topper along with a gift! Win-win!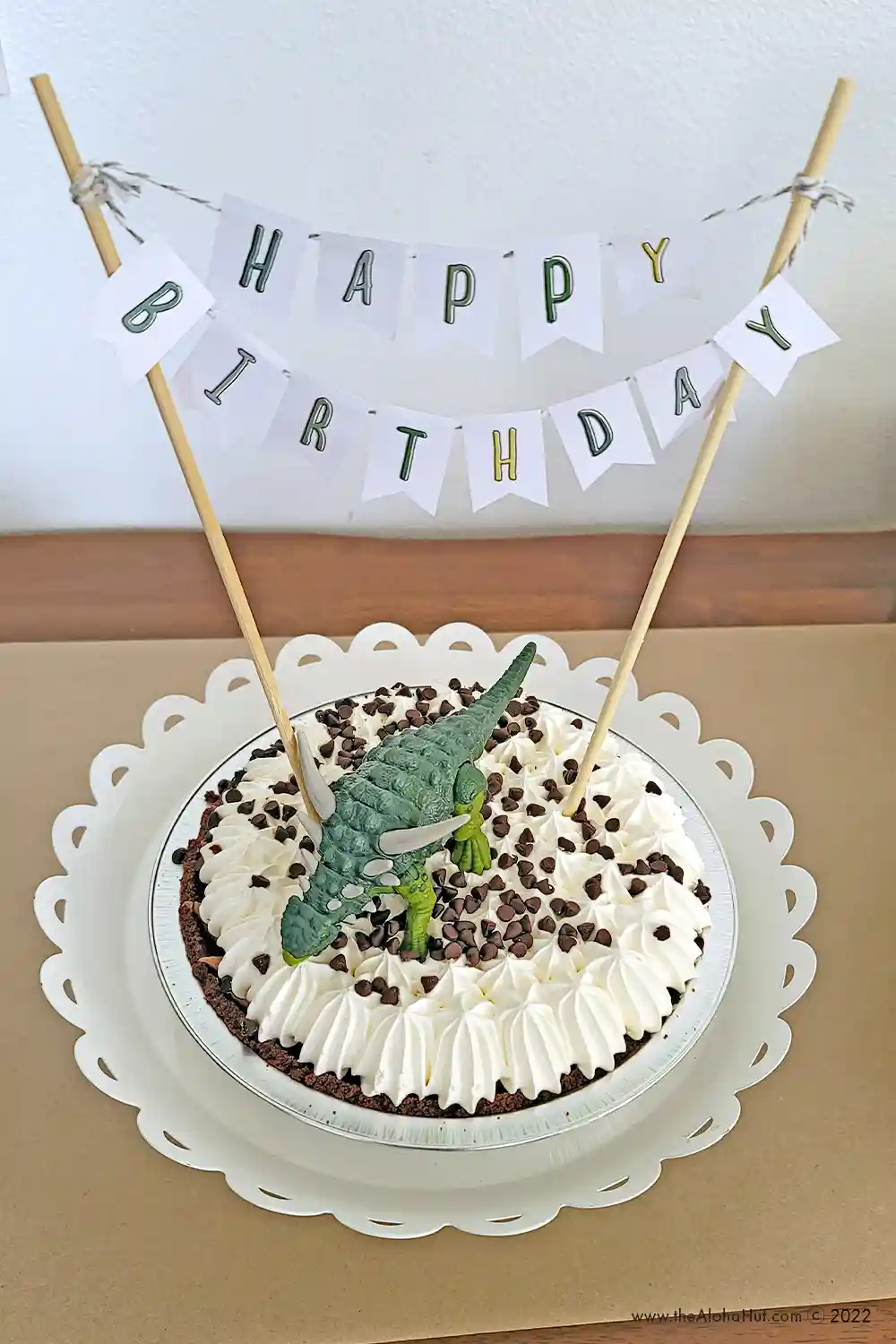 Every good food table has food cards. And even better are the ones that are themed! There are four cards to use: Omnivore, Herbivore, Carnivore and Sweetivore. We like to keep things simple so for the Omnivore plate, we just grabbed some veggie filled Subway sandwiches, cut in half and wrapped with parchment paper and craft paper. Then we topped them off with the cupcake topper tags. Some other great Omnivore plates would be pepperoni and veggie pizza, these mini hamburger sliders or these mini tacos.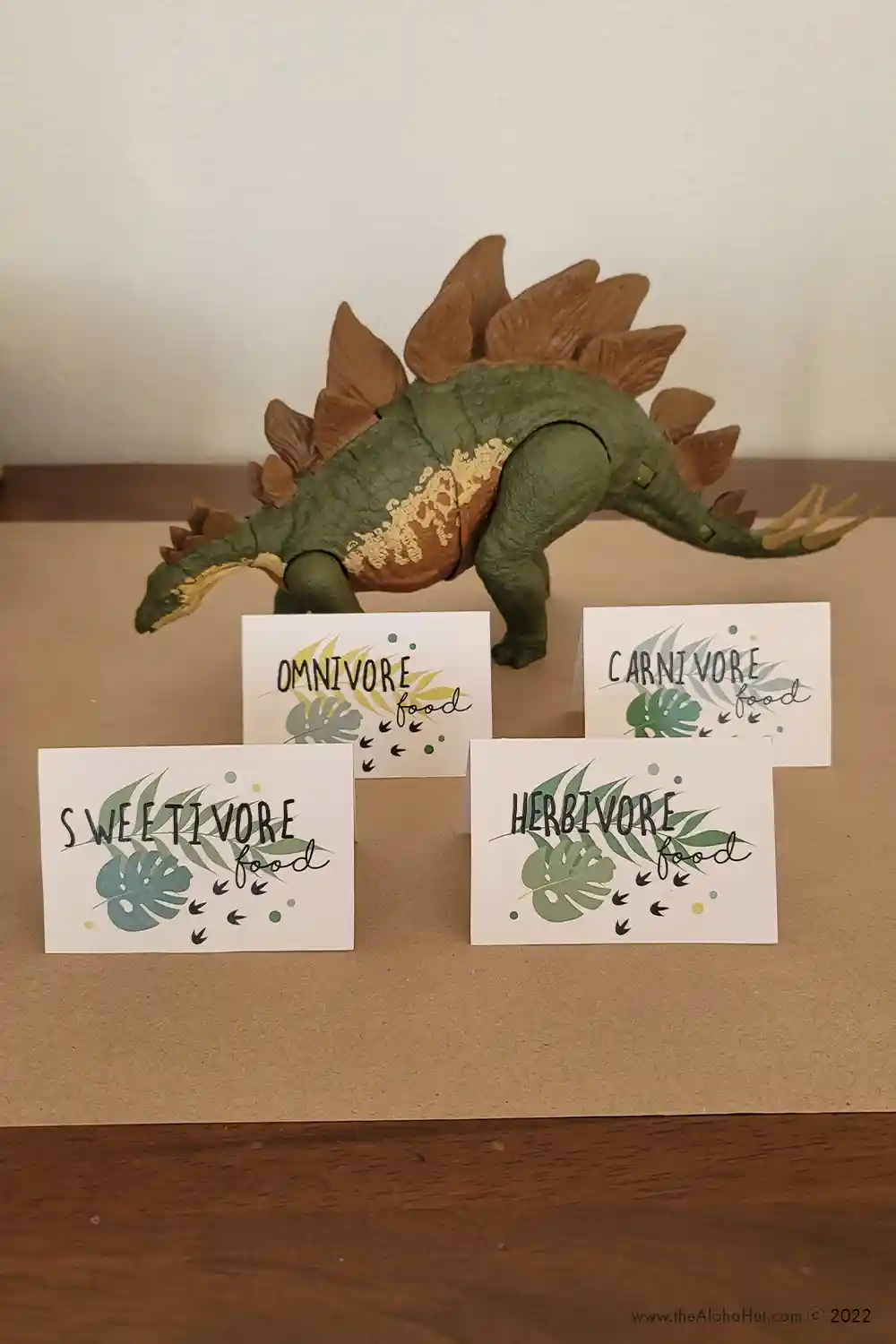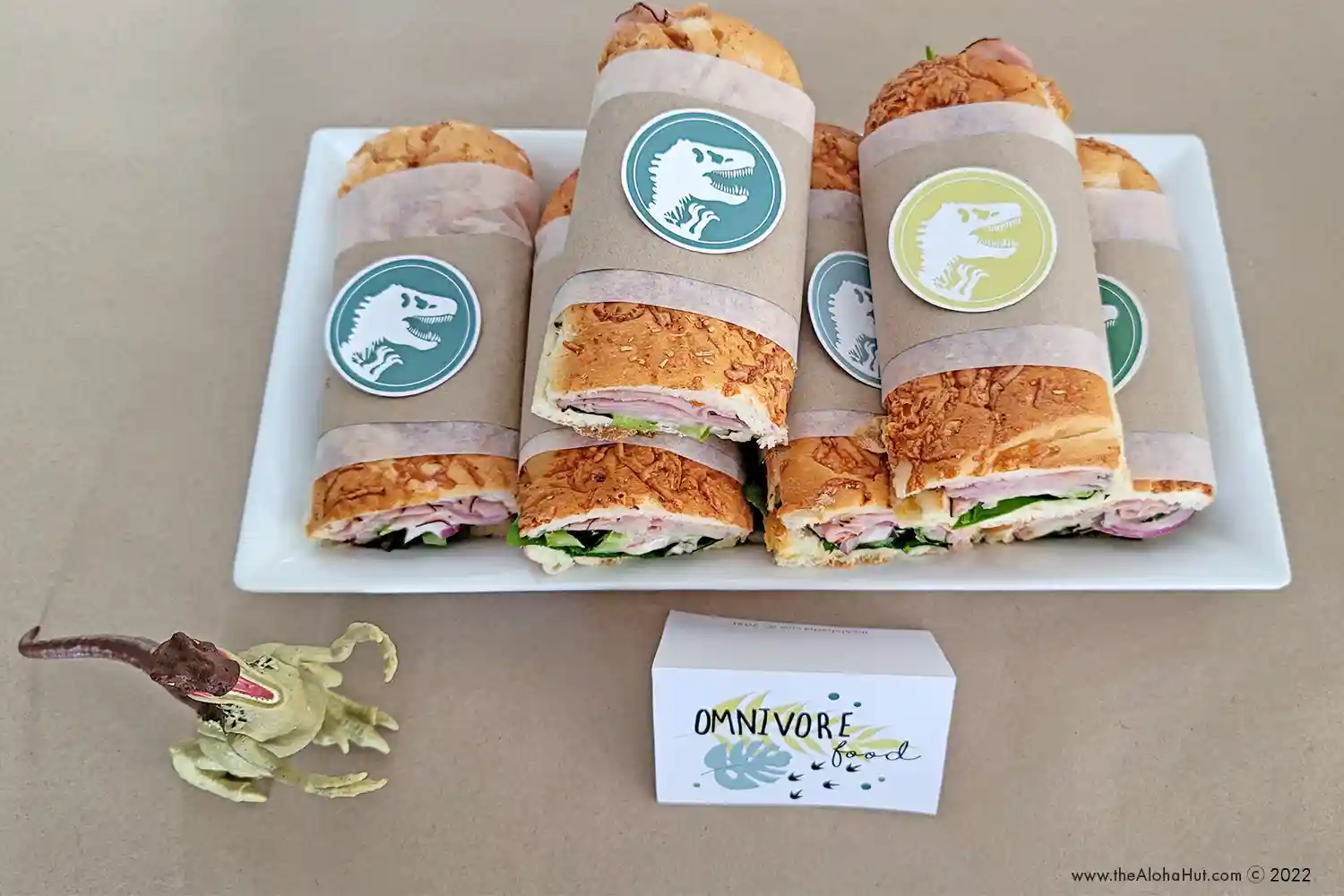 For the Herbivore food, we made some simple veggie and ranch cups using these square clear plastic dessert cups. Just remind the kids that lots of cool dinosaurs eat their veggies and they'll gobble them up in no time! A cup of fruit would also be a great option.
We didn't add a carnivore plate this time but some great suggestions are slices of deli meat, rolled up pepperoni, chunks of ham, chicken nuggets or even some beef shish kabobs. Yum!
For the Sweetivore plate we used the birthday cake but there are so many fun options out there. We love dinosaur shaped cookies, these cute dino dirt cups and these clever Pterodactyl Nests.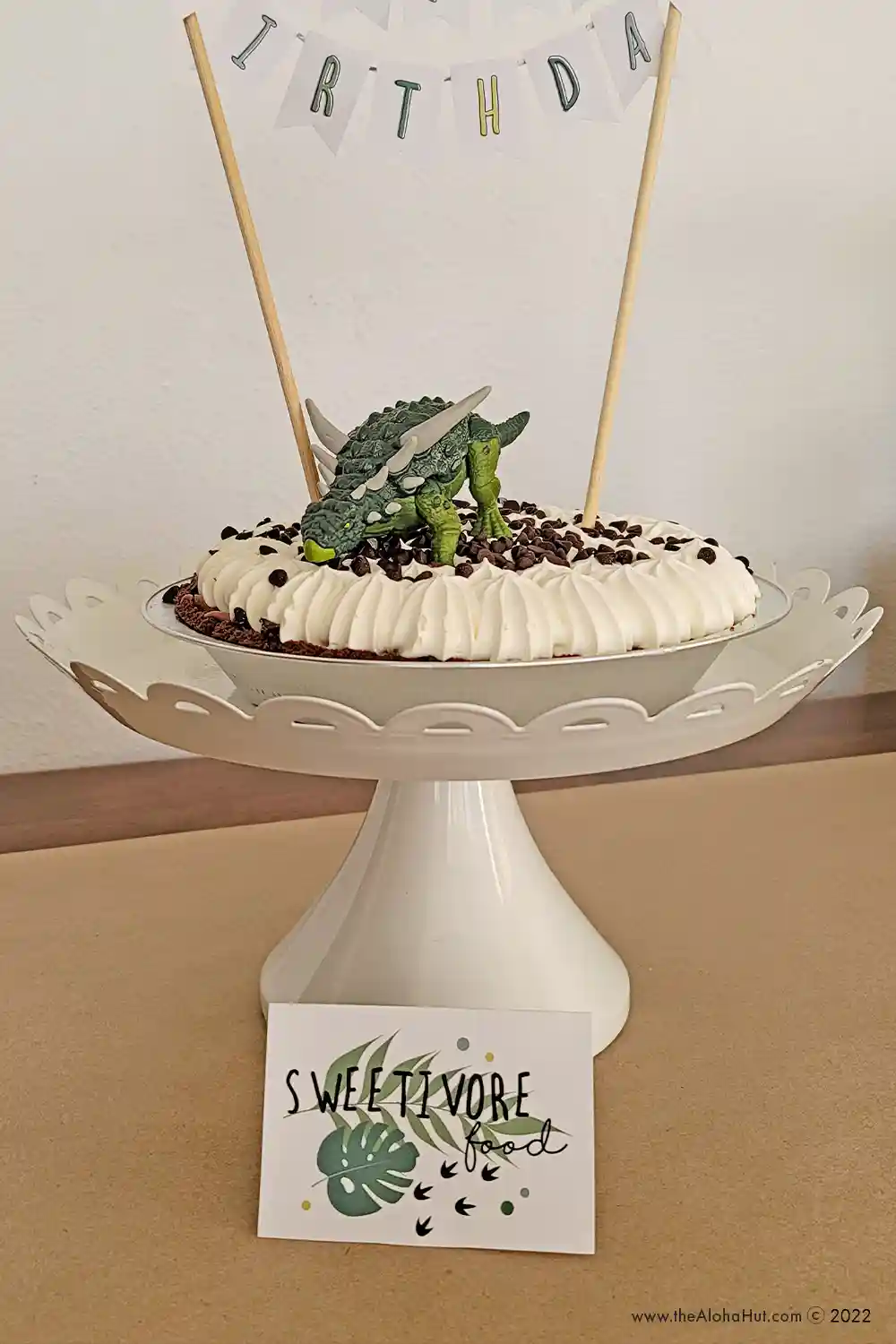 For a drink option, you can never go wrong with water. We prefer individual bottles and keep a Sharpie next to them so each guest can write their names. These are so simple to decorate because it only requires the free printable, scissors and a small piece of tape. The labels wrap all the way around and are thick enough to cover the entire brand label. No need to unwrap each bottle and no need to glue the entire thing on. A tiny piece of tape does the job. If you prefer Gatorade, pop or any other drink, just pop the labels on and it will help make the decor look more cohesive.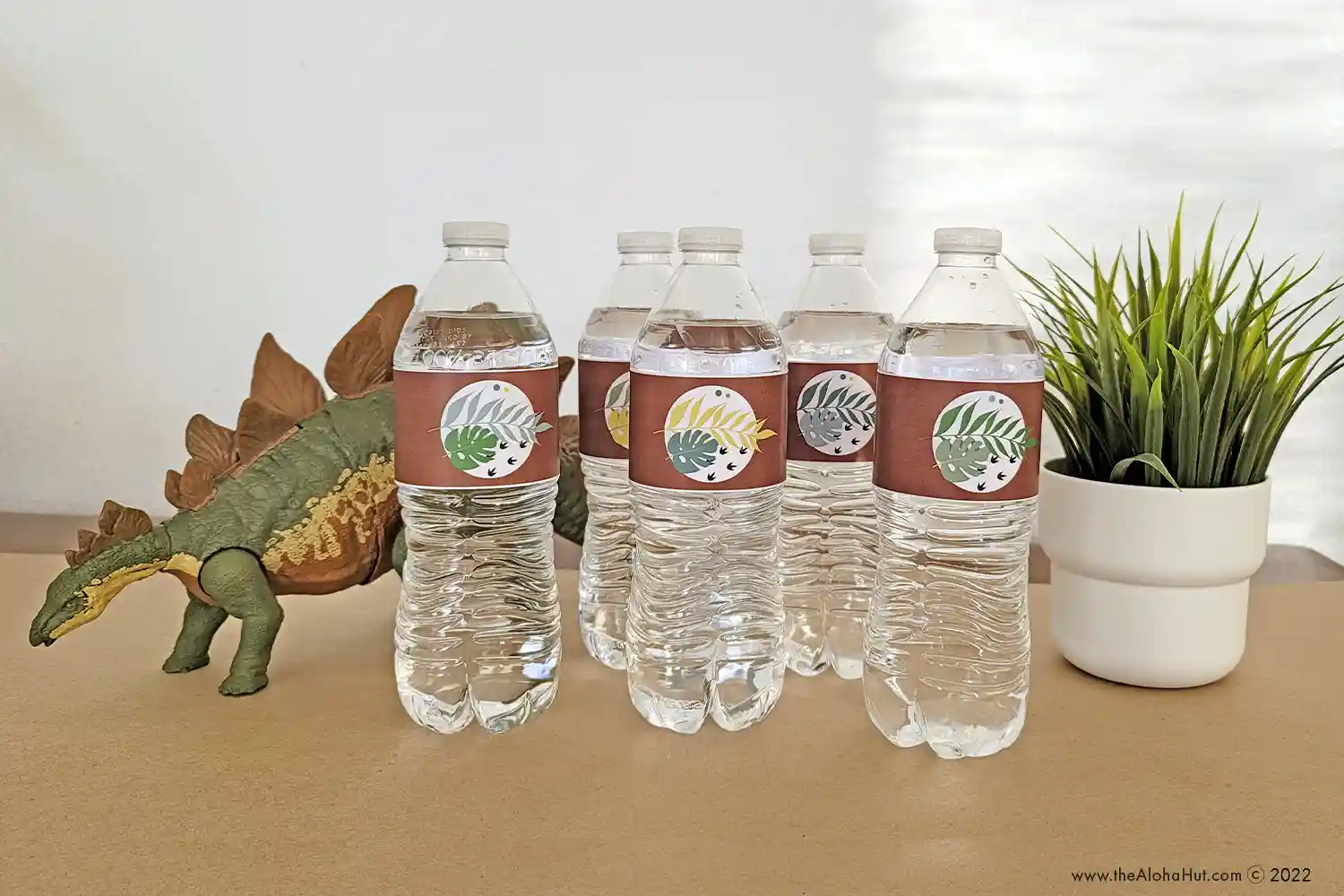 The goodie bag is simple as well. Dino eggs, aka Whoppers. You could use Cadbury Eggs too but if you can't find them then Whoppers work great. We used some small mason jars but a plastic treat bag would be just as good.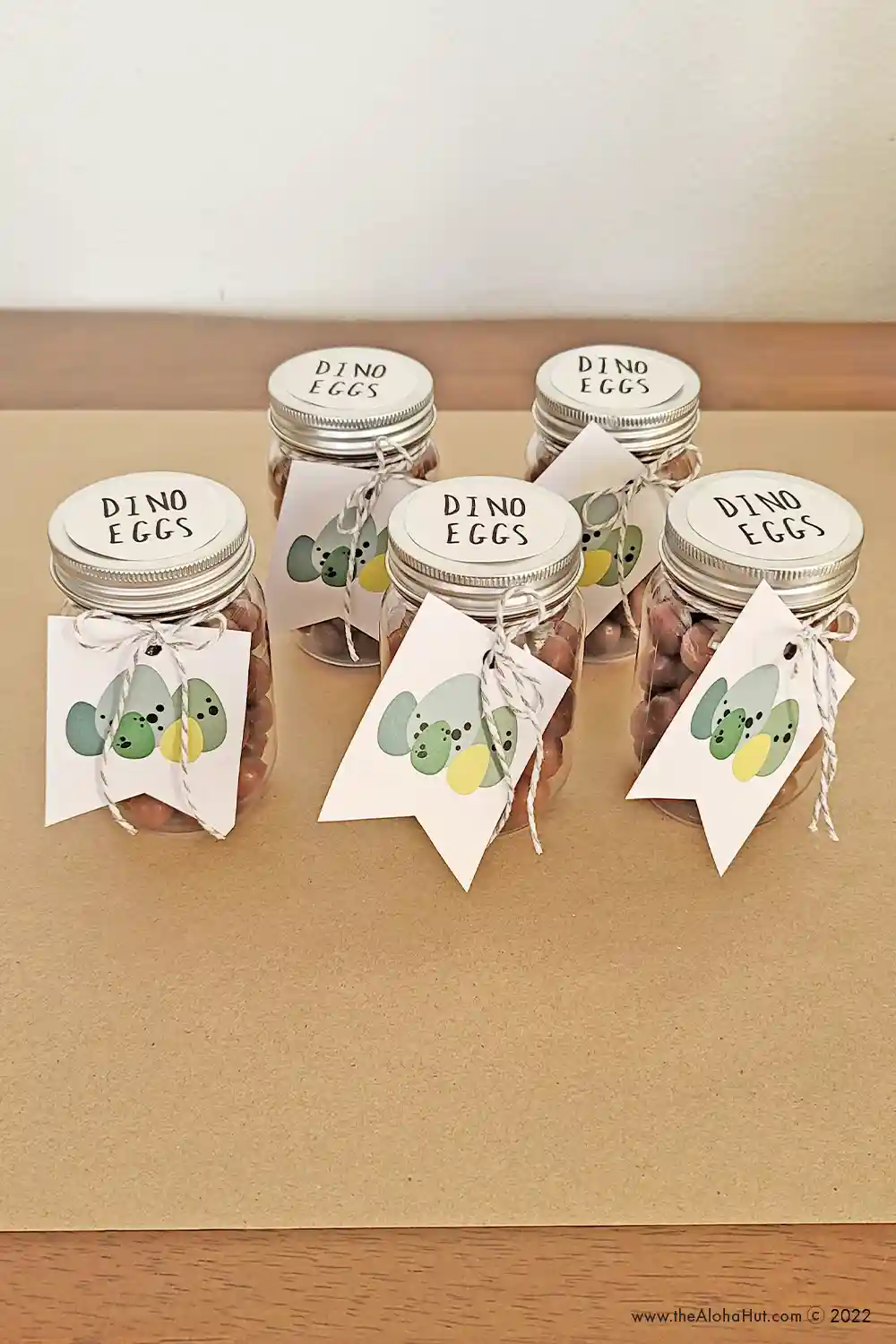 Last, but not least, the activity pages. We downloaded these directly from Dreamworks Jurassic World Camp Cretaceous website but they're no longer available. But don't worry, we saved the pdf's and have them available for you to print at the bottom of this post. These are great for guests to do while they're waiting for all the guests to arrive or while they're sitting down eating. They'd also be great to send home with the goodie bag. There are 13 pages total (including the cover and end pages). Print them all or pick and choose which ones you like. The "wordsearch", "crossword puzzle" and "make your own story" were the favorites.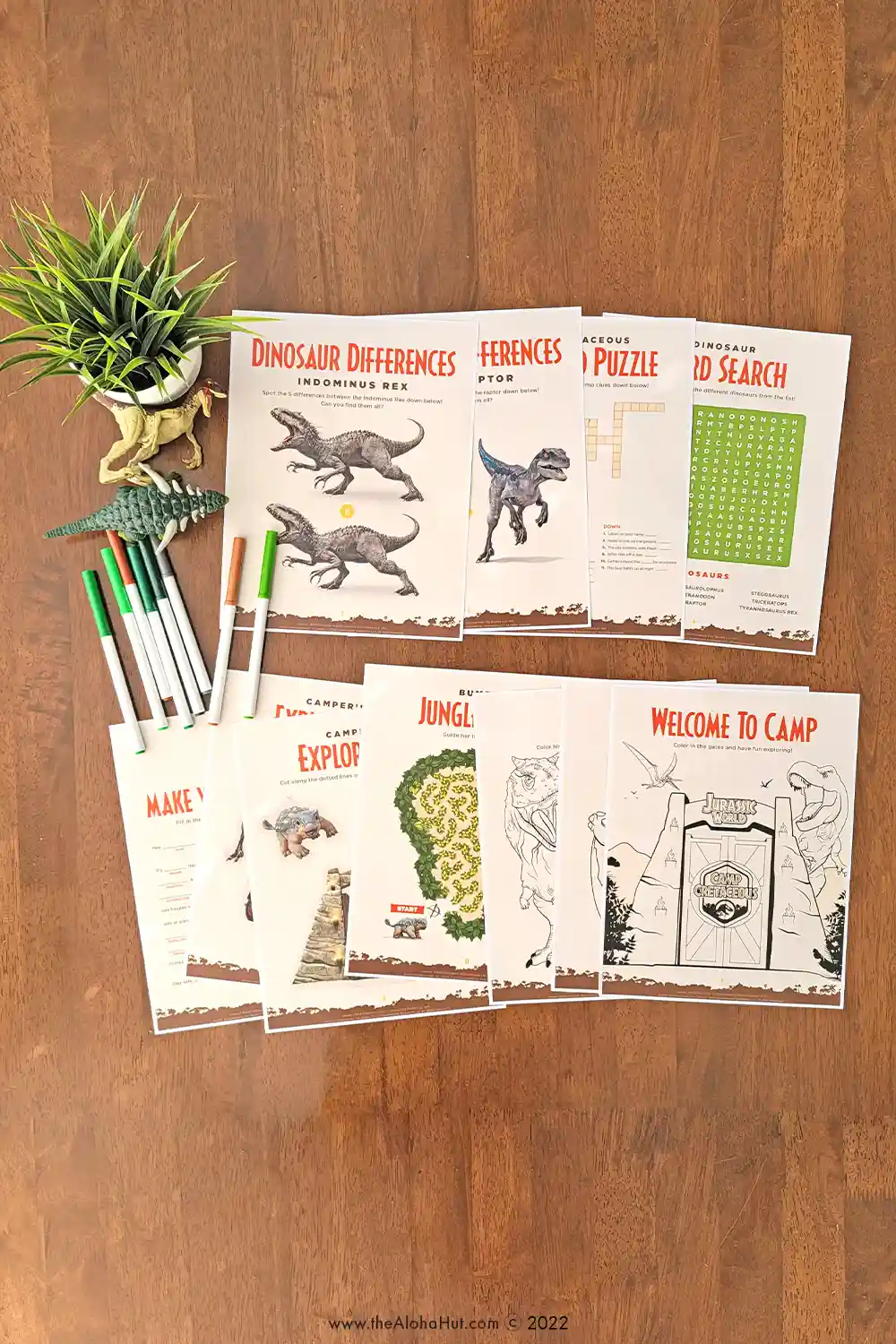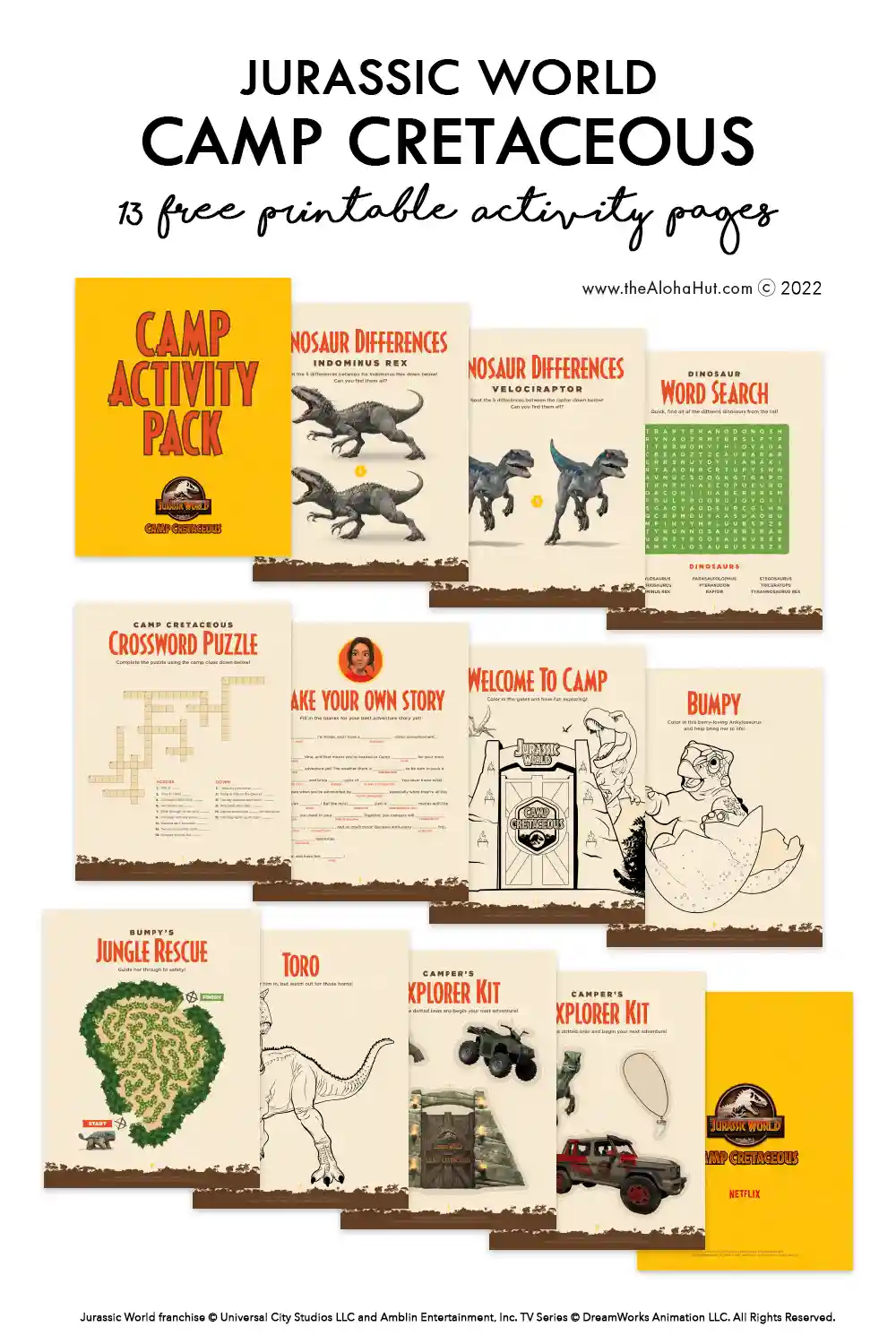 Here's the entire table set up. We love to add balloon arches or garlands for the backdrop. This time we created a simple paper garland out of multiple green colored cardstock. These are so simple and cheap to make. All you need is the paper, a circle craft punch and a sewing machine. Paper sews together just like material would. Check out this tutorial here to see how we make them.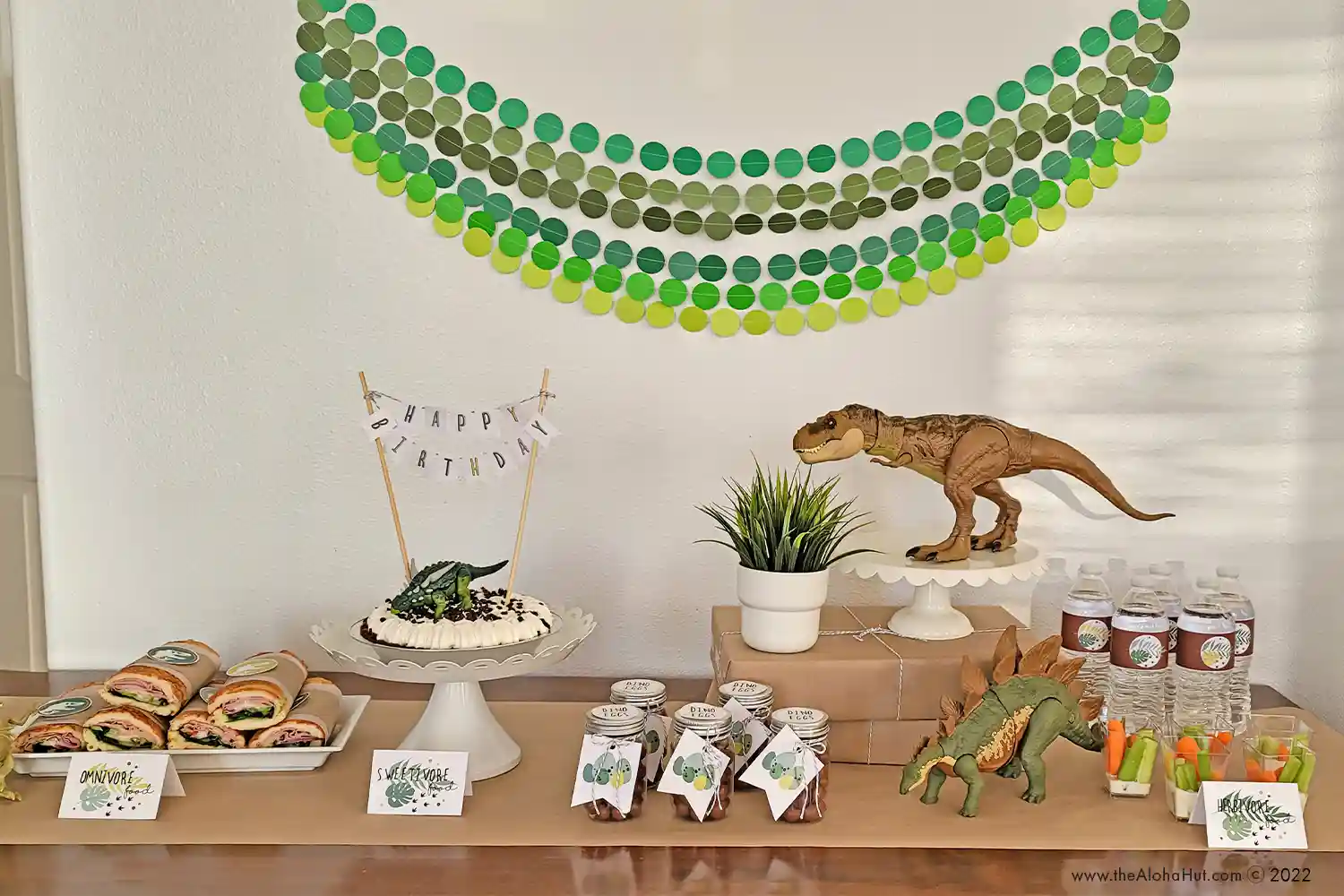 Looking to add even more decor and games to your party? Check out our Jurassic World Camp Cretaceous party printables on Etsy that match this party. Click on the links to be directed to the Etsy listings: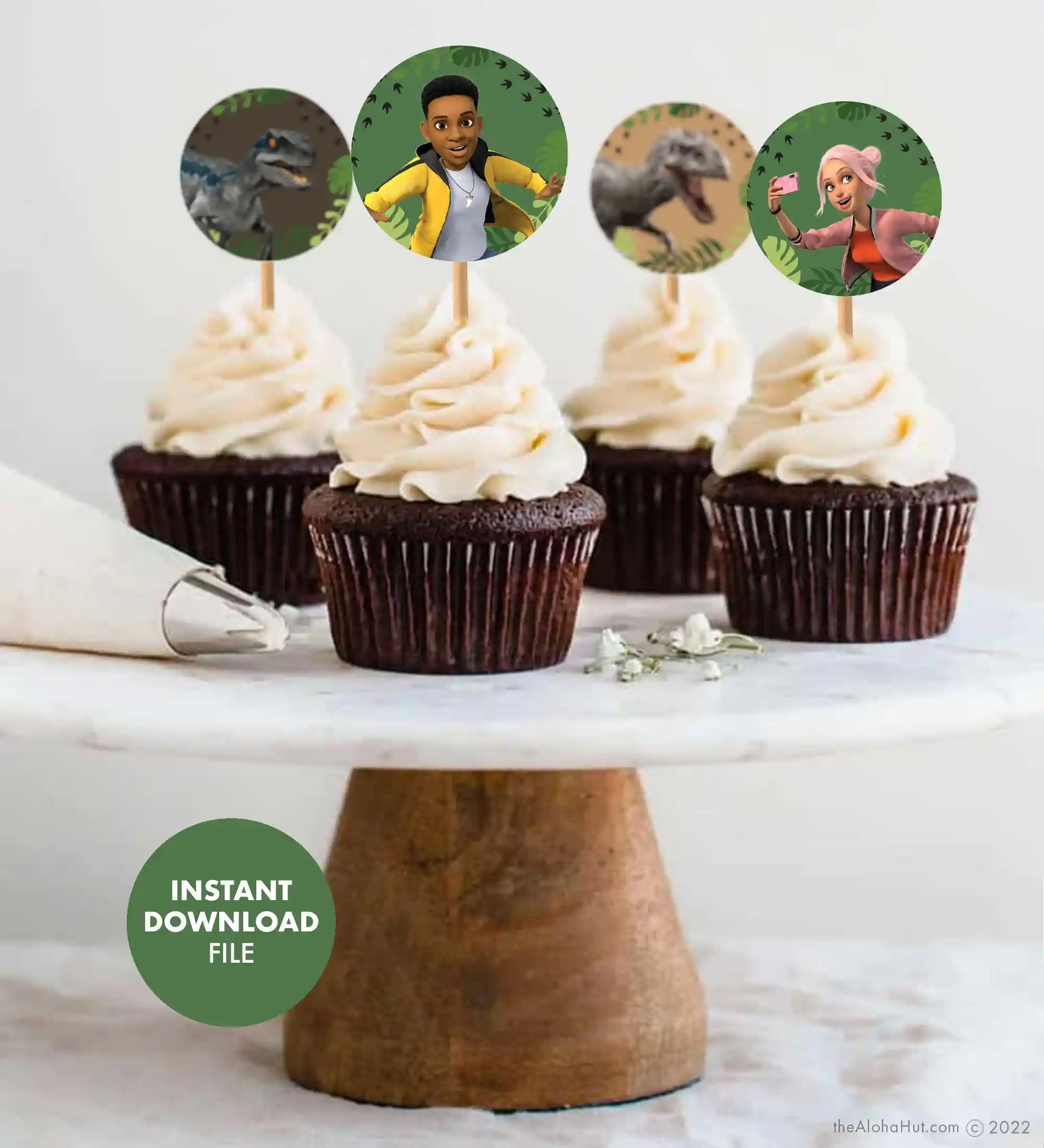 We hope you enjoy the dinosaur party printables and that they make your party look great without the stress!
Much love and aloha,
Stacey + Niki