St. Patrick's Day Party
This post may contain affiliate links. Read our disclosure policy.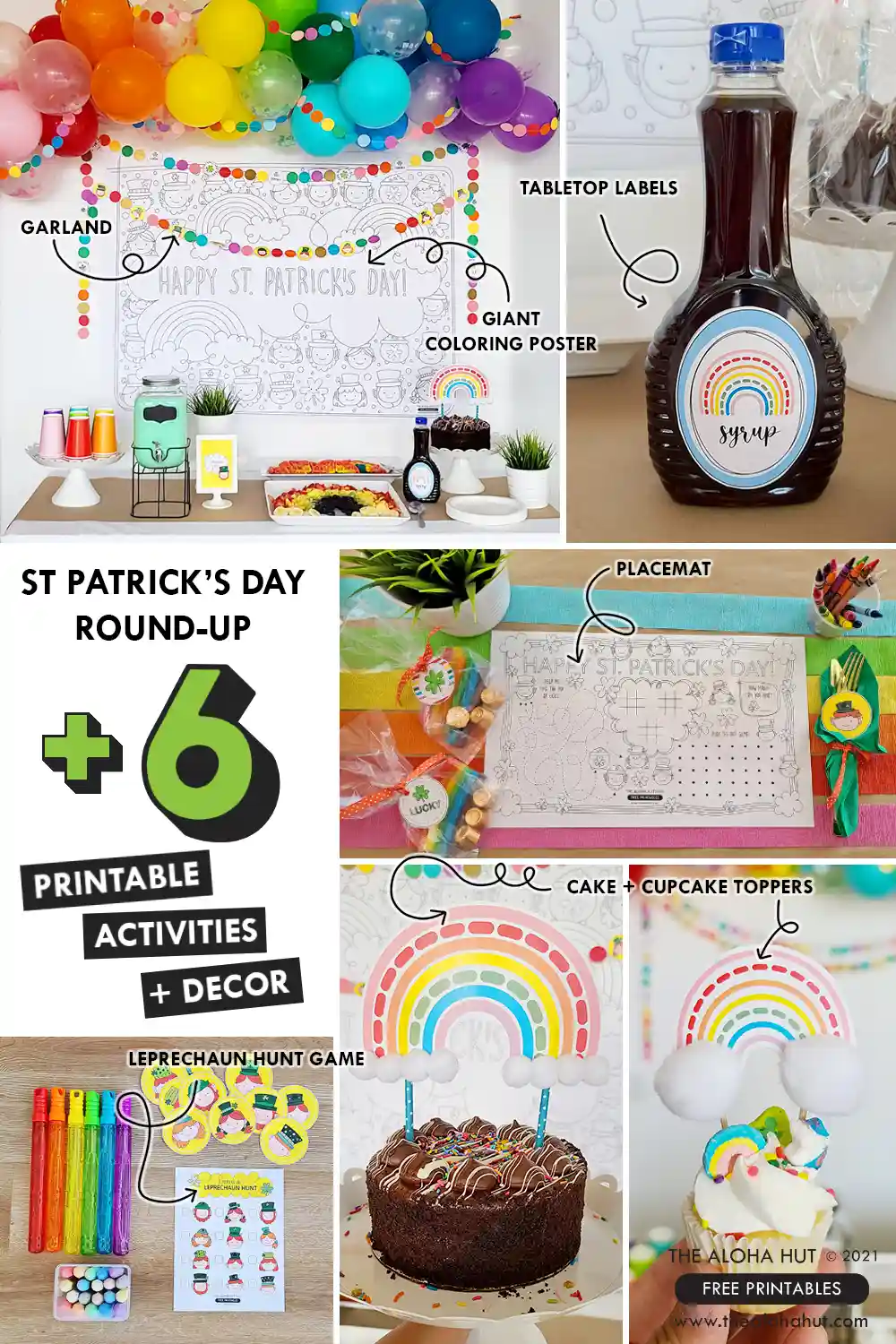 What's not to love about a holiday for magical creatures, rainbows, gold and good luck? We've rounded up our favorite activities and printables for celebrating the magical day. And now that you're here, you're all in luck because like always, our PRINTABLES ARE FREE!
1) Rainbow Themed Breakfast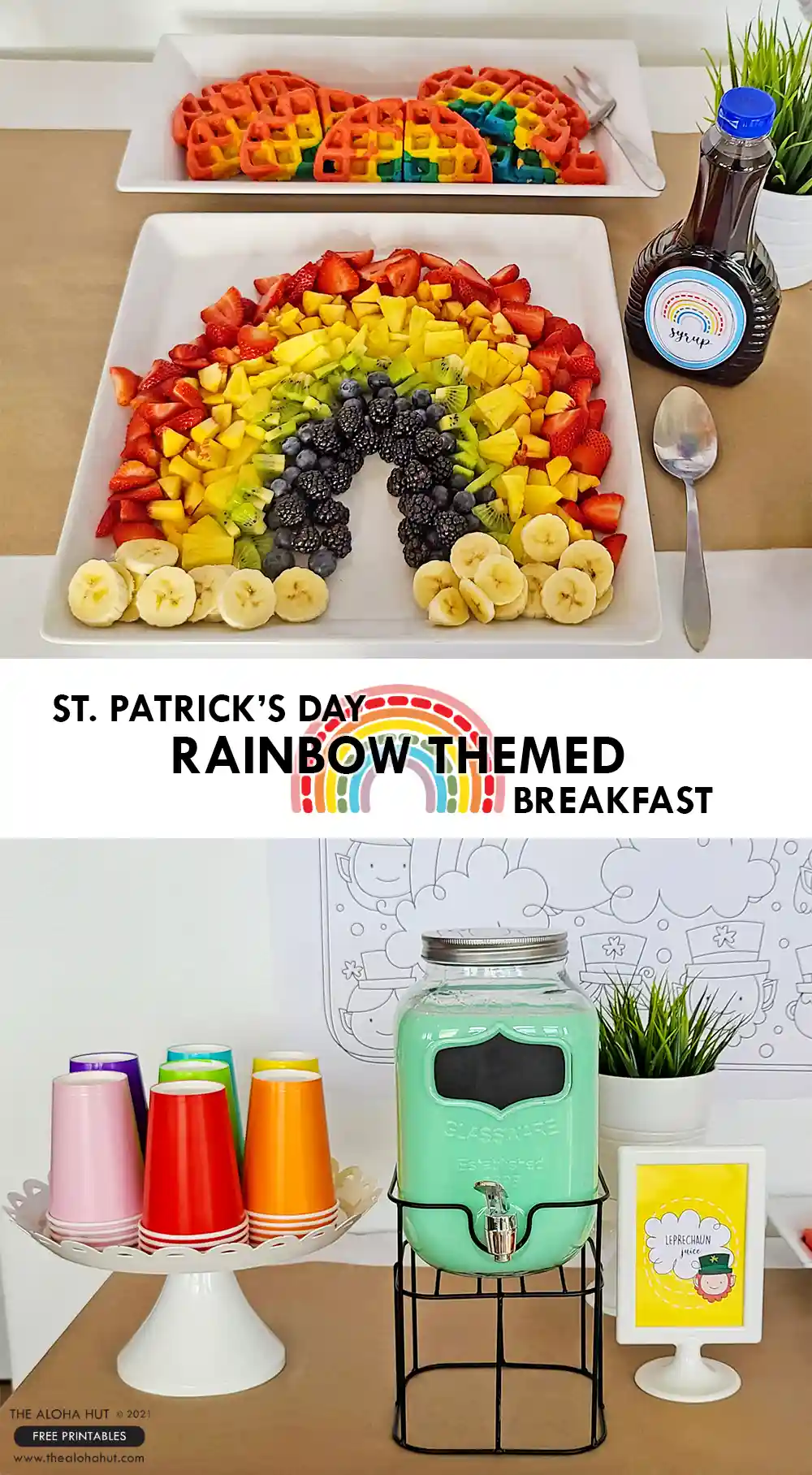 One of the best ways to celebrate the holidays is with themed food. St. Patty's Day makes it so easy with all the RAINBOWS!! Our spread of choice: rainbow waffles or pancakes with whip cream and sprinkles, leprechaun juice (milk with green food coloring), and fruit in ALL the colors! Print off our tabletop sign and label for your drink and syrup to make it extra pretty. For the cups, we LOVE the paper party cups from either Walmart or Target because of their simplicity, price and color selection.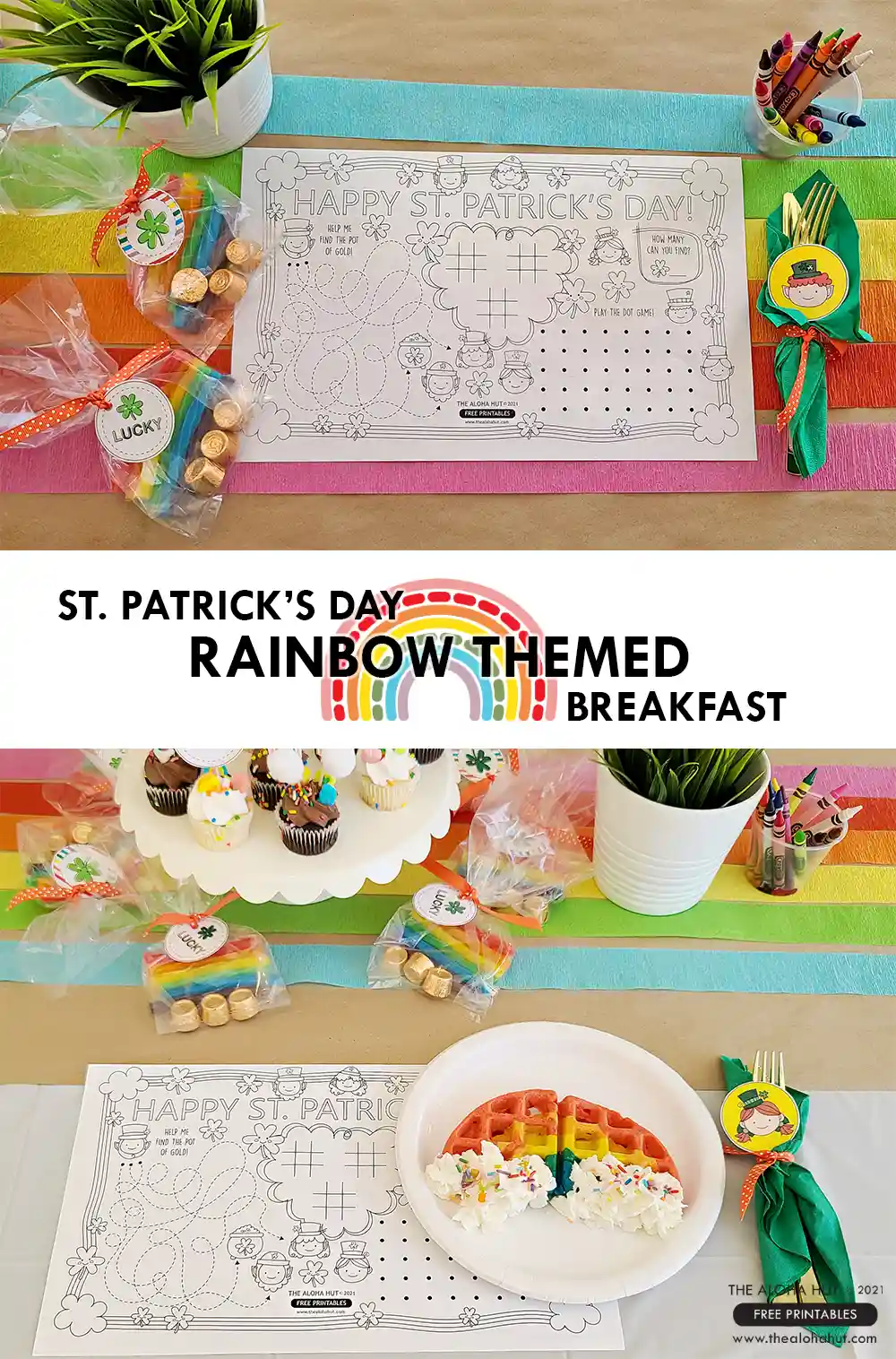 Don't forget the placemat! We've drawn up the cutest and most magical placemat for your kiddos to color on and play games while they're waiting for their food.
2) Balloon Arch + Garland + GIANT Coloring Poster/Backdrop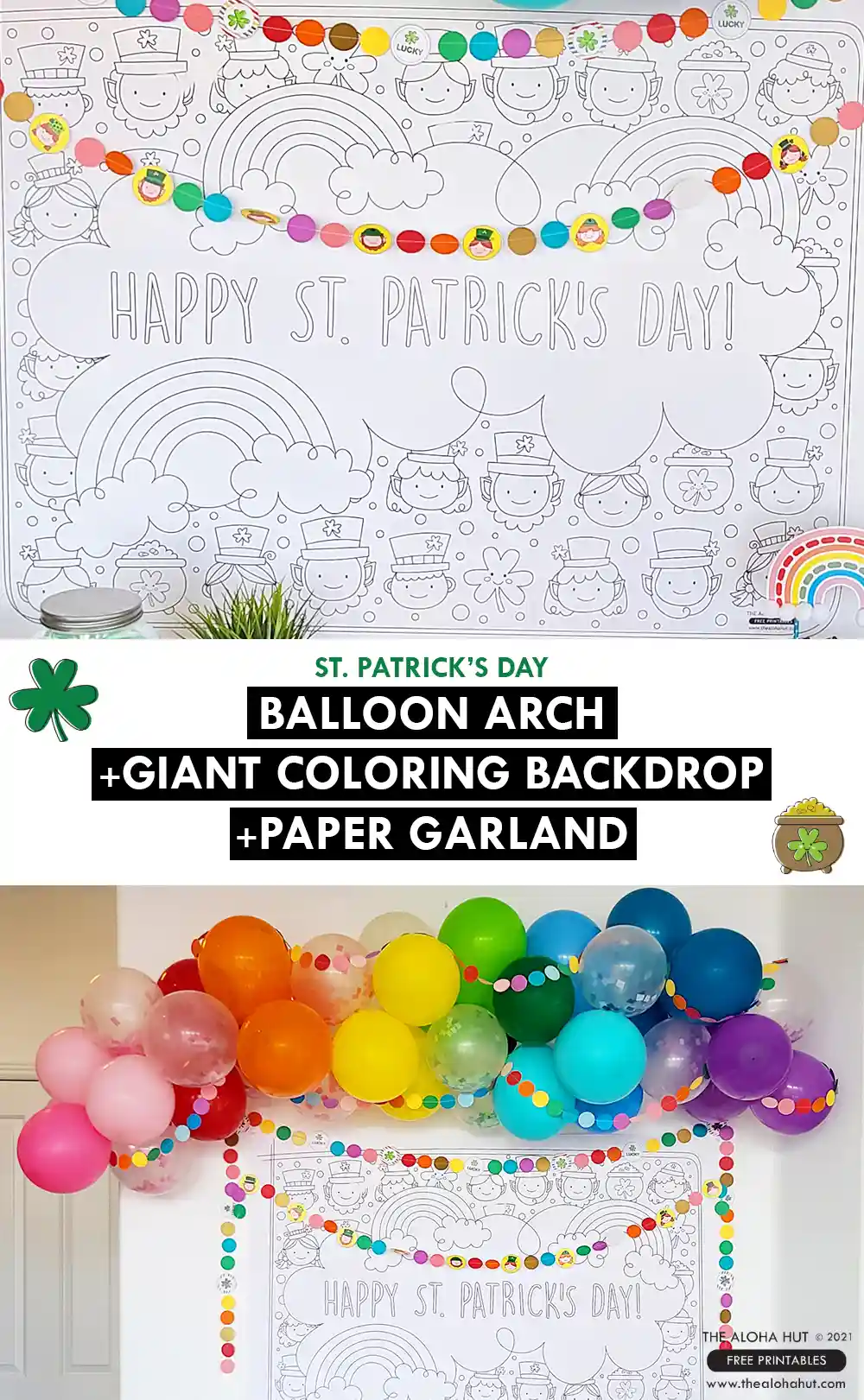 One of our favorite activities with kids is coloring, but coloring a GIANT backdrop is even better! We like to print off the party backdrop as a engineer print or blueprint at our local printing shop for only $5. It isn't just a coloring activity though, top it off with a rainbow balloon arch + a paper garland and now you have backdrop decor for the food table and a backdrop for a photobooth!
3) Leprechaun Hunt Game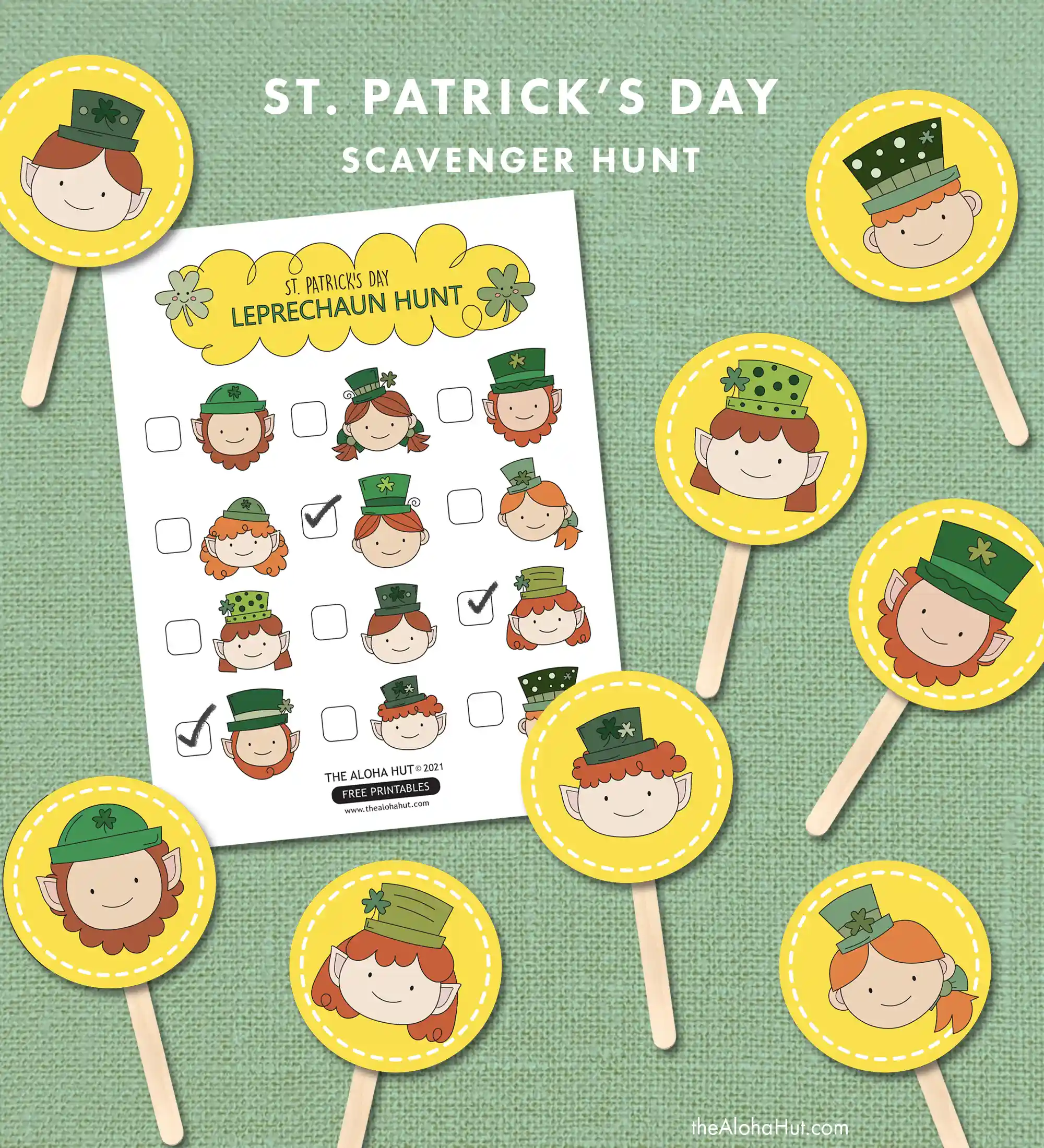 Each year kids everywhere set up leprechaun traps to try and capture one of the magical little creatures. What if they didn't catch just one, but twelve this time!?! Our Leprechaun Hunt game can be played indoors or outdoors. It was chilly but the sun was out so we decided to take it outdoors into the "woods" (aka a park by our house). Our youngest loves the book 'We're Going on a Bear Hunt' and that's where the idea for the game came from. We played it two times; first for our youngest where we hid the leprechauns along the trail so she could easily spot them; and then the second time we really hid them well so the older kids would have to actually search. The kids would scream with delight each time they found one.
4) Cake/Cupcake Toppers + Treat Bags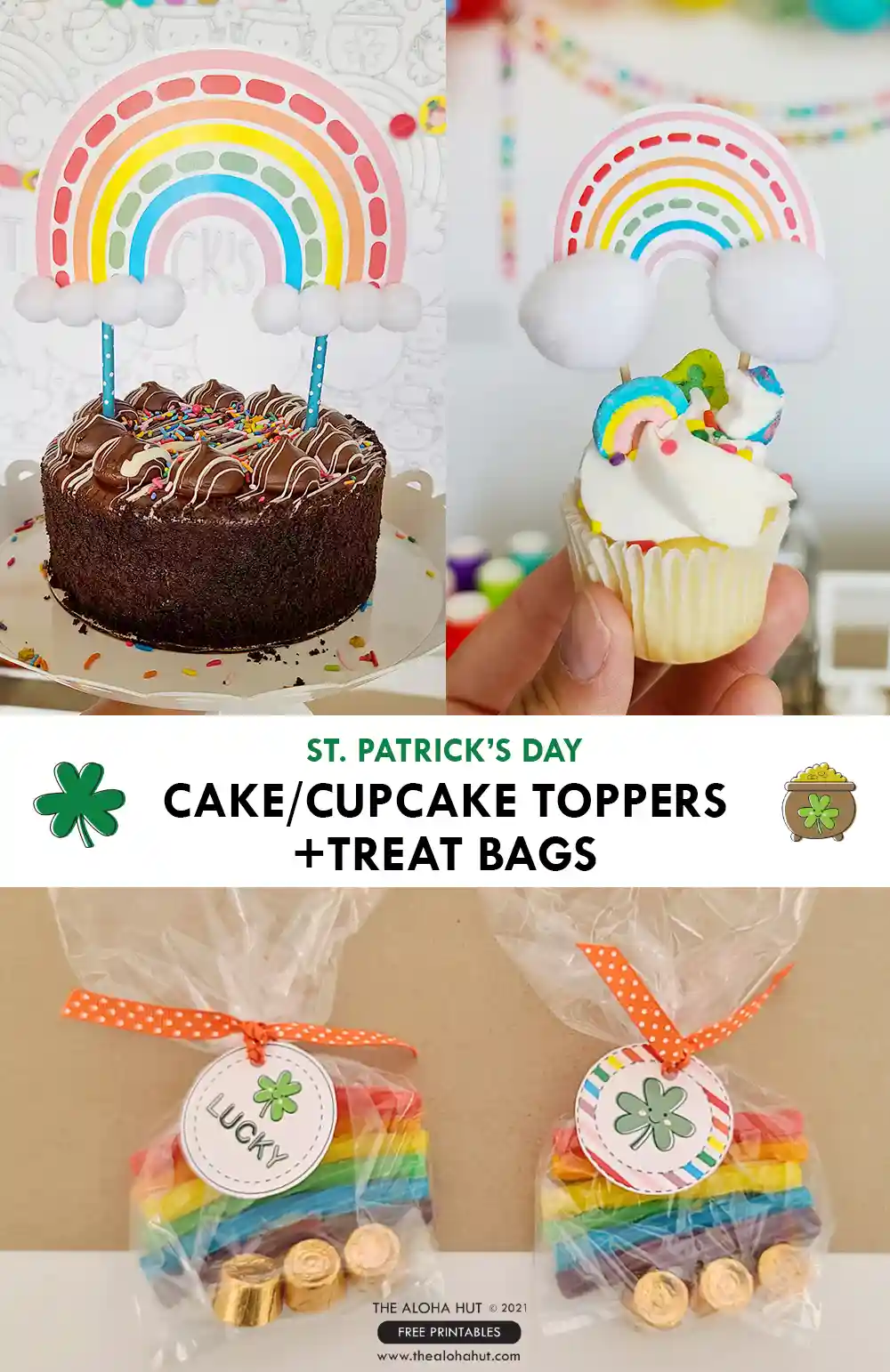 Last but not least, the best way to end the day is with a treat! Print off our cake or cupcake toppers, pop them on some cupcakes or attach them to some ribbon and tie around a bag full of rainbow goodies.
We hope you have a magical St Patrick's Day with your ohana!
Much love and aloha,
Stacey + Niki