Favorite Cocomelon Birthday Party Game Ideas
Favorite Cocomelon Birthday Party Game Ideas
This post may contain affiliate links. Read our disclosure policy.
You've decorated for your Cocomelon birthday party, now what? The games! Here we'll give you our top five favorite Cocomelon birthday party games to play with toddlers. They're all classic games but with a Cocomelon theme. These Cocomelon birthday party games are so simple to put together and require minimal supplies. In fact, you pretty much just need a printer, pair of scissors and some old boxes!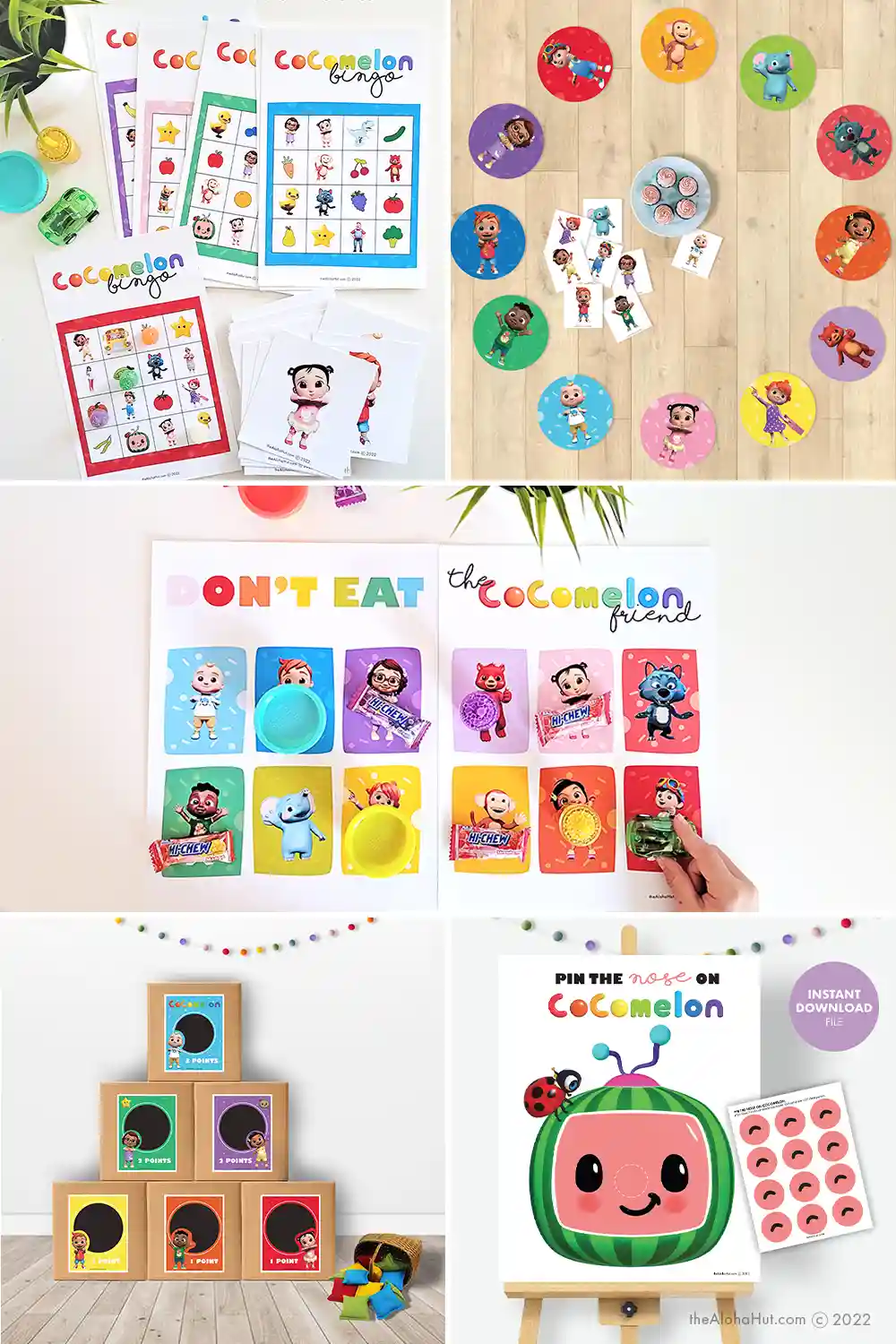 If you haven't figured out your decor yet, check out our 9 Cocomelon Birthday Party Decoration Ideas where you'll see how you can easily put together an entire Cocomelon party in an hour or less. Party planning can be time consuming and expensive, so print off our free printable party planner guide below to help you easily plan, organize, and get all your party details written down in one place. Our party planner guide has a spot for you to write down your party theme, budget, guest list, activities and games, decorations, supplies, food, and a TO DO list. Getting organized and having a plan is the first step to having a successful party!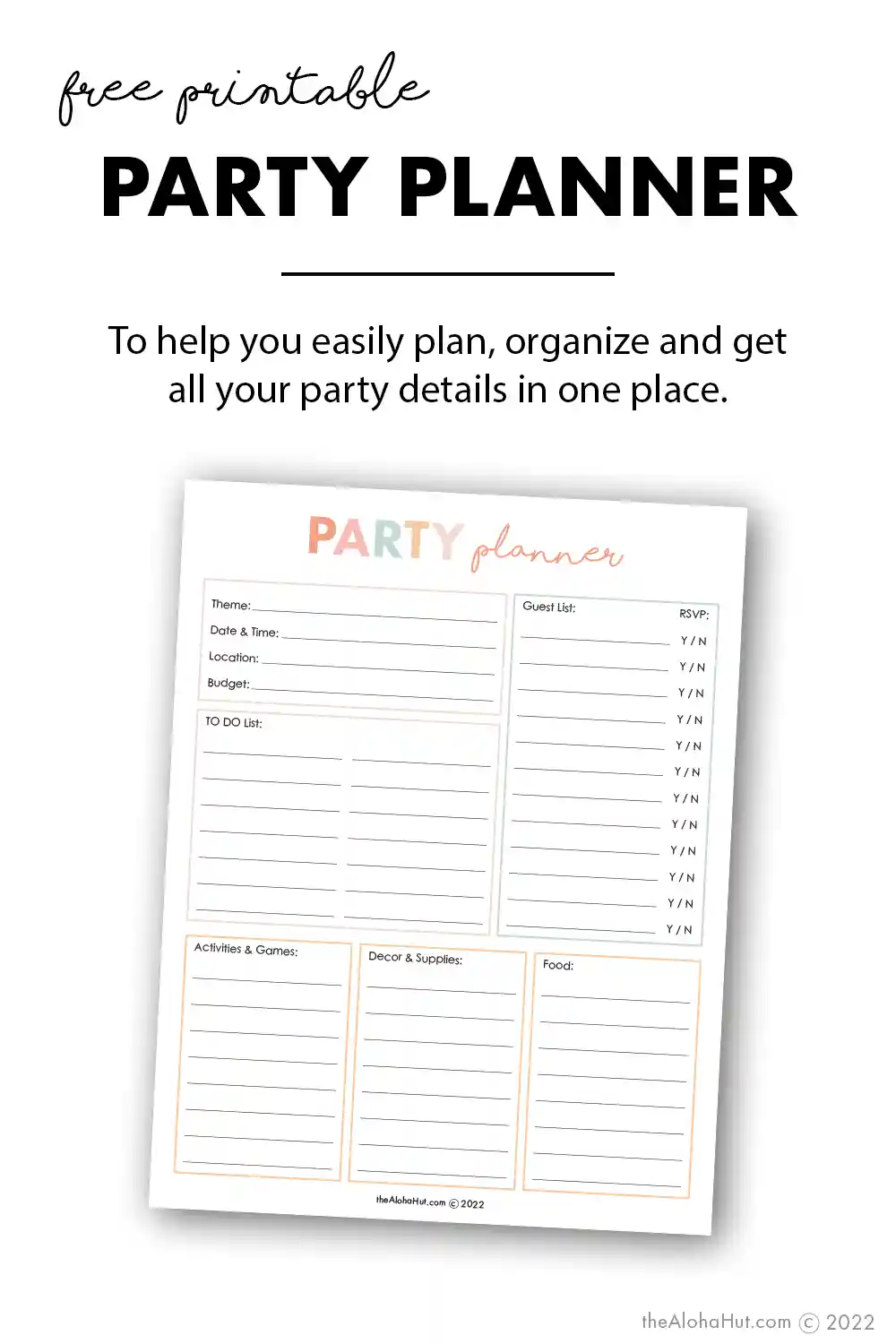 Thinking of games to play at your party can be a little daunting. It's also a step that gets overlooked too many times. We like to have a few structured games so as to help the birthday party go smoothly and make sure guests have a great time. There are so many fun games out there so we chose our top five party games that are easy to put together, inexpensive to make, and simple enough for our little ones to play. The best part, you can put these party games all together right from your own home!
---
#1 – Cocomelon Bingo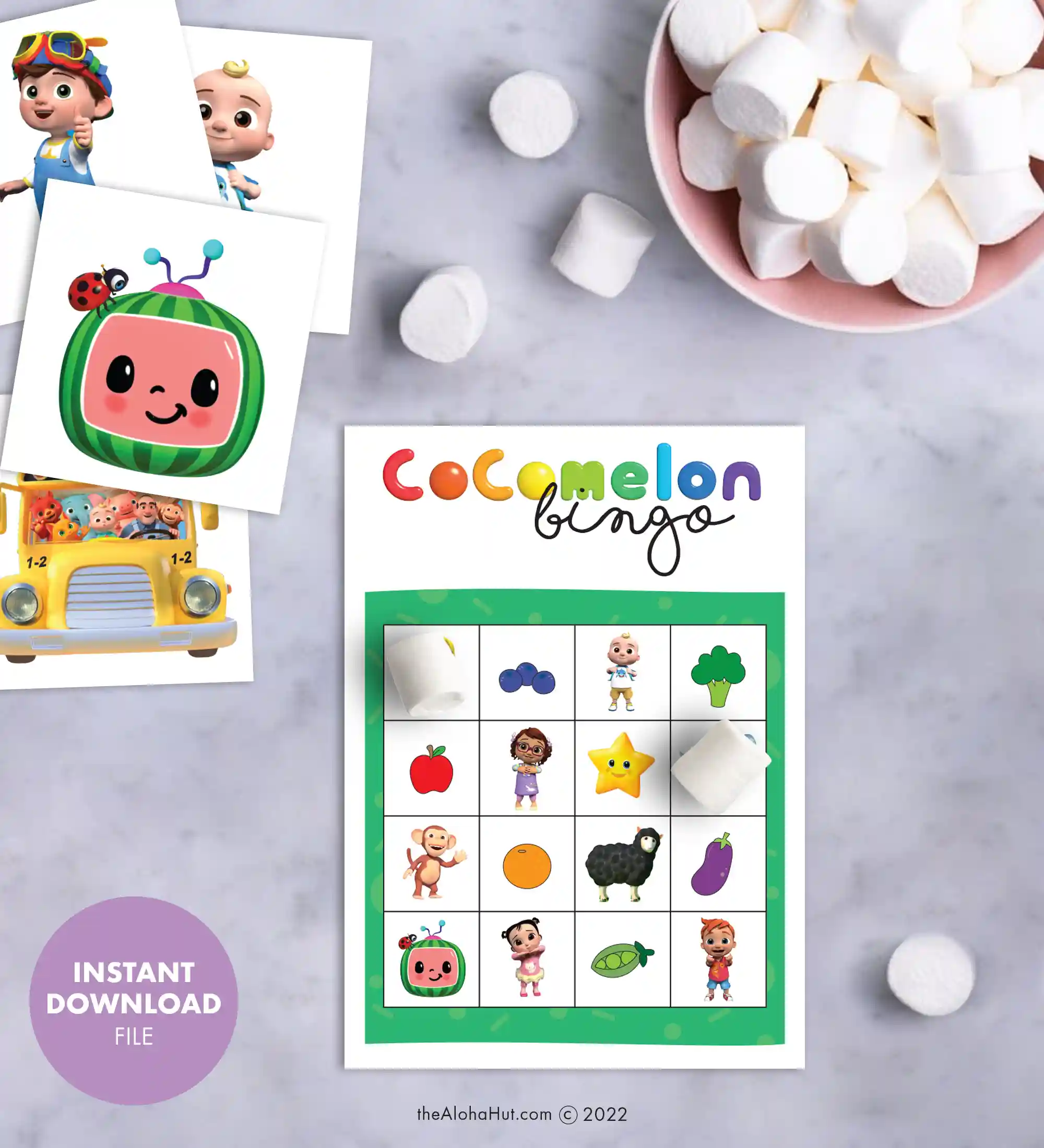 Who doesn't love a good 'ol game of Cocomelon Bingo? This Cocomelon Bingo Game allows for up to 12 players. The character/picture cards are extra large so when it's picked, each child can easily see which one it is for their own board.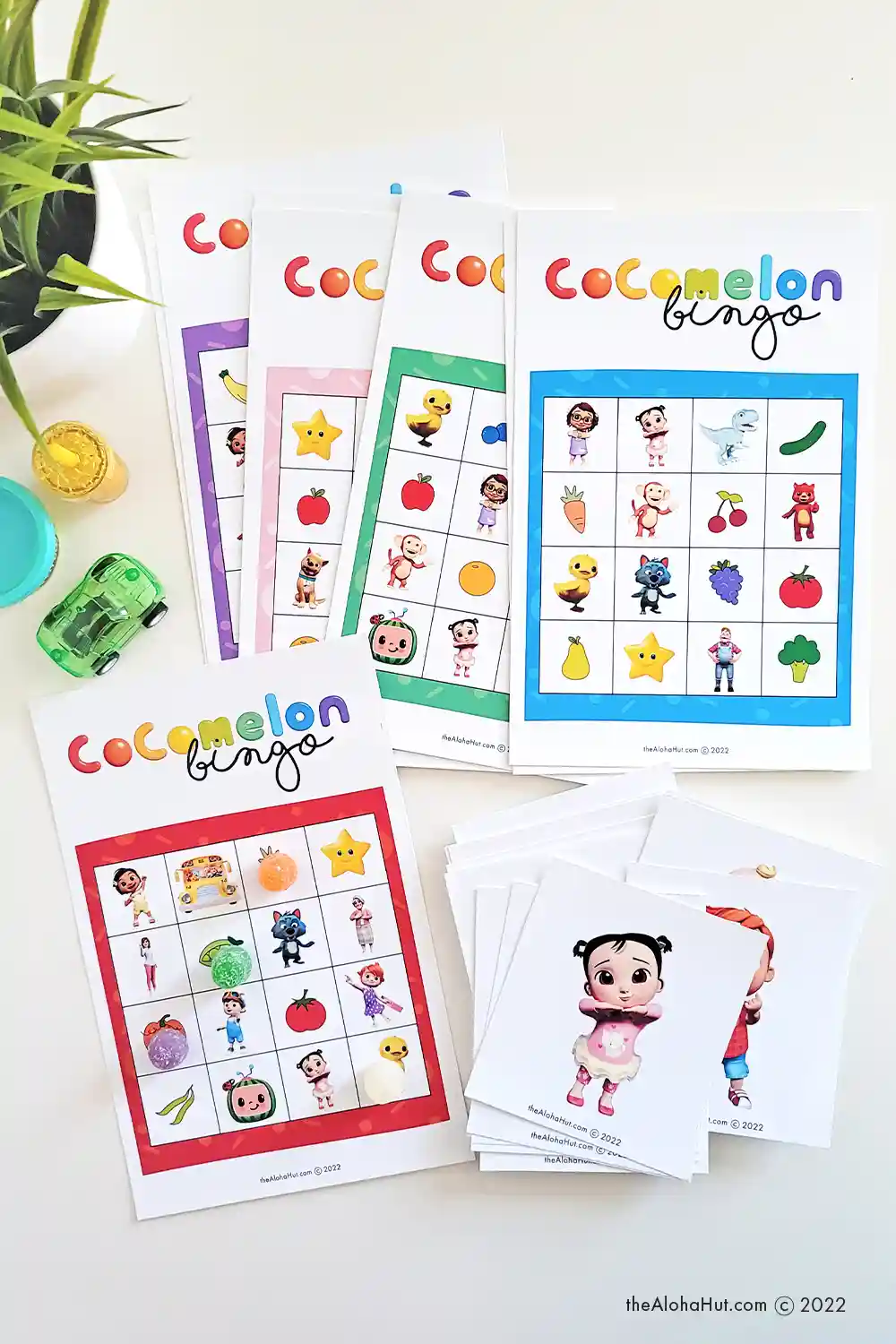 How to play Cocomelon Bingo Game:
Scroll down and download and print off our Cocomelon Bingo game. Give each player their own Cocomelon Bingo board game and pieces of candy or anything small enough to place over each square. Put all the character/picture cards in a bucket. Every player starts with an empty board. Without looking, pick a card from the bucket and hold it up for every player to see. If the player has that character/picture on their board, they get to put a piece of candy on that square. Keep picking cards out of the bucket until one of the players gets four in a row (vertical, horizontal or diagonal). When the player has four in a row they yell "BINGO!" and win a prize or treat. Play as many times as you wish. For the very last game, play Blackout Bingo where the winner needs to have every square filled in.
---
#2 – Don't Eat Pete (aka the Cocomelon Friend)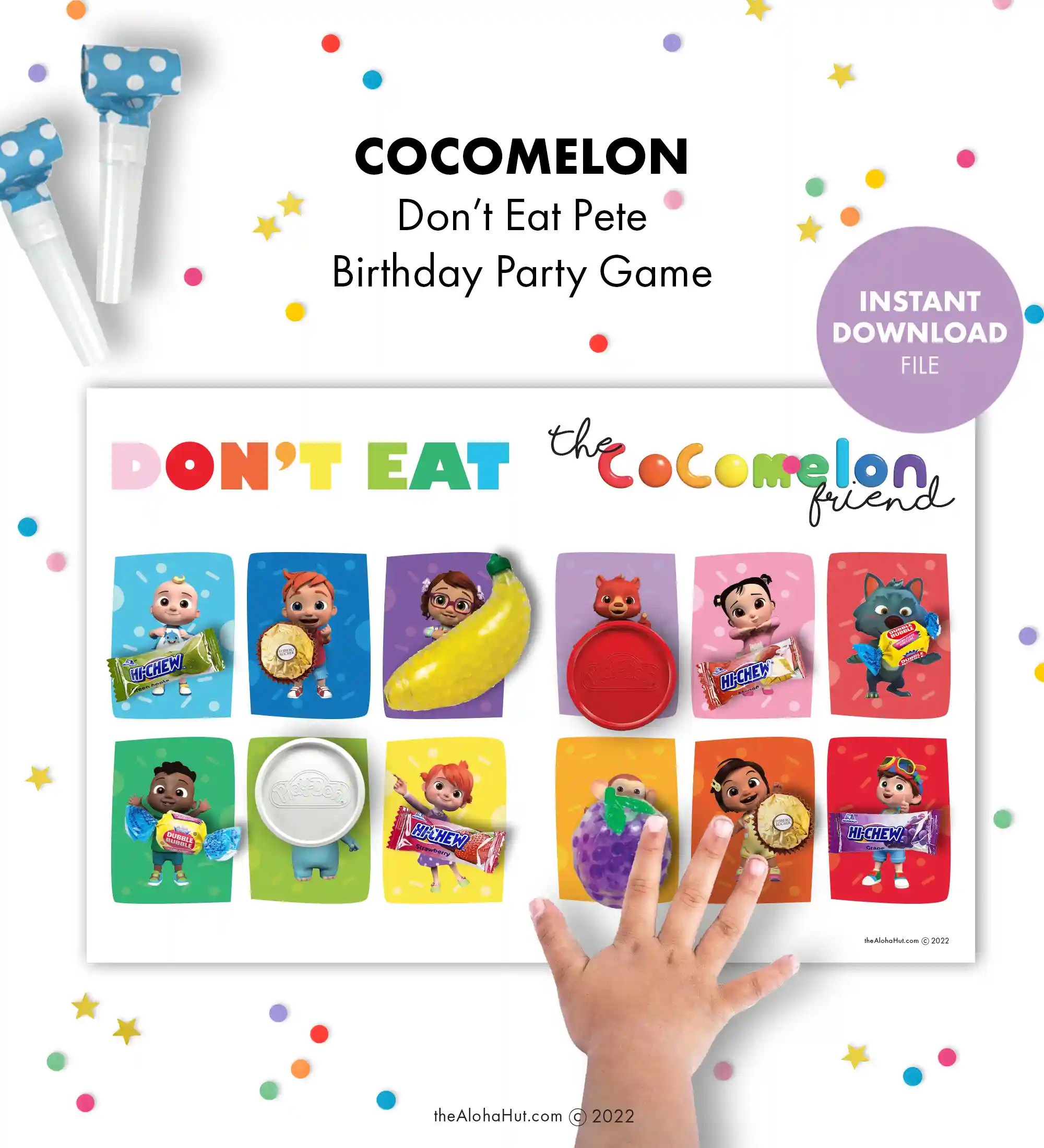 Kids absolutely love the Don't Eat Pete game! If you only pick one game to play, PICK THIS ONE! Trust us, we've had many parties and it's a fan favorite every time. All of the kids, even the shyest, get involved. It can get really intense too, so even when it's not their turn, kids will want to see how many candies/prizes the other kids can get.
How to play Don't Eat Pete (the Cocomelon Friend)
Download and print off our Cocomelon version of Don't Eat Pete. Tape the board game together and laminate for sturdiness if you have a laminator. Place a piece of candy or small toy/prize on each of the spaces on the board. First player leaves the room while all the other players choses a character to be the "Cocomelon Friend." First player comes back in the room and begins grabbing the candy/prizes, one at a time. The goal is to get as many pieces of candy/prizes as possible before you accidentally pick the "Cocomelon Friend." Once the player picks the chosen space with the candy/prize on it, everyone yells "Don't Eat the Cocomelon Friend!" and that player's turn is over. They get to keep all of the candy/prizes that they picked but leave the other ones on the board. Refill the board with more candy/prizes and repeat with another player, until all players have had a turn.
Isn't it such a fun game? Watch our Don't Eat Pete video below to visually see how to play. Like we said, kids request this game at every party so this is our Halloween version:
Video on how to play Don't Eat Pete
---
#3 – Cocomelon Cake Walk (Cupcake Walk)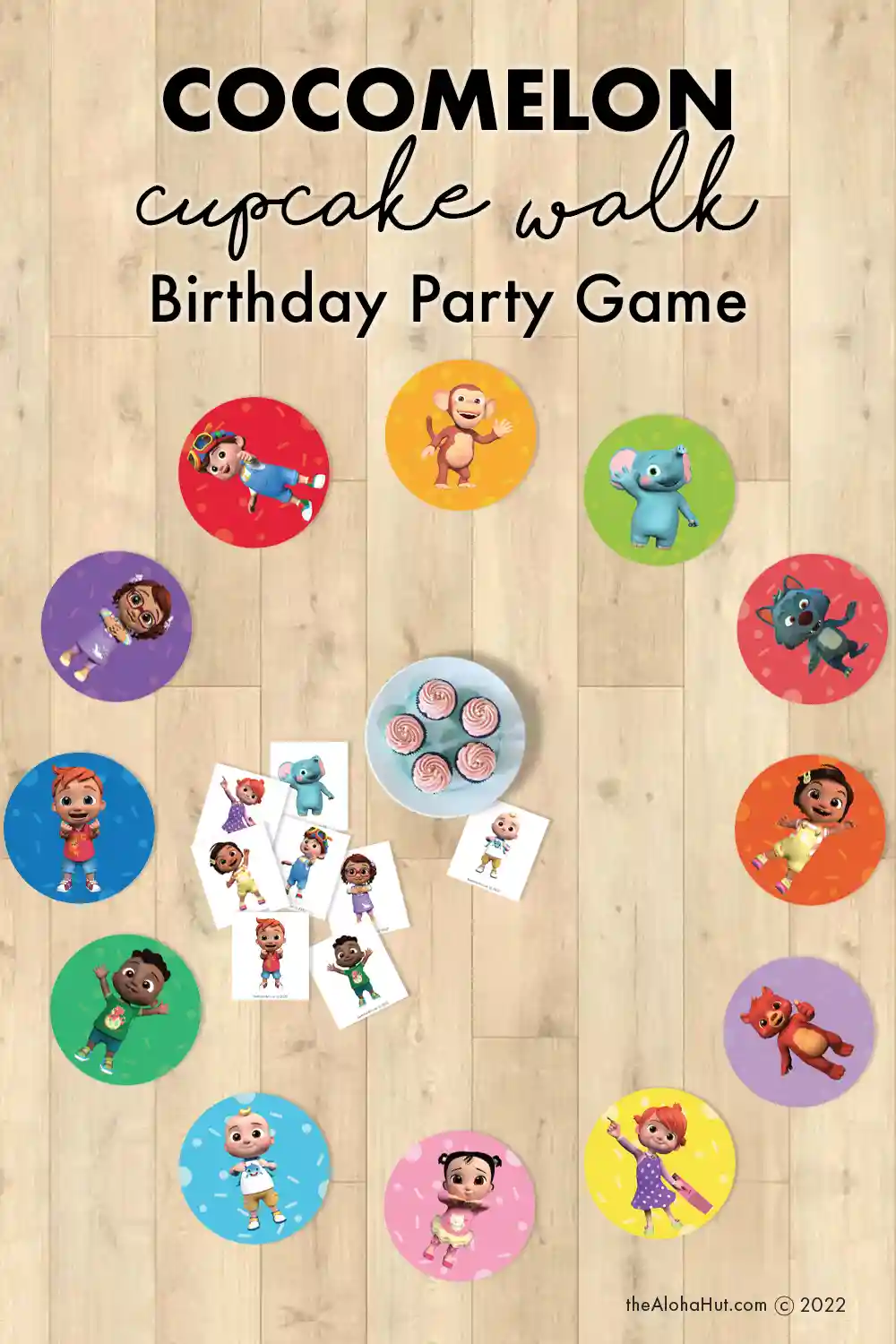 Cocomelon has all of the nursery songs you can think of and then some! So of course they should be included in the party. This cake walk game allows for up to 12 players.
How to play Cocomelon Cupcake Walk
First, download and print off our Cocomelon Cupcake Walk game. Cut out each character dot and place them in a big circle on the floor. Cut out the character cards and place in a bucket. Have each player start on a dot. Play music while players dance around going from dot to dot. When the music stops, each player needs to make sure they're standing on a dot. Without looking, pick a card from the bucket. The player standing on the dot that was chosen wins a cupcake or prize.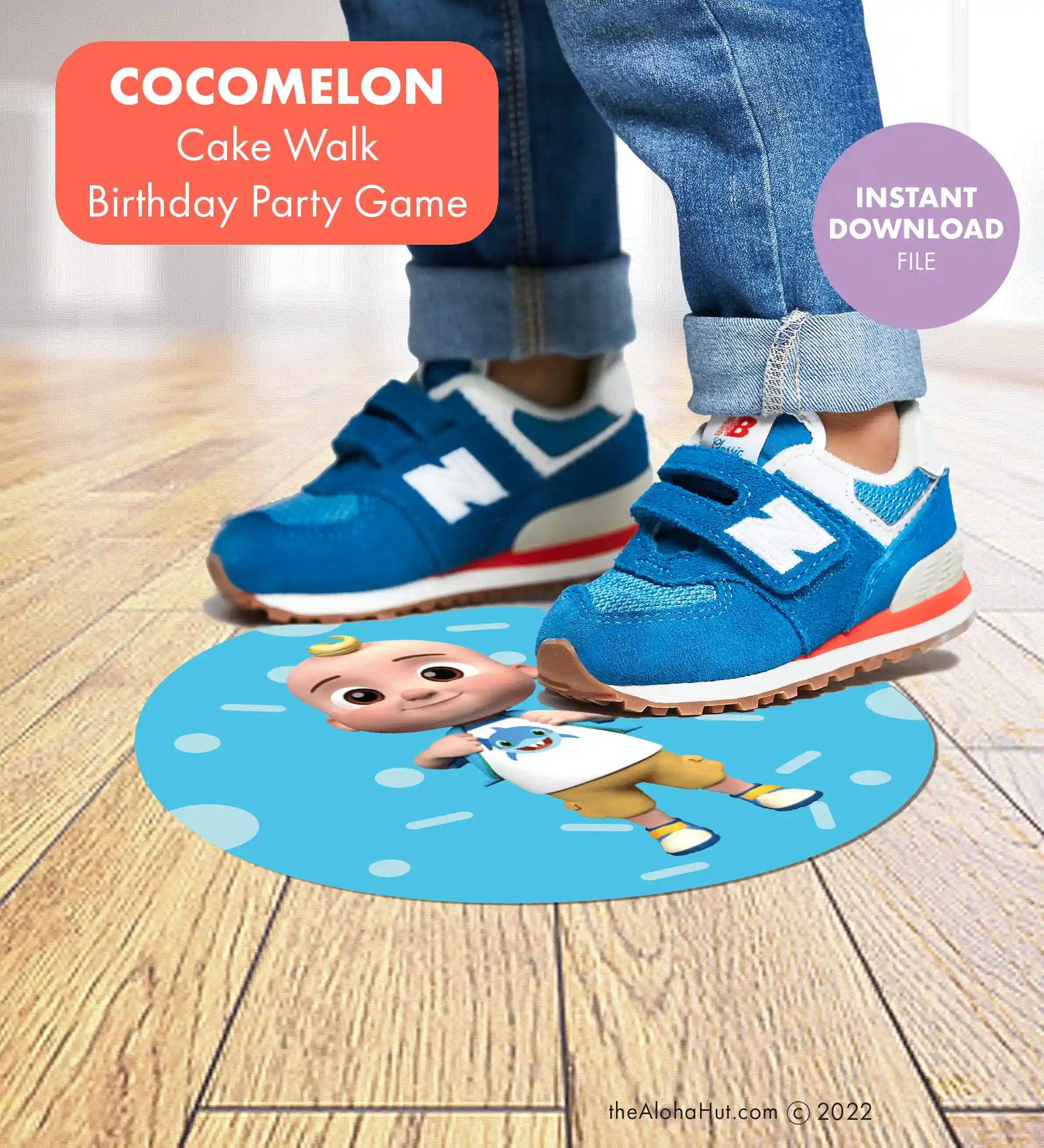 Super simple and super fun for all ages! Here are some of our kids favorite Cocomelon songs that can be found on Youtube or any music streaming platform (we love Amazon Music):
Yes Yes Vegetable
The Wheels on the Bus
Baa Baa Black Sheep
Balloon Boat Race
Thank You
Animal Dance
Head Shoulder Knees & Toes
Brush Your Teeth
This Old Man
Old MacDonald
Baby Shark
Johnny Johnny, Yes Papa
Twinkle Twinkle Little Star
---
#4 – Cocomelon Bean Bag Toss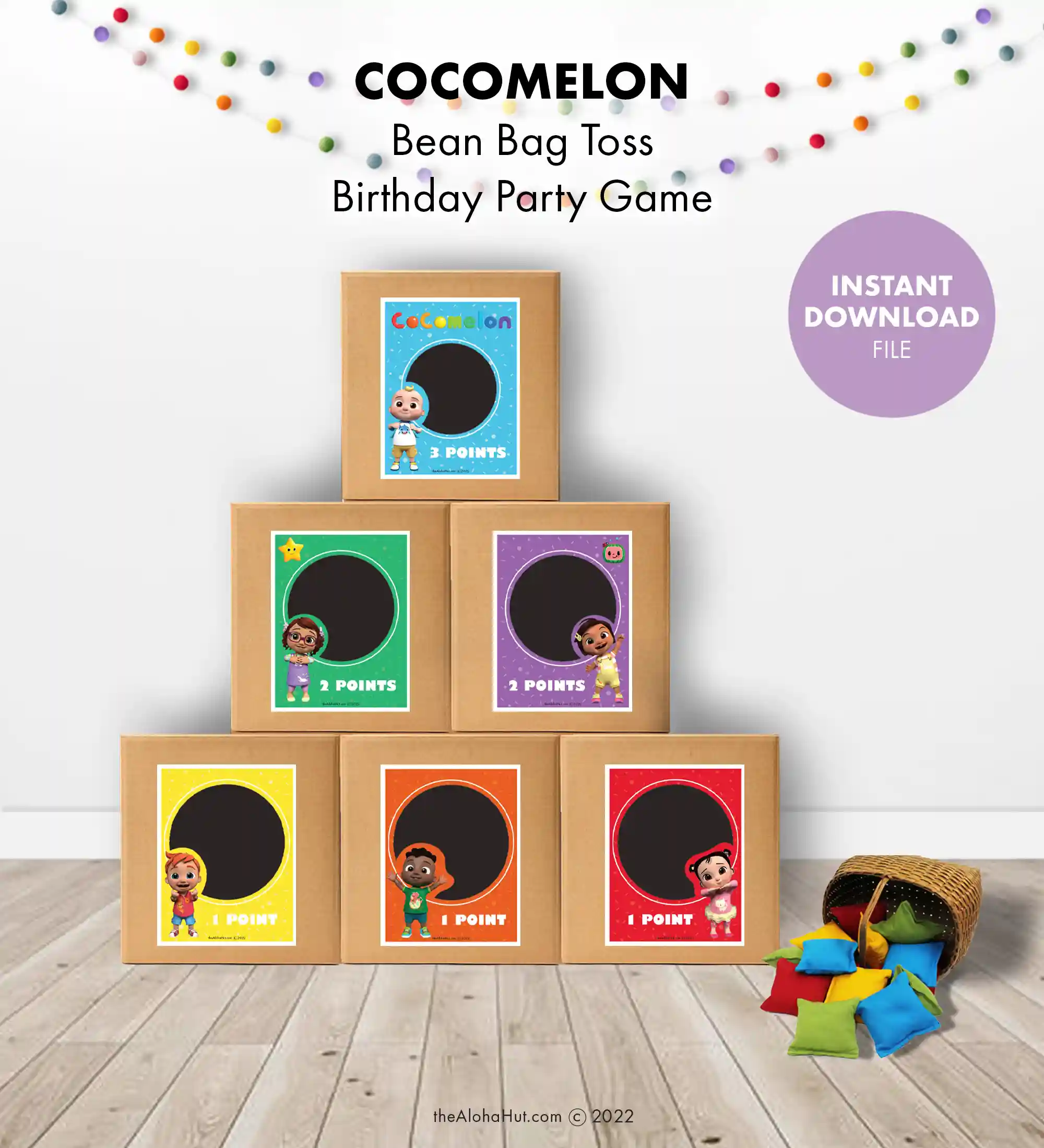 This Cocomelon Bean Bag Toss game is another fan favorite. Little kids, big kids and even adults like to try and see how many points they can get. And to make it more or less difficult, you just move the distance of where the player is standing.
How to play Cocomelon Bean Bag Toss Game
Find the download below and print off our Cocomelon Bean Bag Toss game. Gather six similar-sized boxes. We like to buy the extra small or small moving boxes from Home Depot and turn them inside out so there are no logo markings showing. If your boxes have markings, wrap them in brown craft paper or spray paint the boxes. Glue a picture on the front of each box and cut out the circle. Stack the boxes in a pyramid and either tape or glue them together. Each player takes turns throwing bean bags (or balls) into the holes in the boxes, trying to get as many points as possible.
---
#5 – Pin the Nose on Cocomelon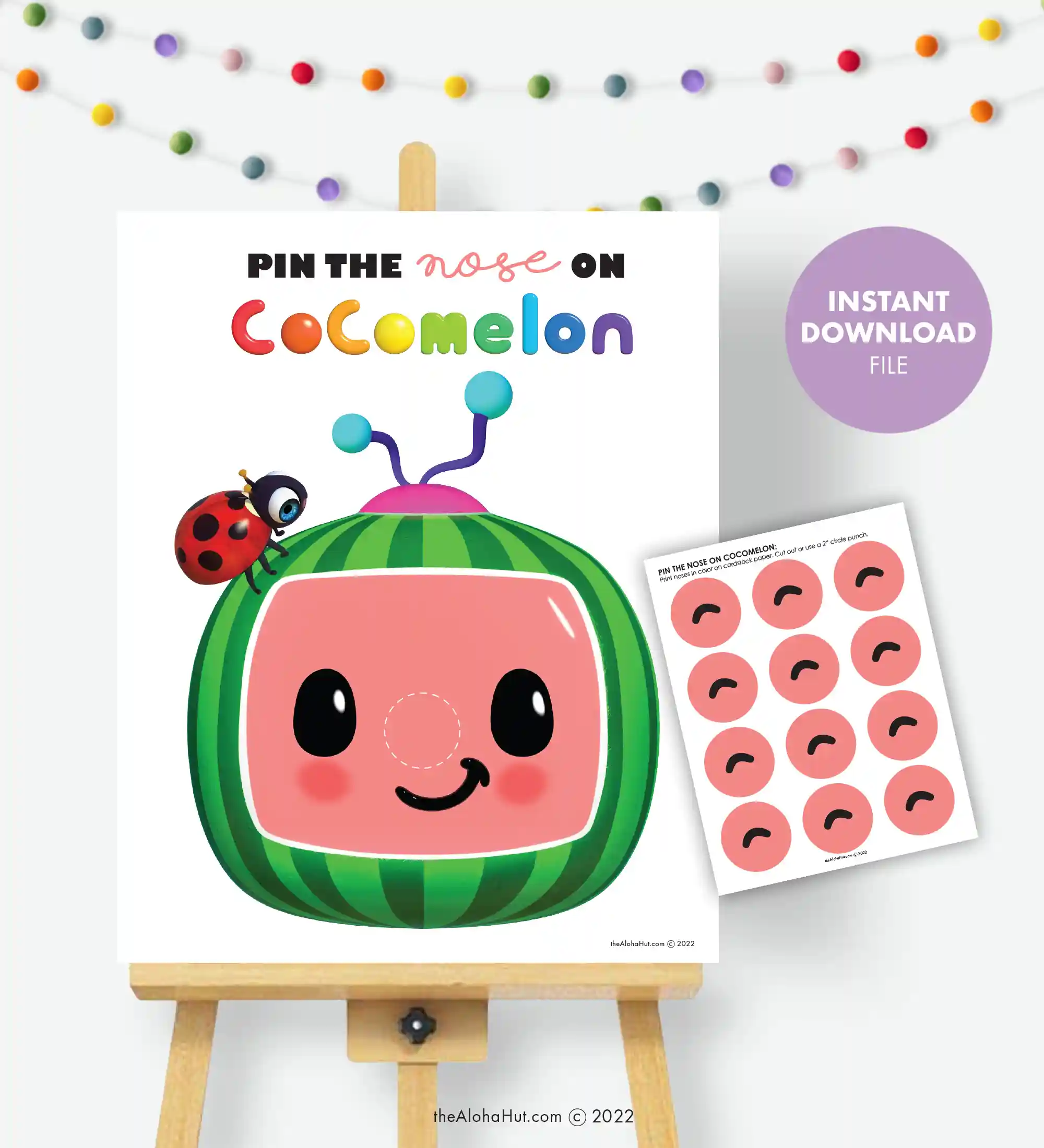 Last but not least, this Cocomelon version of the classic Pin the Tail on the Donkey game is so much fun for little guests. There is no limit to the number of players with this one. Just print off the nose piece page as many times as needed.
How to play Pin the Nose on Cocomelon (pin the tail on the donkey)
Start by downloading and printing off our Pin the Nose on Cocomelon game. Cut out the circle noses with scissors or using a 2" circle punch. Tape up the board game onto a wall, at the height that is best for all of the party guests. Grab a bandana and tie it around the first player's head, covering their eyes. Write players' names on a nose piece and hand it to them with some tape on the back. Spin the player a few times, stopping them in the direction of the board game hanging on the wall. Player walks forward and tries to get the nose as close as possible to Cocomelon's nose. Repeat with all players. Player that gets their nose closest wins!
Don't forget to check out our Cocomelon Birthday Party Decorations post where we have a bunch of free printables for you to add to your Cocomelon Birthday Party!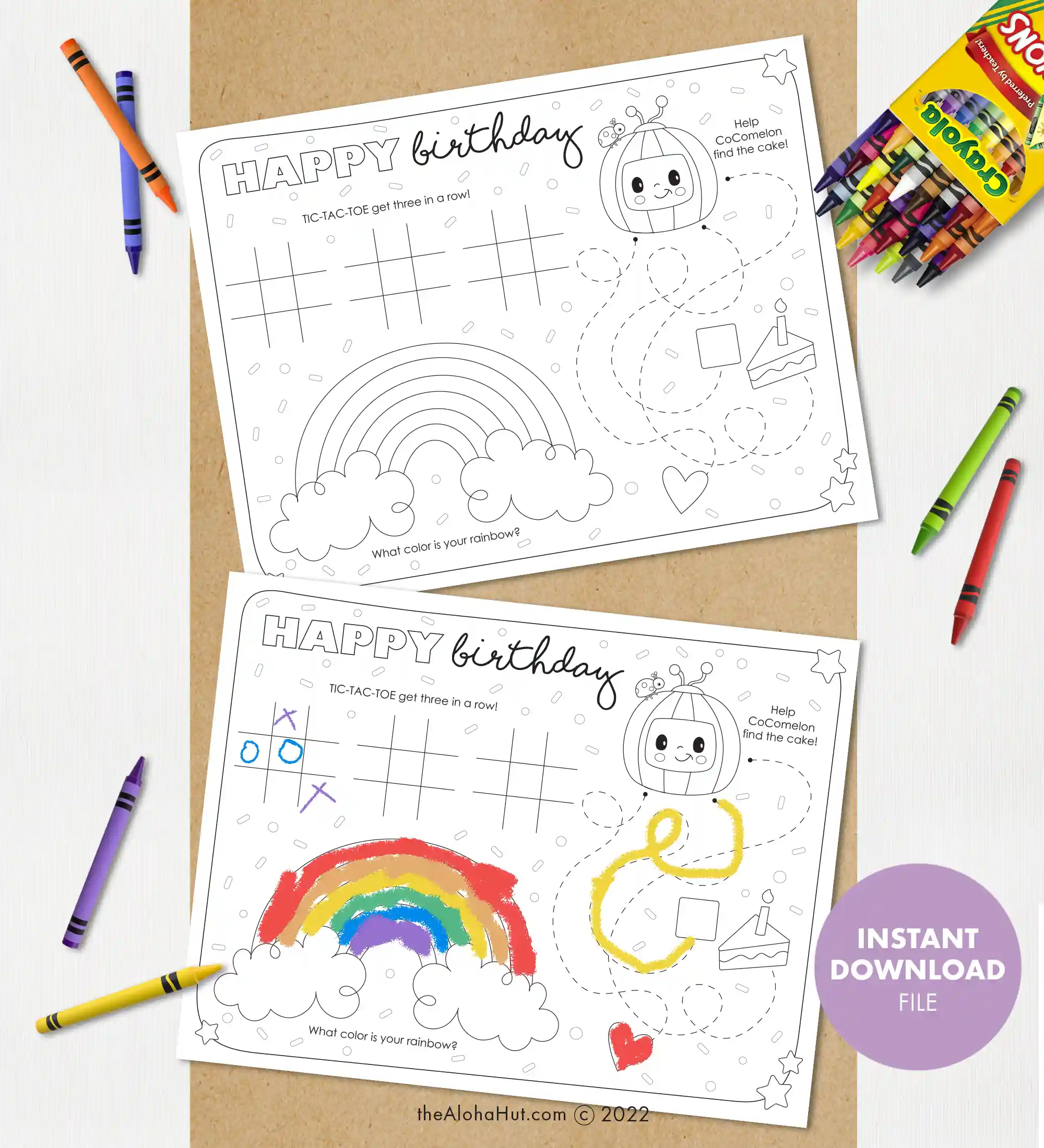 Included are printable downloads for:
Cocomelon bean bag toss game
Cocomelon bingo game 
Cocomelon cake walk game
Cocomelon Don't Eat Pete (the Cocomelon Friend) game
Cocomelon Pin the Nose game
You can print an entire party from the comfort of your own home!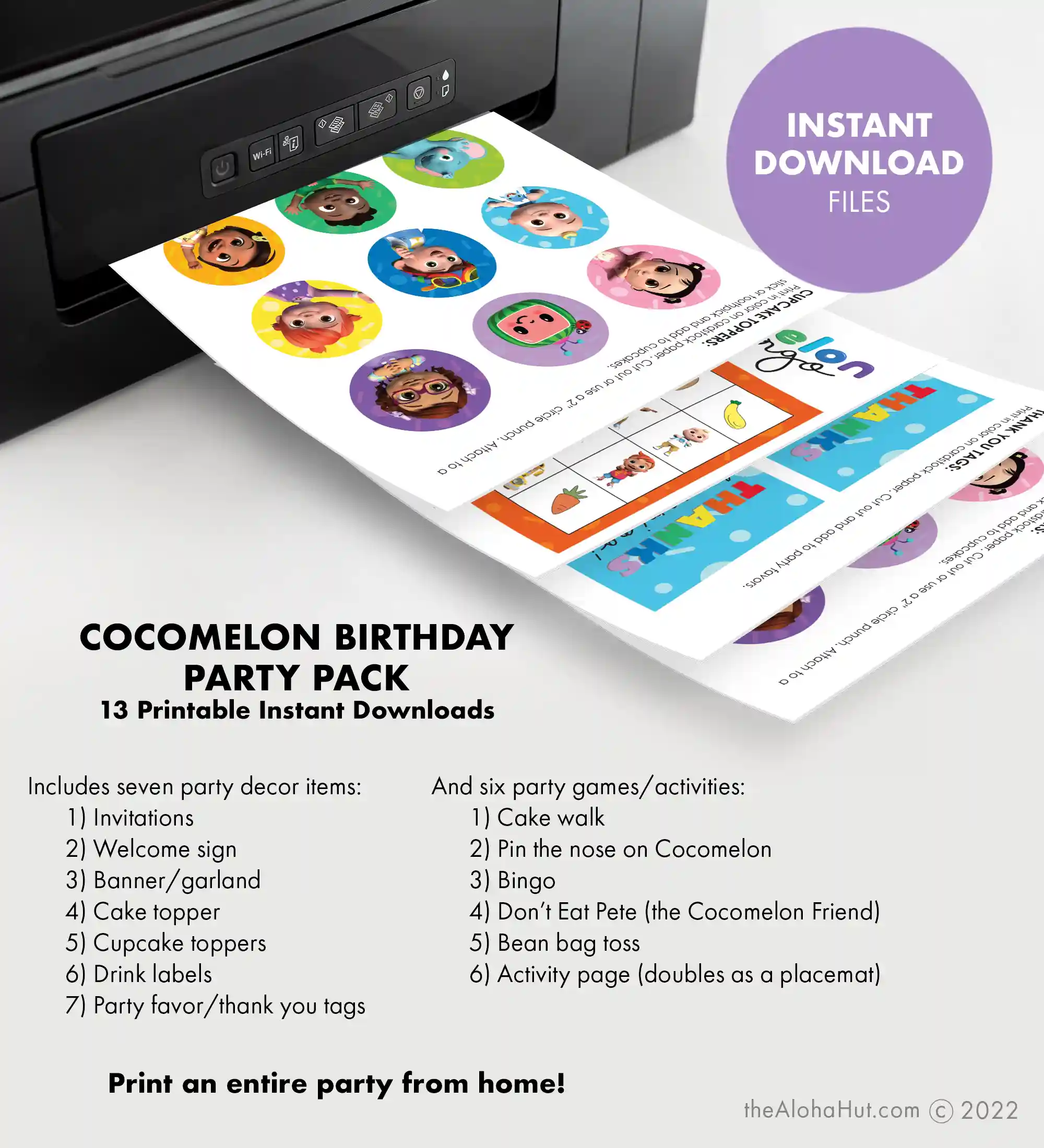 Don't forget to print out our free party planner to help you easily organize all your party details.
Much love and aloha,
Stacey + Niki