Cocomelon Birthday Party Ideas & Decorations
Cocomelon Birthday Party Ideas & Decorations
This post may contain affiliate links. Read our disclosure policy.
Need help planning a kids Cocomelon birthday party? We've got 9 tips and tricks for decorating on a budget with simple and easy Cocomelon party decorations the kids will love! We've created a Cocomelon birthday party bundle to help you throw together a Cocomelon party that will be a lot of fun, without it being a lot of work! Download our free printable party planner guide at the bottom of this post to help you plan and organize an awesome Cocomelon kids birthday party and keep reading for party decor tips and suggestions.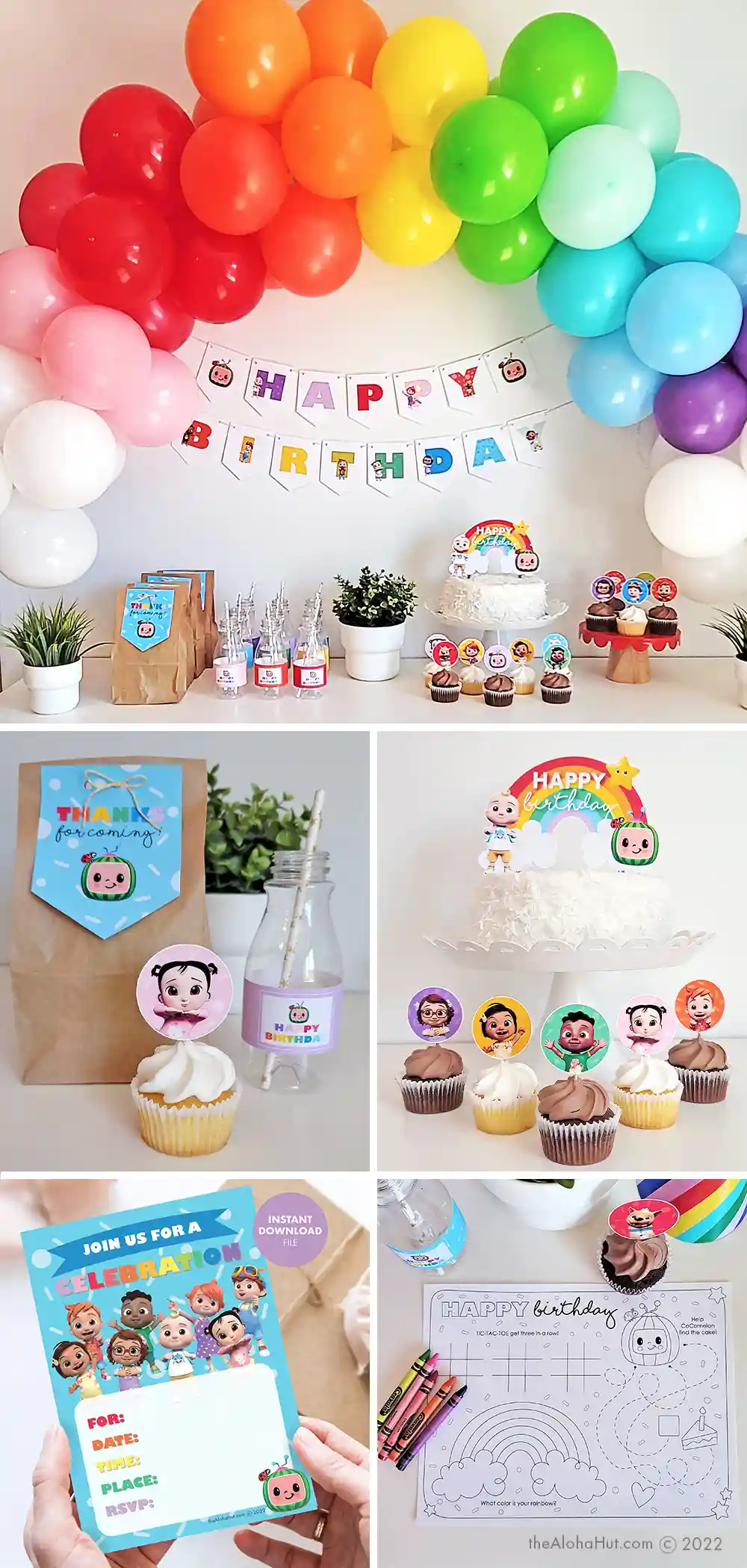 Our toddlers are obsessed with Cocomelon, so of course we had to put together a Cocomelon kids birthday party with all our favorite Cocomelon characters: Baby JJ, TomTom, YoYo, Bella, Cece, Cody, Nico, Nina, Bingo, and more. We love the Cocomelon songs, nursery rhymes, and educational lessons for toddlers and preschool aged kids. A Cocomelon party is the perfect birthday party for toddlers because it's fun, colorful, and there are so many fun Cocomelon themed kids activities.
---
#1 – Party Planner Guide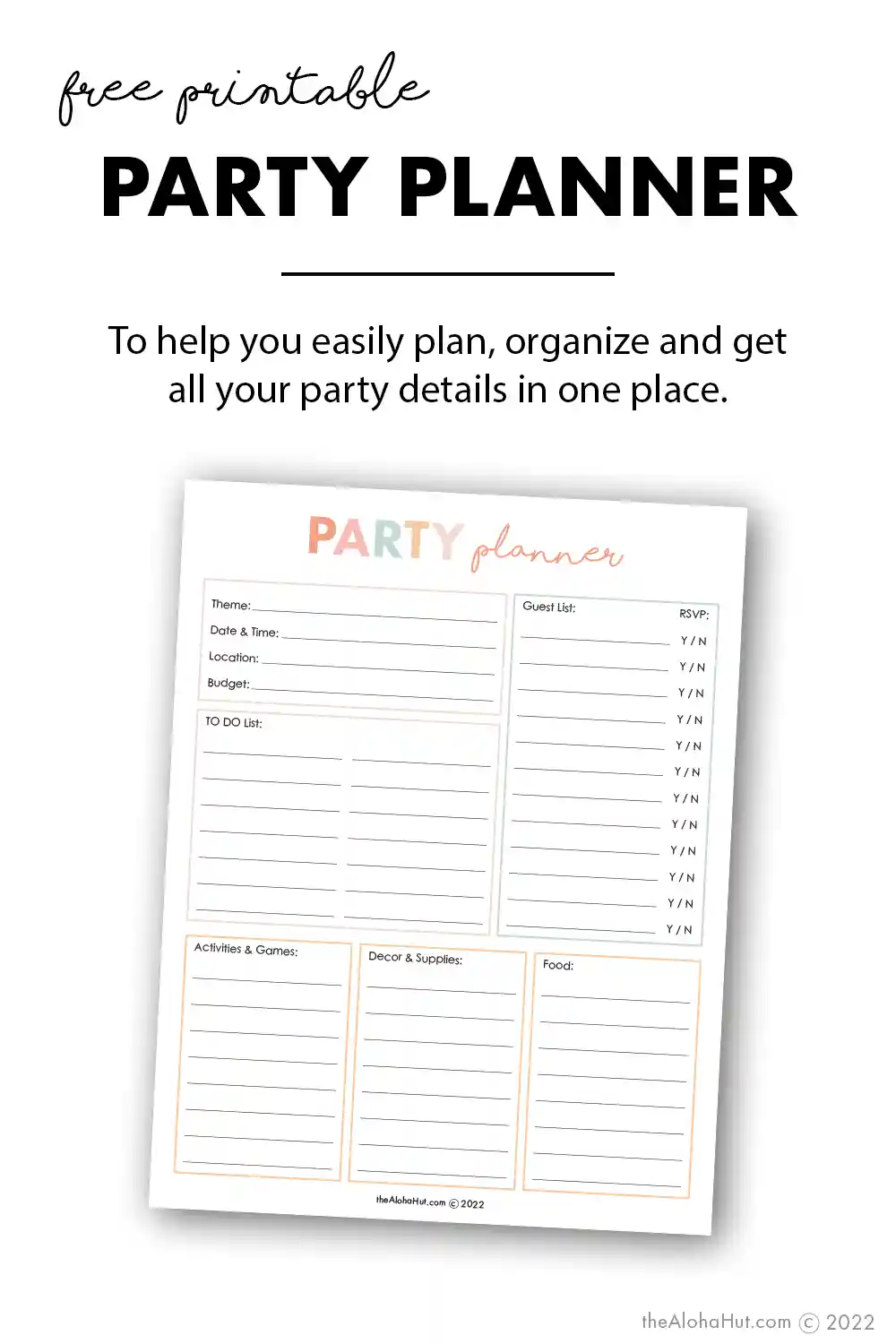 Party planning can be time consuming and expensive, so print off our free printable party planner guide below to help you easily plan, organize, and get all your party details written down in one place. Our party planner guide has a spot for you to write down your party theme, budget, guest list, activities and games, decorations, supplies, food, and a TO DO list. Getting organized and having a plan is our first tip to having a successful party!
---
#2 – Cocomelon Themed Birthday Party Invitations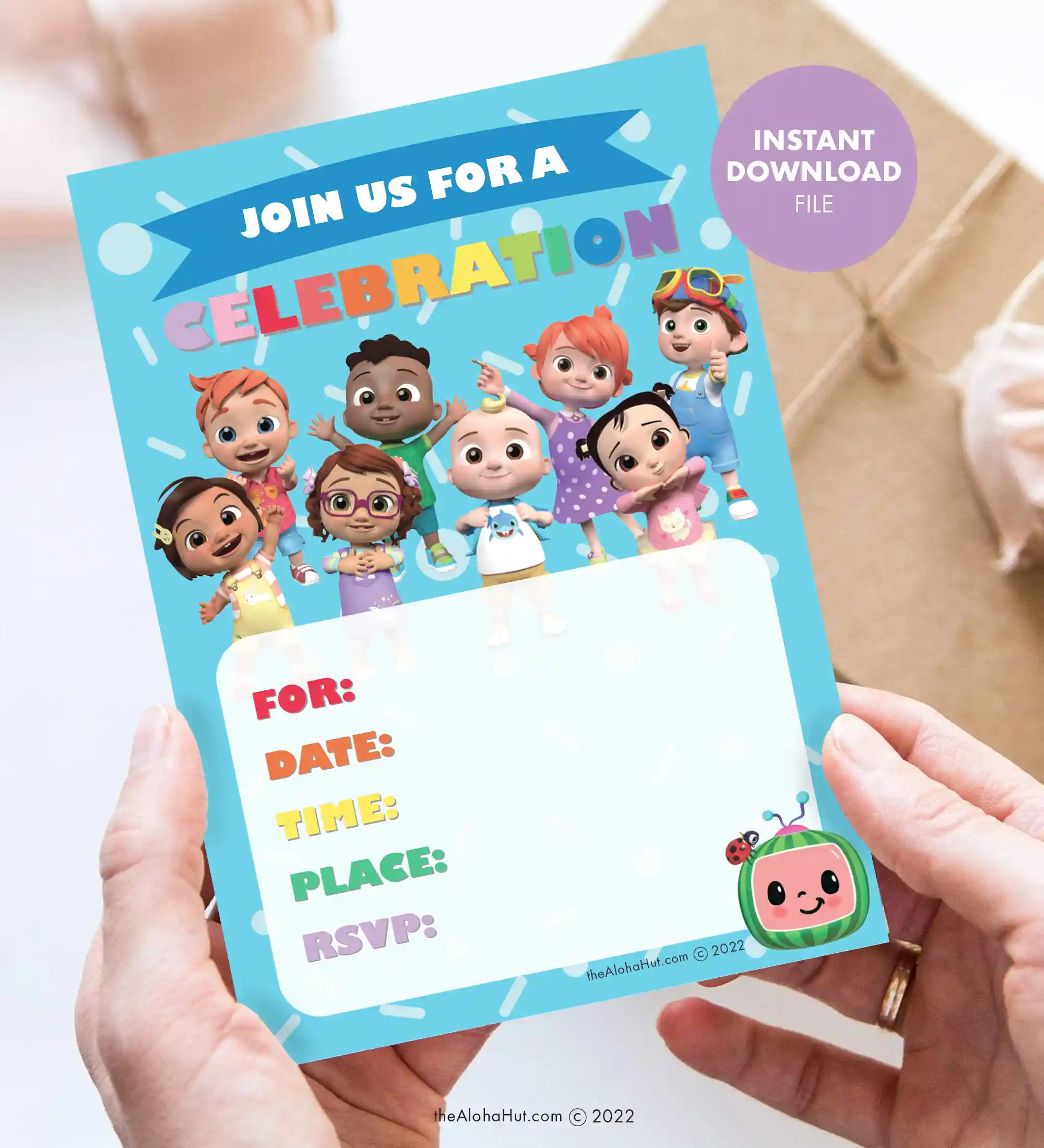 For a Cocomelon themed party, we recommend a Cocomelon themed birthday invitation! We set the stage for our party by having an invitation that matches our birthday party theme. We designed a simple printable Cocomelon birthday invitation to go along with our kids' Cocomelon party. We love printable invitations because they can be printed from home and you can print as many as you need! If you decide to use our printable Cocomelon birthday party invitation and you don't want to write on them by hand, you can easily edit them in Canva (a free app) by uploading the pdf file to Canva and adding text.
---
#3 – Party Welcome Sign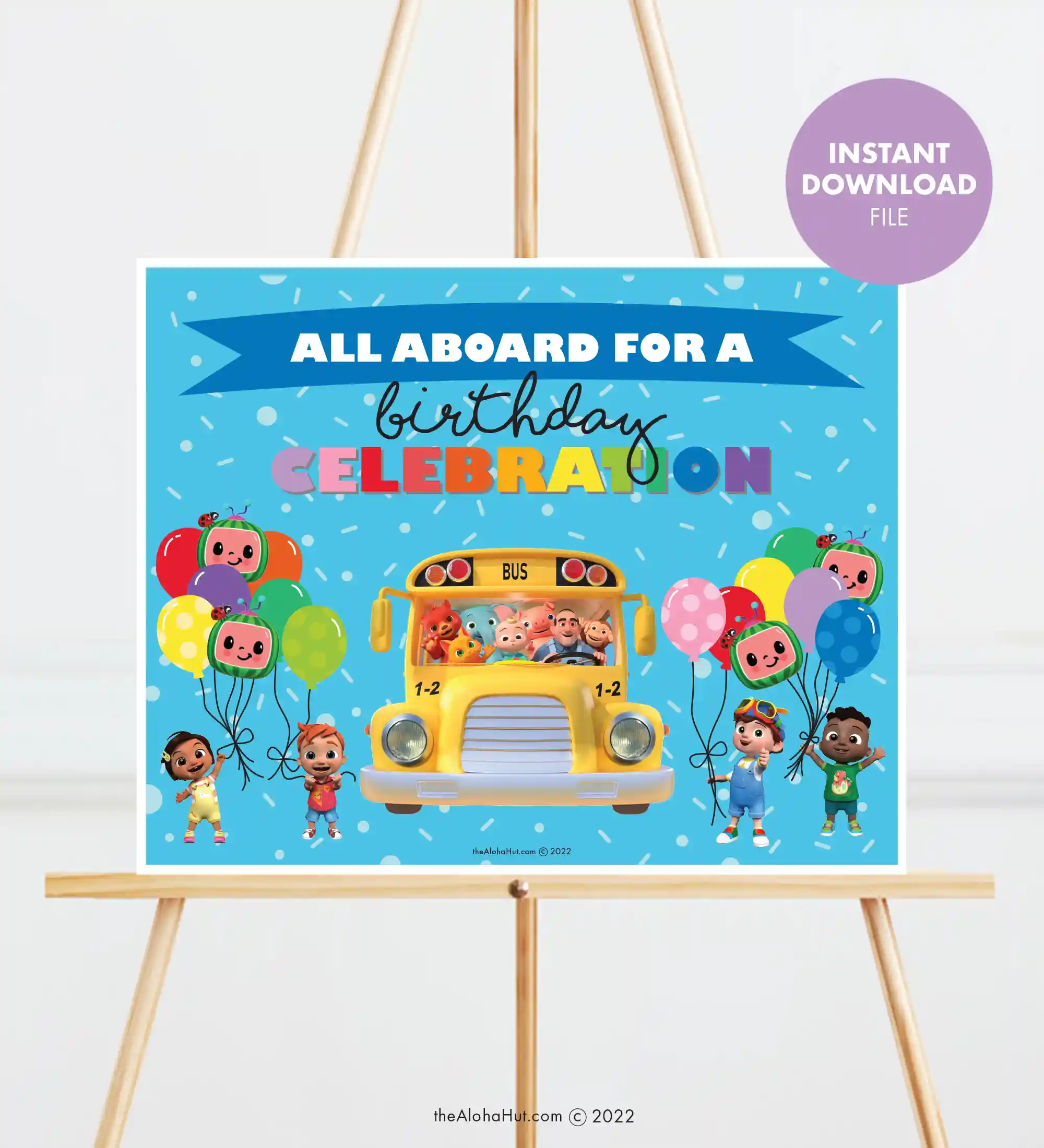 We love using paper to decorate. It's super low cost and can make a big impact. Our party had a Cocomelon party sign welcoming guests to the party. Add a balloon bouquet and put a sign in the yard or on the front door, and it will direct guests to the party.
---
#4 – Decorate with Balloons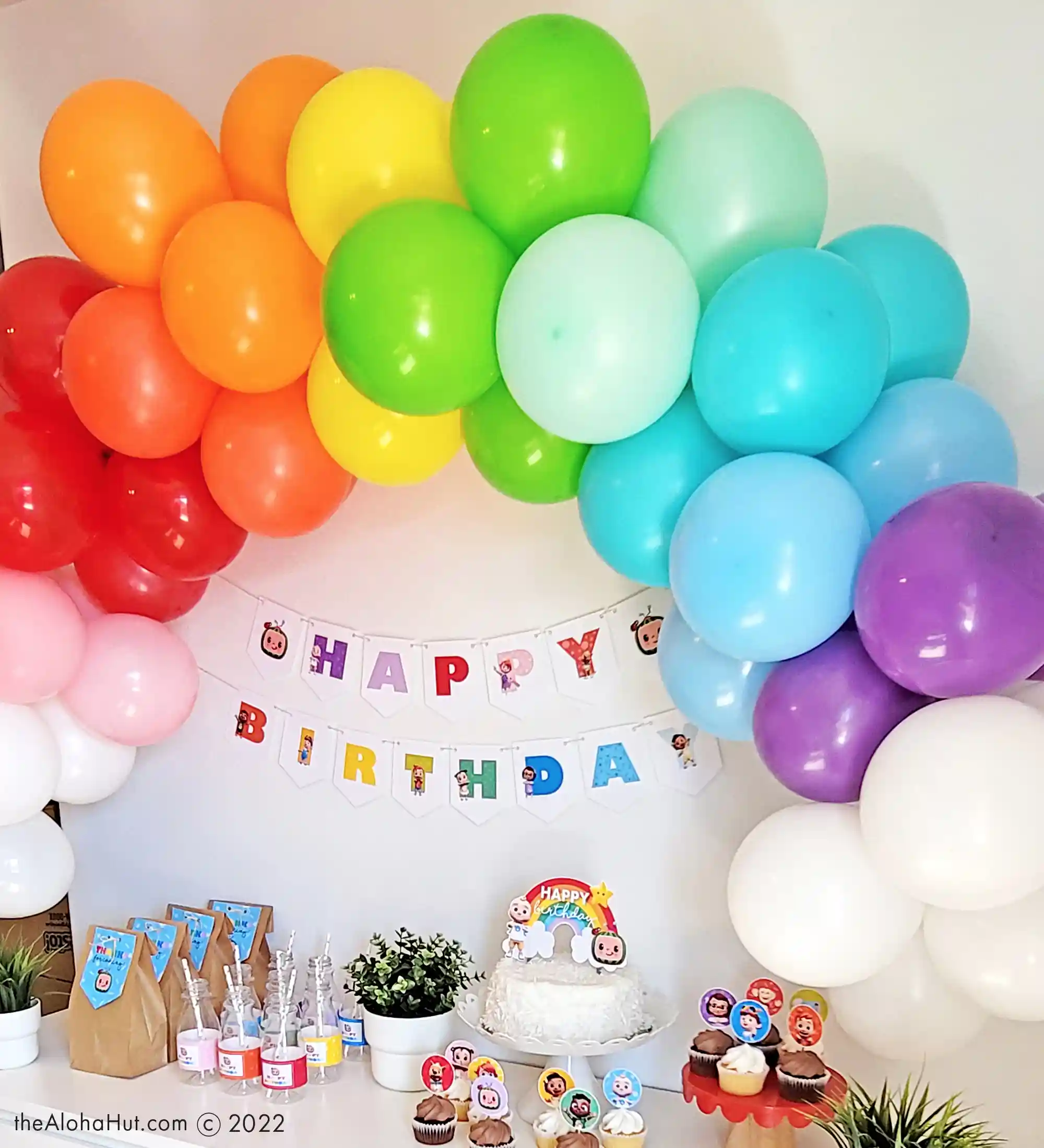 A great party backdrop is a must! Balloons are so fun and colorful and make the perfect birthday party backdrop. We made a rainbow balloon arch to match our Cocomelon birthday party color scheme. They are so easy to make and budget friendly.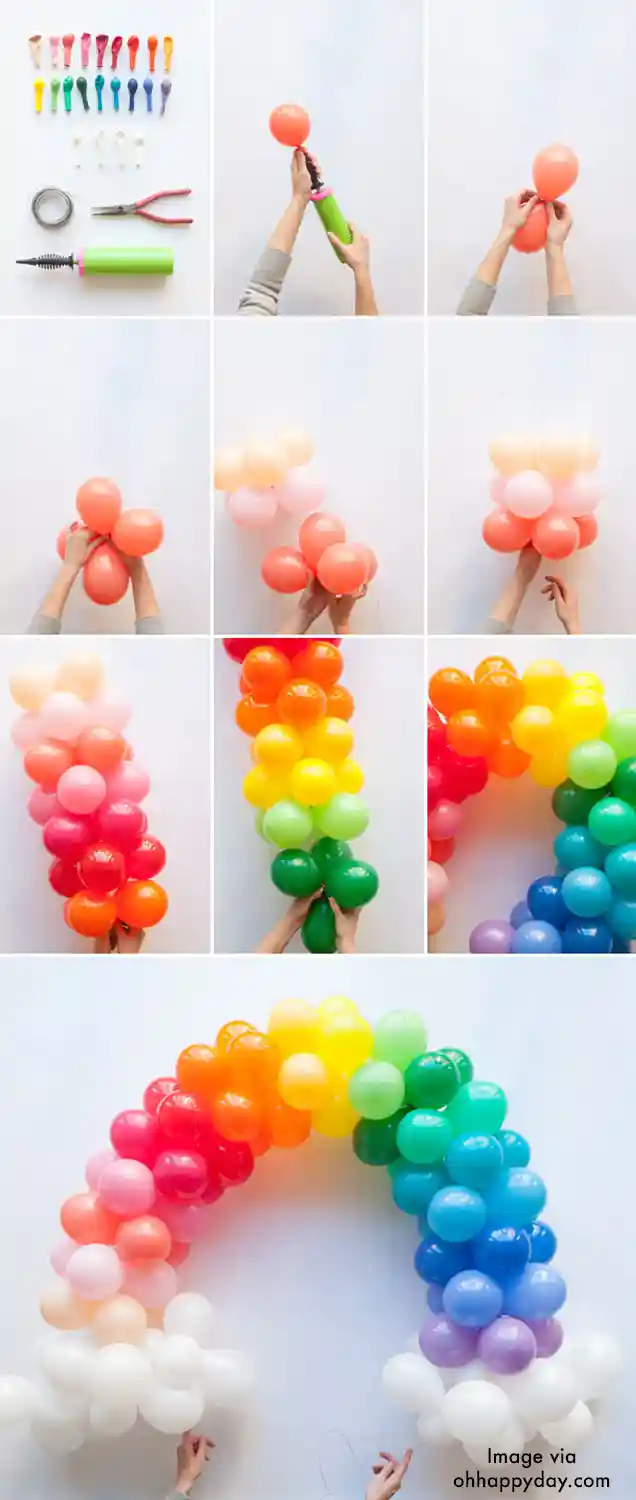 If you've never made a balloon arch, Oh Happy Day has an easy balloon arch tutorial. We make balloon arches for almost every party because they're so simple, super cheap, festive, and immediately ups our decor game!
---
#5 – Happy Birthday Banner & Garland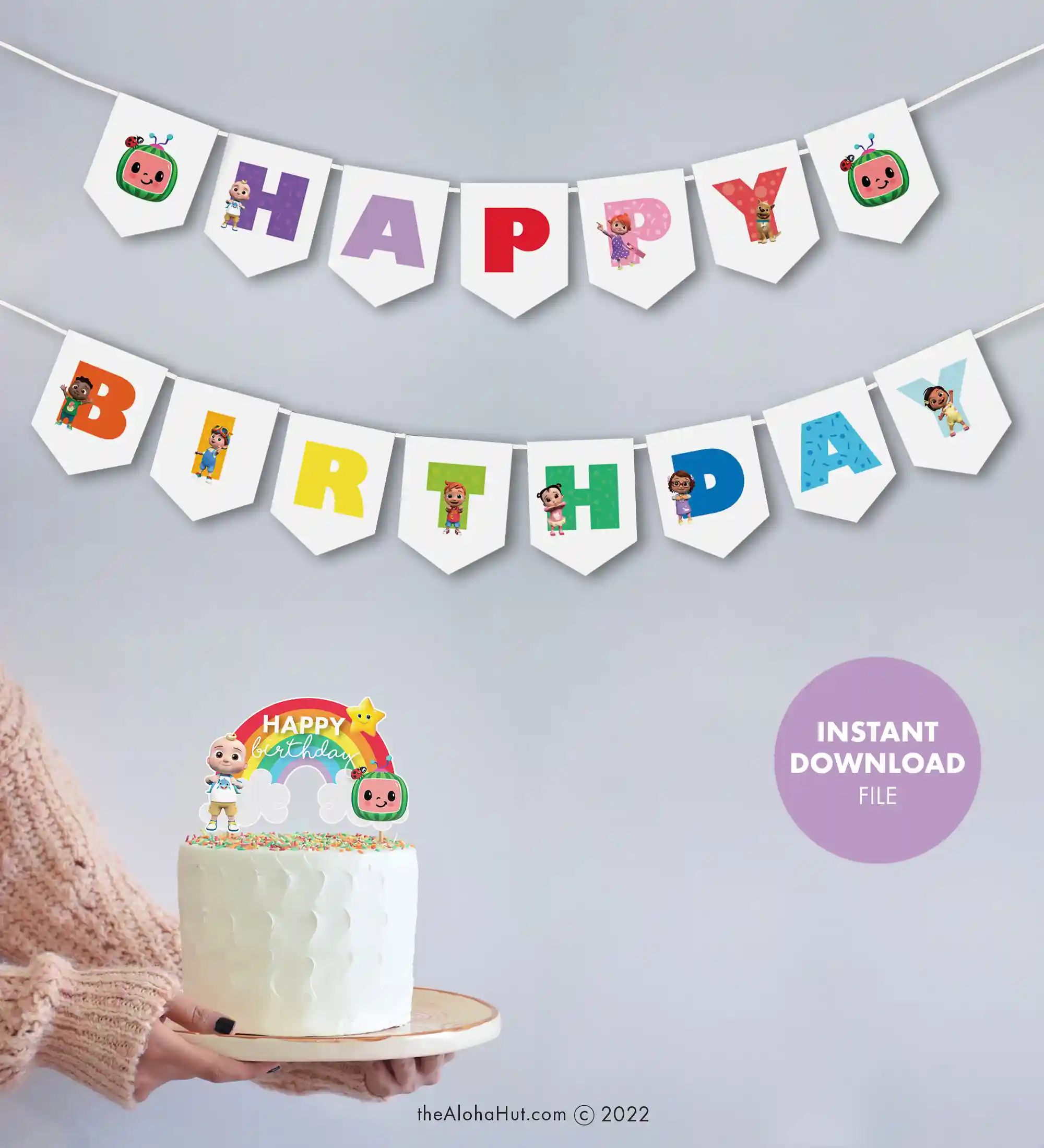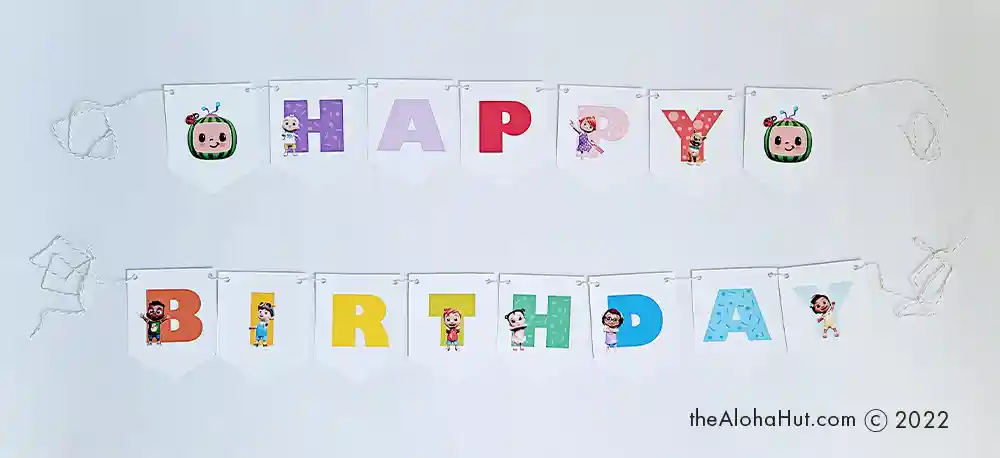 Paper banners and garlands are another easy birthday party decor. We designed a Cocomelon happy birthday banner to match our party decor. Add it to your balloon arch photo booth backdrop or hang up a happy birthday banner over the dessert table. These DIY paper garlands are easy to make and match our theme. Buy a happy birthday garland from the dollar store, or check out our Cocomelon happy birthday garland.
---
#6 – Easy Cake Topper & Matching Cupcake Toppers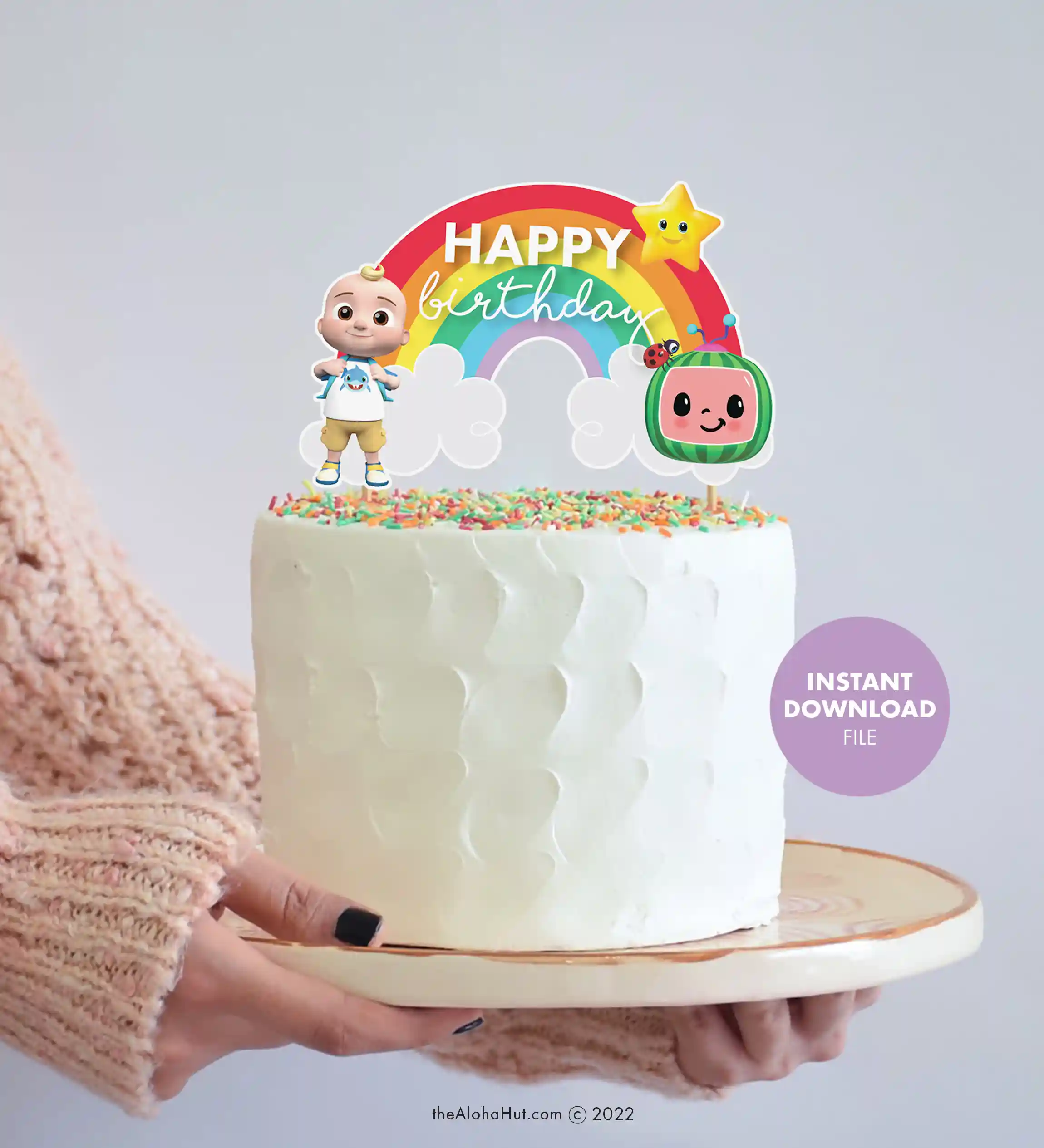 It's a lot of work to make and decorate a themed cake, so we usually opt to buy a store bought cake and decorate it with a cute printable cake topper. Our top birthday cake tip is to buy a plain cake at the store and make it your own by adding a cute cake topper, sprinkles, and even a toy or two! For our Cocomelon birthday party we added a Cocomelon cake topper that we printed from home on cardstock and attached to sticks. Doesn't get much easier than that!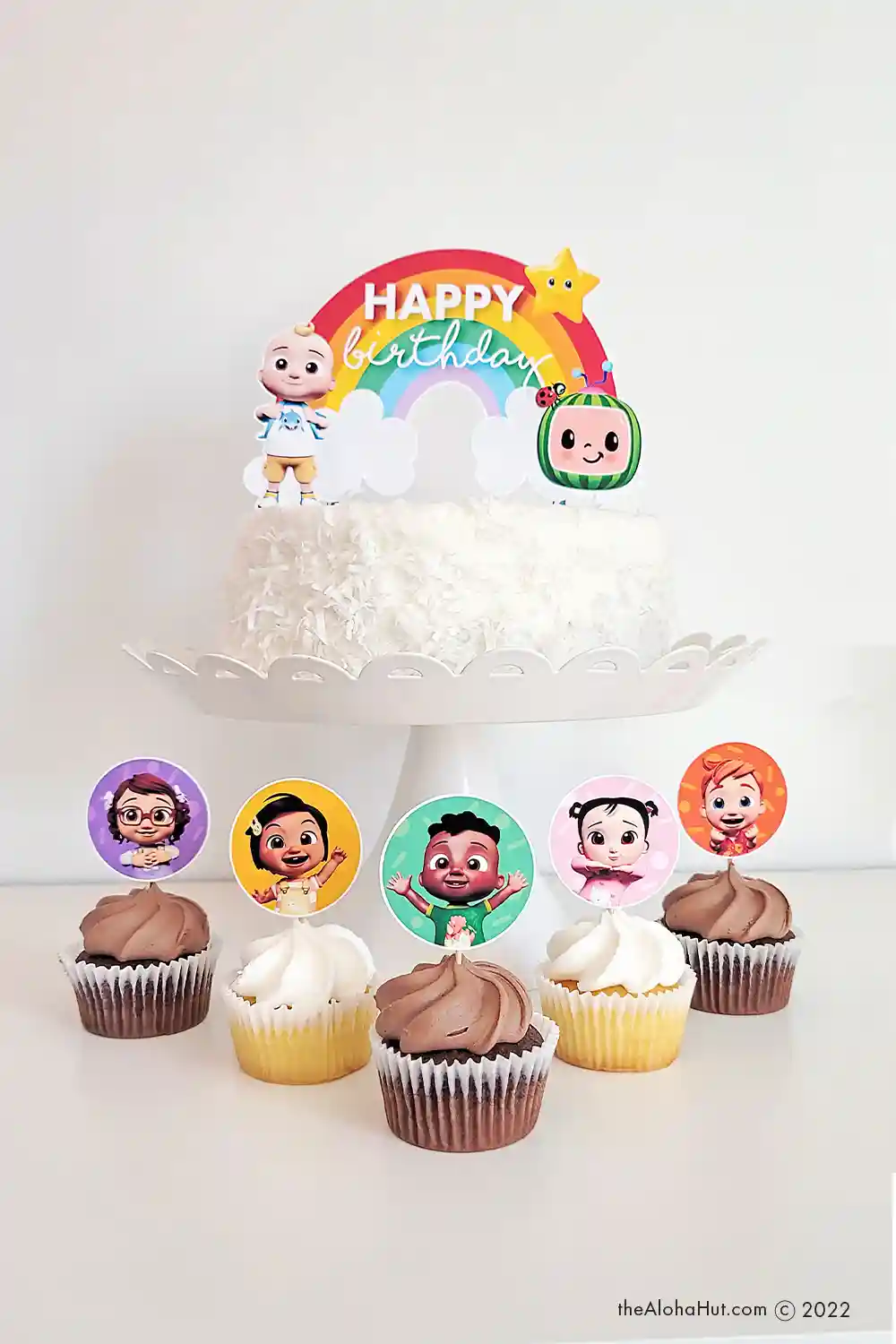 We also designed matching Cocomelon cupcake toppers to dress up the cupcakes. We like to do a cupcake walk, so these matching Cocomelon cupcake toppers are the perfect prize for our Cocomelon cake walk game.
---
#7 – Themed Drink Labels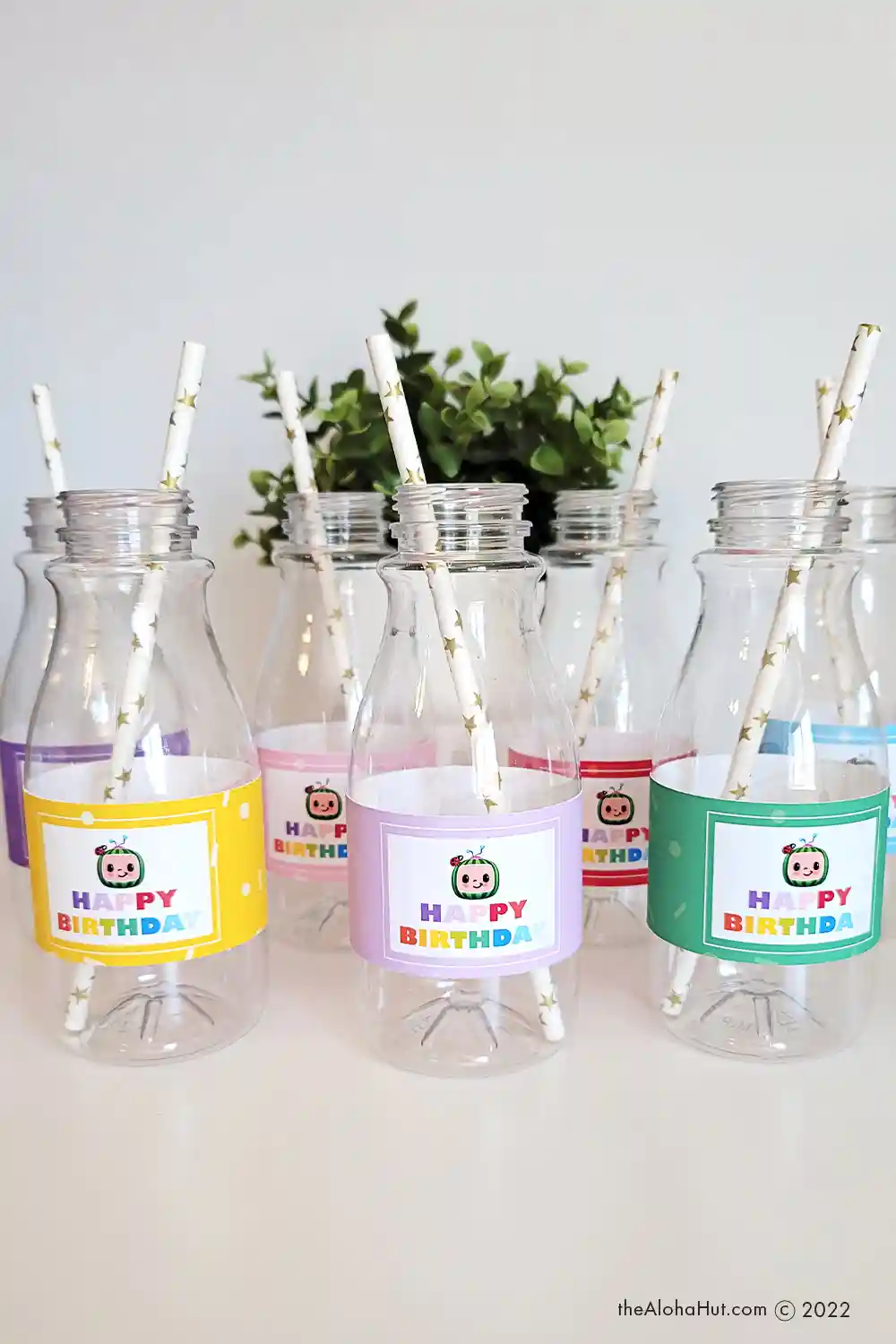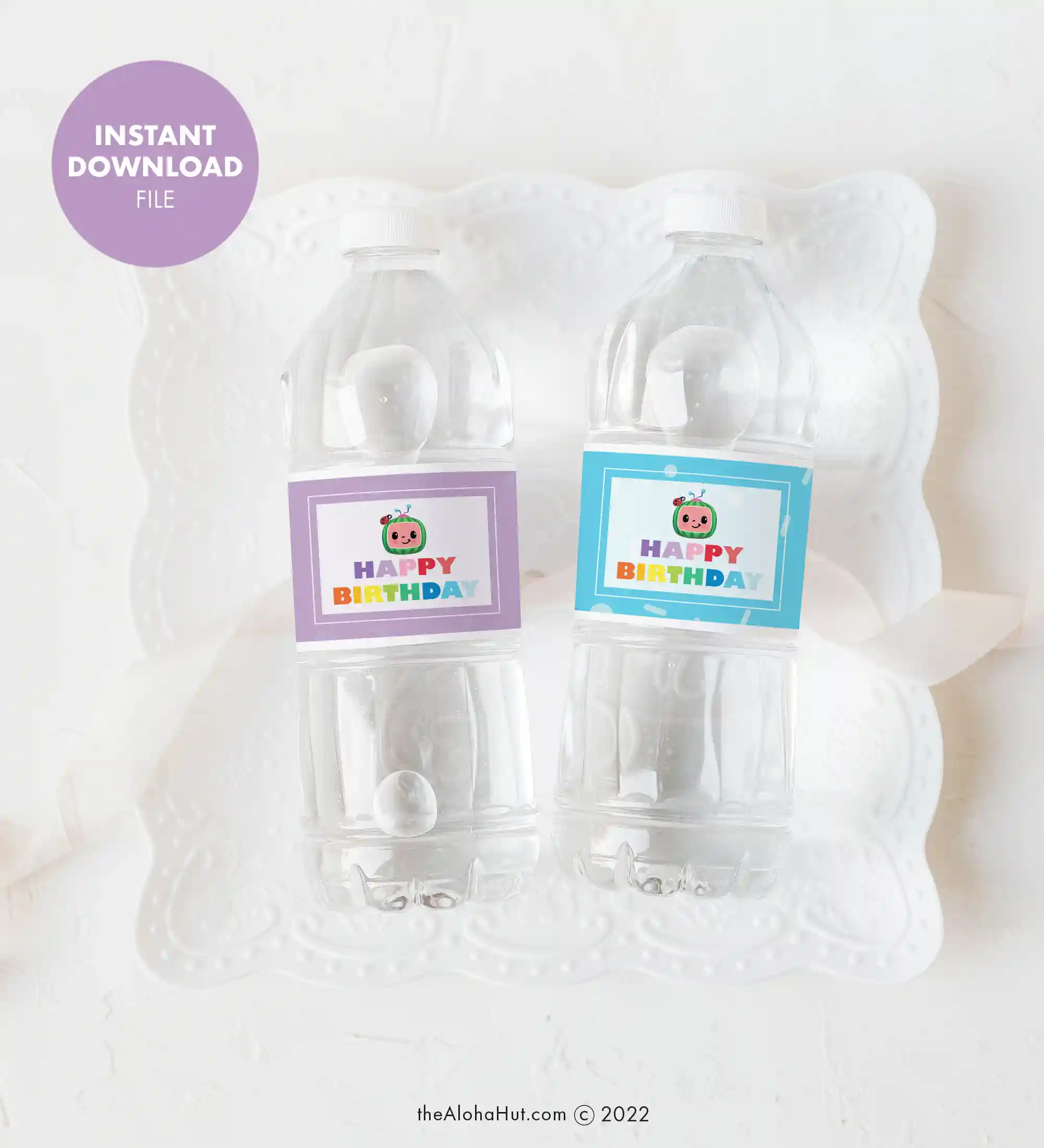 Turn your drinks into party decor with a label! We love decorating with paper because it can instantly make ordinary items a decoration. We printed Cocomelon drink labels and added them to our drinks for a fun decoration. These printable Cocomelon drink labels work for plastic water bottles, mini milk jugs, soda pop, and juice bottles.
---
#8 – Activity Page & Placemat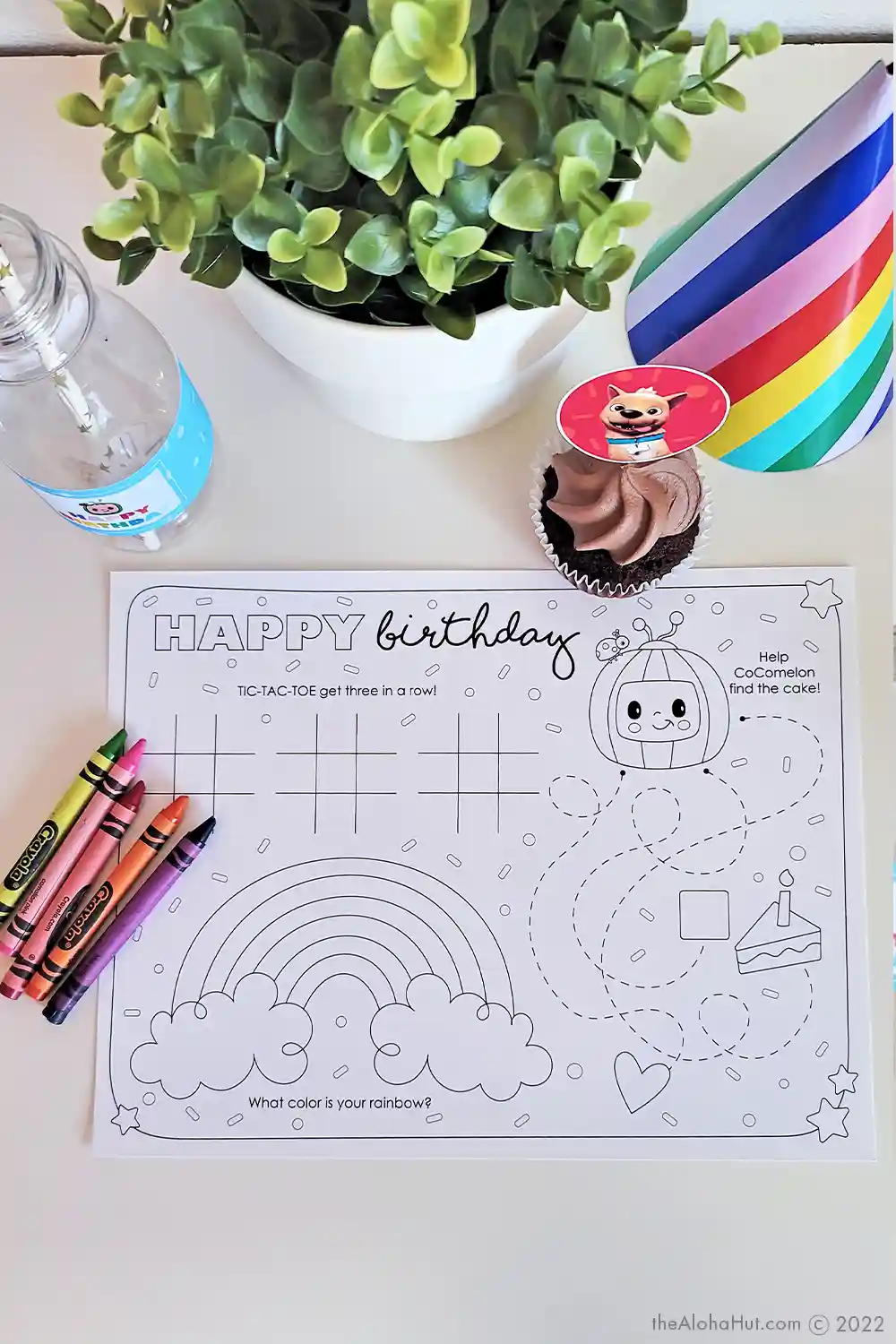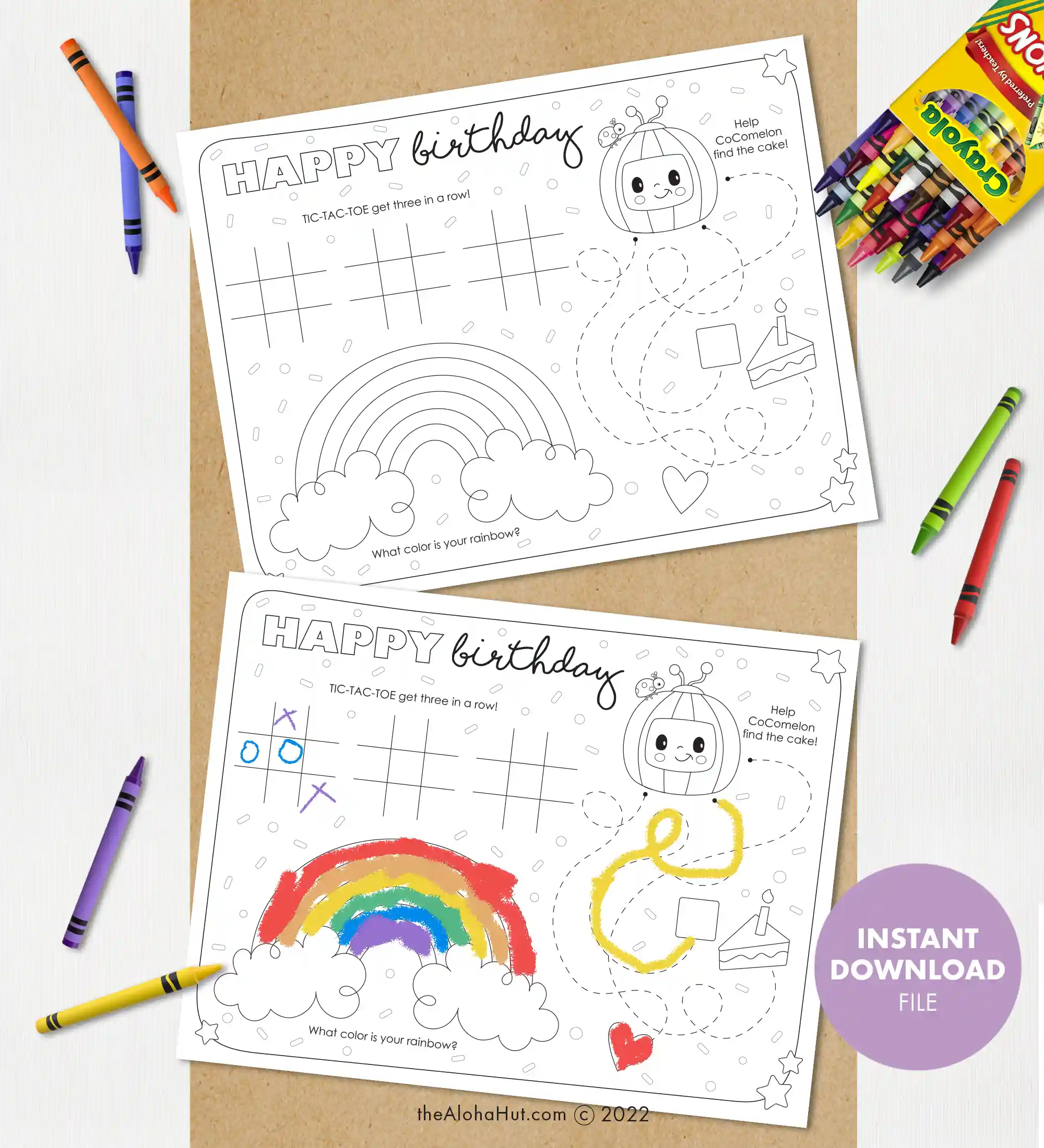 One of the best ideas for every child is adding a fun little activity page on the table in place of their placemat. There's a reason almost every restaurant has a coloring page as the children's menu. It helps keep kids entertained while they're waiting on their food and keeps their little hands busy. These Cocomelon activity page placemats were a huge hit with the kids. They loved coloring the Cocomelon page and doing the little Cocomelon activities while they waited for their food. Instead of traditional placemats, we always try to opt for a fun activity page that doubles as table decor.
---
#9 – Party Favors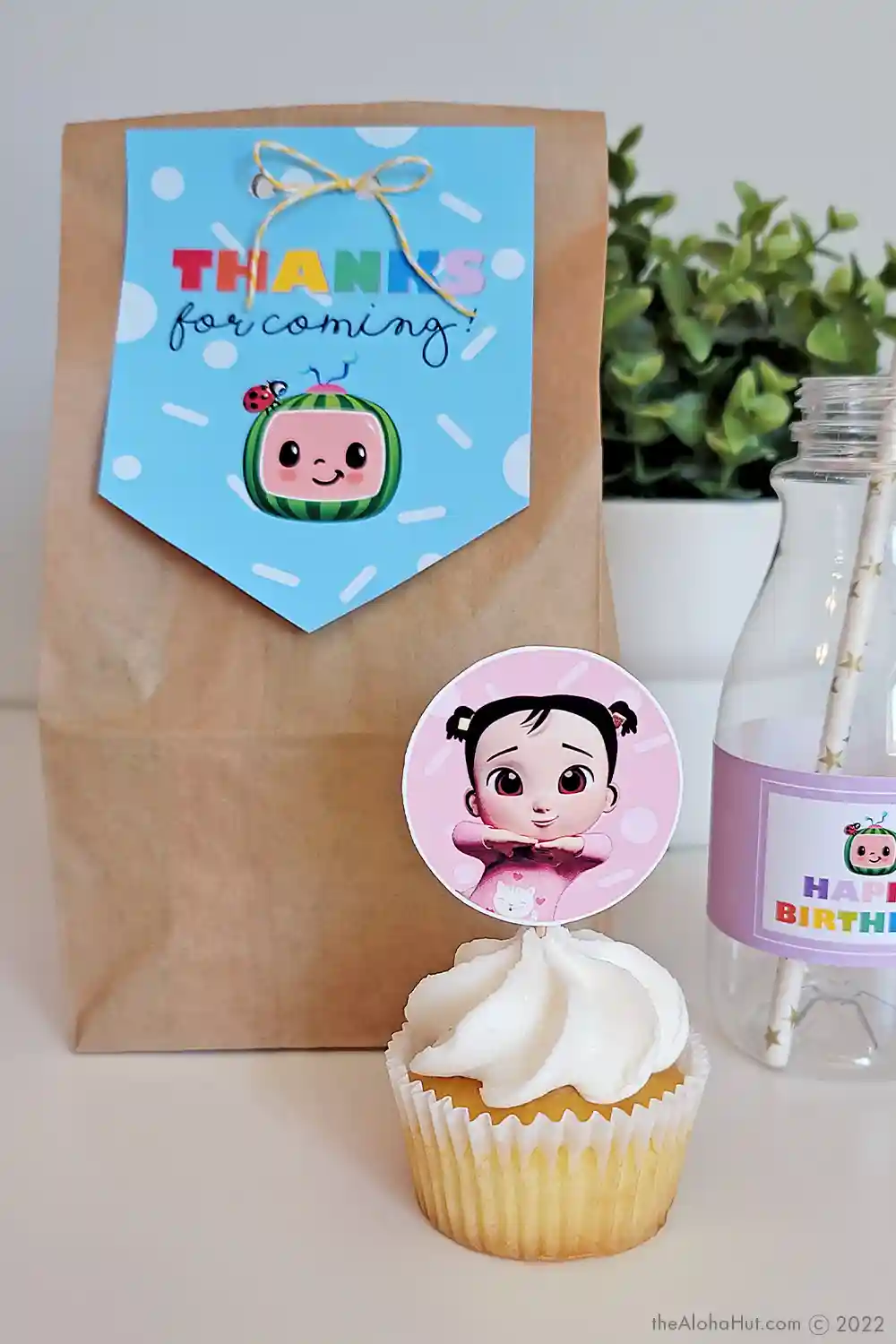 Turn your party favors into a decoration with a cute party favor tag. Get a brown paper lunch sack or colored bag, fill them with fun treasures like playdoh and stickers, then add a Cocomelon party favor tag on it and you've got a fun little gift to give your guests as they walk out the door. Party favors aren't a necessity but they can help little guests not feel so sad when they see the birthday child opening all their presents. Just remind them that they get their very own "present" at the end as well. Here are some great budget-friendly party favor ideas for little ones:
Crayons and a coloring book
Small ball & candy
Printable bucket list & crayons (check out our free indoor bucket list, outdoor bucket list, summer bucket list)
Playdough mats & playdough (check our our free printable playdough mats)
Dollar store toys
Bubbles
DIY craft (glue stick, pom poms, pipe cleaners, googly eyes & a foam ball….so they can make their own monster)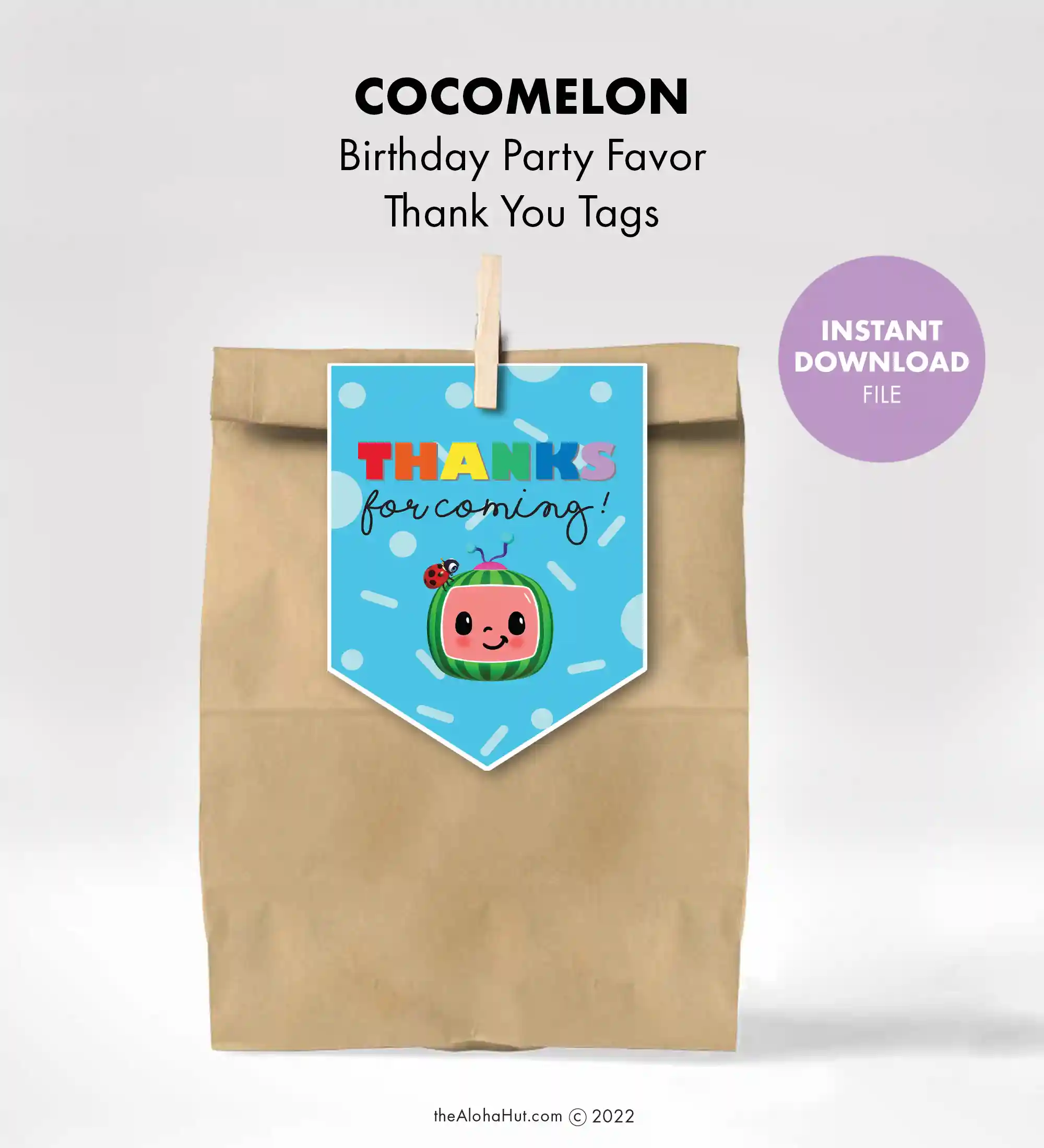 Adding a Cocomelon thank you tag to party favors, treats, and little prizes is a fun thank you gift for guests. Attach them by stapling them on, using a little clothespin, hole punching and tying with string or twine, or attach with some washi tape.
Don't forget to check out our Top 5 Favorite Cocomelon Birthday Party Game Ideas to help you easily throw the best Cocomelon Birthday Party!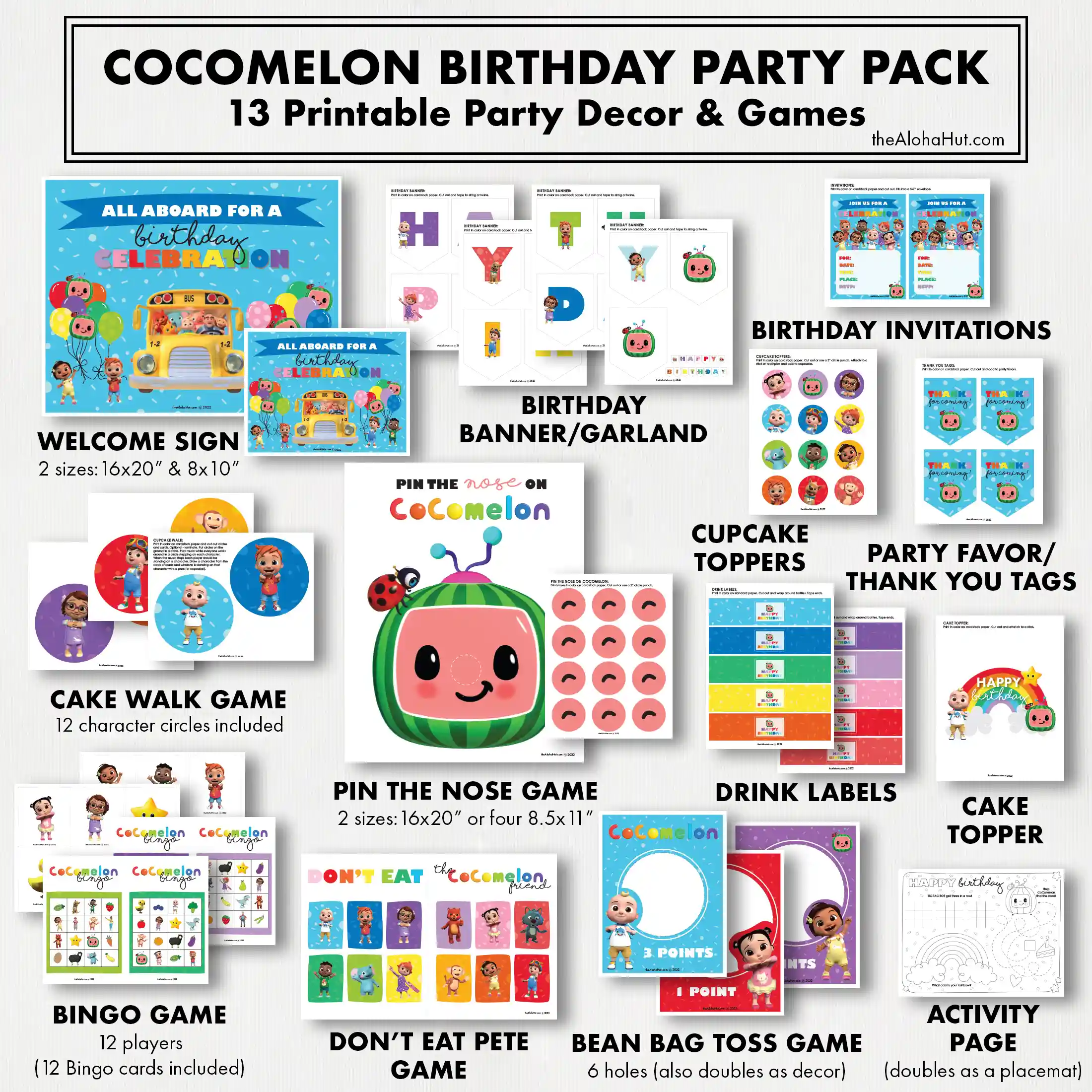 Cocomelon party pack includes:
Cocomelon birthday invitations
Cocomelon birthday banner
Cocomelon cupcake toppers
Coocmelon cake topper
Cocomelon birthday party welcome/door sign
Cocomelon drink labels
Cocomelon birthday party favors/tags
Cocomelon activity page/placemat
You can print an entire party from the comfort of your own home!
We hope these Cocomelon party decoration tips and tricks help you plan the perfect Cocomelon birthday party for your toddler! If you're looking for Cocomelon themed party games and activities, check out our coordinating Cocomelon party games post. We want to make party planning easy and affordable, so we've designed a great Cocomelon themed party bundle for you to enjoy and get ideas from. Happy party planning!! Don't forget to download the free printable party planning guide to get you started with your Cocomelon party planning.
Much love and aloha,
Stacey + Niki