Lego Storage Ideas & DIY Lego Table
Lego Storage Ideas & DIY Lego Table
This post may contain affiliate links. Read our disclosure policy.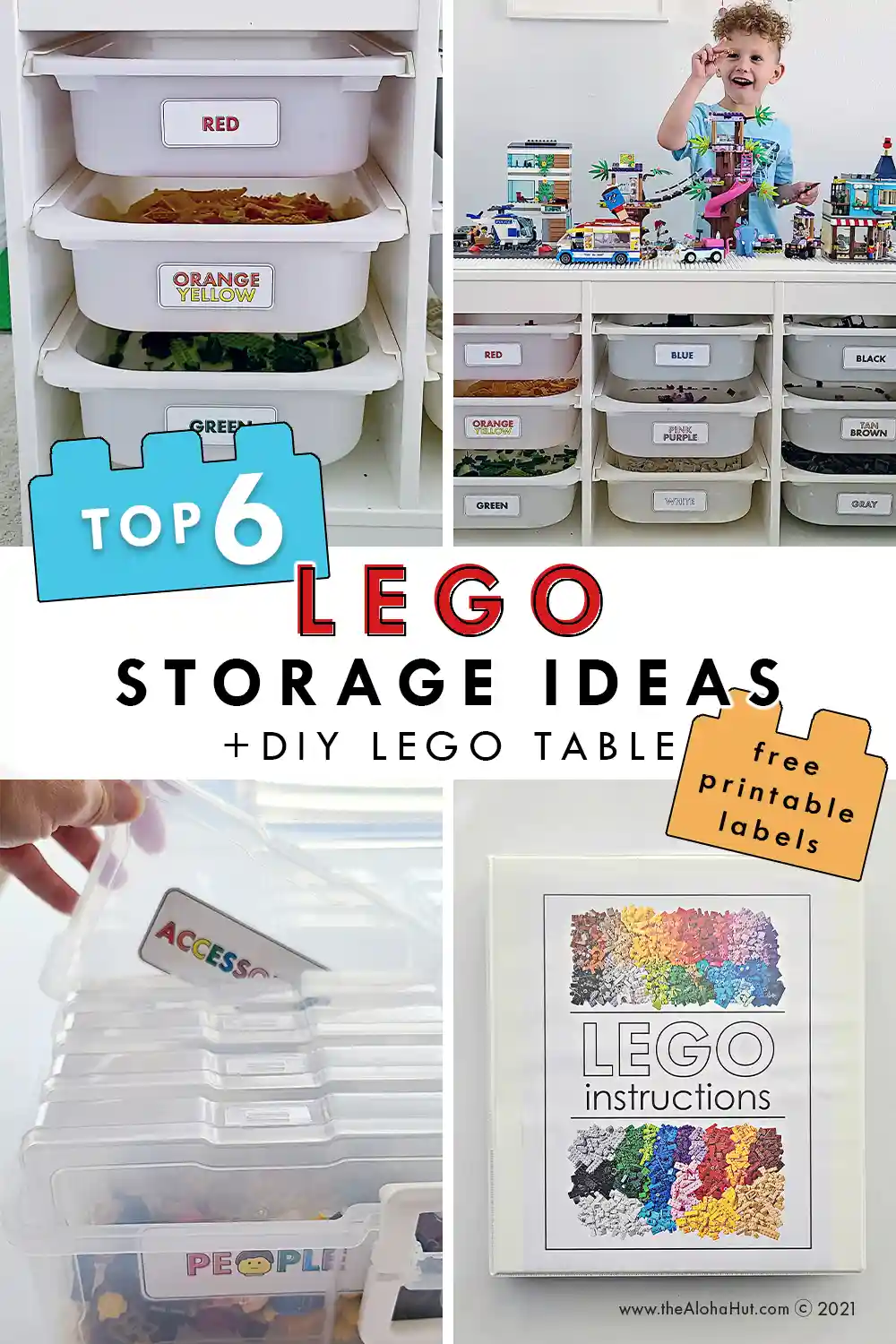 Our kids are obsessed with Lego bricks. We have thousands of them! Whether you have a large Lego collection or a small set, keeping them organized and contained will help you keep your sanity and hopefully keep them off the floor. We've had a few different Lego organization systems throughout the years. The key is to find what fits best for you and your kids and your space. We've compiled six of the top Lego storage ideas to help keep this popular toy contained and organized; and included a few free printables as well!
#1 – Clear and Shallow Storage Container Box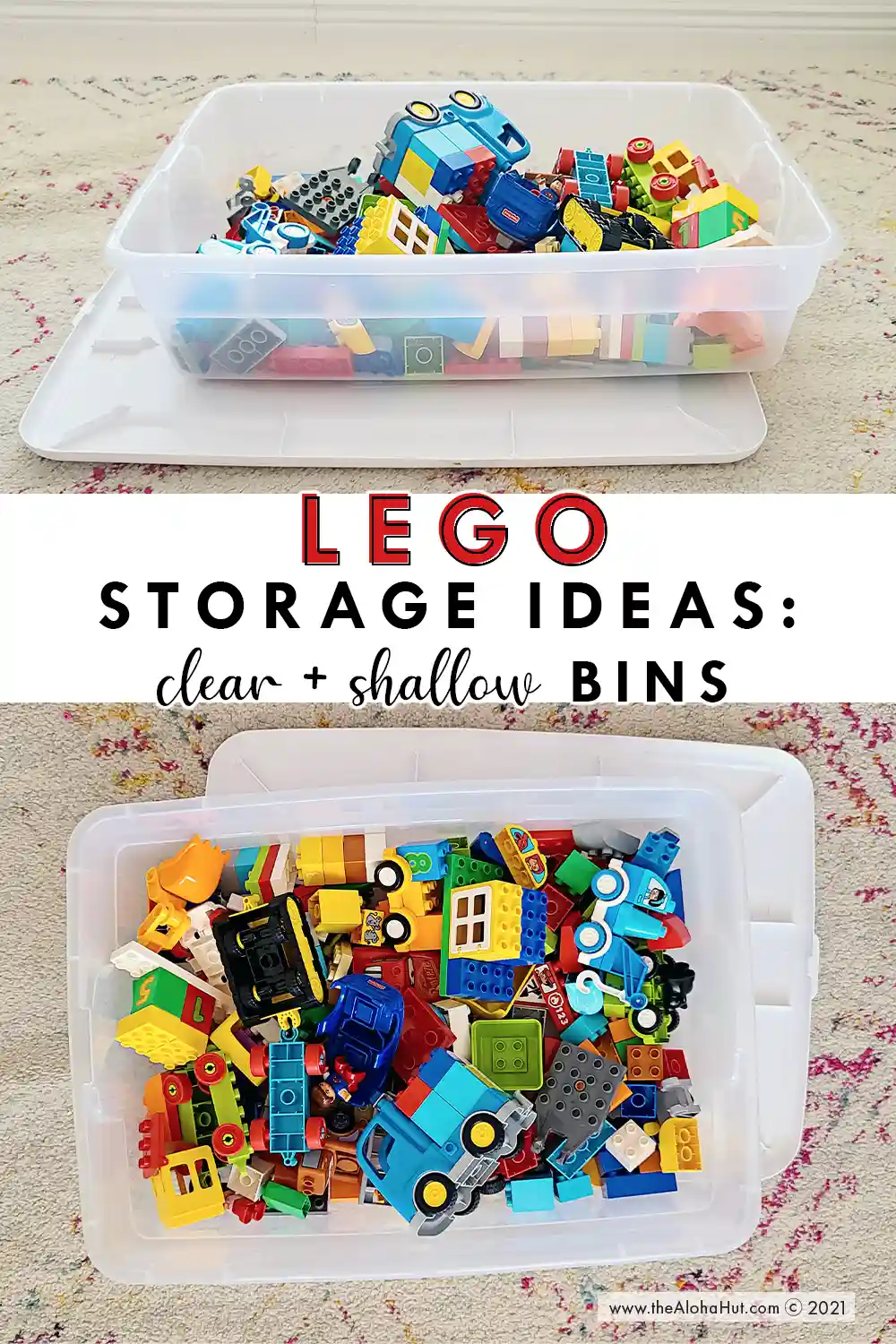 This system is great if you only want one box to put all your Lego pieces in. Clear storage bins are perfect because you can easily see what's in the box. The shallow container lets kids easily search through the bin looking for the brick they want without having to dump the whole thing out every single time they play with them. We use this system with our Duplo Lego pieces and it works amazingly well! We prefer a container with a lid so we can stack our toy storage bins on top of each other or put them under the bed for easy access.
#2 – Toy Storage Basket and Play Mat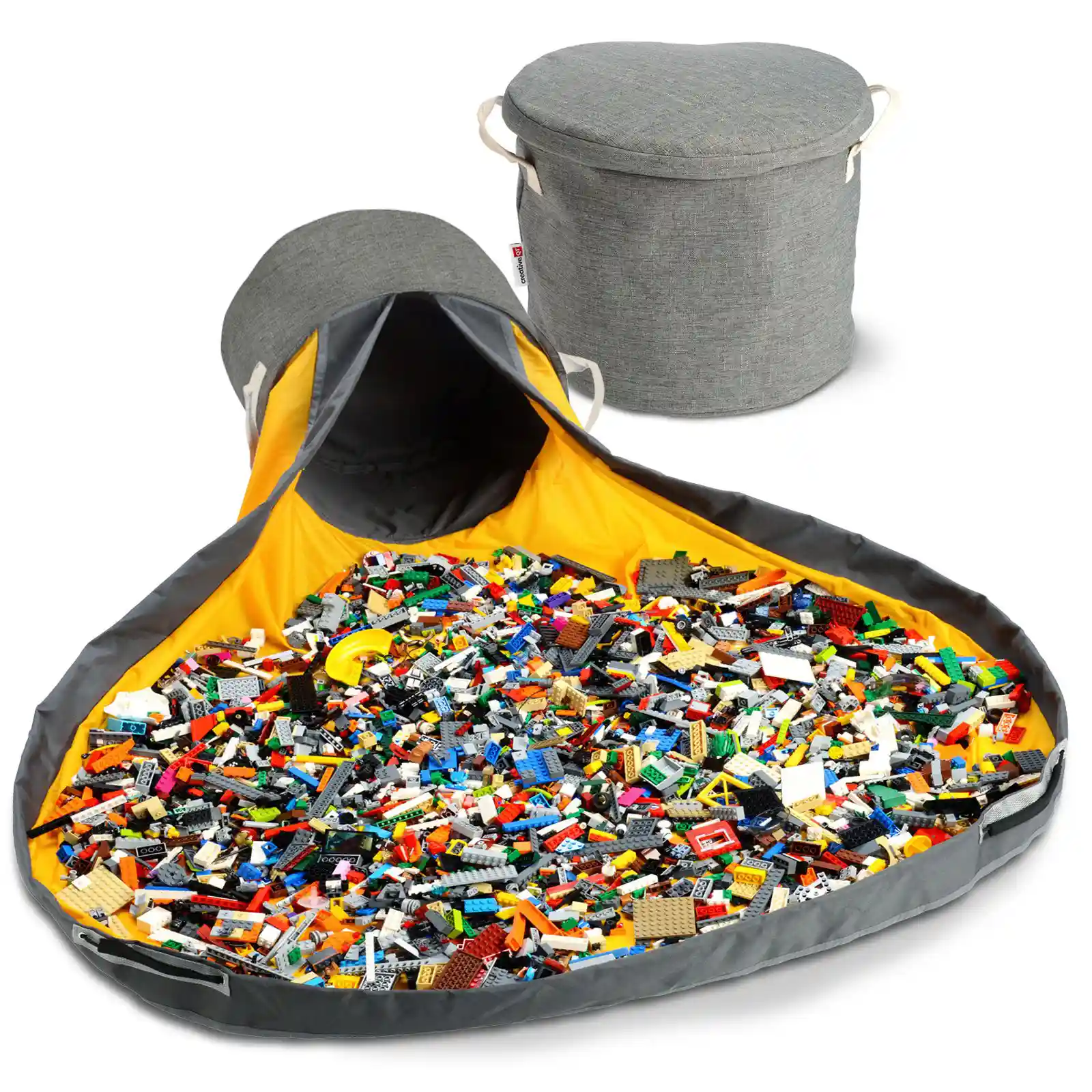 Clean-up is a breeze with this play mat system! Let your kids spill, scatter, and build on the mat. When they're finished you can quickly tidy up without having to pick up Lego bricks by the handful. If you don't want to sort Lego pieces, this is a great storage option.
#3 – DIY Lego Table with Storage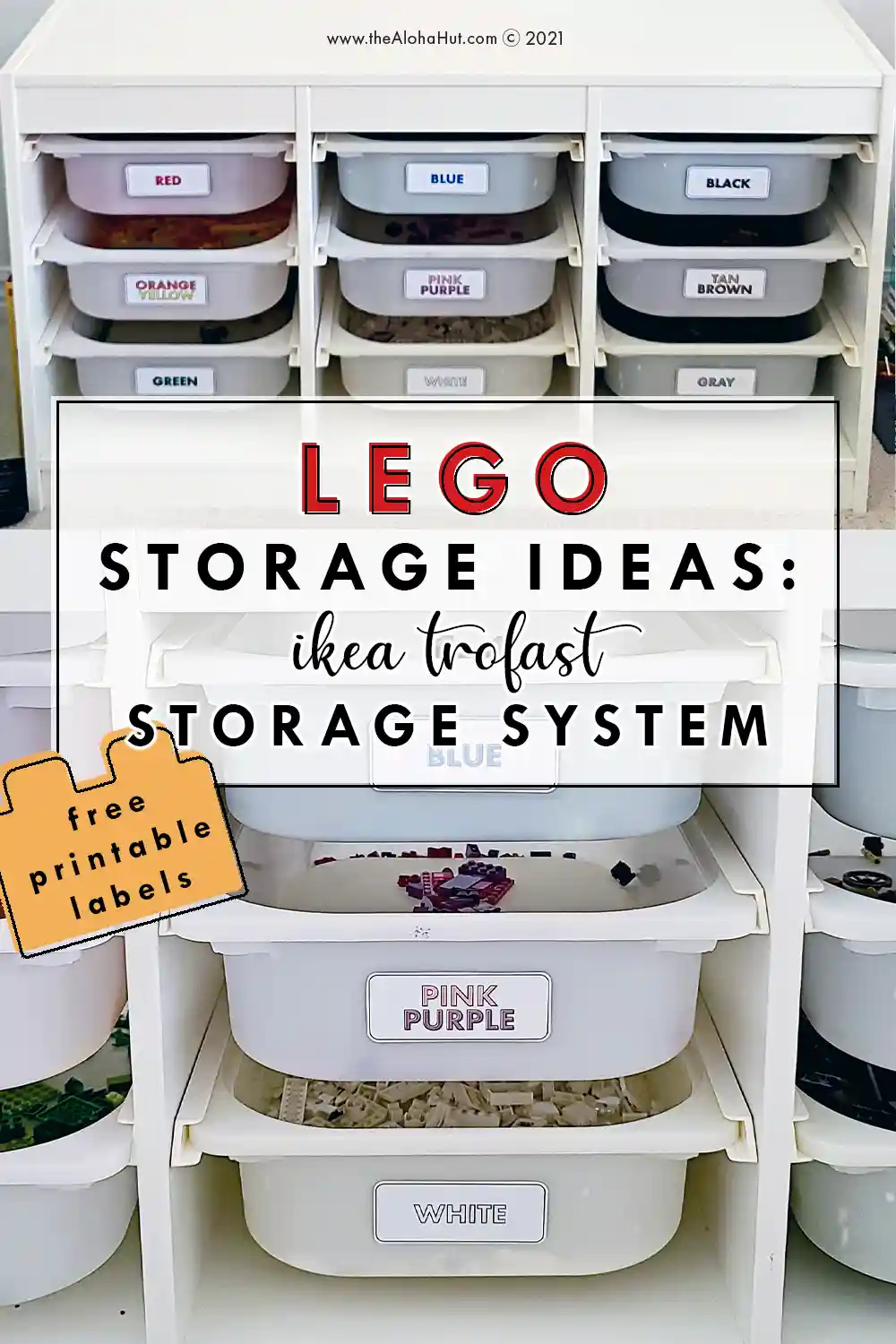 We've started to collect a ton of Lego pieces and so our 4 year old and 7 year old prefer to have their smaller Lego bricks organized by color. They get frustrated having it all in one bin and not being able to easily find the color/size they need. This DIY Lego table with storage was super easy to make and has been our favorite system for keeping smaller Lego pieces organized! We used the Ikea Trofast toy storage series with the Trofast storage boxes for this simple project.
We love the Trofast toy storage series because it's easy to assemble, very sturdy, and children can easily slide out the lightweight plastic boxes, carry them around, and slide them back in again. The table height is perfect for littles to play and build at.
Materials needed for DIY Ikea Lego table:
Ikea Trofast Bins
Lego Labels (download for FREE at the bottom of this post)
Hard surface to cut on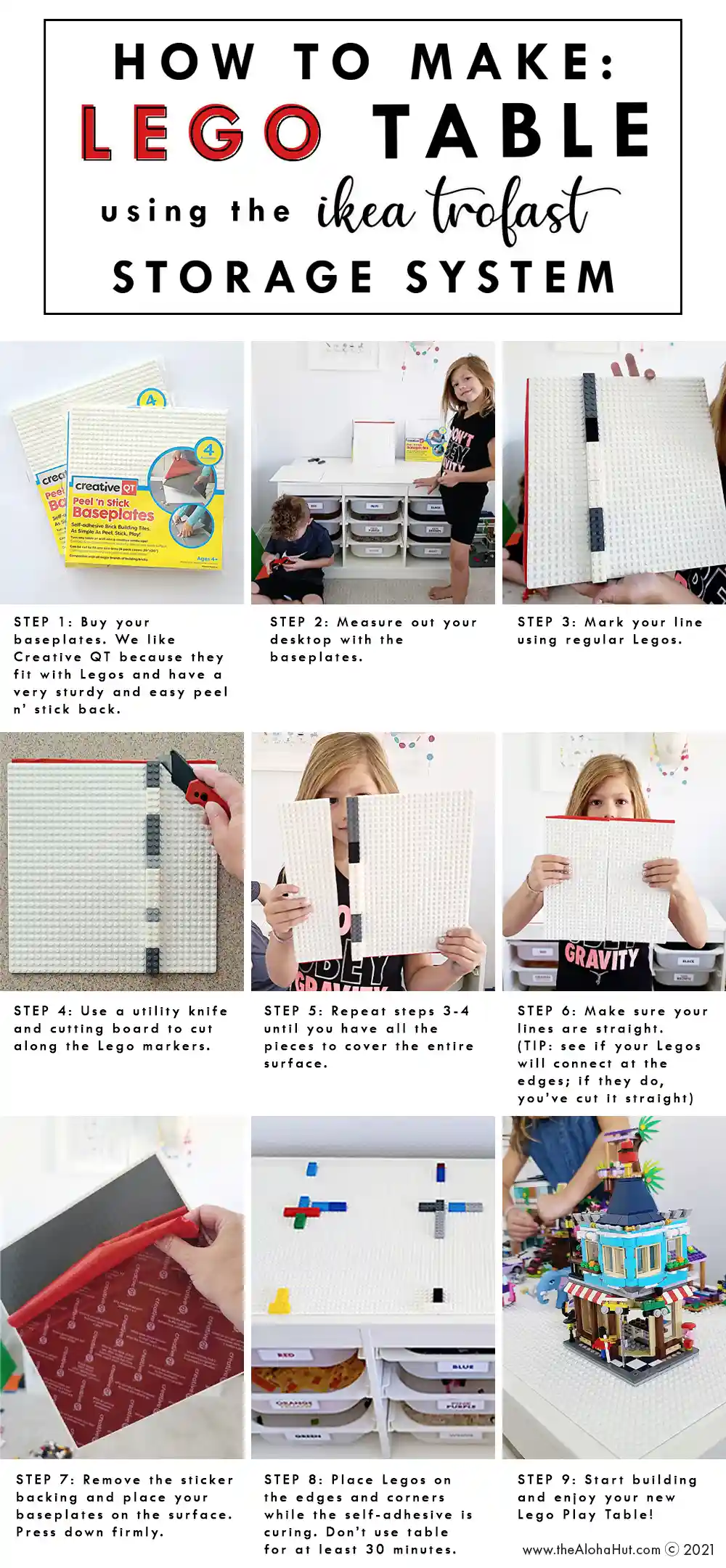 Once the Ikea toy storage system was assembled, it took us about 15 minutes to turn it into a Lego table. We bought two packs of the Creative QT Peel-and-Stick baseplates  and ended up using six of the eight baseplates. We liked the Creative QT baseplates because they are compatible with Lego bricks, have industrial grade self-adhesive on the back so you don't have to use glue, plus they come with fully illustrated step by step instructions.
Check out our video to see just how fast and easy the process is:
We didn't cover the entire surface of our table with the baseplates because we wanted to use our two extra baseplates for another project (stay tuned!). We measured the width of the table and cut accordingly. For the depth we applied one full baseplate and then cut one in half to cover the rest of the depth. This way we didn't have a lot of odd-sized pieces left over.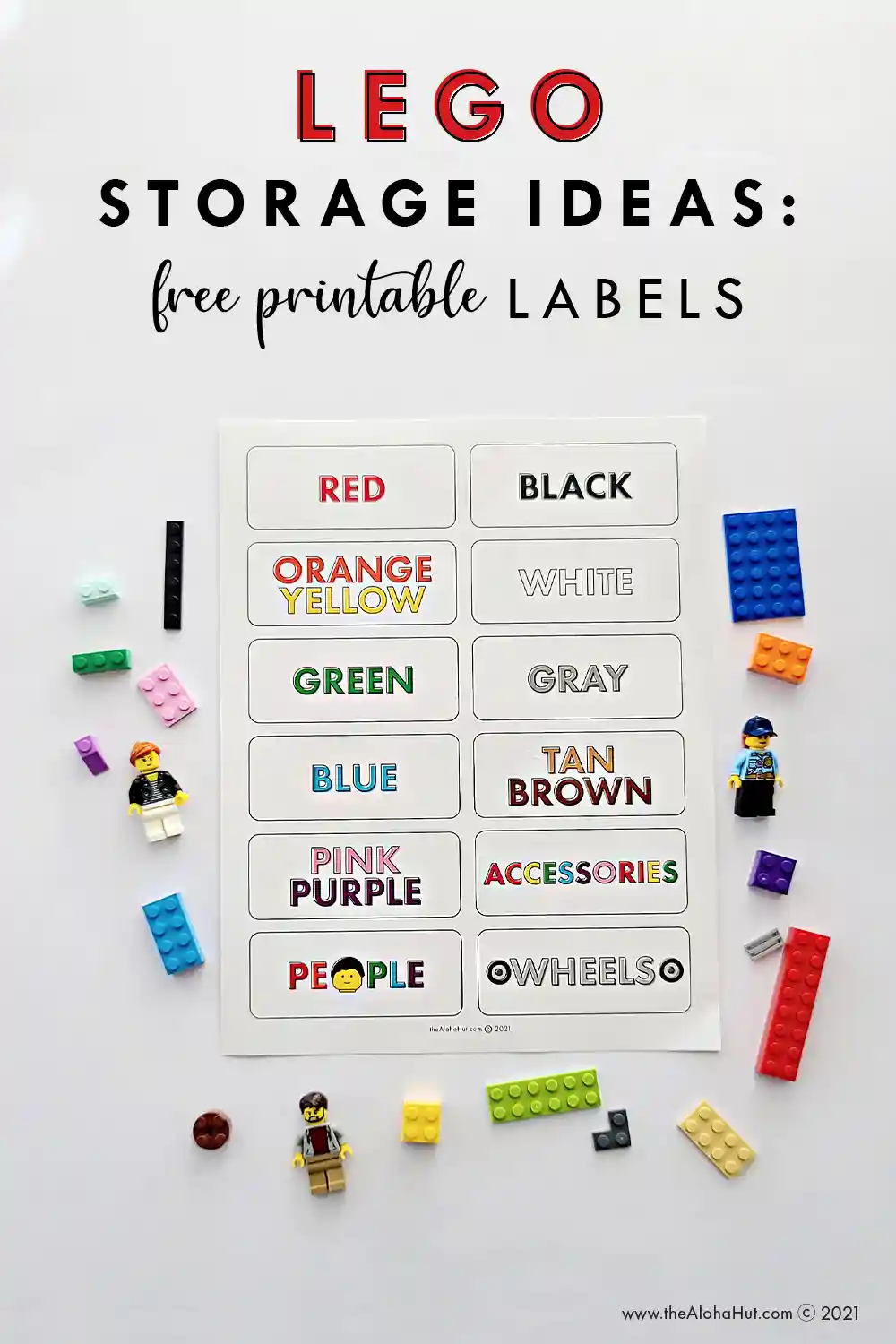 Organize Lego bricks by color. Simply print our FREE color labels below and add them to the Trofast storage bins. We printed the Lego labels on stick-and-peel paper and reinforced them with clear packaging tape.
#4 – Lego Binder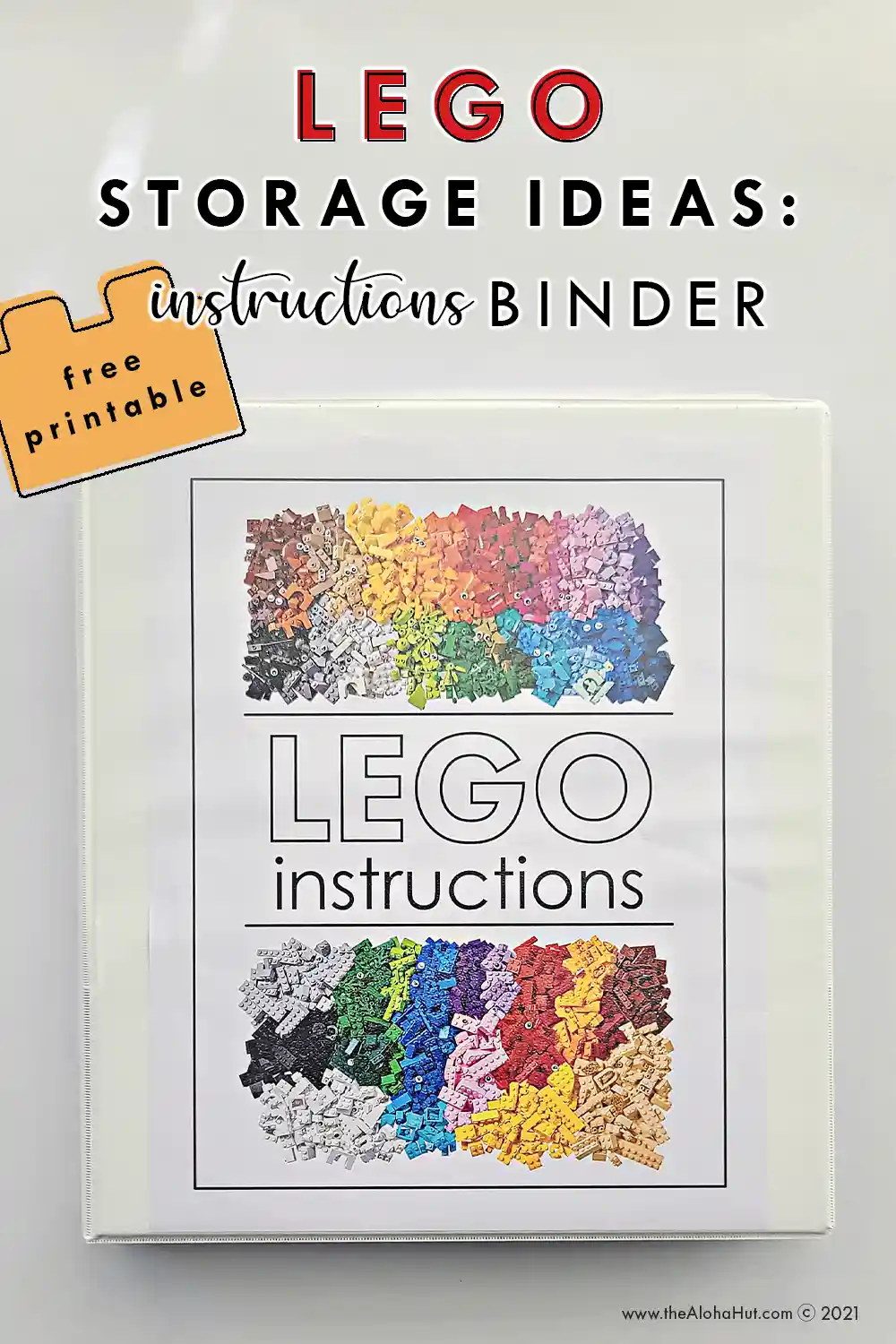 Don't forget to organize all those Lego building instruction sheets! Download the FREE binder cover and spine insert to add to your 3-ring binder. We store our instruction booklets in sheet protectors. We also printed a picture of each Lego set we own with the build # so we can look them up online. We have the Lego Building Instruction app on our iPad (click here for the Google Play version) so the kids can easily search for the digital instructions when they lose or ruin the paper booklets.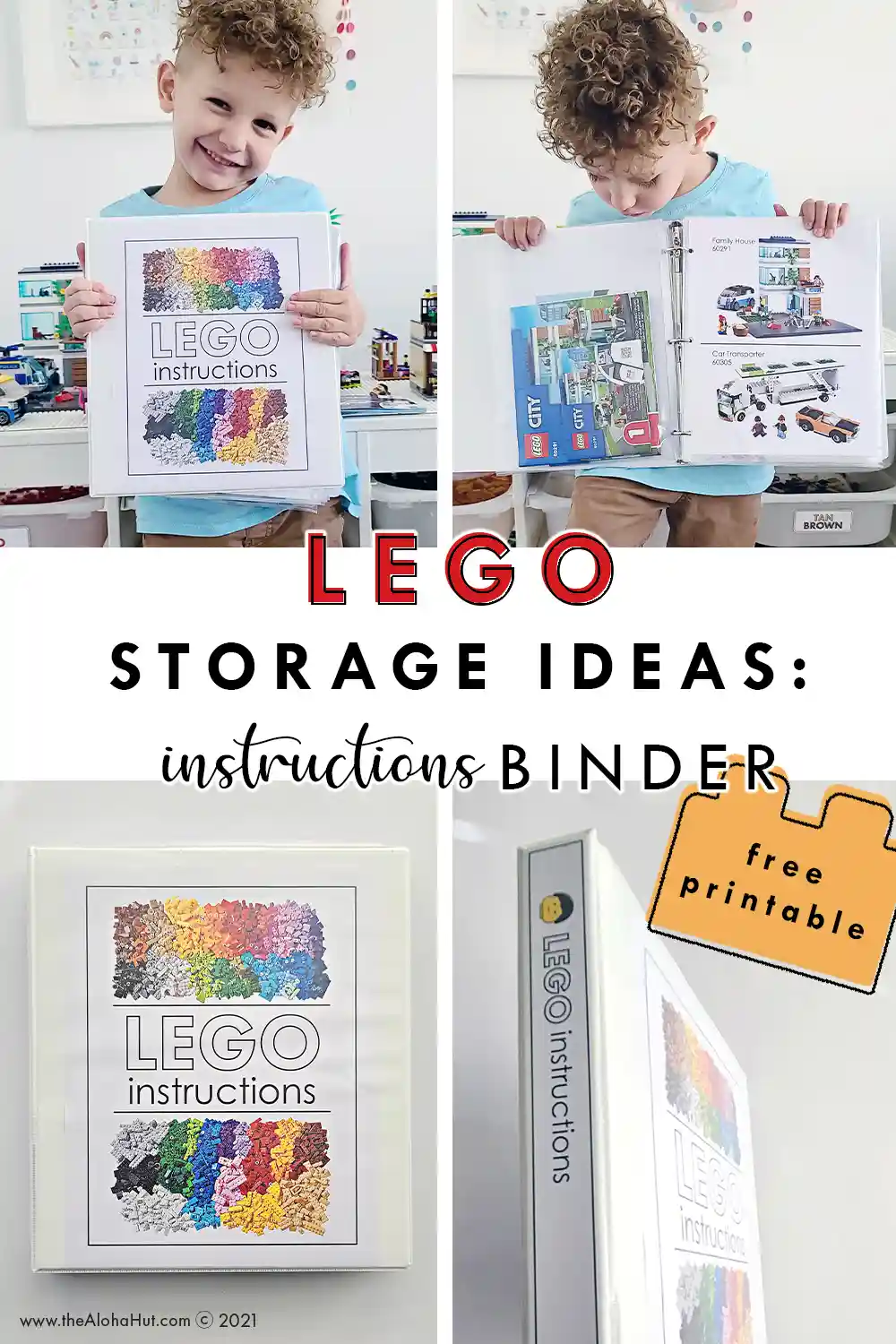 #5 – Craft Box for Accessories, Minifigures, and more!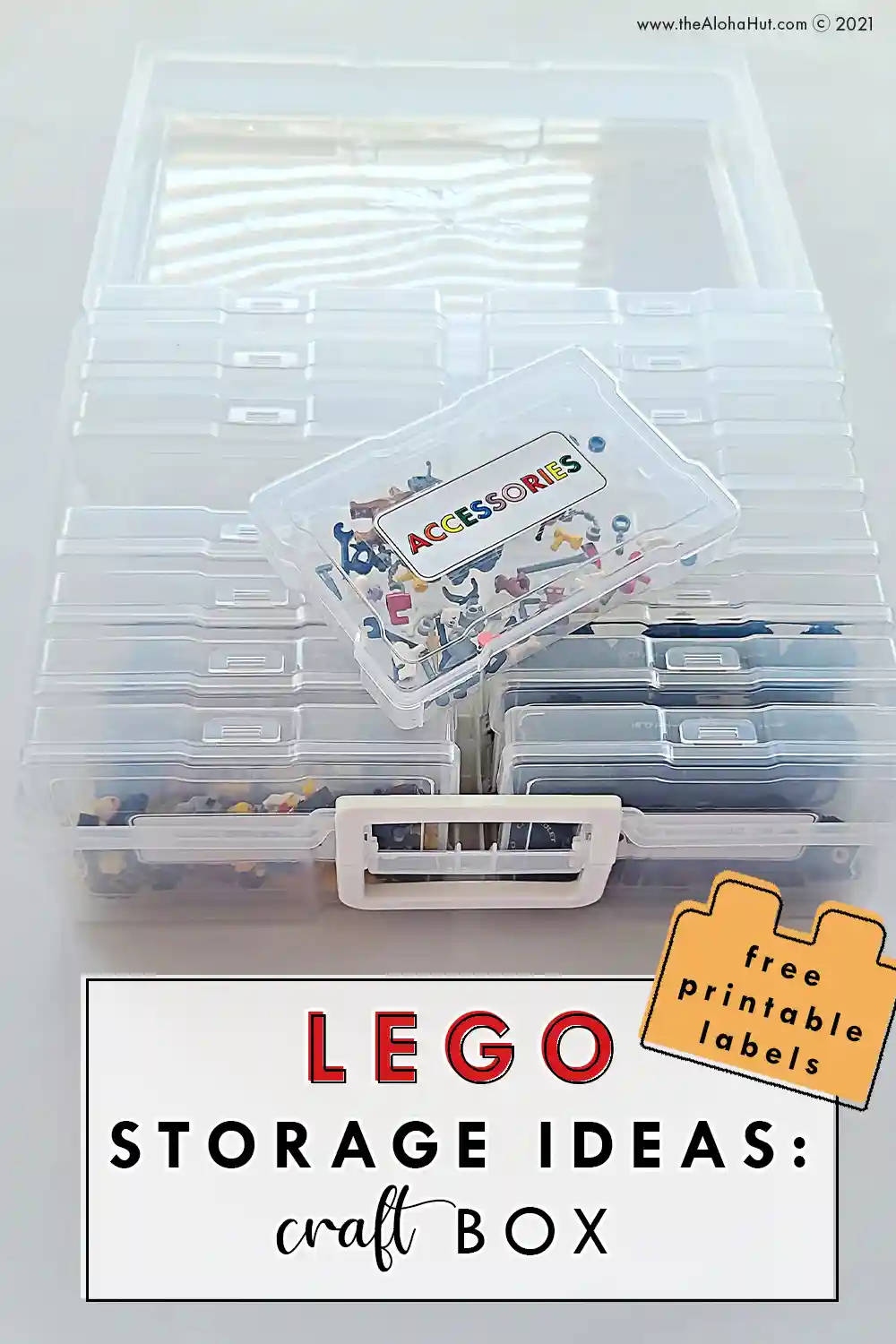 Store all the miscellaneous pieces in a craft keeper storage box. We got ours from Michael's Arts and Crafts (same one available on Amazon). It's perfect for all the Lego accessory pieces and minifigures and helps keep them organized and tidy. If you don't have a large Lego collection, this is perfect for all your pieces as you can store each color in individual containers alongside the accessories and minifigures.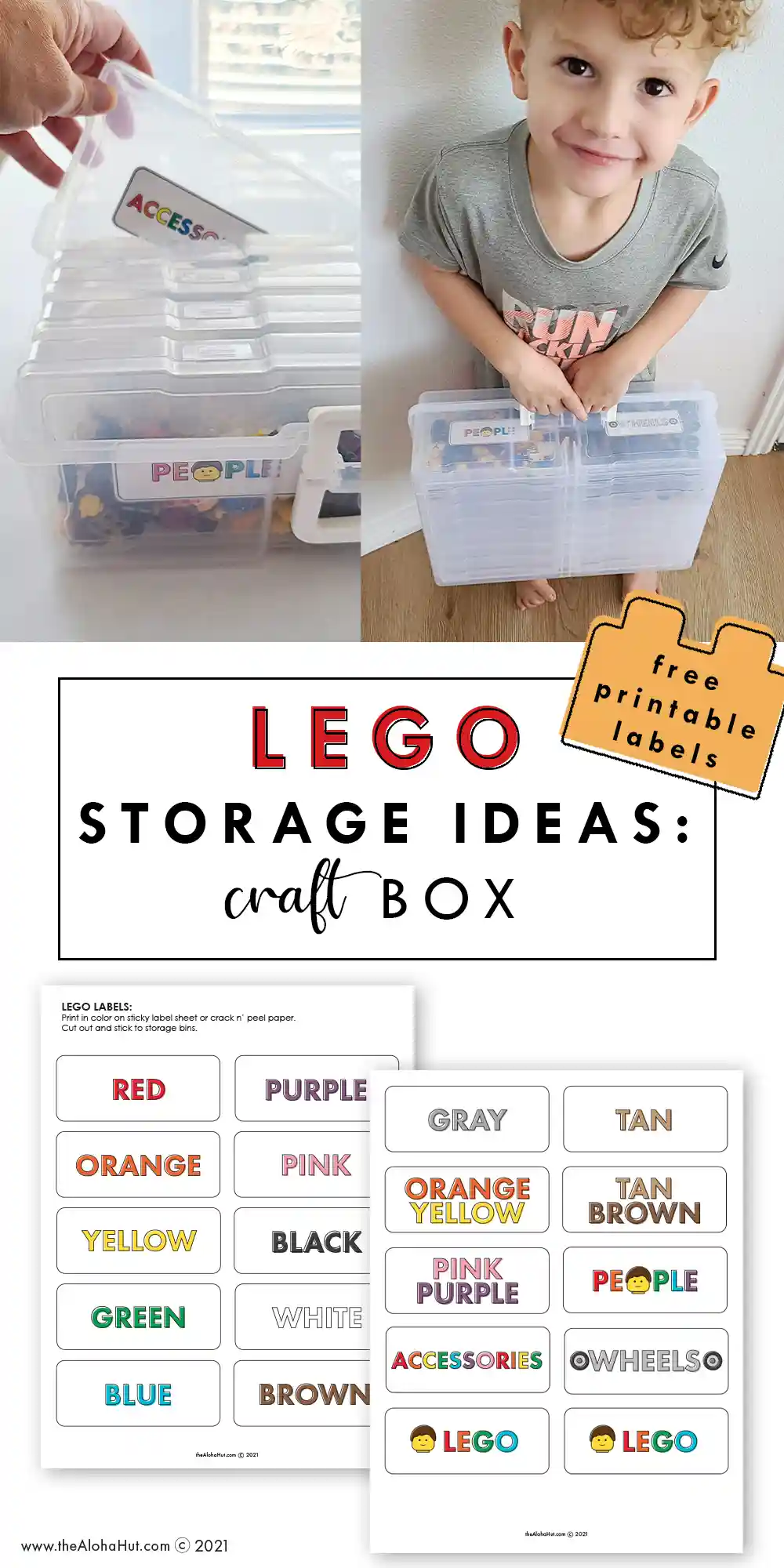 #6 – Ikea Lego Box with Lid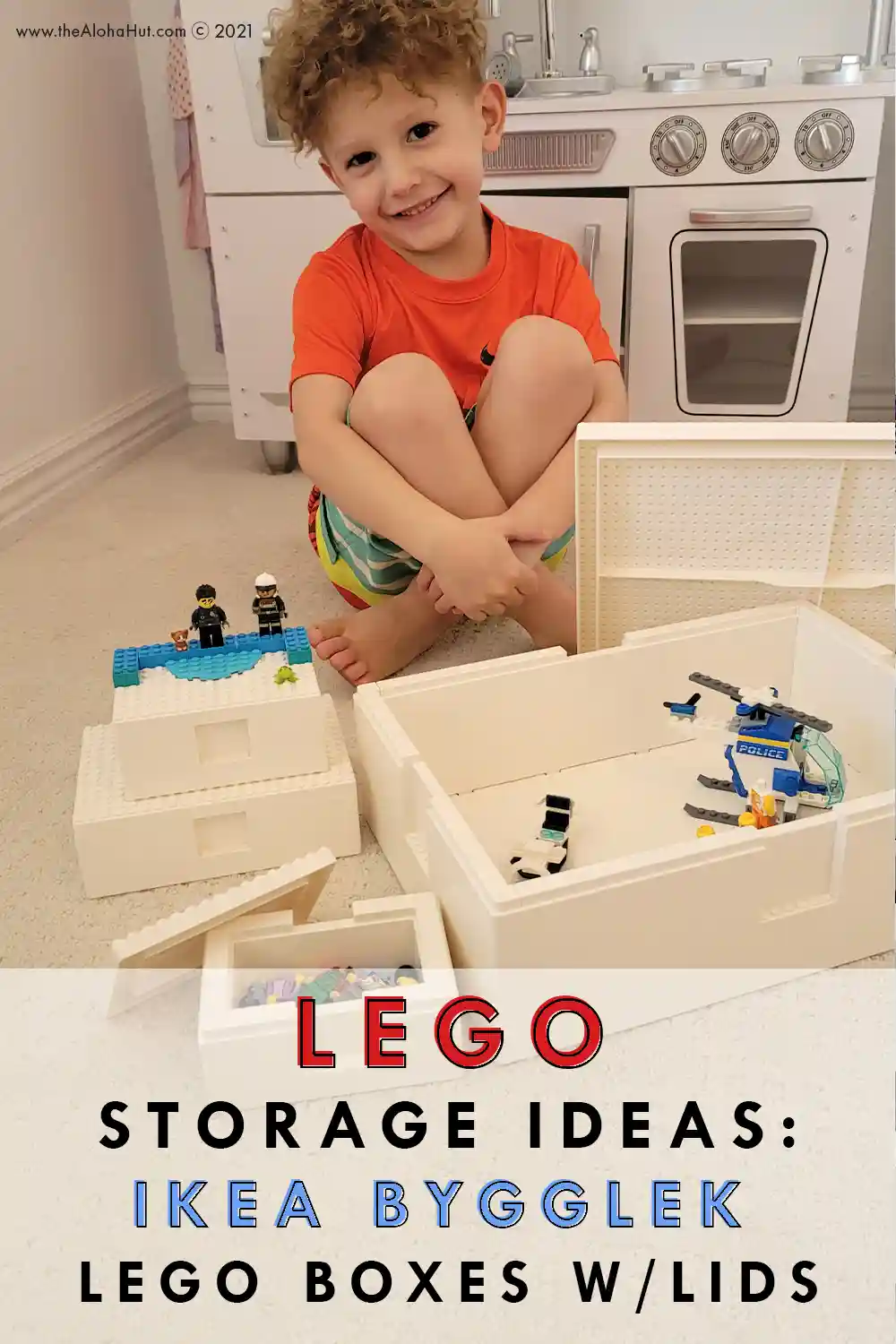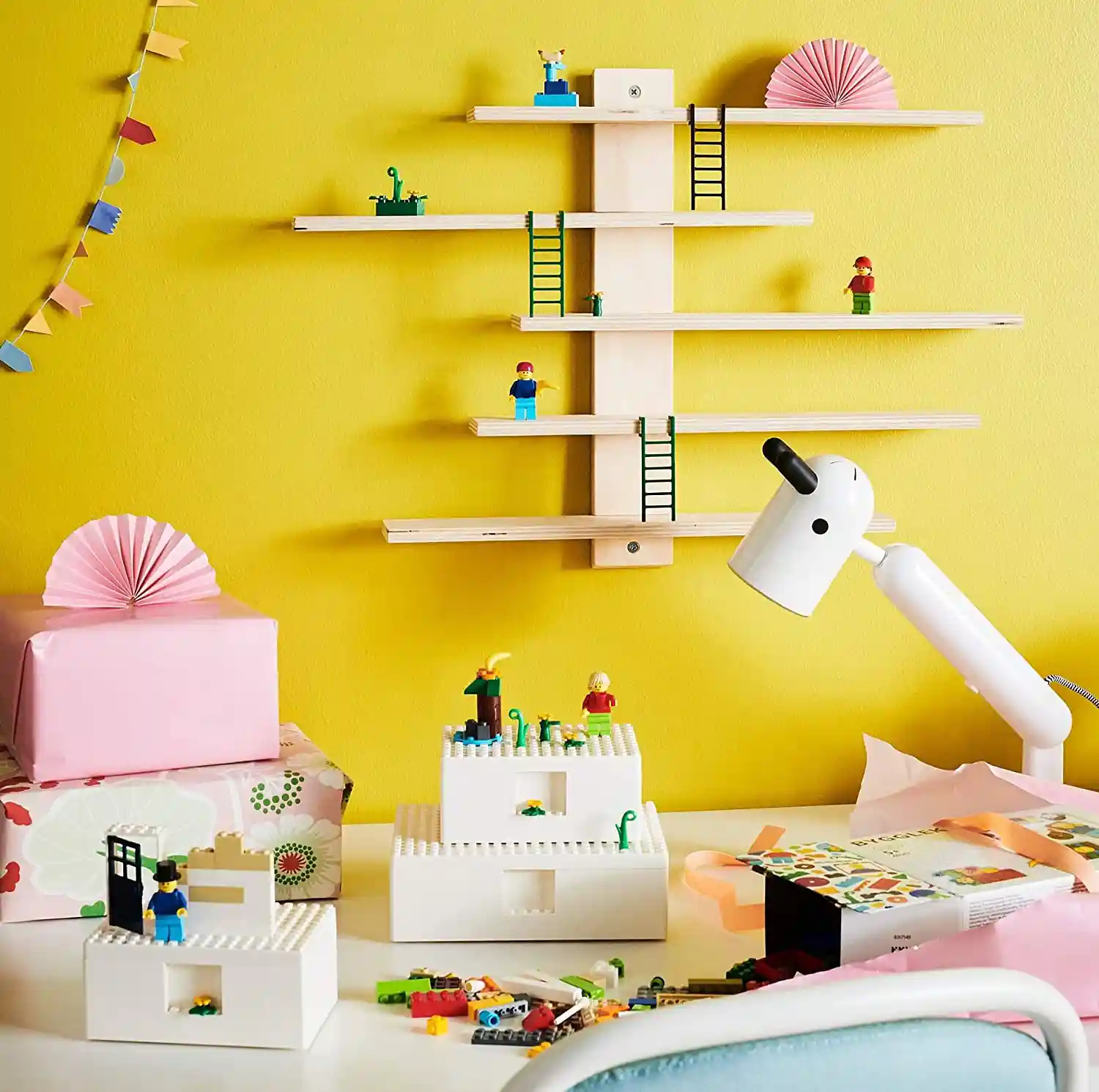 We love these Lego boxes from Ikea!! The kids love to use the base to build on + they can store their Lego bricks inside. These are great for traveling. We take the smaller box and fill it with Lego pieces for play on the go. They have a few different options available. We have the biggest Lego box and the set of 3 smaller boxes.
Now that our Lego bricks are more organized the kids have been playing with them for hours on end, especially our four year old. He will build for hours at a time. We love Legos because they encourage small motor skill development, imagination play, creative thinking, problem solving skills, and so much more!
Happy building you all!
Stacey + Niki