Haunted Mansion Halloween Party Game for Kids
Haunted Mansion Halloween Party Game for Kids
This post may contain affiliate links. Read our disclosure policy.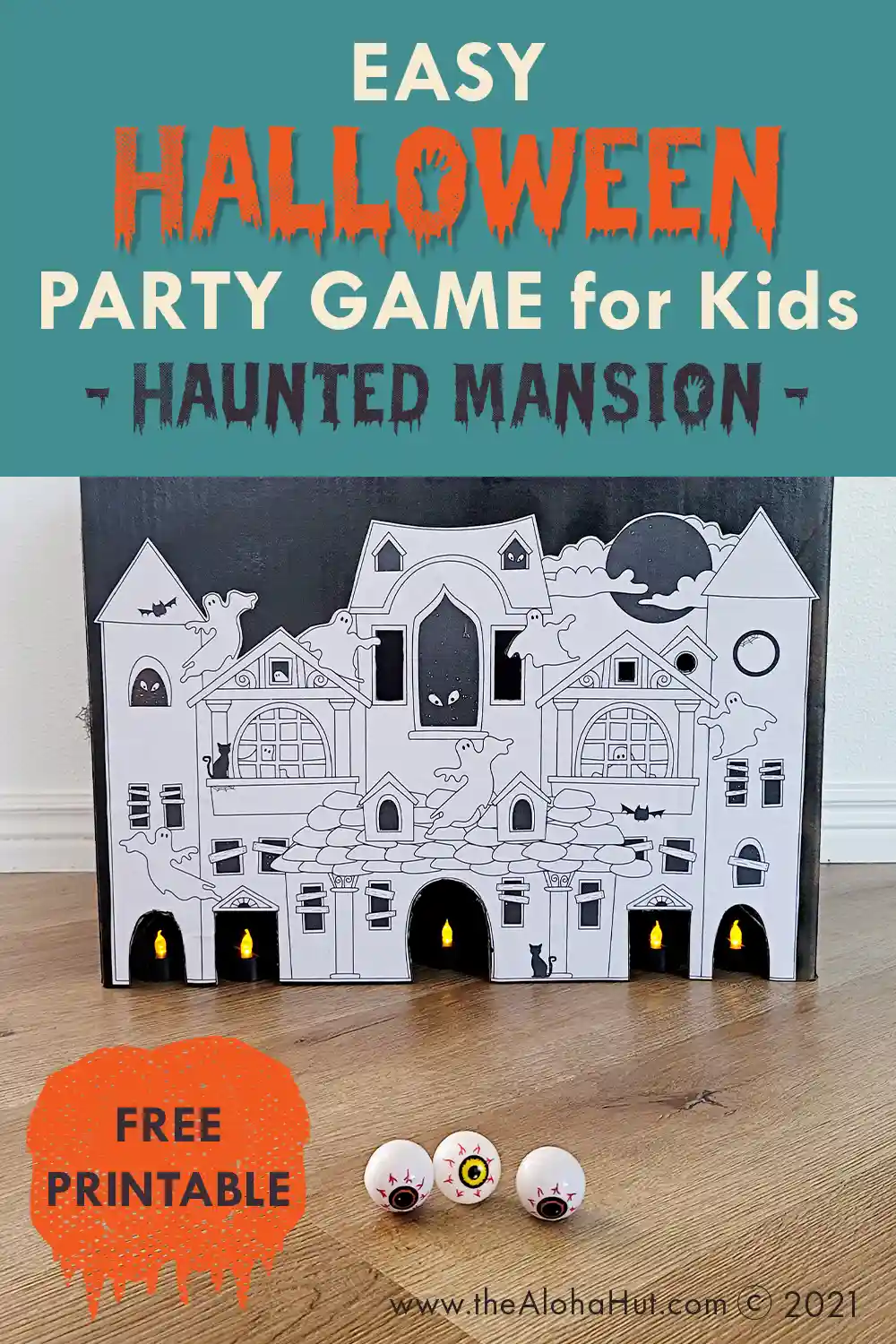 This game has been a favorite among our kids every Halloween. It requires minimal supplies like an old box, our FREE printable Haunted Mansion download, and some balls. The object is to roll the balls into the open doors. What's even better is it doubles for decor! Whether you need a game for your child's school party or just want a fun Halloween game that your kids can help create; this game can easily be put together in minutes!
There are a few ways you can recreate this Halloween game. Draw your own version or download our free printable and paste it on. Both are super easy, one just requires a little more skill.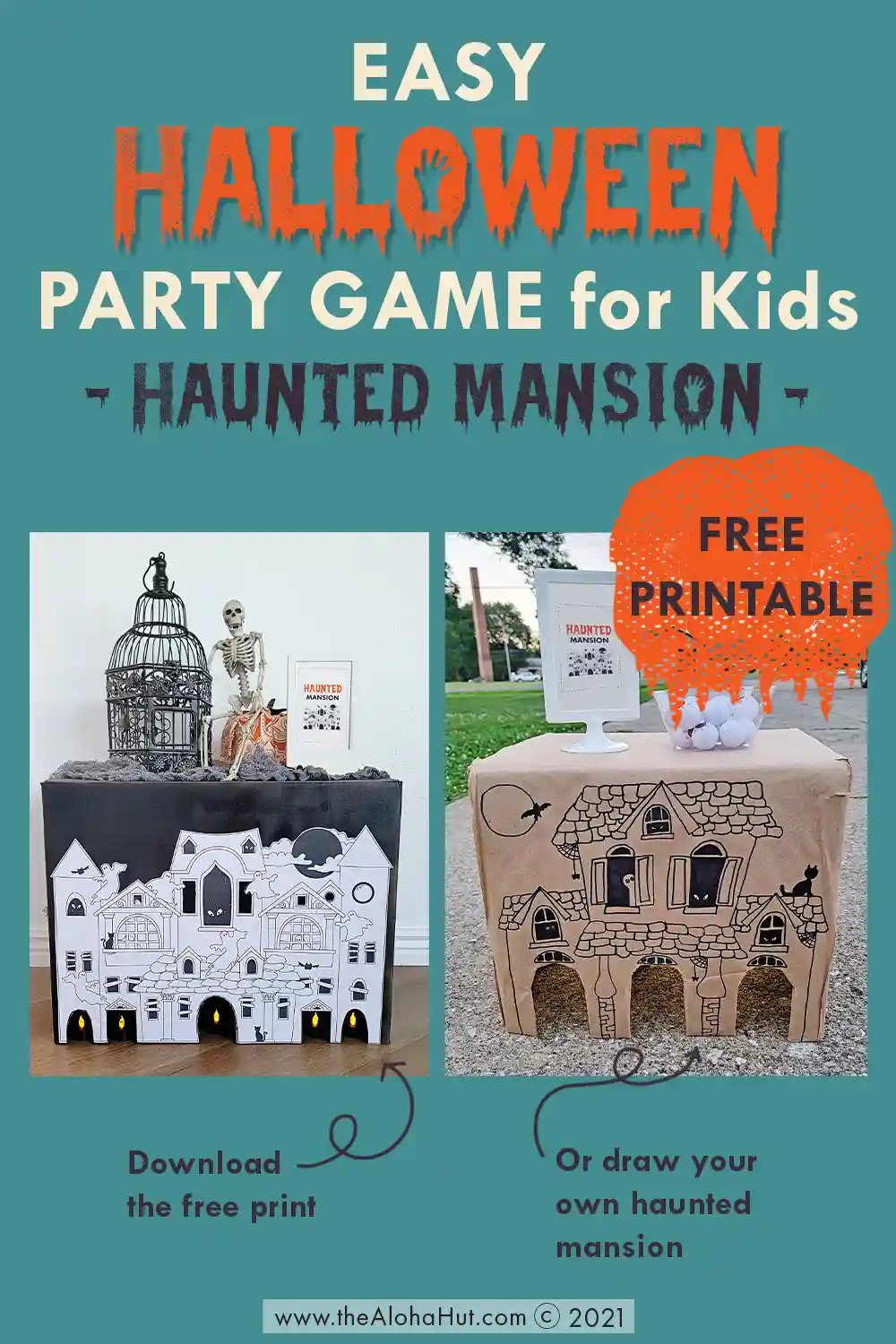 I'm sure someone else has created something similar out in the blogosphere but I (Niki) love to come up with unique party games and this was one I created about six years ago. I haven't seen it anywhere else. When my kids were really little, I would invite all the neighbor kids over every Halloween for the ultimate monster bash and play a bunch of these homemade games. It was such a fun tradition. Now I use these games every year for church events and school parties. This one has held up nicely all these years and is such a big hit with all the kids that I ended up making a second one. Even the older kids join in on the fun. They just scoot back a little further to make it more challenging.
Here are the supplies you'll need to create your own:
Get an old box, cut off or fold in the top flaps and cover all the sides (excluding that top part) with craft paper, taping all the sides down. The bigger the box, the better because it brings a bigger "wow" factor. Flip the box over, so the open part is on the bottom and draw a haunted mansion on one of the sides. Make sure to create three "doors." Cut out the doors and then re tape the craft paper down around the edges. You're done. Now collect some ping pong sized balls, we got a pack of 10 "eyeballs" from the dollar store. They sell them every year in their Halloween section. Grab some tea lights and put them on the floor under the box. This creates a fun glowing effect. If you want, you can cut out some of the windows as well and tape a tea light or two next to them for even more glow.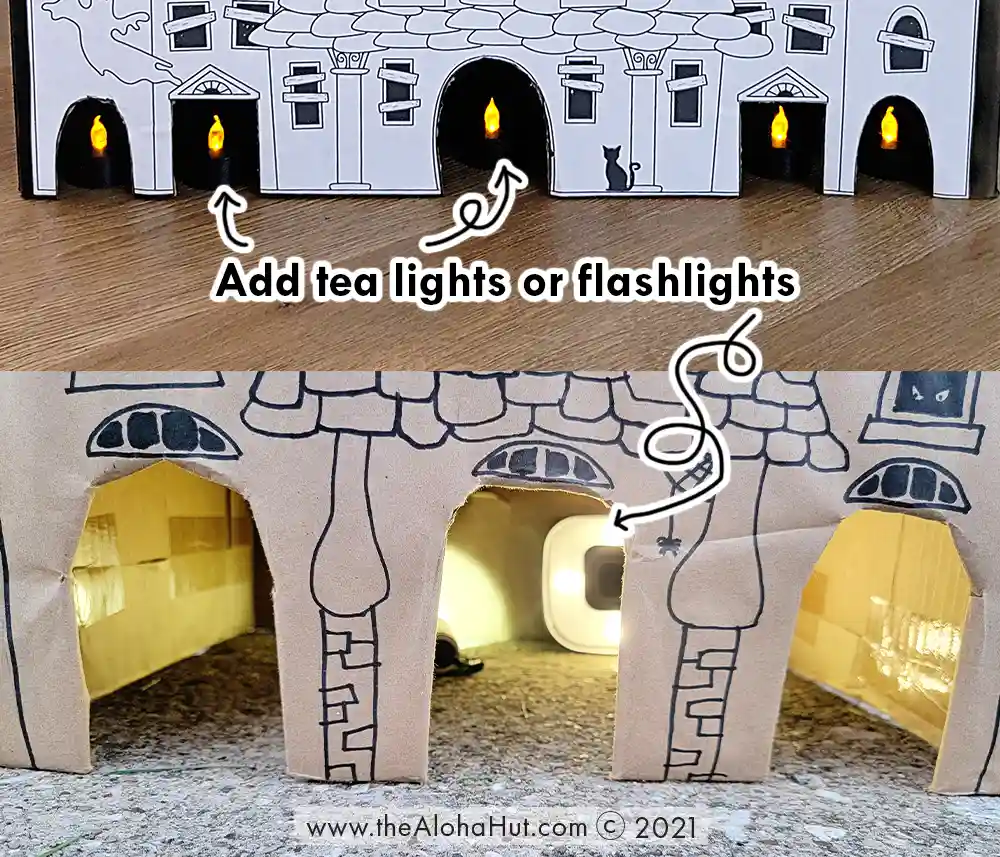 If you prefer not to draw anything then here are the supplies you'll need to create your game using our free printable:
Send the downloadable file to your local print shop. We get ours printed the same day for only $3! Make sure you let them know it's a black & white engineer print sized 24"x36". The print will have two haunted mansions so you can create two games if you'd like. We recommend creating two for school parties or events with a large group of kids. Put your box together and cut off the bottom flaps. Spray paint the entire box. Cut out your Haunted Mansion and glue onto the side of the box (make sure the opening is at the bottom). Use an Exacto knife to cut out the doors and any windows you want. Put the tea lights on the floor, under the box and attach them to the inside, next to any window you cut open.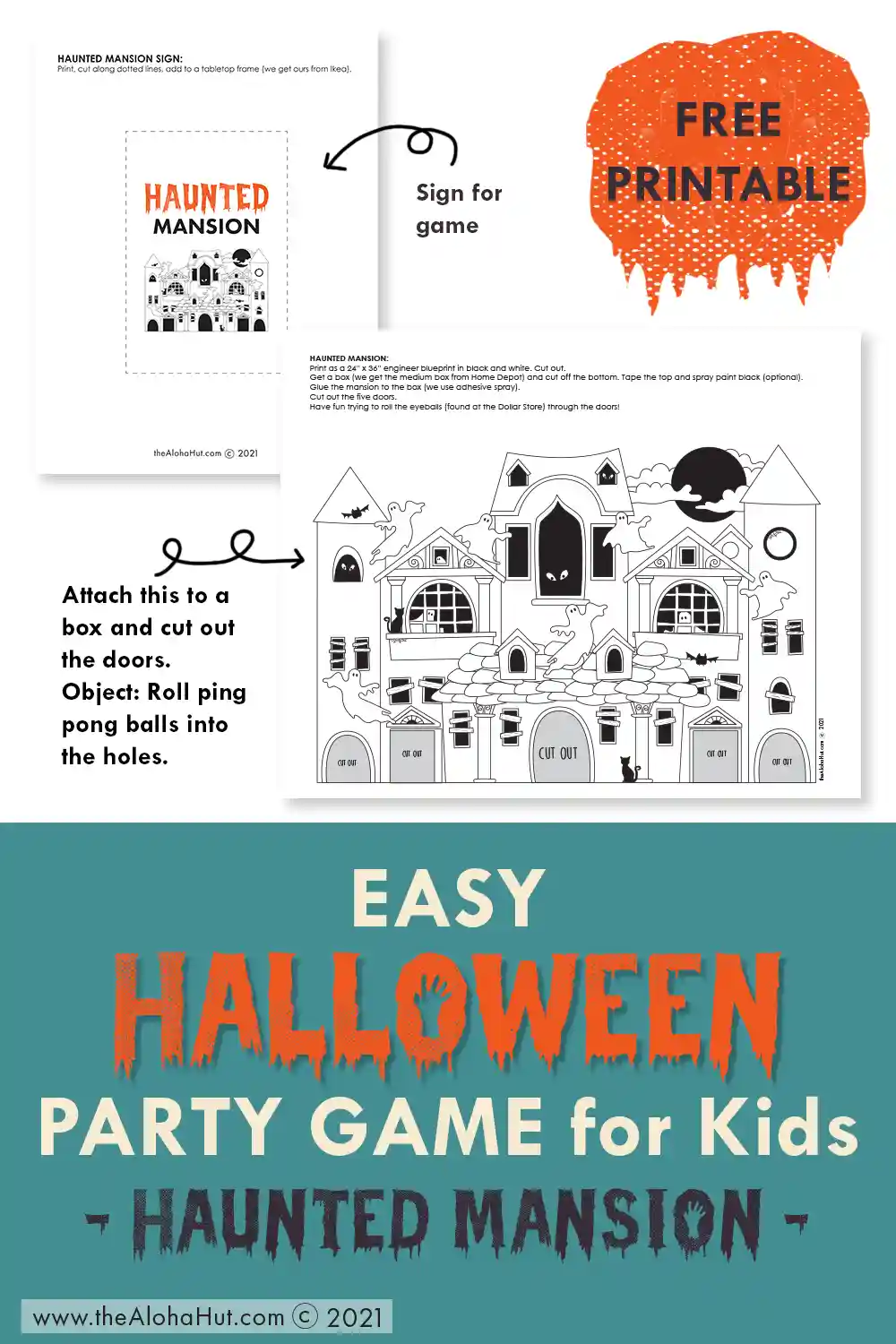 Whenever we do any party, we like to label each game/activity/station. We always create a check-off list so the child can keep track of which stations they've gone to and which ones they still need to go to. We've added an extra free printable sign so you can do the same. We use simple 4×6 Ikea frames or Party City frames to display them.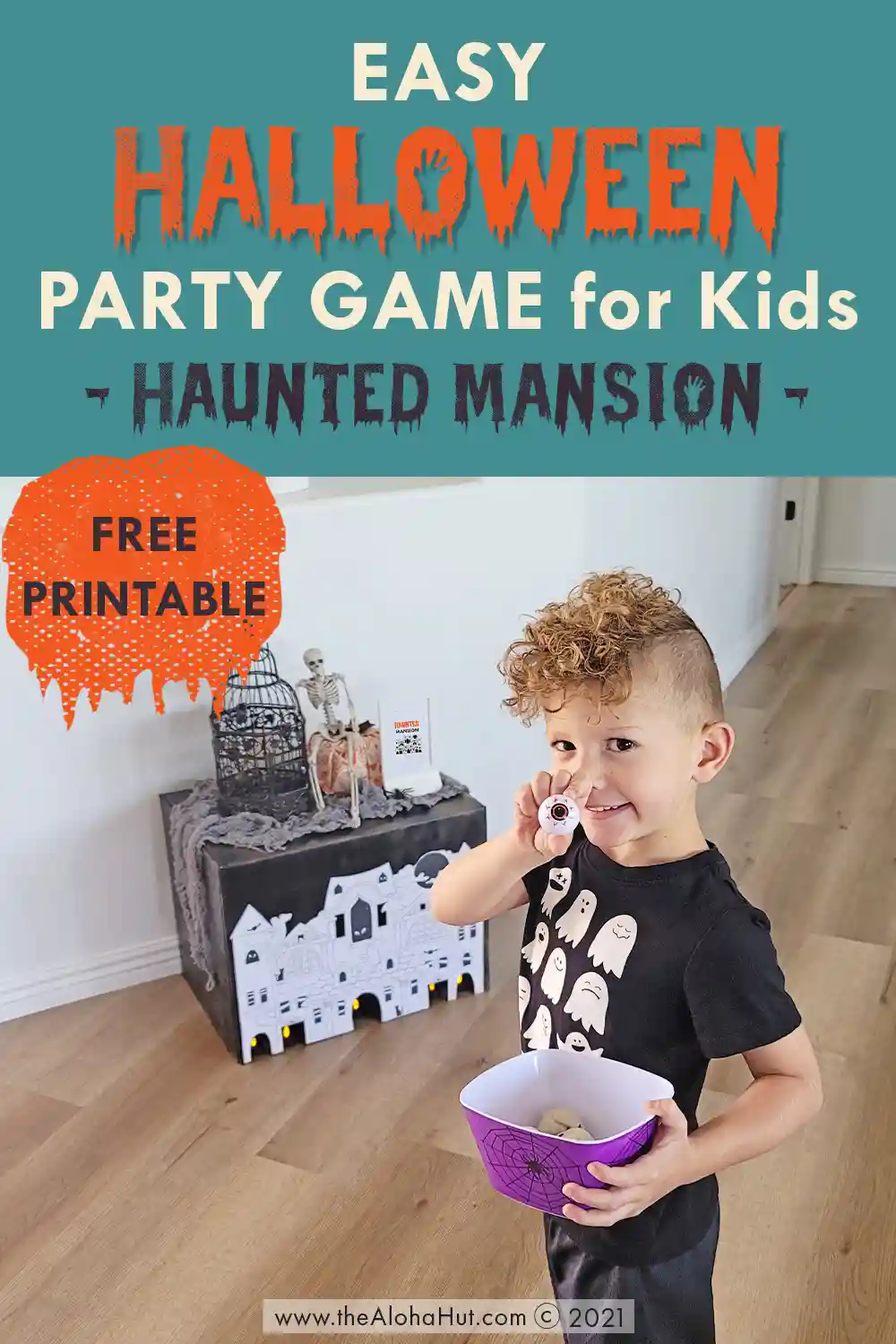 To play the game, we place a line of tape on the floor (for older kids, the line is back further) and a bowl of the balls on the line. Each child takes turns rolling the balls into the holes. We don't usually keep score but the kids will compete with each other, seeing who gets the most in. If you've got a set of little golf clubs or want to make your own with a stick and cardboard, you could set it up like a little golf game as well. We prefer the rolling method because it's one less item we need to prepare and it's easy for even the littlest of kids.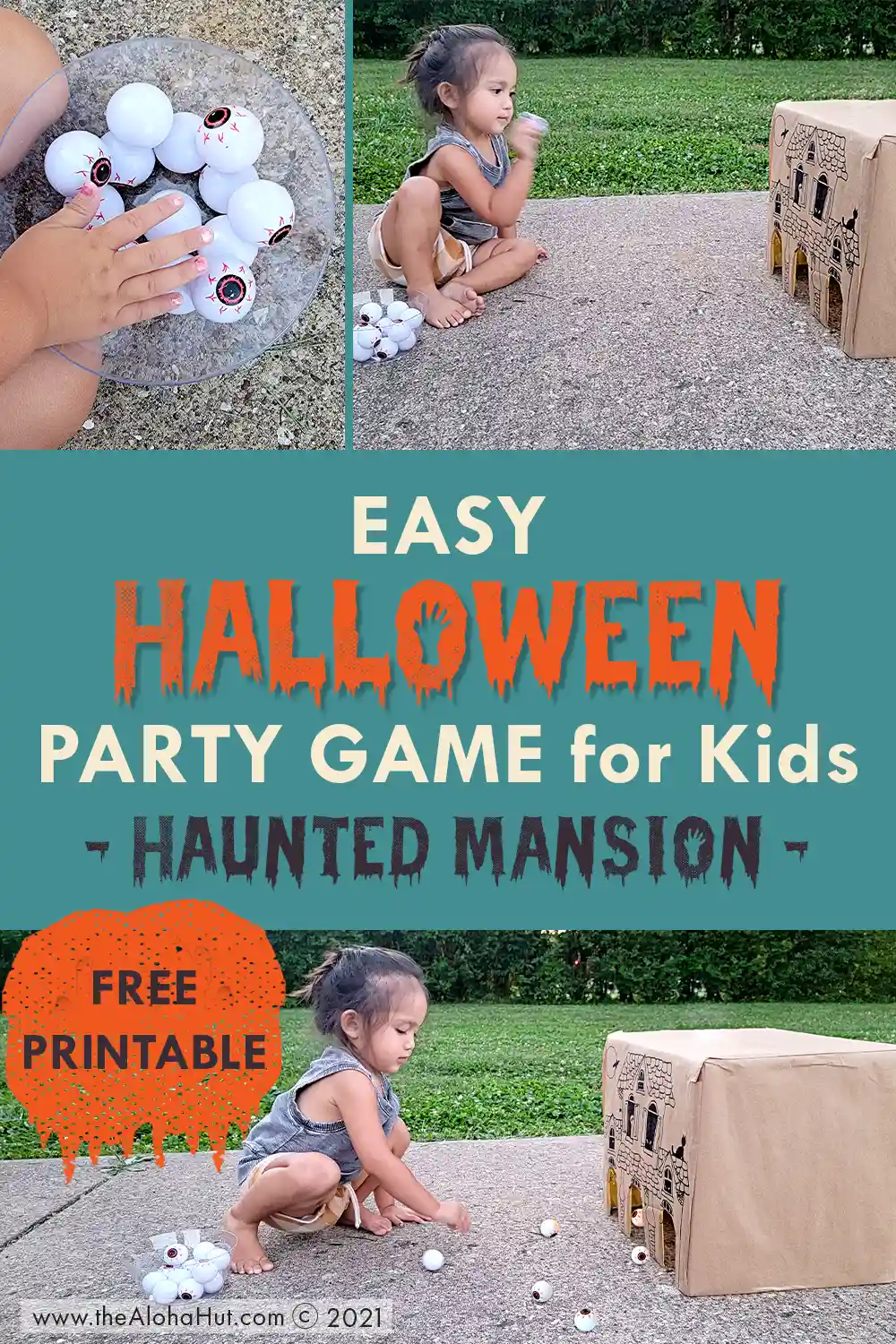 Check out our other DIY printable Halloween games: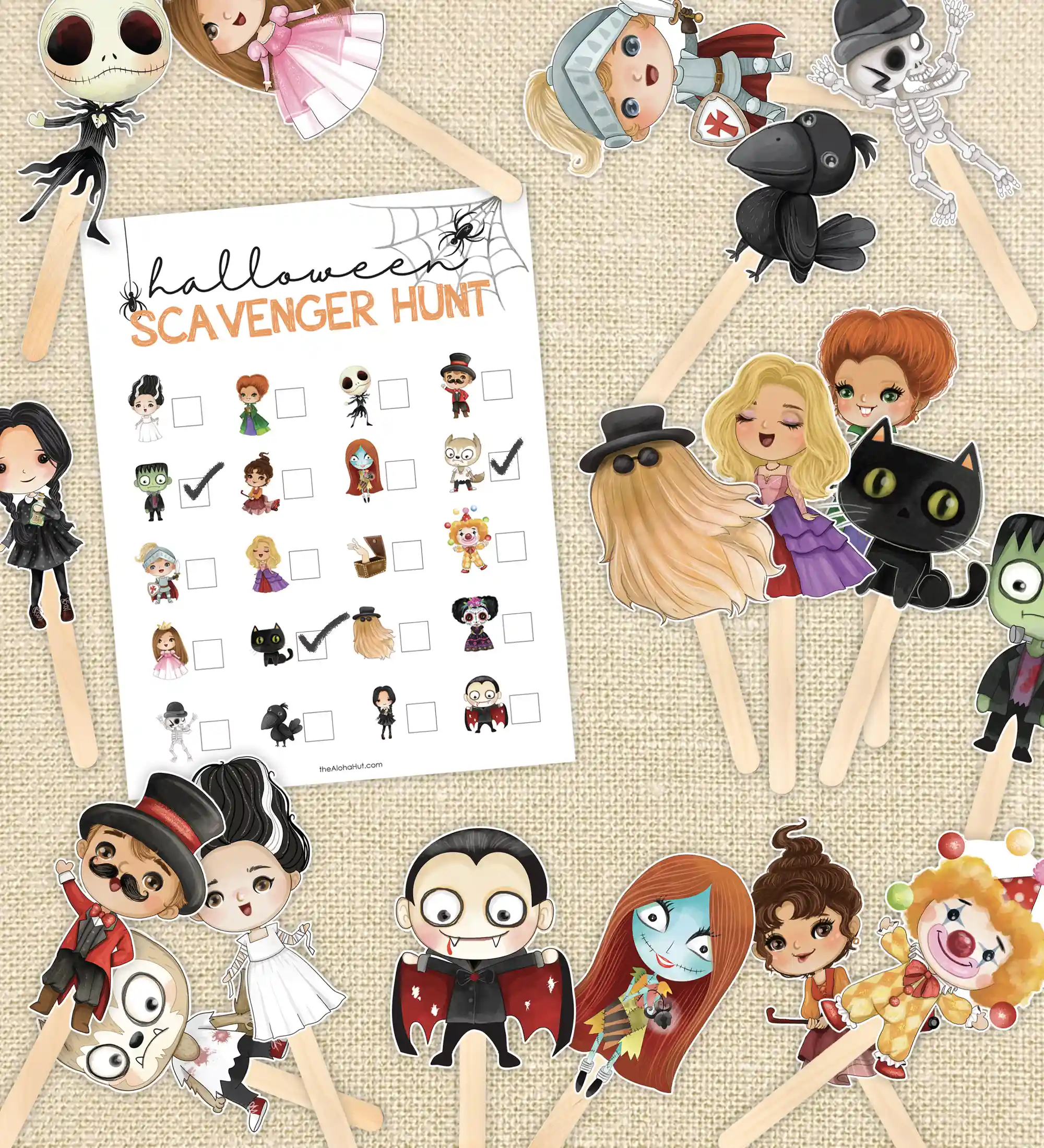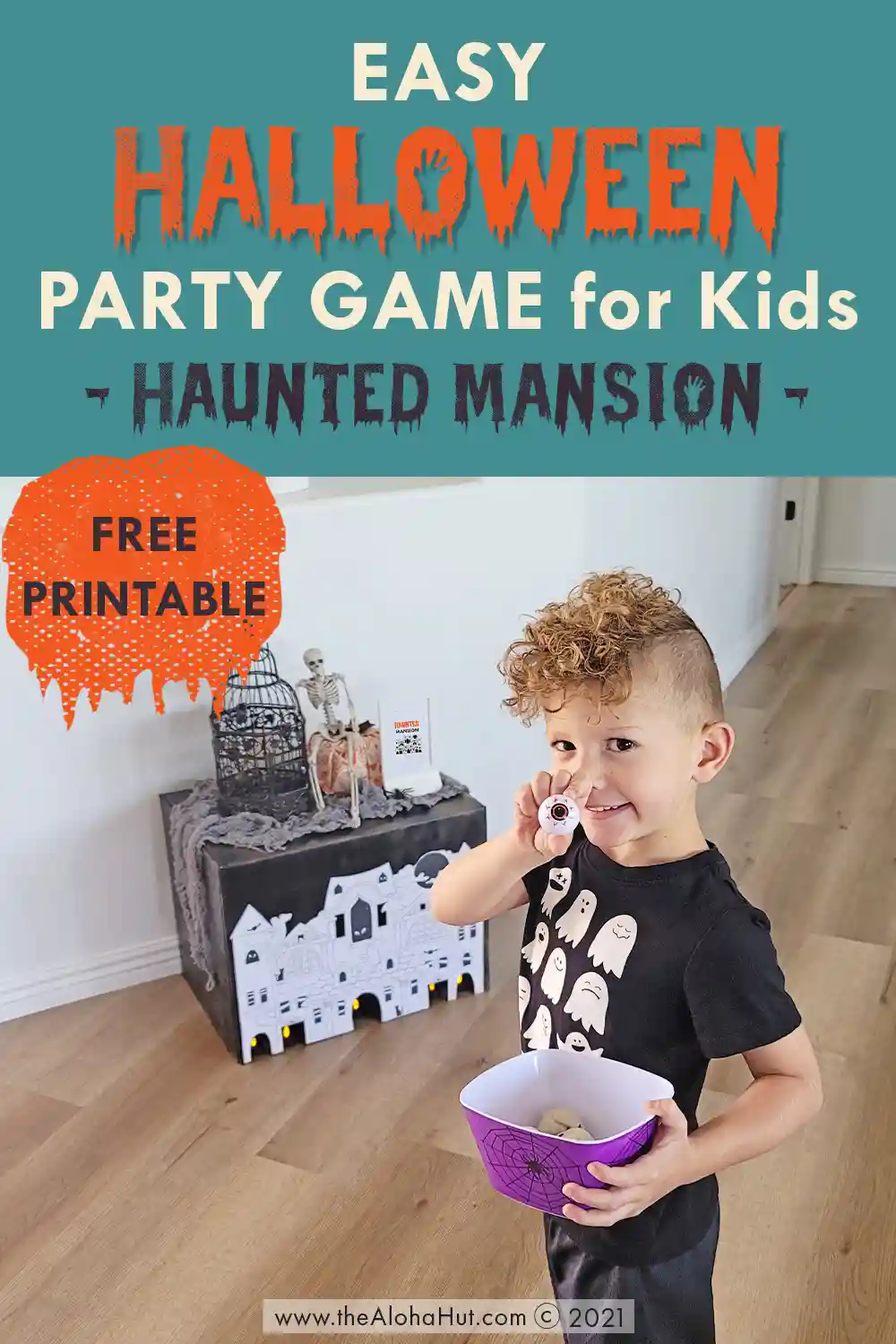 Don't forget to follow us on Instagram @theAlohaHut or subscribe to our newsletter for more kids crafts and activities.
Happy Halloween!
Stacey + Niki
---