Hungry Hungry Zombie Halloween Party Game
Hungry Hungry Zombie Halloween Party Game
This post may contain affiliate links. Read our disclosure policy.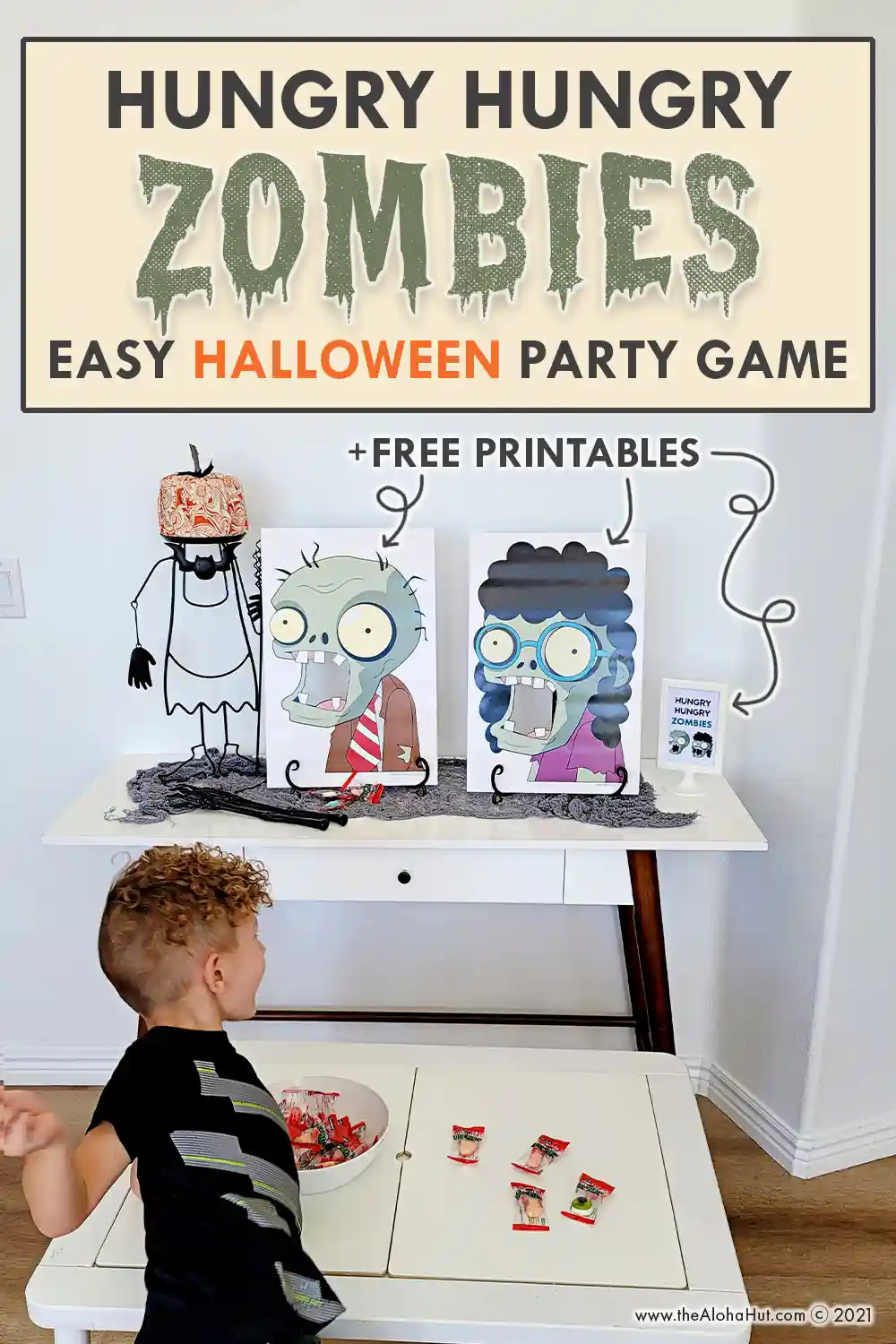 Looking for a quick, fun, and easy Halloween kids game for your next Halloween classroom party or kids party? Look no further than this simple bean bag toss game we call Hungry Hungry Zombie! It's a spooky twist on the traditional bean bag toss game, and instead of bean bags we use body parts (gummy candies, fake bugs or dollar store plastic decorations) to feed the zombies…and yes, we drew the zombies from Plants Vs Zombies so it makes it even more fun for kids!
You can create this DIY Halloween game using a cardboard box and some markers to draw and color the zombie. Or you can simply print off our FREE zombie prints below. This Halloween game is sure to be a hit amongst all the guests, young and old. We've played it several times at Halloween classroom parties and all the students and teachers loved it! It's also a big hit at our family Halloween parties.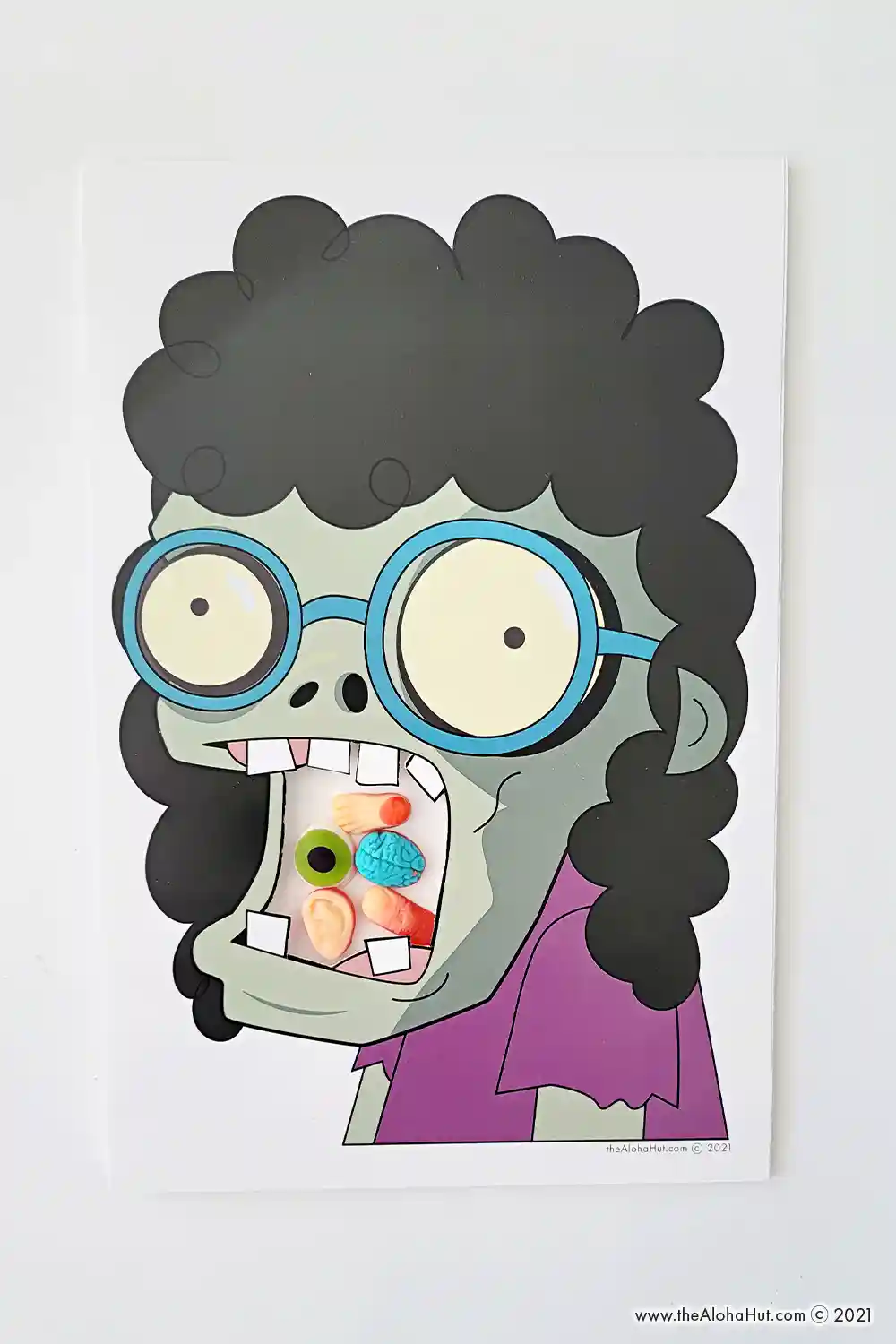 The zombie prints are 12×18" and can be printed at your local print shop for super cheap. Our local print shop charges $2.18 for a full color 12×18" print. We email the file and pick-up the same day. They're printed on a thicker paper, like posterboard, called a 12 pt paper. They can be printed as a matte print or glossy print, depending on your preference. We print it as a glossy print.
You can set up the game two different ways. Option #1 is to mount the zombie print to a foam board and then put it on a tabletop easel for kids to throw gummy candies into the zombie's mouth. Option #2 is to attach the print to a cardboard box with the mouth cut out and kids can throw the body parts trying to get them into the hole in the cardboard box.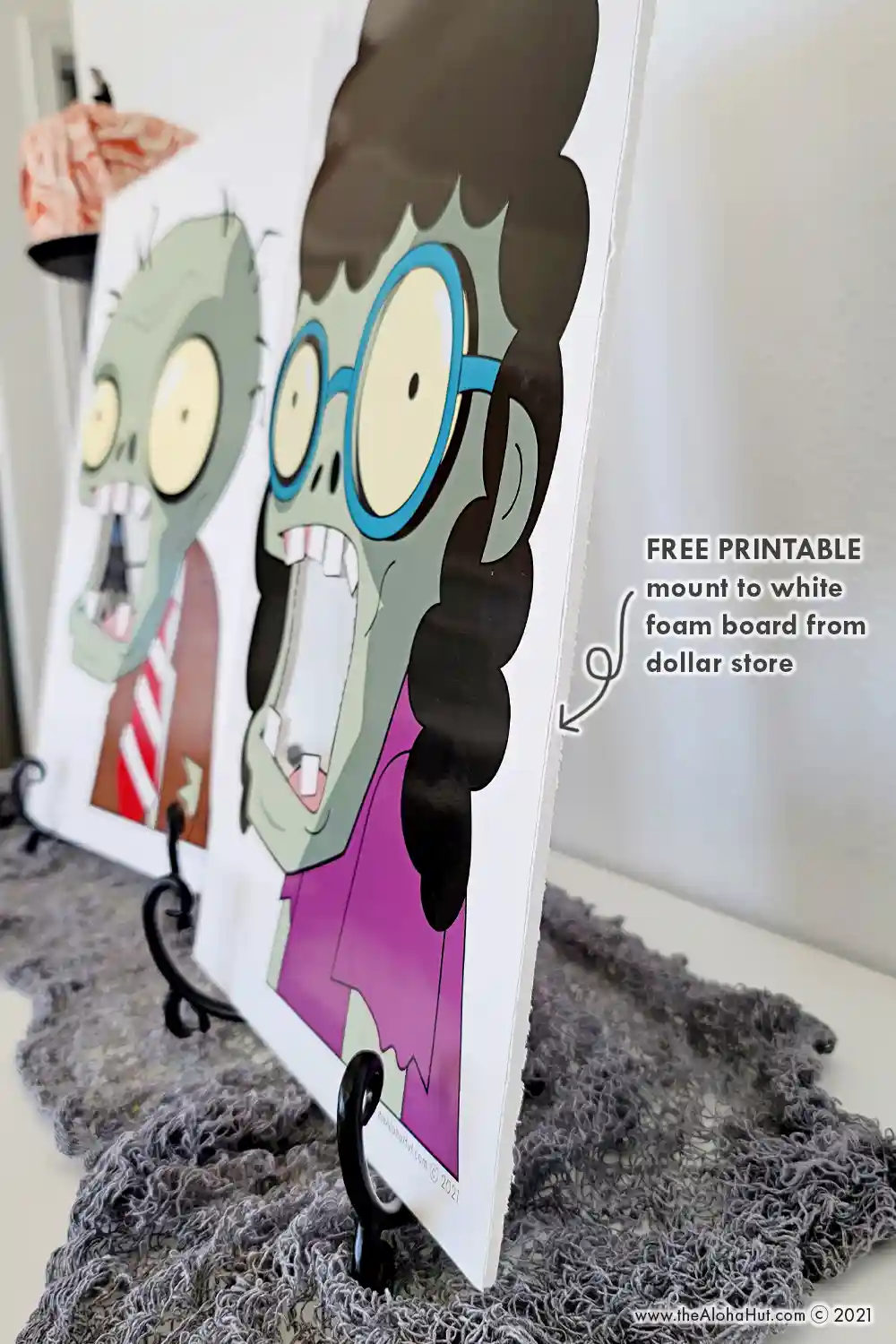 For option #1, we used spray adhesive (glue) to attach the zombies to a white foam board from the dollar store. After they're attached, cut out the mouths with an exacto knife. You can use regular picture frame stands to set the game up on a table. This works great if the kids are throwing lighter weight objects into the zombie's mouth, like gummy candy body parts. We found these bags of gummy candies at our local dollar store. For a finishing touch, we always print off a sign for each game. This helps keep things organized, especially when there's multiple games and lots of kids.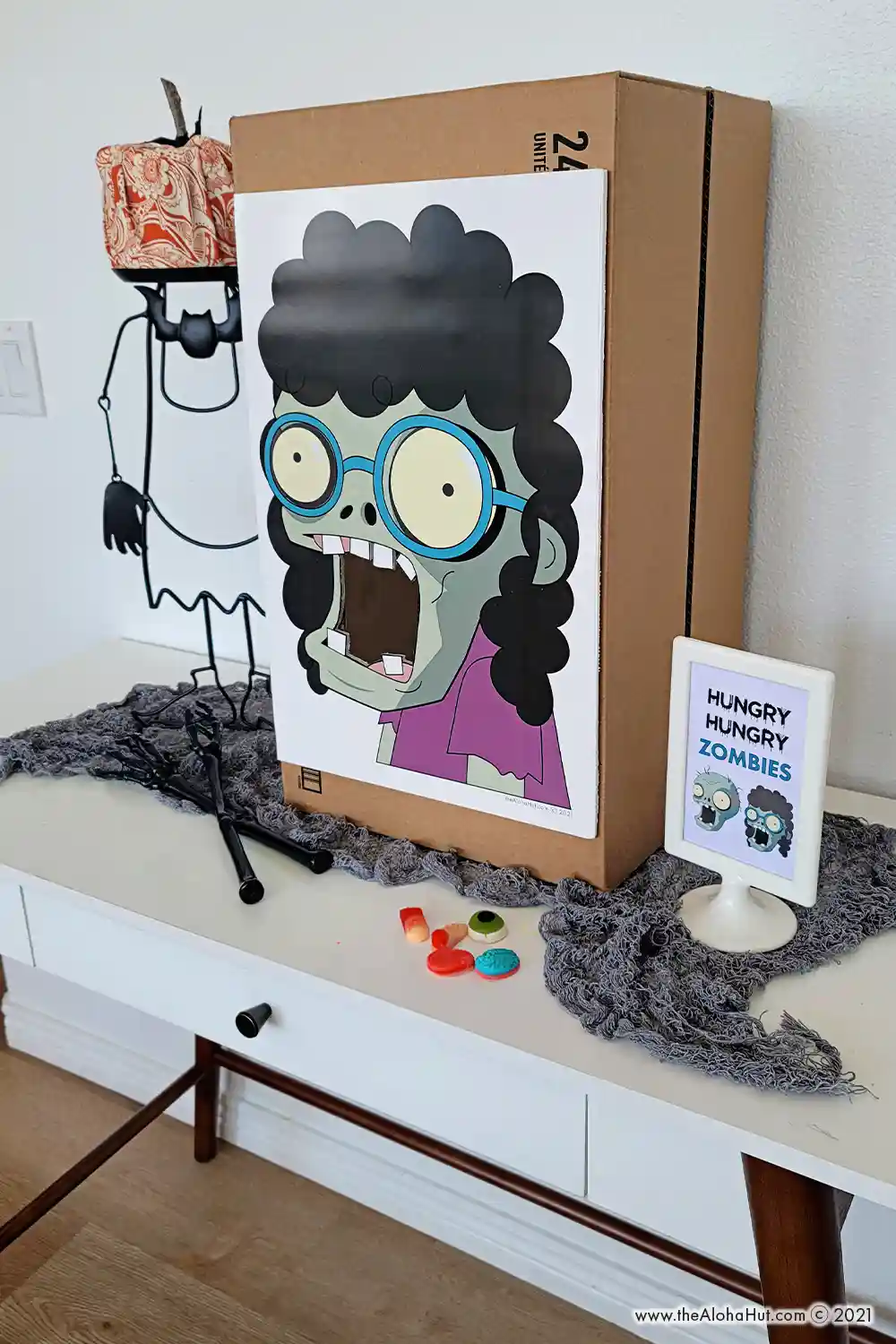 Option #2, you can glue the zombie prints to a cardboard box. We like to use adhesive spray because it covers the whole print and tends to adhere better to the cardboard box. Cut out the mouth area so kids can toss body parts into the zombie's mouth. Instead of bean bags, we like to use plastic body parts found at the dollar store in the Halloween party section. You could also get creative and have them feed the zombies plastic spiders and bugs, eyeball golf balls, etc. If the items that kids are throwing are heavier, then definitely mount the zombie print to a cardboard box so it'll be sturdier than just the foam board.
If you're looking for a more long-lasting and eco-friendlier version, check out the original zombie game we created with two wooden boards. This allowed us to use the game over and over again every year. They store flat and we don't ever have to worry about them getting bent, ripped, or ruined. Here are the steps to create this version of the game: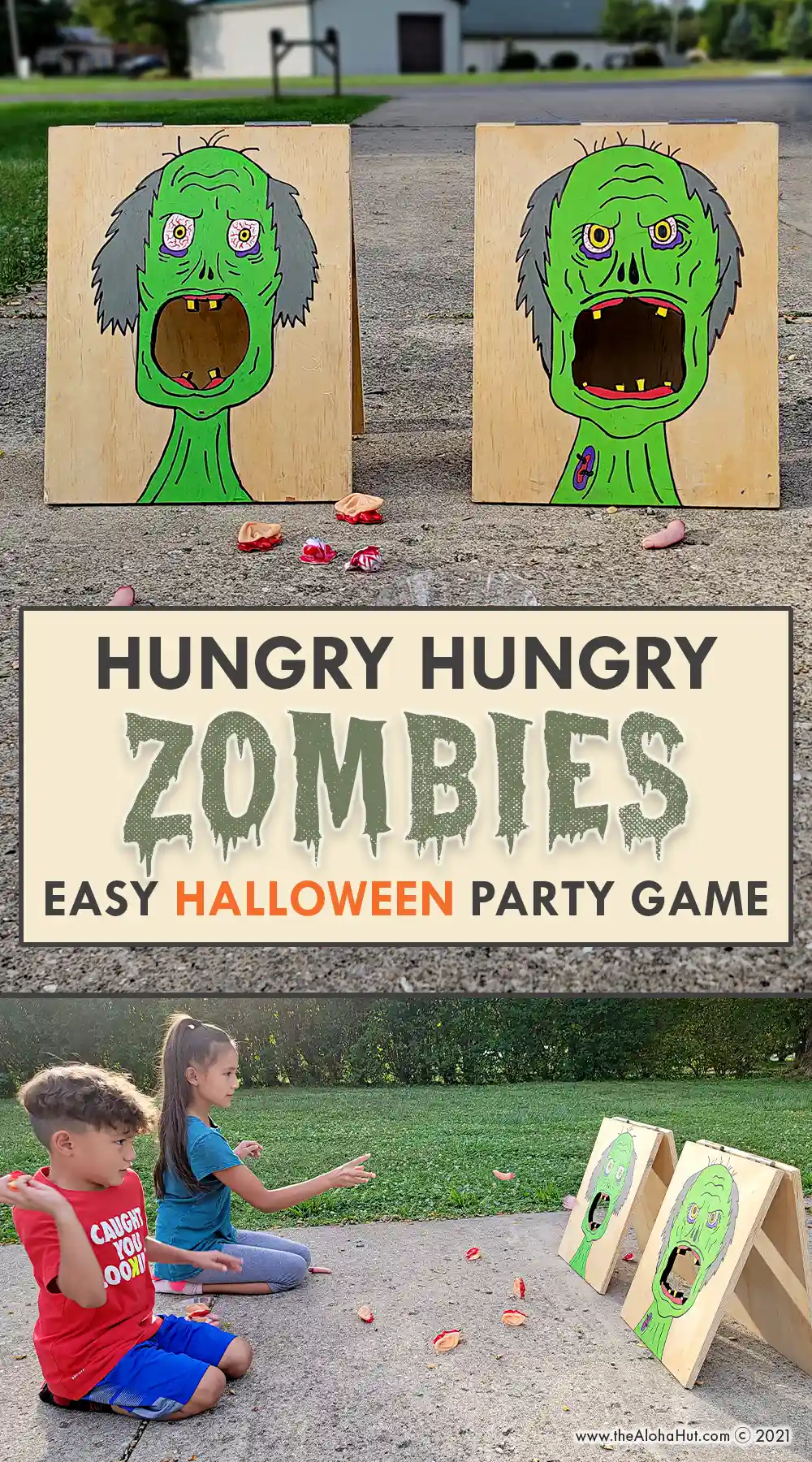 Step 1: Get two scrap pieces of wood board. All the same size.
Step 2: Draw a zombie face on one board using a pencil (allows you to erase if needed).
Step 3: Cut out the mouths with a jigsaw.
Step 4: Paint in all the details.
Step 5: Outline it all with black paint.
Step 6: Spray a coat or two of sealer.
Step 7: Attach the boards together using door hinges.
Step 8: Grab some body parts and feed your hungry zombies!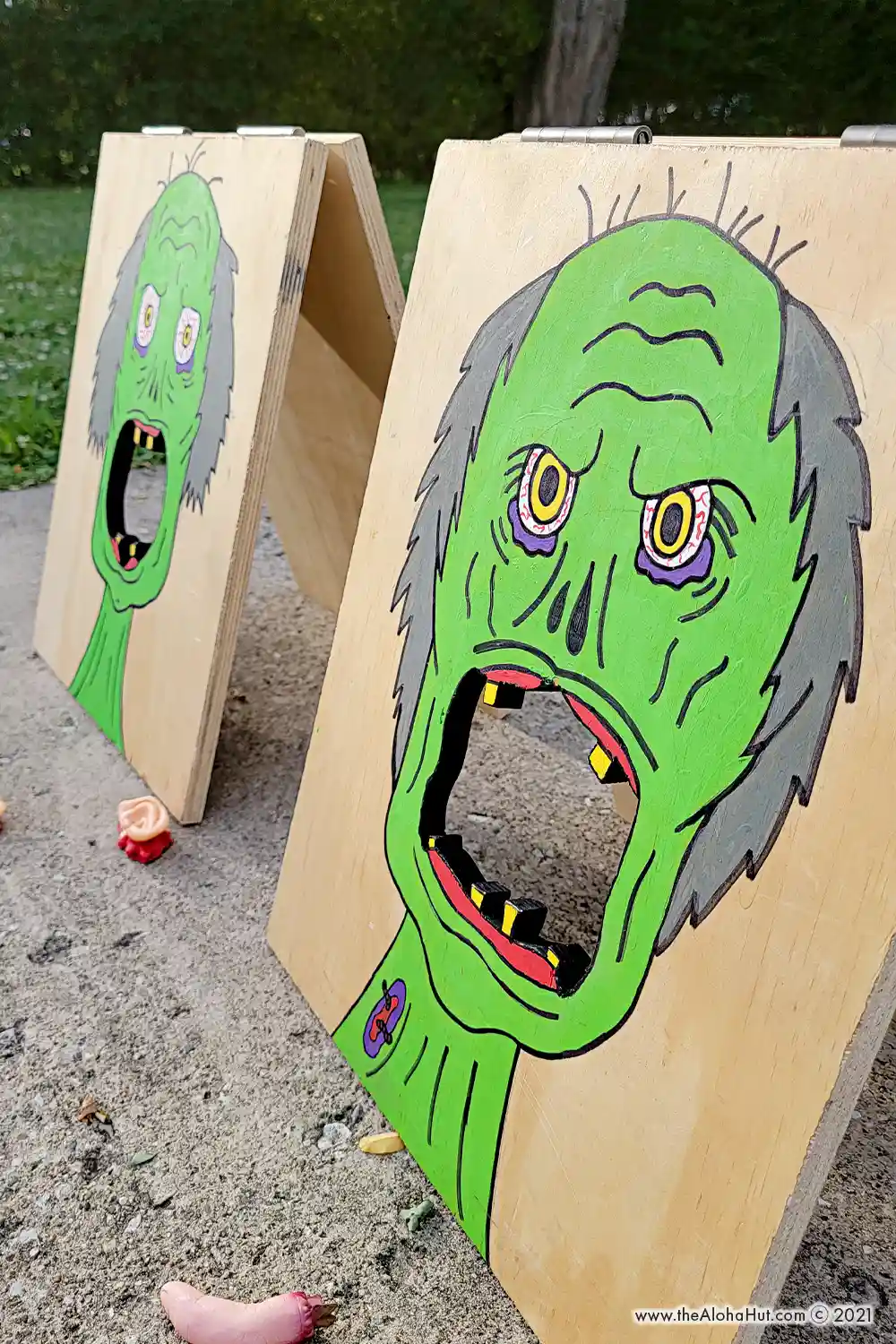 We help out every year in our kids' classroom for the traditional Halloween classroom party – and this game is always a huge hit! It's easy to prepare and fun to play! We also host a Halloween party every year for our kids, friends, and family. This is one of the games everyone always looks forward to, including the adults. We are competitive at our house and try to not only see who can feed the zombie the most, but also who can do it in the fastest time.
Don't forget to check out our other easy DIY Halloween games, perfect for any classroom or Halloween party: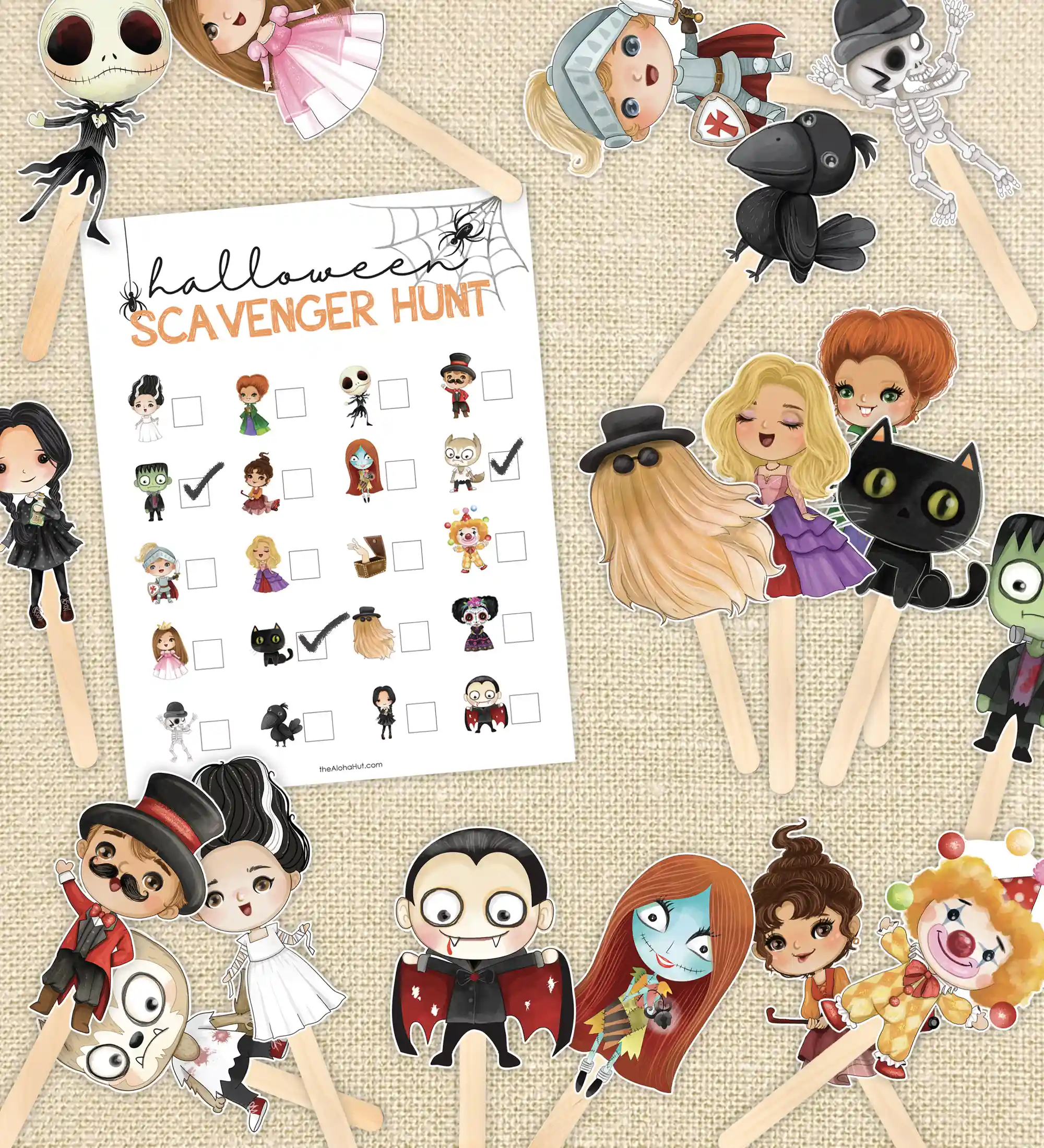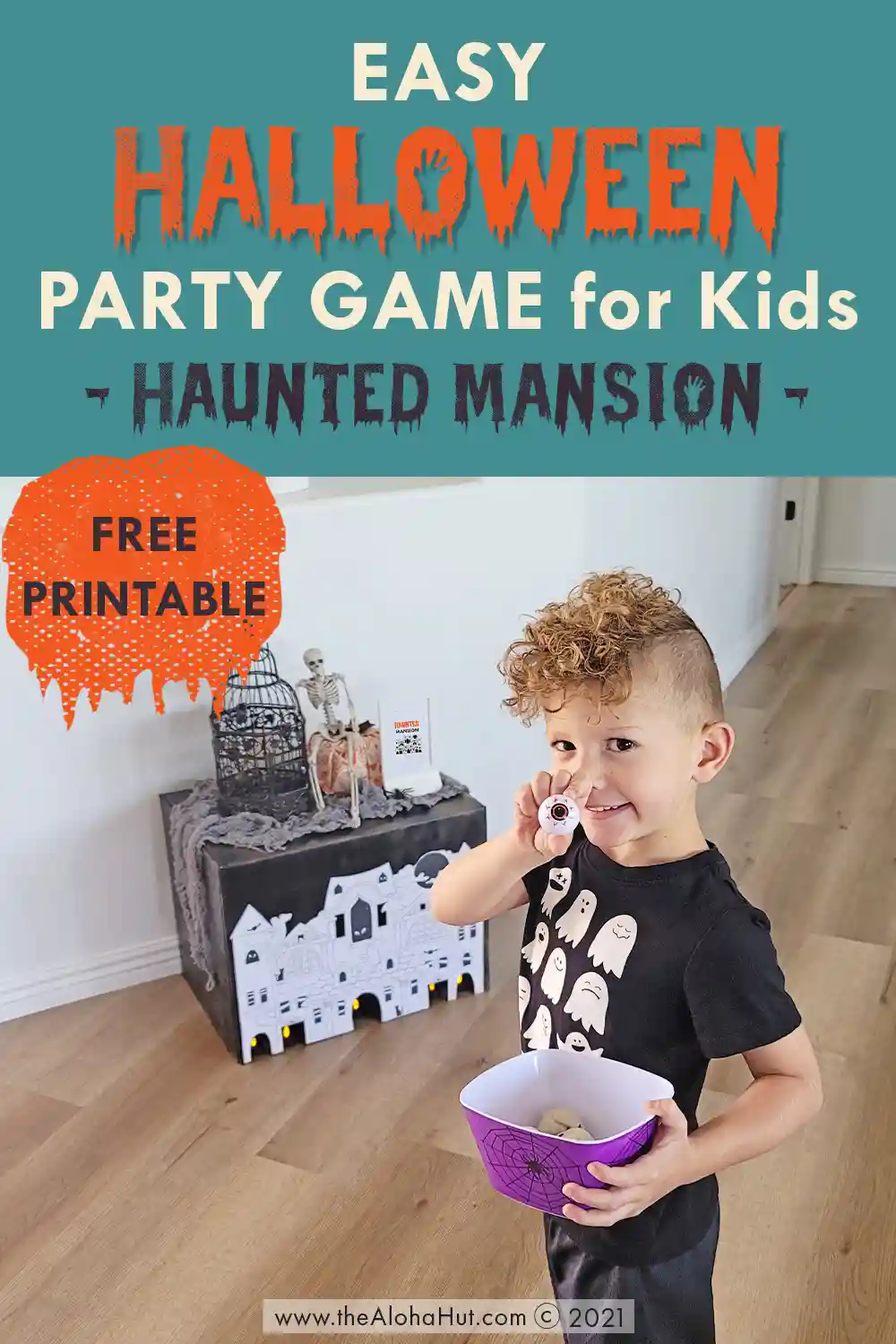 Happy Halloween!
Stacey + Niki
---