Cocomelon Wash Your Face & Brush Your Teeth Activity
Cocomelon Wash Your Face & Brush Your Teeth Activity
This post may contain affiliate links. Read our disclosure policy.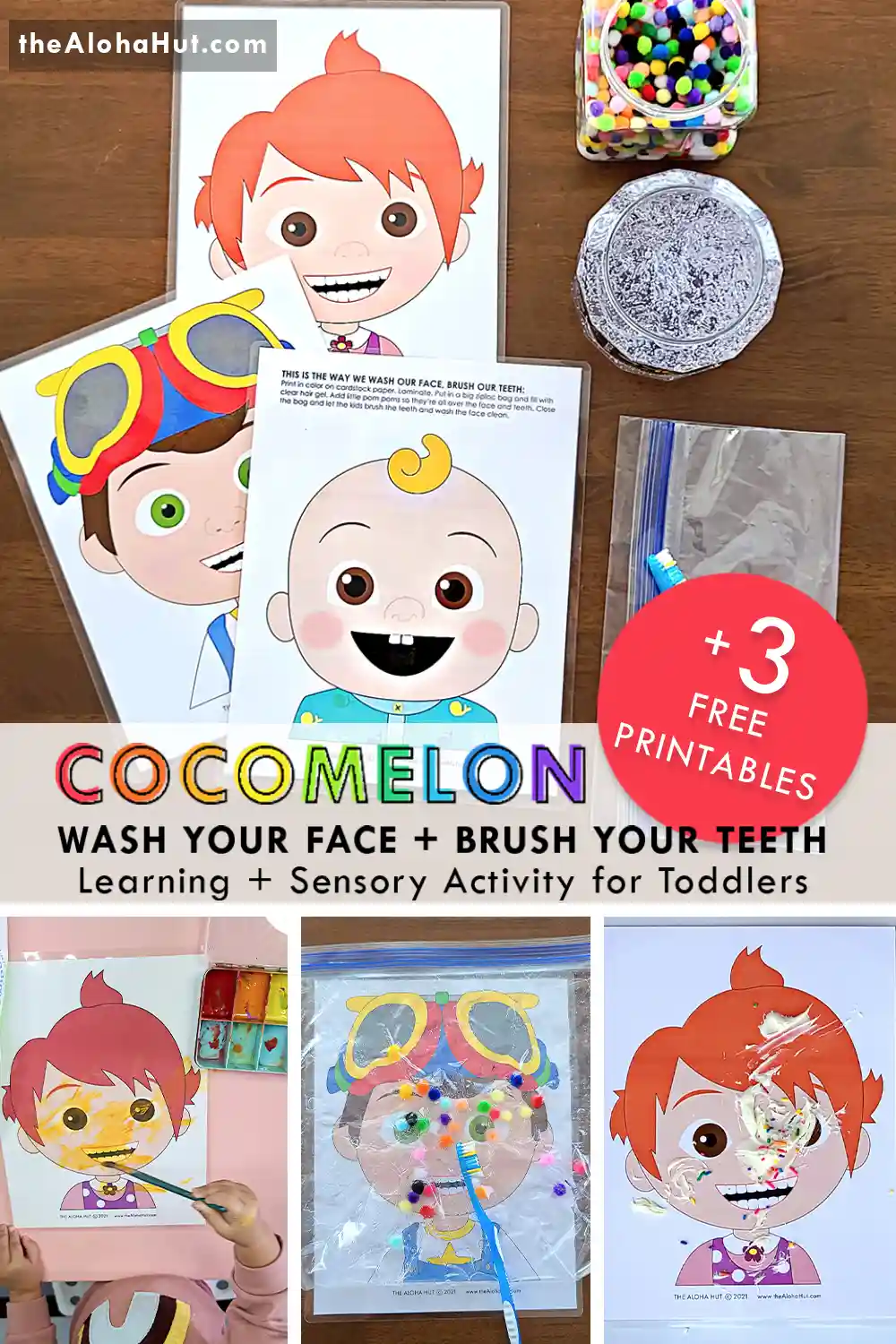 This is a sensory activity that your toddler will love! We've drawn up 3 FREE printable Cocomelon characters for your little one to make all messy and then clean up (which is sometimes just as messy). They're sure to be entertained long enough for you to get a few things checked off your "to-do" list! The key to this activity is to put them somewhere they can make a mess and in play clothes that can get messy. We'll also show you a non-messy version just in case you are looking for something in that arena. Otherwise, get ready for your toddler to really explore!
Step 1: Print off the FREE printables and laminate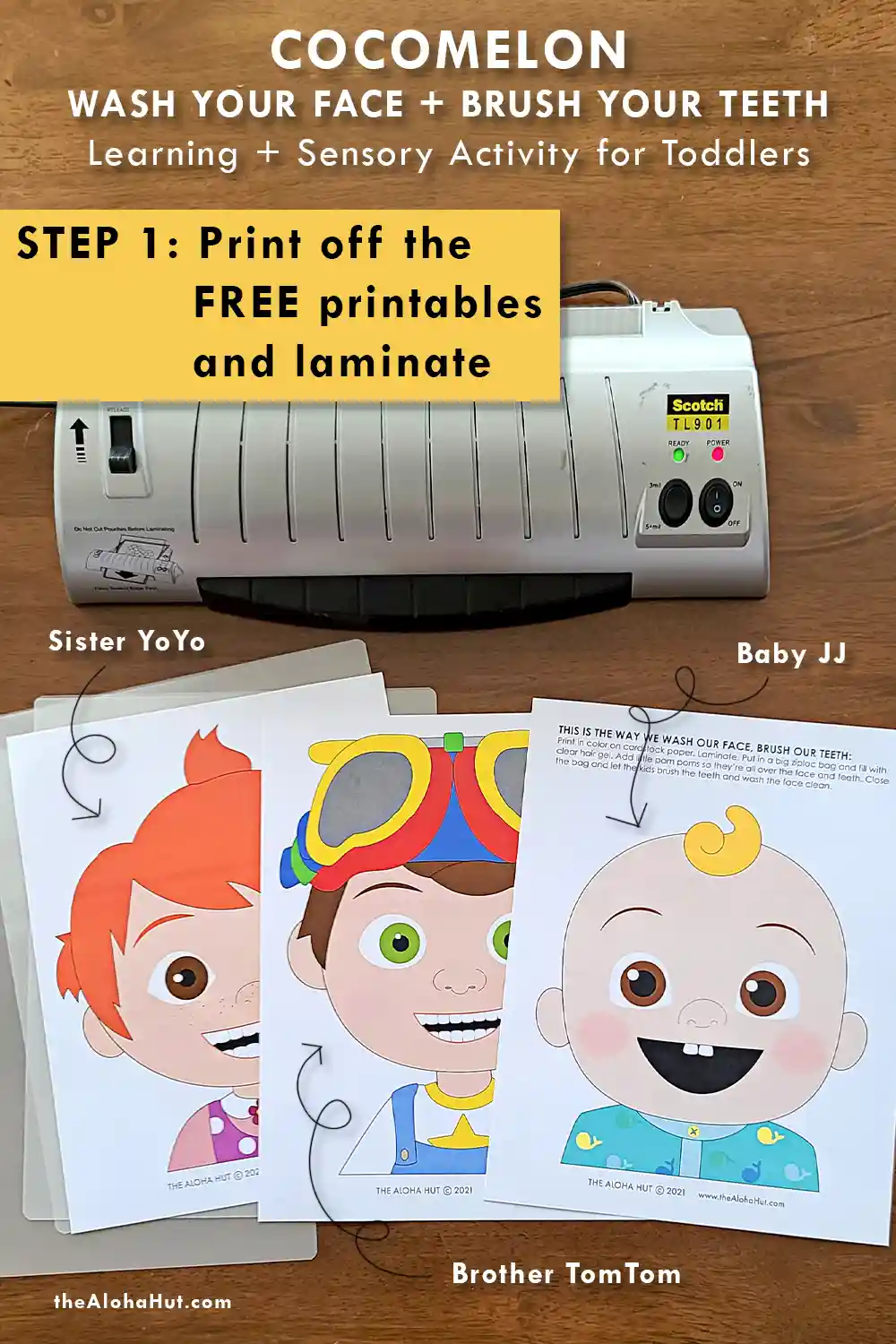 Any laminator will work great however we love this Amazon one and this Scotch brand. And don't forget to pick up a stack of laminating sheets. They make things so easy. If you don't have a laminator then no worries, some contact paper will do the trick. You can get this at Walmart and Target. (the free printables are at the end of the post)
Step 2: Gather your supplies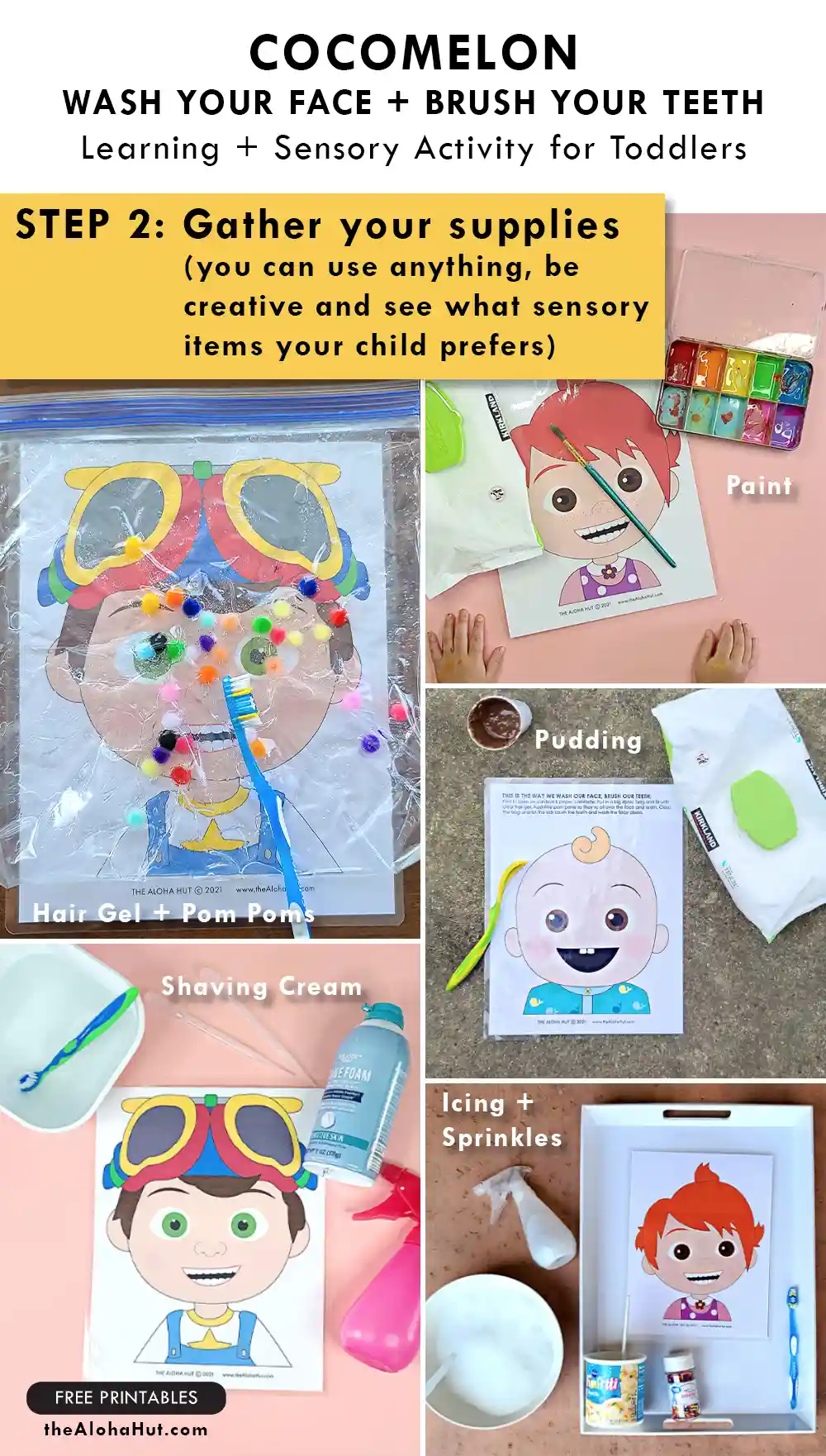 You can literally use anything. We used all the supplies in the picture above but some other great options are old soft bananas, oobleck, applesauce and markers.
Step 3: Make a mess!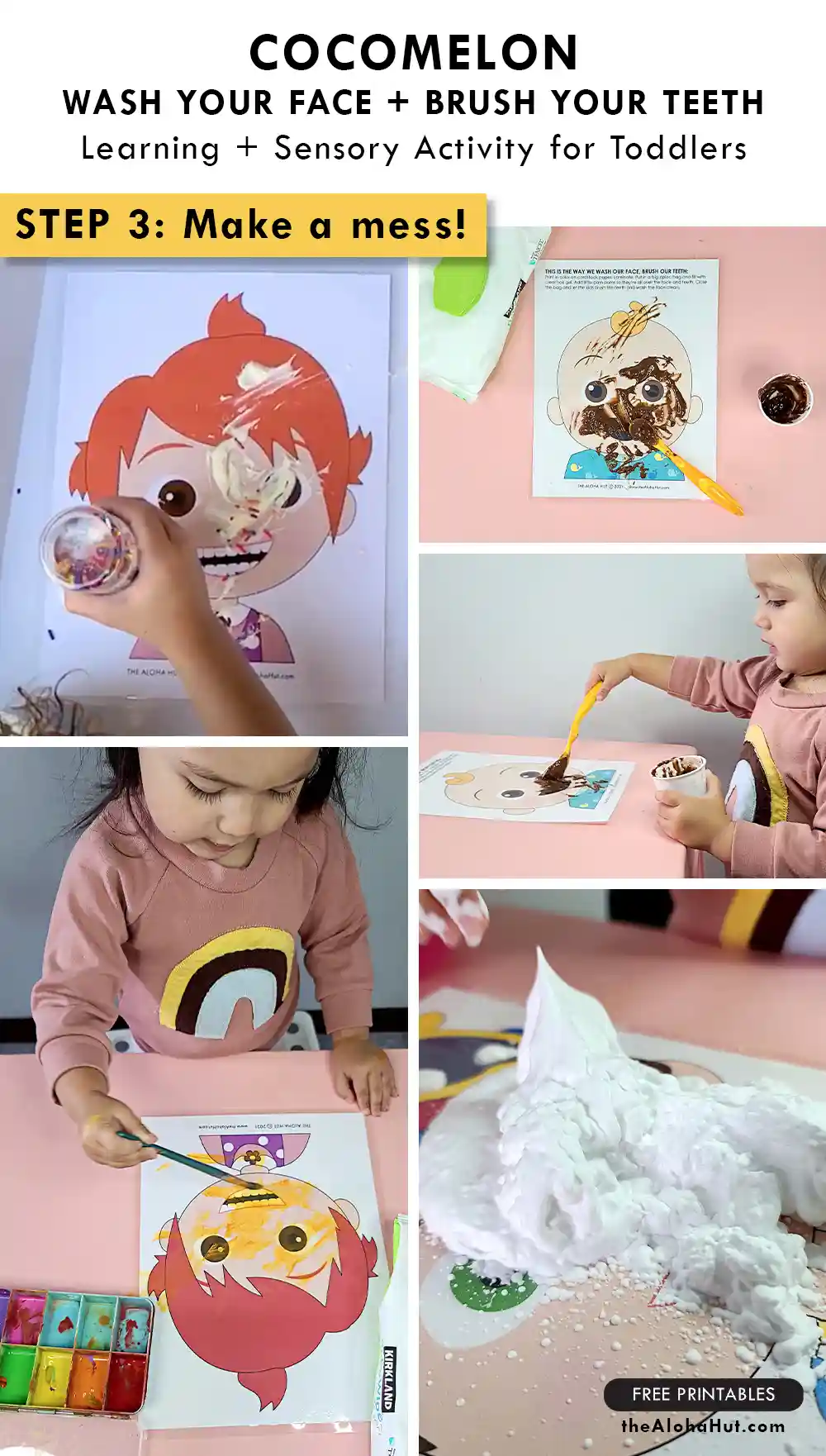 This is such a fun part for the kids. Tell them to make JJ, YoYo and TomTom as messy as possible. Niki's daughter, Indie, loved feeding the pudding to baby JJ and absolutely loved playing with the shaving cream. Stacey's son, Makai, loved smearing icing all over YoYo and then sprinkling her with the rainbow sprinkles (he's OBSESSED with rainbow anything). Get creative and figure out what items your kids enjoy playing with. Indie played with the shaving cream for a good 30 minutes and then another 30 minutes cleaning it up with water! And even better, she did this all without needing me right next to her so I was able to get a lot done!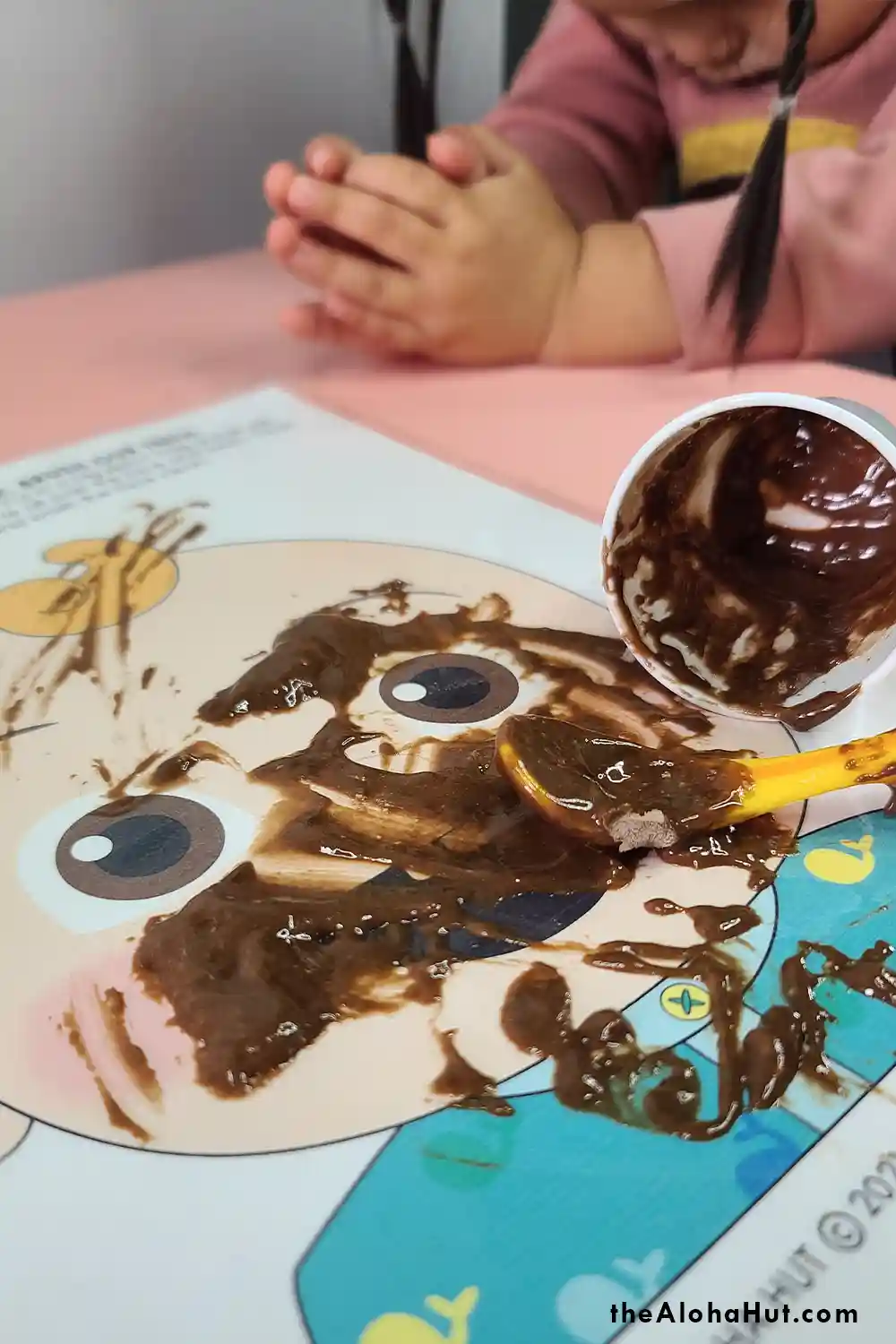 Step 3: (alternative clean version)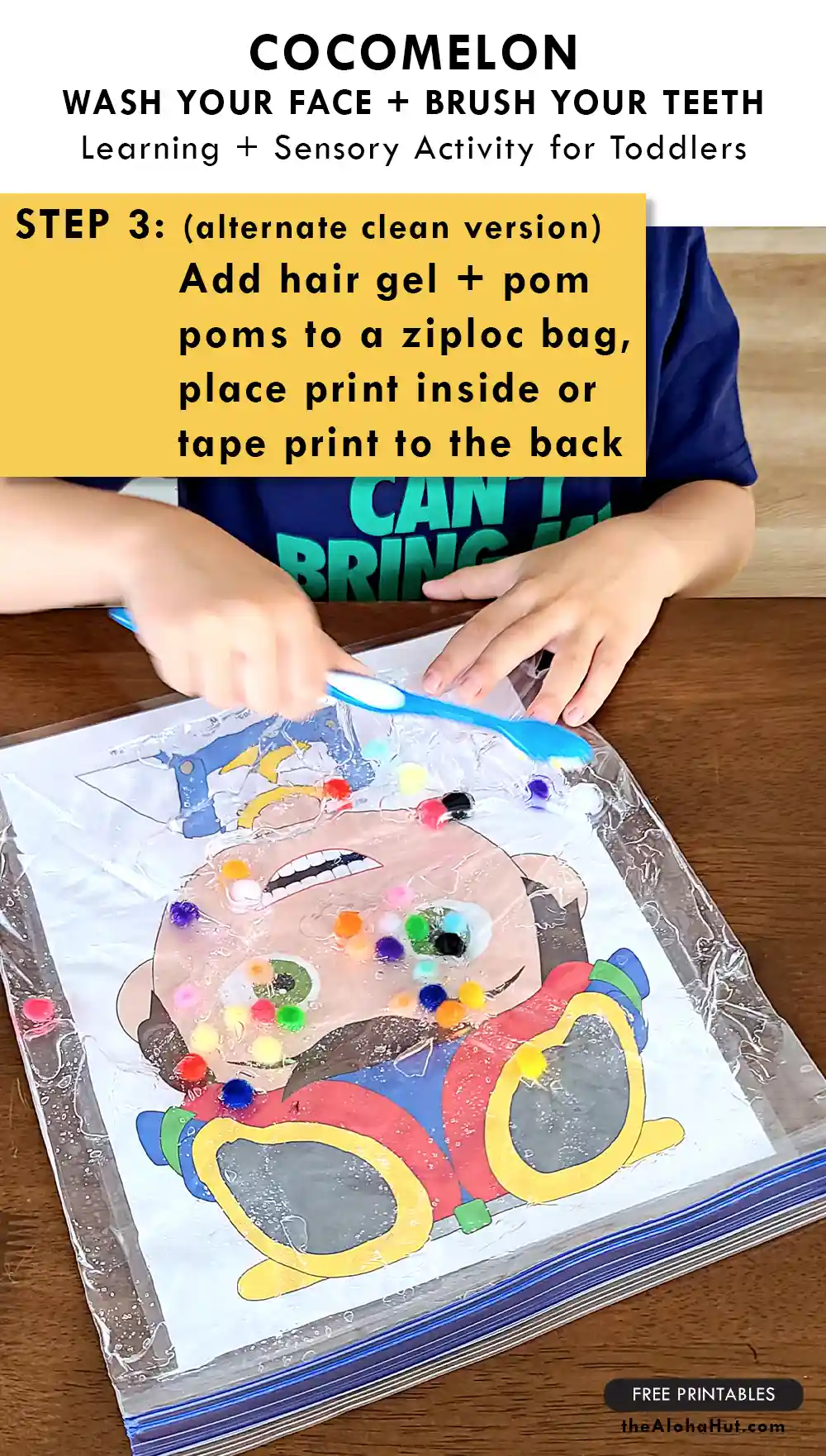 If you're not too excited about letting your little one make a mess or you're in a hurry and need a quick CLEAN activity to keep your little one occupied while you're trying to get ready and out the door (we all have those days when you're quickly finishing up your makeup to leave and your toddler somehow knows they've got a few minutes of freedom to get into the flour or find the markers that are supposed to be hidden and draw all over themselves…). If that's the case, this clean version is for you!Grab a Ziploc bag with some hair gel and pom poms, tape it to the table or tape the zippy side so they don't get it undone and you've got a fun, mess-free activity.
Step 4: Clean up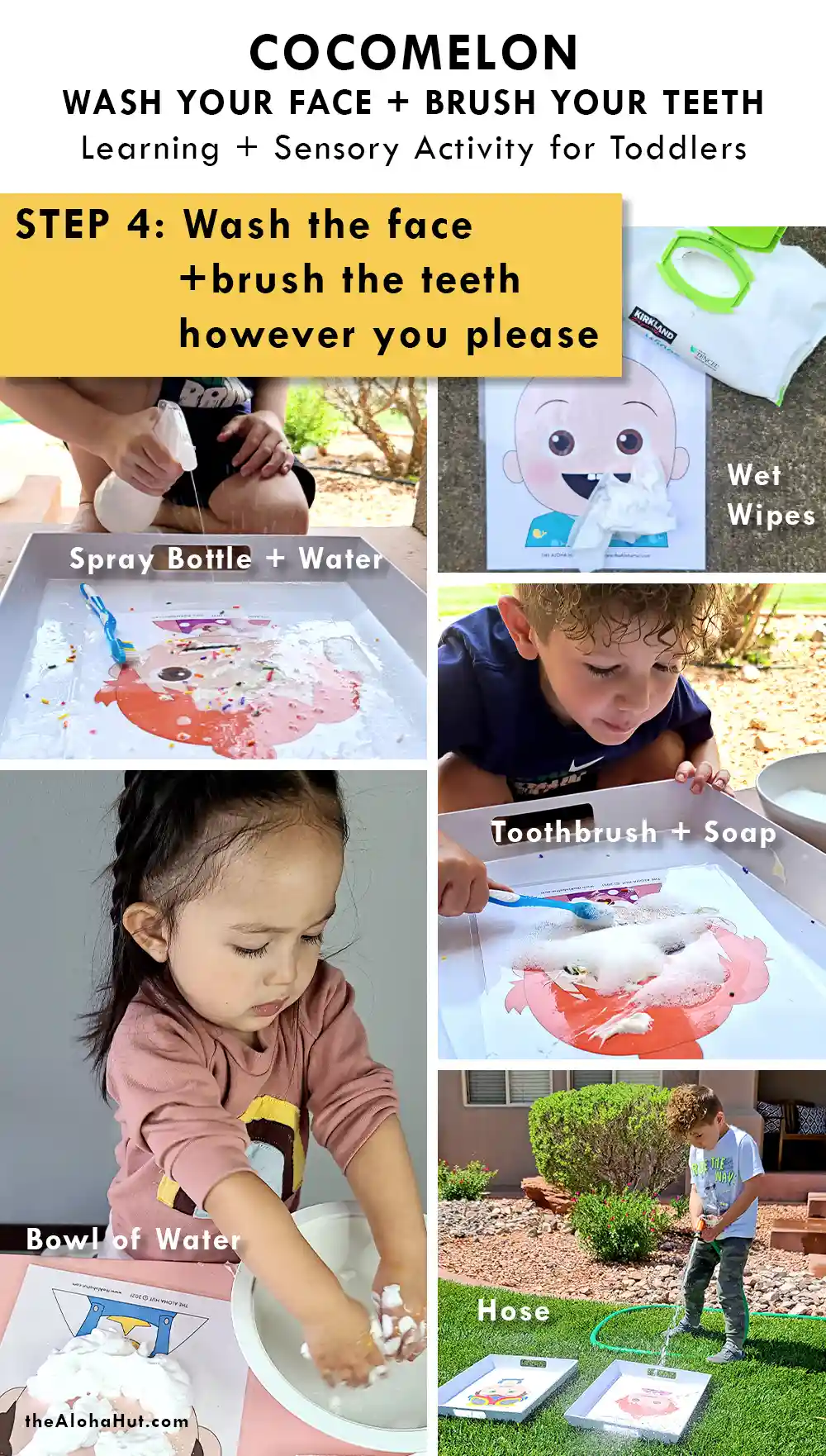 This is just as entertaining as making the mess. You can also be just as creative or as simple as you like. Makai could play with the hose all day, e'rday and so he was so excited to blast the mess away with the water. He would keep going back and forth making the faces messy and blasting them with the hose. Indie preferred the toothbrush. She LOVES brushing her teeth and the fact that she got to brush her beloved Cocomelon character's teeth, she was in heaven.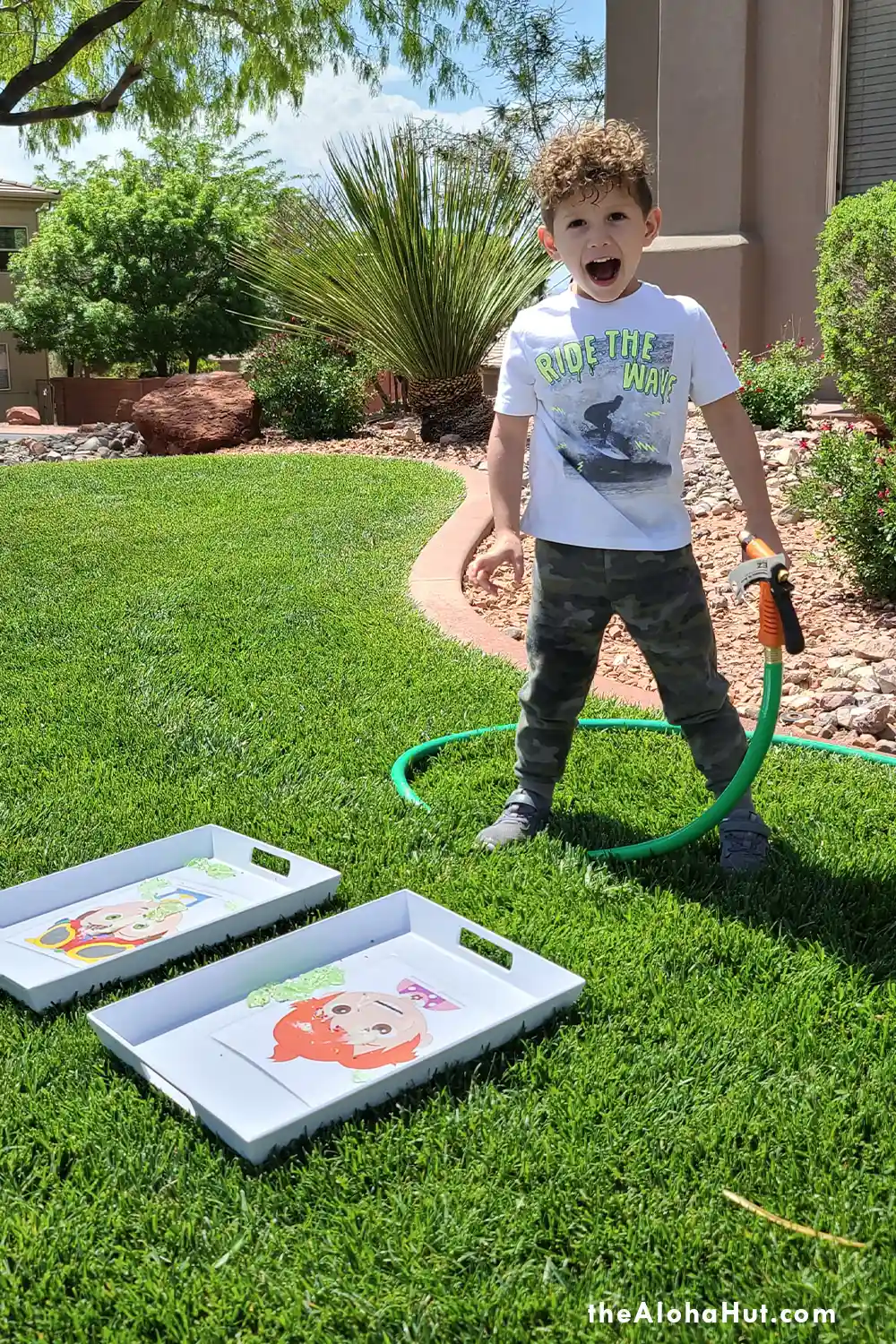 And there you go; an awesome activity to add to your toddlers sensory play.
Is your toddler or baby obsessed with Cocomelon too? We've created an entire printable Cocomelon Birthday Party pack with 13 printable decor and games.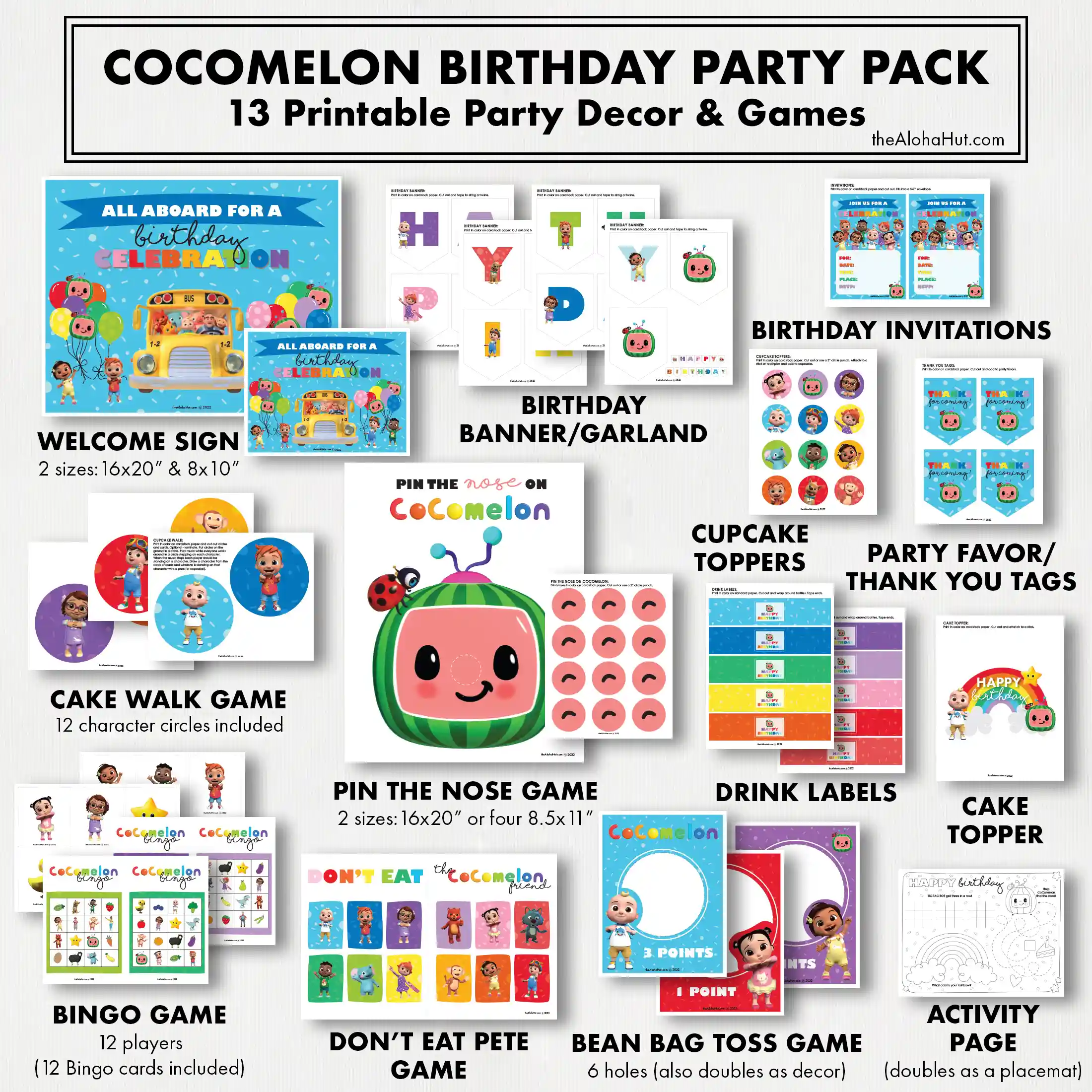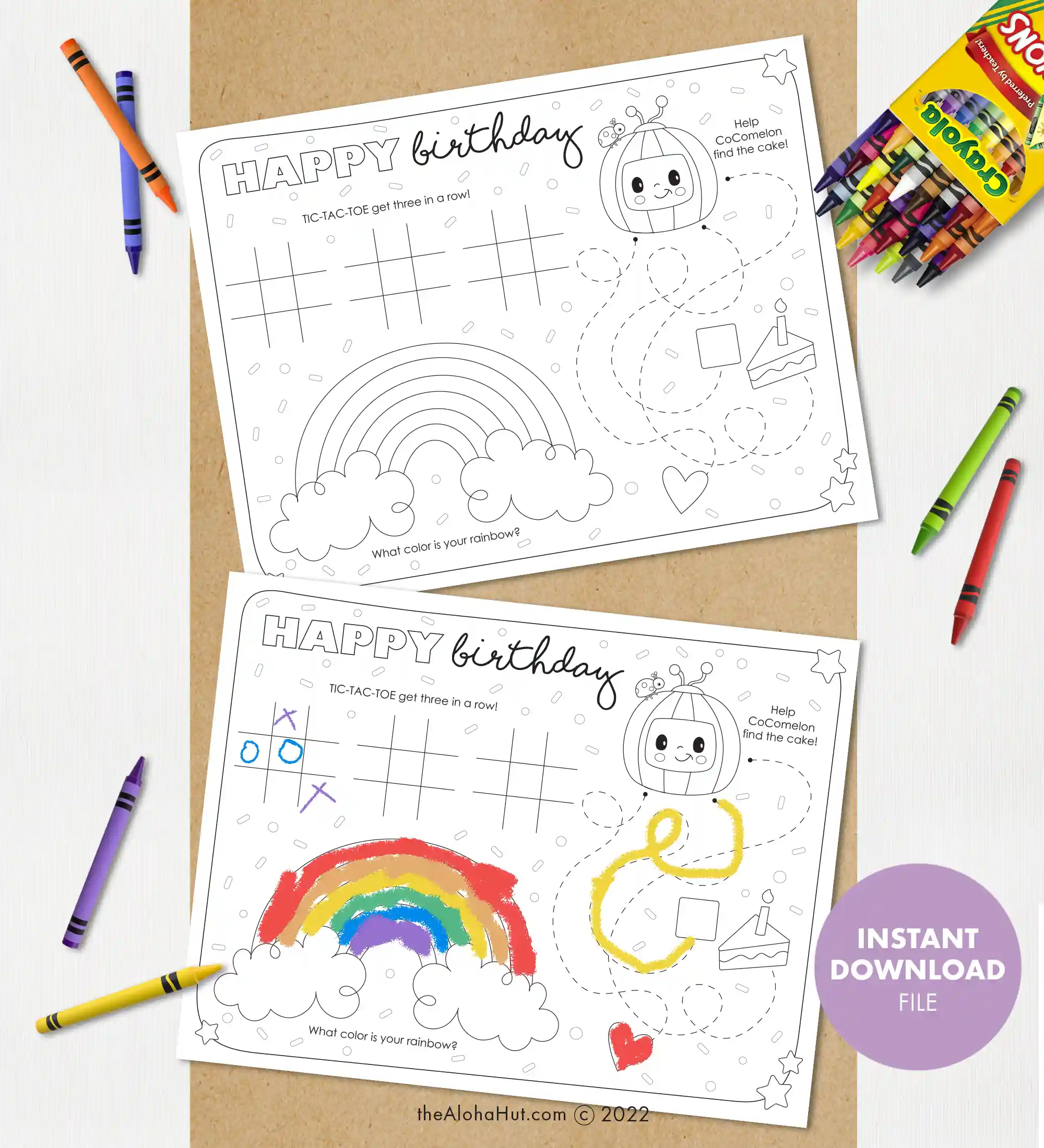 Included are all the items in the Cocomelon printable birthday party pack:
You can print the Entire Cocomelon birthday party from the comfort of your own home! We've got lots of Cocomelon party decor, ideas, and games for easy party planning.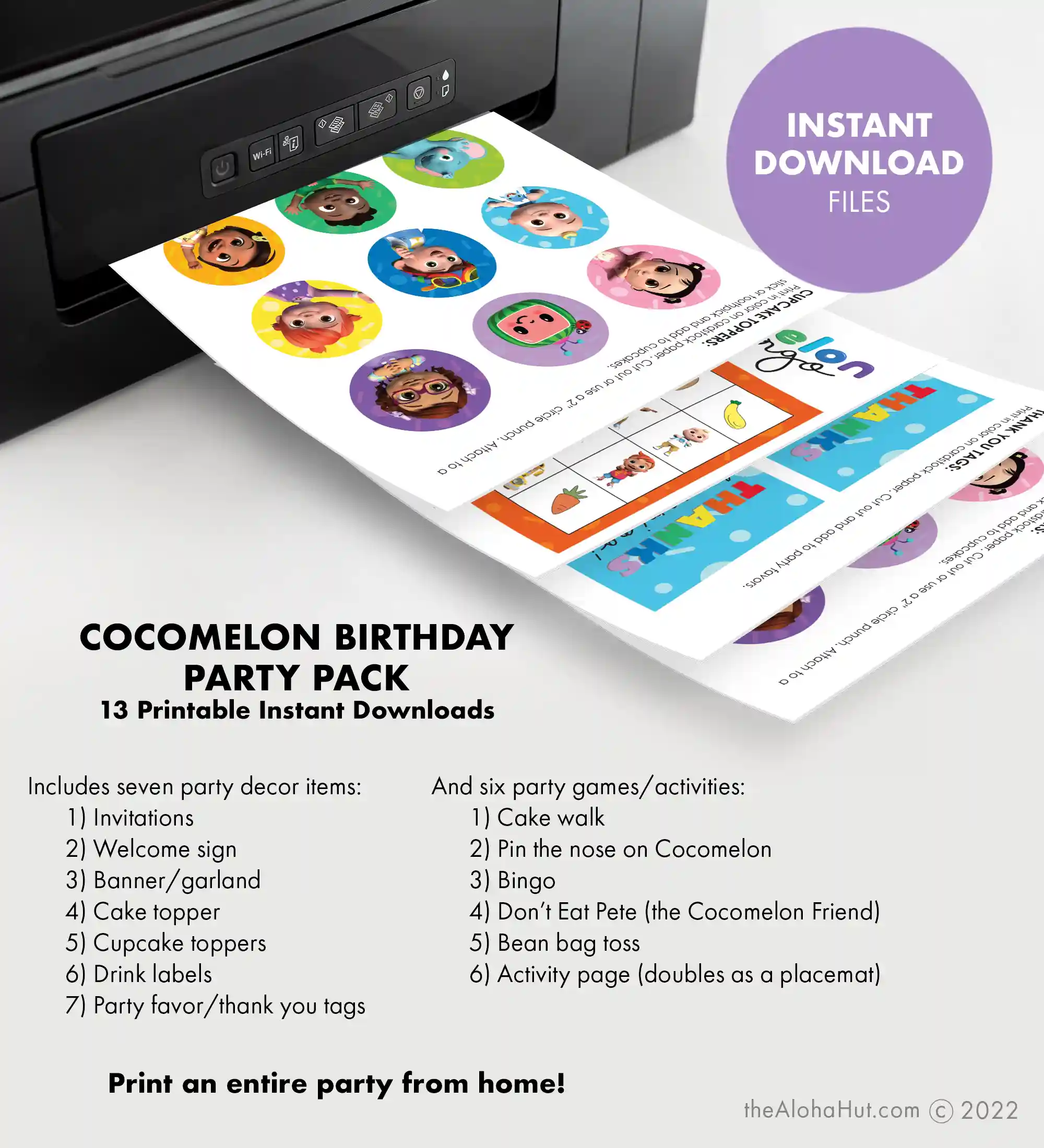 Check out our other Cocomelon Activities (click picture to go to post). These are perfect activities for toddlers and preschools.
Now go and get messy!
Stacey + Niki
---