10 Ideas to Help Kids Read More
10 Ideas to Help Kids Read More
This post may contain affiliate links. Read our disclosure policy.
We are big readers at our house, but sometimes the kids need a little extra motivation to get their reading in for the day — especially during the summer. Reading logs help our kids track their progress and get them excited to read. This summer our littles have the goal to read 100 books each month, so we made a free printable to help them reach their goal. Each book they read earns them one sticker and when they complete the reading chart and read 100 books they get a new toy! Join us for a reading challenge to read 100 books and download the free printable reading log to track your progress!
For kids reading chapter books, they get one sticker for every 10 minutes they read. My older kids get to go to the adventure park when they finish their reading chart. Choose a reward that will motivate your child.  For some kids, reading is a little bit challenging so you can have them earn small rewards along the way. For example, every 10 stickers they get a treat or small prize and then a big prize at the very end when they have 100 stickers. You could also track every 5 minutes they read instead of 10 minutes at a time. My kids enjoy reading so reading 100 books or 1,000 minutes for the older kids is a doable goal with one big prize at the end. Tailor the program to suit your child's needs and level.
To make reading fun, we like to mix it up! Here are TEN ideas for helping your kids get excited about reading:
#1 Take a trip to your local library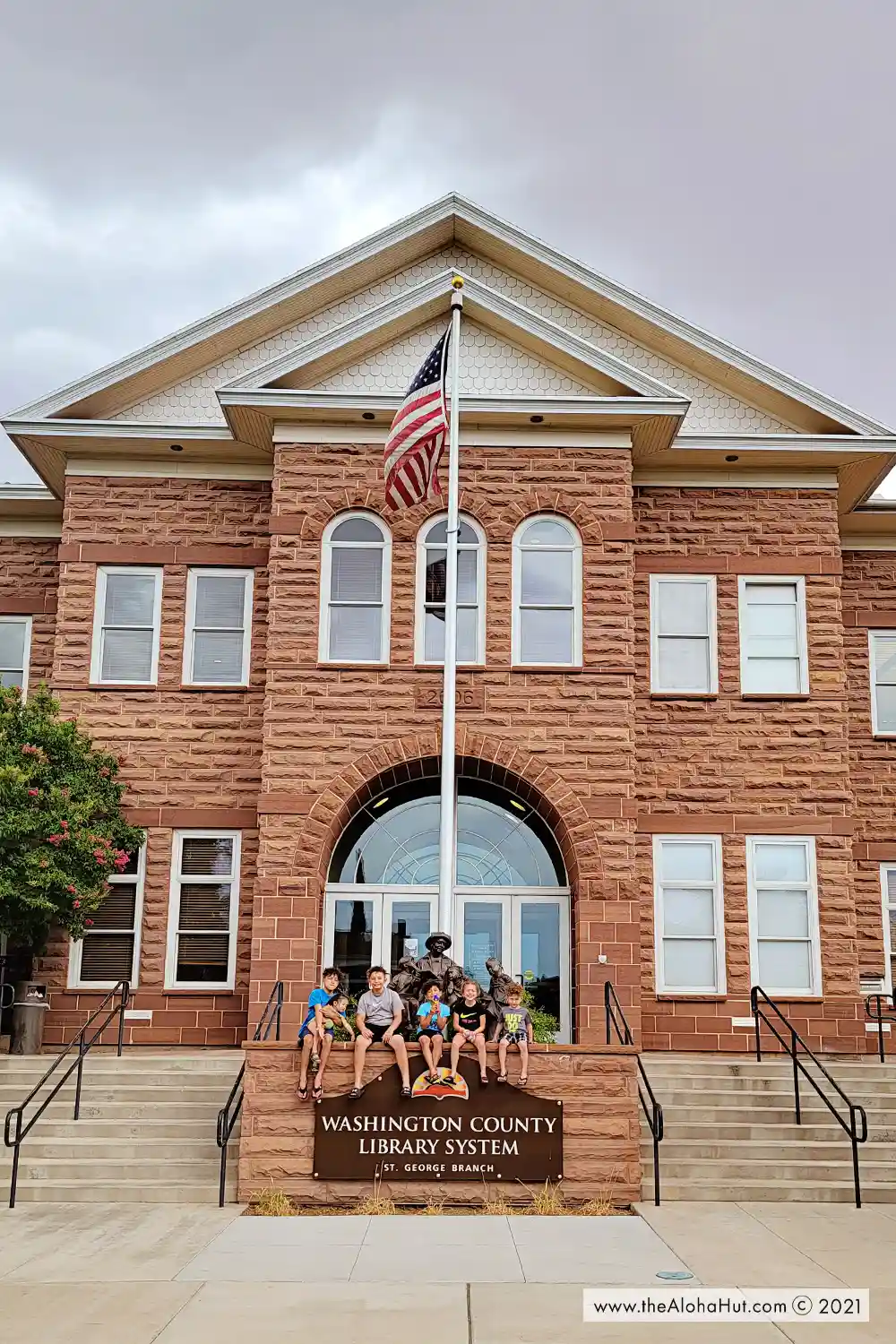 Make going to the library a big deal and not just a chore. We go to the library a few times a month and check out lots of books and stay to play in the kids area. While you're there make sure to get a copy of the library calendar so you can see what children's events the library has planned. Most of these events and activities are FREE and will get your kids excited to go back to the library. We've seen some awesome magic shows, met authors and local artists, participated in Lego league, checked out their teen programs (they do an activity and feed them), participated in movie nights, and more. The library is a great resource for FREE kids activities, especially for younger kids or toddlers.
#2 Sign up for a Summer Reading Program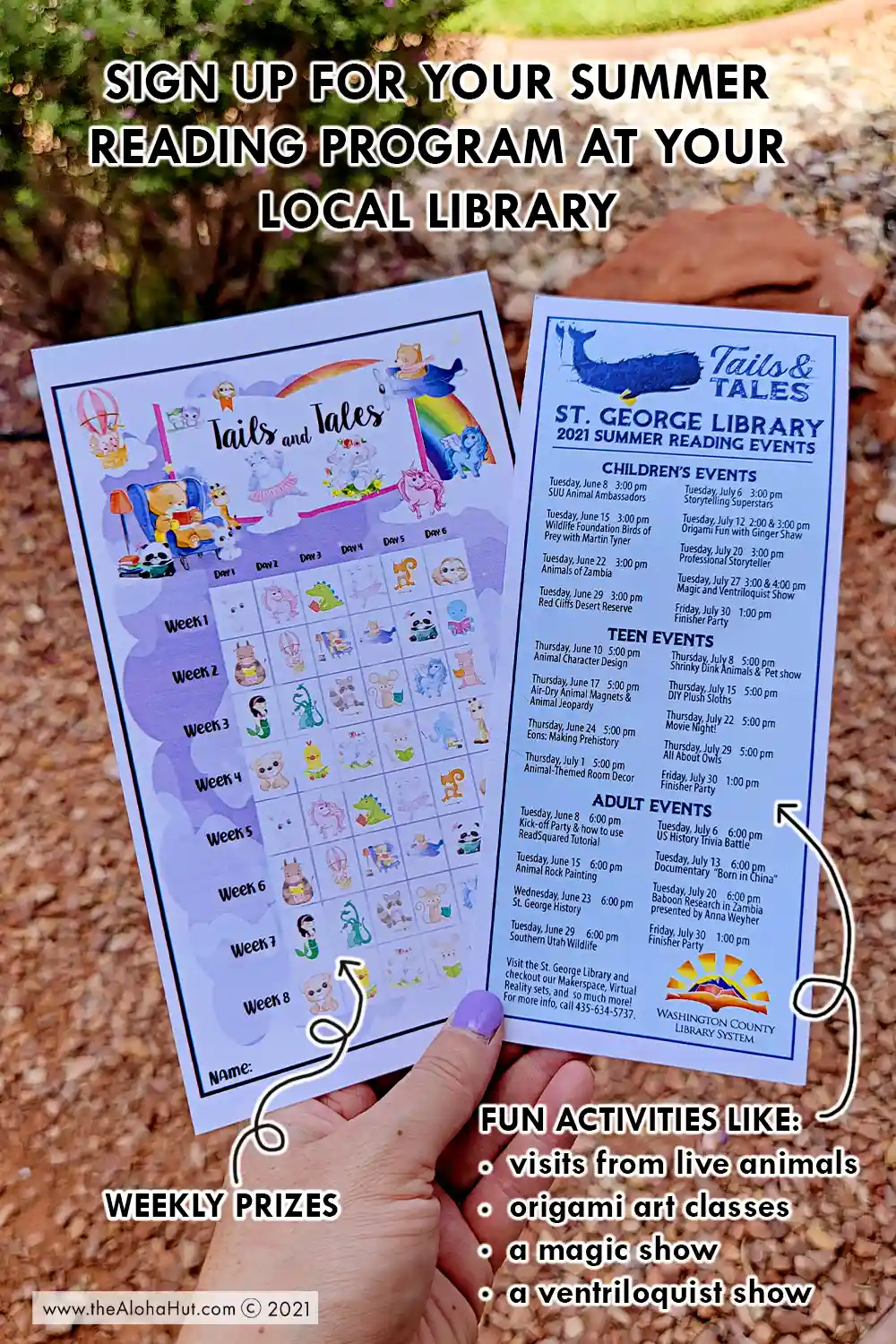 Our library always gives out awesome prizes for the kids when they complete the summer reading program. This is a FREE program and really helps kids stay motivated to read during the summer. And the best part is, it's FREE to participate in!
#3 Find a park nearby with a Little Free Library
A Little Free Library is a free book-sharing box where you can take a book and leave a book. We love to make a trip to a park or nature center that has a Free Little Library we can visit as part of our trip. Look them up online to find one nearby https://littlefreelibrary.org/. If you take a book, try to visit that box again so you can drop a book off the next time. This summer we are hoping to build our own Little Free Library box at the park near our home. You could also build one for your front yard. We live in a neighborhood with a lot of snowbirds (meaning they only live here part of the year), so building one for the local park is a better option for us.
#4 Start a Kids Book Club
This would be a great activity during the summer for older kids that are reading chapter books! Help your child choose a book, invite friends to join, and then set a date for a book club party where the kids can talk about the book and enjoy some yummy treats. Trade off with friends so you only have to host one time.
#5 Go to the Dollar Store or Thrift Store to buy new books
We like to reward our kids occasionally with a book. We head to the Dollar Store or the Thrift Store to add new books to our home collection for very little cost.
#6 Encourage older kids to read to the younger kids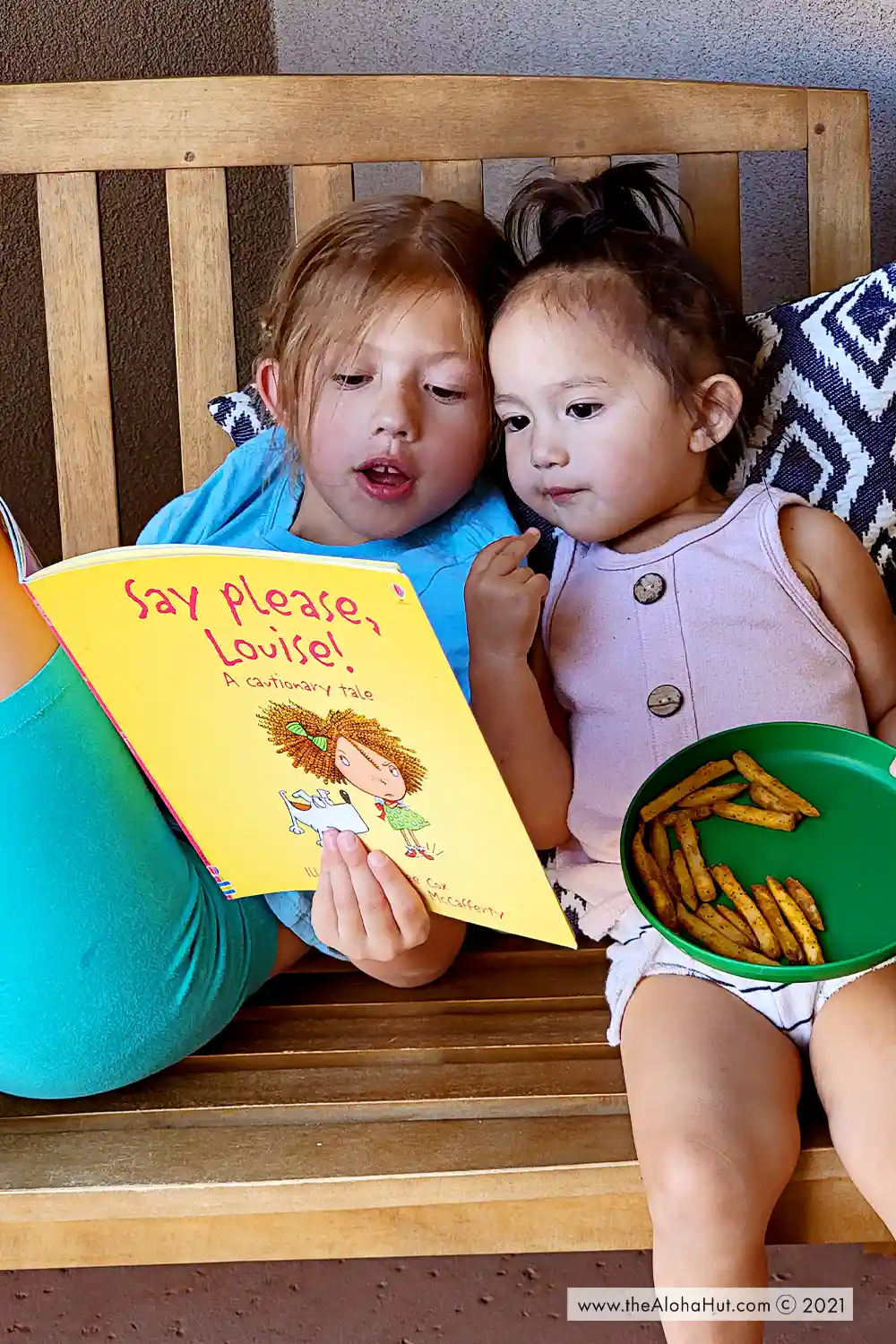 Our older kids don't mind reading to the little kids, they both get to mark it off on their reading log chart. Sometimes we'll even make this the older sibling's chore for the day. Our older kids love when they get to skip out on doing the dishes and instead get to read books to their younger siblings. It's a win win, especially for busy parents!
#7 Grab a blanket and head outside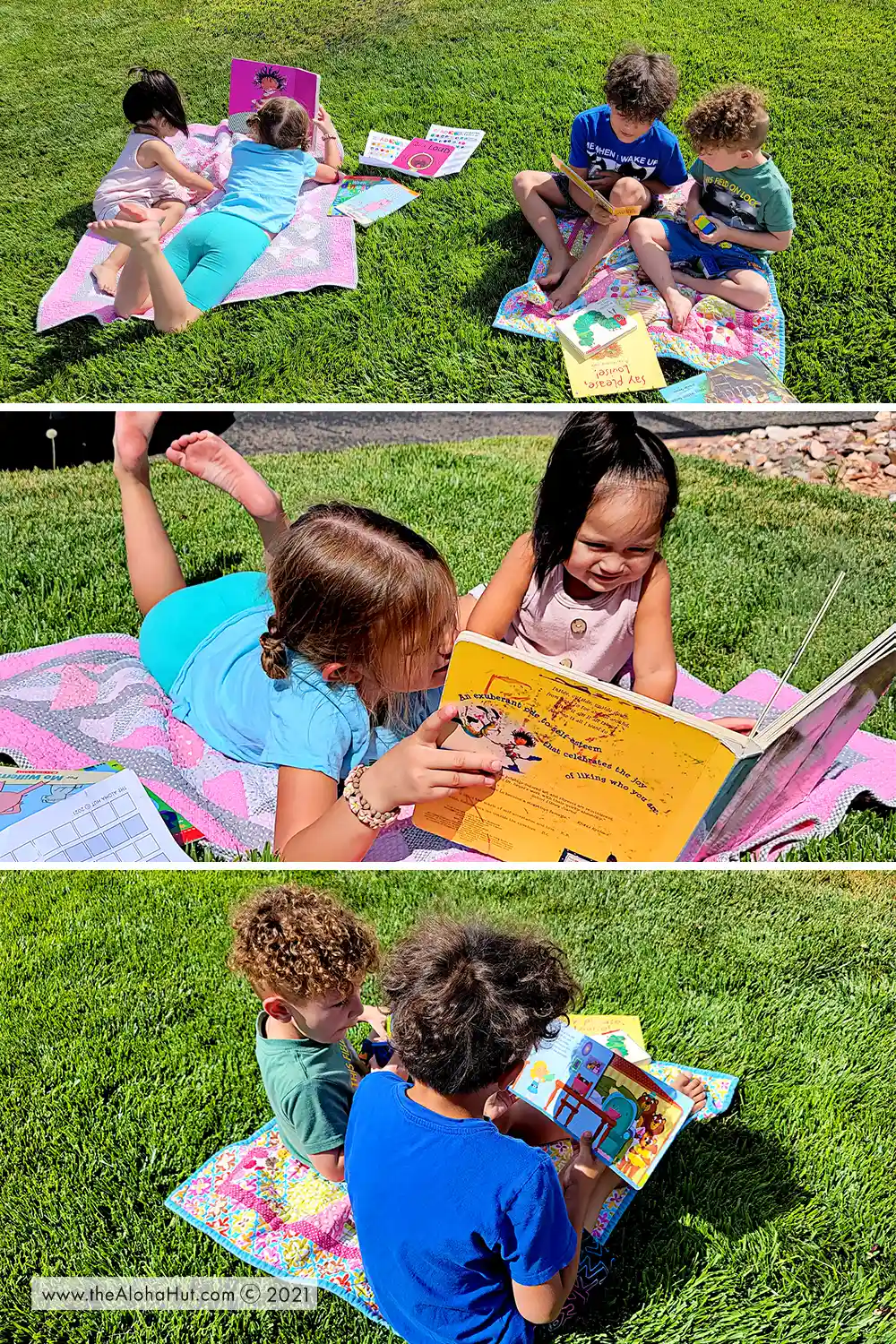 Change it up by reading outside. We love to spread a blanket out on the grass and read books while eating our snacks. Sunshine is good for the soul.
#8 Sign up for Dolly Parton's Imagination Program for FREE books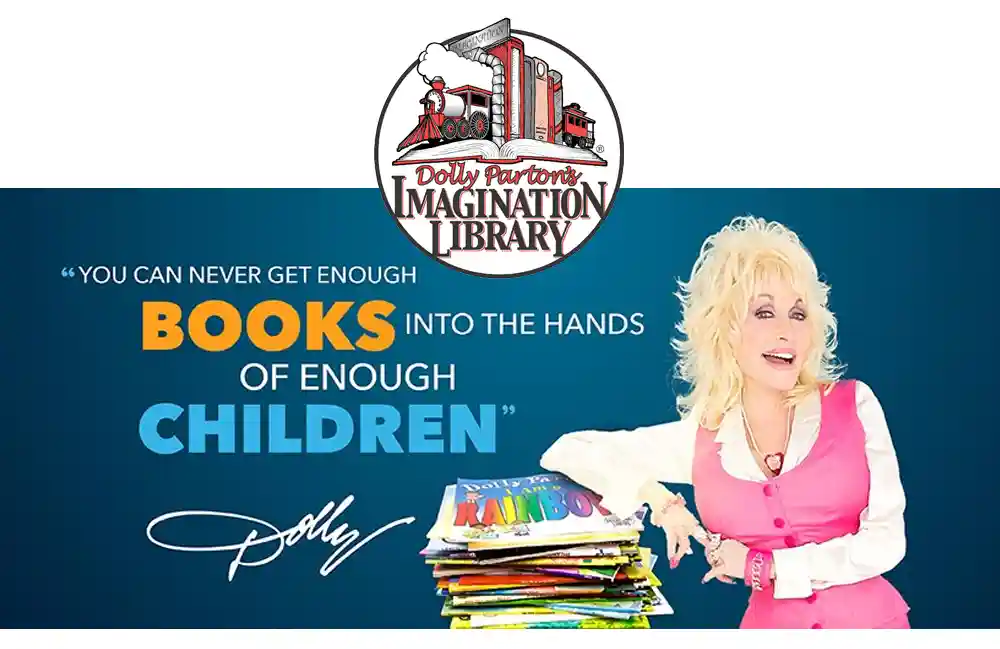 Dolly Parton's Imagination Library is a book gift program that mails free, high-quality books to children every month ages birth to age five. Check out the link to see if they offer this program in your area. https://imaginationlibrary.com/
#9 Build a fort and read in the fort
Our kids love building forts. Get your little kids excited to read by helping them build a fort for a reading party. Invite your stuffed animal friends.
#10  Exchange books with your friends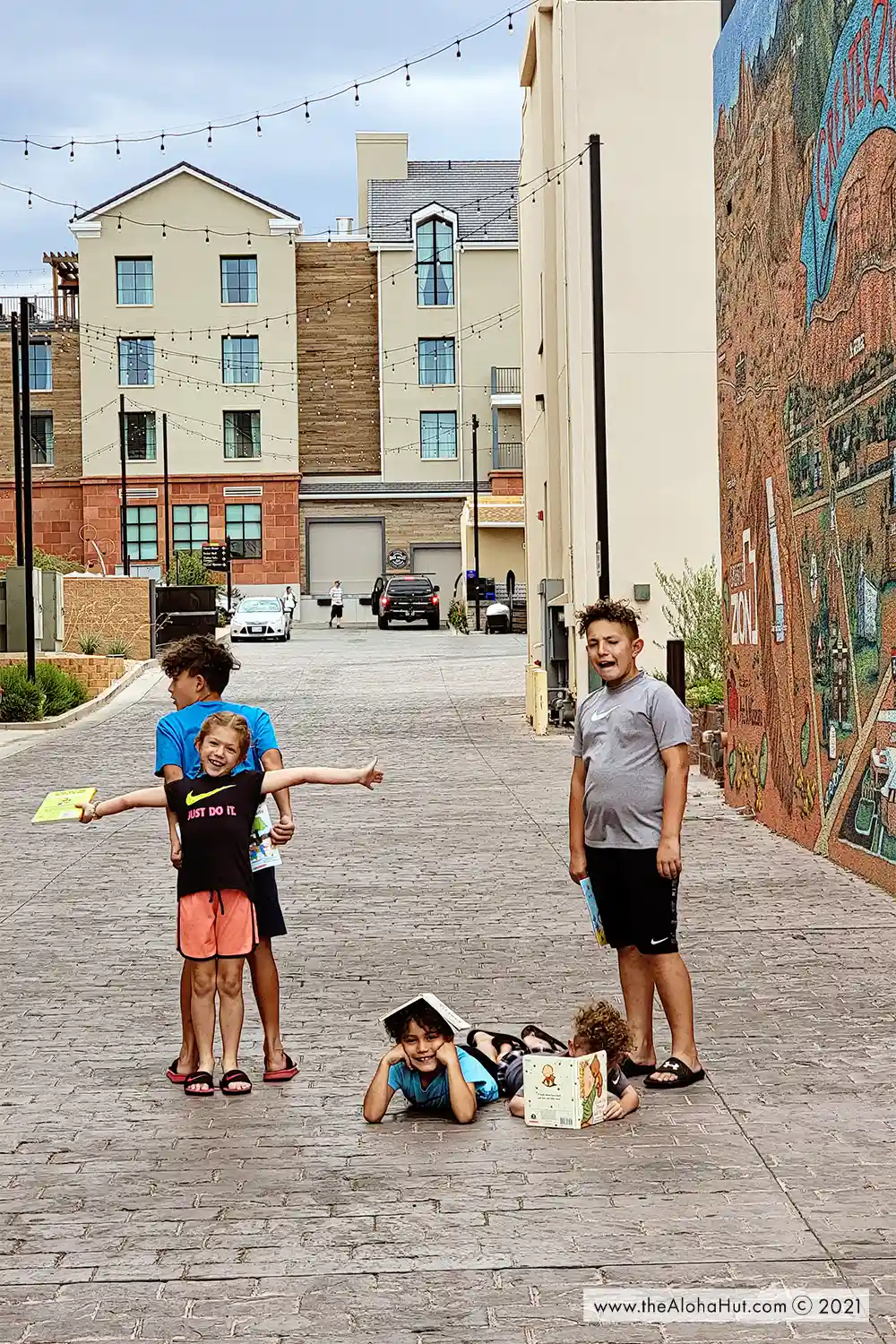 We hope you'll join us for a READ 100 Books Reading Challenge! After you finish one challenge, you can print a new sheet and start again and again to build healthy reading habits with your kids. Reading is so important because it strengthens the brain, builds vocabulary, alleviates stress, helps kids build their imagination, expands their understanding of the world, and so much more. Download the free print and let's read!
Much love and aloha,
Stacey + Niki