Best Birthday Party Gift – Candy Poster
Best Birthday Party Gift – Candy Poster
This post may contain affiliate links. Read our disclosure policy.
We've all been there, stuck on the Target aisle, having a birthday party in an hour, still not knowing what gift to send your child with. Stop thinking and send them with a giant candy-gram! They're so easy to create and even more fun to receive! They're perfect for all ages as well! Create your own candy gram poster or use one of our printables, free to download at the end of this post. We guarantee a candy gram will stand out amongst all the other gifts every time! Keep reading to get a few ideas on how to create your own candy gram poster and also see how we put these giant birthday cards together (including how much it costs to print).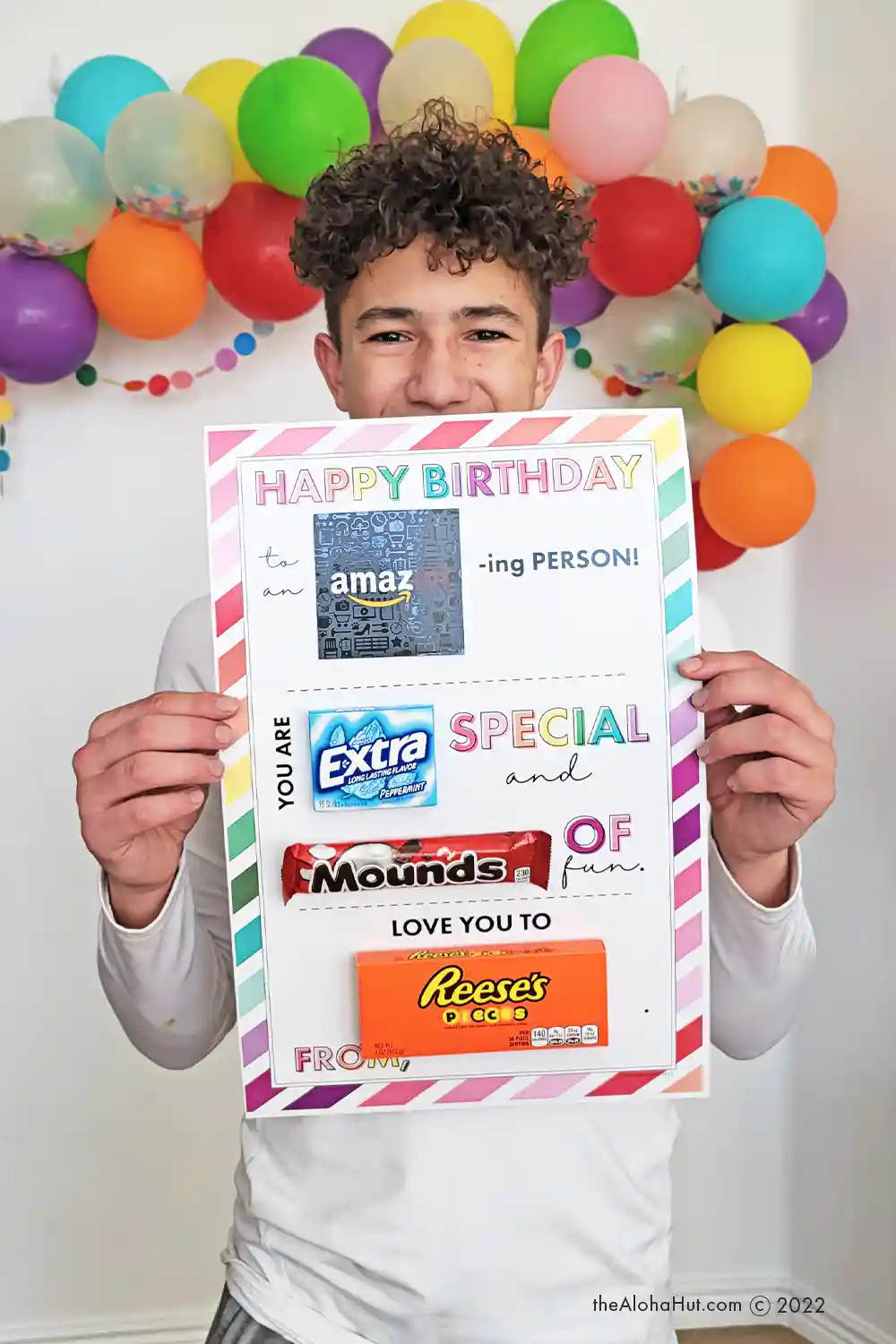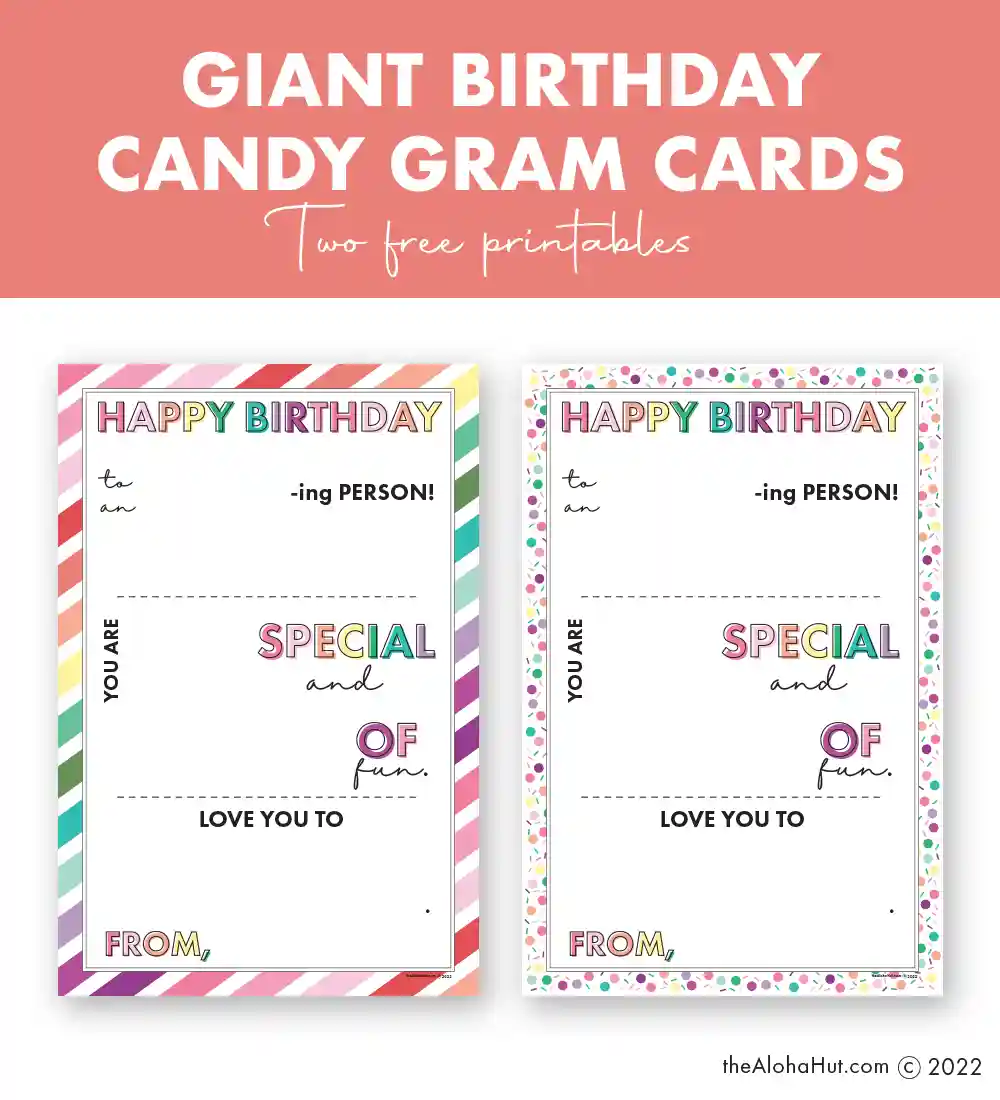 Why is it so hard to shop for a birthday party?? Especially as the kids get older. There's nothing  worse than spending money on stuff we're not even sure if the child is going to enjoy. And let's face it, a gift card with some candy doesn't look all that great; but tape those same things on a giant poster board with some cheesy puns, and you've got a winner! Giant birthday cards / candy bar sayings posters are a hit every time. Not only are they fun to come up with, but they are totally customizable. And you can spend as little or as much as you want if you add in a gift card. They make an easy teen birthday gift idea or friends birthday party gift.
These candy grams are most known for Father's Day gifts or asking people to high school dances but we love to use them whenever possible. We've used them for mother's & father's day, grandma & grandpa, teacher appreciation (one here and one here), birthdays (teens especially love these) and lots of other holidays and celebrations.
If you've got a kid who wants to come up with their own candy gram card, here are some fun inspiration pictures we found floating around on the internet: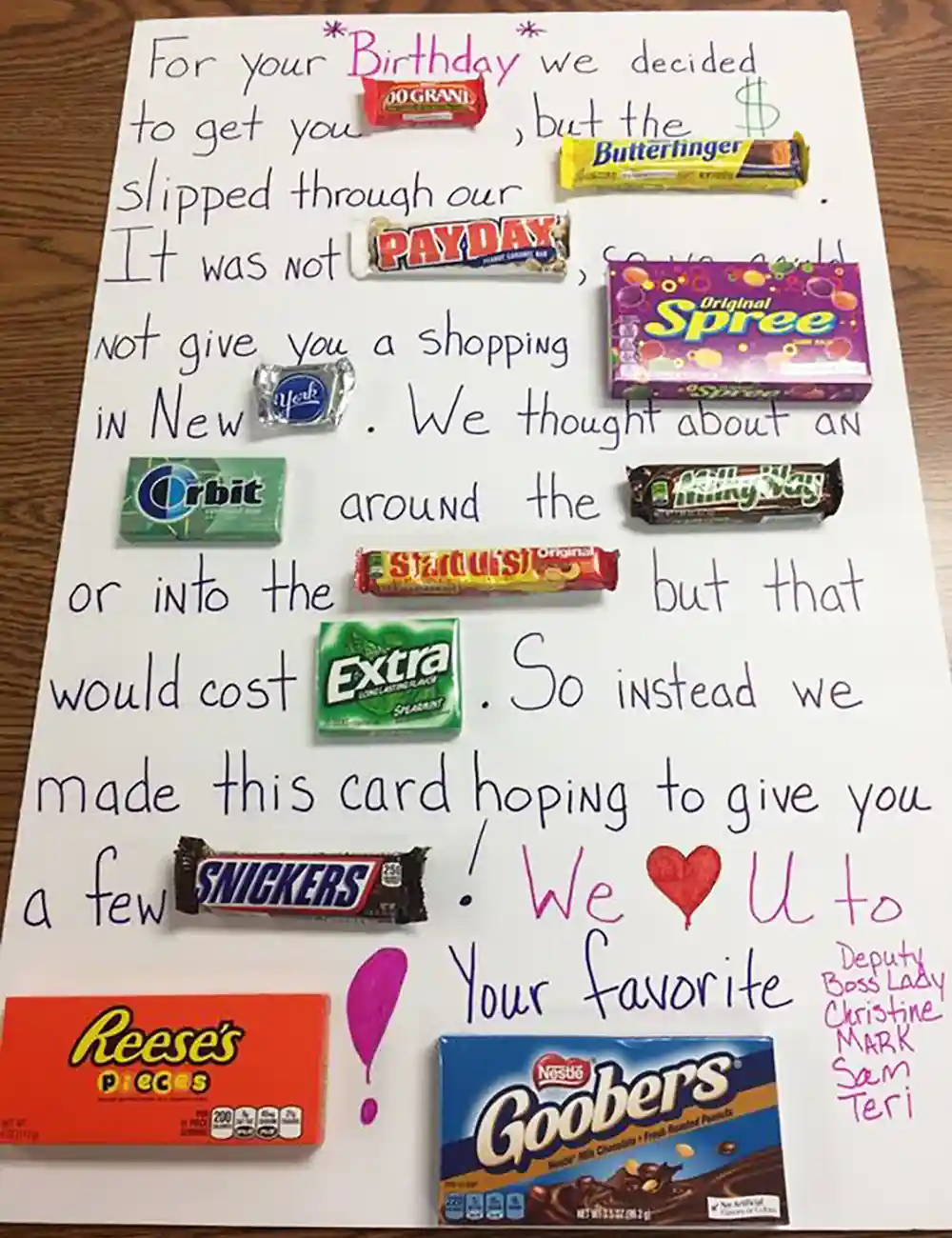 In order to create your own giant birthday card, just grab a poster and candy and start writing/doodling. We like to create a border so it looks a little more finished and artsy but it's not necessary. If you're not super creative, don't have much time, or want it to look like you bought it from the store, download and print off our free printable birthday candy gram posters at the end of this post.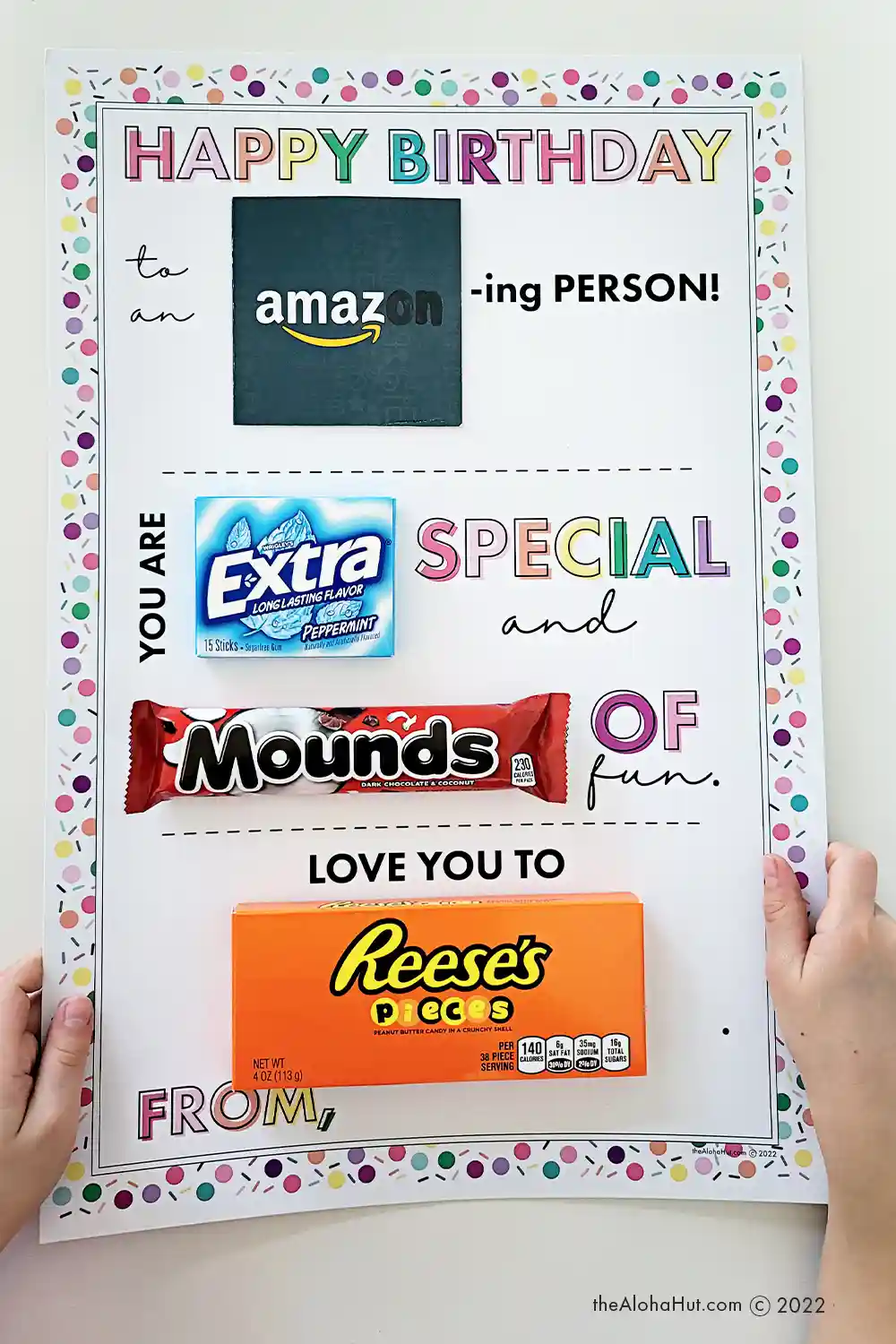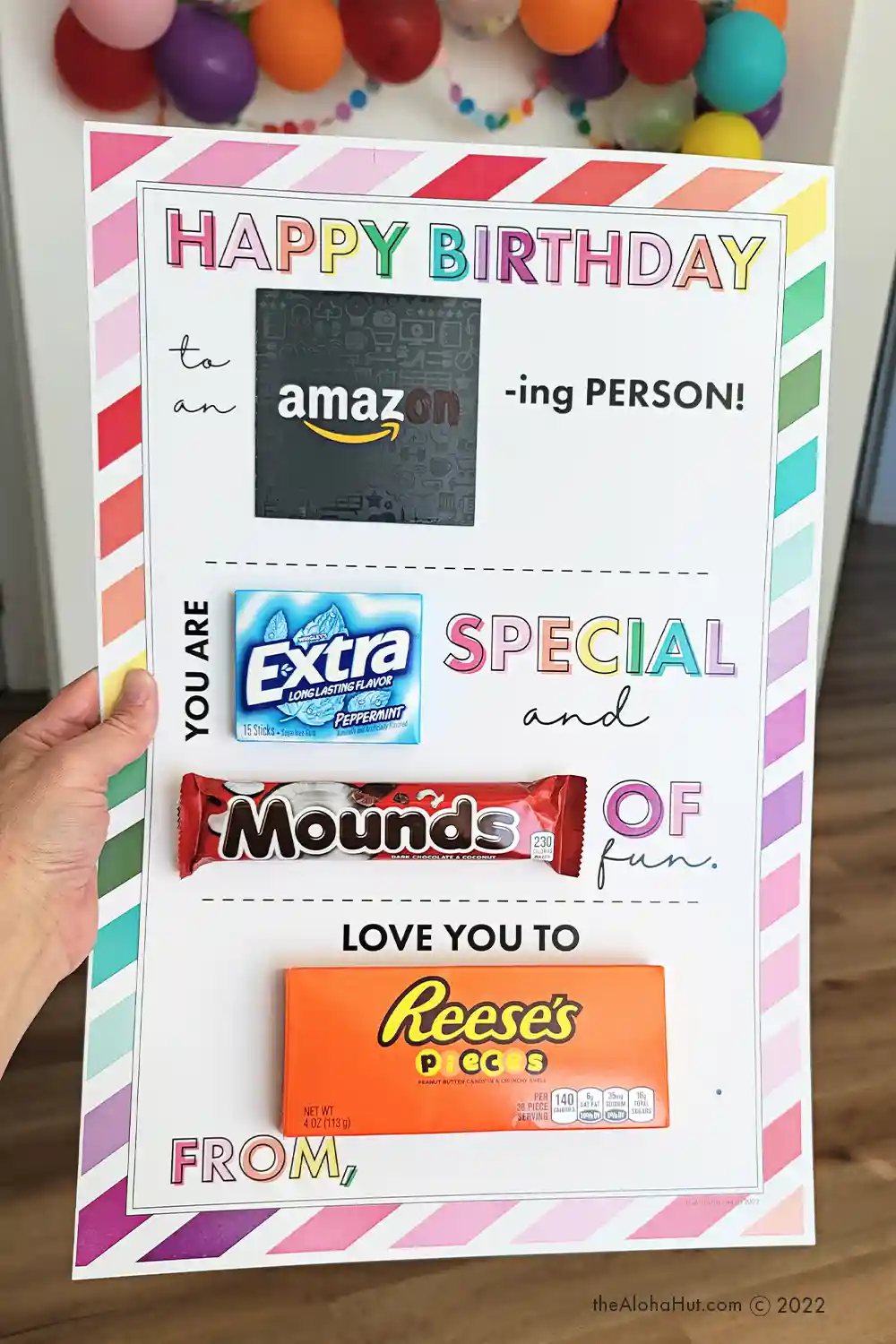 We printed our candy gram posters at the local print shop for just over $2. The print is 12×18" and we prefer to print on a thicker 12pt paper for sturdiness and appearance. If you don't have a local print shop then Staples or any other big brand chain can print these giant candy gram posters for cheap as well.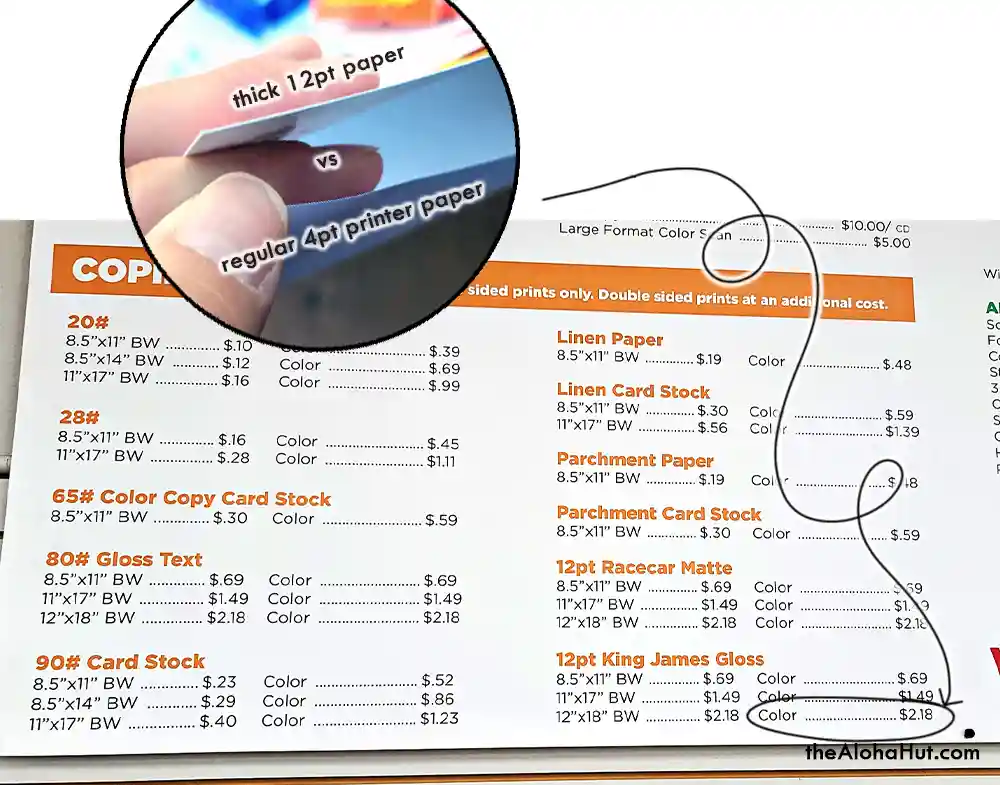 Hopefully this helps solve that problem of what gift to bring to a birthday party or what gift to give to a teen. Both situations can be tricky but can be solved with these super fun, creative and easy birthday gifts.
Much love and aloha,
Stacey + Niki
---