Mother's Day Coupon Flowers & Inexpensive Gift Ideas
Mother's Day Coupon Flowers & Inexpensive Gift Ideas
This post may contain affiliate links. Read our disclosure policy.
Looking for simple and inexpensive gifts for the kids to give mom and grandma for Mother's Day? We've got a cute DIY paper flower craft that is so easy for the kids to make, and a gift that mom and grandma will love. The best Mother's Day gifts are homemade and come from the heart!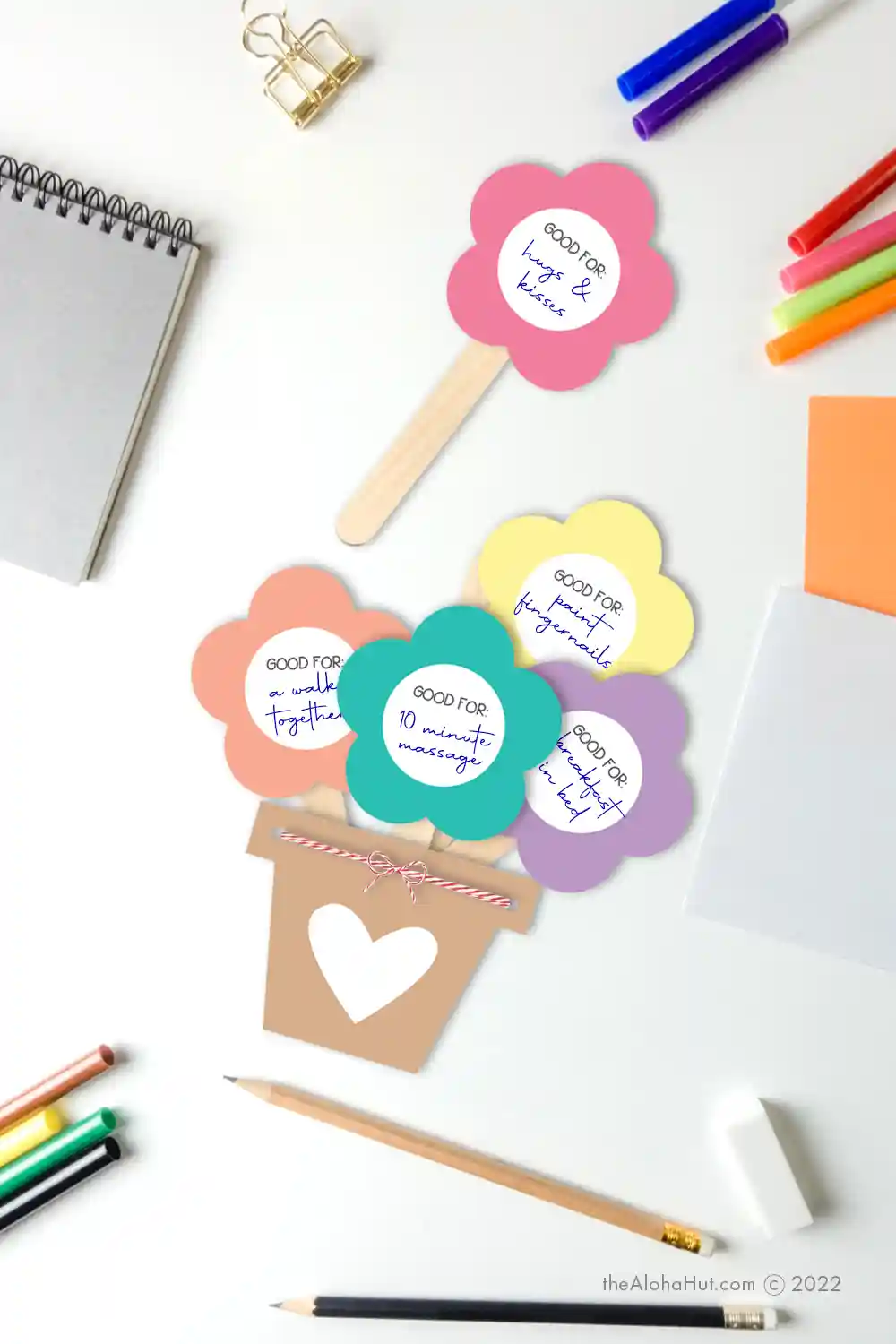 We love giving personalized coupon booklets for the holidays and so of course we had to do a little twist on the traditional coupon booklet and make a Mother's Day themed coupon flower pot. The great thing about a coupon book for mom and grandma is you can easily personalize the gift and it's a very inexpensive Mother's Day gift idea.
The sky's the limit for what coupons you can give mom and/or grandma. We vary the coupons the kids give mom and grandma, depending on the age of the children. A toddler will need more help with coupon tasks, so involve dad and grandpa! Dad and grandpa (or even older siblings) can help toddlers and small children perform the acts of service for mom and grandma.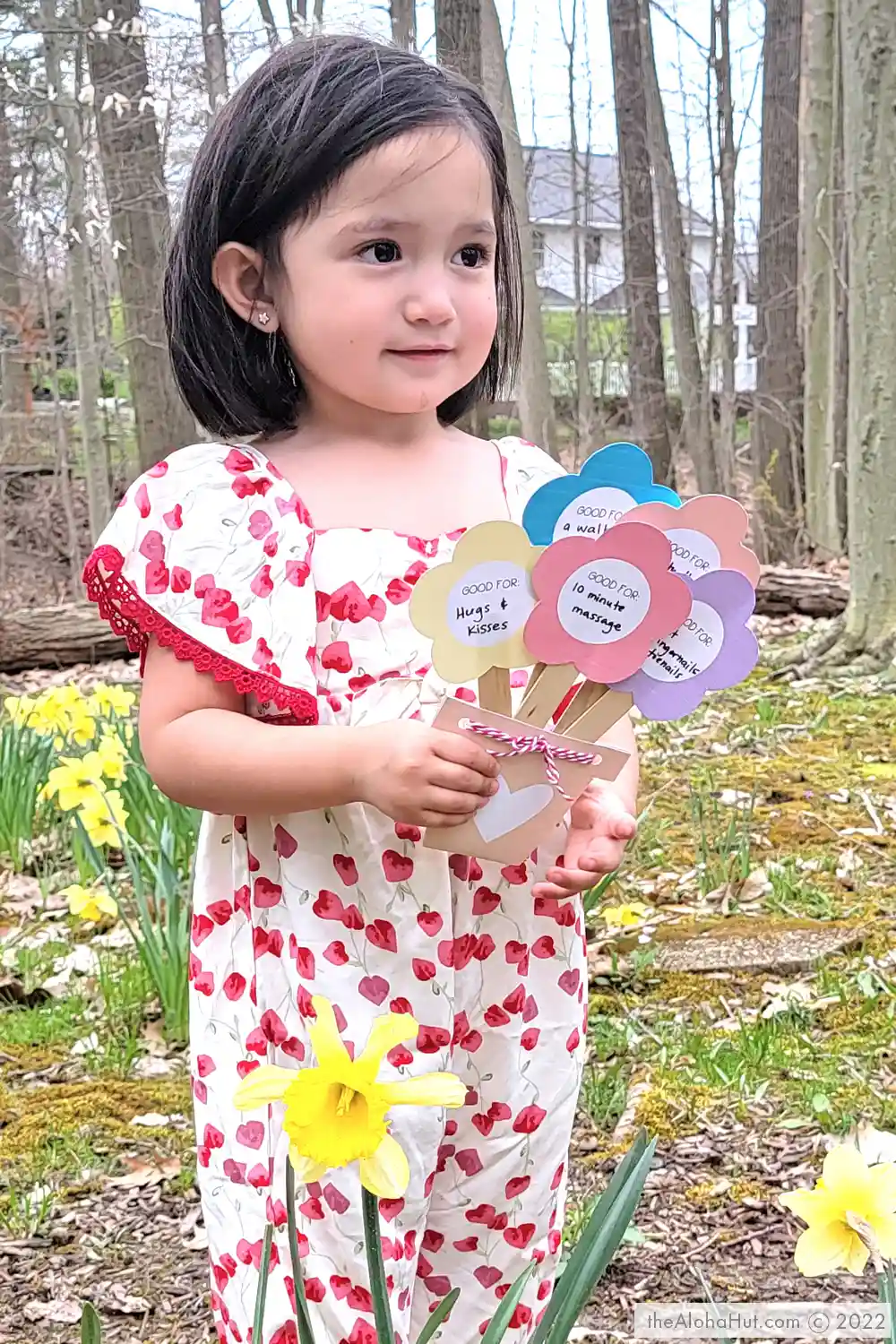 Shower mom and grandma with love by offering to do small acts of kindness and service for them throughout the month when they redeem their coupons. Some of our favorite Mother's Day gift ideas to add to the coupon flowers are:
10 minute massage
10 minute backscratch
Paint fingernails / toenails
Breakfast in bed
Car wash – inside and outside
Break from the dishes
Help with laundry / sorting clothes
Uninterrupted bubble bath
Night off from cooking
Family movie night
Break from dishes / help with dishes
Go out for a treat
Chore of your choice
Baking together
Hugs and kisses
Babysit for free
A walk together
Craft or activity together
Morning of sleeping in
Uninterrupted nap
There are so many simple and easy gift ideas the kids can give mom and/or grandma in the Mother's Day coupon booklet. It really is the perfect gift because you can personalize it to give them something they need and want! We love thoughtful gifts that don't cost very much and that are meaningful for mom and grandma. Moms love flowers, so give them flowers that include small acts of kindness and service they can redeem throughout the month. The women in your life will appreciate the extra help around the house and will love being pampered.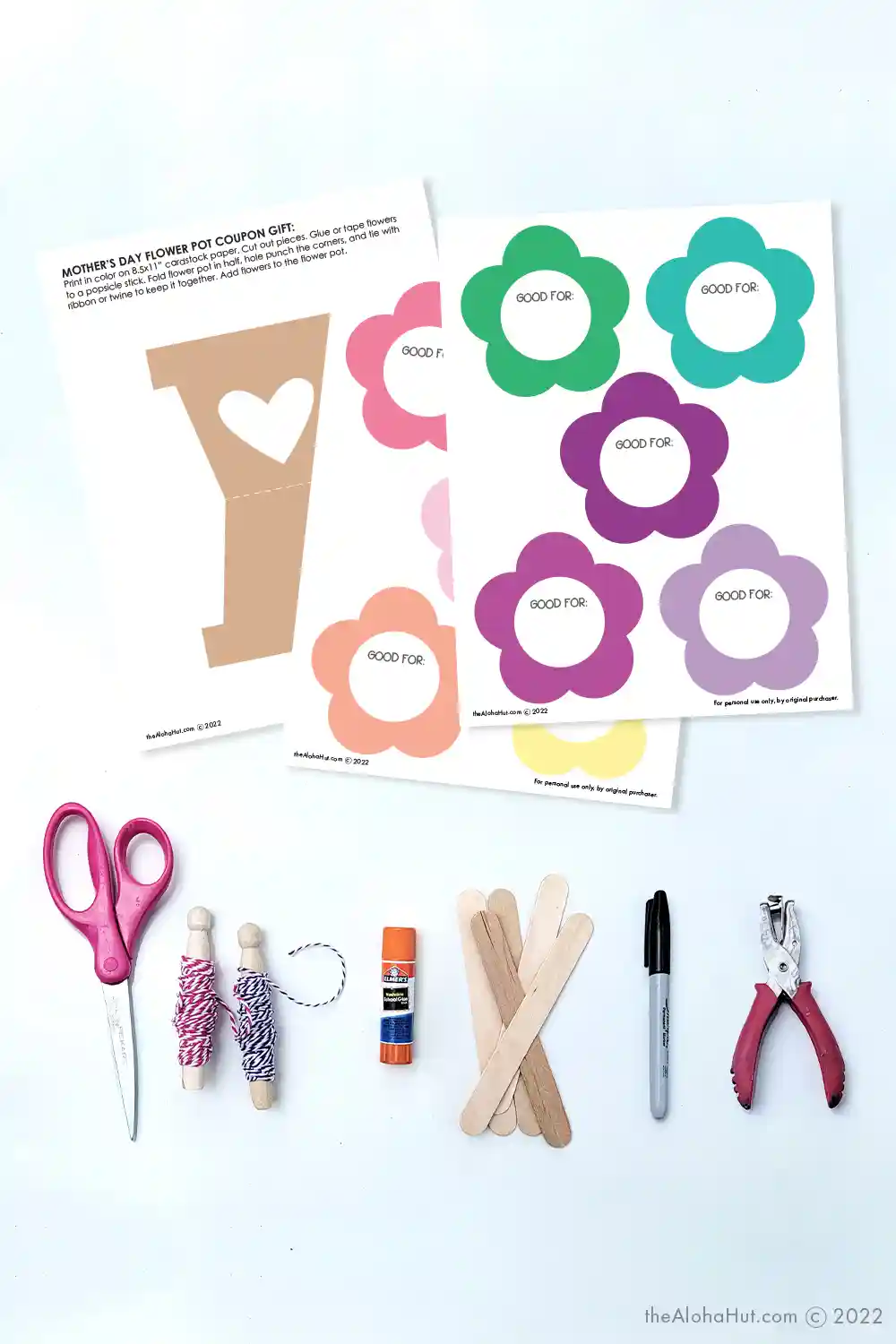 This Mother's Day craft makes a great kids activity for a preschool class or for a church primary activity day idea. Gather your small church group or preschool class, and make a fun homemade gift for mom that she'll love! The pot of flowers is a simple DIY craft kids can easily and quickly make. To put together the pot of flowers you will need to:
Download (at the bottom of this post) the printable Mother's Day flower coupon craft and print on cardstock paper.
Cut out all the pieces and attach the flowers to popsicle sticks.
Fold the flower pot in half and hole punch the two corners of the flower pot.
Add ribbon or twine to the flower pot to keep it together.
Finish off the craft by adding personalized flower coupons with small acts of kindness and service for mom and/or grandma.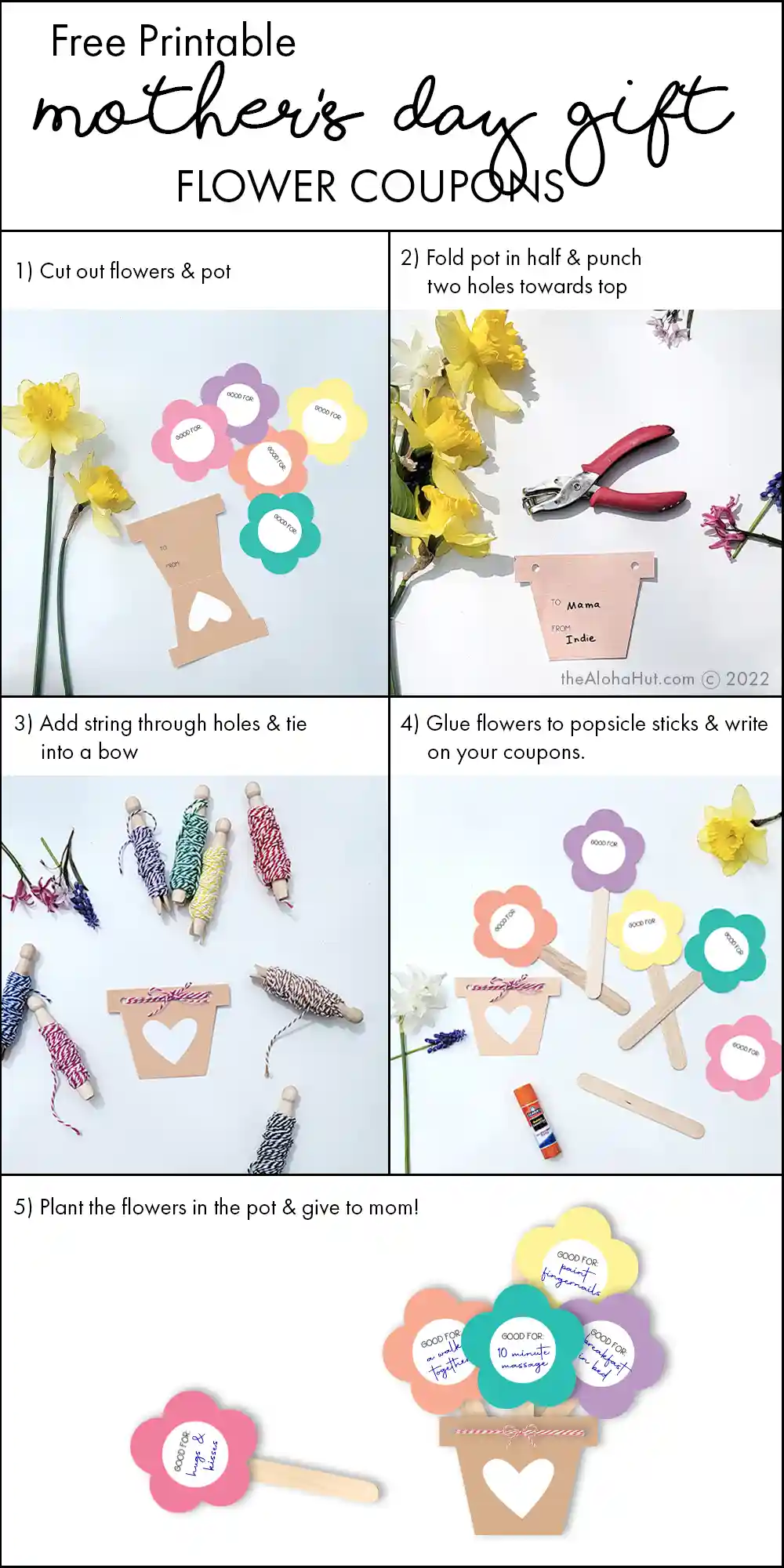 Need more ideas for simple and inexpensive Mother's Day gifts from the kids? Check out our previous Mother's Day gift ideas and activities to help you celebrate the women in your life. We've got four FREE printables you can download for easy Mother's Day gift ideas:
#1 Giant Mother's Day Candy Bar Card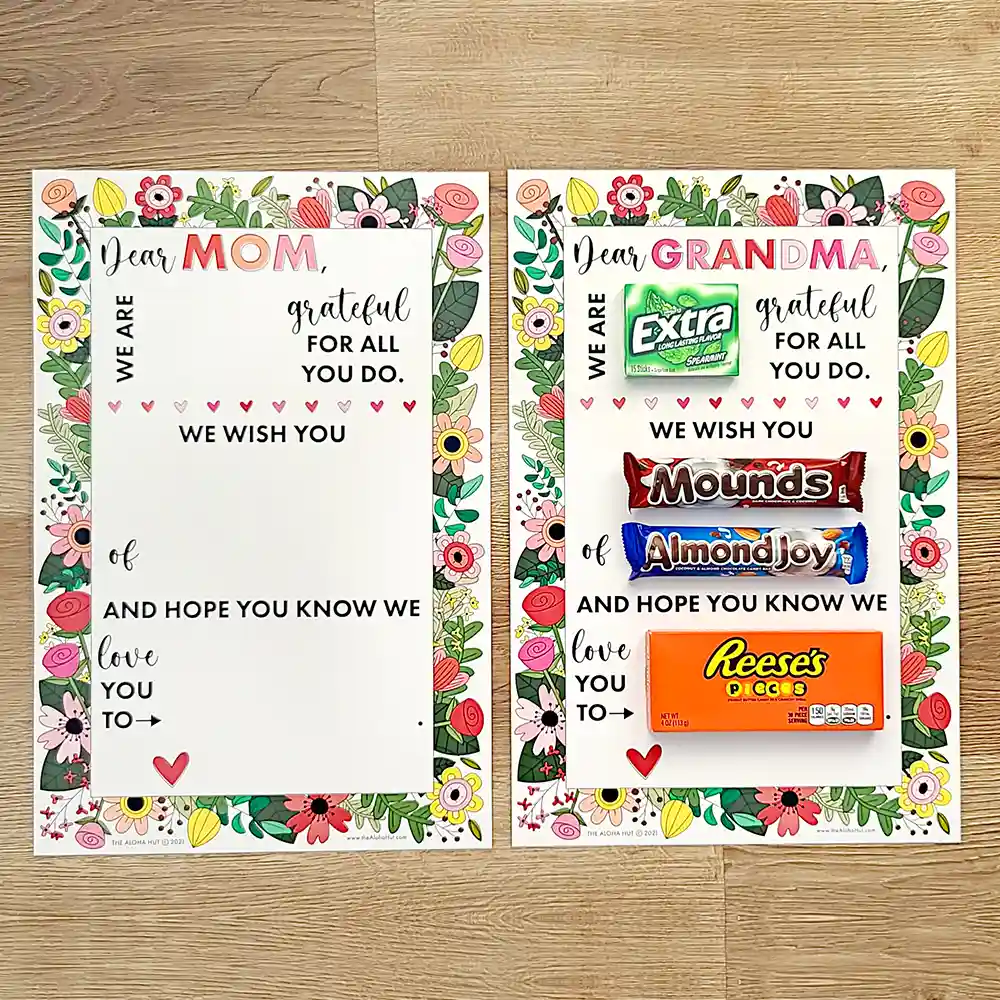 Everyone loves a fun and giant candy bar card with cute candy sayings. We have two free printable Mother's Day candy gram cards to download – one for mom and one for grandma. Tell mom and grandma you love them with a candy gram!
#2 Portraits of Mom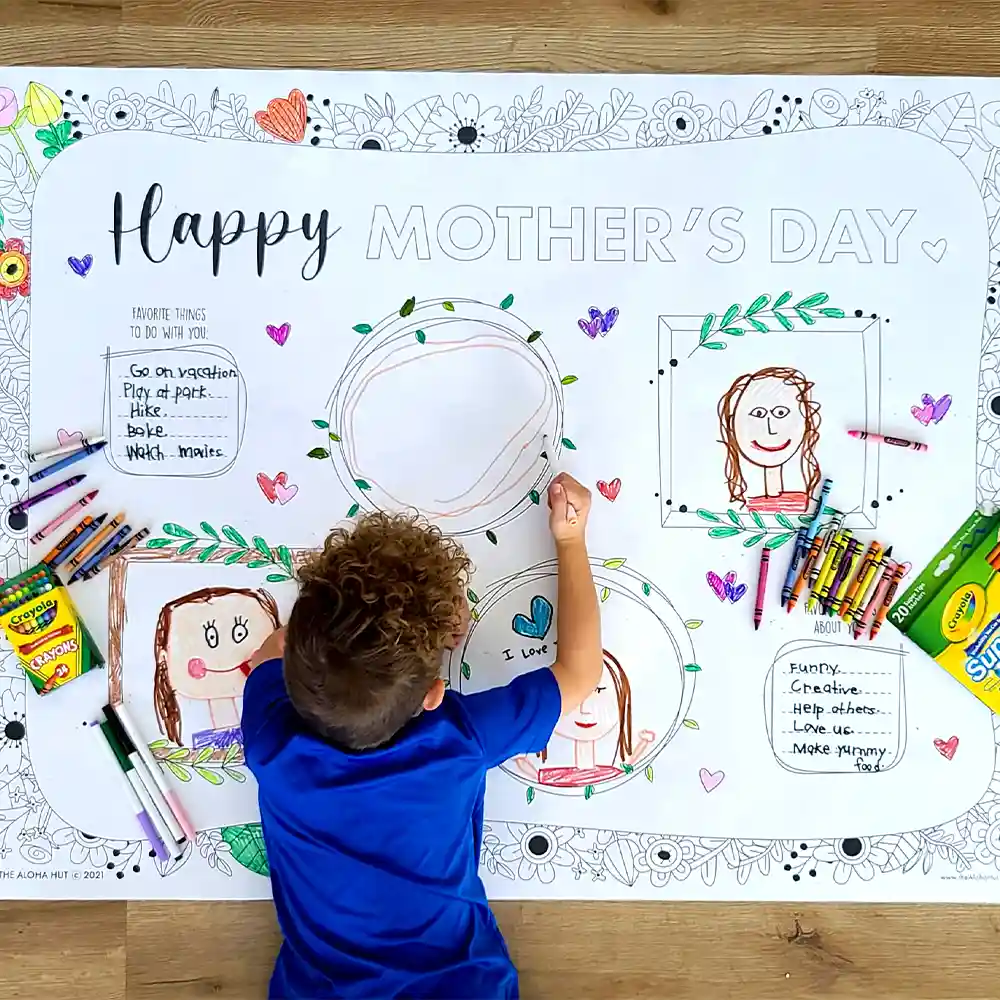 Some of our favorite gifts from our children are their drawings. It's so fun to compare their art from year to year. Have kids draw a picture of mom on our giant Mother's Day picture frame poster. We love giant posters and are obsessed with their size. Download the free printable Mother's Day poster and print as a 36×48" engineer print for a huge wow statement for the women in your life. You can't go wrong with personalized drawings. Art makes a great Mother's Day gift.
#3 Disney Up Movie Mother's Day Art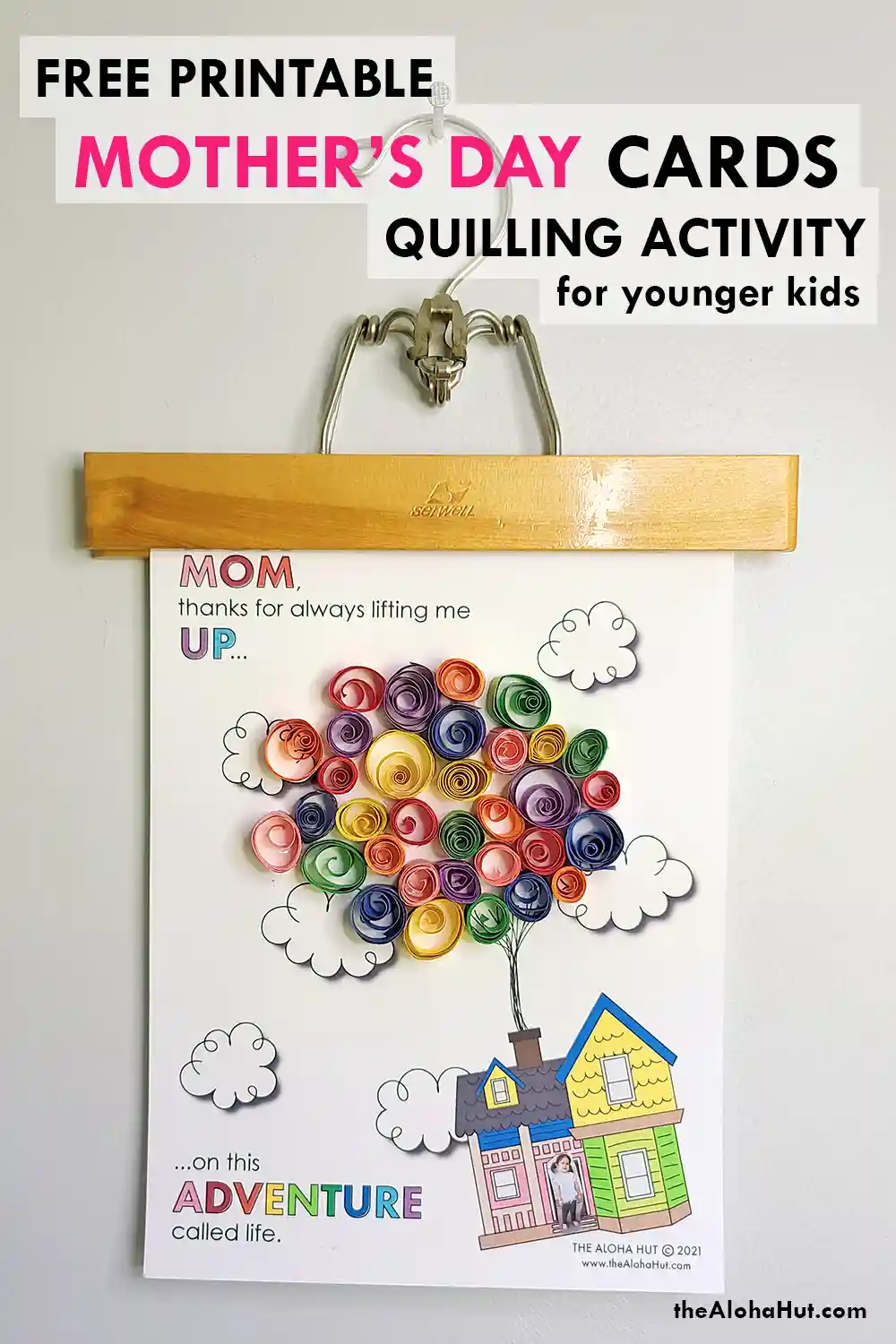 Design a fun Disney themed print for mom and let the kids have fun learning to quill (curl paper). Tell mom thank you with a "thanks for always lifting me up" printable activity. This is a fun hands on craft the kids will enjoy making for mom. Even preschool aged kids can learn to quill and will love this simple art activity and craft.
#4 DIY Essential Oil Sugar Scrubs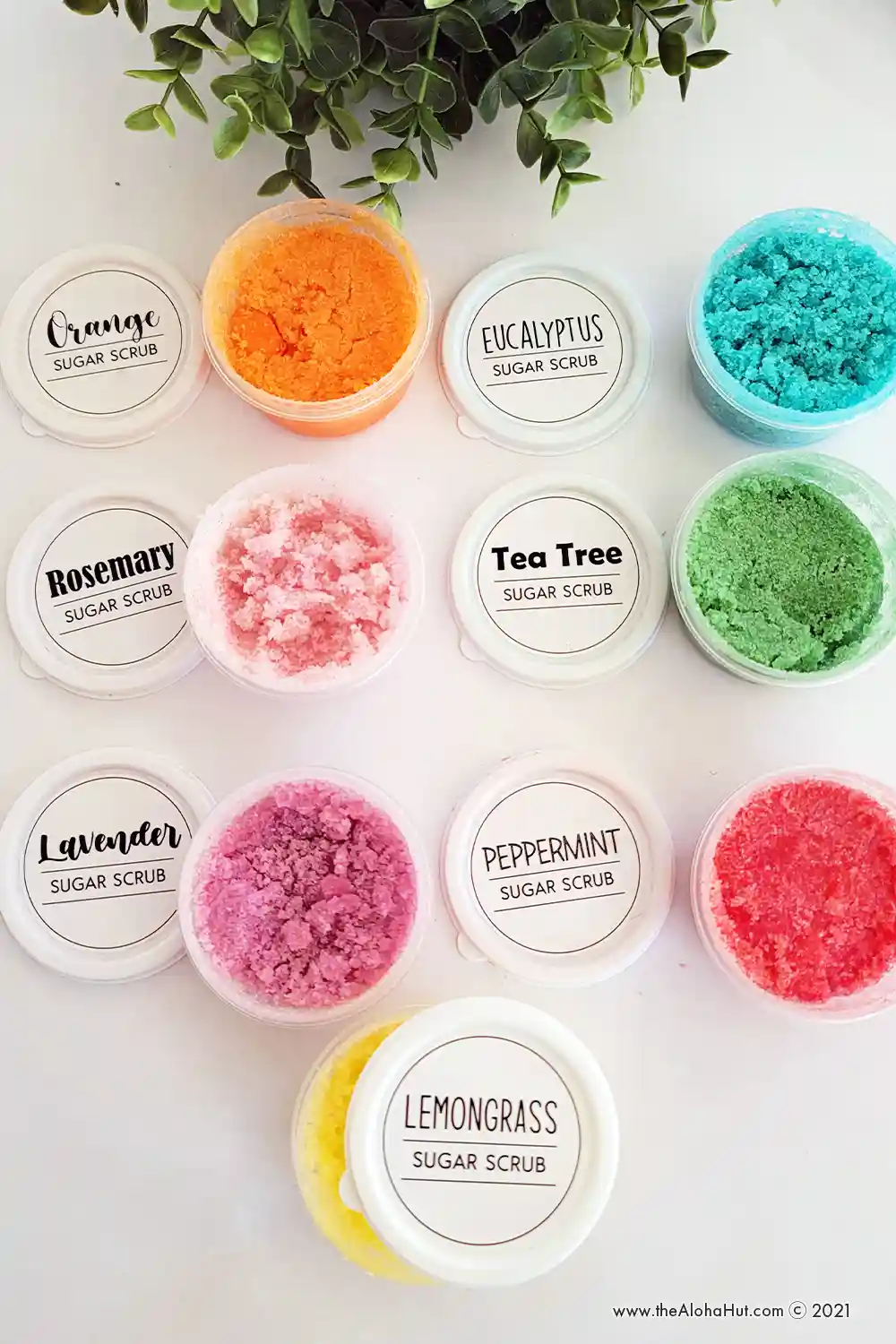 Pamper mom with these cute and easy homemade sugar scrubs! Made from just two simple ingredients – coconut oil and sugar. Add your favorite essential oils and some food coloring to mix it up and add more variety. This makes the perfect gift for mom, grandma, the neighbor, sisters you visit teach or minister to, etc. We love making homemade sugar scrubs. Add our free printable label to make them look oh so adorable and legit. This is an easy activity the kids can do with very little guided help.
We're grateful for all the moms in our lives and for those who help our kiddos. It takes a village and we're grateful we've got a good village. We hope you have a Happy Mother's Day friends and that these gift ideas help you celebrate those special people in your life!
With love and aloha,
Stacey + Niki
---