Disney Luca Coloring Pages
Disney Luca Coloring Pages
This post may contain affiliate links. Read our disclosure policy.
We LOVED the new Disney Pixar film Luca! The film had some great lessons to teach kids like pushing yourself to do hard things, making friends despite your differences and telling that negative voice in your head "Silenzio Bruno!" Luca has quickly become one of our favorite summer movies so we created a fun FREE coloring page for all the fans out there. We don't just color around here, we mix different mediums to create masterpieces! Below you'll find six ideas of how you can create your own Luca.
1) Watercolor Paint
If your kids have never painted with watercolors, stop right now and buy some! Watercolors are so forgiving and so pretty to paint with. Luca is actually ombre skin toned when he's a sea monster so using watercolors really helps give you that blended look. They're so easy to use. If you make a mistake, just dab the area with a paper towel and add the correct color.
2) Watercolor Paint + Modeling Clay
If you're really wanting to add some dimension to your picture, add some fun scales and curly hair to Luca! We used modeling clay because it's so easy to sculpt and sticks really well to paper. For the hair, we made some clay snakes and attached them to the hair. For the scales, we added glitter to some blue clay. This helps give it a little shimmer. To create the scale effect, place little balls on each scale, starting from the top row. All you do is smoosh the ball down and take a toothpick to carve lines in the clay, making it look like a scale. Keep repeating the process, one row at a time, until you've reached the last (bottom) row.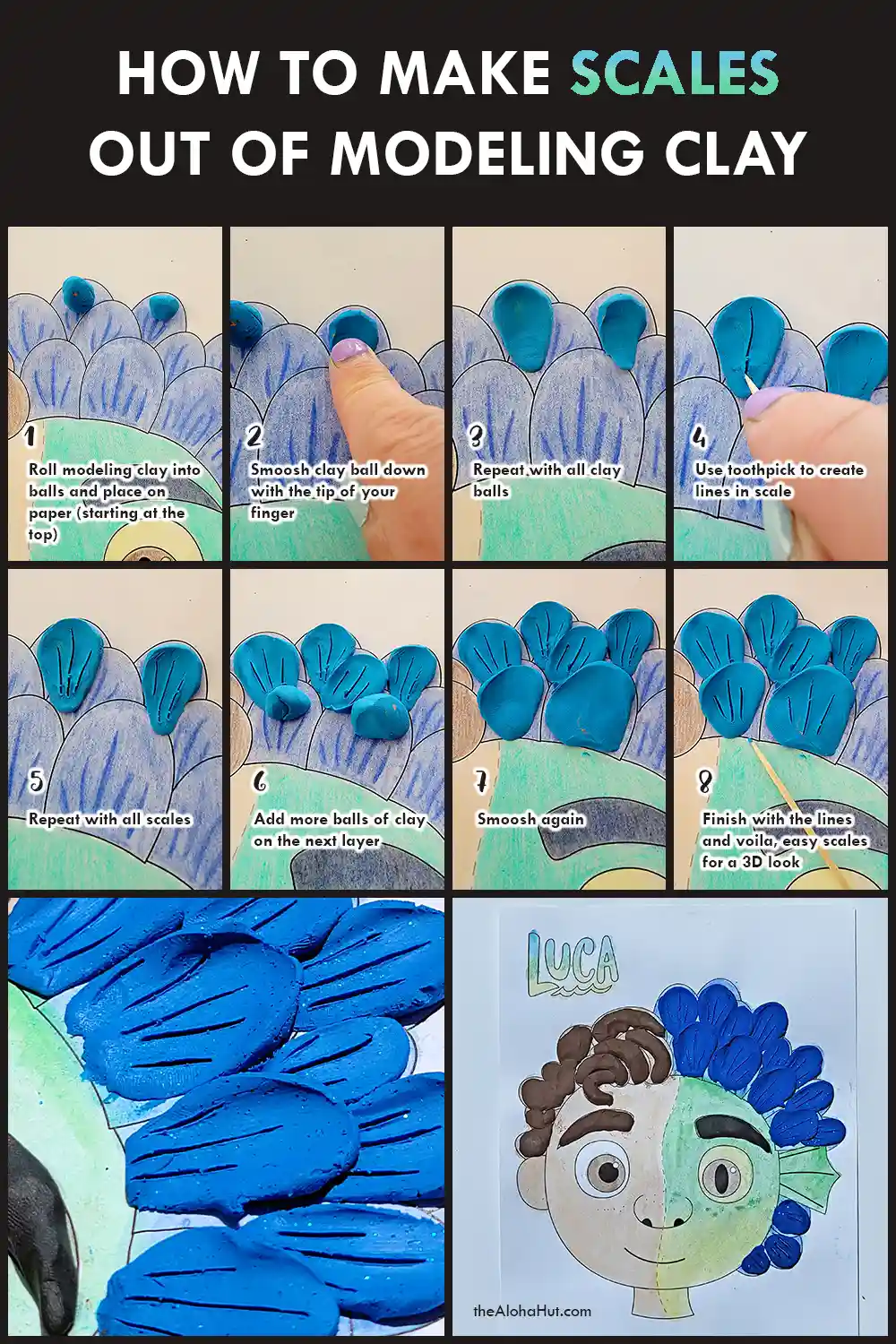 This is one of our favorite mediums to create with because it makes the image pop off the page!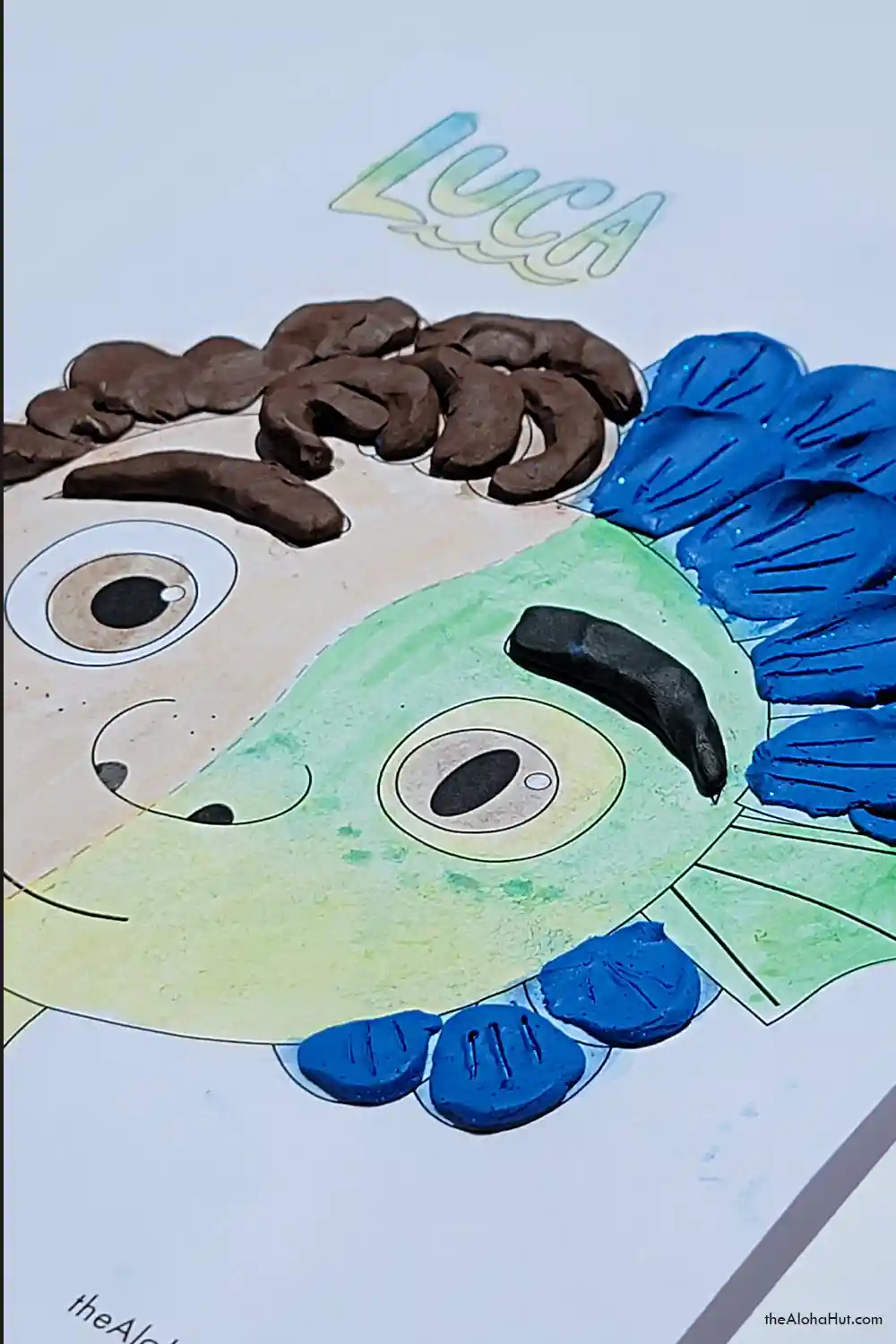 You can add modeling clay to any area. We could have even used it for the eyes but for this coloring page we thought that modeling clay would look best as the hair and scales…I think we were right. 🙂
3) Markers, Glitter + Black Glue
Sometimes markers just don't cut it. But adding glitter, now we're talking! We added glitter to the sea monster side only because real life scales have such a cool shimmer to them that mimics glitter. The easiest way to get this look is to color in all the areas with markers first, leaving the glitter parts blank. The next step is to outline all the details with black glue. The recipe for black glue is simple: one part glue + one part black acrylic paint. Make it with half a glue bottle because the tip of the bottle is perfect for outlining.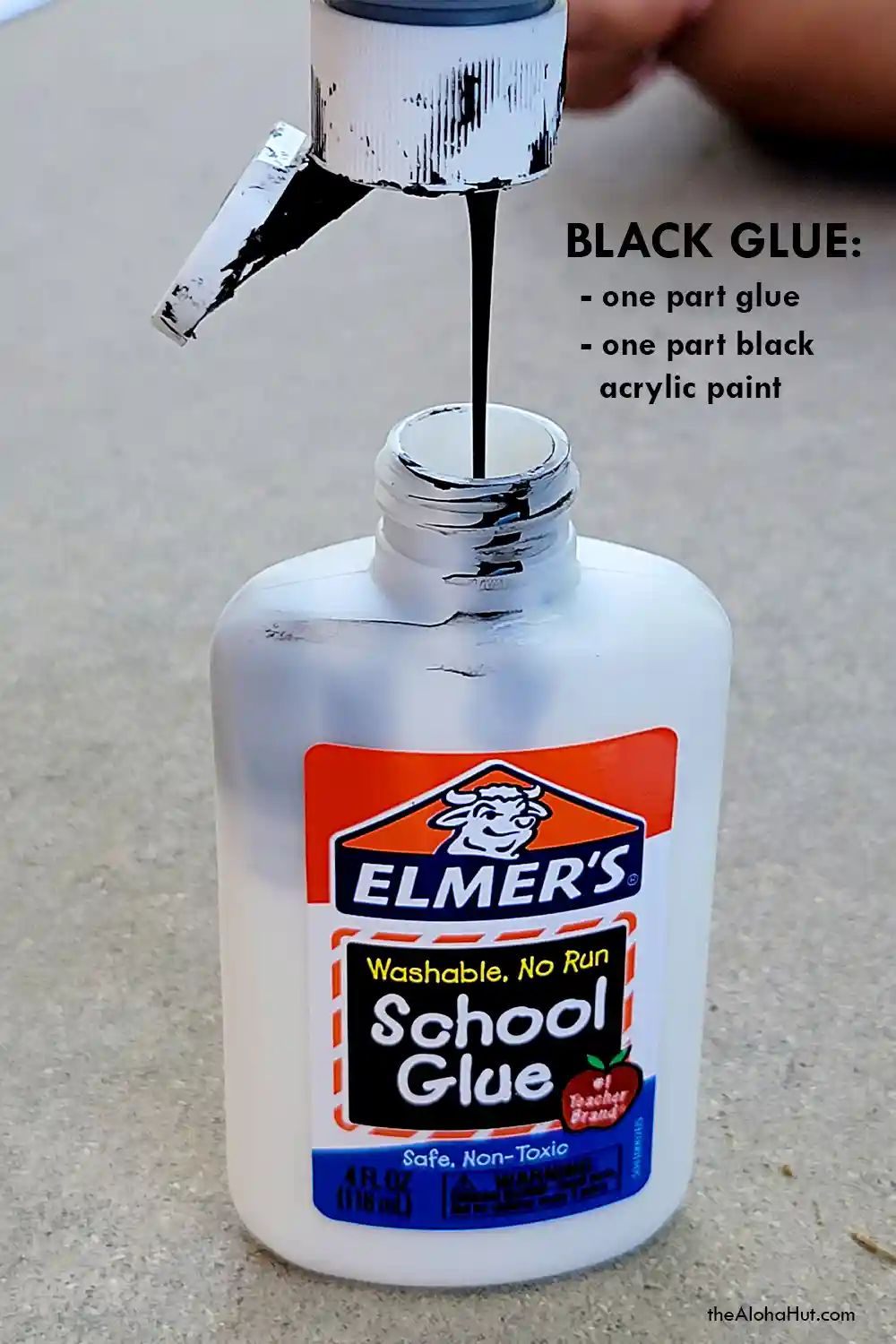 Let all of the black glue dry then add normal white or clear glue with a paintbrush to the areas you want glitter. We started with the scales first and then the skin.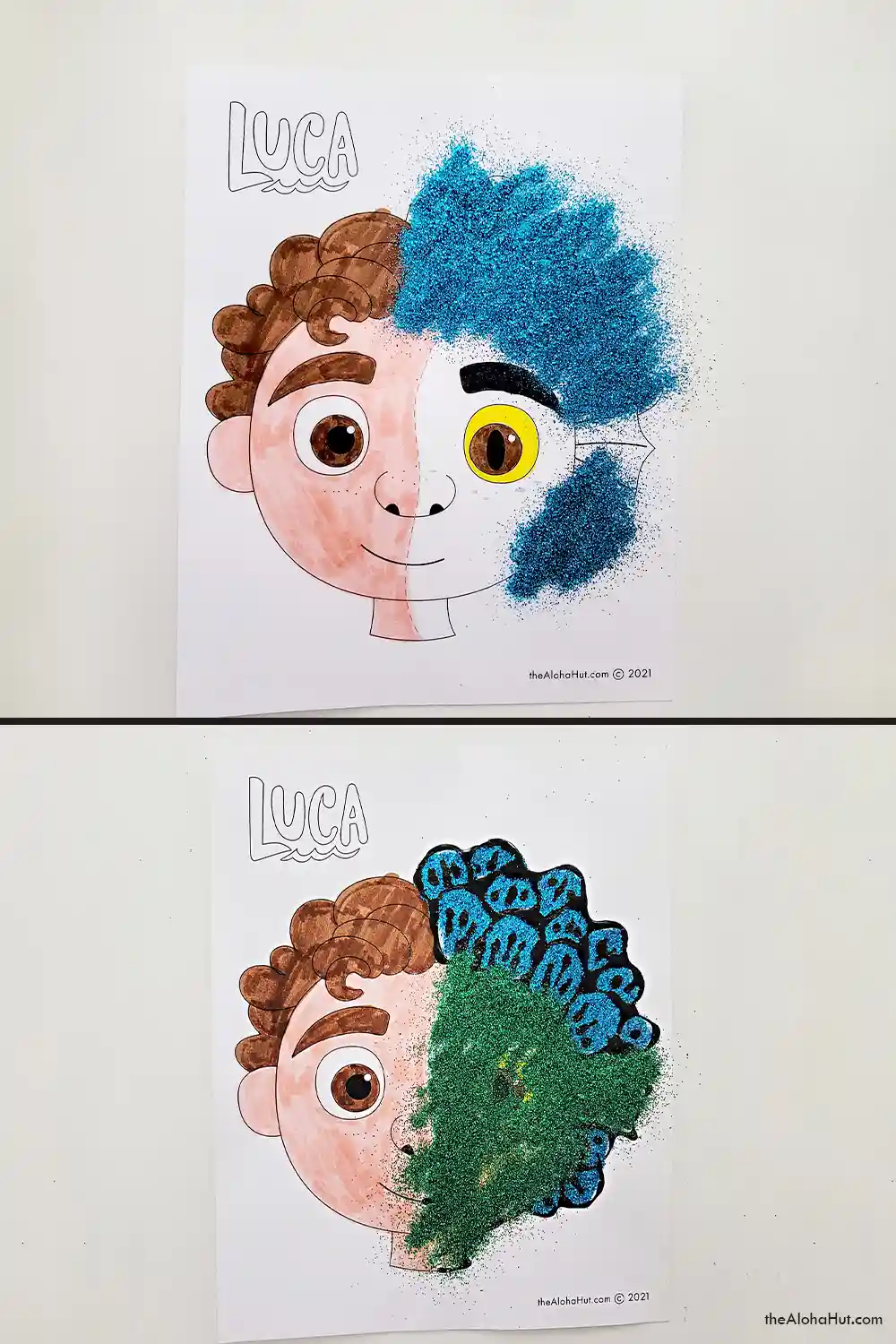 To create the blended ombre look, we added green to the top half and then a little amount to the bottom half. Then we added goldish yellow to the rest of the bottom half.
4) Colored Pencils or Crayons
Never underestimate the classic colored pencil or crayon. Blending is a little more difficult with these unless you get the more expensive brands that are created for blending. We had our 18 year old niece help us out with the colored pencil one and guess what, she loved it! Coloring is such a great stress relieving activity. It can be fun and relaxing for all ages!
5) Crayons, Pompoms + Pipe Cleaners
If you don't have the other supplies or don't want to deal with the mess (glitter) then go to your art stash and pull out anything you have on hand. You really can't go wrong. Kids love gluing on pompoms, curling pipe cleaners and adding stickers to their pictures.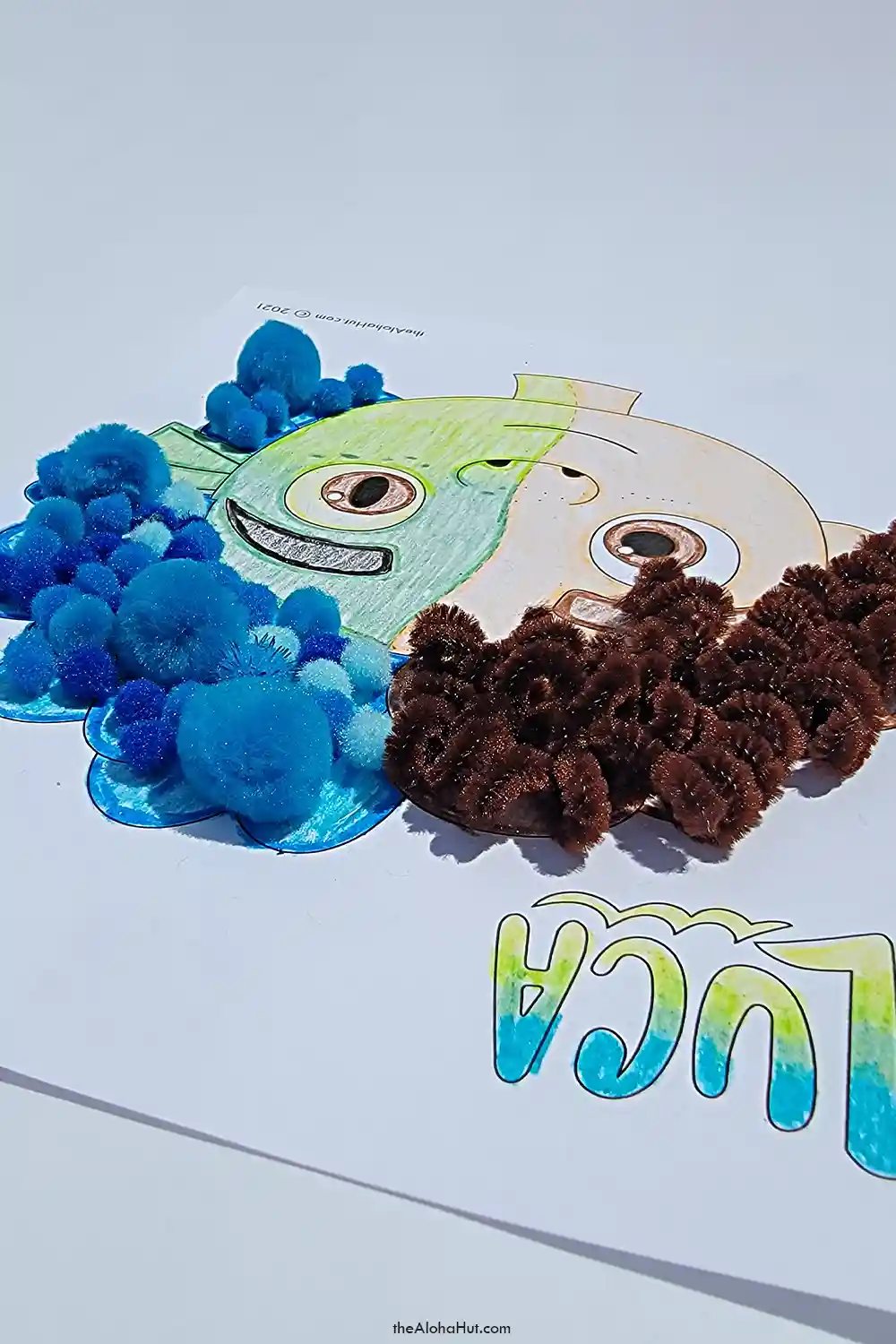 Don't be afraid to mix up the mediums and make these normal coloring pages into masterpieces! We hope your kids enjoy this FREE Disney Pixar Luca coloring page as much as our kids did! Stay tuned for more Luca coloring pages of Alberto and Giulia.
Please tag us on instagram when you post photos using our free prints and activities. We love seeing all your children's creations!!
Silenzio Bruno,
Stacey + Niki