Best Gifts for Little Boys Ages 4 to 7
Best Gifts for Little Boys Ages 4 to 7
This post may contain affiliate links. Read our disclosure policy.
We have the perfect gift guide for little boys ages four to seven. This age is so fun to shop for! Whether your son is into super heroes or dinosaurs, building or running around outside, we're sure you'll find more than a few items on our list that will make him squeal with joy. We chose an array of our favorite gifts that spark creativity, last a long time and will actually get played with over and over again. Don't forget to scroll to the bottom of this post to print off a free Christmas Wish List to help you organize your holiday shopping this year.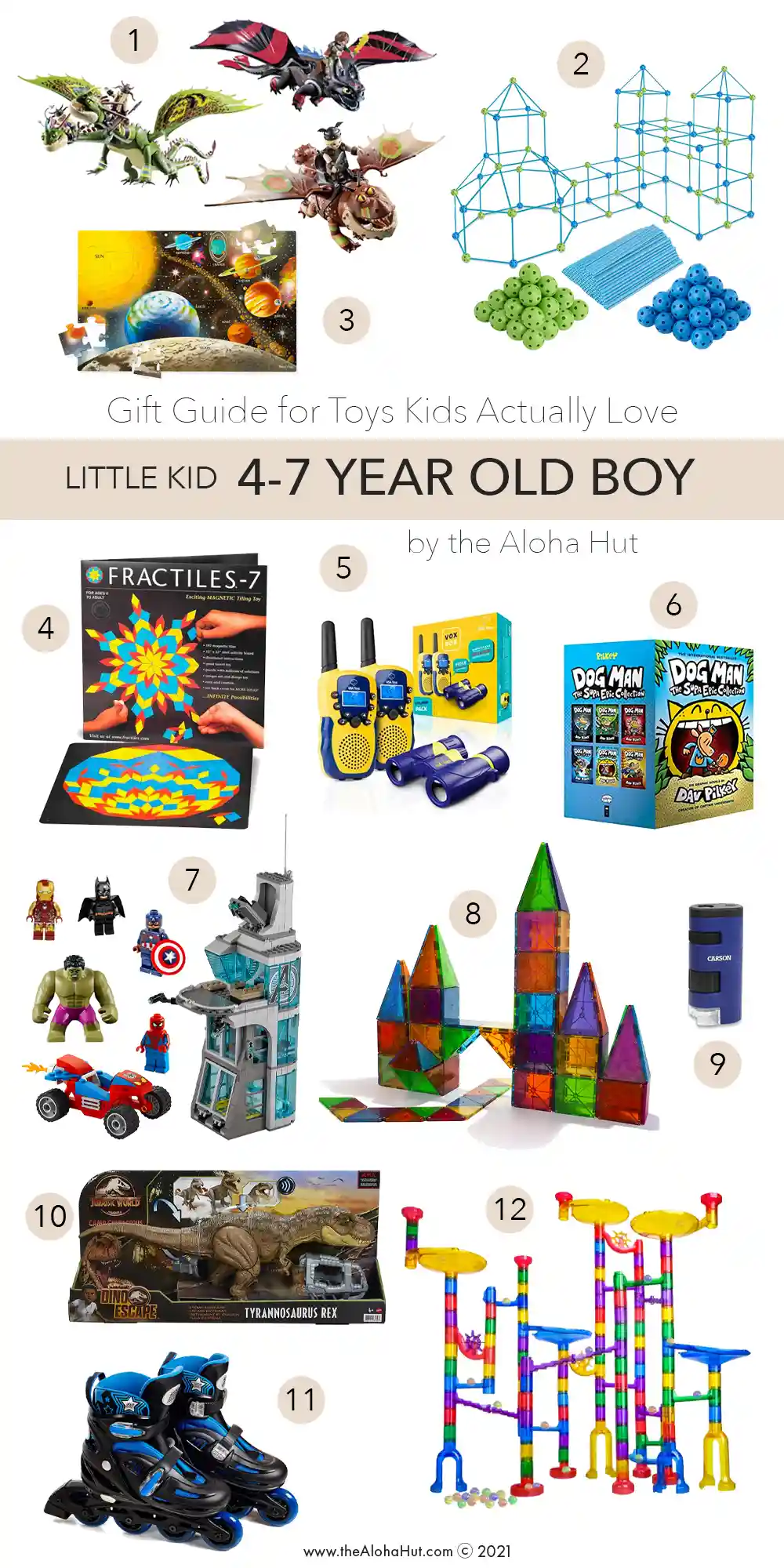 PLAYMOBIL DRAGONS: If you've never heard of Playmobil, you're in for a treat. These toys are so well made and beautifully crafted. They are built to last and the perfect addition to any toy room. The dragons from the How to Train Your Dragon movie are by far the best on the market. And lets face it, dragons will always be popular among boys this age. Some other favorites:
FORT BUILDING KIT: No more banged up walls or missing chairs! We particularly love that this is a building toy and imaginative play in one.
PUZZLES: Perfect for quiet time. We love the Melissa and Doug floor puzzles and and of the Ravensburger puzzles. Both are really good quality with thicker pieces.
FRACTILES-7: So many different designs can be made with this fun/unique educational toy. Another great quiet time toy.
WALKIE TALKIES: I don't know any boy who doesn't love walkie talkies. The ones from Vox Box are top rated and even have a two mile radius! These are so much fun to take to the park with friends.
DOGMAN BOOKS: It can be hard to find books that boys love at this age. We highly recommend Dogman. They are a beloved series amongst most kids this age.
LEGO: Need we say more? Our kids particularly love these ones:
MAGNA TILES: We have tried multiple brands and always go back to these ones. They are flat and have a strong magnetic hold so you can build towers upwards of 5 feet! Our kids use these with their Playmobil toys.
POCKET MICROSCOPE: We recently purchased this and it is so much fun getting to see the world around you up close. We've looked at skin, clothes, dead bugs, leaves; pretty much anything we can think of we've put under the microscope. Makes a great stocking stuffer! (This actually makes a great birthday gift for friends as well!)
JURASSIC WORLD DINOSAURS: From the popular Netflix series Jurassic World Camp Cretaceous. This show might be the hit thing at the moment but dinosaurs will always be on trend for this age. Some of these dinosaurs are giant and the kids LOVE it! So far we have the:
ROLLER BLADES: Every one in the family will want some of these. Very few kids know how to skate but once they figure it out, they'll be hooked. In summer, these are always right by the back door, ready to go. In winter, we go regularly to our local skating rink. The two brands we recommend are High Bounce and Roller Derby.
MARBLE RUN: A classic educational toy that will get hours of play on the regular. We grew up creating marble runs and haven't seen them in many homes, which we don't understand because they're seriously such a great toy to play with alone or with friends. Get multiple sets to create more elaborate runs.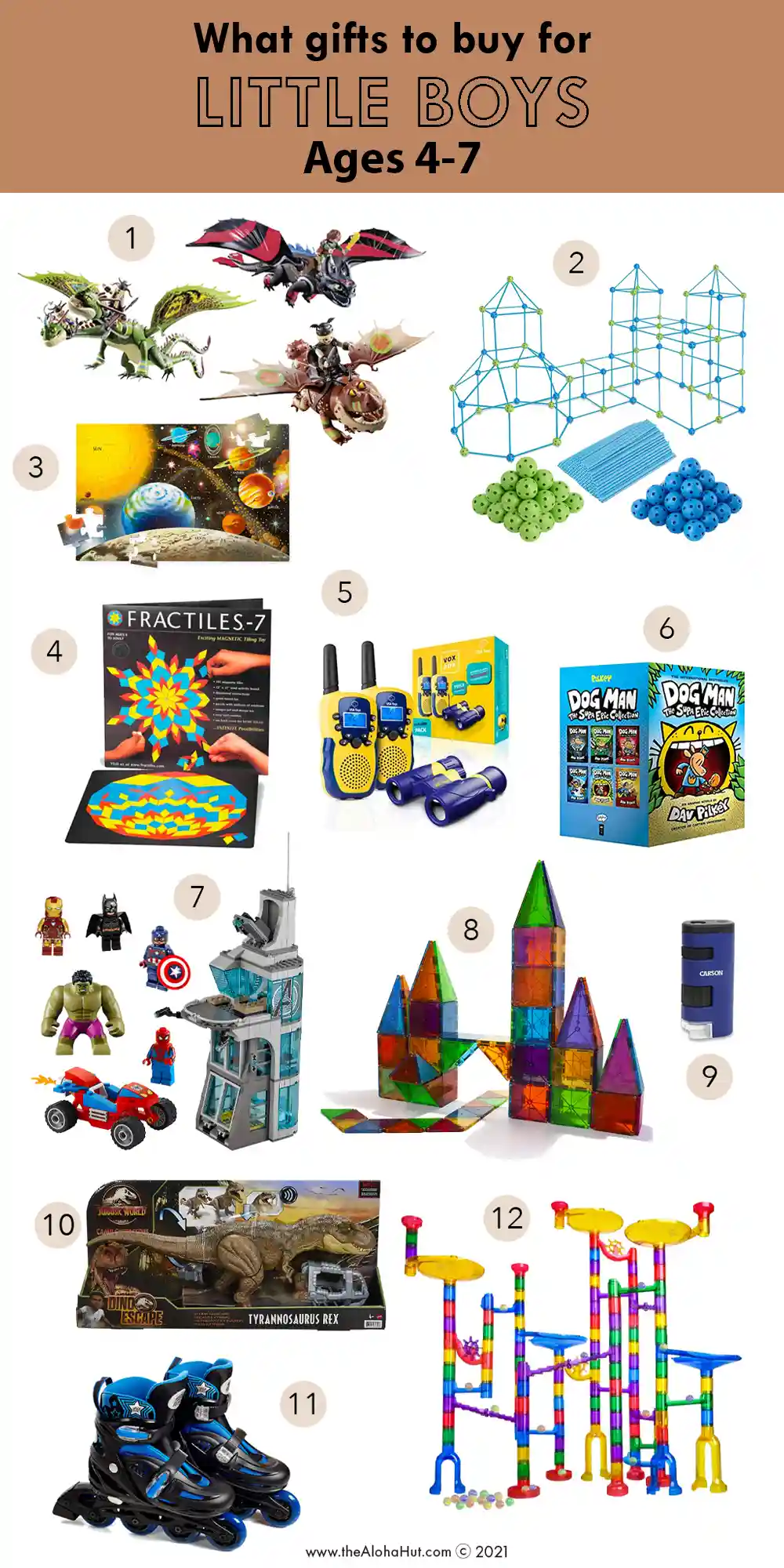 Download the free printable Christmas Wish List below to help get all your holiday shopping organized and done!
Much love and aloha,
Stacey + Niki
---
Check out our other gift guides: