Best Gifts for Little Girls Age 4 to 7
Best Gifts for Little Girls Age 4 to 7
This post may contain affiliate links. Read our disclosure policy.
Looking for the perfect gift for girls ages 4-7 years old? Quality over quantity is our motto each year when shopping for the holidays. It's so important to get things our kids need, will use and will enjoy for the next few years. We've put together a list of items little girls and parents across the board will fall in love with. We hope this guide helps you find a few great gifts for your little girl ages 4-7. Plus keep scrolling to the bottom to download our free printable Christmas Wish List to help you organize all your holiday shopping.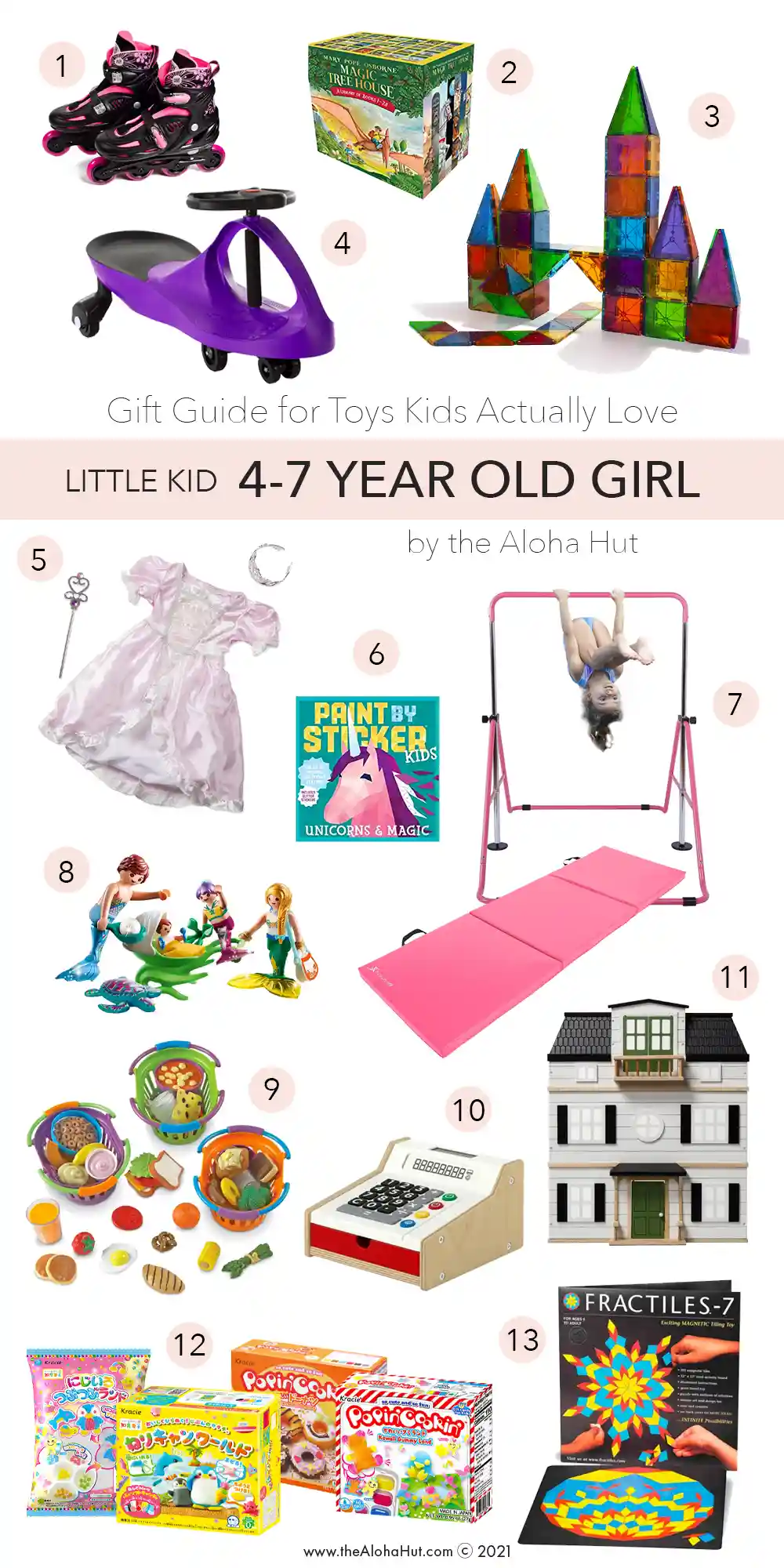 ROLLER BLADES: Everyone in the family will want some of these. Very few kids know how to skate but once they figure it out, they'll be hooked. In summer, these are always right by the back door, ready to go. In winter, we go regularly to our local skating rink. The two brands we recommend are High Bounce and Roller Derby.
THE MAGIC TREE HOUSE BOOKS: Nothing can open up the imagination of a child quite like a great book can. Little girls will love going on all the adventures with the main characters.
MAGNA TILES: We have tried multiple brands and always go back to these ones. They are flat and have a strong magnetic hold so you can build towers upwards of 5 feet! Our little girls love building houses for their dolls and castles for their princesses.
WIGGLE CAR: Kids of all ages love these things. They're even easy enough to ride for little toddlers. These are great to have multiples, especially when friends come over.
DRESS UPS: Girls love to dress up no matter what age, but this age especially. We love Melissa and Doug dress ups because of the quality and the wide selection from a princess dress to a doctor's outfit.
PAINT BY STICKERS: An arts & crafts gift is always a popular option. These books are perfect for on the go. Put them in your church bag, bring them on the airplane, in the car or use them for quiet time at home. They're so fun and a great alternative to painting or coloring.
GYMNASTICS BAR + MAT: Ok, this toy is a favorite amongst all the friends. It gets played with daily. We love this one because it is sturdy, can change height and folds up easily for putting away or getting out quickly. Don't forget the mat! With all the flips and tricks the kids will be doing, you'll want something soft for them to land on. We make sure to put the mat right down the middle, across the two foot bars so we don't worry about any stubbed toes.
PLAYMOBIL: If you've never heard of Playmobil, you're in for a treat. These toys are so well made and beautifully crafted. They are built to last and the perfect addition to any toy room. We love the mermaid family set but here are a few of our other favorites:
PLAY FOOD: This age still loves playing pretend and a little kitchen isn't complete without some great play food. We HIGHLY RECOMMEND the Learning Resources New Sprouts play food. It is such great quality plastic. Our kids prefer it over any of the other brands/non-brands. This food has lasted us over 5 years now and they still look brand new! They've been thrown, chewed on and played with over and over again by all our kids and neighbor kids but they're still holding up like no other!
CASH REGISTER: Don't forget a cash register! The Ikea cash register is great because of its minimal wood design and it's electronic (that's a game changer for kids this age).
DOLLHOUSE: Gah! This Hearth and Hand Farmhouse from Target is TO DIE FOR! We love that you and your child can build it together. Wouldn't that be a fun Christmas morning activity!?! Get it before it's gone!
KRACIE POPIN COOKIN: These are Japanese and becoming more and more popular out here in the states. For good reason too, they're super fun! If you're looking for something unique, this is it. We actually love to give these at birthday parties because of how different they are from any of the other gifts. Target and Walmart have some similar items but the taste isn't as good and the packaging or end product aren't as fun. And don't worry, they have a picture for each step in the directions. Our favorites are:
FRACTILES-7: So many different designs can be made with this fun/unique educational toy. Another great quiet time toy.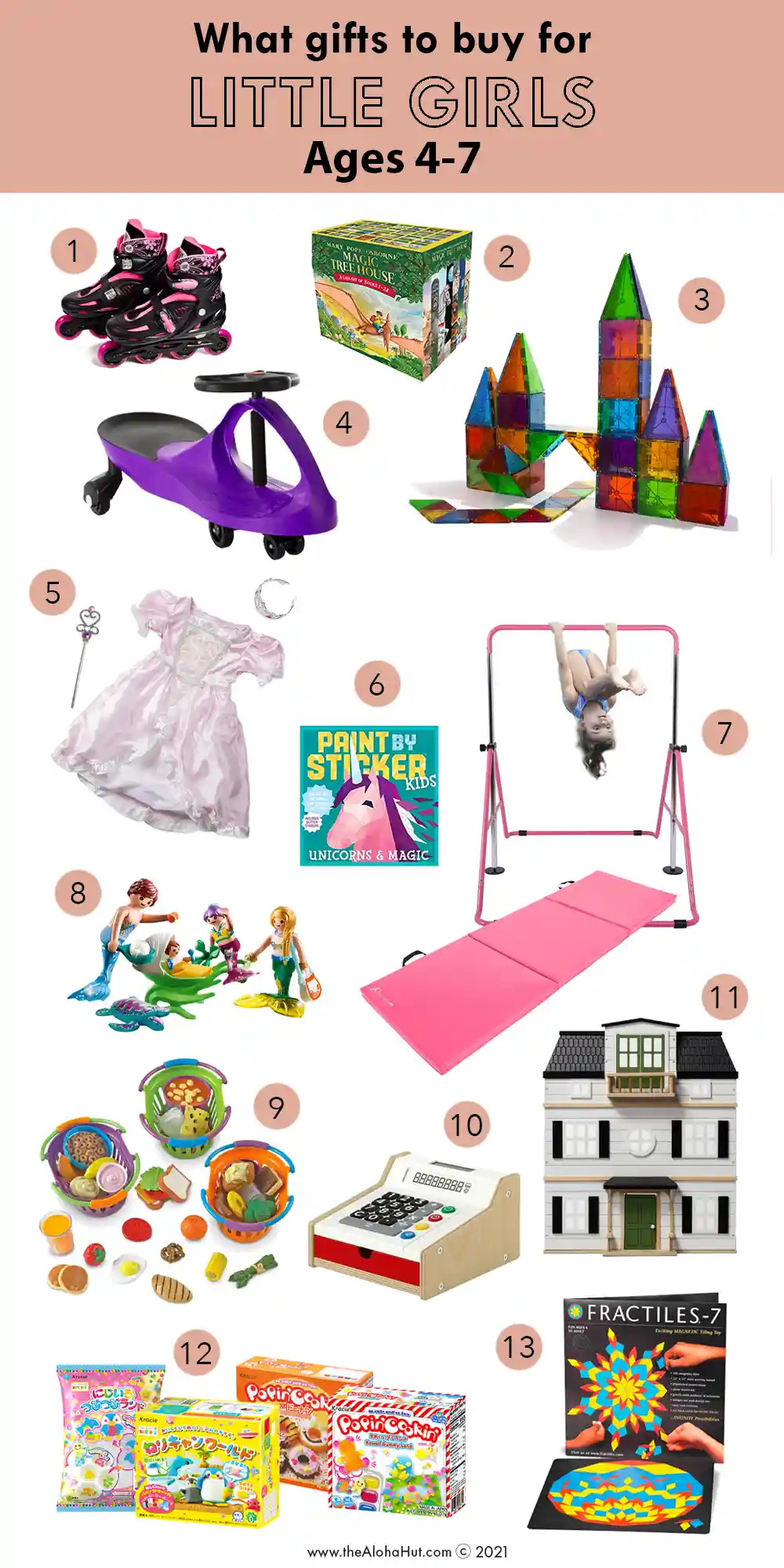 Download the free printable Christmas Wish List below to help get all your holiday shopping organized and done!
Much love and aloha,
Stacey + Niki
---
Check out our other gift guides: