Teacher Appreciation Week Candy Bar Table Theme
Teacher Appreciation Week Candy Bar Table Theme
This post may contain affiliate links. Read our disclosure policy.
Ready to celebrate our teachers?!? After a year like this, they deserve ALL the praise in the world!! Stacey is part of the PTO (parent teacher organization) at her kids' elementary and this year they chose a food bar theme for teacher appreciation week. Each day of the week there's a different food bar themed table for the teachers to pick at all day long. Stacey was in charge of the "Candy Bar" table and drew up the cutest posters and labels to make it super easy for any of you to recreate. We have two sets of labels so these printables can be used for any candy themed party.
The main poster can be used in two spots; the hallway or by the main office for all the students to see what the activity is for each day that week. And in the teacher's lounge for a main backdrop. It can be used for any food table theme you choose. We get these printed off as giant 36×48" engineer/blueprints at our local print shop for only $5!
They come as black and white prints so to add color we make a super simple paper garland (see post here) and then print off colored details on regular printer paper, cut out and glue on. For this poster/backdrop we have an activity for each day that we glued on at the bottom. These free printable labels are blank so you can create your own activities. To give you an idea, here's what we have planned for each day:
MONDAY – Write and deliver a thank you note to your teacher sometime this week.
TUESDAY – Today is "National Teacher Appreciation Day." Wear red for Ed!
WEDNESDAY – We will have a special activity during lunch to honor our teachers.
THURSDAY – Bring a classroom material for your teacher today. (Dry erase markers, pencils, erasers, glue sticks, post-it notes, crayons, markers, ziploc bags, tissues, clorox wipes, etc.)
FRIDAY – Do an act of kindness for your teacher or student. Optional: bring a gift for your teacher.
Ok, we've printed off TONS of prints over the years and we've never done a 12×18" thick (like poster board) print before. AND WE ARE LOVING THIS SIZE AND QUALITY!! So be prepared for lots more free printables in this size because they are seriously perfect! The best part, they're $2.18 at our local print shop!!! SAY WHAT!?! This is why we love paper! It's cheap and makes every party go from blah to WOW!!
We took a picture of our local print shop's print prices so you have something to compare wherever you choose to go to get prints. For the labels on the jars, just print them off on regular paper, cut out and glue on with a glue stick. It makes the clean up so easy! We use different height and sized jars (usually from the dollar store) and when we're done, the labels peel right off and the glue washes right off with water and soap. If you use sticker paper then you've got to get Goo Gone or something like that to remove the stickiness so stick with a good ol' glue stick.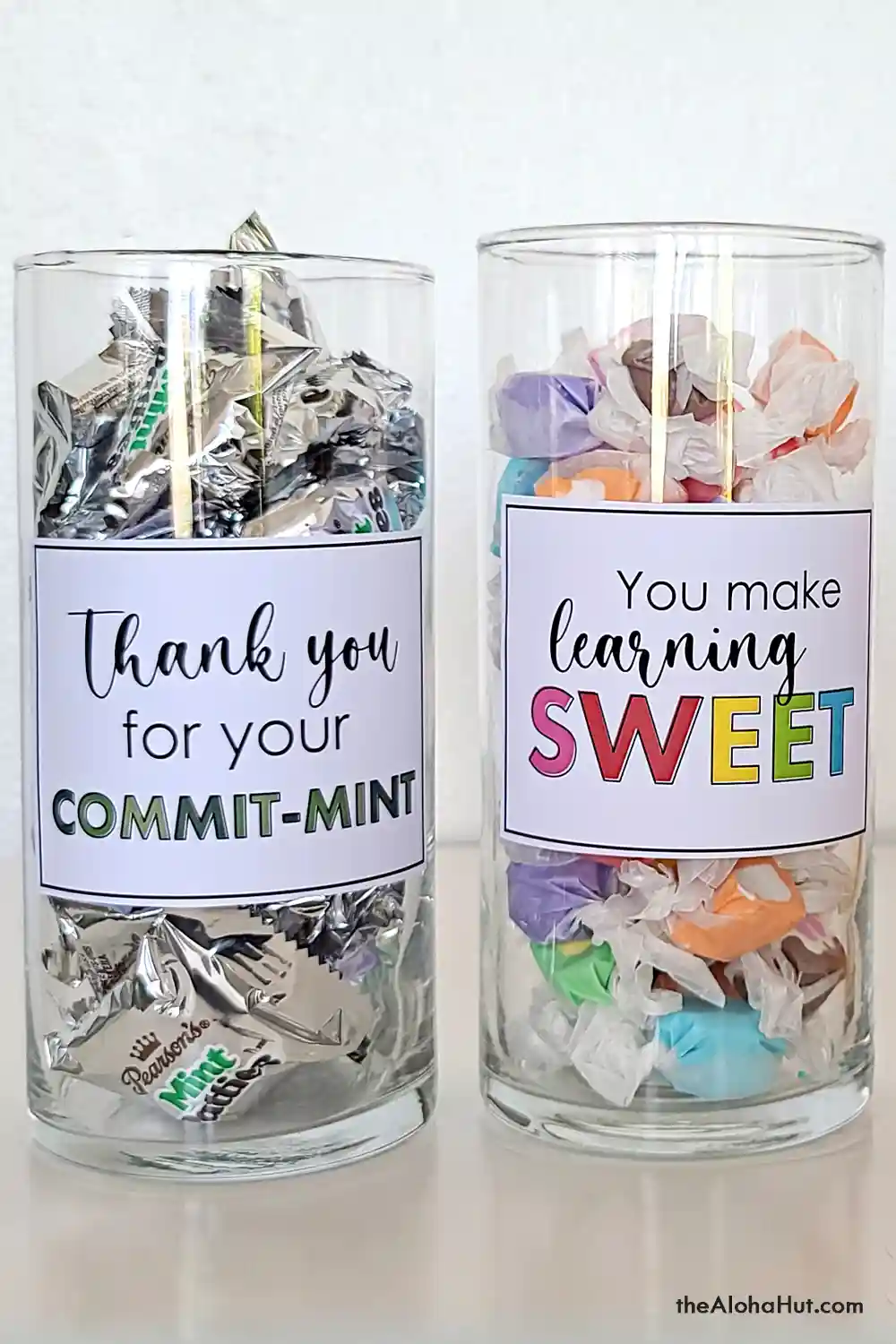 And here is the set up at the school. Super simple to do and let's the teachers know we appreciate them!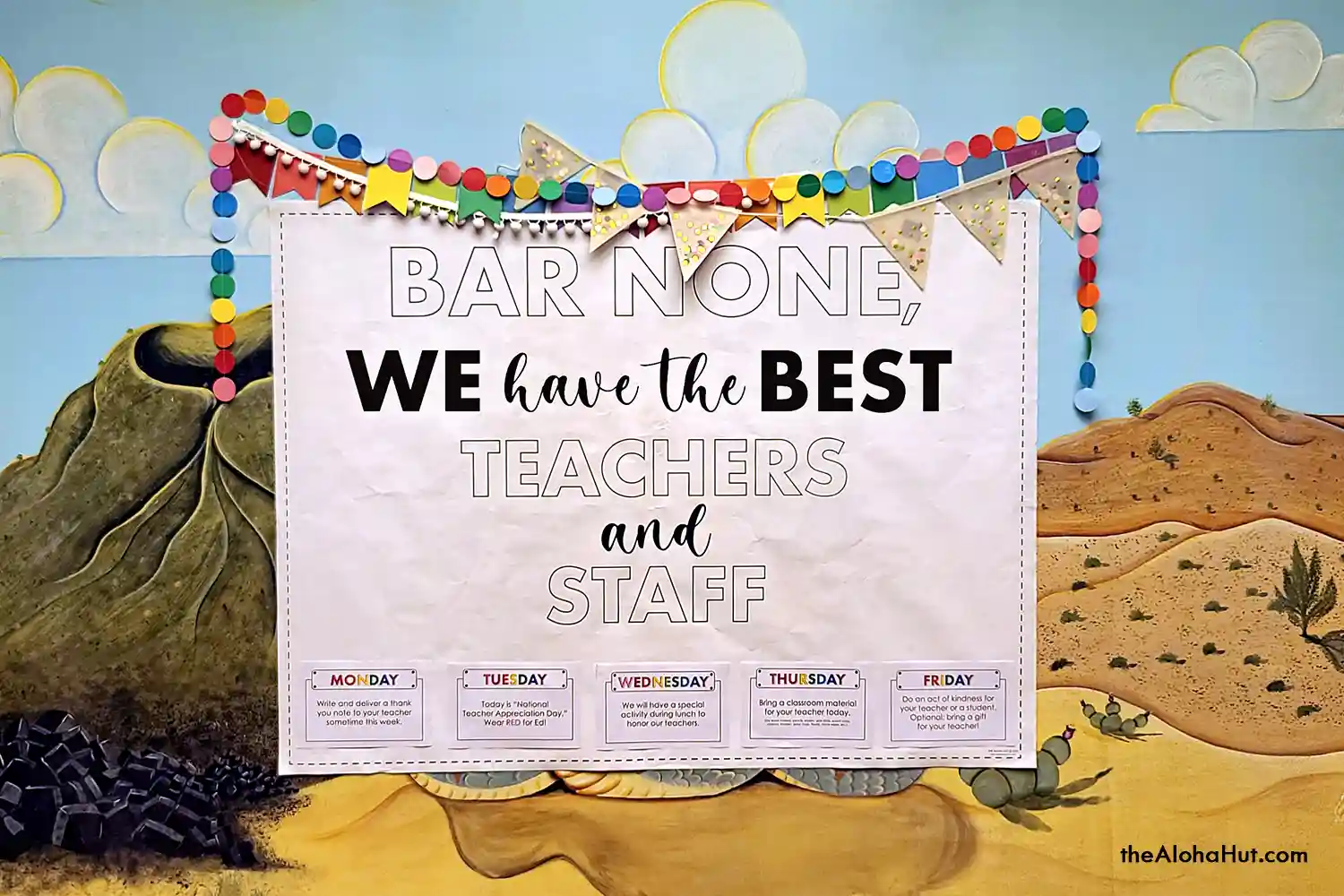 We designed an updated Teacher Appreciation Week candy bar dessert theme that includes signs for "How SWEET it is to have TEACHERS like you!" and even more candy options. Signs come in two different sizes, "8.5×11″ posters and 16×20" posters. Aslo includes variations for:
Nurses Appreciation Week / Day
Employee Appreciation Week / Day
Team Appreciation Week / Day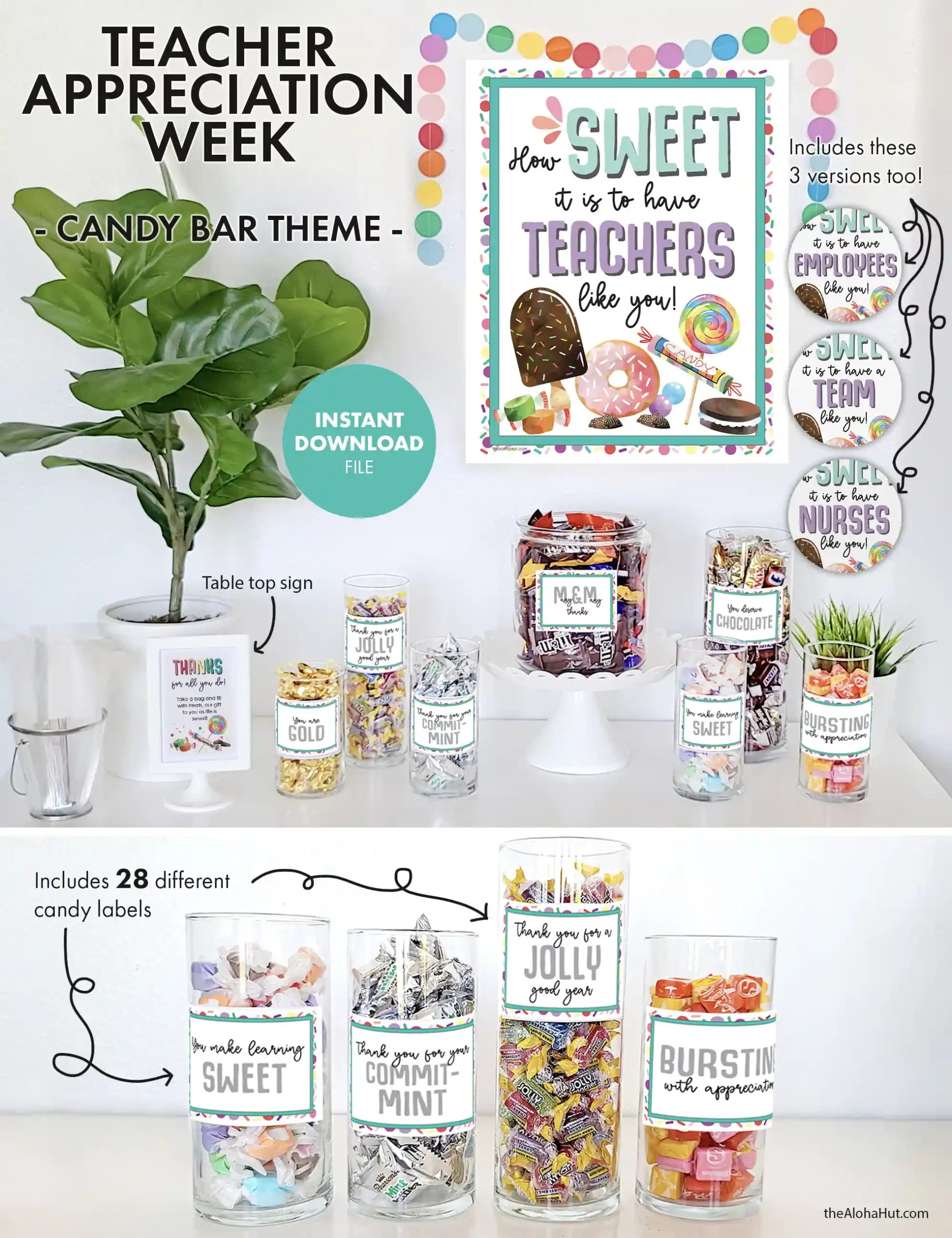 Don't forget to check out how we said thank you to our teachers for the 2021-2022 school year with a fun and easy donut themed table.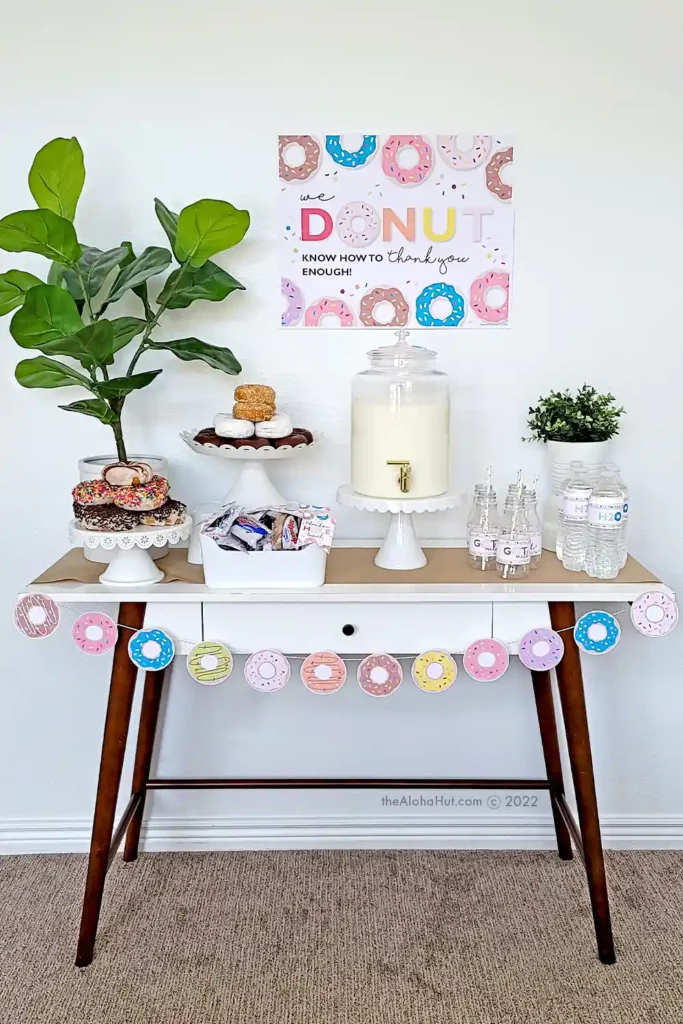 To see how we decorated some of the teacher's doors. Check out our Teacher Appreciation posters post. We created 3 free printables that you can use for your child's teacher, either as a door/wall decoration or print off as a giant card and add a little gift.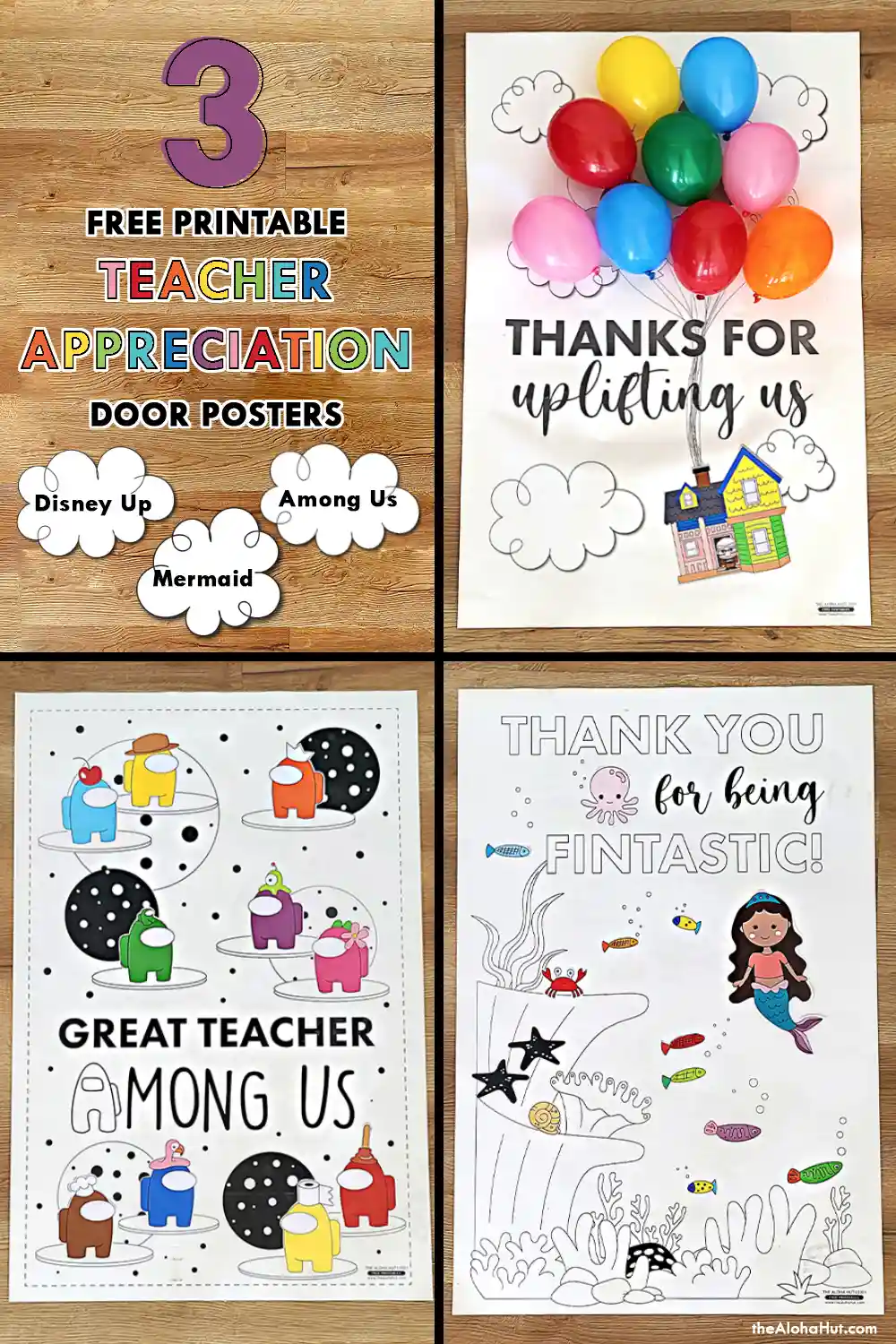 If you would prefer to do a candy-gram for a teacher gift, we've got that as a free printable as well. Click the images below to go to the different posts for those.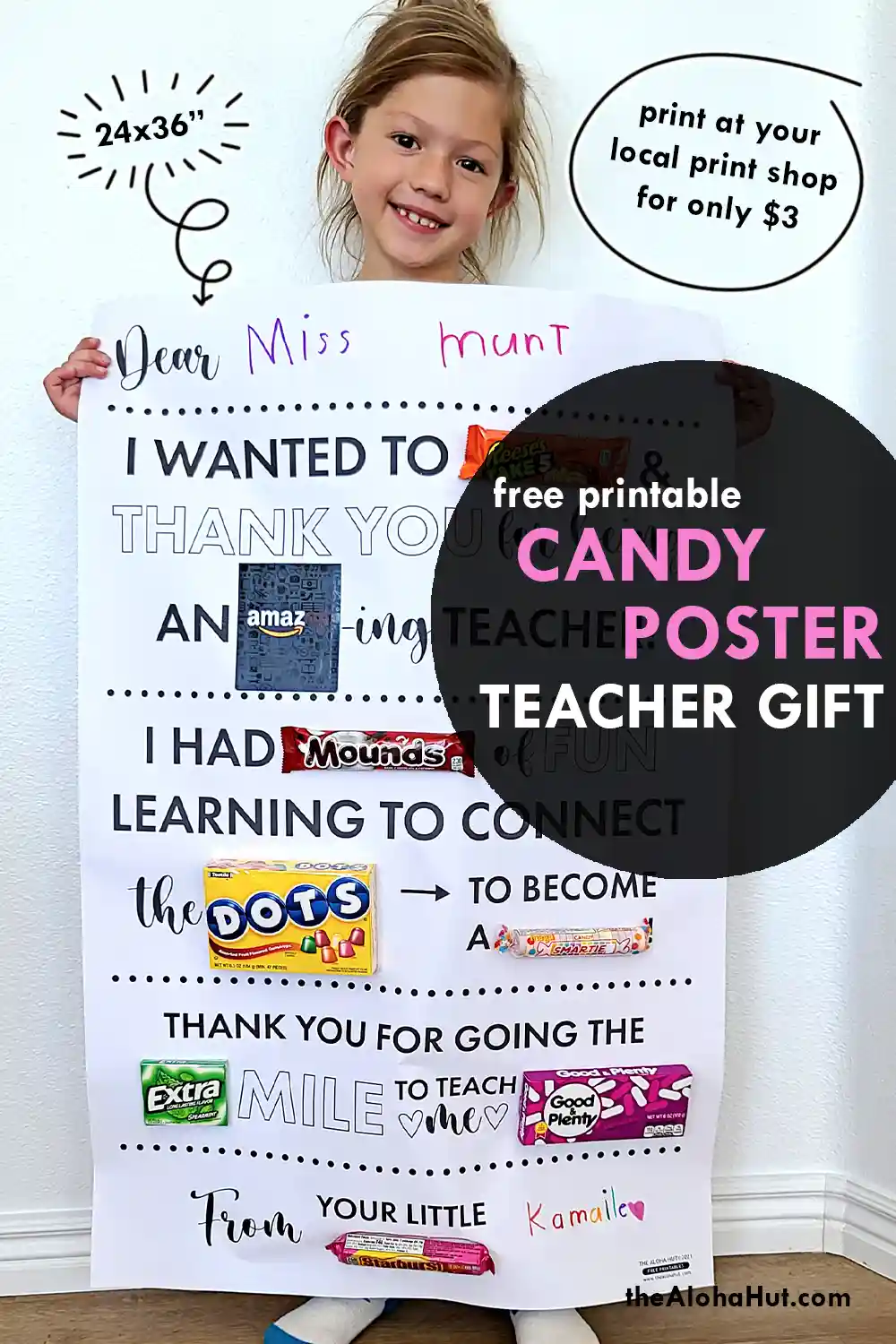 Doing a candy bar table is the perfect way to show love to those you work with! If you need a candy bar themed dessert table for more than teacher appreciation, nurse appreciation, employee appreciation, or team appreciation and want to purchase the one in our shop — please send us an email and we can help you out!
HAPPY TEACHER APPRECIATION WEEK!
Stacey + Niki
---